This has been the biggest giveaway around these parts thus far!  Over 1,024 individual comment entries into the giveaway, and another bunch from Active Duty folks.  That's a lot of peeps!
I then took all the entries and sorted through them like I usually do to ensure everyone gets the correct number of entries.  However, since I'm not at home this time, I refrained from cutting out some 1697 total unique pieces of paper.  Mostly because I think ink costs like $12 a character to print up here in Newfoundland – and that would be a wee bit expensive!
So, instead, I used a two part random system with The Girl's (err…now The Fiancée's) parents.  I asked her Mom to give me the first part and pick a number between 0 and 16, and then her Dad a number between 0 and 99 – thus creating a random number between 0 and 1697.  Neither saw the entry list.
Her Mom picked: #8
Her Dad picked: #23
Thus the winning number is: 0823
And the winner is: 'BA'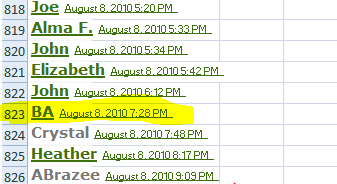 Congrats!  Please contact me with your shipping info so I can get your new Forerunner 310XT on its way to ya!
And, for those that didn't win – don't worry – you can still go out and pick up your very own little orange watch and enjoy it for the rest of the tri season and the upcoming fall running season (or, if you're upside-down in Australia, some other whacky season).  If you utilize the link above, you help to support more giveaways like this.  It's sorta like recycling: Utilize linkage > More Giveaways > More good stuffs for you.
Thanks all!