I get a ton of requests for the best places for triathletes to train, so I started putting them all together in a single cohesive (updatable) post.
Now, there are a gazillion places to train in the DC area, but I detailed out my favorites and the ones I use all the time.  I also focused on ones that cater better to triathletes.  What do I mean by that?  Well, hard and intense – but short – city bike rides aren't as good for most triathletes as a 3-5 hour nonstop route that allows you to get in and and stay in aero position.
By the same token, open water swimming is a staple in most triathlons, so getting some open water time is key.  And OW swimming is a tough one to come by in the DC area.
So with that – here ya go: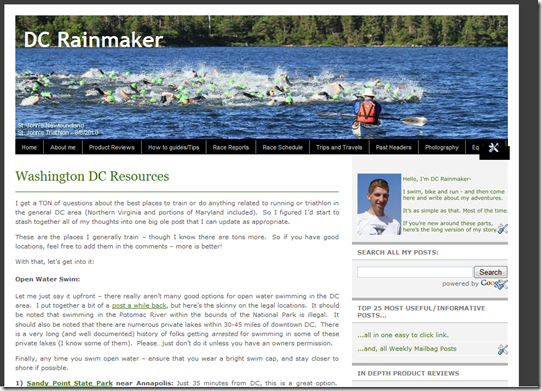 Just click on the pretty picture and it'll forward you off to my spiffy page for DC.  Also, if you're in town and visiting, it's probably a good place to start.
Enjoy, and enjoy your weekend!