This past Wednesday morning some of the industries brightest power and aerodynamic minds came together at Interbike to present a free seminar.  The agenda included:
Josh Poertner, Zipp Technical Director, and Jim Meyer, Quarq's founder and Chief Engineer, delivering the past, present and future of aero and power.

Hunter Allen, CEO of Peaks Coaching Group, Co-Founder of TrainingPeaks WKO+ Software and co-author of "Training and Racing with a Power Meter", explaining power, how it's being used and, most importantly, how to sell it.

Jordan Rapp, elite triathlete, tells you how and why these products are important for him and for anyone that wants to be a better cyclist or triathlete.
Since I was tied up with other appointments at the time, I unfortunately missed it.  But luckily The Girl swung over with a camcorder and got it all recorded (actually a funny story about said camcorder, for another time…).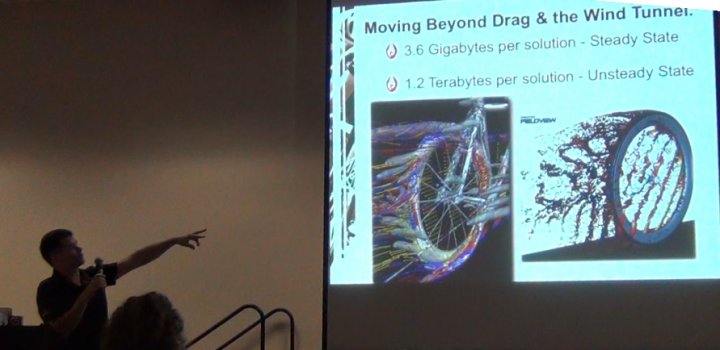 The seminar lasted 90 minutes, and due to simple YouTube upload size limits, it's been divided into four chunks – with the middle two being the meat of the presentation.  The first chunk is simply the intro and lasts about 90 seconds, but the 2nd and 3rd chunks are where virtually all of the content is.  The 4th chunk has the Q&A, which includes some really good discussion and questions from the audience.  All the video is in HD, so make sure you check the little toggle button to change selections to HD if by default it isn't showing it for you.
Finally, despite much attempts to correct the slight offset-angle of the video – I'm putting it in the category of 'it is what it is'.  Sorry! I played with a few different tools but in doing so either the quality would suffer, or other portions would get cutoff in order to resize it.  If it's super-painful, I suggest placing something below your laptop/monitor screen to compensate. 😉
And thanks again to The Girl for taping it all – otherwise we wouldn't have it at all!
With that, here's the video chunks:
Piece 1: Introduction (1m 48s)
This is a very brief introduction piece, just less than two minutes.  Quite honestly you can probably skip it and go right to part two…but that's just my opinion.
Part 1–A quick introduction.
Piece 2: Zipp Presentation Portion (36m 50s)
The Zipp presentation starts with an overview of where they came from, then hits up computational fluid dynamics before diving into how they got to where they are now.  If you like pretty moving graphics with lots of flaring colors…this section's for you.
Part 2: Zipp portion
Piece 3: Quarq-SRAM Presentation Portion(40m 7s)
This section starts off with Hunter Allen from TrainingPeaks giving an overview of power and power meters, from both a technology standpoint as well as a training/racing standpoint.  After which Jim from Quarq takes over and talks about how power meters work, how calibration and slope works, the history of Quarq, and then goes into more depth on aerodynamic testing and virtual elevation.
Part 3 Interbike Aero + Power
[Update 9/30/11]: Here's the full downloadable slide deck from Jim's talk, in PDF format.  Thanks to Jim and Troy from Quarq in sending it over and allowing me to upload it.
Piece 4: Question and Answer (9m 34s)
This section covers the Q&A portion of the seminar, with questions from the audience:
Question and answer portion
Thanks for reading and dropping by!
Also note I had placed all of last year's Power Meter Seminar talks in a consolidated post as well.  Last year was a bit different than this year, a little less depth but more coverage from different folks. Still interesting though.
—
For all my Interbike coverage here on the blog you can use this tag to see all the Interbike 2011 posts. Thanks for reading!