Today at Eurobike Polar announced and showed off a slew of power meter specific features and products – all of which are scheduled to hit the market in the next 60 days.  Here's the run down.
New Bluetooth Smart Keo Power Essential power meter: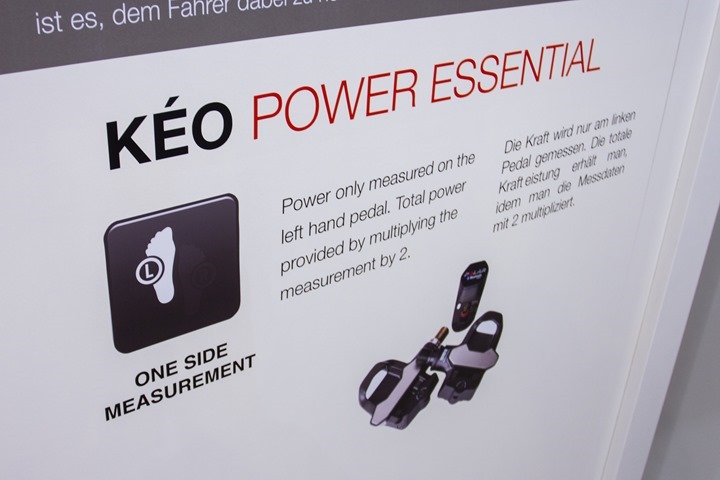 Just as Garmin announced yesterday a roughly half-priced version of their Vector pedal, today Polar did the same with their new Keo Power Essential power meter offering.  This unit priced at $1,100US/990€, utilizes the left-pedal and pod of the previous complete left/right Keo Power system.  From there, the unit then simply doubles the power of your left leg and transmits it to a Bluetooth Smart enabled head unit.
This is inline with how Stages Power Meter works, as well as the Rotor LT, and now Garmin Vector S.  As with those, the usual informational warnings apply that this method isn't as accurate as a system that captures both sides of the equation.  So it's up to you to determine whether or not that's a specific issue for your use case.  You can read many of my past thoughts on it, including some in the Vector S post from yesterday.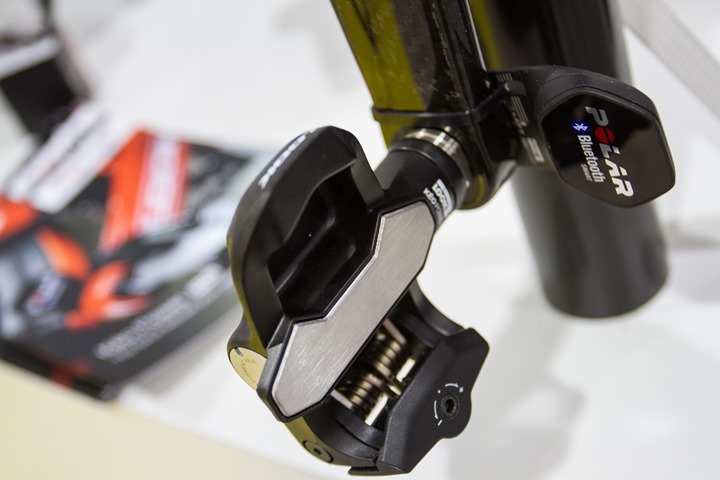 The new left-only system is merely one half of the full updated Bluetooth Smart system (described in next section), though it does make a minor deviation from what Garmin is offering in Vector S.
Specifically, they'll be allowing someone to purchase the full Keo Power system (two pedals), and then split up the pedals and use it as either left-only or right-only (or together).  While from a cost perspective this isn't really any savings, what it does do is allow someone to potentially use/install the unit on two different bikes they own.  Of course, since you're measuring different output points (left versus right), you're likely to get different results.  Or, you can split with a friend.  Whatever the case is, the key is it's your choice.  Whereas in Vector S, that's not an option.
Also of note is that in the event you run out of battery from either side, the unit will automatically double the remaining side and continue transmission.
On the Keo Essential system, just like the Vector S system you'll get a spare right pedal.  This pedal includes no electronics/sensors inside of it, nor does it include a communications pod.  It simply just matches the left side.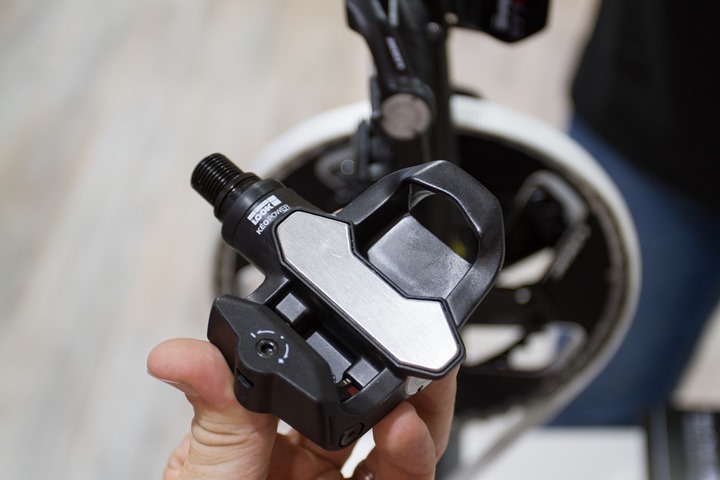 The Keo Essential unit will be available in October, along with all the other changes discussed in this post.
Bluetooth Smart Upgrades for existing Keo Power users: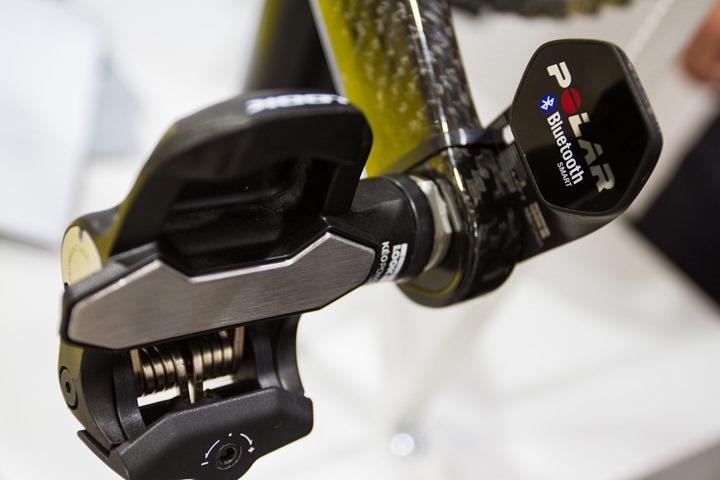 Next, we've got one of the most long-awaited product changes to the Polar Look Keo Power System, the inclusion of Bluetooth Smart.  This particular development has been on the radar for…well…since before the original Keo Power System was announced years ago.
The good news is that the product exists (I've touched it, even swirled it around), and it'll be here in just over a month.  There's also some minor upgrades that have been made to the pods as part of this process.
To start they changed the pod (the communications pieces that hangs off the side) from plastic to aluminum.  This should reduce breakage issues.  Second, they reduced the chain clearance requirements from the previous pods.  Now it's down to just 5mm of chain clearance – the same as Garmin Vector.
Next, they got rid of the button on the unit.  Previously you had to press the button to wake up the system.  That's no longer the case.  Simply moving the crank arms wakes it up, just like other power meters.  Lastly, they've added in the ability to trigger a calibration action from the head unit.
Now for those of you with the existing Polar Keo system based on W.I.N.D. (proprietary Polar protocol), you'll be able to upgrade to the new pod system with all the benefits noted above.  That'll cost $150US/150€, which converts you from W.I.N.D. to Bluetooth Smart.  Note that if you use it with existing W.I.N.D. devices, it won't work there any longer.  So it's really for folks who are planning on getting the Polar V800 or V650, or another Bluetooth Smart power meter compliant head unit/device.
Demo of V650 and V800 Power Meter features: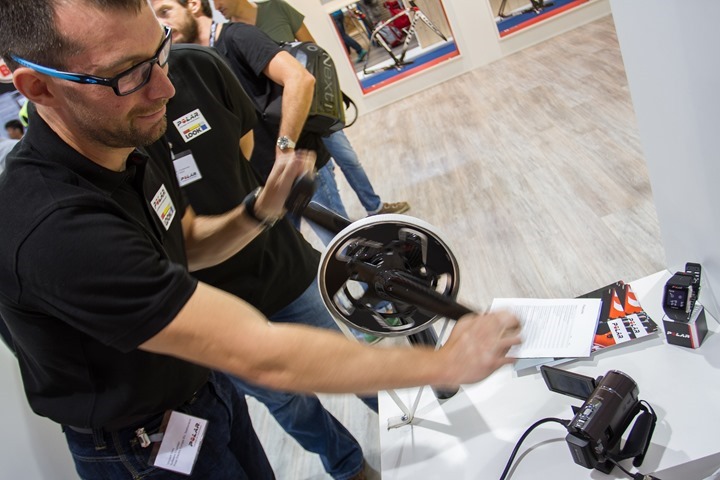 Next, I got a bit of a hands-on demo of many of the power meter features on the V650 and V800.  These features are slated to hit in October, per the timelines section I've got later in this post. There are slightly different timelines for different features.
First, let's walk through some basics on how the power meter will work.  Once you install it, it'll detect a new power meter and ask you to calibrate it.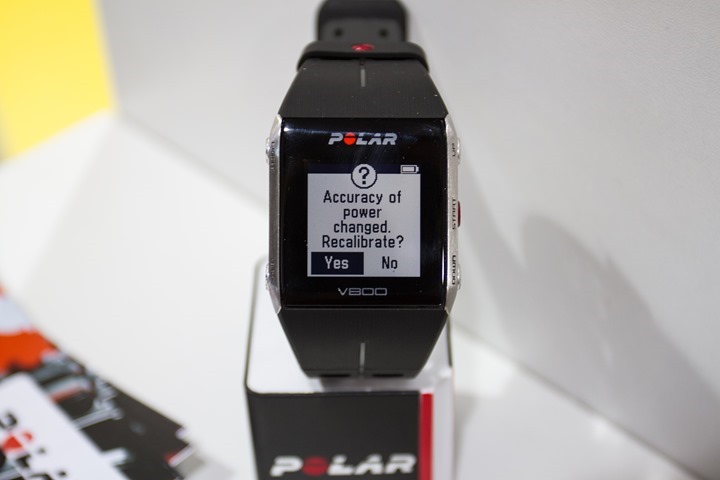 Calibration is just like other units on the market – you just leave it alone for a few seconds.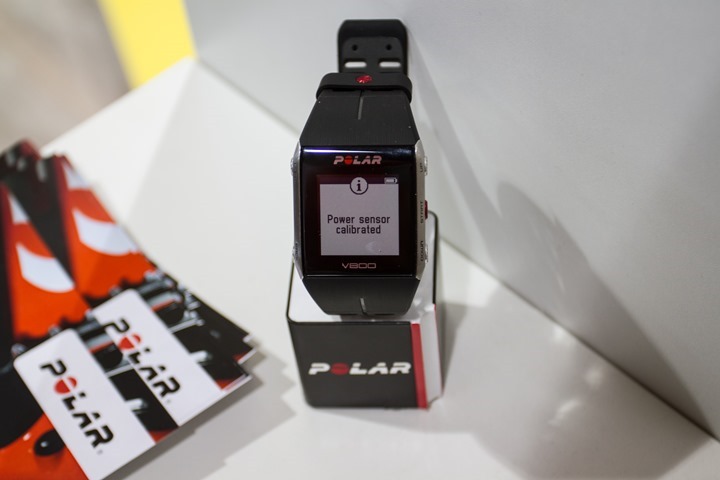 While riding you can customize the display fields, similar to customizing other display fields on the V800.  For example, in this screen it shows the total wattage above (15w), along with the left/right breakout below – 40%/60%.  There's cadence below that.  The low wattage is simply because it wasn't on a bike but rather just a rope of sorts.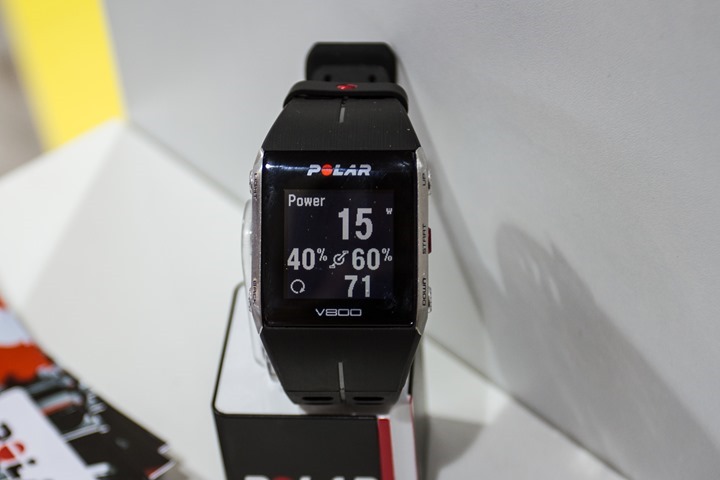 This view shows the force and portion of the stroke where the force is occurring.  You'll see this in left/right detail, as well as the breakout of distribution below it.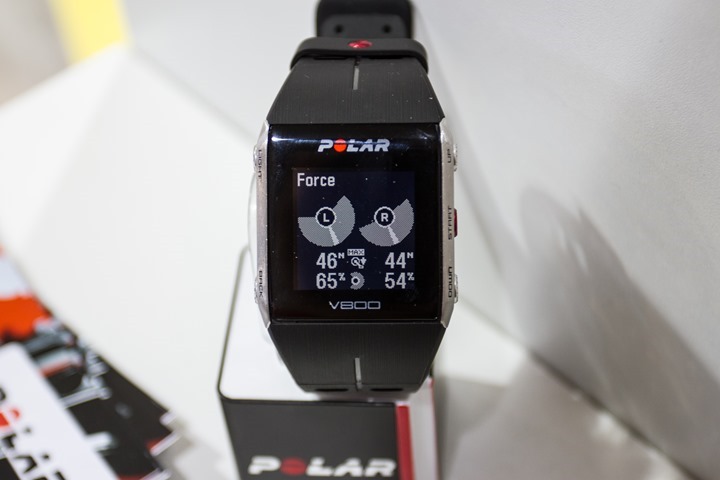 Here's the same look at things with a higher wattage value from a screenshot: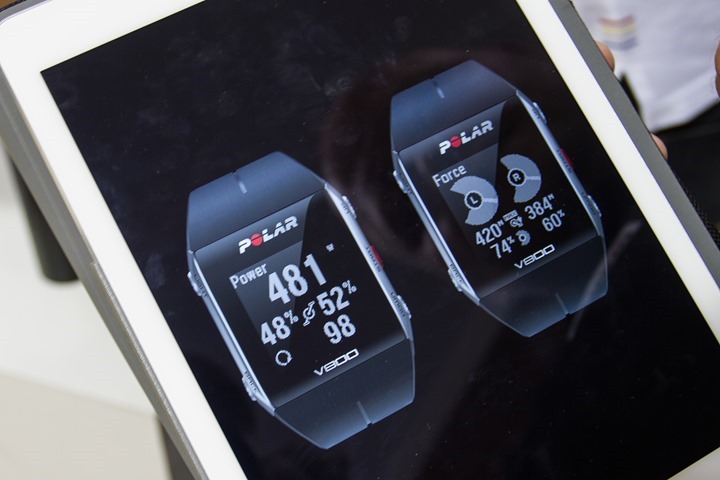 Next, we've got very similar metrics and procedures on the Polar V650, starting with calibration: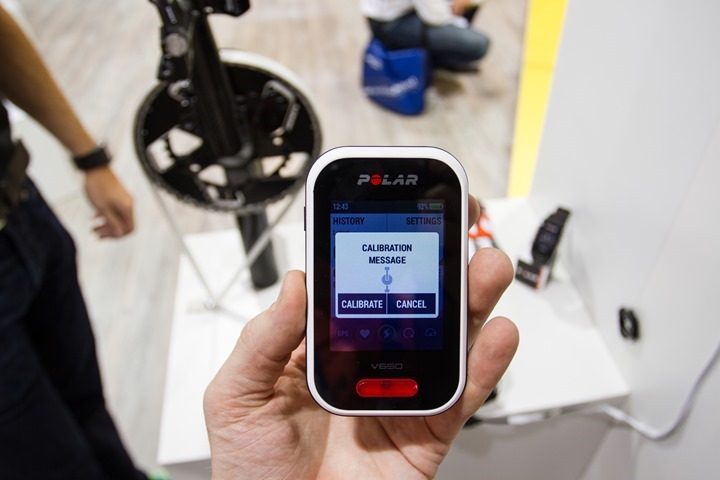 While pedaling, you'll get a much more vibrant breakout of the same metrics seen above in the V800, but with color.  Below you can just barely see the green line on the inside of the circle.  This is because this version didn't account for our (well, his) 6-year old child arm strength of a whopping 15w.  As such, the graphics aren't yet expanded to take up the entire circle (that's being addressed).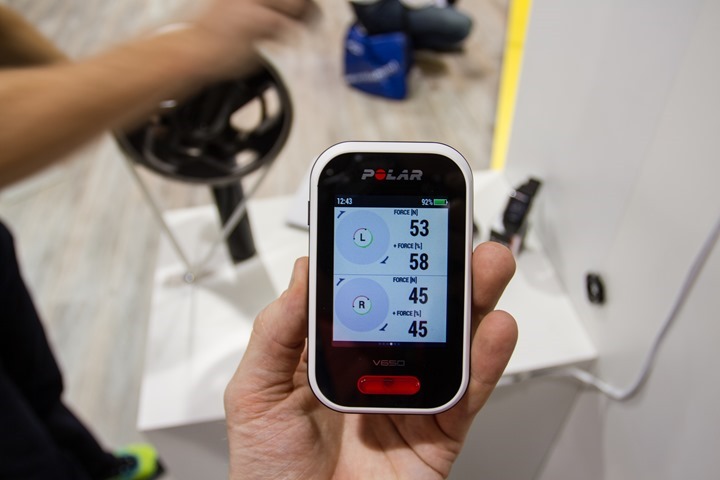 Here's what it'll look like normally: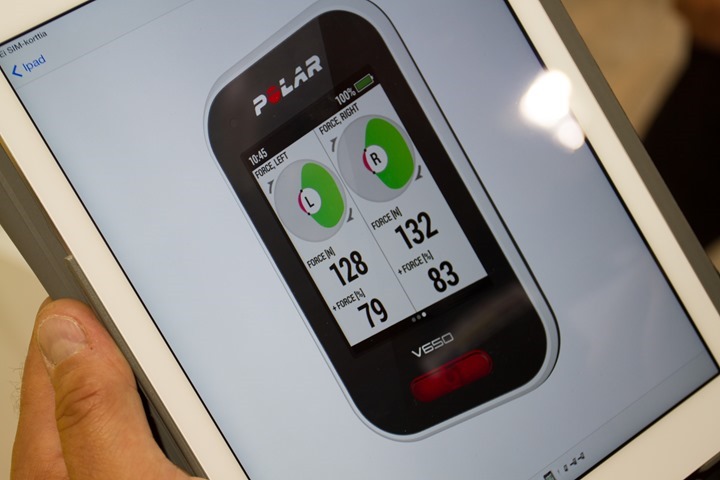 Additionally, you've got breakouts on power, max power, average power and other metrics in standard data field views: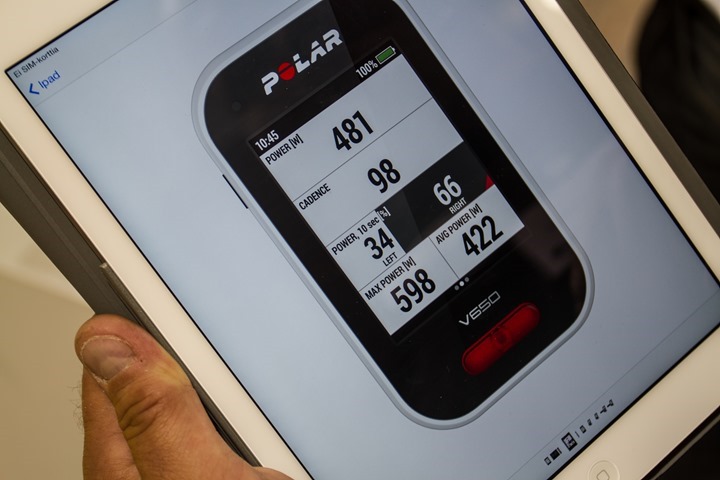 Like all other power meters on the market, the unit will transmit upstream to your head unit at 1-second data rates.  I'll be getting a bit more detailed/expanded information on all the exact power meter features being included, but in the meantime, here's the rundown of power meter focused features on the V650 and V800:
As you can see, a pretty significant upgrade from the current Polar power situation on existing Polar head units that support W.I.N.D. devices.  And by 'pretty significant', I mean massive.
Flow, Timelines, Pricing, App Compatibility and Misc details: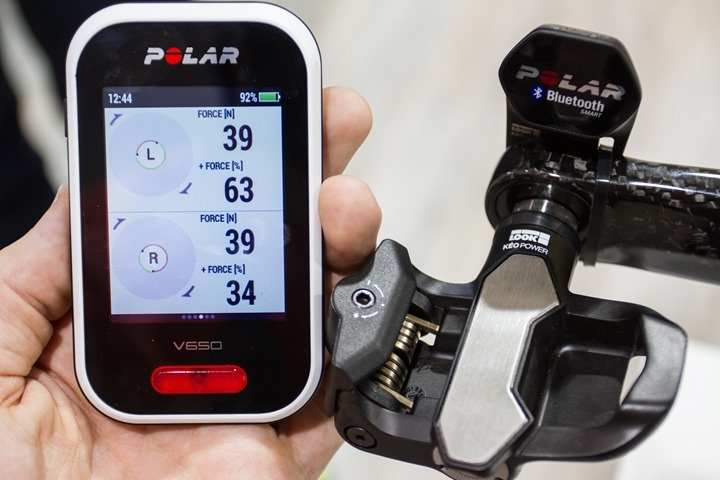 Finally, here's a bunch of random items of note.
To begin, the pedals follow the Bluetooth Smart power meter standard, which means they should work with any Bluetooth Smart power meter capable app or device.  For example, they should work with the upcoming Suunto Ambit3, as well as apps that are configured for power meter support.
One such app that the Polar/Look power meter team has worked with is the Wahoo Fitness app.  They've specifically got things cooking to correctly show both pedals in there (left/right), as well as the ability to trigger calibration and read standard power meter metrics (though not the advanced force metrics seen above).  This is basically providing additional integration above and beyond what a normal Bluetooth Smart capable app might do.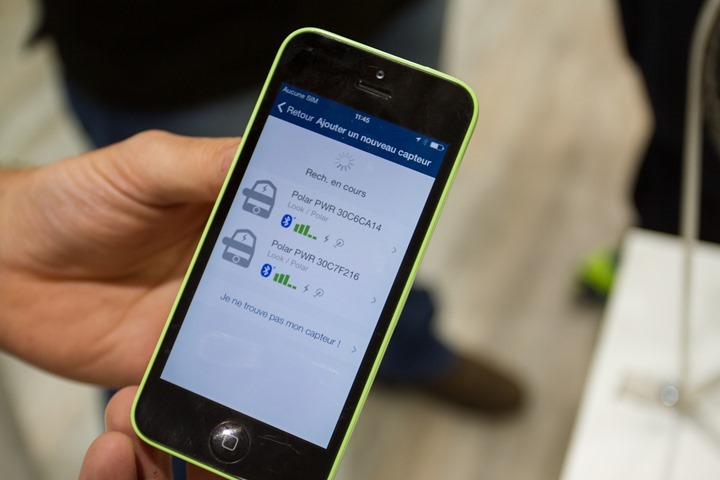 Next, you can see some of those standard metrics coming through to the app like any other power meter.  When it comes to data fidelity and sensor compatibility, the Wahoo Fitness app (free) is pretty much the defacto industry standard.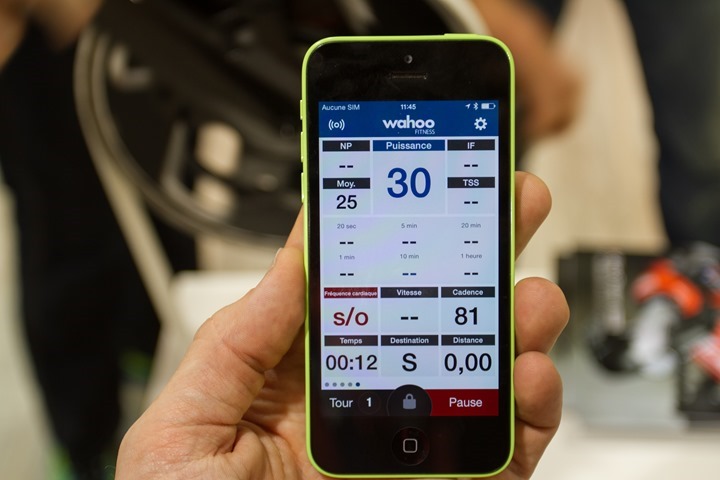 Next, here's a quick look at how the data will appear on Polar Flow, once enabled.  First up is a ride overview showing the map and summary as usual, but you'll also see power-specific data included in there like maximum wattage and then down below the power graph over the duration of the ride.
You can drag and highlight sections of that graph, as well as look at the wattage against different metrics such as %FTP, as seen below.  This then also can be correlated to time in various power zones, seen to the right.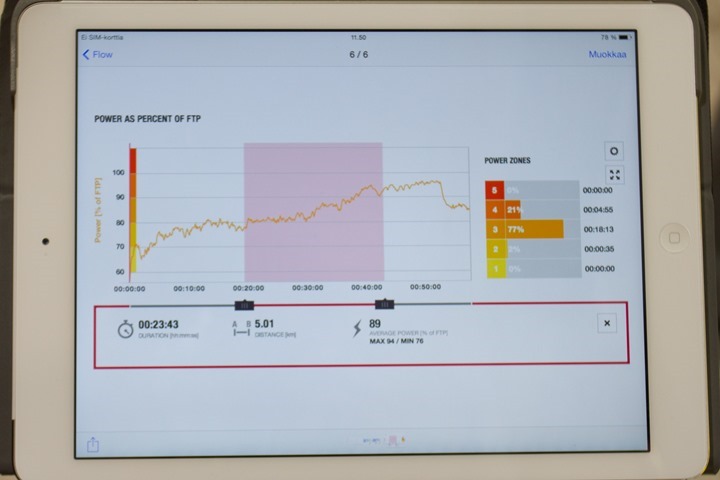 The pedaling force metrics are also enumerated onto the site.  The below screenshot just contains fake data – so it's highly unlikely your data would look that perfectly symetrical – but you can at least see some of the metrics that are available on Polar Flow.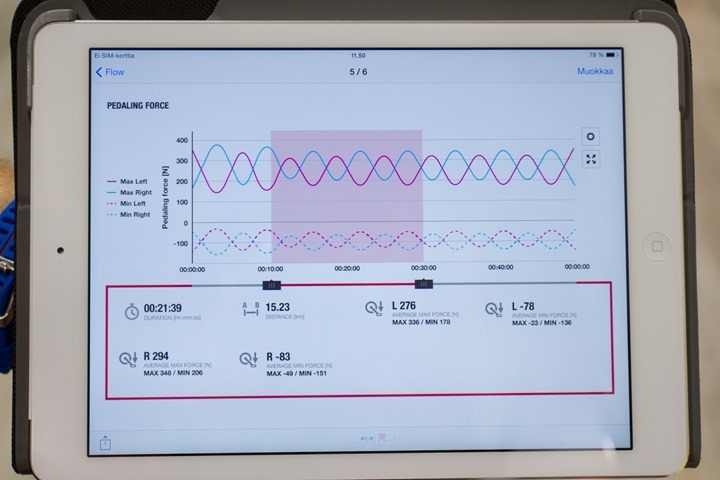 Much of this data is also available on Polar Flow mobile too, just like other activity summary and graphed data is today.
Finally, onto some summary timelines to wrap everything up:
Polar V650 Head Unit Release Date: Currently the first week of October 2014
Polar V650 Power Meter Support: 3-4 weeks later, by the end of October 2014
Polar V800 Power Meter Support: Same time as V650 power meter support, October 2014
Polar Look Keo Bluetooth variant (full system): October 2014
Polar Look Keo Essential system (left-side): October 2014
When it comes to pricing, here's the summary:
Polar Look Keo Power Meter Bluetooth Smart upgrade: $150US/150€
Polar Look Keo Full System Power Meter (stays same): 1,699€
Polar Look Keo Essential Power Meter (left-side only): $1,100US/990€
Got all that?  Good.  I expect to get some hands-on time with the Look Keo Bluetooth system in the near future here, which will ultimately lead into a full review of it along with the Polar V650 later this fall.  Given the significant number of power meters hitting my queue today +/- 15 days, it'll likely be later fall rather than earlier fall – depending on when exactly a unit hits my hands.
—
With that, thanks for reading!  If you're looking to burn a bit of time, here's all my Eurobike 2014 posts!