For some power meter companies here at Eurobike I put together full posts if they had a number of new major products, or if they had some sort of significant news.  These included:
Garmin: New model, announcement of Cycling Dynamics
Polar: New model, upgrade to Bluetooth Smart for existing model
Power2Max: New models
PowerTap: Hinting at new form factor, also additional new models
Of course, there are many power meter companies at Eurobike that didn't have any specific major news pieces to share, but rather more minor announcements.  You'll find these all down below (or just use the little sidebar navigation pop-out).
Watteam's PowerBeat: A more technical discussion, hands-on look
SRM: Update on PC8 timelines, features and iOS/Android apps
Quarq: New models, new 10,000 point temperature compensation
Verve Infocrank: Hands-on with this new entrant in the market
Xpedo: A look at upcoming pedal-based unit to market
Stages: New models, other tidbits
Ciclo: The end of the road
Do note however, that there are further companies with announcements yet to come at Interbike or where they were not showing at Eurobike.  For example, I'd expect something at Interbike from Brim Brothers since they have an actual booth there.  And also note that some power meter companies simply don't have any new power meter news.  For example, Pioneer did their major announcements back at the beginning of summer – so things are pretty much covered there.  Same goes for ROTOR in July with their ROTOR LT units.
Make sense?  Good.
Watteam's PowerBeat: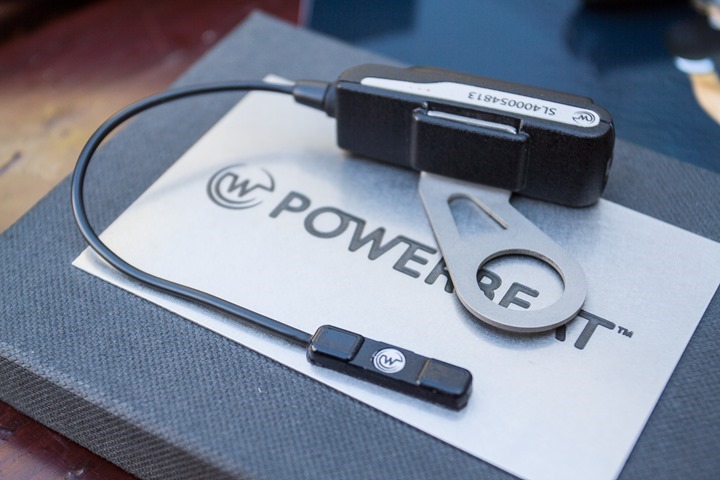 PowerBeat exploded onto the scene a few weeks back with announcement of a $499 fully left/right power meter that's neither pedal nor crank-specific.  It's basically "just put it on a bike" specific.  Of course, with such a claim there's been a ton of skeptics (justified).
Much of that skepticism has been focused on the installation calibration aspects, which is where we spent the majority of the discussion time I had with them yesterday.
First, to install it you're going to be taking the sensor and strain gauge portion that you see below with the red line on it, and attaching it to your crank arm.  In doing so you'll be breaking out Loctite glue to secure it to the crank arm.  they went with Loctite due to being fairly well understood from a properties standpoint, as well as having a well established removal process too.
You'll hold the sensor in position for 20 seconds onto the crank arm, at which point you'll need to let it solidify for 24 hours.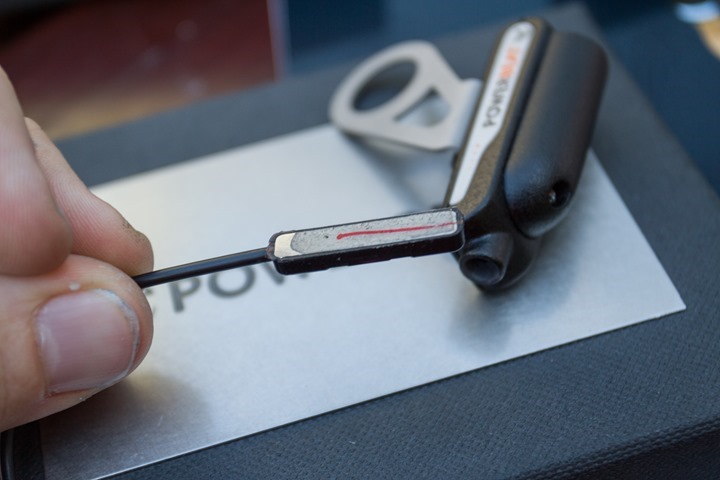 After the 24 hours it'll be time to calibrate it.  To do so you'll start by using a supplied weight.  At present they're planning on shipping what is effectively a water balloon with a fill-line on it.  This will allow them to know a given weight based on the volume of the water you stick in.  They're aiming for 1-3KG of weight (they haven't quite yet decided the exact number).  You'll attach the 'weight' to the crank arm while the crank arm is horizontal.
It's at this specific juncture where most of the interwebs has the most skepticism.  The company claims that they are able to know the dynamics of the crank arm merely by measuring the force applied while the weight is hanging.  They noted that each and every crank arm reacts slightly differently (carbon and aluminum), but they believe they are able to accurately determine a calibration value based on just a single weight test.
This is different than virtually every other company on the market where they do some form of factory calibration of the portion where the strain gauge is attached to (be it hub, spider, arm, etc…).  In doing so many of them also determine calibration points across a range of temperatures.  Said differently, they have a crapload of 'understood torque values' for a given material.
In any event, then using your supplied phone app it'll go ahead and determine the calibration value and set it for the unit (all via Bluetooth Smart).  Subsequent communication with your head unit would be using standard protocols over ANT+ or Bluetooth Smart.  The application can store multiple bike profiles, and thus multiple calibration points.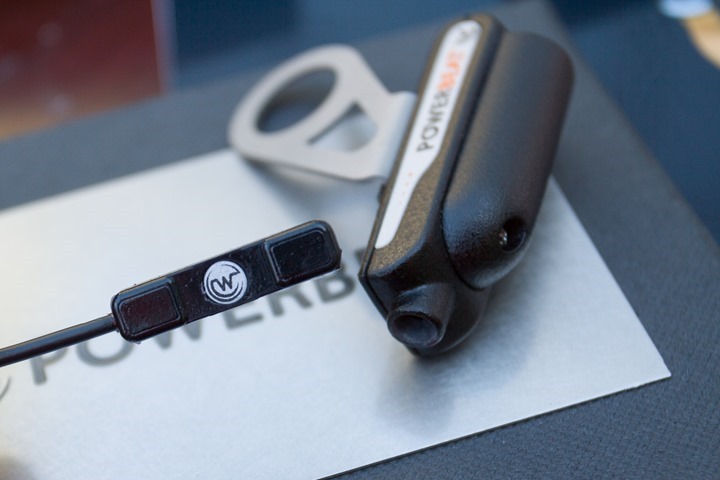 Speaking of bike profiles, one part that's wasn't crystal clear earlier was how exactly the portability portion worked.  However, once in hand it became very clear.  The unit allows you to simply separate the sensor from the pod using what is similar to a headphone plug (though, it is different).  This means you can easily install/leave on your other bikes the other sensor portions, and then just move the pod piece that secures to your pedal (I discuss that in more detail on my other post).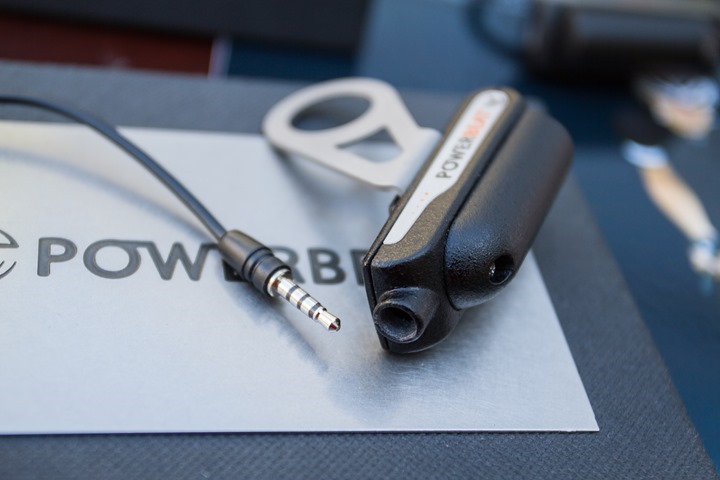 Do note that what you see above isn't a final production unit, so it's not quite as sharp/crisp in terms of material finish, etc… That's the norm for most of the prototypes I see.
Last but not least, a minor correction on battery.  The unit doesn't use a coin cell battery, but rather a half-AA battery.  The battery can be accessed via the tiny screw seen below, and should last about 300 hours.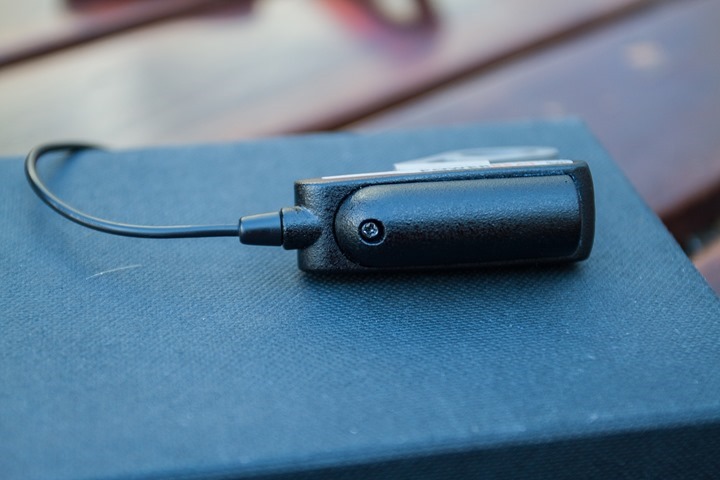 In general, I think those that are skeptical should focus on the technology aspects rather than price.  Treat it like a blind study and evaluate first on whether a concept is technically feasible, then cross reference that against a price and see if it hits near reality.
As I said to them in person, my main sticking point is centered around calibration and different materials that crank arms have and how those materials react differently.  As I talk to more very smart 3rd party people in the power meter industry familiar and speculating with/about that they are doing I am not concerned about strain gauge placement, or even that much about user installation.  It's become clear to me in the last three days that doesn't appear to be an issue.  The core speculation point is centered at this point purely on calibration and accuracy of that calibration method.
In an effort to better understand said process and get a rough idea of where they stand against their Spring/Summer 2015 timelines, we had initially planned for me to be on a bike at Eurobike.  Unfortunately, due to some logistical changes that didn't quite work out.  Fear not, short of their shipping container (or my bike) not making it to Interbike, that'll happen there in just over a week.  Stay tuned!
SRM PC8 News: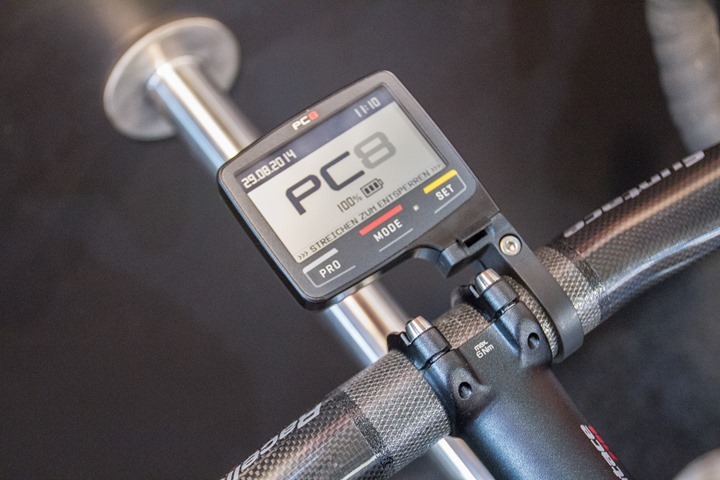 Last year at Eurobike SRM announced their PC8 bike computer, along with timelines for earlier this spring.  Unfortunately, that's slid a wee bit, and the current date is now December.  I asked them today how firm that date was, and they replied that it was 'concrete'.  Hopefully it'll hold.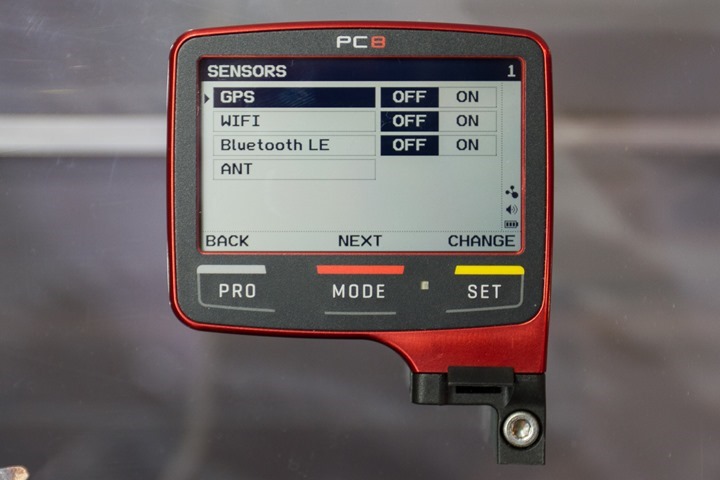 In discussing the delays with them, they noted that the majority were attributed to implementing industry standard .FIT file support from the unit, enabling it to easily interface with most apps on the market.  Additionally, they've also added in direct Strava support (as well as previously announcing Training Peaks), both of which occur when paired to the iOS or Android apps.  The iOS app will be released at the same time in December, but the Android app will lag a bit.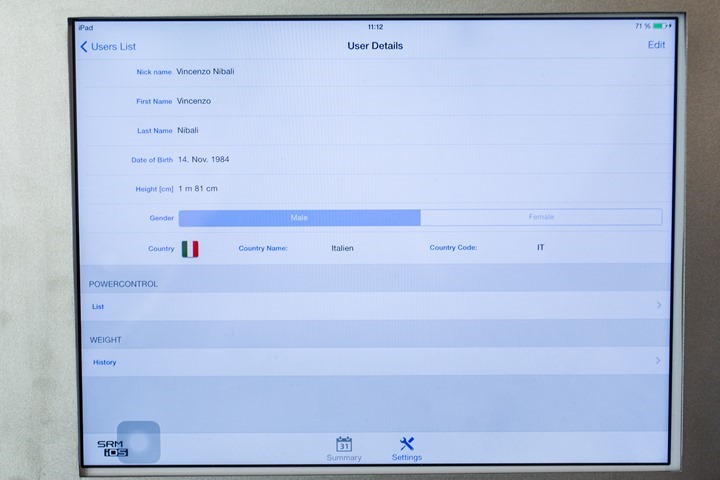 At present it doesn't sound like any features discussed last year were cut over the past year.  The unit will indeed work with non-SRM power meters and ANT+ sensors, as well as all Bluetooth Smart standard sensors except the power meter (that may come later).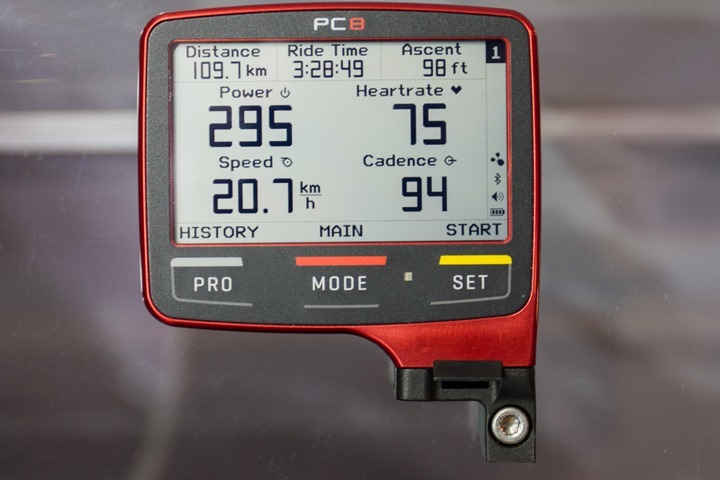 The current price upon arrival in December is 850€. He noted that the US pricing would be based on currency Exchange rate, but that puts it at just over $1,000US.  I'm working to validate that with the US folks though, so hang tight there just in case.  (Update: I've confirmed with the US folks that the US price will be $850US.  So not over $1,000).
Quarq Power Meters: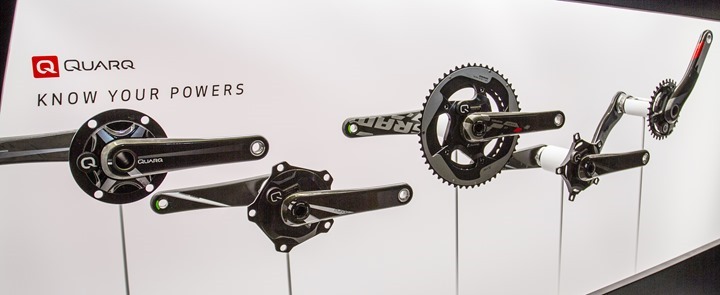 SRAM's Quarq was at the show and brought with them new products  – the Quarq Elsa RS and XX1.  The Elsa RS will maintain the same $1,600US price point, and is available/shipping immediately.  Additionally, the XX1 is now available as well at $1,500US, which is their mountain bike focused power meter designed for X-SYNC that's including all of the same technology that the new RS has.  While the unit ships with 32T and 34T X-SYNC chain rings, you can use their Qalvin app to simply reconfigure them for 36T and 38T chain rings.
The new RS (and XX1) builds upon the existing Elsa by adding in multipoint active temperature compensation, as well as slightly increasing the waterproof rating to IPX7 (30 minutes underwater at 1 meter deep). Submersion deeper and for longer than that is generally indicative of greater issues for the rider.
The multipoint compensation is Quarq's process whereby they take a unit into a chamber and more accurately map how it responds to temperature shifts.  They do this from 0°F to 130°F, recording about 10,000 data points along the way.  From this, they then apply a compensation map based on temperature data at each pedal stroke.
Below shows how a unit reacted before and afterwards.  Note, this is NOT watts, but rather a much smaller factor that's used in calculation of watts.  Along the bottom you see the temperature range and how it's better able to keep things stable.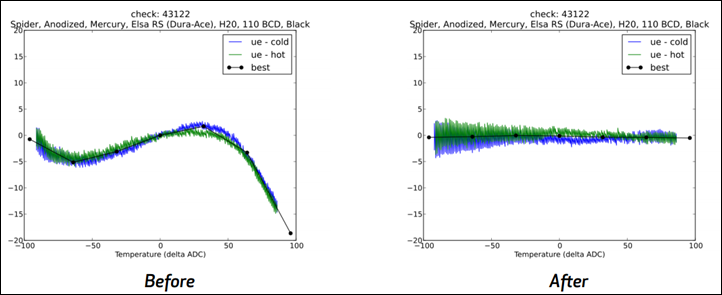 This is active temperature compensation versus the passive temperature compensation they've had in the past.  Which means that the unit will actively check the temperature each rotation and then compensate for temperature changes accordingly.  Versus before it was at a silicon level and making assumptions on how it will react.  They did point out though that they have additional algorithms layered in to provide protection against a rogue temperature data measurement point.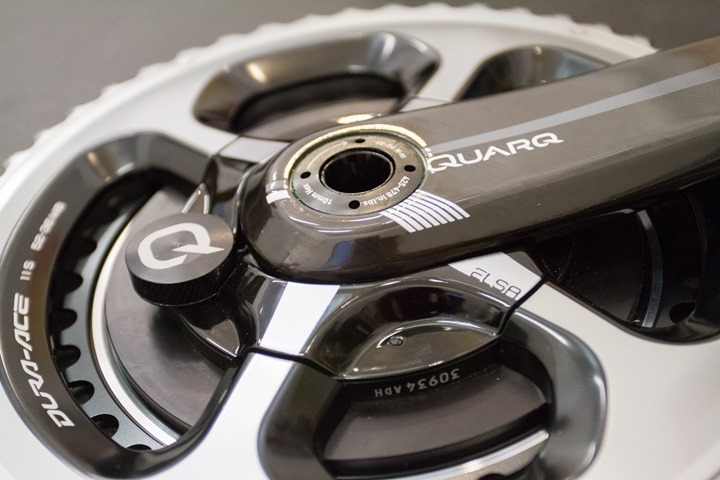 Currently, only the Elsa RS and the XX1 (seen below) have been run through the temperature compensation algorithms.  Though, Quarq did note that they are working through the details of a program that would allow customers to send their units in to get the 10K temperature compensation (likely as part of a greater tune-up program).  Down the road they will also be adding in support to their Qalvin app to see status there.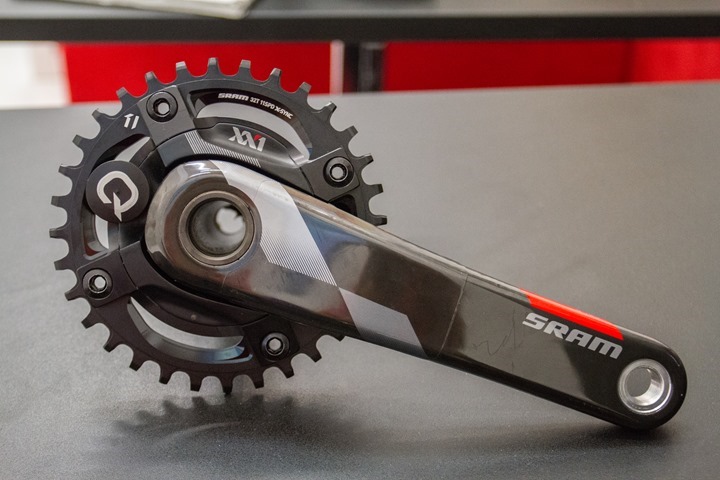 In addition to the temperature compensation, they also discussed a bit more about their new magnetless cadence option that was just recently rolled out to existing units.  This change allows you to run without a magnet on your Quarq.  Previously, if the magnet fell off or was otherwise inoperative, so was your Quarq.  No magnet, no power and no cadence.  That's because the Quarq used the magnet to determine revolutions and in turn calculate power.
Now however, you can run with or without a magnet.  Running with a magnet is still the most accurate method, but really only in extreme edge cases.  For example, they said that about the only place you'd see potential issues with the magnetless option is the rumble strips on the side of the road (which pretty much hose up any accelerometer based power meter).  But for cobbles, mountain biking and all the rest – you're fine sans-magnet.  It's designed for cadence up to 160RPM, which is about where most of the units on the market can go (accelerometer based).
The update has been in testing for over a year now.  One Quarq employee had used it last year in Ironman Kona, and over the past year many of their pro riders – both mountain bike and road/tri – had been using it without issue.  In some ways it's easy to criticize Quarq on being a bit slower in some technology areas, but I think there's also something to be said for spending a year on testing and validation – versus rushing it out there and hoping for the best.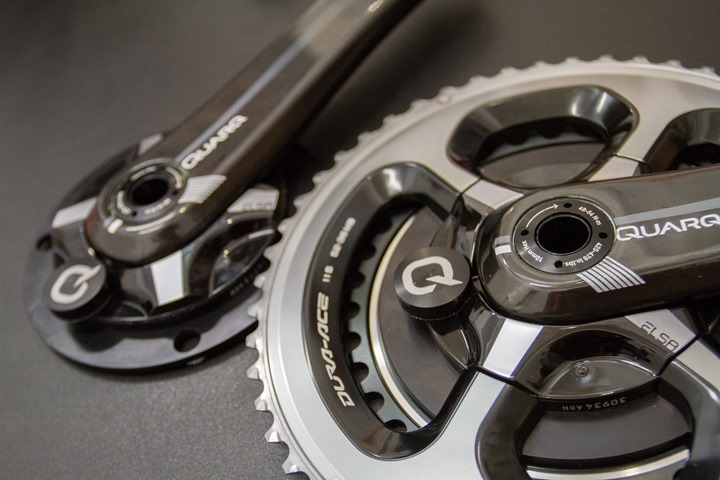 You can grab the update using their Qalvin app, which is supported on a number of platforms.  You'll need an ANT+ stick, either from a Garmin Forerunner or elsewhere.  If you're a cyclist, just go find one of your runner friends to borrow theirs.  If you're a runner and don't have one, find your triathlete friend.  If none of your friends have one, consider making additional friends.
Verve Infocrank:
Next up we've got the Verve Infocrank. This recent Australian entrant onto the power meter market offers a completely integrated system whereby the crank arms themselves hold the strain gauges internal to it.  There's only a slight bump on the back for the communications transmitter (ANT+).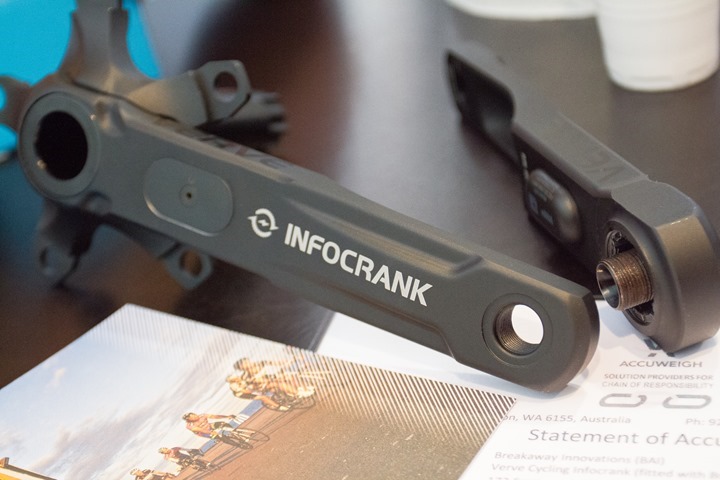 The unit is a bit more pricey than others on the market (except SRM) starting around $1,750US, but Verve believes that their higher accuracy level will differentiate it from the market.  They've noted they've expended significant time and effort to virtually eliminate variation that can be found when trying to compare different power meters from different riders installed on different bikes.
Of course, if one were to talk to any power meter company they'd say the same thing.  In many ways the proof will be in the pudding, or, rather, the power meter numbers.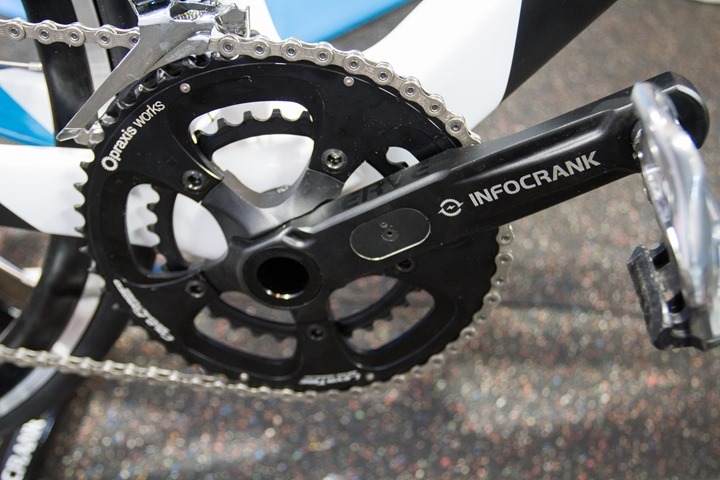 I have a unit that arrived at my doorstep back earlier this week, so it'll be joining an ever expanding fleet of other power meters I'll be running through tests on in the coming months.
Xpedo Thrust E Power Meter: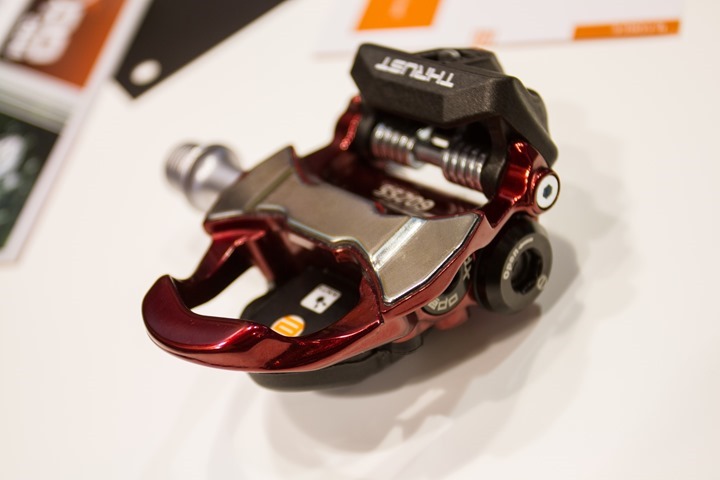 Next we have the Xpedo Thrust E power meter.  This unit has been around the block a number of times as far as trade shows go for a few years now.  It almost always seems to be almost ready for release.  That was the same case this time, where the unit is now scheduled for "Christmas time", which for those unfamiliar is December.
As for the unit itself, it's a pedal based power meter where all components are included within the pedal body. This is different from other pedal based power meters such as Garmin's Vector and Polar's offering as those require separate pods that hang off the side of the crank arms.
In the case of the Thrust, it operates via ANT+ and sends out standard left/right metrics from your corresponding left or right pedal.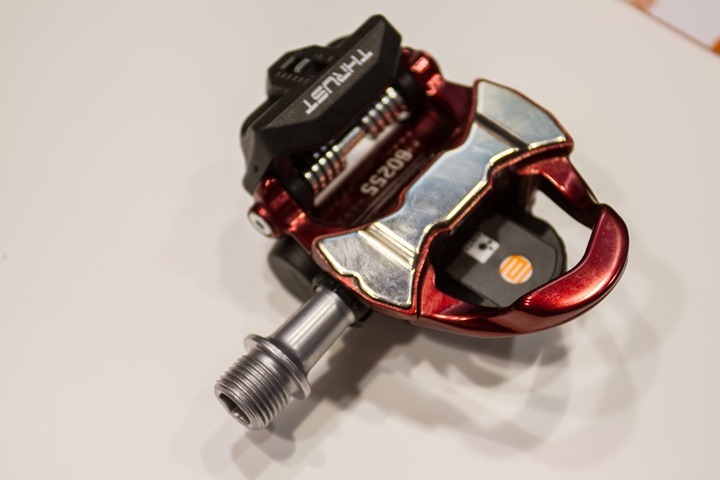 Those metrics can be viewed on compatible head units – like a Garmin Edge – or on apps that support ANT+, such as the Wahoo Fitness App with an adapter.  At the bottom you'll notice the pedal balance being displayed for the rider at the time (44%/56%).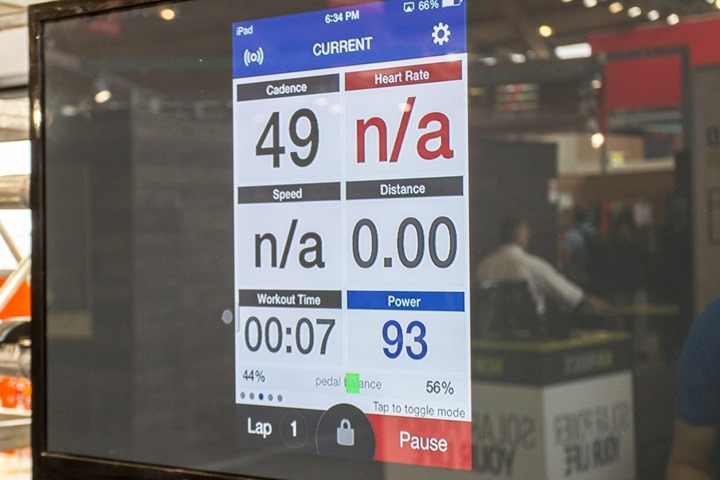 Flipping the unit over you'll see the little door to access the battery compartment (says 'Open').  You just use a hex wrench to remove the rechargeable battery.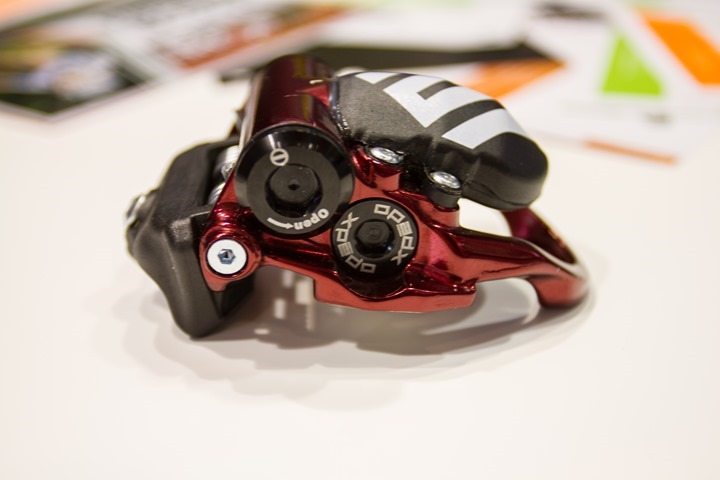 The unit uses a proprietary battery that kinda looks like a AA battery.  It gets 120 hours of use before you need to remove it and put it in the charging cradle for a few hours to charge back up again.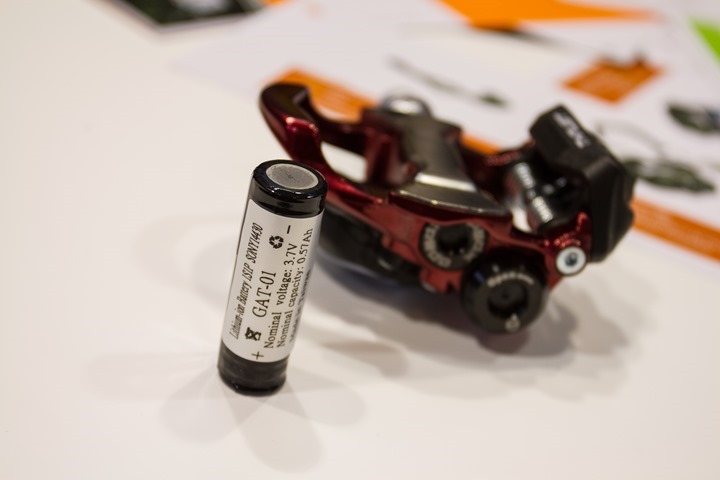 As noted, it's a complete pedal system. At this point they don't have any plans to sell a single-sided version like a number of other companies have announced recently.
On the flip side, the full system comes in at $1,100US – so it sits about halfway in between left-only systems and full left/right systems.  Of course, the real question here isn't so much price – but whether or not they make the current projected date along with Santa and his eight tiny reindeer.
Stages Power Meters: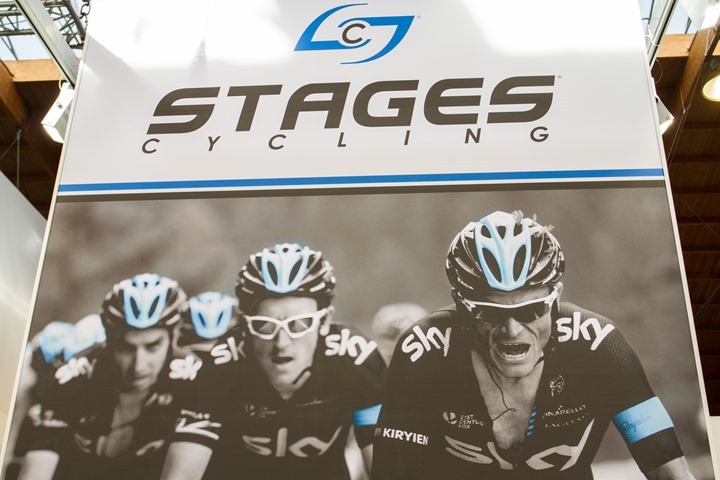 Moving over to what I suspect at this point is the largest seller of power meters in the market (by moving volume today), we've got a few minor announcements from Stages.
First up on the road side they've announced two new units – the, the FSA BB386Evo Energy 386.  This unit uses the FSA BB386Evo cranks and corresponding bottom bracket.  Said bottom bracket has quickly reached favored nation status by just about all the power meter companies due to it's incredibly wide compatibility with existing bottom brackets.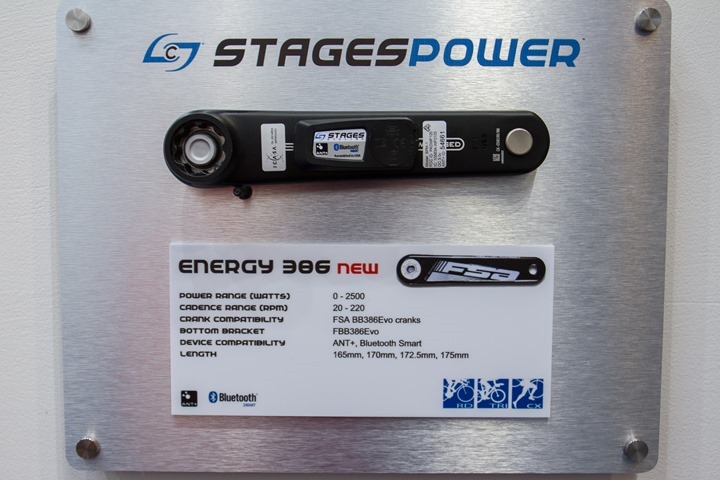 They've also refreshed the Shimano 105 5800 lineup for Hollowtech II road cranks.  Both this and the previous unit cost the baseline $699USD/EUR.  Other currencies will vary of course.  On that note, that they've just started shipping in South Africa.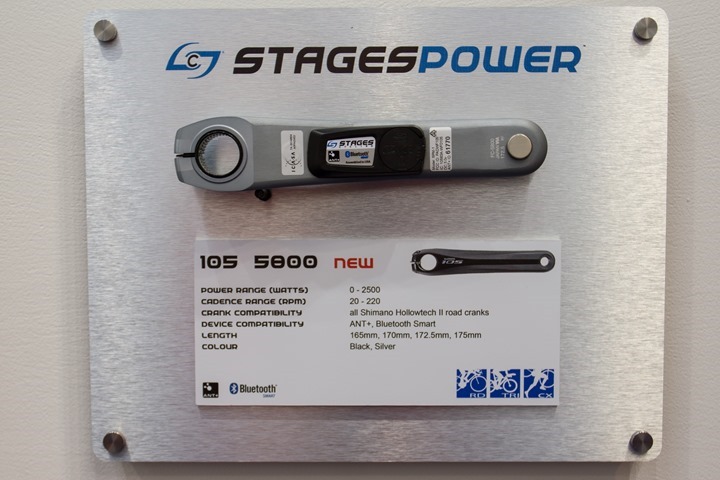 I thought it was interesting that their signage notes the power and cadence ranges.  You know, just so you won't be too disappointed if you typically put out 2,600w and 230RPM and pickup a Stages PM to find problems.  It's always my problem too….every time.
Next, looking at the mountain bike side they're working on M920 and M9000 crank arms there for the XTR series.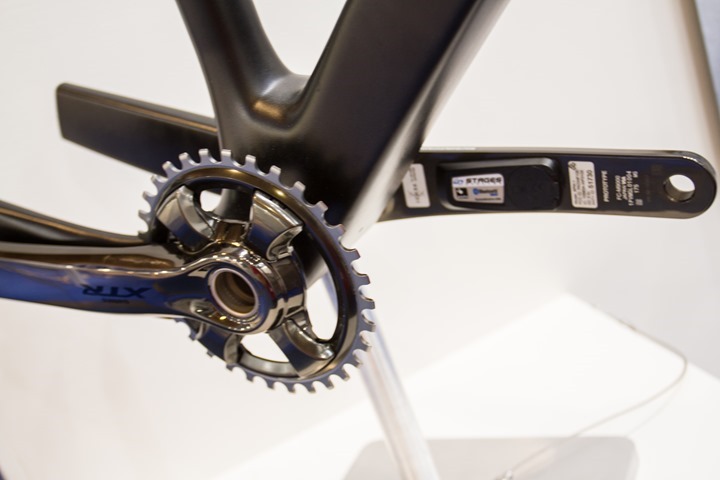 The hope is to have these available in the February/March timeframe.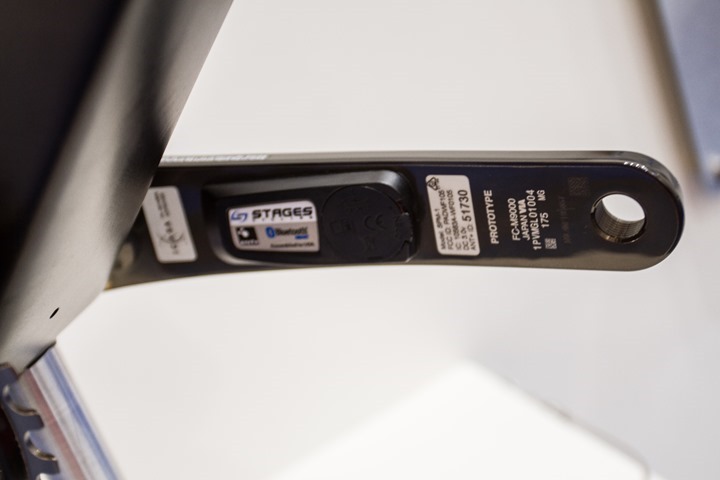 And finally, for those asking about ROTOR cranks, they remain willing and and more than ready to offer them…pending ROTOR agreeing to such (they require agreement from the crank arm manufacturer for supportability reasons).  In other words, the holdup is totally in ROTOR's camp at this point.
Ciclo Power Meter: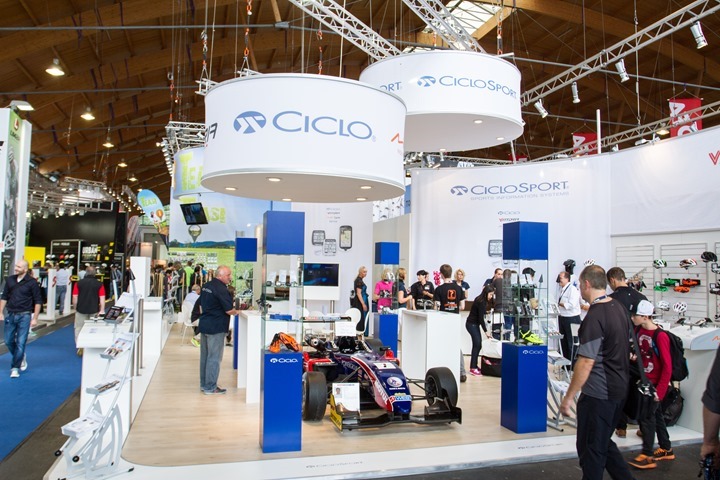 Last but not least, we'll end with one company that had a semi-perpetual presence of power meter parts at Eurobike the last few years.  They'd previously discussed making a sub-$1,000US power meter with left-right power, and inclusion of a head unit.
This year however, their little display of power meter parts was not to be found.  In my discussions with them, the project has been shelved with no further plans to pursue it.  They said that they simply couldn't get the costs where they wanted to be to have it make business sense.
So I suppose where one company's efforts dies, another is born (the many above).
—
With that, thanks for reading!  If you're looking to burn a bit of time, here's all my Eurobike 2014 posts!