As seems to be more and more the trend, the majority of power meter news came from Eurobike this year – with only smaller tidbits coming out of Interbike this year.  Things such as pricing changes and slight model adjustments.  But no big bang type announcements.  So this post is a bit of a clean-up post for any remaining power-specific items out of Interbike, which is in addition to these standalone power meter posts from Interbike:
– Stages drops prices, down to $529US
– Hands on with the Dyno Velo power meter
– LOOK's new dual ANT+/BLE Power Meter Pedals: A bit more information
Plus, here were all of the Eurobike power meter news pieces:
– Stages Power announces carbon crank options, talks a bit about dual leg power
– Power2Max drops prices…again. Now $610US.
– First Ride with new $299 PowerPod Power Meter
– Eurobike Power Meter Tidbits: SRM, Limits, 4iiii, Verve, Pioneer, Look
I've also got two sorta-power meter related posts left to post on, though not new consumer power meters per se, but rather updates on power-meter driven products (including the Di2 Shifting System & a OEM solution coming out).
With that, let's dive into the remaining tidbits.
Pioneer adds US pricing for left-only power: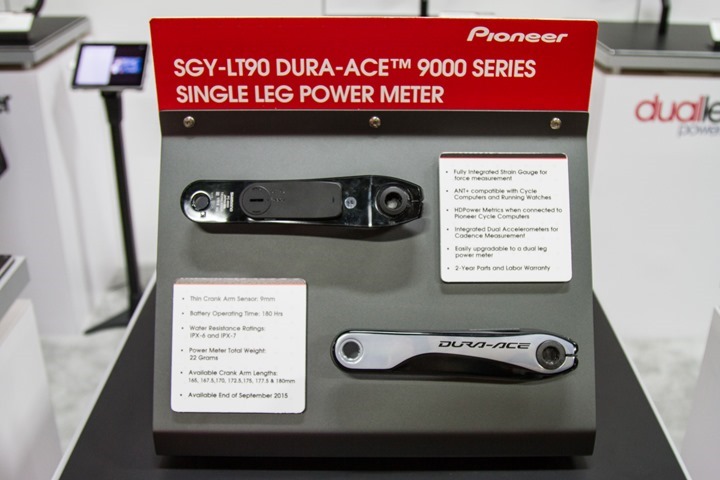 While Pioneer actually announced their left-only power meter all the way this past spring in Japan, the pricing news has slowly dribbled out from country to country (European countries this summer), with the US pricing finally making its big reveal at Interbike.
While one might assume the left-only unit is just like Stages (and there's some truth there), it's actually more like Vector-S or Polar Essential, in that you can later upgrade it to a dual-leg system from the company.  Further, unlike Stages (or even Vector & Polar), Pioneer will actually give you full single-leg stroke analysis.  While it's not the two-legged platform you'd see in the dual system, it is nonetheless the same high-speed data capture that exists in that platform (just on one leg).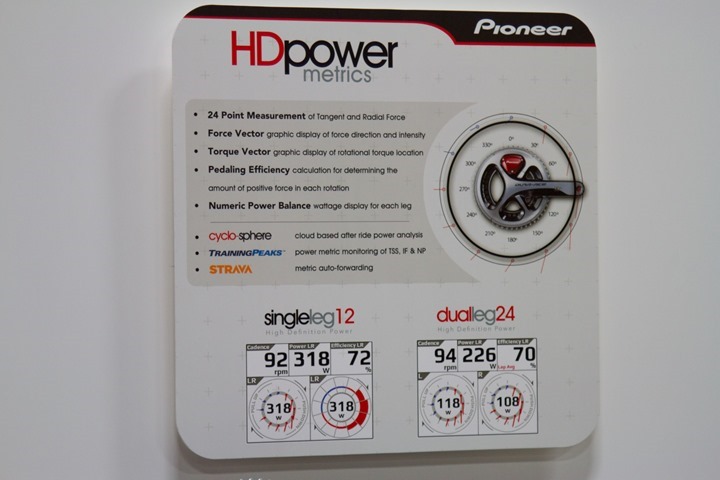 Down the road, should you choose to upgrade you'll buy into their 'upgrade kit', which adds in the right side (drive side) to the equation.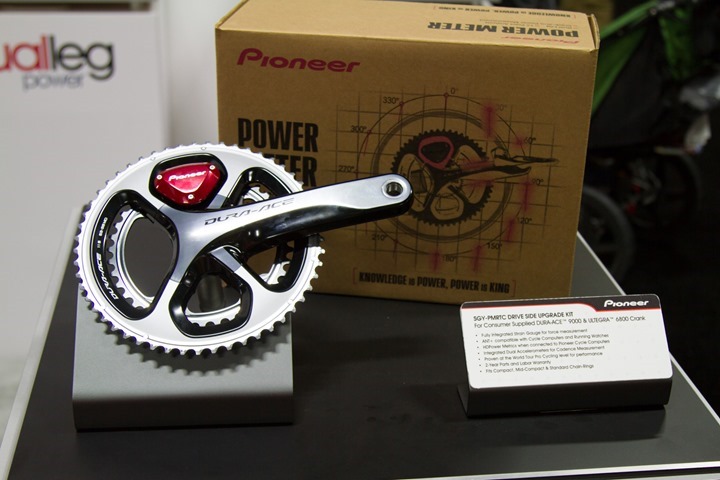 As for prices?  Ask and you shall receive:
– Dura Ace Left Leg Only – $899US
– Ultegra Left Leg Only – $799US
– Upgrade kit adding in right leg – $749US
Availability for these is September (so basically, now).  Now the obvious challenge here being that the next day after Pioneer announced their pricing, Stages dropped their prices by $170US (from $699 to $529).  As such, it makes it a bit harder to recommend Pioneer for someone who has no plans of going full left/right (upgrading down the road).  Obviously if you do plan to upgrade down the road, then it might be more appealing – though I think the pricing is a smidge high.
Finally, one thing to keep in mind is that if you already have a compatible crank system, you can pay the $999US for the entire left/right system (you send in your box of goods and they send it back attached).  As noted in my in-depth review, I rather liked the Pioneer Left/Right power meter system (but again, not the head unit), but think the power meter itself is solid and I had almost no issues with it.
WatTeam edges towards shipping: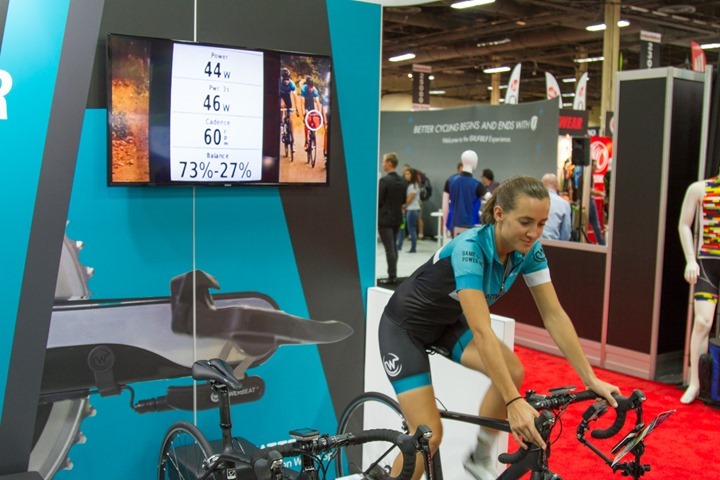 Three or so weeks ago WatTeam opened up their pre-order page to allow folks to order their upcoming PowerBeat dual-leg power meter system.  You'll remember I tested a near-final unit this past summer, and it did fairly well overall.
At Interbike they showed off their final packaging, which was super-close to their packaging they showed me.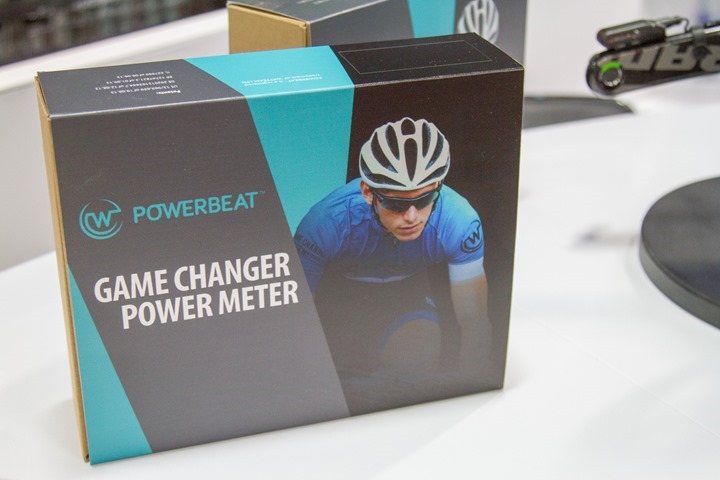 They also confirmed that they remain on schedule for delivery in the November timeframe, as previously announced.  Beyond that, I expect the next thing we'd hear from the company will hopefully be shipping of units in just over a month.
Xpedo edges further away from shipping: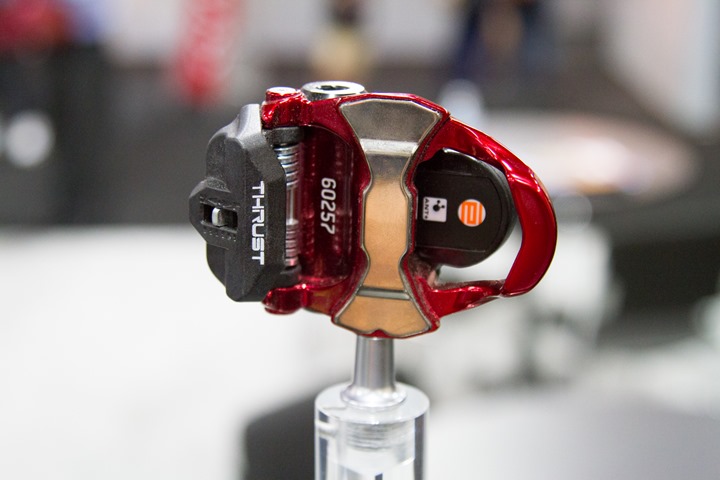 While the rest of the power meter world moves forward, Xpedo continues to move backwards with their never ending ship dates.  It's basically a perpetual joke as to when the company will ship, with years of trade-shows always saying "In the next 6-8 weeks" or "Just 1-2 months away".
Well, this time I got a different answer: Next March. Maybe.
Yes, seriously.
Not really much else to say other than that.  Though, they did stick it in their catalog: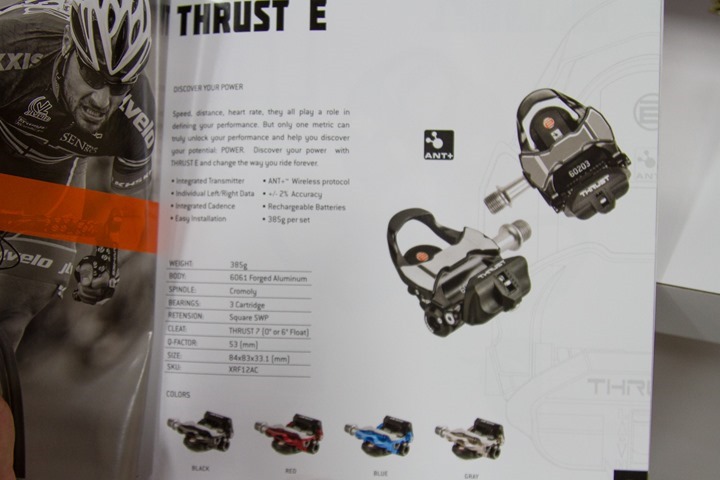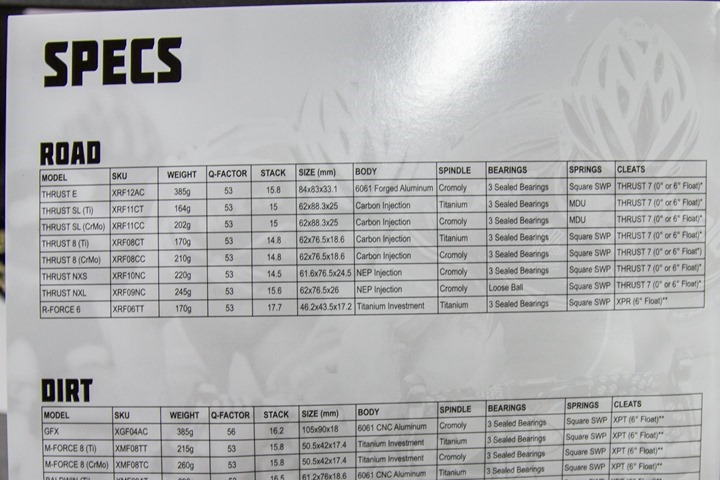 Just in case you like to be reminded what the future looks like.
PowerTap starts shipping C1 Chainring units: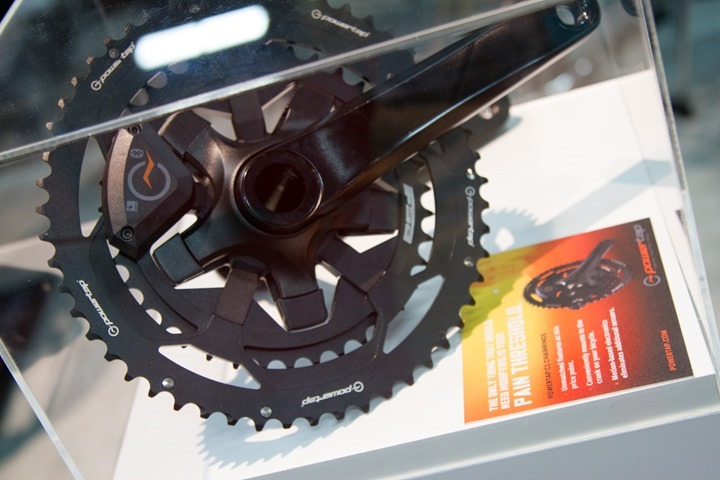 The Friday of Interbike, PowerTap started shipping their C1 chainring units to customers.  You'll remember that this was first announced this past spring, and I've been using it on and off throughout the summer (a prototype unit).  I've received a final production unit and will start evaluations on that over the coming weeks, though as long as things continue like this summer – it should do well.
In addition, they've submitted their iOS app to Apple for approval, which will better support the existing PowerTap P1 power meters that started shipping this past summer.  Further, for the handful of folks that are getting unexplained high-wattage spikes (i.e. 50,000w) on the P1's while using them with some Garmin devices, PowerTap is working closely with Garmin and ANT+ to sort out what appears to be some sort of communications trip-up there.  Either PowerTap or Garmin could somewhat easily simply cap the values, but are instead working to try and figure out the actual root cause – as opposed to just applying a quick band-aid.  Either way, it should be a simple firmware update once solved.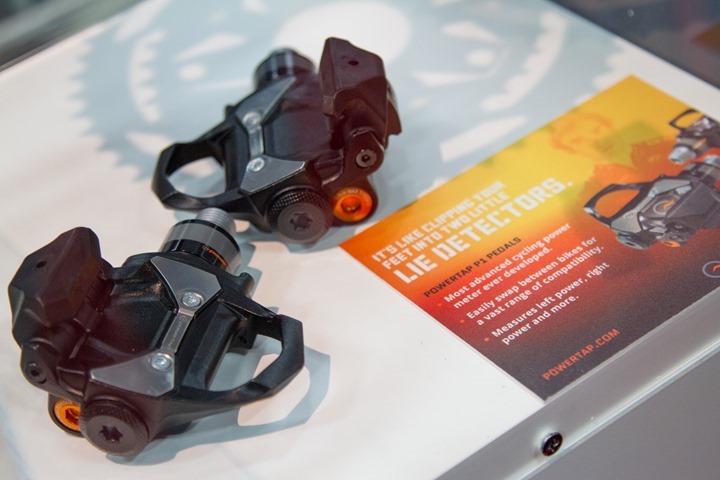 Finally, for those on the FR920XT, there's now a beta firmware update out that allows adjusting crank length for non-Vector power meters (needed for the P1).  Additionally, the Edge 1000 firmware update went out this past week.  And then final Edge 520 firmware update should be out any day now according to Garmin.  All other Garmin devices are already compatible.
—
There were no other power meter announcements at Interbike that weren't already covered in separate posts, or previously at Eurobike.  Note that I expect no further power meter announcements this year. As such, you'll see my 2015 Edition of the Annual Power Meter Buyers Guide published sometime this week (Sept 28th-Oct 2nd).  How early in the week will fully depend on how productive my 9hr and 25min flight to Calgary is that I'm about to board.
—
With that, thanks for reading!  If you're looking to burn a bit of time, here's all my Interbike 2015 posts!