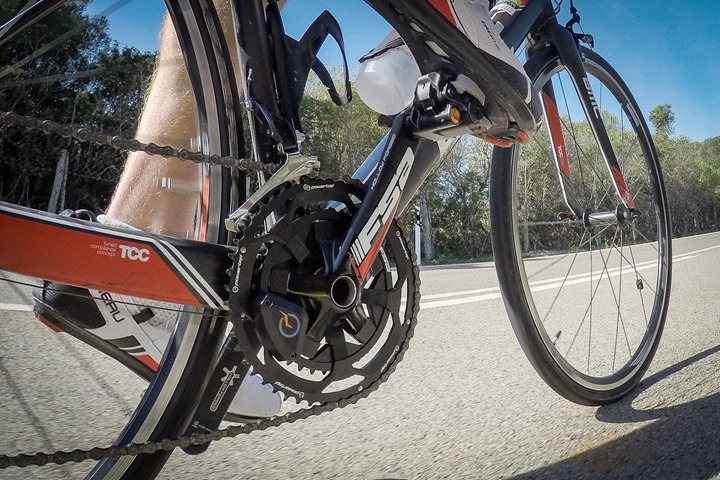 This past weekend I spent time riding on PowerTap's latest products that were announced about two months ago (much more background in that post), all of which are in various non-final forms, but nearing release. They've got a full suite of new things out, so here's the quick reference chart:
PowerTap P1 Pedals: Full left/right sensing power meter pedals
PowerTap C1 Chainring: Chainring based power meter (captures total power)
PowerTap G3: Existing G3 power meter wheel hub, but now have dual ANT+/BLE cap for it
PowerTap Joule GPS+: New bike head unit with smartphone connectivity/uploading
It's the P1 and C1 that are likely of most interest to folks here, but I also make mention of the updated G3 cap (which can be purchased separately), as well as the Joule GPS+.
My test time period included two full rides (one about 3hrs and 40mins, another about 1hr 50mins), as well as one 22 minute ride trying to find my hotel room's address/location (don't ask). PowerTap provided a bike, which we then attached products to. Here's a quick overview video of what I'll be covering and my test setup:
Also, this is not a full review. Nor really a review of any sort actually. These are beta devices on only two rides. I view this post merely as a 'check-in' of where things stand. An update of sorts per se. Finally, as is always the case for media related events, I pay all my own travel expenses.
PowerTap P1 Pedals: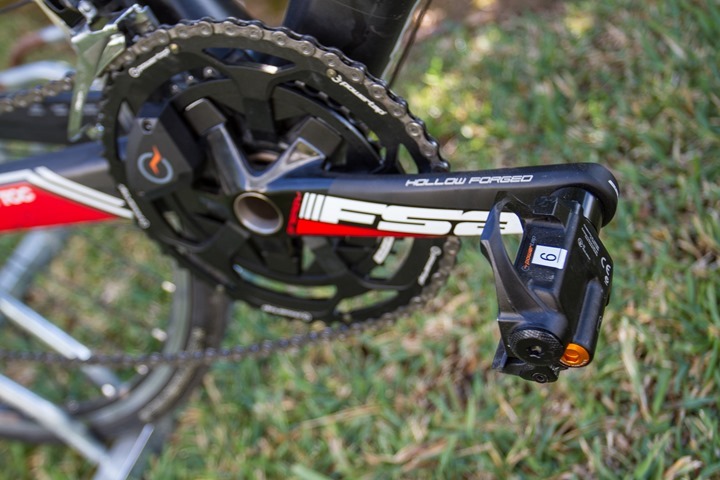 First up we've got the PowerTap P1 pedals, which are priced at $1,199. The pedals are unique compared to other pedal offerings on the market (by Garmin and Polar) in that everything is self-contained in the pedal itself, so there are no additional pods hanging off the pedal.
Installation is also more straightforward than those other units, notably Garmin Vector, as a torque wrench is not required here. To demonstrate the installation process I went ahead and installed a new set of pedals on the 2nd day to the bike. I did this due to some right-pedal drop-outs I was seeing during my ride the first day. Below you can see the full installation/pairing/calibration process:
As noted, prior to heading out for a ride you'll zero-offset the units – similar to other power meters on the market. Though, it'll also auto-zero for you as you ride as well (also similar to other products).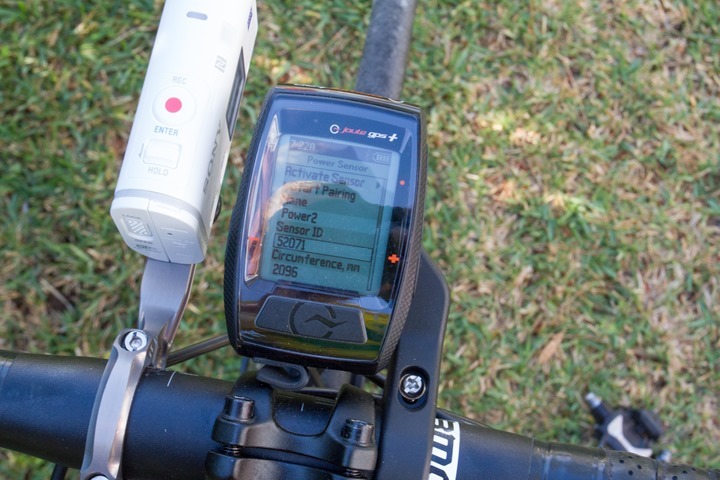 On the torque side, they'll assume the same torque specifications of the crank arm itself, which is roughly translated to 'reasonably snug' (no different than any other pedals you'd install). The pedal will of course further tighten itself as you ride, and the P1 pedals will automatically account for that dynamically, as it tracks the position of the pedal itself.
Before we get on the road, note that PowerTap does include a slightly different set of cleats. These cleats have some very minor tweaks to the standard Keo compatible cleats. This ensures a more secure fit. For this weekend, I did NOT use said cleats, but just used the regular ones I had (I believe from Garmin Vector). I experienced no problems. However, another media member also used his own cleats and did pop-out once (hence why PowerTap recommends using the included cleats instead).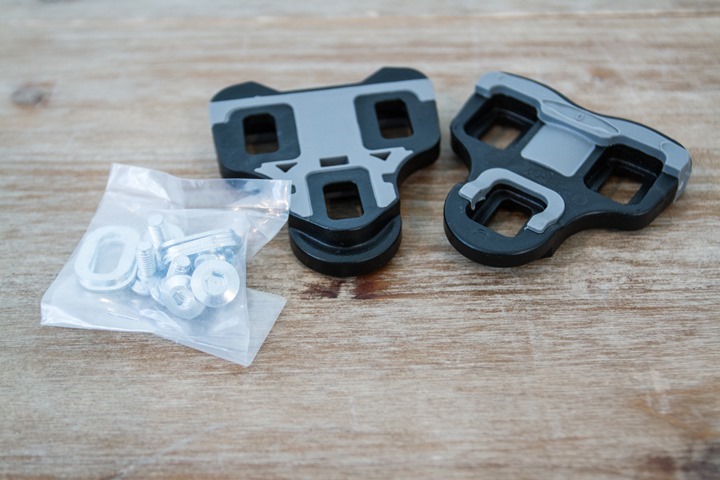 When it comes to riding, you'll get left/right balance information from the pedals. In watching these numbers they were roughly in-line with what I normally see for my pedal balance. Of course, there's no way for me to 100% validate that. However by virtue of the design of such systems the individual power contributions are added together – so if one were to incorrectly calculate one side, it would give incorrect total power numbers.
You can see this at the top right (51/49), which shows left/right balance (of the 329w to the left of that).  These fields are all configurable of course.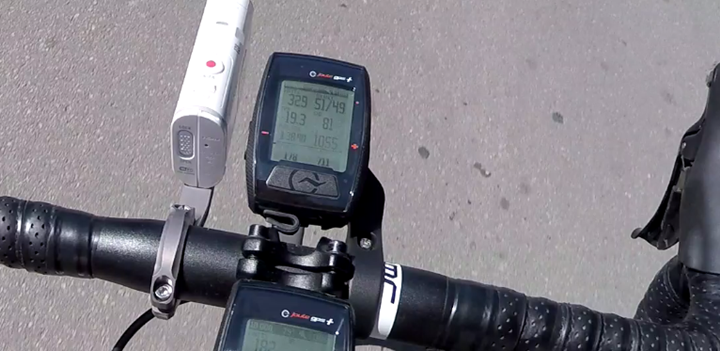 Next, looking at some power accuracy comparisons, we're going to focus on the 2nd day – since the first day had a wide range of things that seemed to hinder comparison testing – from an oddball crank length being set on one unit to dropouts of one of the pedals. The second day things were much cleaner and thus making for a simplistic and likely more realistic comparison.
Here's the data for the three units overlaid together: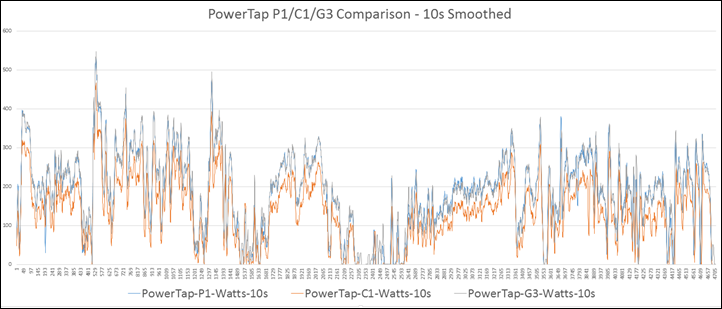 As you can see the data tracks very closely between the P1 and G3, which is good.  The C1 is reading low (that's in orange), which was expected.  I don't see any random separations between them where one or more power meters diverges significantly.
Next, to simplify things a bit, I took a 10-minute chunk (from 1900s to 2500s).  It was just a random piece of the ride where things were relatively non-stop. I removed the C1 data from the below to make it easier to see the comparison between the hub and the pedals.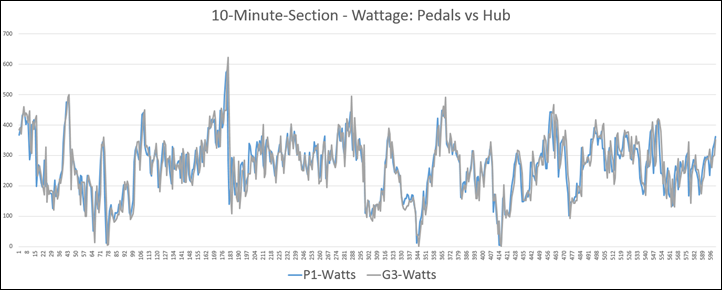 Finally, what about cadence? Here's the same section. This time I swapped out the hub for the chainring. Mostly because the PowerTap hub cadence isn't something I'd normally use as a 'baseline' (since it's estimated) versus the chainring that I'd trust more.  Note that the 'drop' you see in there is simply when I stopped pedaling for a second (so, it's logical).

From a production standpoint, the company will be producing their first production batch next week, which they'll then do internal testing on to validate everything is good to go. They're expecting to start delivering pedals to consumers by around the 1st week of June, so about 30 days away.
PowerTap C1 Chainring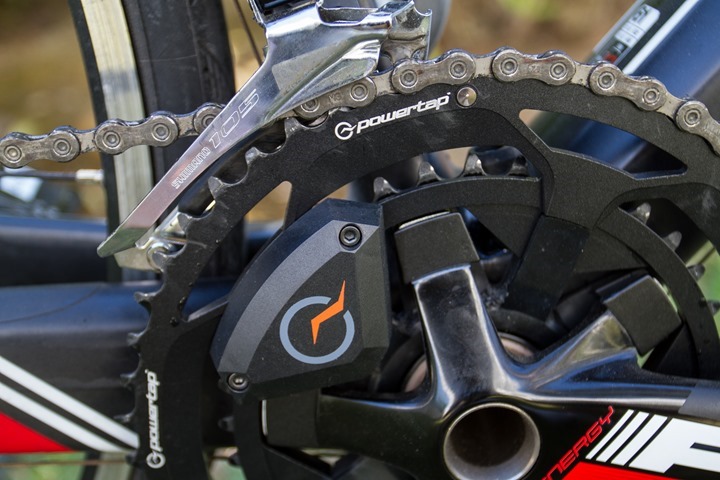 Next we get to the C1 Chainring unit, priced at $699US. They had warned upon arrival to the island that this unit would read about 10% low. This was due to them having hand-built the units used for the week on-site, but not having run them through their automated calibration machine back in Madison, WI which is part of the normal production process. They noted that it should be consistently low, which in fairness is what both myself and the other members of the media saw on our rides. I much prefer consistency inaccurate at a given known percentage, than inconsistently inaccurate.
In any case, from a usage standpoint things here are pretty simple in that there's nothing for you to do other than jump onboard and ride. You can perform a zero offset, though there's no specific need to as it'll auto-zero when not pedaling (roughly similar in concept to how PowerTap's hub works).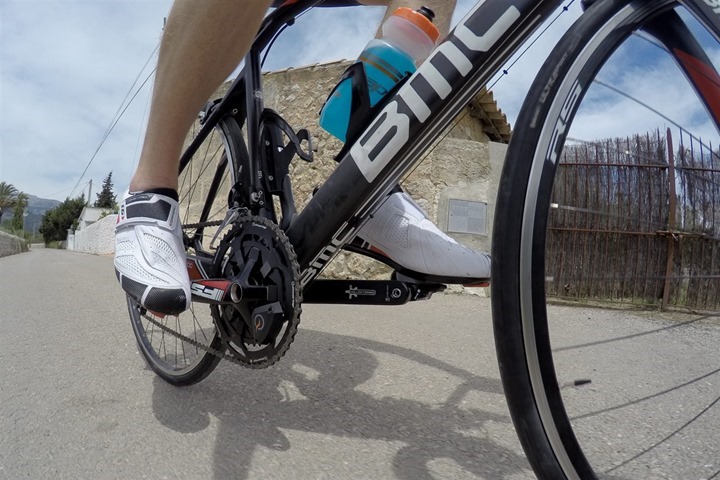 In my testing I saw things low on the PowerTap C1, as expected. Though, I saw them generally a bit lower – around 20%. You can see that below in the 10-minute slice (or up earlier in the larger shots).  I also included the cadence data in the earlier section as well.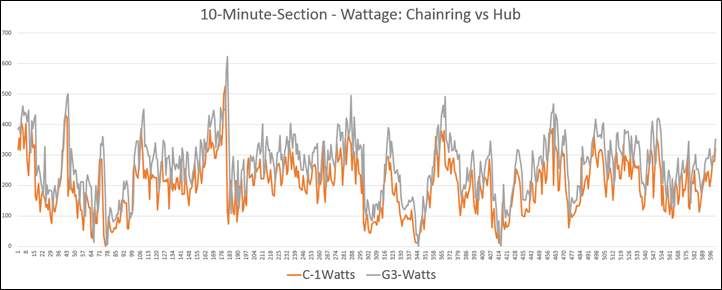 I'm not really worried about the chainring lowness right now.  From a product development standpoint this unit is pretty 'easy' compared to that of the pedals.  So if re-calibrating these hand-made units by machine as normally planned solves the issue as they say it will, then I don't really have much reason to doubt them.
Now in talking to PowerTap the focus for product releases is first on getting the P1 pedals out the door. There's only about 20 folks within the PowerTap product group, and the order of release is pedals first, then chainring units. So they're looking at late June or early July for the C1's to start making them to consumers.
Additionally, it was clear they are listening to the many requests for expanding component compatibility of the C1 – but at the same time their goal is simply getting the first variants out the door first (which is logical). Trying to boil the ocean rarely works, and as you'll see throughout the post PowerTap appears to be taking a fairly serial approach to their upcoming product releases, with them ordered one after another much like planes waiting to take off.
(Note: I've provided the 2nd days' worth of data within this zip file. See readme.txt notes inside.)
The Joule GPS+ with Smartphone Connectivity: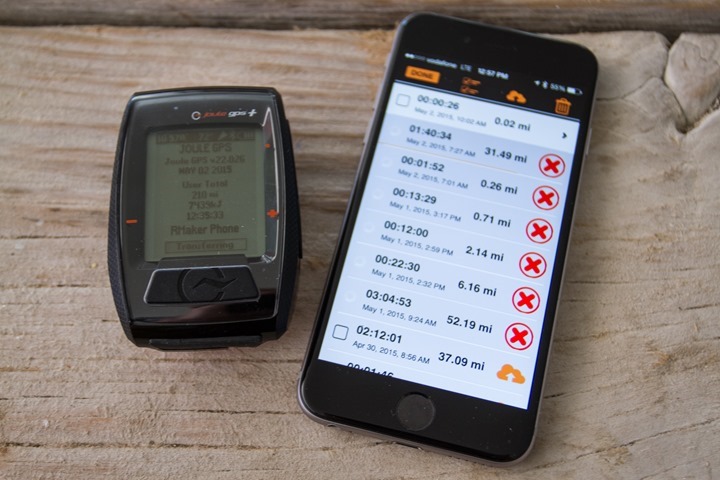 Next, we've got the Joule GPS+. I previewed this back in January when it was first announced. And I've been using it since then on many of my rides, though mostly in the mode where it's capturing high speed data from one of the newer high-speed data PowerTap caps that they're trialing.
So this was actually the first time I'd used it with the smartphone app. And I was pleasantly surprised – it worked really well in terms of downloading data. And I loved that I could easily transmit that data to tons of 3rd party platforms, or just shoot myself the .FIT files.
For the purpose of this post, I've put together a short video showing me 'pairing' the Joule GPS+ to my phone, and then downloading the data. Here ya go:
As you can see, super easy to use, albeit the app user interface might be a little bit clunky. But it gets the job done, so that's OK for now.
The new dual ANT+/BLE PowerTap cap: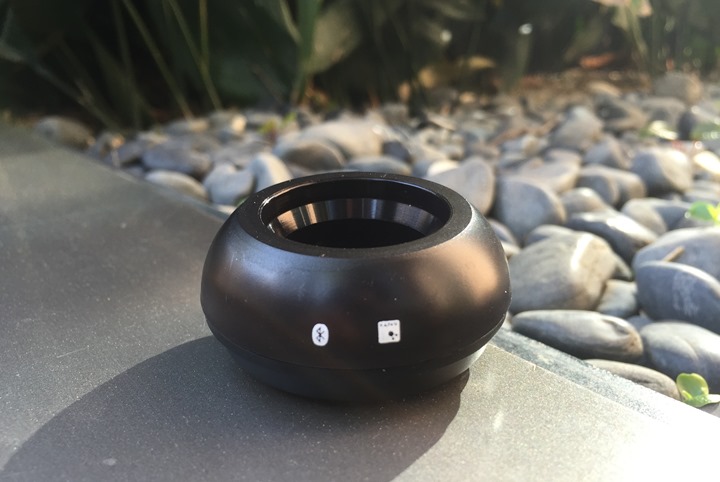 Last but definitely not least, PowerTap slyly pulled out a new PowerTap dual-capable cap for the existing PowerTap hubs. This cap will concurrently transmit on both ANT+ as well as Bluetooth Smart, from your PowerTap hub. Basically it combines their two existing ANT+ only and Bluetooth Smart only caps into a single unit. Which…is awesome. In doing so they join the growing number of companies that simply dual transmit on both protocols and give consumers choice. This includes Stages, 4iiii's, and Wattteam.
From the outside, it looks identical to any other PowerCap – aside from the two logos being there.  Inside it simply has a dual capable chipset.
I'm personally looking forward to this quite a bit (and now have a test cap to use) since I often do testing on both protocols. For example, if testing out any of the most recent Suunto or Polar products, they're Bluetooth Smart only. Whereas on the flip side, the Garmin products are ANT+ capable only. So this enables me to test multiple products at once when I'm trying to connect to the same hub that's transmitting full power (as opposed to Stages or 4iiii's, which currently only do left-only power).
The exact release date and price for the cap is still being finalized, but the thinking is it'll be available by the end of summer, and for somewhere in the ballpark of $150US. Right now the focus from the company is on the pedals first, then the chainring unit, and then finally getting this out the door.
As for my product review plans – I'll likely be reviewing the P1 pedals first, probably timed to a mid-June release, depending on when exactly I'm sent a production unit/firmware. Following that the C1 chainring unit. I'll likely include coverage of the Joule GPS+ unit within both of those.
Thanks for reading!
—
Update June 25th, 2015: You can now pre-order the PowerTap P1 pedals and PowerTap C1 chainring units from Clever Training.  In doing so you'll save 10% with DCR Reader Coupon Code DCR10BTF.  In addition, you'll get free US shipping.  Note that I have also recently received final production units of the P1 and C1 that I'm now testing for my in-depth review.  I expect the P1 in-depth review in mid-July.