In what may be one of the most hinted at announcements ever in the power meter world, PowerTap today is officially announcing their two newest products: The PowerTap P1 pedal based power meter, as well as the PowerTap C1 chainring based units.
These two units are in addition to their long-running and existing product the PowerTap hubs.  Those products will continue in the market (and continue to grow), as the company looks to offer a fuller suite of power meter placement options.  Heck, there's still even the PowerTap PowerCal, for those at the super-budget end of the power spectrum.
I've spent a fair bit of time discussing the new products coming from the PowerTap team over the last long few months, including some brief hands-on time with samples here and there.  That said, it won't be till next month when I can start putting the pedal to the metal.  Still, here's everything you ever wanted to know about all the products in the meantime.
PowerTap P1 Power Meter Pedals: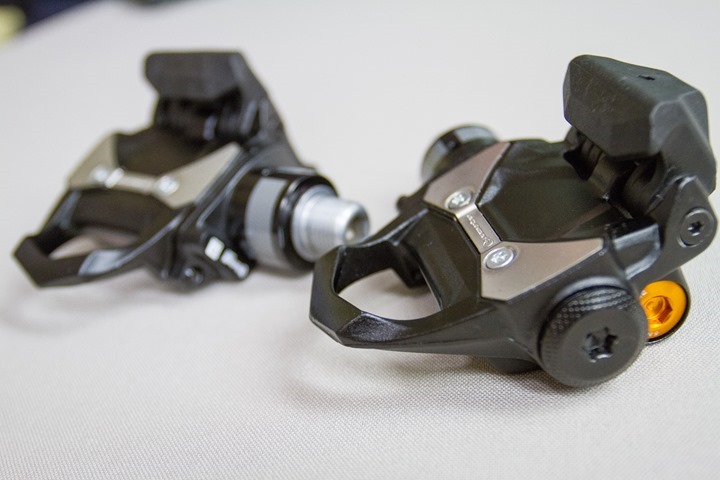 First up we've got the $1,199US left/right pedals that capture your power output from both legs.  The pedals are fully self-contained within the slightly larger pedal body size.  There are no additional pods that hang down from the unit, such as is the case with Garmin Vector, Polar/Look Keo Power, and to a lesser degree, the ROTOR Power system.  You can see the full system here: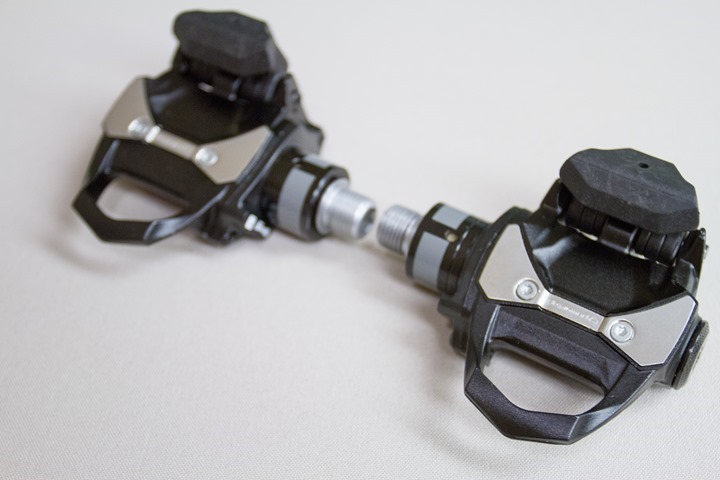 You'll notice that there's a small battery compartment.  PowerTap selected to go with a standard AAA battery.  This battery will give the unit about 60hrs of battery life before replacement, which they note for the average rider is about 2 months.  In balancing battery life demands and selecting a battery type – they noted that while they could have probably gotten more battery life out of some coin cell batteries, those would have been tougher to find globally.
With the AAA being ubiquitous, it makes it easier to find – even mid-ride.  They noted they also looked at rechargeable options, but the tradeoffs there around battery life made it quite a bit less appealing.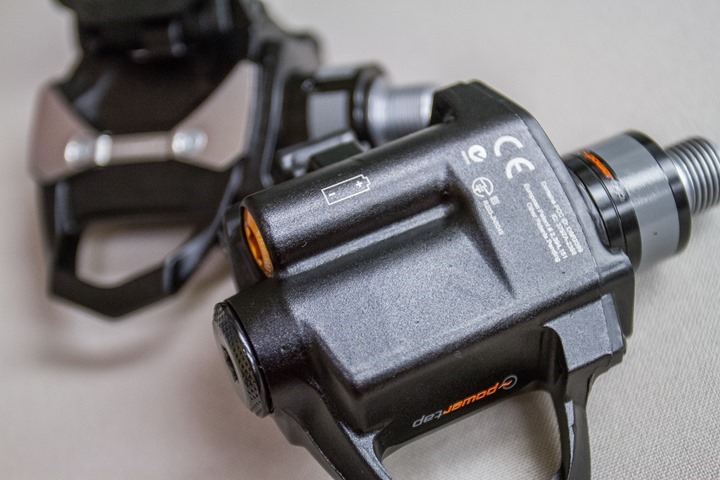 The platform dual transmits on both ANT+ and Bluetooth Smart, akin to how some other power meters such as Stages and 4iiii Precision do.  This means that you'll be able to use it with ANT+ head units such as a Joule GPS or any capable Garmin unit.  Similarly, with the Bluetooth Smart side of the house, you'd be able to connect it to phone apps as well as Bluetooth Smart power meter capable head units (potentially including the Suunto Ambit3, Polar V800, and Polar V650).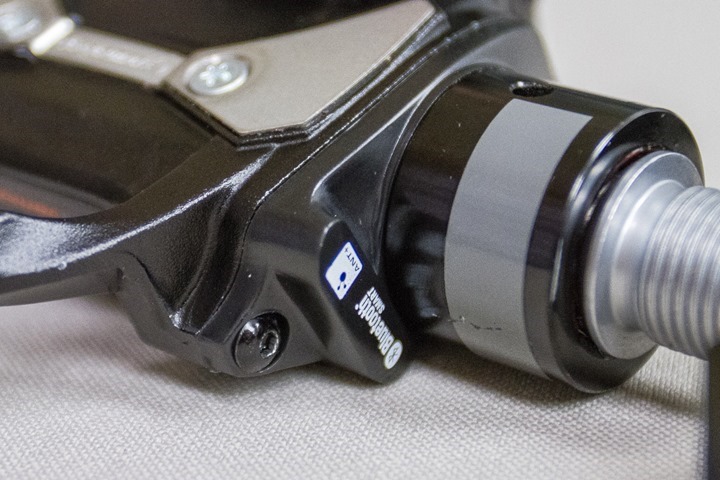 The unit requires no additional setting of installation angles, as it'll calculate that automatically within 10 pedal strokes.  You are able to manual zero the unit if you'd like, though there's no auto-zero function within the platform since the unit is always in contact with the pedal (compared to the PowerTap hub based design where it auto-zeros upon coasting).  Additionally, PowerTap has confirmed it'll accurately support osymetric chainrings (q-rings) with the unit.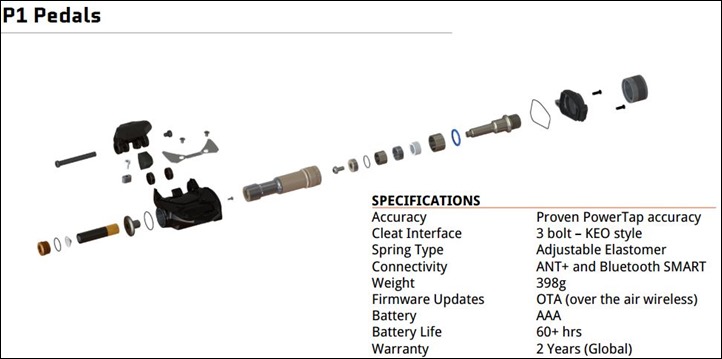 The unit will transmit total power, as well as left/right power at launch.  It'll do so with a claimed accuracy of +/- 1.5%  Following launch, they'll introduce support for tangential force power, as well as pedal position.  Like other power meter companies, they noted they expect to see additional metrics down the road.  They noted that with the 8 strain gauges implemented per pedal, and each strain gauge having a dedicated corresponding processor to it, they had more flexibility with respect to future metrics.
When I look at companies that have introduced additional metrics after release, a good example would be Garmin and their Cycling Dynamics, which was introduced about a year after the initial Vector release.  The P1 pedals support over the air software updates via Bluetooth Smart and ANT+, which gives them flexibility on devices they can use to complete the firmware updates.
From PowerTap's standpoint, they noted that "We could put a bunch of stuff out there, but if it's not useful, it's really a waste".  Which, is no doubt true.  It's one of the chief complaints I have about many of the new metrics that power meter companies are focusing on.  These same metrics aren't terribly useful in the grand scheme of cycling – at least not yet.  No doubt in time they might be…but there just isn't the scientific study backing up how to use this data to train smarter and race better.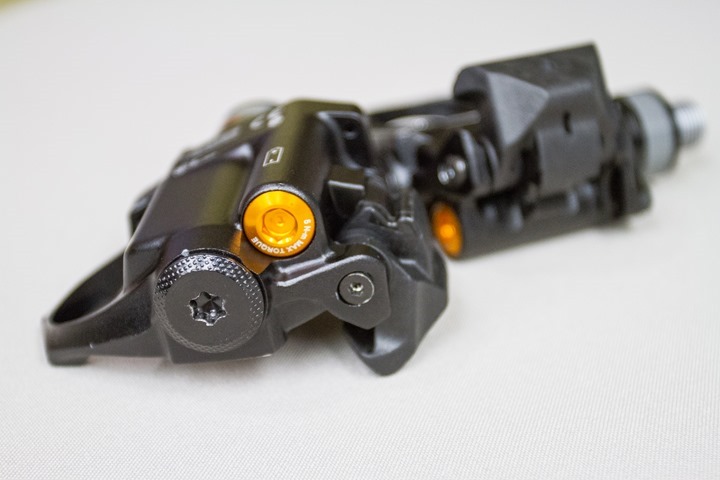 From a weight standpoint, the complete pair comes in at 398g, which is a bit of an increase over a typical pair of pedals which will hover in the 250-280g range.  On the pedal based power meter front though, Garmin Vector currently weighs 350g, so it's a slight premium over Vector, but does do away with the pods.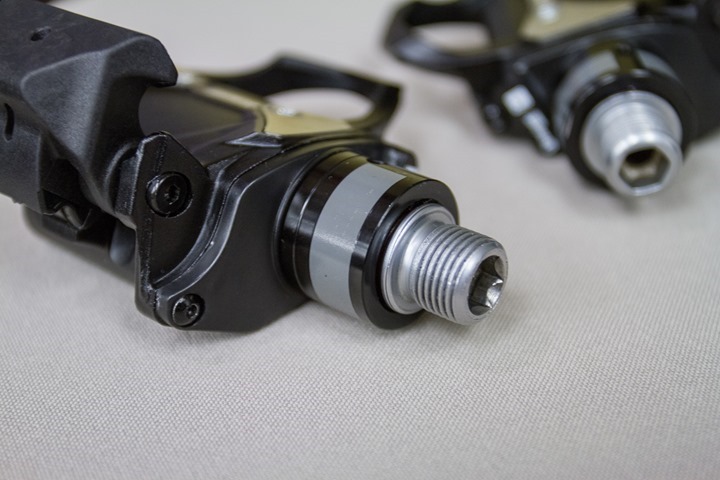 Finally, the pedals are using Keo cleats (3-bolt variant).  The units carry with it a 2-year global warranty.  The current plan is for availability within "Late Spring 2015".  As a casual reminder on the definition of seasons, spring officially goes until June 20th.  And again, the price is $1,199USD/EUR.
PowerTap notes they have no plans at this time for a single-pedal option.  This means they don't plan to offer a left-only or right-only option.  Additionally, you cannot split-up the system either (meaning, two friends purchasing and splitting the goods).
PowerTap P1 Gallery:
Here's a full gallery I've put together of a PowerTap P1 prototype unit.  I've placed it next to a Keo Classic pedal (basically, the super cheap ones I have sitting around my house), along with a Garmin Vector.  Additionally, I've included some shots on how it looks sitting on a bike.
Note again since this was/is a prototype unit, it's plausible there will be tiny little changes along the way to production.  I do greatly appreciate Derek from PowerTap in getting me a prototype unit to create the above gallery.
PowerTap C1 Chainring Power Meter: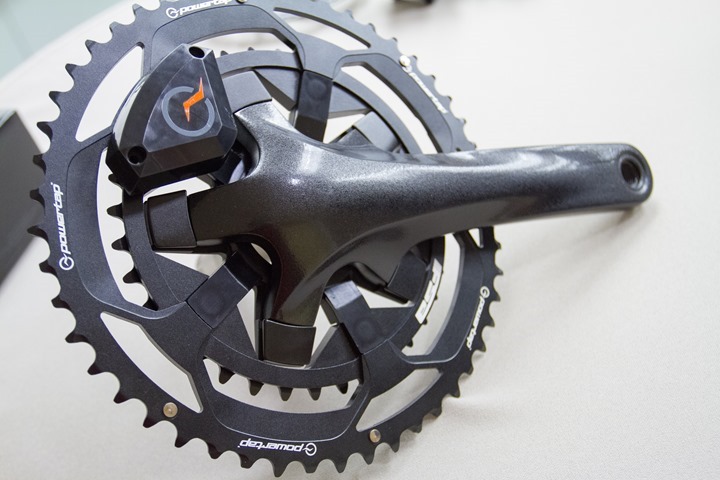 Next up we've got the $699USD/EUR PowerTap C1 chainring based power meter.  The unit sits on the chainring and will broadcast your total power to compatible head units.  The unit is being sold inclusive of the chainrings, but not the entire crank set.  This means you'll be able to add your own cranks, assuming they are compatible.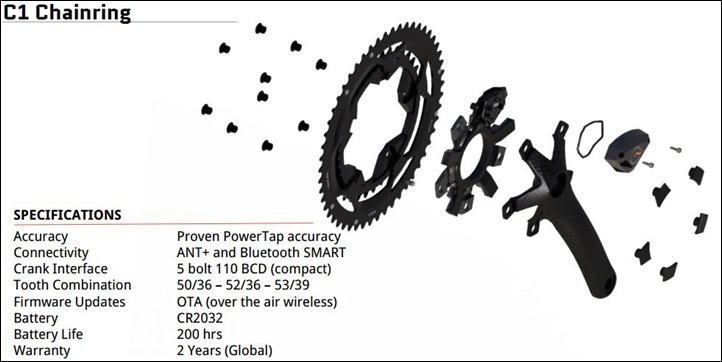 Like the PowerTap P1 pedals, the unit broadcasts currently on both ANT+ and Bluetooth Smart, so it'll work with virtually any power meter capable head unit or phone app out there.  It'll transmit total power, and then also transmit estimated left/right power.  This is similar to how Power2max and Quarq units work.  This left/right power isn't measured, but estimated based on splitting the phase of the stroke into two portions.
The unit will support over the air software/firmware updates, so the company could potentially add functionality or address issues down the road.  As an example, we saw competitor Quarq add and provide for a number of minor features over the years through their wireless updating capability.  So even if PowerTap doesn't have a set roadmap today – long term it's definitely a good feature to have.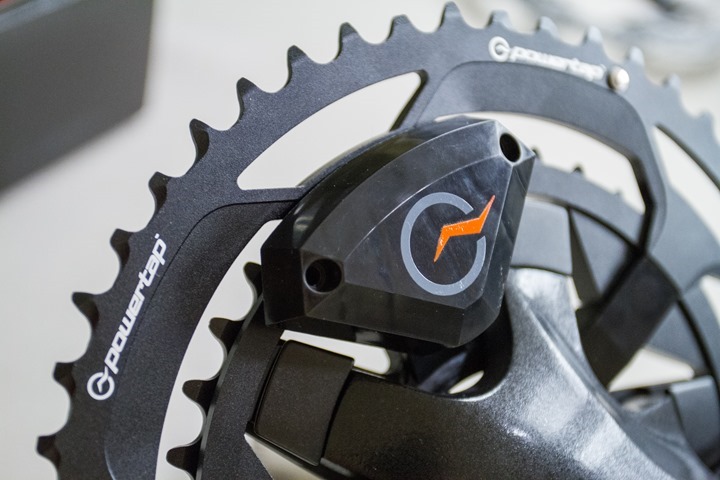 The C1 will ship with a 5-bolt 110 BCD (compact), primarily due to them seeing this as generating the largest demand in the market today.  However, they'll be looking at additional options moving forward – including potentially even doing their own crank arm.
From a chainring standpoint they'll be offering three combinations: 50/36, 52/36, and 53/39.  They're offering a 36 instead of a 34 since the sensor doesn't quite fit with some cranks in that configuration.  At this time, there is not yet support for oval chainrings (osymetric chainrings).  The chainrings being included are made by FSA.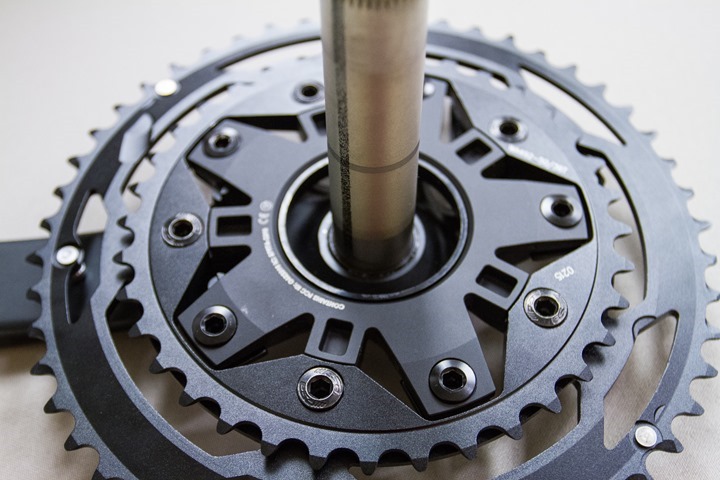 The unit will utilize a CR2032 coin cell battery, which will net it about 200 hours of battery life.  You can easily find CR2032 batteries the world around, usually for a couple dollars.  Like the P1 pedal, the unit will include a 2-year global warranty.  Unlike the pedal though, it'll release a bit later – currently targeted for "early summer", though it sounded like they may try and overachieve there a bit.  And as noted earlier, the pricing there sits at $699USD/EUR.
Other Tidbits & Updates: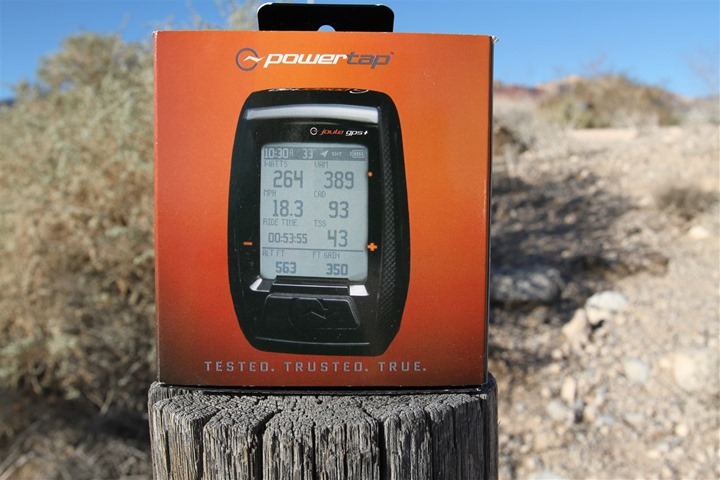 Finally, there's a few other PowerTap related updates that are worthy of including somewhere.  Some of these I've covered in part elsewhere over the last few months.
PowerTap Joule GPS+: You saw me preview this back in January.  This is the updated Joule GPS that includes Bluetooth Smart support for synchronization with your mobile phone, including uploading of activities.  The units will start shipping in the next week or two.  The units will cost $249USD/EUR, and 175GBP.  Additionally, they'll be pulling in and including ANT+ bridging to Bluetooth Smart capabilities – a nice touch.  Out of the gate the unit will support iOS, though they are looking at adding apps for Android and Windows Phone in the future.
Additionally, as noted previously, at launch the PowerTap Joule GPS+ will connect to ANT+ sensors, but not yet Bluetooth Smart sensors (only phones at launch).  Within Q4 2015, upon a chipset firmware for the communications stack they'll be enabling the ability to also connect to Bluetooth Smart sensors (i.e. power meters).  Again though, for now it can connect to your smart phone, and will even do real-time downloading every 5 seconds of data to it.
New Disc G3 hub: This was announced way back at Eurobike in August 2014 (see here for more detail).  It ultimately reduces the hub shell size, with a 30% weight savings bringing it down to 350g from 500g. It's planned to start shipping in the next month or so (by mid-April).  This is priced at $989USD/EUR.
–
With that – feel free to drop any questions below and I'd be happy to dig up and find the answers.  As noted earlier, I'm expecting to start testing here shortly, and will release data and a full in-depth review following that (I know, that's not an exact timeframe, but I don't really have one until I have a unit in-hand).  There are other power meter reviews due up before that, but you'll see those shortly (Power2Max, Infocrank, Pioneer).
Again – thanks for reading!
—
Update June 25th, 2015: You can now pre-order the PowerTap P1 pedals and PowerTap C1 chainring units from Clever Training.  In doing so you'll save 10% with DCR Reader Coupon Code DCR10BTF.  In addition, you'll get free US shipping.  Note that I have also recently received final production units of the P1 and C1 that I'm now testing for my in-depth review.  I expect the P1 in-depth review in mid-July.