(Updated 11AM US Eastern Time Feb 1st with SRM addition)
The power meters prices be fallin' again, and the snow and ice hasn't even thawed yet on winter.  Here's what's been dropping.
Pioneer Price Drops: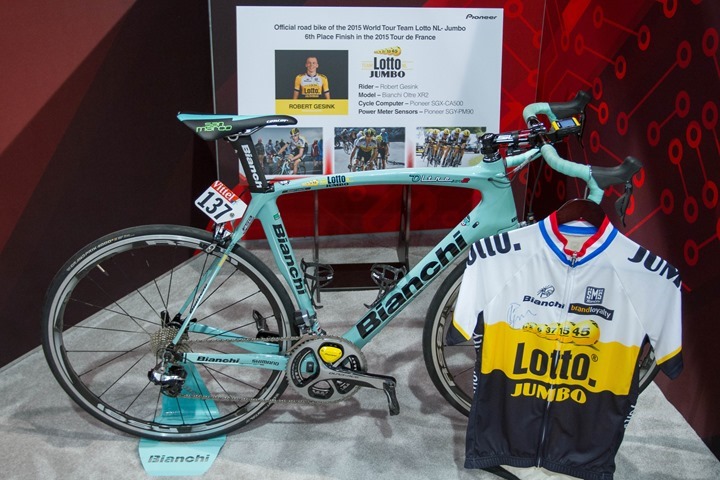 Today Pioneer dropped their power meter prices, upwards of 30% – pretty massive.  Once the dust settles you'll be able to pickup their Ultegra 6800 series left-only crank arm with power meter for $559, down from $799.  Meanwhile, the Dura-Ace 9000 series left-only crank arm is $629, dropping from $899.  With the left-side crank, you'll still get the higher data capabilities of the Pioneer platform, such as the higher resolution data of pedaling metrics than most other competitors.
You'll remember back at Interbike when Pioneer announced modest price updates, they were 'upstaged' mere hours later by Stages and their significant price cuts, bringing their units down to $529.
Both of Pioneer's left-sided units can then be upgraded using their 'Ride Side Upgrade' kit, which has been lowered to $579 (from $749).  This is really one of the major differentiators compared to both Stages, and currently 4iiii.  Neither has a right-leg upgrade kit available should you want the benefits of full left/right power down the road (others such as Garmin & Polar do however).
If you want to simply purchase the whole left/right kit straight up, then you're look at $1,299 for the Ultegra crankset, and $1,499 for the Dura-Ace crankset.  Alternatively, if you want to send in your own cranks, you can do so for $999 (which remains unchanged).
All of this follows last month's firmware update that enables the ability for you to re-broadcast ANT+ from your Pioneer head unit.  This allows you to gather the higher fidelity metrics to your Pioneer head unit using Pioneer's private-ANT channel, and then still see that data on other ANT+ devices or apps (like Zwift & TrainerRoad).  Of course, you can always broadcast everything directly in just ANT+ from the power meter as well (but then you lose advanced Pioneer metrics).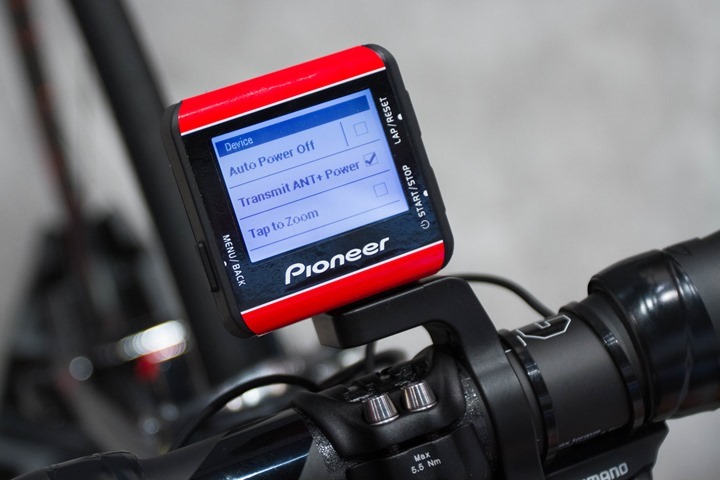 Pioneer's got some pretty solid units in the market, and if you're looking to start on a left-only option and then expand to a dual system down the road, it's priced fairly well there.  At the same time, if you plan on upgrading to a dual system far down the road, you'll want to keep in mind that there are numerous dual-capable power meters pending in the marketplace for launch this year at much lower dual-prices.  Obviously, everything in the market shifts – but I'd be hesitant around the cost-benefit of purchasing a left-only unit now and then upgrading beyond this calendar year.
PowerTap Price Drops: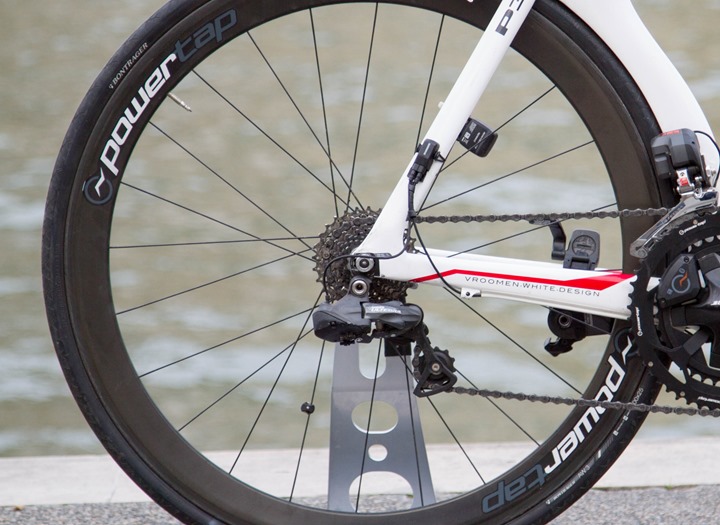 Now while I didn't cover it previously given the craziness of CES, PowerTap also dropped their prices – exactly 30 days ago.  In their case they dropped their PowerTap hubs to $599 from $729.
In addition, while they were at it, they also dropped the PowerTap Bluetooth Smart & ANT+ caps down to $50.  Yup, $50.  However, that's because they're only shipping dual caps from here on out.  In fact, all PowerTap products will be dual capable.
And if you want a dual-capable PowerTap cap (i.e. dual ANT+/BLE), for your existing hub?  Well, that'll cost a bit more – some $150 for the dual cap.  Changing caps isn't tough, but if you already own split products (one ANT+, one BLE) then a dual just makes your life easier.  I've been using the dual cap in various testing iterations since last spring.  Zero issues for me.
As for the PowerTap P1 or C1 units, no price drops there.  And, I certainly wouldn't expect to see them.  They can't keep units on the shelves, so there's zero reason to drop the price at this time (and they're priced quite competitively in the market).
SRM Price Drops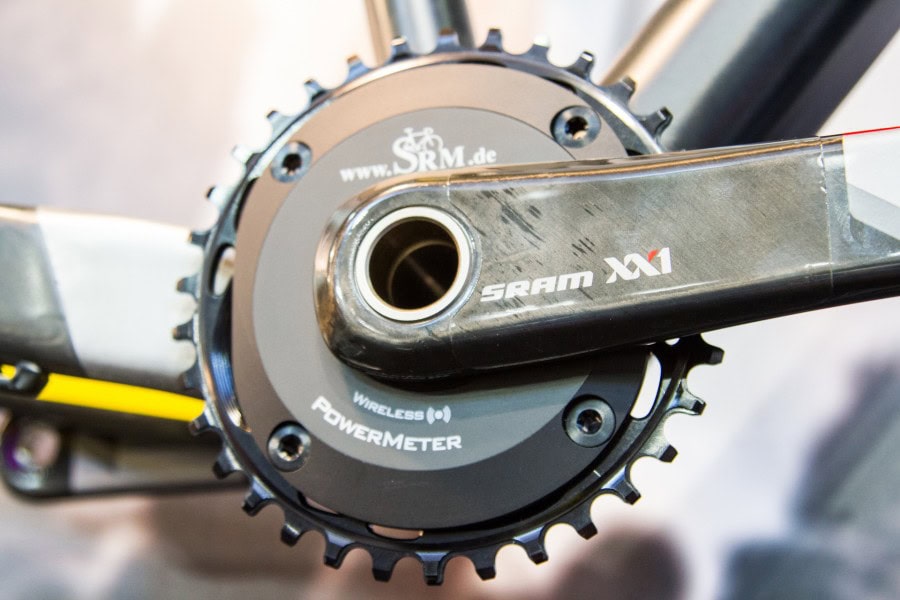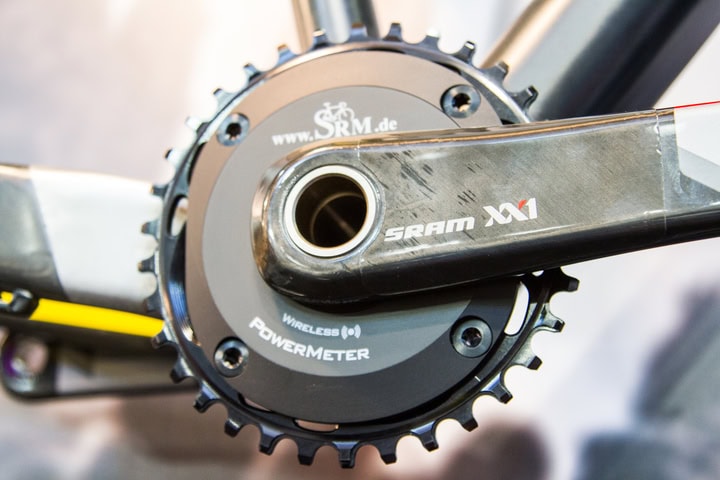 (Updated/Added section based on new SRM announcement)
In addition to Pioneer and PowerTap, SRM has also now announced they've dropped their prices – making it the lowest the company has ever sold a new power meter for. The base SRM is now down to $1,399USD for spiders using Specialized, Cannondale, SRAM and ROTOR crank arm. This is without crank arms or chainrings. This represents a 30% drop in price – on par with the drops of other companies.
SRM noted in their press release that:
"This pricing change has been months in the making. We have listened to customer and retailer feedback, and after intensive analysis SRM is proud to be in a position to respond to those demands." (SRM Founder & CEO, Ulrich Schoberer)
If you're loooking for crank arms & chainrings to be included with the power meter, then the lowest price is now $2,199 (from $2,970).
A Few General Thoughts:
I suspect we'll continue to see larger price drops of the higher end units, while probably still seeing some smaller drops on the mid-range priced units.  However, some of that will be predicated on cheaper options starting to ship.  For example, we saw 4iiii's start to ship last summer, which was likely single-handedly responsible for Stages having to drop prices.  Similarly, PowerTap's P1 pedals were likely responsible for Garmin having to drop their Vector pricing by $200 this past fall.  And of course the entire market was responsible for SRM's price drop.
While bePro has come out with very solid and capable units that are also sub-$1000, I don't expect that to represent significant pricing pressure simply because bePro has very limited distribution.  So getting them is tough, and bePro has a pretty deep backorder (with even further limited production capability).
Still, the big ticket items to watch this spring would be WatTeam to start shipping (according to them, just a few weeks away), as well seeing if and when 4iiii or Stages dives into dual-capable products.  4iiii has shown it, but hasn't clarified dates.  And Stages has played the card that the dual units they have are only for Team Sky and related pros.  That's no doubt true today, but one would be a fool to think that's the long term play.
The biggest thing to keep in mind is there is no 'race to the bottom'.  With a few rare exceptions, every one of these products (and everything I've covered in this post) is just as accurate as any other product at any price range.  It's simply a case now of numerous companies being in the market (vs 2-4 previously), and new technologies driving the prices lower.
With that – thanks for reading!
–
Side note: Trying to find a power meter? Read my 2015 Power Meter Buyers Guide, published this last fall.