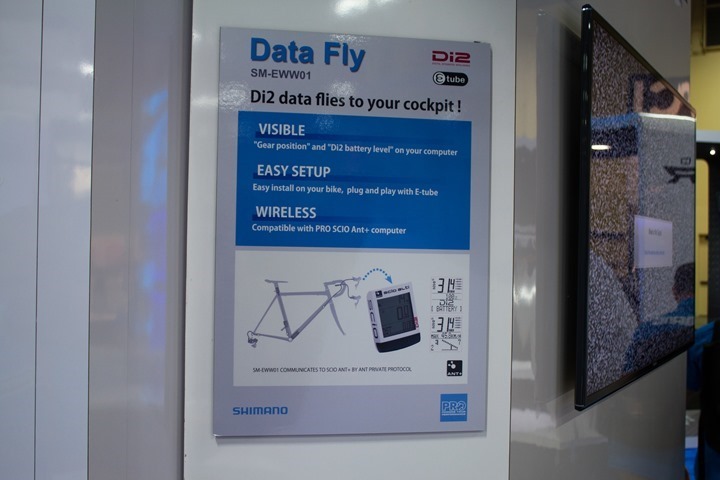 Well, actually, my title is probably a bit misleading.  Thus, I should probably be more honest in my titles in the future.
See, it isn't actually ANT+, but rather private-ANT.  Second, it doesn't actually control your Di2 system – rather, it just reads the information.  Oh, and third, it doesn't actually really record said information either, it just displays it.
Which, those three things pretty much takes it from being interesting to likely ending up in the has-been pile.  Or perhaps it's that I tried multiple times throughout the day to get someone, anyone at all really, to explain the device in more depth to me.  I'm confident that nobody in the sprawling Shimano estate-like booth knew anything about it, nor really cared about it.  I've never seen a more indifferent group of folks about one of their own products than I saw on multiple attempts over two days to get information about it.  They'd likely have expressed more interest in watching paint dry than talking about the unit.  At any rate, here's how it works as described to me with as much detail as they seemed to understand about it, interpolated with a lot of poking around on my own.
First up there's a small ANT wireless transmitter component that goes under the cap of the right shifter: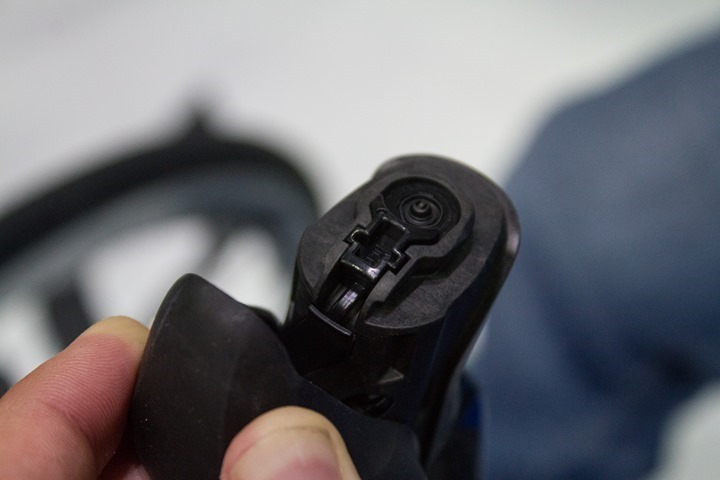 From there the transmitter component sends the data via private-ANT to the SCIO head unit, which itself is actually ANT+ capable.  The SCIO head unit is able to connect to ANT+ speed/cadence sensors, heart rate straps and power meters.
The private-ANT implementation means that while data is using ANT as a protocol, it's not available to other companies to add to head units.  I'll dive into the importance of that in a moment.
The unit can display metrics from the aforementioned ANT+ sensors such as speed/cadence/distance/HR, however ultimately you're really looking to see your current Di2 gearing data.  The middle of the display shows battery percentage of the Di2 system while the bottom of the display shows your current gearing.  The L/R at the bottom reflect which side of the handlebars and correspond to the chainring/cassette states which are listed numerically above the buttons.
If you compare the next two photos, you can see the difference after I've shifted using the right (rear) shifters: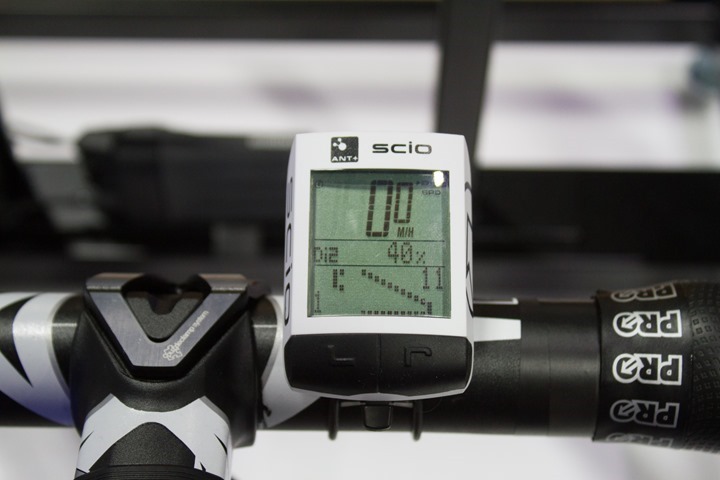 Note how the "11" changes to "3" as I've shifted a few gears.  Also note that my shifting is still completed via the normal Di2 buttons.  The buttons you see here on the bike computer are purely for changing the displayed metrics.  They DO NOT shift for you.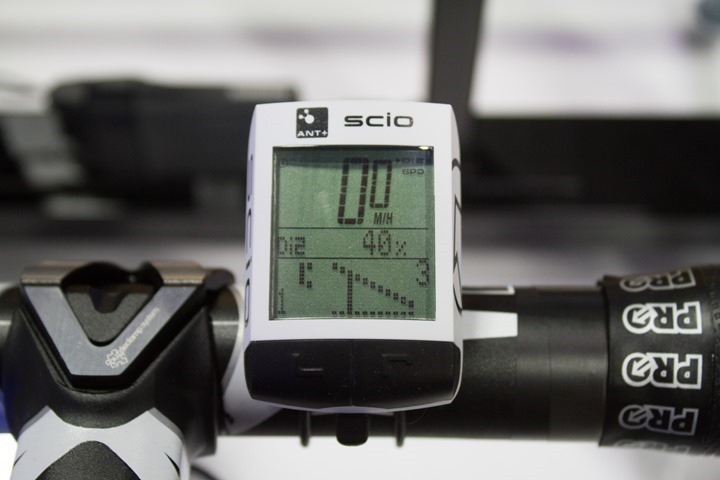 The unit comes in two models, one at $129US without a barometric altimeter, and a second unit at an unknown higher price point with a barometric altimeter.  Neither unit records data for download, it's only there for display.
With that overview of the device complete, let's dive into a few thoughts.
Why on earth use private-ANT for this and then pump it to a useless less-refined device?  Instead of going with ANT+ and allowing this data to be consumed by devices such as a Garmin Edge computer or similar, they went with a private implementation that leaves no data on the table for anyone to record.  Given the cost of Di2 and the cost of most bikes that Di2 goes onto, they could quite frankly still have charged $129US without the head unit but instead that tiny little adapter to transmit ANT+ data regarding gear states to compatible head units.
Which brings me to the next question: Why doesn't it record this data?  After all, what value could there possibly be in this setup without the recording of the data?  Perhaps I've never had the problem where I don't know what gear I'm in (roughly) and needed to look down at my head unit to see that information.  Thus I see almost-zero value in displaying this information, but I see huge potential value in recording it and starting to do analytics on it.  Meshed with power meter data or perhaps even cadence data you could do some pretty interesting things around analysis of when a rider might be improperly geared grinding along at 70RPM instead of shifting.  More capable head units could perhaps even notify you of your inability to remember to shift.  Analytics software could over time likely start to figure out optimal gearing combinations for some users.
Which, brings me to my next point.  A number of people I talked to about it across the industry noted how silly it is that you can't control the shifting from there.  What about the potential to allow a user to set an optimal cadence range (whatever that may be) and have the unit simply shift accordingly to keep you in that cadence?  Of course, like many new technologies there's lots of potential research in the benefits there to be done – but without even the potential to change gears remotely, starting that research is a non-starter.
Now, some might raise the concern about having ANT+ shifting on your behalf.  No doubt.  But that's easily resolved by having ANT+ simply encrypt that data, which exists today in single-channel encryption.  And many have been recently talking about doing that for power meter users anyway.  Given that any head unit looking to add functionality would have to issue a firmware update to support it, it's really irrelevant resource-wise to go with encryption versus not.
Thus, while I think Shimano could have potentially done something really innovative here, ultimately I find it gimmicky and poorly executed at best.  Luckily, resolution is easy: All they have to do is switch it over to open ANT+, court a few head unit vendors (Hint: Start with Garmin, O-Synce and PowerTap), and call it macaroni for v1.
With that, my thoughts are done here.
–
Welcome to Interbike week! This week during Interbike 2013 I'll be tweeting from the exhibition show floor quite a bit, as well as posting frequently. Here's a quick and handy link to all Interbike-related posts.