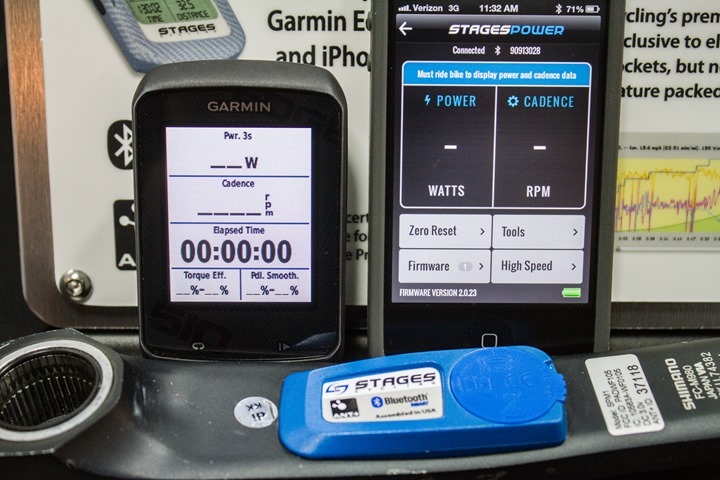 Today at Interbike I got a sneak peek at Stages Cycling's latest firmware update plans coming down the line to Stages Power meter owners.
First up is the addition of the ANT+ Torque Effectiveness and Power Smoothness metrics.  These metrics were added by ANT+ about a year ago to support new power meters, such as the Rotor PM and Garmin Vector PM's.  In the last month, Garmin has added the metrics to the Edge 510 and Edge 810 head units (O-Synce has also added them as well to the Navi2Coach).  As a result, Stages took the opportunity to go ahead and implement it within their power meter – becoming the second power meter on the market today to support it (Rotor was first, and Vector hasn't released those metrics yet).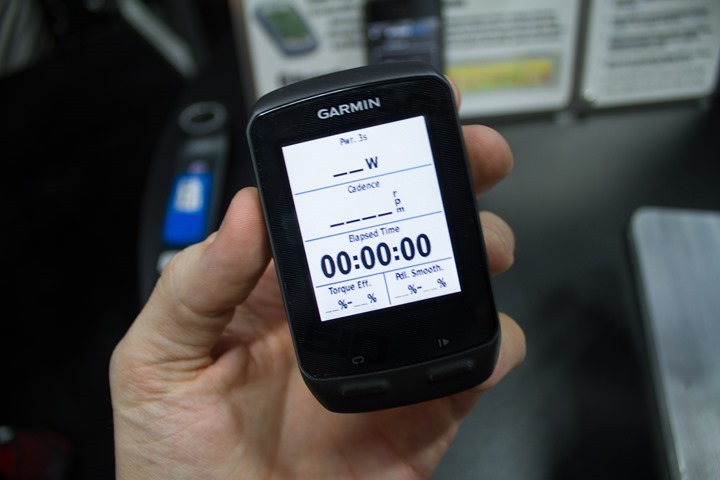 As part of that same firmware update, the units will also receive a new battery status level indicator for those folks using the unit via Bluetooth Smart (Stages is the only product on the market today broadcasting both ANT+ and Bluetooth Smart).  While ANT+ has always had the battery status being sent, the Bluetooth Smart side didn't.  Now you'll get a warning at roughly 10 hours remaining to change out your CR2032 coin cell battery for a new one.
Both of the updates above should hit in the next few weeks, and are free updates.  Users will simply open the Stages app on their Bluetooth Smart compatible iOS device, and then the firmware will update within a minute or two.  In the event you don't have an iOS device handy, I suggest buying a friend a beer to update your crank arm.
Next on the docket they were were giving private demonstrations of a new high-speed data analysis mode that they're aiming to make available by the end of the calendar year.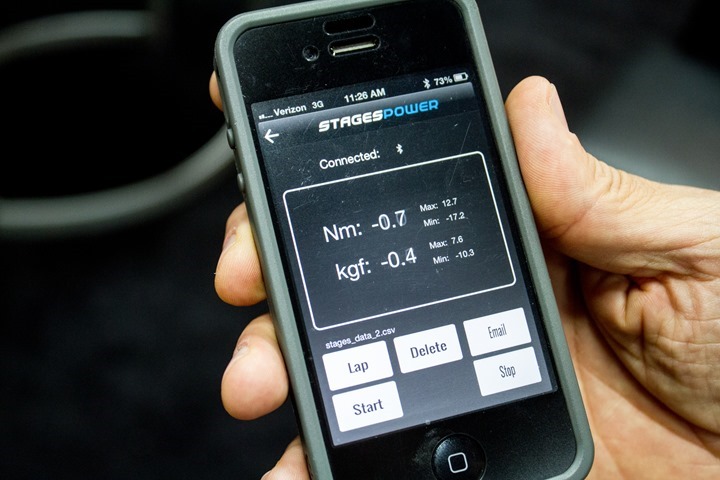 This high-speed data mode transmits torque/force information at 64-times per second to their iPhone app: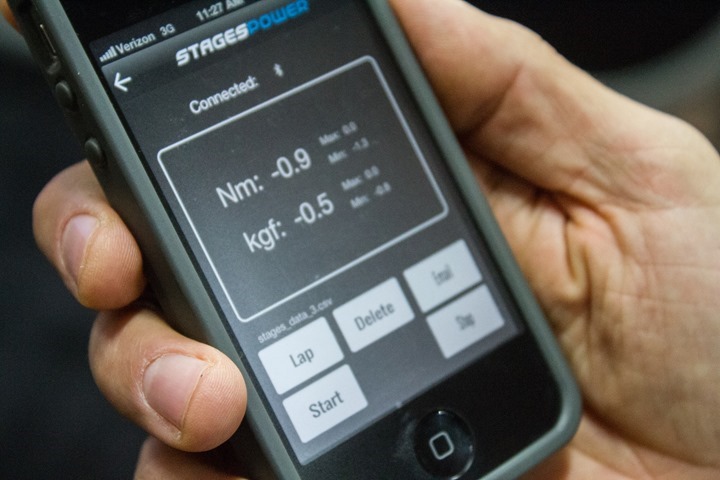 The user would enable this mode using the Stages app (you can see the button in the lower right corner):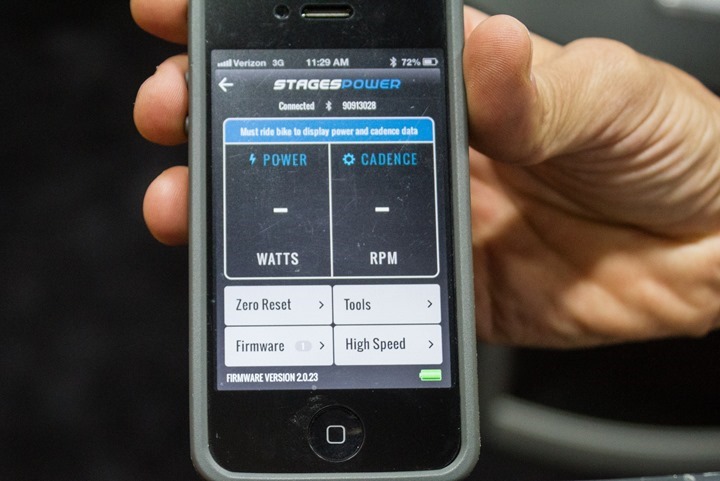 The mode is primarily aimed at folks like track cyclists and some mountain bikers that may want highly detailed information about a short time period (such as a start or sprint).  The user can press the lap button to trigger new data sets as well: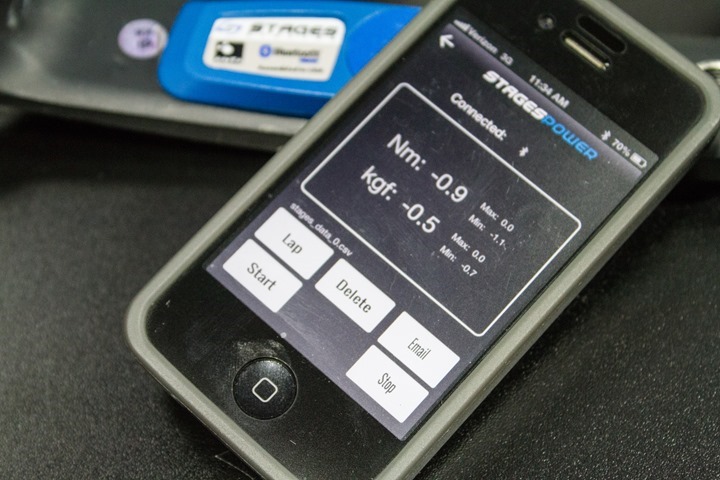 Once completed the data can be e-mailed as CSV files.  Note that from a battery hit standpoint, it burns through battery roughly twice as fast – but then you're still talking 100 hours at that point.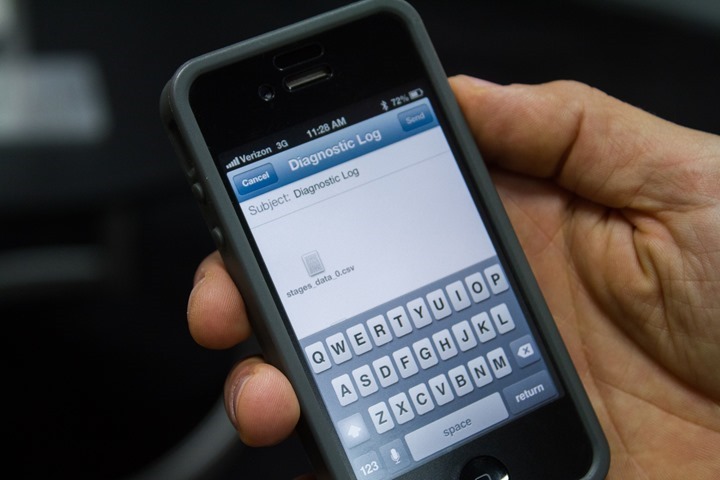 The data is pretty straightforward, as you might expect given just a stream of torque information at a high data rate.  Here's a snippet of a CSV file: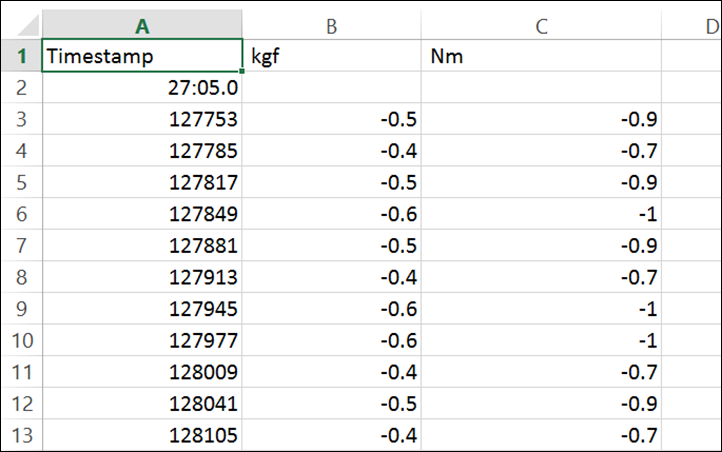 To demonstrate what this looks like on the app itself, here's a super-quick video I shot with the crank being given a massage.  Yes, for 99% of people out there it's probably a really boring video. But for the 1% uber-geek, you'll find it pretty fascinating:
As noted, the current plan is to have this out/available by the end of the year on the iOS platform.  It'll be free of charge.  I asked about ANT+, as there's been some winds swirling there about doing high-speed data support for some time (it's a head-unit limitation, not a PM limitation).  They said they'd be thrilled to support it via ANT+ if someone like Garmin added high-speed data support to their devices.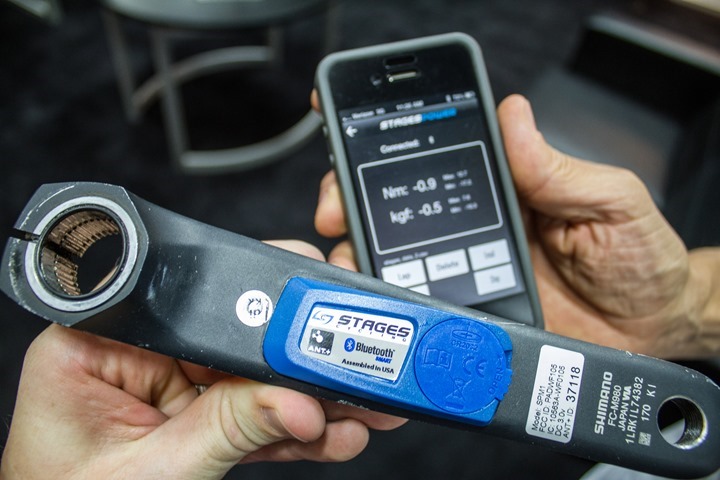 Next, Stages did announce three new crank-arms this week.  They are the Shimano Ultegra 6800, plus two additional FSA models covering both the MegaExo and BB30 bottom bracket standards.  The Ultegra will be available in November, with the FSA ones coming around January.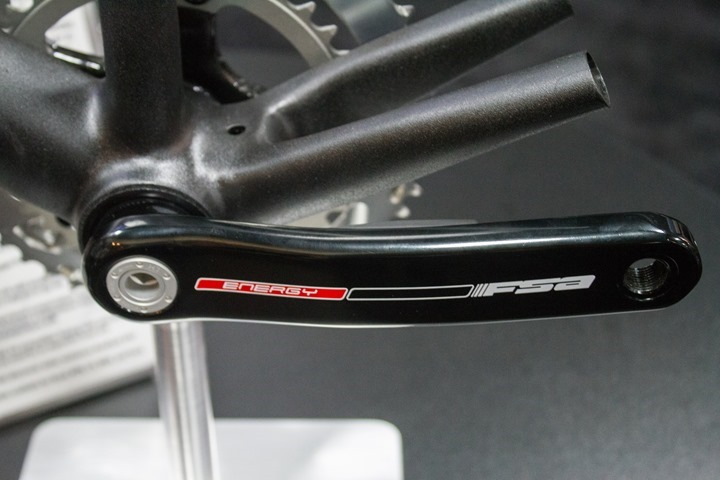 Lastly, there's been a few questions on international availability.  As many of you know, Stages started distributing to retailers within the UK last month.  Going forward they plan to have Australia distribution ready in time for the holiday purchasing period (by mid-November at latest).
In talking with them the key tipping point for a given market is to ensure that they can provide the same level of customer service that they do in the US, outside the US.  Specifically the ability to overnight-ship (next-day shipping) any crank-arm should there be a problem with a customer unit.  In watching comments on my Stages review, this continues to be an area that Stages does incredibly well for folks.
Additionally, while they're still operating on a 2-4 week delay for many crank options, they are planning to triple production capacity in the next 2-3 months, ultimately allowing them to expand into the remainder of Europe next year.
With that, thanks for reading!
–
Welcome to Interbike week! This week during Interbike 2013 I'll be tweeting from the exhibition show floor quite a bit, as well as posting frequently. Here's a quick and handy link to all Interbike-related posts.