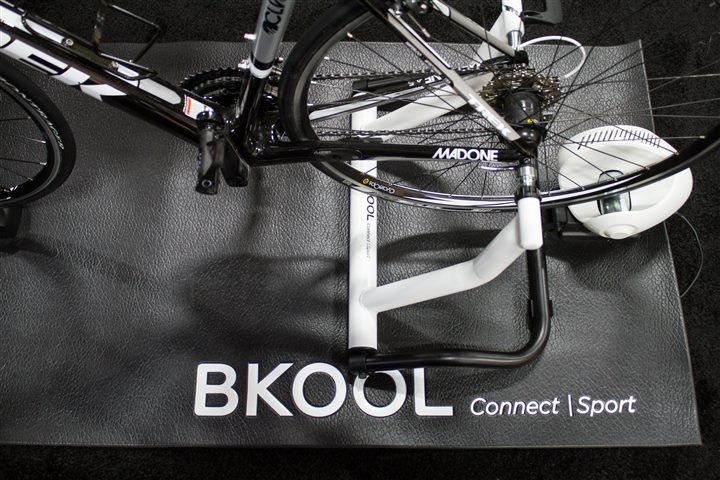 Today at Interbike BKOOL made a slew of announcements related to their trainer platform.  In doing so they're adding themselves to a growing chorus of companies that are adopting standards around indoor training and the software and devices that are part of that.  For reference, here's my previous in-depth review of their trainer platform.
Let's dive right into things!
First and foremost is their adoption and demonstration of the ANT+ Bicycle Trainer profile that's currently in alpha/beta.  This is the device profile that will ultimately end up on every trainer company I've talked to, using a single standard for how trainers are controlled (singular exception: Racermate's CompuTrainer).
Today they showed the above BKOOL trainer running the ANT+ Bicycle Trainer beta profile, which was delivered via firmware update to the unit in the same way that existing users will receive the update for free going forward.  Now it'll be a few months until the ANT+ Technical Working Group (TWG) that's working on that finalizes everything, but many companies (as you'll hear this week), are already cooking away on it.
As part of that shift towards an open platform, BKOOL also announced Wahoo KICKR ANT+ control/support on their existing BKOOL PC platform.  Below, you see the Wahoo KICKR hanging out across the booth: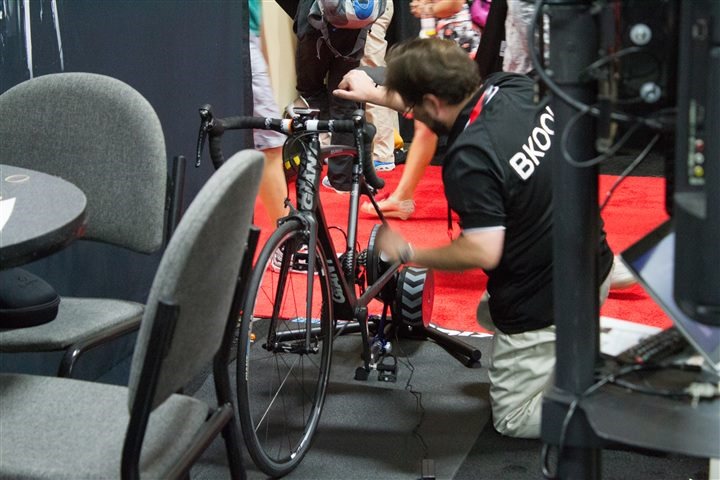 You can see the pairing process below, and if you look at the 3rd line from the bottom you'll see the Wahoo KICKR there: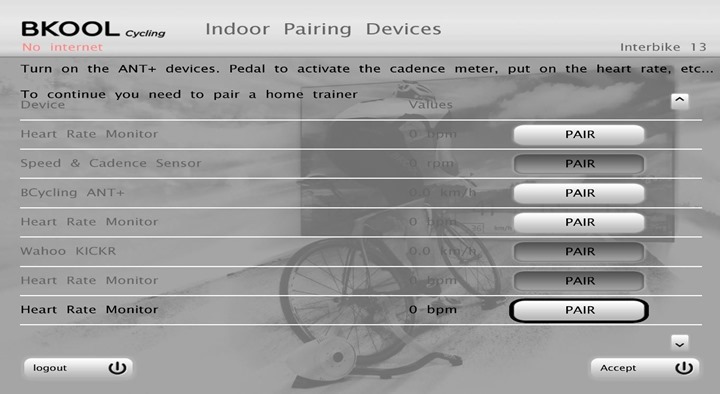 At this point the KICKR is paired and can be controlled just like the BKOOL trainer. This means that their existing software now works with more than just the BKOOL trainer.  And you can even do this for free.  BKOOL offers their app for free, but has a paid premium subscription service for $15/month.  This premium service adds in multiplayer, leagues, real video courses/routes, and a bunch more.
As part of this BKOOL has instantiated a partnership with Wahoo Fitness to deliver new Wahoo KICKR owners a 2-month trial of the premium platform, via an in-box coupon code.  For those that have already purchased KICKR's, you'll be getting a coupon code from Wahoo in the coming week or two.
Next up, and perhaps most exciting is an early preview of their Android app, which controls not only the BKOOL trainer, but also the Wahoo KICKR as well.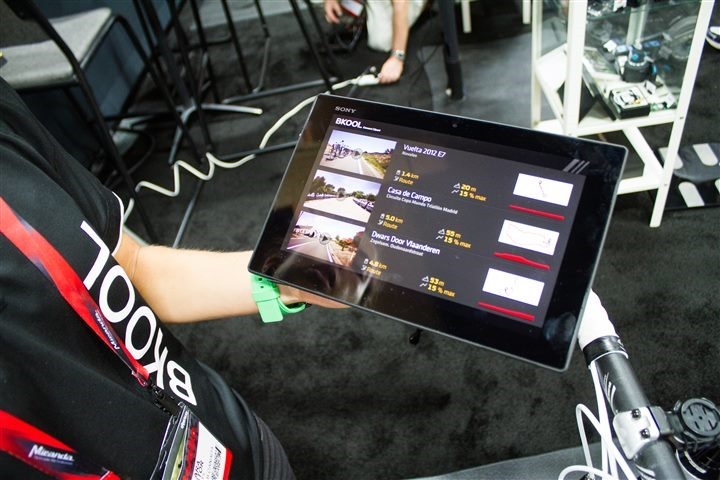 The Android app looks stunning (especially compared to the PC app), and mirrors much of the functionality found in the PC app.  Below you can see riding a streamed video course, with your real-time data being shown along the bottom.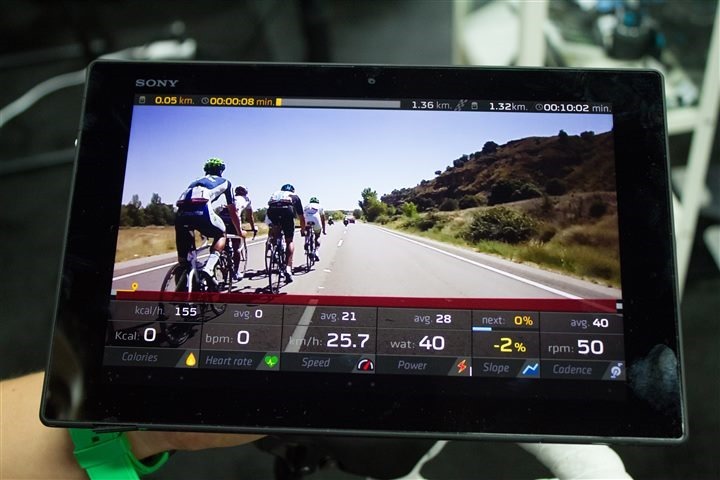 You can see the session summary information on this page as well: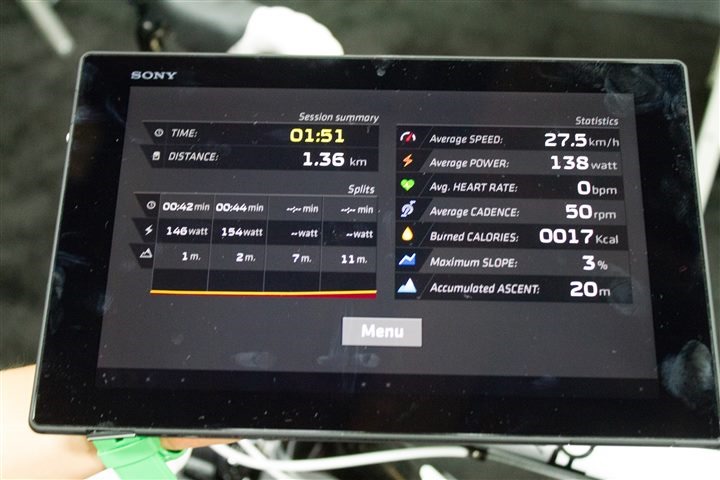 Now, the Android app is really in it's initial stages of being built.  While everything shown was fully functional, it's going to be some time until it's out – likely not until next summer.  However, as part of that they'll also be releasing an iOS app too (iPad focused).  In the case of iOS they'll use Bluetooth Smart to control Bluetooth Smart trainers, and ANT+ adapters for ANT+ trainers following the ANT+ Bicycle Trainer profile.  With Android, for those phones/tablets that have ANT+ built in they'll leverage that natively, otherwise you can pickup the OTG adapter and go that route.
The pricing will be pretty similar to the existing PC subscription pricing, but that's still being sorted out.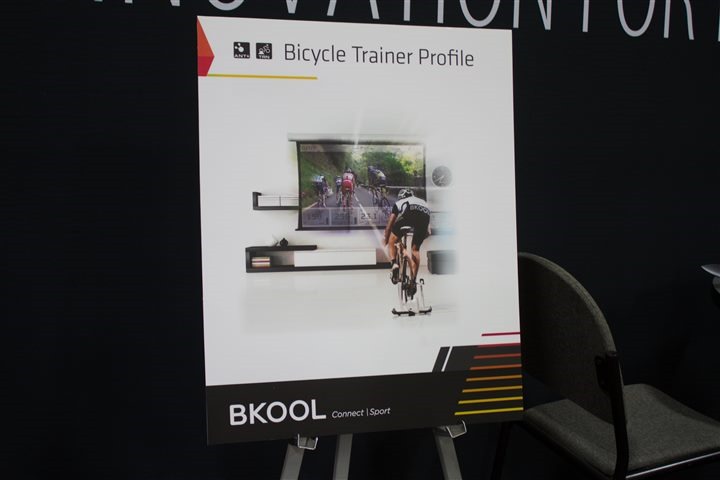 Their long-term goal is to be as device and software agnostic as possible.  Meaning that if you want to buy a BKOOL trainer – they'll support you there. If you want to buy a KICKR or a CycleOps trainer, they're happy to sell you the subscription model for software based on desktop, Android, or iOS.
In fact, that's going to mirror the position of many in the industry.  We saw that with CycleOps also adopting support of the KICKR recently in their Virtual Training software, and we're going to see it with other vendors like Tacx committing to the ANT+ resistance control profile. By this time next year I predict that pretty much any relevant software platform will work with any relevant trainer platform.  I'd guess it'll likely be that way by as early as late spring next year.
Next up we've got their new BKOOL Video Route Editor/Builder software, which allows you to take your own GoPro (or similar camera) videos, merge them with your GPS bike computer files and then upload and ride them with the BKOOL software (on either the BKOOL trainer or the KICKR, as noted above).
First up is selecting the files from your computer: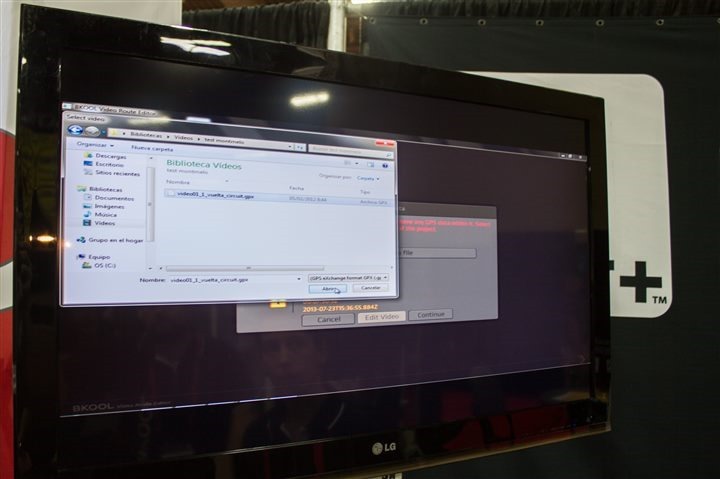 In the event the files don't quite match, it's not an issue, the software walks you through re-aligning them.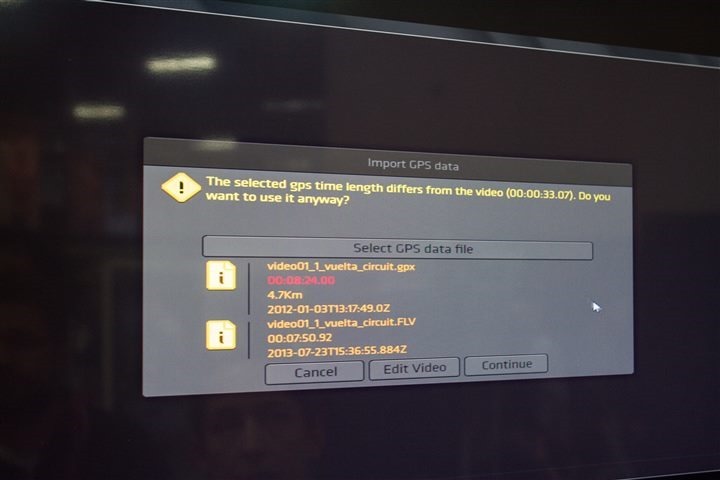 Within the software you can drag and drop start points and shift things as need be to ensure everything lines up.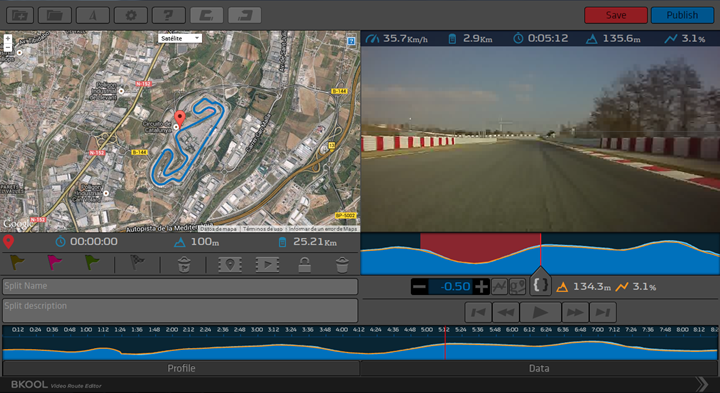 Even more importantly though, you can adjust and quickly correct elevation issues.  One of the big challenges with videos uploaded by users is that many times the elevation data derived from the GPS bike computer can be iffy at best, resulting in massive swings of incline in even a few second period.
To resolve this they allow you to quickly 'smooth' a segment and override the slope of that section.  Below you can see we've selected a small portion of the route and then selected to overrule it.
You can see below how we've gone ahead and adjusted the slope.  You'll see the new slope graph shown as well as the existing one.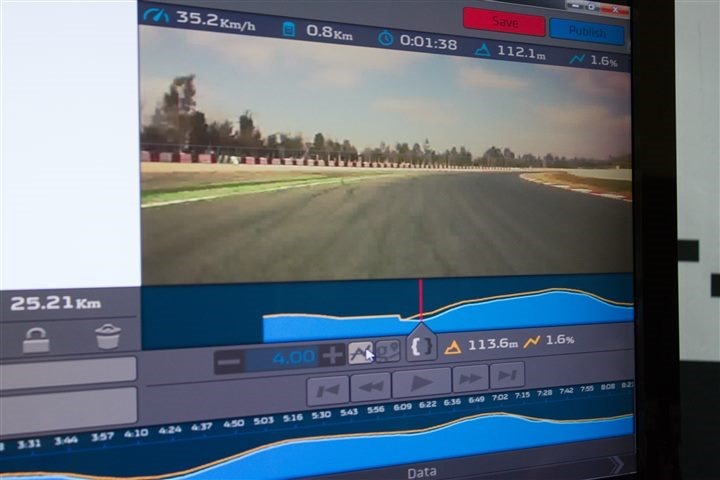 Finally, after you're done editing it you'll be able to upload it to your account for either private or public consumption.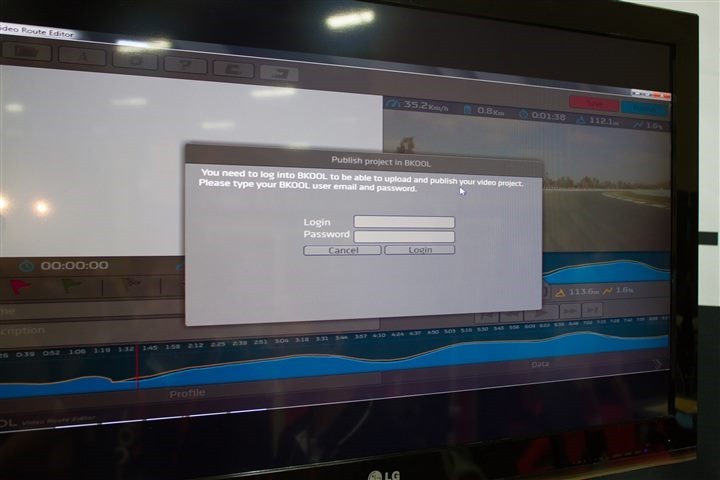 Today they support all major video formats coming out of basically any camera they could find.  They also noted they'll support the VIRB/VIRB Elite with the built-in GPS data once that's released.  In the meantime you can just export out a standard GPX file from your GPS device – though they are looking at supporting .FIT files too for quicker native access (Tip to Garmin users: You can click the 'Export GPX' file from Garmin Connect to quickly get the GPX file).
The video upload tools are coming by the end of October, in time for the Northern Hemisphere indoor riding season.
Finally, last but not least it's notable that over the past few weeks and months BKOOL has pretty substantially increased international distribution of their $650 trainer (€500).  Prices are translated from Euros across the world, so they aren't different/funky per country – just more or less straight conversions.  Here's recently added countries, the full list of all current countries is available on their site:
Australia: Started 3-4 weeks ago
New Zealand: Recently started
South America: Brazil and Colombia starting this month
Europe: Adding France, Poland and a number of others in the coming weeks
Of course, the major outlier is the US – which is the primary reason they are here at Interbike. Over the next week here they are meeting with multiple retailers and distributors interested in carrying the line, as well as meeting with more retailers on a bit of a road-show next week.  Hopefully that will result in a US distributor/retailer for stateside folks.
With that, thanks for reading!
–
Welcome to Interbike week! This week during Interbike 2013 I'll be tweeting from the exhibition show floor quite a bit, as well as posting frequently. Here's a quick and handy link to all Interbike-related posts.