This week at Interbike, both CompuTrainer and Kinomap have made a number of announcements around application control and usage with the CompuTrainer trainer.  Let's dive into them.
CompuTrainer's 'Open Source'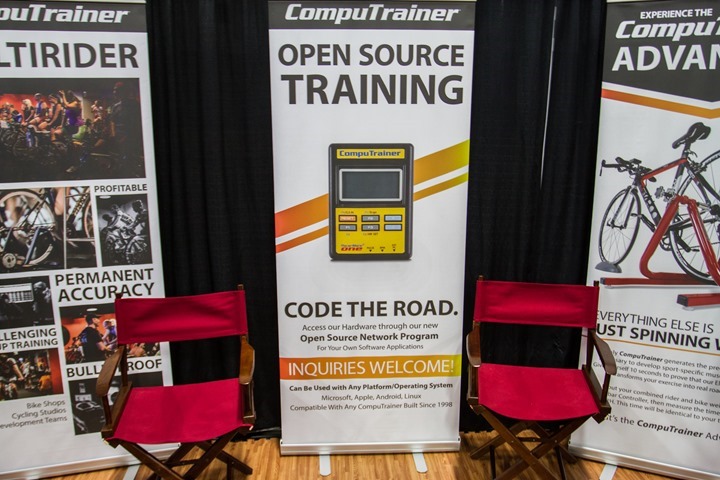 First up is potentially the beginning of CompuTrainer opening up a bit more.  Prior to this week, the vast majority of applications out there that interacted with the CompuTrainer did so via backdoor options.  Options that Racermate (the company behind CompuTrainer) weren't terribly big fans of.  They noted to me that they felt these apps did a poor job in recreating the "physics" behind CompuTrainer's replicated inertia aspects.
In order to address that they worked with Kinomap to develop a binary file that allows developers to interact with the platform.  While this work was done in conjunction with Kinomap, it's something they're going to make accessible to other developers.
Of course, as I pointed out to them (and they conceded), it's not quite 'Open Source'.  Open source is generally defined as software that any developer can download the source code to and read/tweak/improve/etc.  None of that is applicable here.  Rather, Racermate will grant applications on a one by one basis access to utilize the platform.
Looking at other companies, this approach is similar to those other trainers. The major exception being the Wahoo KICKR which is fairly well documented publically from an application development standpoint.
At present CompuTrainer doesn't have plans to open up to the ANT+ Trainer Control platform, like other companies such as Elite Trainers (by end of calendar year) and BKOOL (TBD date) have committed to.
Now, do keep in mind that at present this doesn't mean that they'll have ANT+ or Bluetooth Smart control support.  It just means that wired devices like a PC or Mac can talk to them.  Or, as I'll cover in the next section, apps like Kinomap can apply some special sauce to get a bit further via WiFi.
The KinoBottle: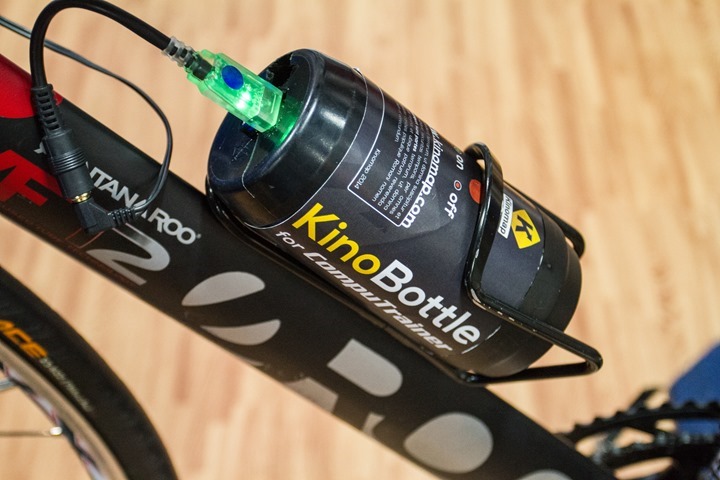 Next we've got Kinomap, the app that allows you to ride course videos via trainers of your choice.  They support a number of trainers in the market today, and their work with CompuTrainer that I'll describe here continues to expand on that.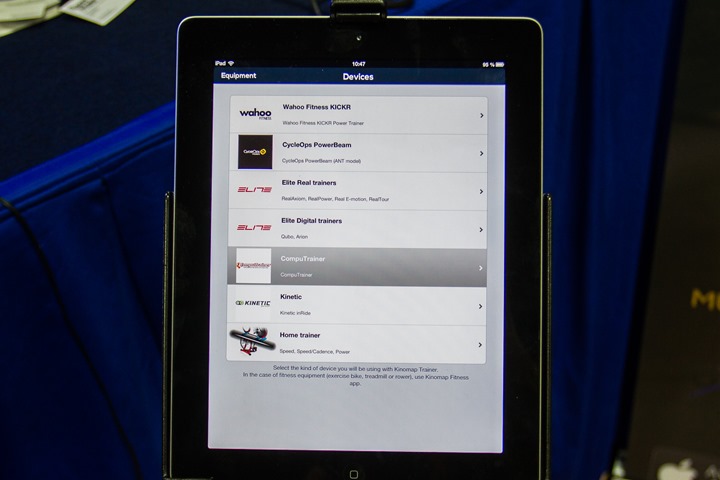 They've developed the KinoBottle, which is a little unit that puts your CompuTrainer on a WiFi or Wired network.  The cool part here is that this would then enable Kinoamp (an iPad & Android app) to control the CompuTrainer.  Currently, there's no technical way otherwise for any tablets to control the CompuTrainer due to the CompuTrainer being a fully wired system.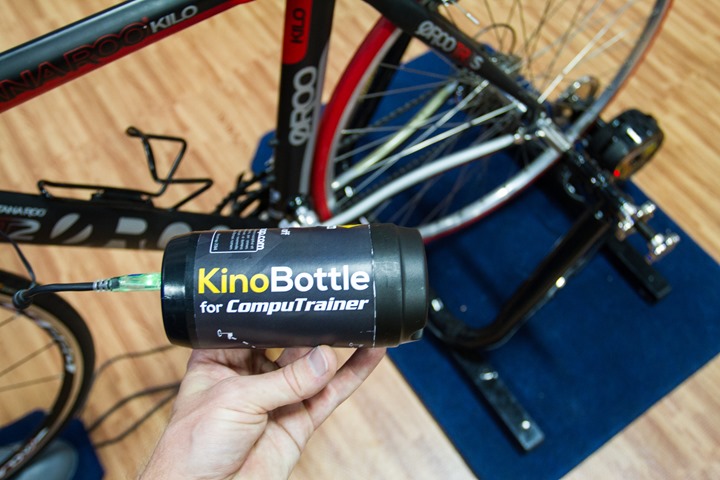 The bottle is effectively a fancy packaging for what is essentially a Raspberry Pi control unit, a WiFi USB adapter, and a battery pack lasting a number of hours.  Sticking out the top is the USB connector that controls the CompuTrainer using the PC port on the handlebar controller.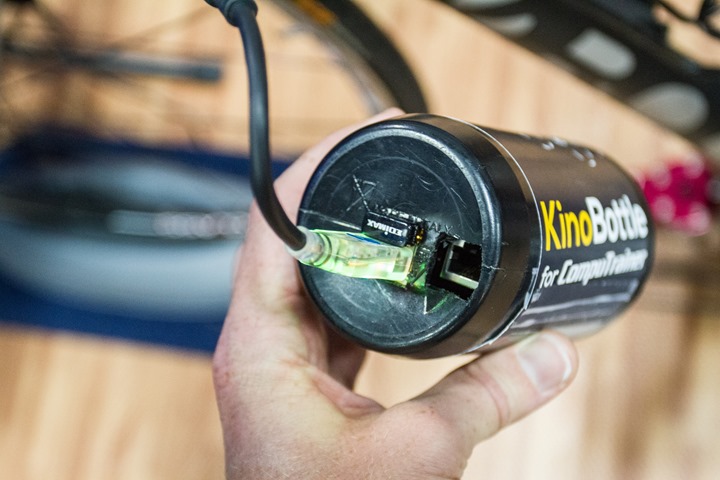 You'll simply join  the KinoBottle to your WiFi network and then you're ready to go.  The KinoBottle can operate off of battery or be perpetually plugged in to a power source.
Next, you'll ensure that your iPad or Android tablet is on the same WiFi network (pretty normal), and then search for the CompuTrainer to add it to one of your saved devices (just like a heart rate sensor or other trainer):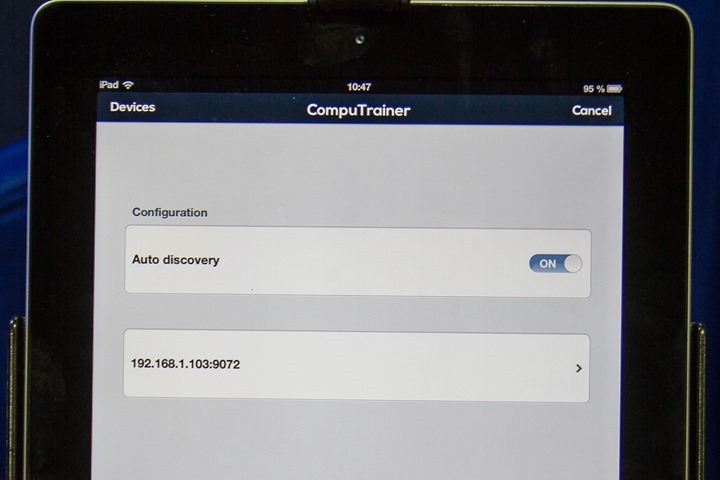 The CompuTrainer will then show up, and you can quickly test speed/power/cadence to validate it's the correct one.  You can save as many CompuTrainer's as you'd like, as well as rename them.  For example, I've got two CompuTrainers at home, so I could name one "Mine" and the other "The Girl's".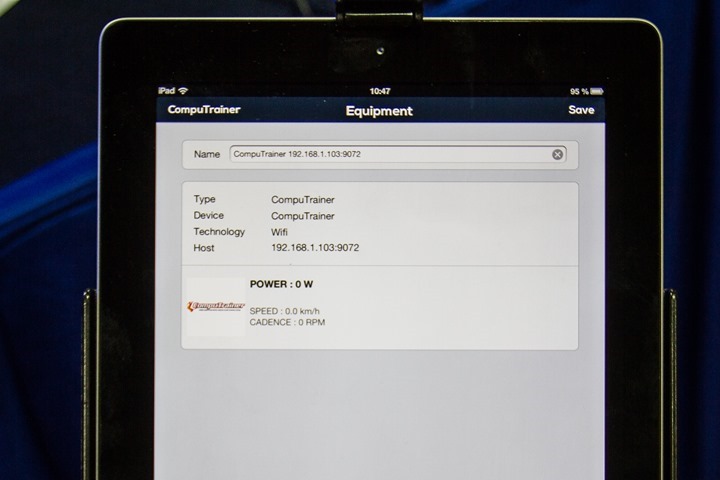 With your devices ready, you'll then go and pick out a route or video just like normal: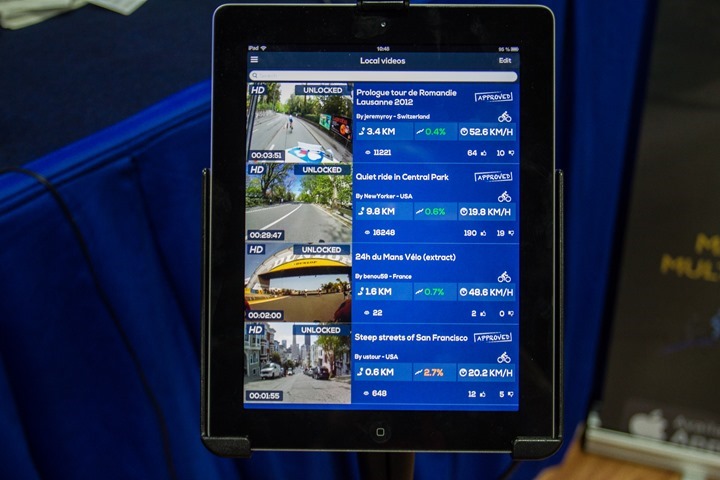 From there it'll show the CompuTrainer as connected, where you can then press start to begin the video: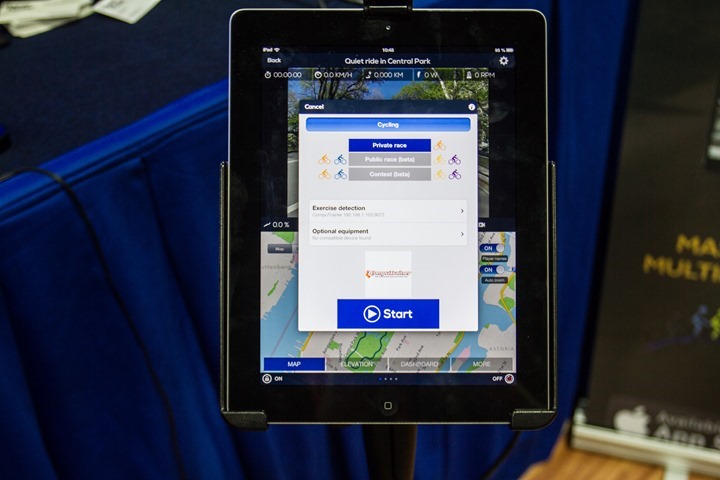 The experience from here on out is just like any other trainer with Kinomap.  Kinomap will automatically control the resistance on the CompuTrainer based on the elevation profile of the course/route/video you're following.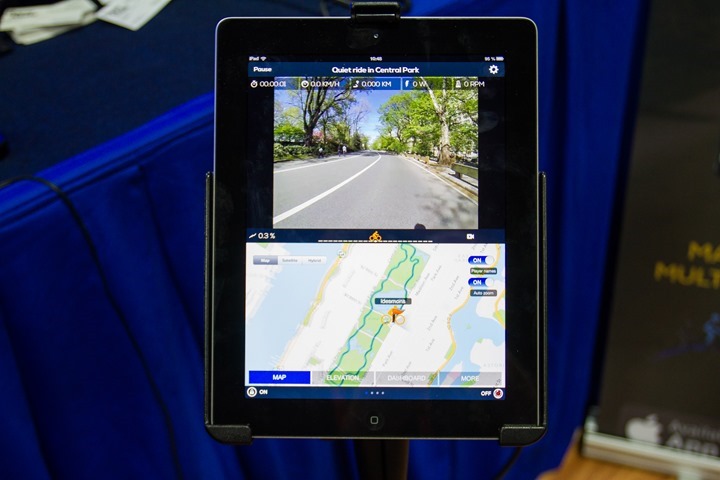 Those videos can be ones from their collection of videos, or ones you've created and uploaded yourself.  In addition to the CompuTrainer pieces, they've done a bunch of other work being released this week. Specifically:
Android version launched, able to connect both BTLE and ANT+ sensors, also able to display on TV using Chromecast and MHL (to HDMI)
New multiplayer mode (no longer based on Game Center), able to deal up to 10 simultaneous players. Already released for iOS.  Available by December 1st for Android.
Premium content, on a pay per view mode immediately for iOS, and then by December 1st for Android.
Additional trainer compatibility recently, including the Elite Trainers and more Bluetooth Smart & ANT+ sensors.
They also have a few things planned for this fall:
Revamped app interface (I saw a few snippets, it looks quite nice!)
The idea of having 'channels' to sort through the different content/videos
Ability for multiplayer mode to play cross-platform (i.e. Android vs iOS)
Revamped search engine
Ability to race against your past performances, effectively a ghost mode
Definitely some great things there, especially the Android app.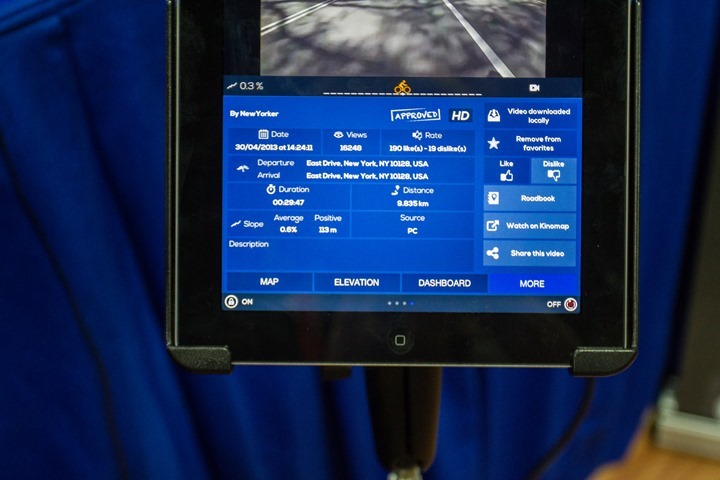 The KinoBottle as seen above will be available by November 15th.  The pricing is:
– Wired version without WiFi but with Ethernet port: $199US (pre order at $139US)
– WiFi version with battery: $261 (pre-order at $184)
They are also considering adding an ANT+ key option to it, so you could bridge through ANT+ sensors as well to the app.
In addition to the KinoBottle, Kinomap has also created a bottle-less version that you can install on your own computer.  This acts as a 'bridge' between the CompuTrainer and Kinomap.  So if you have an old crusty computer sitting around, it'll do just fine – and it's free.  You simply download the software (called ctnet), which then talks to the CompuTrainer and then re-broadcasts that onto a WiFi network so that the iPad/Android app can talk to the CompuTrainer.
And the best part?  It's available for PC, Mac…and even Linux:

Now I've actually had a prototype bottle-less version of the KinoBottle for a couple of weeks now, and toyed with it a bit.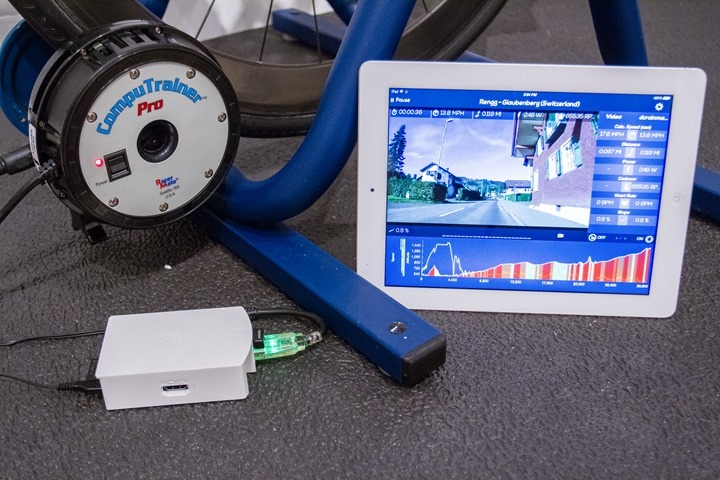 Of course, the geeks in the crowd likely immediately recognize the parts in play here: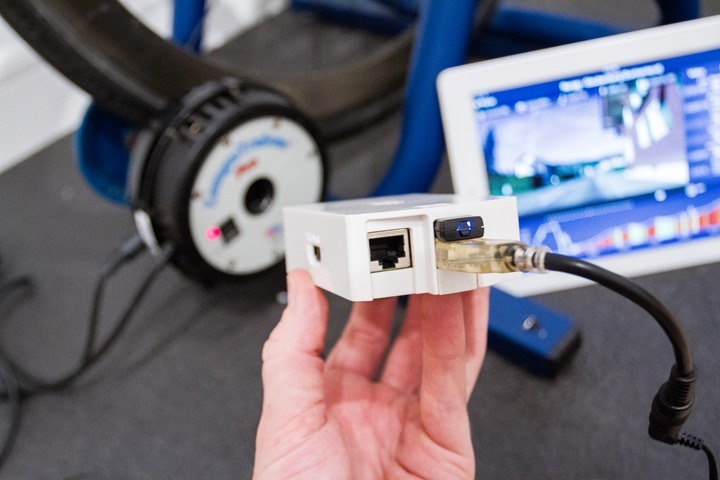 And thus here's the cool bit: The Kinomap guys aren't actually terribly interested in making money off of the KinoBottle (they do that via their service subscription fees).  So they've gone ahead and made it possible for you to create your own KinoBottle as long as you're willing to buy your own components.
Therefor you'll notice on their site they've also added the ability to simply download the software pieces for Raspberry Pi.  This means you could pickup the Raspberry Pi kit, add your own WiFi adapter and then be up and running for much cheaper.  Though, configuration of it will require a bit of geek know-how, so it's not for everyone.  Still, very cool.
A new handlebar controller?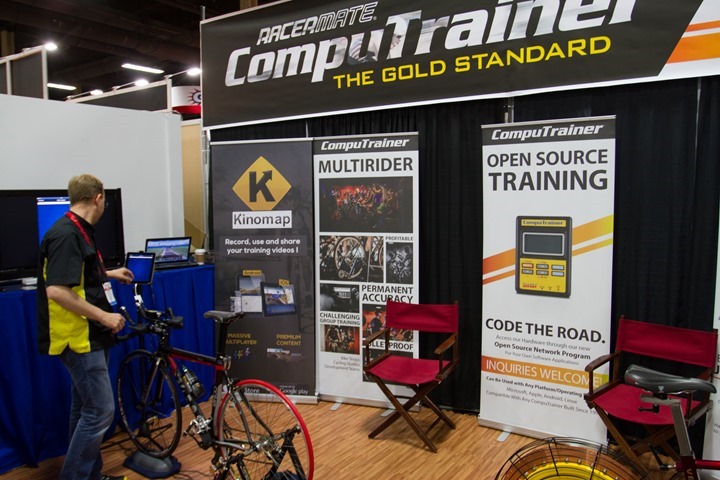 Last but not least, the Racermate folks were discussing the possibility of adding WiFi (and/or Bluetooth Smart or ANT+) to the handlebar controller.  This would potentially enable direct connectivity for 3rd party apps, as well as additional sensor support.
This wouldn't though be for control of the trainer itself, they noted that would still require a cable running to the resistance unit, as well as power for the trainer itself.  They reasoned they needed a data channel capable of 100hz (100 times a second) in order to properly control the CompuTrainer wirelessly.
They didn't have any pricing, plans, or timelines here – so it sounds like this is more in the "things they're thinking about doing" category.  Meaning, don't expect to see it this trainer season – which is rather unfortunate.
Doing so would make it far easier for 3rd party tablet apps to directly control the trainer. That's because the work that Kinomap has done with their bottle and desktop bridge app is really specific to Kinomap (after all, they did the dev work), and not something other 3rd party apps would leverage.  3rd party apps that aren't tablet/phone based though could use the new programming interfaces.  So that means someone like TrainerRoad could use the new interfaces for the desktop apps (PC/Mac), but it wouldn't help them on their iOS app.
Finally, I know some of you will ask about whether this changes things as far as trainer recommendations.  While I'll dive into that the first week of October in my trainer recommendations – in general my guidance will remain the same until the system is fully ANT+ or BLE controllable (or both).  Which is that I don't recommend buying a new CompuTrainer, but I do think for certain use cases a used CompuTrainer at the right price is very compelling.  Right now, given the recent drop in CycleOps PowerBeam Pro prices, I'd say the "right price" for a used CompuTrainer is about $600-$650.
—
With that, thanks for reading!  If you're looking to burn a bit of time, here's all my Interbike 2014 posts packed full of sports technology items.