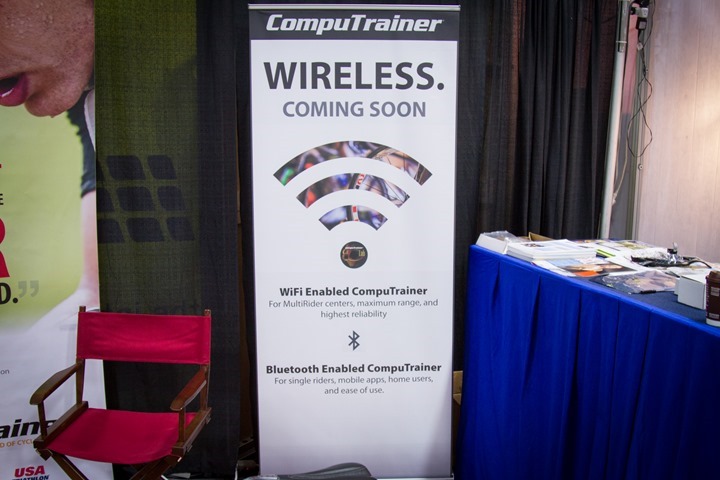 RacerMate, the maker of the CompuTrainer, is preparing to release a new controller that includes support for WiFi, ANT+ and Bluetooth Smart.  They had the head unit (controller) on hand within their booth this year at Interbike, and were able to explain some of the direction they're headed in.
The new head unit looks identical to the existing head unit from the outside.  Here's the two side by side.  One old, one new.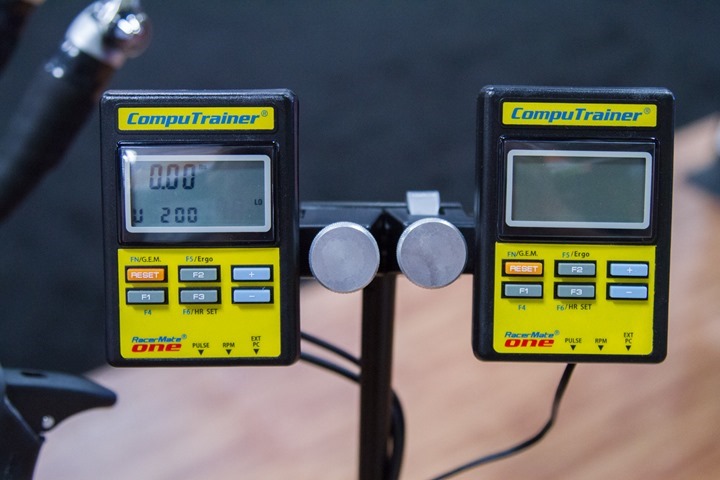 The left one is the new WiFi-enabled one.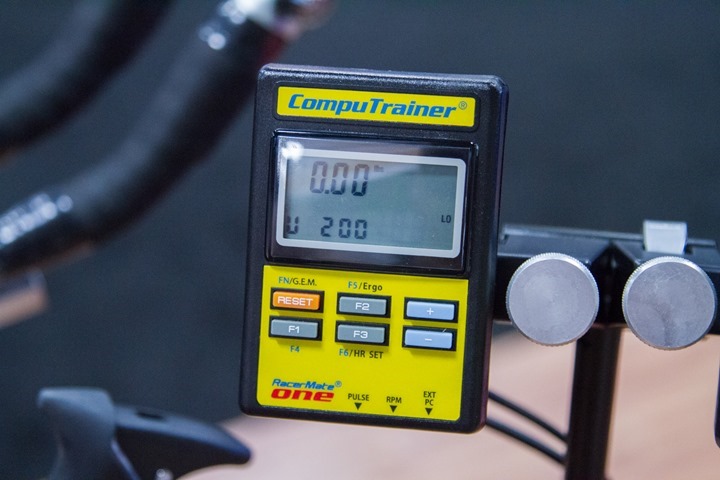 To show off its WiFi prowess, I cracked open my phone and went searching for some WiFi goodness.  Sure enough, there it is, nestled among 823 other WiFi networks on the show floor (RacerMate_CT_1).  And people wonder why WiFi interference is such an issue at trade shows….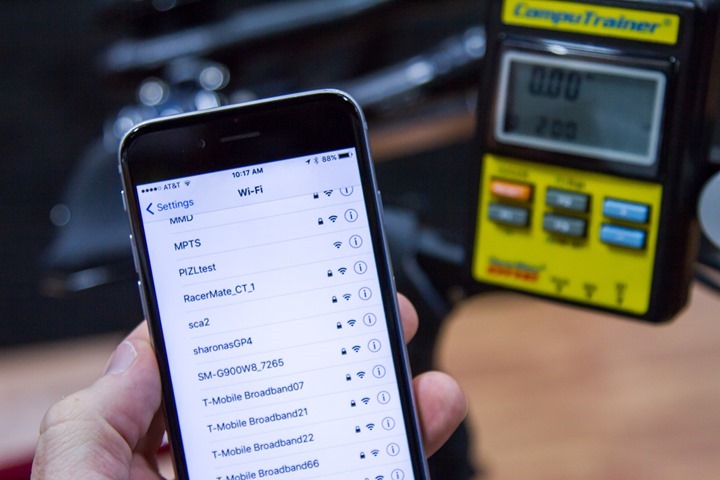 Now the unit at the trade show was configured in a mode where you could connect from a laptop to the CompuTrainer's WiFi network.  But obviously in a home/business setting that'd be annoying.  So instead, it'll also support the ability to have the CompuTrainer connect to your existing WiFi network.  This makes it far more ideal for operating within not just your house, but also trainer studios.  WiFi typically has a bit better range than ANT+ and Bluetooth Smart, especially in indoor settings – so for a trainer studio it might be more resilient than some ANT+/BT group solutions.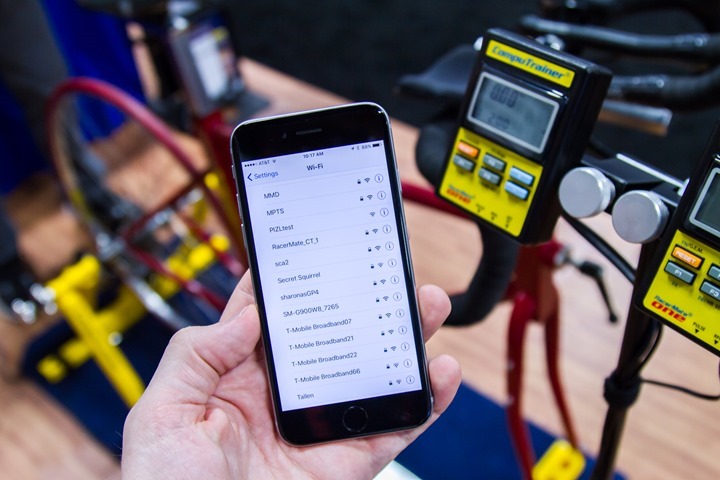 Now it's important to note that this doesn't make the entire CompuTrainer wireless.  It still requires power to the trainer itself, but also still to the controller.  As such, since the controller requires power they're routing the data from the CompuTrainer to the controller via the same wire as always.  So to be clear, the communication between the trainer and the controller is wired (not wireless).  Though, I don't think that's a huge issue (annoying, perhaps, but not a show-stopper).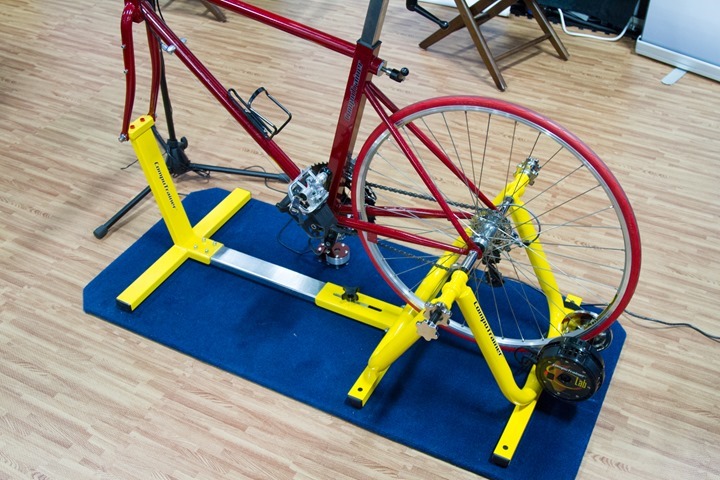 But what about their inclusion of ANT+ and Bluetooth Smart?  Well that part is slightly up in the air.  They've added the chipset to it, but haven't decided to what extent they'd add support for either wireless solution.  For example, will it transmit ANT+ Speed/Power/Distance?  Or just connect to ANT+ accessories (like HR/Cadence)?  And the same goes for Bluetooth Smart.  Those pieces are still being decided upon.
So, since they're being decided upon – I figure I'll be a friendly little person on the internet and offer my unsolicited advice (you're of course more than welcome to add yours).  Here's what I think they need to do:  In a nutshell, it's called copying Tacx & Wahoo, but just for clarity, here's precisely what I'm asking for:
A) Add in support for ANT+ broadcasting of: Power, Speed, and Cadence
B) Add in support for Bluetooth Smart broadcasting of: Power, Speed, and Cadence
C) Add in support for connecting to ANT+ Cadence, HR sensors (on user/bike)
D) Add in support for connecting to Bluetooth Smart Cadence, HR sensors (on user/bike)
E) Add in support for ANT+ FE app control
F) Add in some variant of Bluetooth Smart control
Now, you may sit there and go "But DCR, that's a huge list!".  To which I'd respond: All of the competitors already do this.  Today.  And thus why CompuTrainer's market share has evaporated.  So, sure, you could not do the above, but I wouldn't really recommend it for long-term sustainability of the company.
Doing the above would immediately make the unit technically competitive.  Especially the ANT+ FE-C control piece, of which virtually every major app has added support for, and more on the way.  It's an app-driven world for trainers today, regardless of whether you're doing entertainment based apps, or structured workout based apps.
As for pricing – well, that's the only other sticking point.  Right now the plan is to price it in the same ballpark as the existing unit (controller), so about $375.  Which is way too pricey for what it is.  I'd say about half as much would be appropriate.  Again, you have to remember that other trainers have this built-in already.  Note that RacerMate did confirm that anyone who buys a CompuTrainer between now and when the new head unit launches in November 2015, will be covered for getting a new controller.
No matter the pricing or specific functions, it's good to see the company understanding that consumers are demanding wireless connectivity support, and starting to deliver on that.
—
With that, thanks for reading!  If you're looking to burn a bit of time, here's all my Interbike 2015 posts!