Kinomap, one of the more popular trainer apps out there has expanded their platform with two new apps, one focused on Strava, and the other for Intervals.  In addition, they're going to become the first 3rd party app to roll-out Bluetooth Smart support for Tacx trainers.
In a nutshell, there's the three core pieces of news here:
1) Rolling out a new app called Skuga, which is a Strava Segments/Routes app
2) Rolling out a new app called Intervals, which allows you to create/save interval workouts
3) Support of BLE control (effectively ANT+ FE-C tunneled over Bluetooth Smart)
Phew, lots of stuff!  I'll cruise through each of the above, starting first with the Intervals by Kinomap app.  In addition, more details of these apps can be found on their new beta website.
Intervals App:
To start, the Intervals app is totally free, no subscription required.  This app focuses purely on interval workouts, and more specifically, fairly flexible intervals.  The app is cool in that you can create and save specific interval segments to then mix and match over various workouts as you see fit.
For example, if I look at my catalog of structured workouts from my coach, they have generally fairly predictable 'chunks' that are mixed and reused over the course of each week/month/season to form workouts with various purposes.  Things like my warm-up and finishing sprints are identical, for example.  As are the build sections when doing brick workouts.
So the app allows you to create each of these chunks individually, and then save them away for mixing and matching to create a larger workout.  Pretty darn logical, and surprised it's not more widely done this way.
Below, you can see the workout creator as I create a two-section warm-up, with a power target.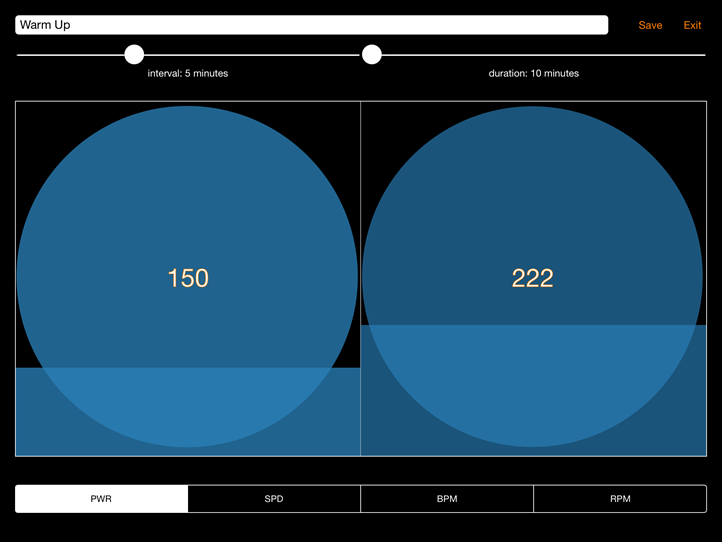 You can target Power, Speed, BPM (Heart Rate), or RPM (Cadence).  For example, in this build section I've just targeted three different HR levels.  I've set each one to have an interval of 5 minutes, though the duration has a slight oddity in that I couldn't set it to be 15 minutes, so it ends up shorting the last interval to 4 minutes.  So still some minor quirks to work out.  But Kinomap tends to iterate pretty quickly.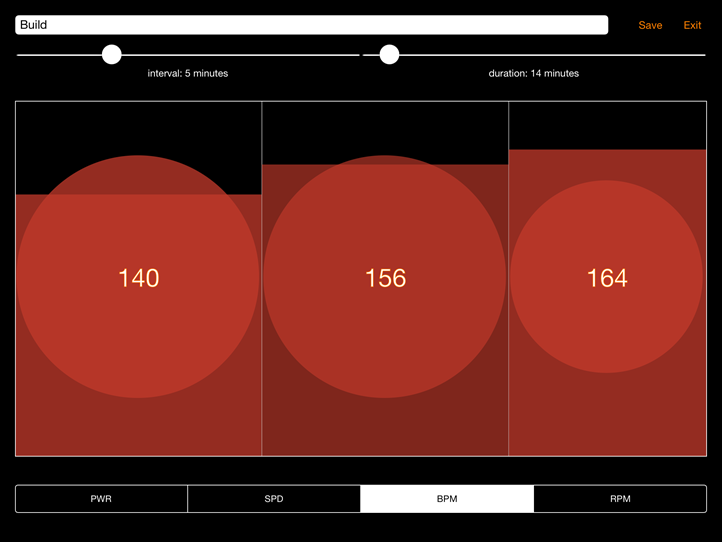 Here's an example creating another segment with 3x300w.  Though, this would be too much rest time for a proper interval (unless you were consuming ice cream between each work effort), but you get the picture.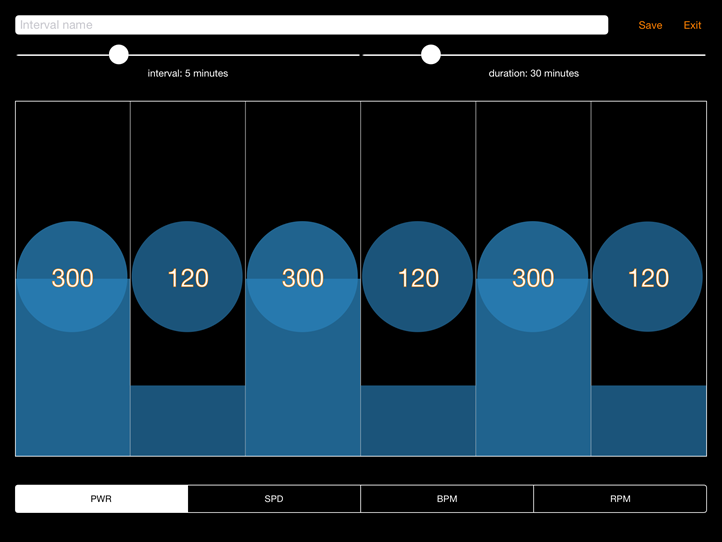 Next, you can see combining these together to create a larger workout.  Up in the top right you can just add any of the segments you've previously created.  Then re-arrange or delete as required.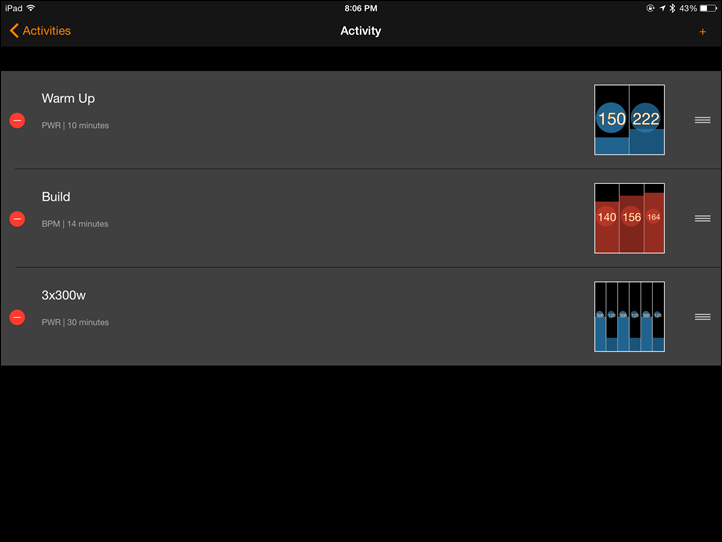 On the equipment side, you can connect to supported trainers, which today is just the Wahoo KICKR.  You can also connect to various sensors – such as heart rate straps and cadence sensors.
When it comes to executing the workout, the app will walk you through step by step.  Unfortunately photos of that on the show floor didn't come out too pretty, and at present I don't have a KICKR with me while travelling.  Though, this photo of the KICKR did.  So I'll give you that instead.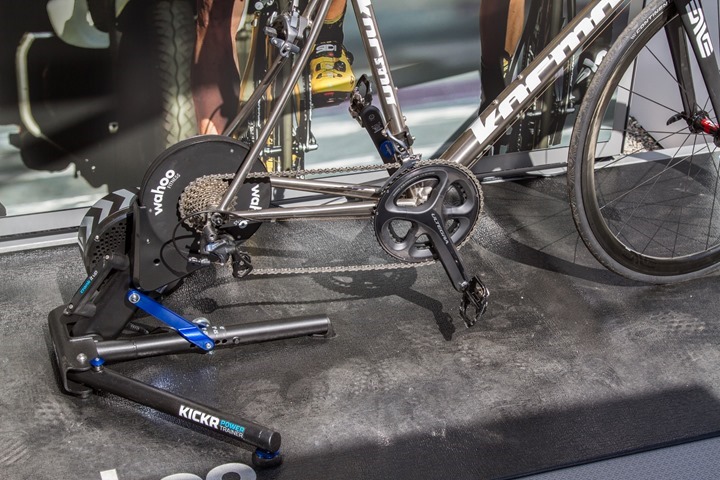 Finally, post-workout you can save and upload the completed effort to various services such as Strava or Nacho Cheese.  Yes, I'm just seeing if people are actually reading or not.
Skuga App:
This app is all about Strava.  It allows you to ride any of your existing Strava Rides (and thus segments).  The goal here being to compete against yourself or others while indoors.
The app is (currently) free to Strava Premium Subscribers (or, Kinomap subscribers), though it sounds like the free to Strava Premium piece is more time limited.  To start you'll want to authorize your account within the app:
Once that's done you'll go ahead and find your Wahoo KICKR or KICKR Snap.  Additionally, you can connect to Bluetooth Smart heart rate and cadence sensors.
Then it'll grab your existing activities and show you a list of all of them.  The obvious limiter here being that you can't select other people's activities, only your own.  So you've gotta want to race something you've already done.
Once you've selected one, you can crack it open to see the route, profile and other stats from the ride.  You can also see various Strava Segments within that too:
Then it's up to just riding the activity.  As you do so you'll see your results on the right side, and the previous record on the left side.  Along the bottom it'll show you the elevation of the ride, while the top will give you total status against your record.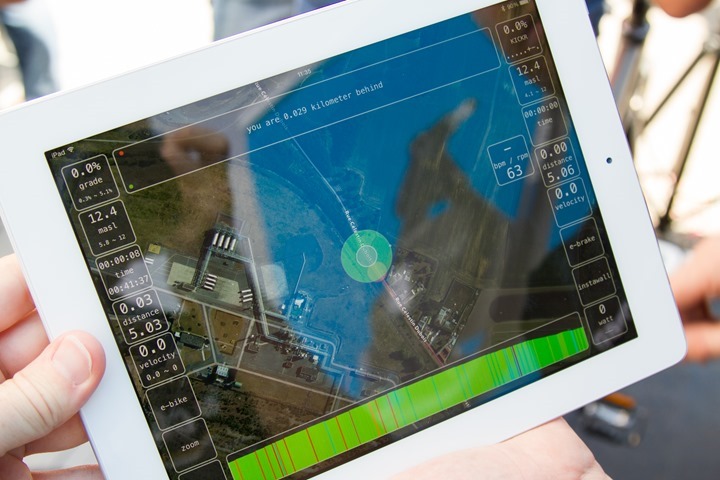 So how does this differ from something like Wahoo Segments?  Well the key thing is that the Wahoo Segments app can't ride an entire ride, but rather just a given Strava Segment.  So this is about re-riding the full thing, segments and all.
Note that Skuga will properly tag the ride as being on a trainer, when it uploads to Strava.  This will in turn add you to the virtual ride (aka Trainer) leaderboards, instead of putting you on the regular (outdoor) leaderboards.  This is the same new virtual leaderboards that Zwift started using as well.
Kinomap adds Bluetooth Smart Tacx Control: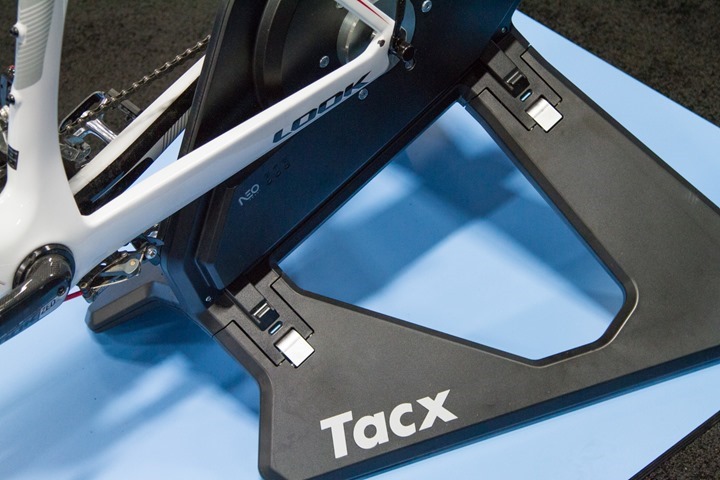 (Note: The news in this section is separate from that of the previous two sections.  Just happens to be related to Kinomap as a company, but not related to the two apps noted above.)
Finally, we've got a little nugget of news that has been hinted at recently, but is almost ready to be more widely noted – which is 3rd party Bluetooth Smart control of Tacx trainers.  You'll remember that while Tacx released ANT FE-C support this past summer, they didn't release any way of apps controlling their trainers via Bluetooth Smart.  That's super-limiting for iOS devices, which lack a native way to connect to ANT+ devices (without an adapter).
Well Kinomap and Tacx have been working together over the last few months and will be rolling out support within the next Kinomap app update (which is being submitted to Apple in the next day or two). This means that you'll be able to control the Tacx Smart-branded trainers with the Kinomap app.  For clarity, those Smart trainers are currently: Bushido Smart, Genius Smart, Vortex Smart, and NEO Smart.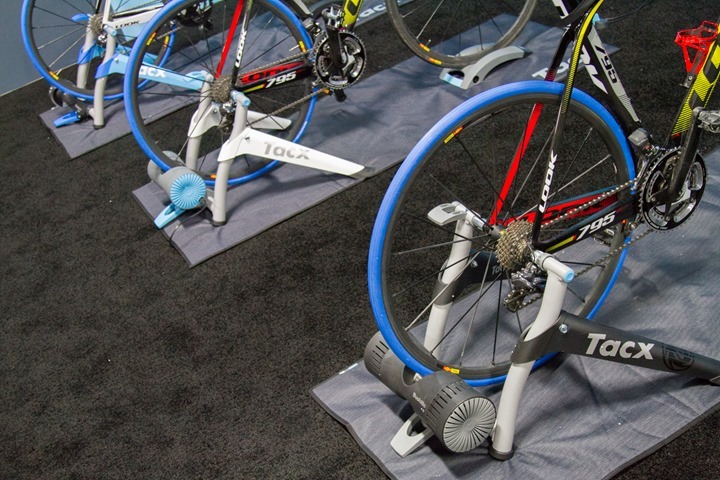 Interestingly, the way they are doing this is to simply encapsulate the existing FE-C protocol and then just tunnel it over Bluetooth Smart.  Kinda brilliant, as it avoids having to reinvent the wheel.  It'll be interesting to see if others (such as Elite) take this approach as well for 3rd party BT support.  Hopefully whatever these companies do, they make it easy for 3rd party apps to quickly implement it.
—
With that, thanks for reading!  If you're looking to burn a bit of time, here's all my Interbike 2015 posts!