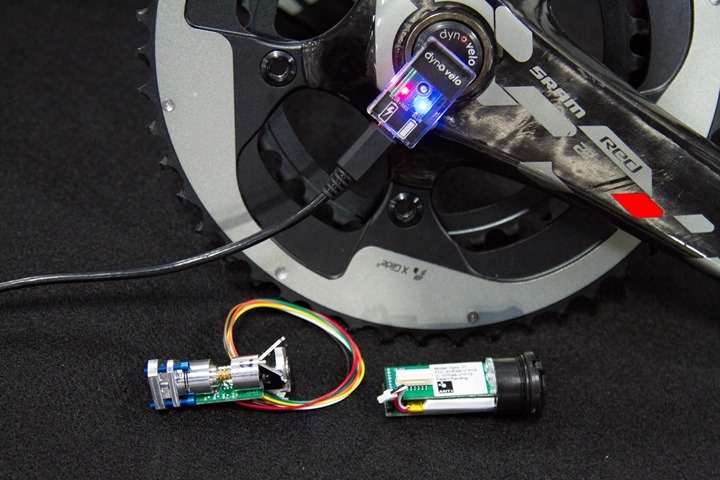 At Interbike this past week a startup company was showing off a new entrant into the crank spindle power meter world.  The Dyno Velo power meter is currently planned to hit production next year, for a target price of $399.  This target price is inline with other left-only power meters as priced today (i.e. 4iiii at $399).
Using the crank spindle (within the bottom bracket region) for power is certainly not new however.  We've already got ROTOR with their INpower, then there was Ergomo in the past, and also more recently Ashton Instruments is working on their product for next year as well.  It's an area that's appealing to companies because of relatively broad compatibility, plus it's theoretically easier to sell to/through bike shops and bike manufactures than crank based solutions which can have more complex installation routines.
I got to spend a bit of time with the Dyno Velo folks as they walked through how the unit works and how you get it installed.  So let's dive into it.
A Look Inside:
Seen below are the two components of the Dyno Velo power meter.  One is the 'torque transducer' (left), and the other the electronics module (right).  The torque transducer is basically a fancy term for the thing that measures the twisting inside the crank spindle, and then spits out a figure that exclaims your power output.  Meanwhile, the electronics module then takes that value and relays it via ANT+ to head units the world around.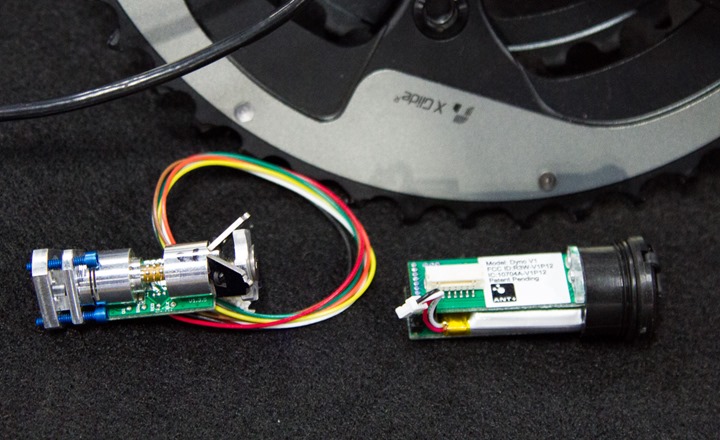 To start, you'll plop the torque module down into your crank spindle by holding the wires and pushing it via the included tool.  This is sorta like ice fishing (speaking of which, while in the US last week I learned there's an entire reality TV show dedicated to ice fishing, crazy!).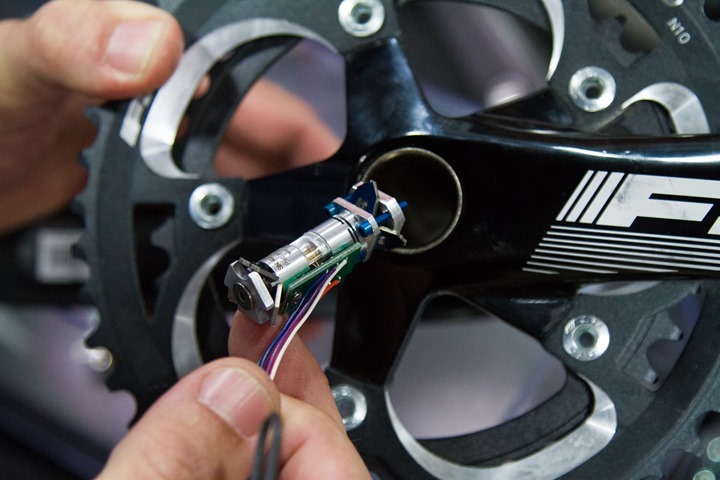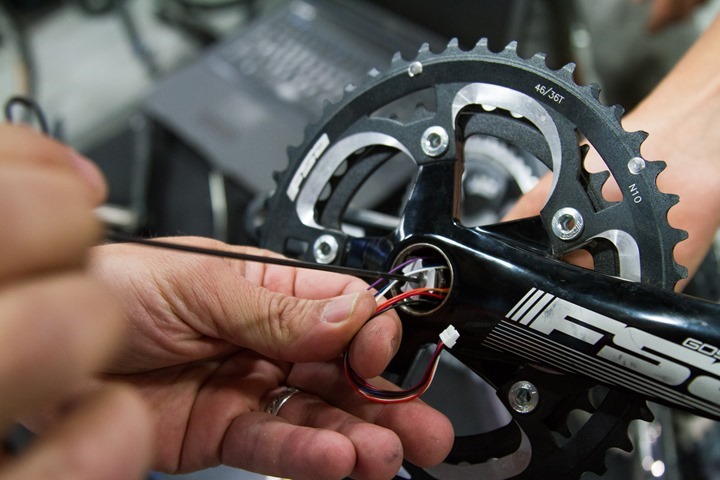 Then, you'll take this pokey tool and push it down and then use the screw tip on it to lock the transducer in place.  What this does is actually expand out the arms on the transducer, sorta like someone holding their arms out inside an elevator – locking it against the walls.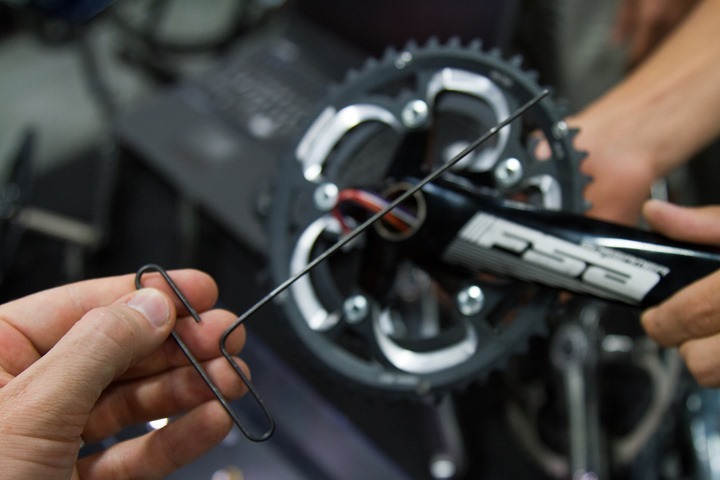 Next, you'll connect the wiring from the transducer to the communications pod.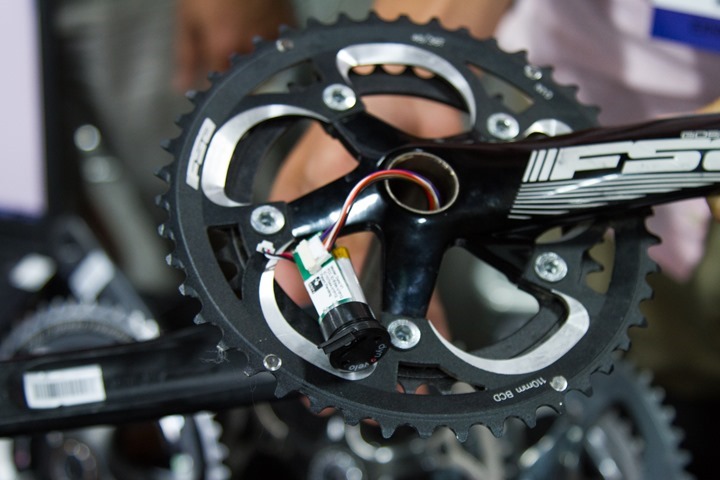 Then, you'll take the communications pod and screw that into the spindle as well, getting you to look something like this: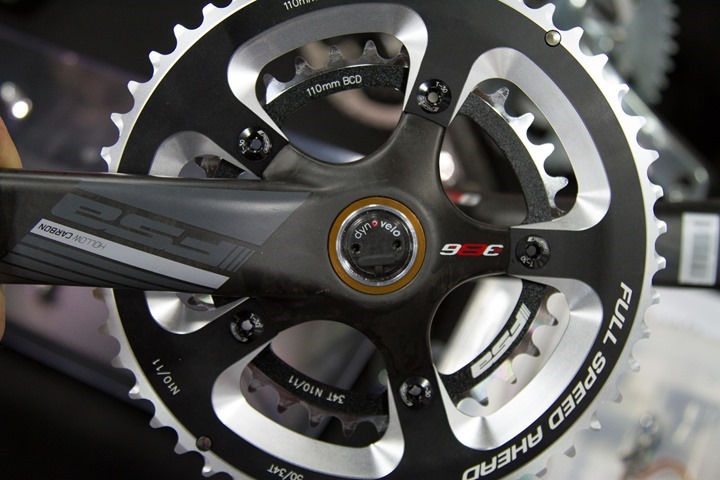 With all the hardware components done, you're ready to begin calibration.  For this you'll crack open your Windows PC app that will use ANT+ to connect to the unit: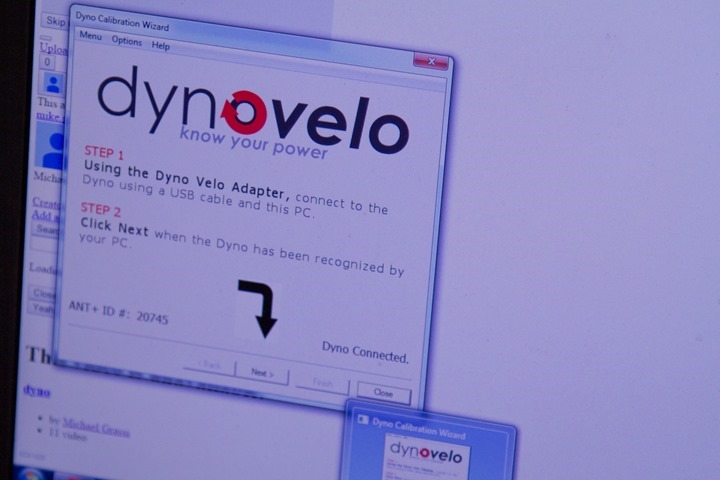 Once that's done, it'll show you the current force and temperature: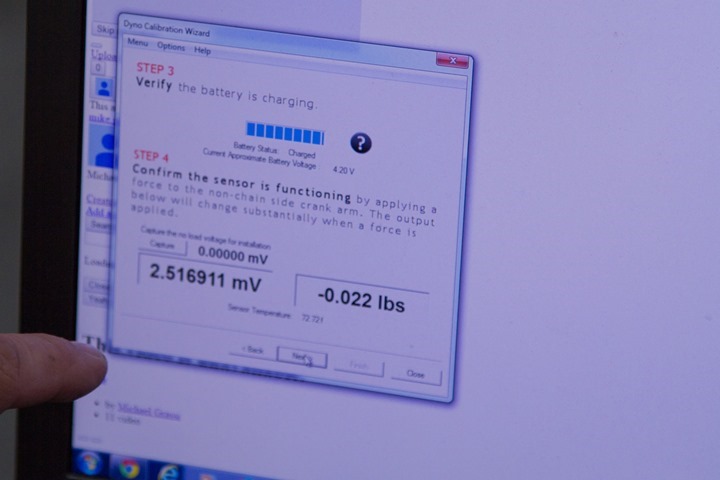 Next, you'll simply jump on the bike and apply a little bit of force to just ensure things are locked in tight: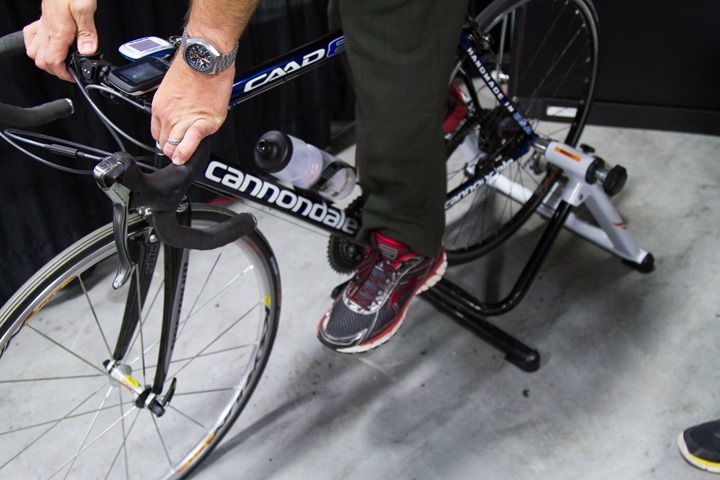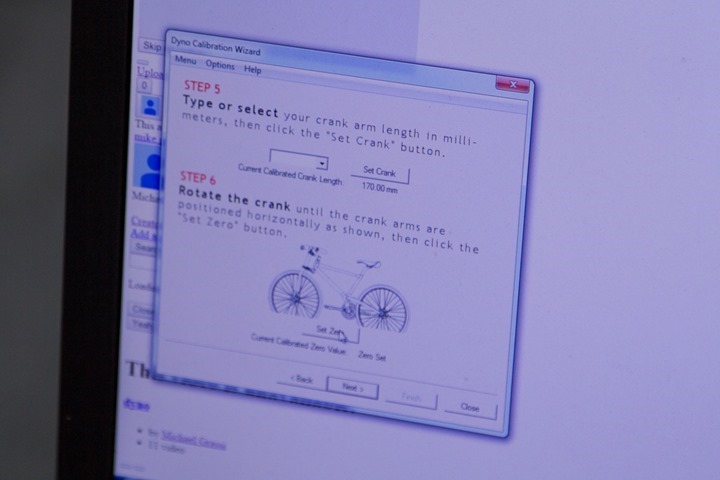 Then you'll need to grab a calibration weight. That's essentially any weight greater than 25lbs that's accurately measured.  So for this you've got two options: One you could go and buy a 25lbs certified/measured weight, or two, you could grab some weight lifting weights and get those officially measured (since they aren't typically accurately measured).  How do you do that?  Well Dyno Velo recommends going down to your local UPS store, which has a super-expensive officially certified scale for measuring things.  Once you know the weight of your object, then you'll get back to attaching it to your bike crank arms and letting the tool do its job: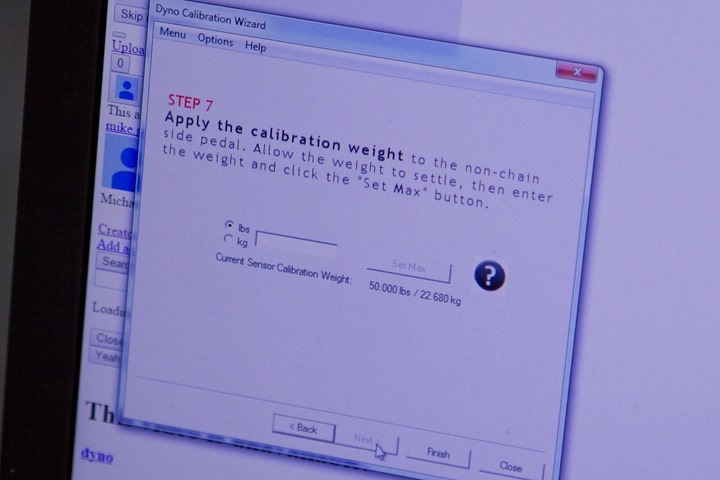 With that, you're done – the unit is ready and calibrated.
When it comes to usage, the unit will transmit total power and cadence via ANT+ to any compatible ANT+ head unit.  It does not have Bluetooth Smart at this time, though they say it could be possible down the road.  They also noted that they spent a crapton of time working on the ANT+ transmission side to make it the strongest transmission of ANT+ signal of any power meter out there, ensuring good connectivity to head units.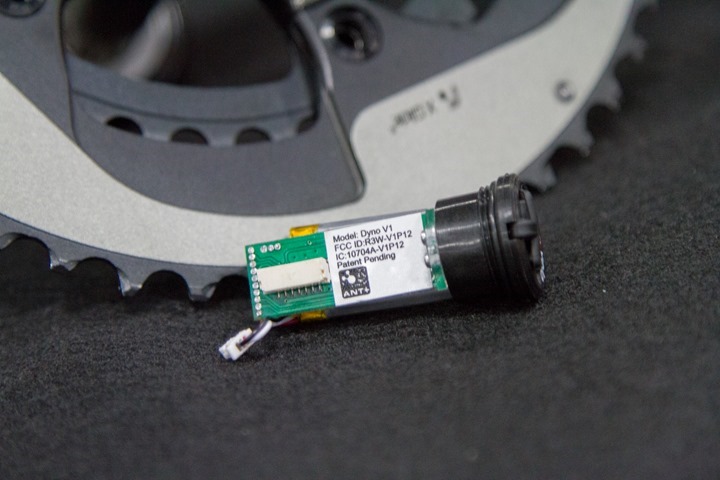 They state a power range of 0w-2000w, and a cadence range of 30RPM to 200RPM, with an accuracy of +/-2% (as measured on the left leg).  Again remember that with this location in the crank spindle, it's only going to be measuring your left leg power, not total power.  Thus, it's identical to the power output as measured by other competitors such as Stages.
When it comes to charging, the unit uses a small charging adapter that connects to a small port on the front that's covered by a rubber seal.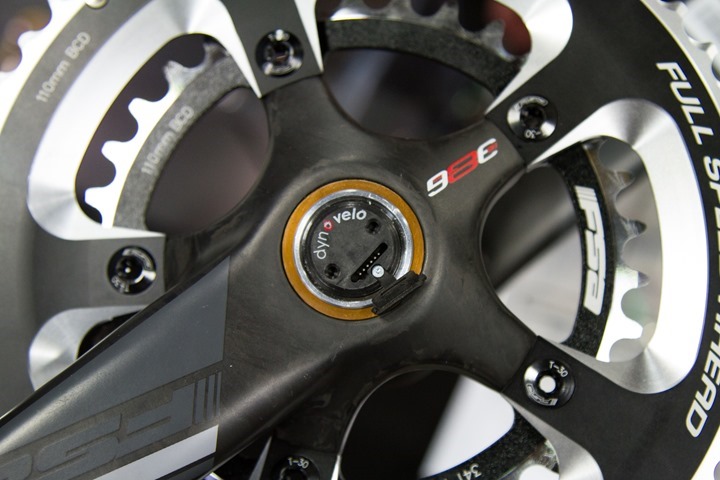 The unit is rated at 20hrs of battery life, which is one of the lowest out there in the power meter market (if not the lowest).  My only concern with the charging adapter is that the pins are super-fragile, and not well protected when it comes to sand getting in that port.  The Dyno Velo guys noted that they have done some cyclocross racing with the unit without issue to date, but I'm still going to maintain that charging port will not stand up to widespread use.  But, that's a relatively easy thing to adjust in the grand scheme of things.  The unit has a waterproof rating of IP67.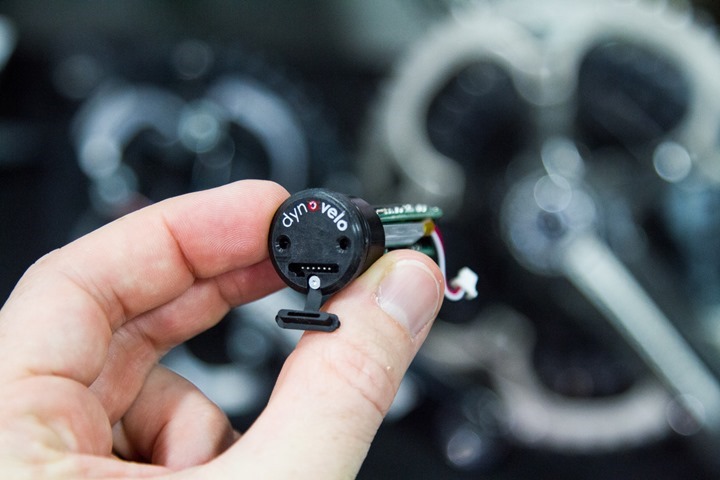 I did not at this time have the opportunity to do accuracy testing of the unit, which isn't scheduled for release until sometime in "early 2016".
Initial Thoughts: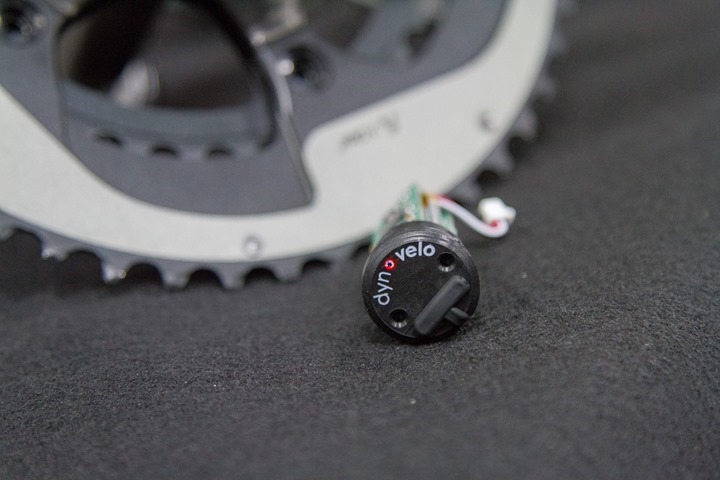 I think the guys from Dyno Velo are no doubt rather smart dudes.  And they've in turn come up with what could be a cool product.  Rather more precisely, they've come up with what could be a cool product for smart and geeky people.  But not yet a cool product for the masses.  Now I'm sure some will say I may be selling short consumers technical capabilities, and perhaps that's the case.  But the installation as it stands today needs more refining and needs to be more protected against user error (i.e. handling of the components).
But no worries, Interbike is often a learning field for startup companies – and thus, in the spirit of that, here's my suggestions for going forward:
A) Get rid of the exposed wires/chipsets: It can't look like a homemade clock bomb
B) Improve the charging port against sand (especially from roads in winter)
C) Add dual ANT+ & Bluetooth Smart broadcasting
D) Reconsider the price, $399 is going to be borderline too much for a left-only unit with this level of installation complexity with others already on market at that price – by time you get to next spring.
E) Reconsider battery capacity, 20 hours is really approaching a bit too low.
F) Ensure a mobile app for configuration/calibration
Now, it's easy to think I'm being hard on them.  But that's not so much the case.  They've got a lot going for them.  Their compatibility matrix with existing bottom brackets is strong, as is their mechanical design and how it locks (pretty cool).  Same goes for their sealing system on the backside of the unit.  I definitely want to see more power meter options at cheaper prices.  And if they can knock out the list above – I think they'll be in great shape for next season.
—
With that, thanks for reading!  If you're looking to burn a bit of time, here's all my Interbike 2015 posts!