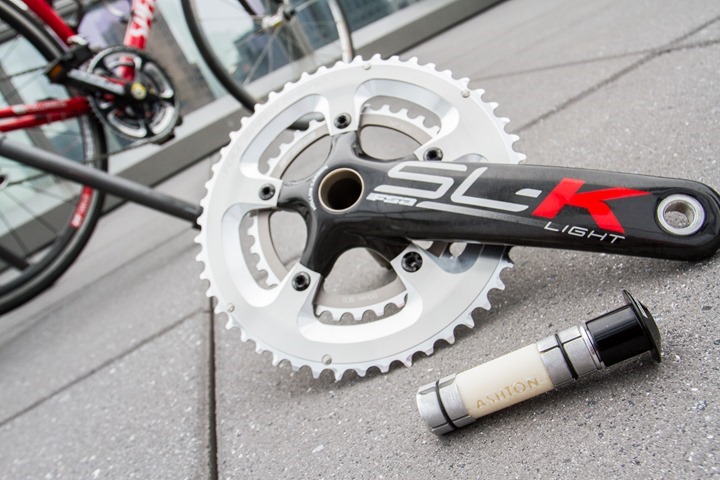 Last fall I sat down to meet with the folks behind Ashton Instruments, an up and coming power meter company.  At the time we sat down in a random hallway at the Mandalay Bay convention center on horrible looking carpet with equally bad lighting.  They had brought with them some early models of their unit, as well as a host of data and explanations.  Here's a few photos from that encounter:
I never ended up writing about them, partly because the photos came out horribly – but mostly because I didn't feel like it had enough grounding in reality yet.  I meet with prospective power meter companies quite frequently – all of which you've never heard of it (and most want to keep it that way for a while).  But in their case I felt like they needed to go back and spend the winter to prove what they had.  And that they did.
This past Friday I met with them again, as the last company on my US road trip last week, just before I headed out to the airport.  And this time, they definitely proved they were on the right track.  Of course, it's still early in development – but definitely worthy of talking about now.
The Device: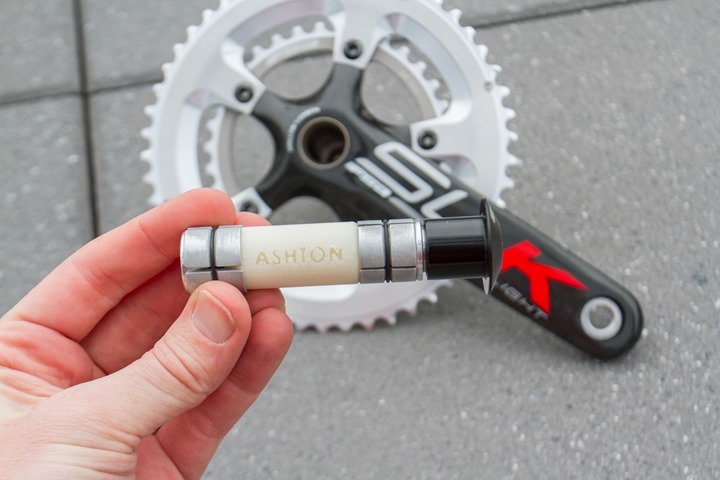 Their power meter is pretty much unlike anything else currently on the market.  Though, there are elements of it that can be seen in products long since passed (i.e. Ergomo).  The nameless unit (seen above) slides into your bottom bracket.  The bottom bracket is the hole at the bottom of your bike that allows the crank to connect on both sides.
In this case, it simply screws in by slightly expanding the cap when you tighten the bolt: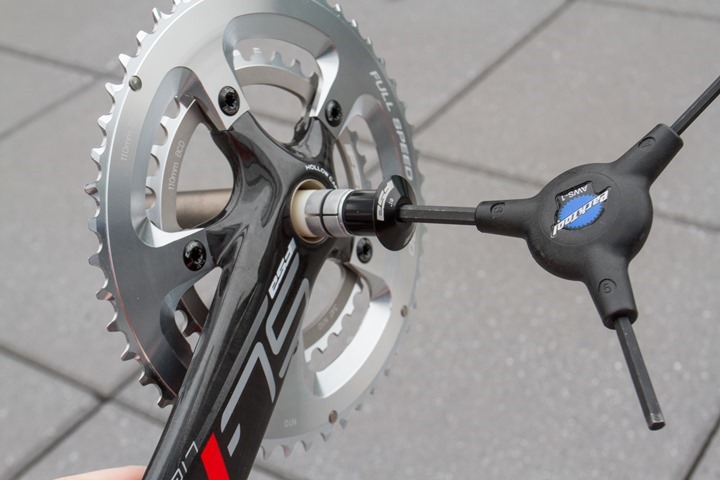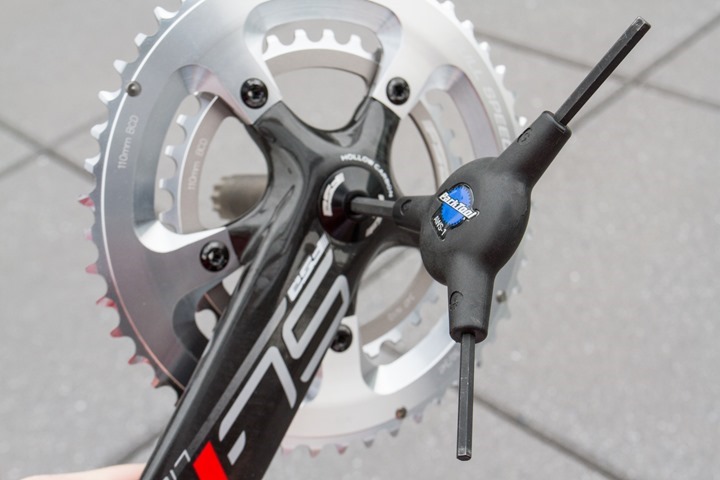 A secondary bolt would also tighten from the other side in the next prototype version, to ensure it stays put. In the meantime, you can see it from the other side, inside: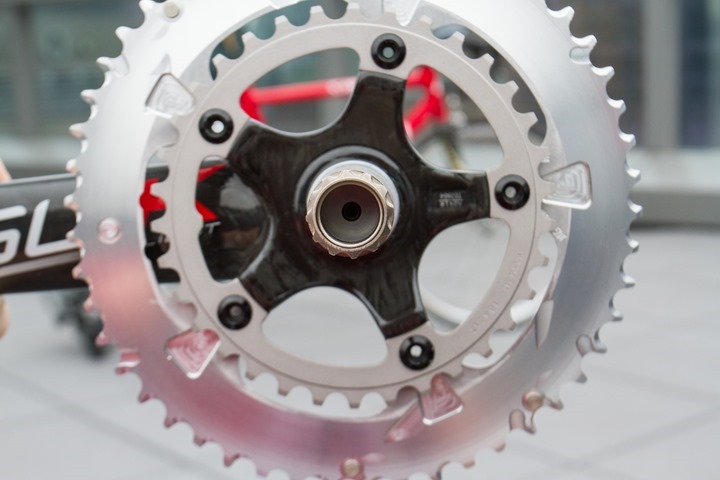 This design allows the unit to be easily installed by basically anyone.  Essentially, if you can install a water bottle cage, you can install this power meter.  I can't think of another product on the market that has that level of simplicity – except the PowerTap in a pre-configured wheel (where the hard part is done for you).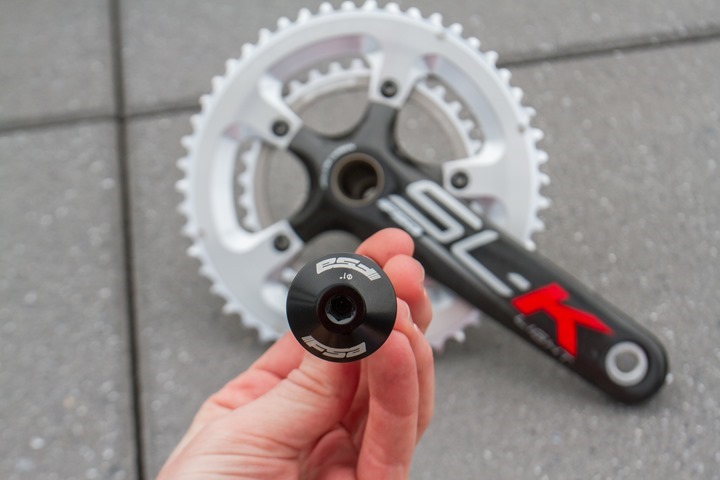 Oh..and one thing: There are no strain gauges.  Yup, you read that right – a direct force power meter without otherwise industry norm strain gauges.
So how does it work?  Well, the easiest way to think about it is that as the unit slides inside it measures rotational twist in two places within the crank spindle.  By knowing how much rotational twist you're putting out it can determine how much force you're generating and thus determine power.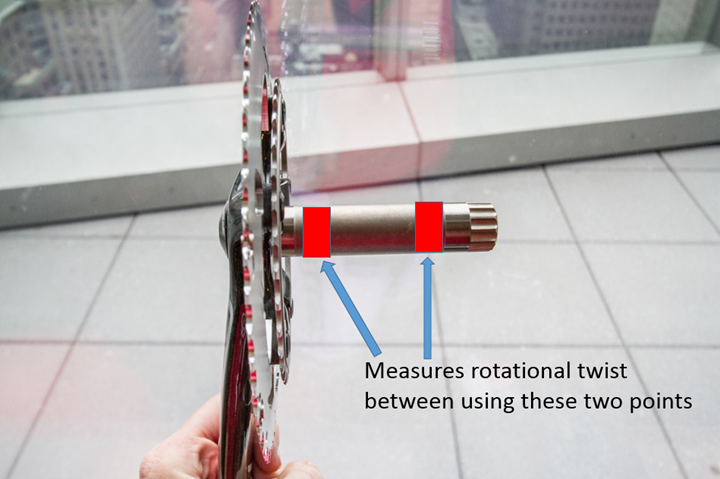 There are some limitations to this scheme however.  Namely that it only measures one-leg (left in this case).  So it's sorta like a Stages power meter being one-sided.  For some budgets/expectations that won't be an issue.  For others, it may be a show stopper.  Really up to individual situations.
The unit will eventually dual broadcast ANT+ and Bluetooth Smart, though neither were enabled on the prototype unit they had with them.  Instead, it was just recording it internally.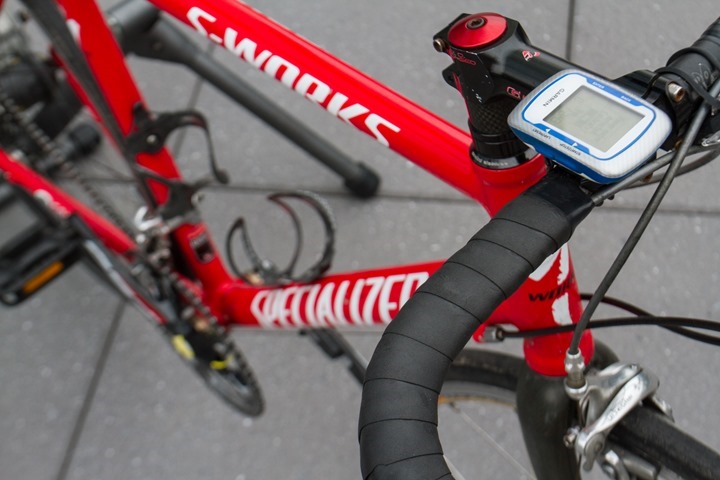 Here's a quick video I put together looking at all the pieces and where they go:
With that out of the way, let's get onto the road.
Some short test rides: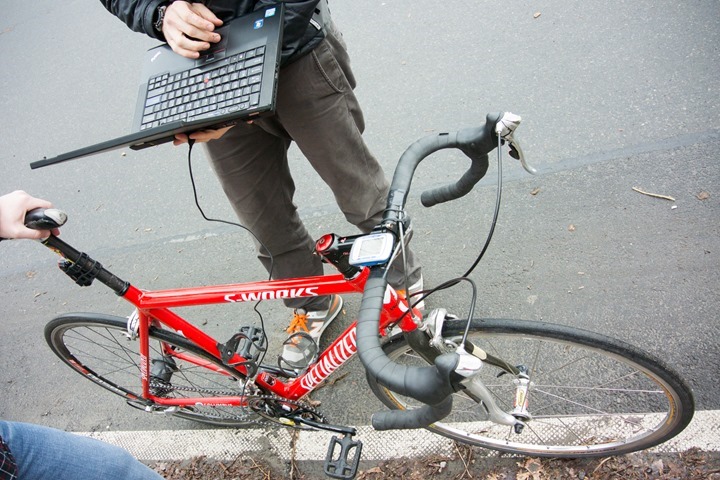 We had a bit of time in the afternoon during my trip to NYC, so we set about to do two test rides on prototypes.  The first was outside at Central Park.  Being an early stage prototype, they protected the unit with plastic wrap (seen to the side)– mostly because of the wet road conditions (and probably a bit to keep the Central Park horse crap on the road out of it too).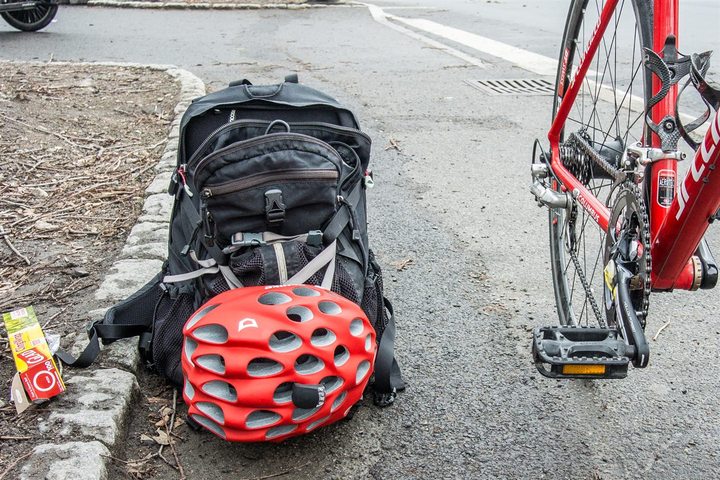 From there I did a short loop with it.  While I had cycling shoes on the trip, we didn't think to coordinate pedals/cleats – so I just used running shoes and they had flat pedals.  Perfectly functional for this basic level of testing.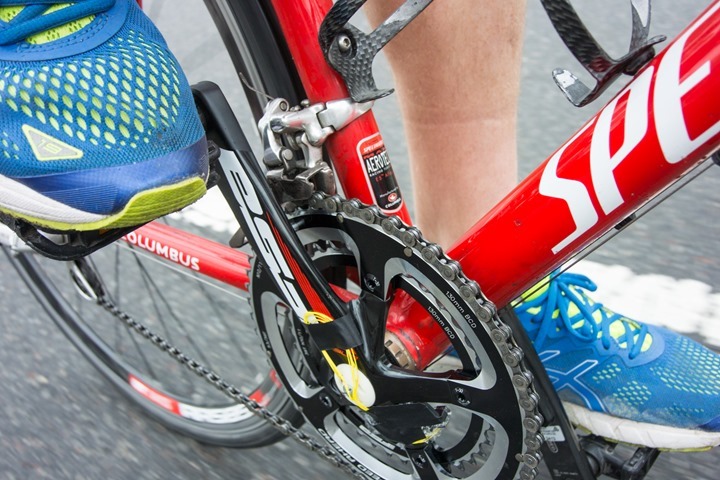 Unfortunately, nothing recorded.  After some troubleshooting, the unit wasn't recording to the onboard memory (it doesn't yet have ANT+ or Bluetooth Smart broadcasting enabled on it).  So we had to swap to a second unit.  That was best done at the hotel.
So we decided to go up to the 35th floor of the hotel on a deck outside the fitness center.  It's quickly becoming one of my favorite locales for doing product shots as there's very rarely anyone up there.  Plus, it just looks cool.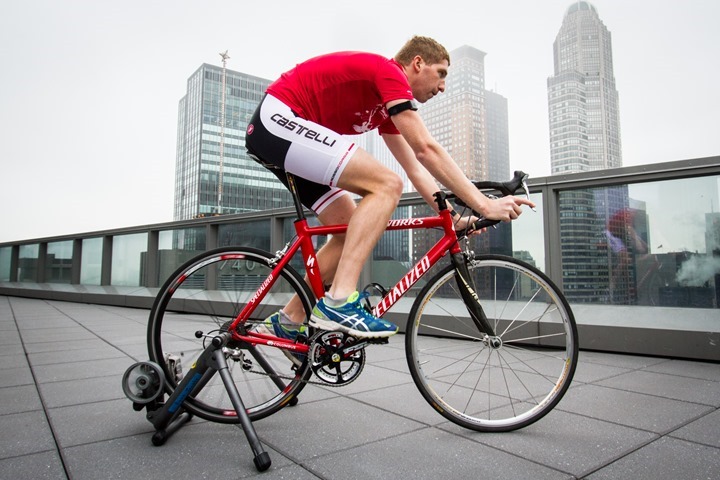 I did a short test ride on the bike starting off at lower power levels and then increasing up to about 275w before doing a few short sprints at 500-600w.  The bike was outfitted with both a PowerTap as well as a Stages Power Meter.  You can see the prototype aspects pretty clearly here.  Well, unless you normally electrical tape your chainrings and cranks – which does admittedly add a sniff of hardcore to the scene.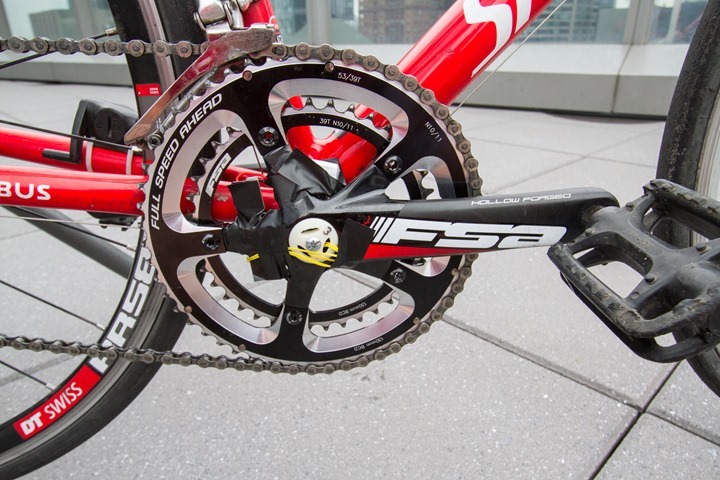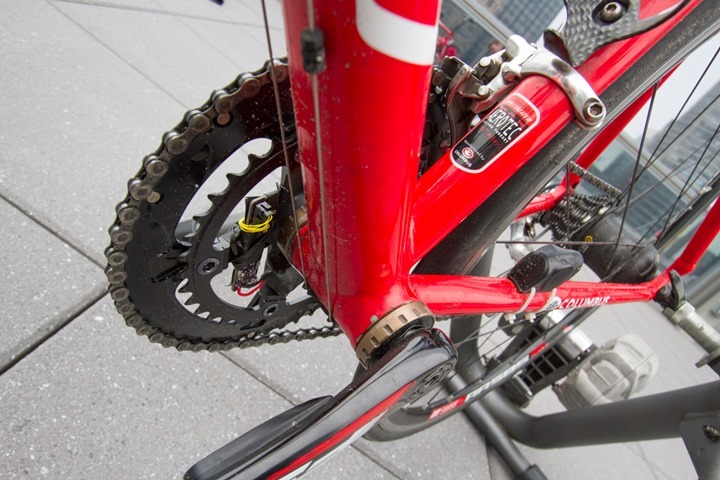 Because the data isn't yet broadcasted in real-time, we hooked up a laptop to it to download the data, which also captured the PowerTap and Stages data.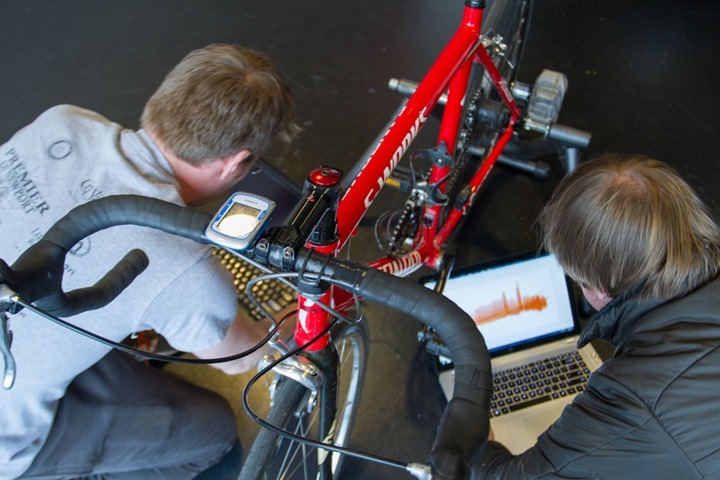 Next, they applied a calibration offset to the data, post-ride.  Normally this is done prior to riding – but that portion of the software is still on the upcoming to-do list.  Below is the 5-second smoothed version showing Stages, PowerTap and them.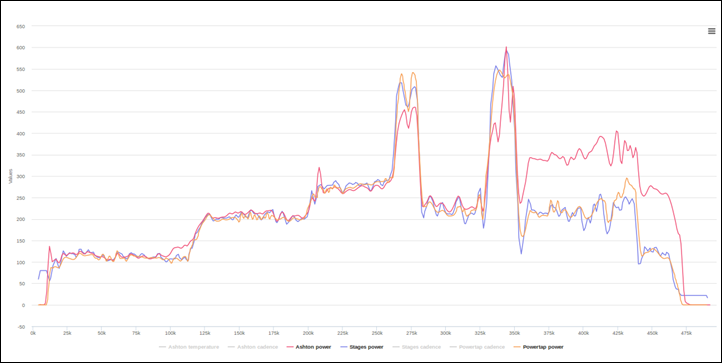 As you can see, it meshed fairly well for the first portion of the ride up until the hard/short sprints.  During the sprints we see it reporting lower, which I'll cover in a second.  Then, after those sprints I go into a high-cadence section, where they track reasonably well until I get up towards the higher end.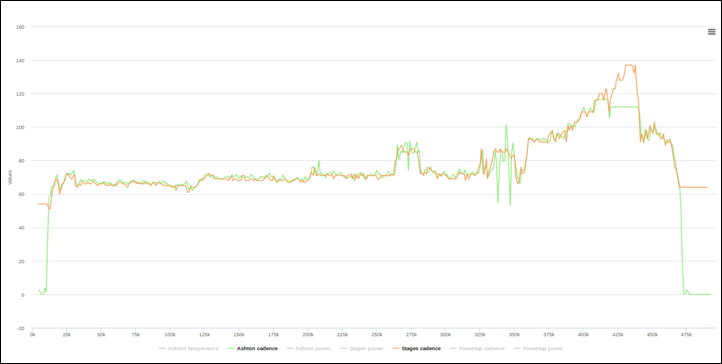 In looking at both differences they believe they're largely because there's a tiny bit of slip going on at high power/cadence levels on the current prototype.
This is because the current prototype isn't quite as snug as they want within the bottom bracket (note the electrical tape holding it in place), allowing for a tiny non-human noticeable amount of jiggle.  They noted that the next prototype run should easily take care of that as it won't be dependent on electrical tape but instead the screw system you saw earlier.  Additionally, the current prototype is 3D printed, which doesn't have quite the grip and surface of their planned units – thus contributing to the slippage.
Still, for where they are and where they know they have to go, it's promising.  At the same time, as other companies have shown – it's easy to get 80%, 90%, or even 95% of the way there with a power meter.  It's getting from 95% to 100% that's the toughest thing to do in this industry.  Ferretting out the last little bugs can take months – or even years.  Hopefully it'll be a quick journey for them.
The Future: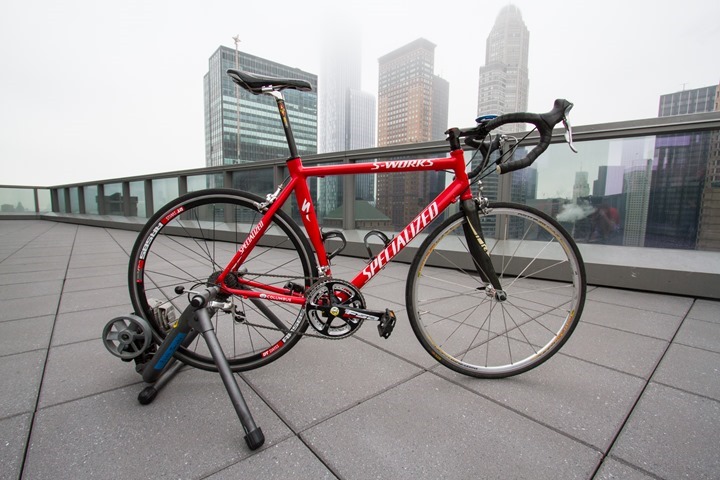 Now, as is probably obvious at this point, this isn't something you'll be buying this year. Rather, they're still in the device prototyping and business building stage.  Right now they have functional units as seen above, but there's still a fair bit of work to get to a retail state.  Additionally, they're still looking at gathering additional investors to get them to the finish line.
Given that, they're targeting consumer delivery early 2016 with a sub-$500 price point.  Of course, they were also aware that power meter pricing continues to drop, so they may need to re-adjust plans there depending on the market.
Still, it's always good to see other options enter the market.  And this one might just take the cake on the absolute easiest direct-force power meter out there to install.  Pretty much anyone can do it, which is definitely a good starting point for a bike part.
With that – thanks for reading!