Overview:
ROTOR has as of today somehow managed to accomplish the near-impossible in this day and age: Putting a brand new unseen power meter on pro rider's bikes in major events for months…and have nobody notice.  Stepping that up: Having their athletes even tweet and Instagram about it, and still nobody notice.
But, I'm pretty sure after today, people will definitely notice.  That's because ROTOR has come out with a completely new line of power meters, the INpower line, which is a series of axle based systems that measure left-leg power from within the bottom bracket.  It then transmits this power over ANT+ to any compatible ANT+ power meter capable unit (i.e. your Garmin).
Product Details:
To understand where precisely the power is measured, look at the handy dandy modified image below.  This is basically measuring in the same region as the Ashton Instruments offering I showed earlier in the week.  The major difference though between them and ROTOR is that ROTOR is specific to their own crank arms/sets, whereas Ashton Instruments is looking for broader compatibility.  Also, Ashton is cheaper.  But, they're also a year away and don't have anything near shipping-quality – whereas ROTOR does.  That's obviously a huge difference.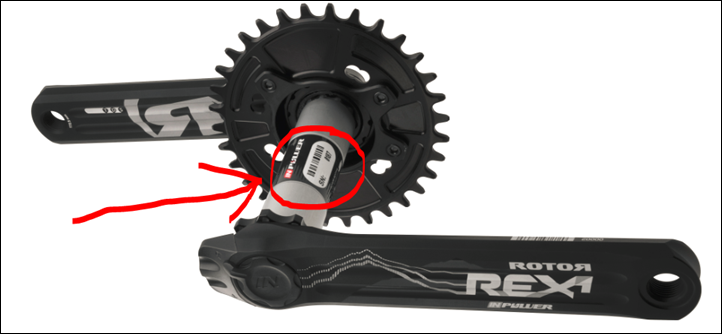 The ROTOR INpower measures torque utilizing strain gauges and an accelerometer within the axle at 200hz, thus covering the entire pedal stroke.
Compatibility:
There are essentially three crank arm choices for road bikes: the 3D30, 3D+, and FLOW (all of which are ROTOR crank arms).  Then within that you can choose to buy the left-arm only, or buy the full crank set.  Note that no matter which you choose, it's still measuring only left-leg power (sorta like Stages Power, or last year's ROTOR LT).
Here's a look at the frame compatibility across major bottom bracket types, starting with the road/tri units.  This chart can be simplified as: Everything but BB90.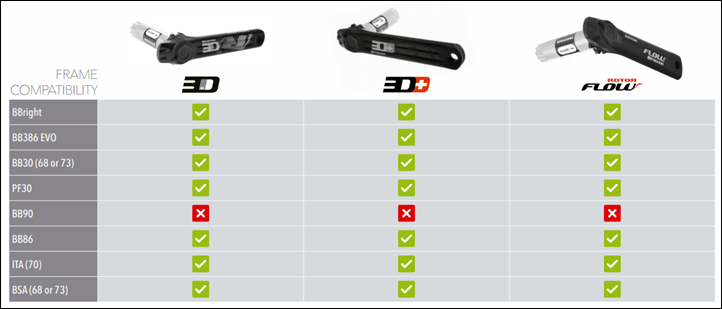 And here's the mountain bike compatibility matrix with the REX1 and REX2: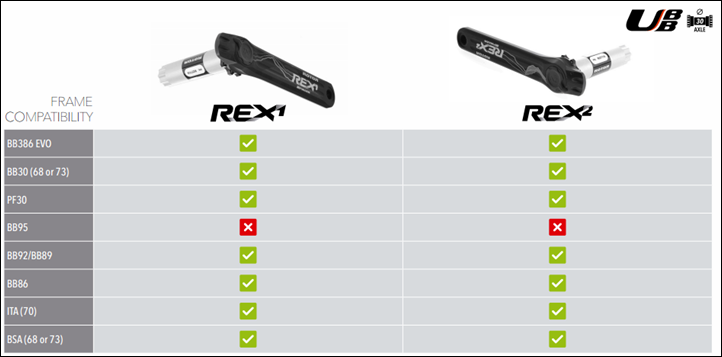 No matter which variant you get, the unit uses a single AA battery that is accessible via the little compartment door you see on the side of the crank arm.  This AA battery gets an impressive 300hrs of battery life before replacement is required.
As part of that, the transmission over ANT+ will send your total power to compatible head units.  Additionally, it'll also send the ANT+ metrics of Torque Effectiveness and Pedal Smoothness.  Most recent head units support those metrics being displayed and recorded.  Additionally, like the previous ROTOR POWER systems, the INpower system is indeed fully compatible with Q-Rings (non-round rings), which isn't found on any other crank-region based power meter on the market (essentially only the PowerTap has been proven to support them).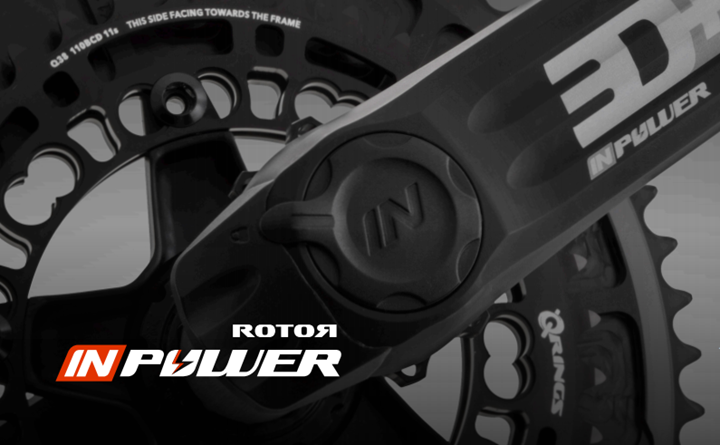 As I alluded to earlier, what's probably most impressive is the teams actually using it already in major events.  This includes riders on Lampre-Merida and all riders on MTN-Qhubeka p/b Samsung (road WorldTour Pro Teams), and then on the mountain bike side, MMR and Rocks & Co.
More than using it, the fact that nobody noticed.  This is in part because most of the cycling media tend to look at the drive side of the bike for photos.  When in reality, it would only be noticed (with eagle eyes) from the non-drive side.  And in fact with a bit of careful looking at Team MTN's Instagram feed – they've been hiding in plain sight.  In some cases (such as on April 5th), one of the photos has a simple 'Blur' on it – that adds just enough fuzziness for folks not to realize the crank-arm closest to the camera is actually the INpower.
In the case of MTN-Qhubeka, they've been testing them since November of last year, and then riding full time since their January training camp.
In any event, on the technical spec side there are numerous options for BCD and crank arm lengths, depending on which ROTOR crank arm model you go with.  Here's some handy dandy tables.  First, the road tables:

And then the mountain bike tables:


ROTOR Power Pricing Update:
Finally, a minor note about their existing ROTOR Power (full left/right) and ROTOR LT (left only) power meters.  Those actually had the prices adjusted a month ago…but nobody noticed.  The new prices in the system since then have been: $1,079 (left only, was $1,490), and $1,559 (full left/right, was $2,400).
The reason why the ROTOR LT system is 'more expensive' than the base INpower units is simply that the ROTOR LT system starts with the 3D+ crankset, with 'set' being the operative word.  Whereas the INpower unit is just the left crank arm only, and at the cheaper 3D30 units.
Here's a quick gallery of imagery from ROTOR of the new unit:
ROTOR has plans to send me over a unit for testing, though the queue for new power meters is definitely getting a bit long!
Thanks for reading!
(Note: All imagery used in this post from ROTOR)