As part of my Eurobike coverage I've published posts for all of the power meter companies that have released new products at Eurobike this year.  Each of those companies had a separate post published on their new products.  That included the following:
SRM: New SRM PC8 had unit and rechargeable power meter
Polar/Look Keo: Update on Bluetooth Smart being added to their pedals
PowerTap: New PowerTap Hubs, Trainers, and iPad app
Power2Max: New Power2Max Type S lineup
Beyond that I wanted to briefly touch on each of the publically announced power meter brands I spent time with at Eurobike.  The only two brands not included here are Garmin Vector and Stages.  Stages wasn't present at the show (but is at the upcoming Interbike), and I just spent time with the Vector engineering team two weeks ago asking anything and everything one could ever think of.  Nothing has changed since then.
None of the below brands had new products to announce beyond what's already out there, but all of them had minor updates that are worthy of brief note.  At least as brief as I can be.
Quarq/SRAM Power Meters: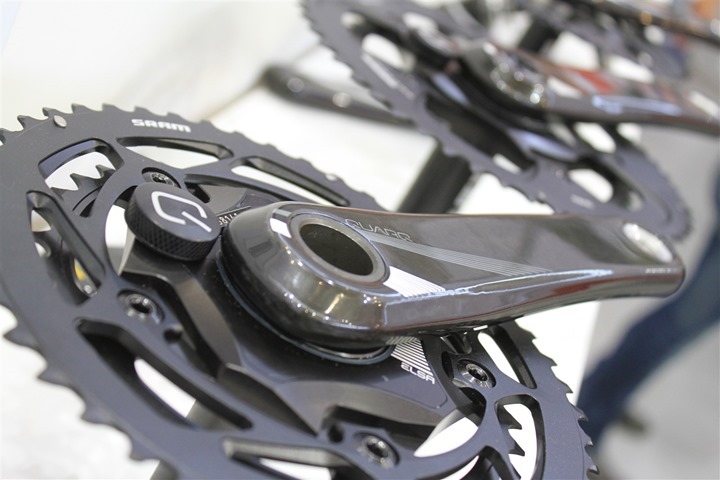 I'm currently in the midst of publishing two different SRAM Quarq power meter reviews – the Quarq RIKEN, and the Quarq ELSA.  As such there isn't any new product news to share from them, but we did have a good chat.
The one area I specifically discussed with them is their price and position.  I'll outline in more detail my thoughts in my full "power meter market state" post scheduled for next week (I had delayed it waiting for Eurobike announcements).  However, the gist of it is that given the current price points of the RIKEN and ELSA compared to both the PowerTap and Garmin Vector – it puts Quarq in a bit of a high position relative to their offerings.  For example, the PowerTap hubs are currently at $799, RIKEN at $1,595 (starting) and the ELSA at $1,999.  Keeping in mind, Vector is sitting there at $100 more than the RIKEN, at $1,699.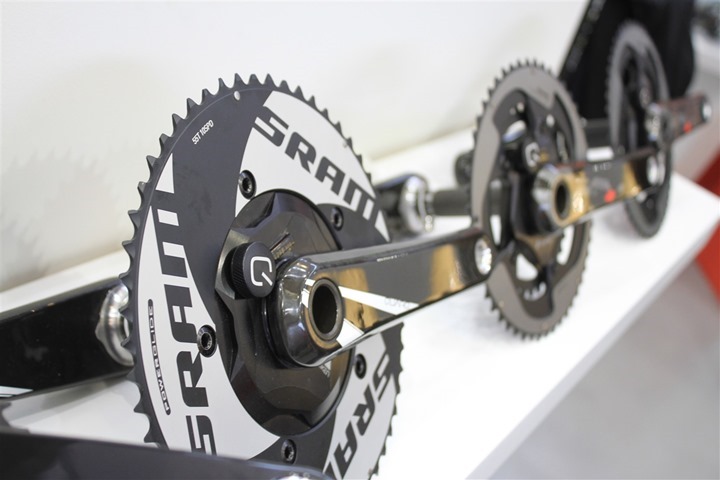 While they don't plan any immediate moves, we did have a very good conversation with a number of people from the larger SRAM team on what my thoughts were on the power meter market at large.  We covered who the different products appealed to, and which segments (there are many within the PM market) I thought the pricing pressure would be most obvious in the coming months.
Given the significant number of power meters on the market today, and the relative stability in which these new entrants have gotten their products to – accuracy isn't looking to be the key differentiator it may once have been a year or two ago.  Instead, features – or in some cases, perceived value of features – is becoming a key driver of purchasing.
On the bright side, they did have a video game setup (Quarqman) tied to a Quarq power meter.  I didn't have a chance to give it a go – but I'm sure that it'll be present at Interbike in a few weeks, thus now I have something to look forward to there.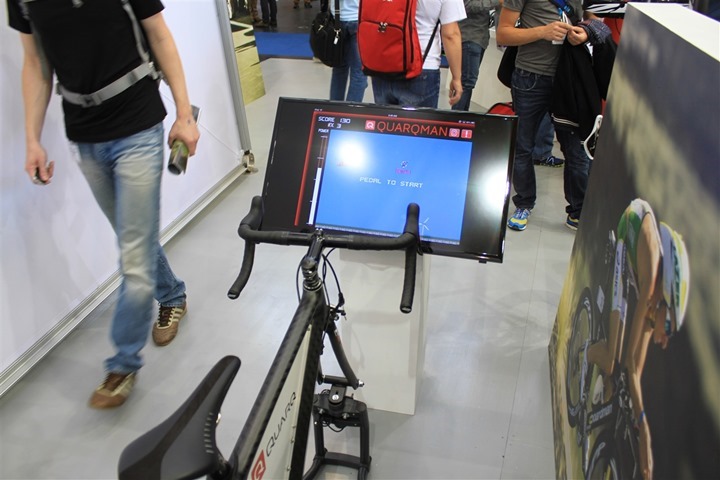 ROTOR Power Meter: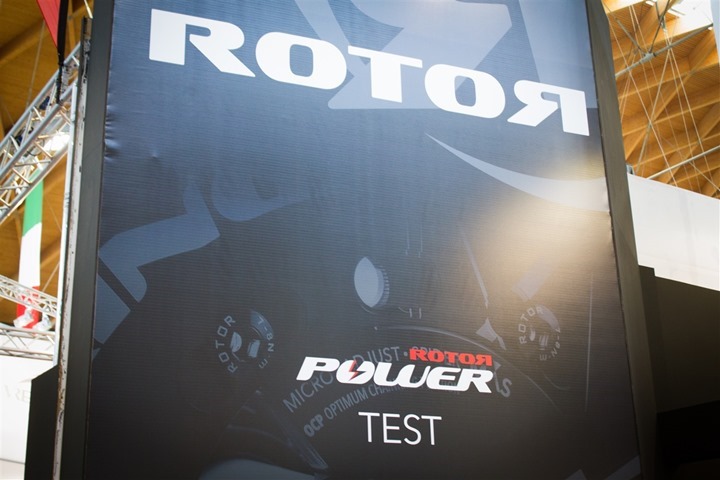 The biggest news out of the Rotor camp this week was the release of a firmware update to the Rotor power system (update SW8) on Tuesday.  Up until this point things have been pretty rough with the power meter.  The information I'm hearing from many of you readers who have e-mailed me is that the SW8 firmware has made life significantly better for you.  Not perfect, but far better.
The Rotor folks echoed these sentiments, and seemed rather relieved to get SW8 out the door.  In conjunction with that they're upping the number of units being made.  Currently that stands at 280 units/month, but starting in September they'll be going to 800/units a month.
Right now the plan for a review is to get me a unit later in September, following Interbike.  This lines up with my other review schedules (next is Quarq RIKEN, then Garmin Vector and  Quarq ELSA).  Keep in mind that once I receive a unit there's at least 30-45 days before a review is published for power meters due to extensive testing.  So the earliest sounds like closer to mid-November for a review assuming everything goes as planned timeline wise.
Pioneer Power Meter: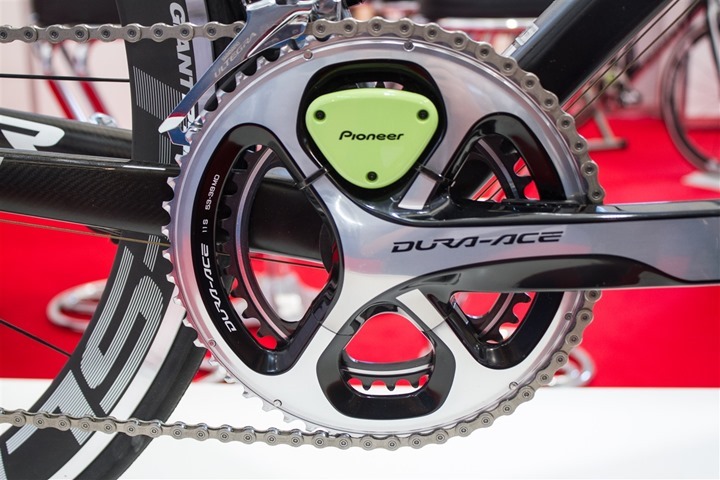 Pioneer announced on Wednesday that their Pioneer power system is now available for purchase.  This follows the products use on Team Belkin during the Tour de France this past summer (and other events for the team).  The product was first widely announced last year at Eurobike (it was seen at various Asian trade shows prior, but without wide coverage).
The unit will retail for 2,500€  – including the head unit and installation.  Installation must be done by a certified dealer.  Currently those are limited to Belgium and the Netherlands, but they'll be quickly expanding to other European countries in the coming weeks, starting with France and Germany.  Announcements regarding US distribution will be made at Interbike in two weeks.
The installation must be done by a certified dealer due to the use of specialized tools and curing that must be completed when the power meter is attached to a given crank arm.  The dealer training lasts one day.  The reason these can't be simply shipped in the same manner as Stages does is that Pionner isn't considered a dealer or distributor of the cranks/arms.  A multi-point calibration is also done onsite when a unit is installed.  Below, a portion of the large set of installation tools: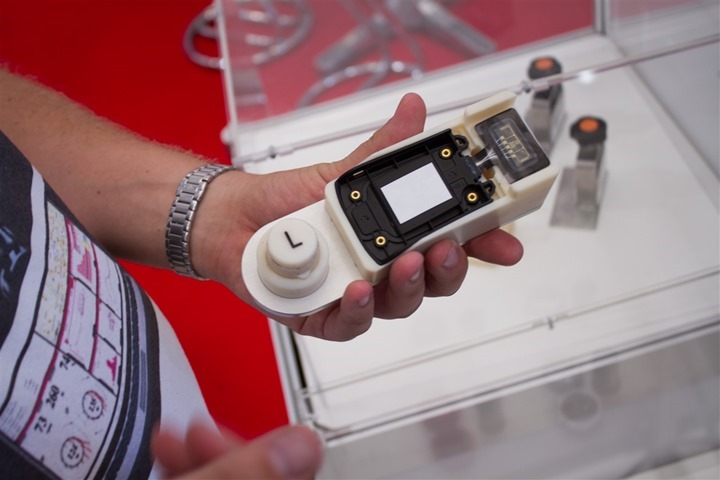 On the head unit front, the head unit will work with other ANT+ power meters on the market today (unlike the SRM PC8).  You won't get the same level of recording or detail.  In fact, it was interesting to learn that at present the unit records torque data every 30 degrees – thus at at even just 60RPM they're recording 12 measurements per second.  That far exceeds anything on the market today.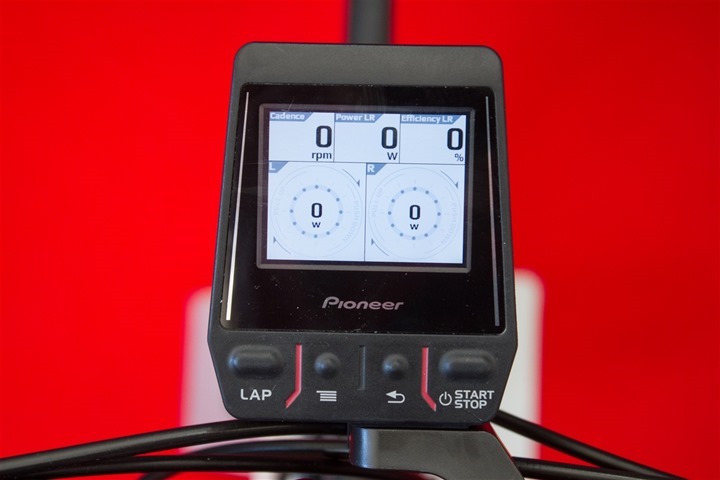 The head unit gets 12 hours of battery life before USB re-charging.  Meanwhile, the crank power meter system gets 300 hours before swapping out the CR2032's.  It does not support o-rings.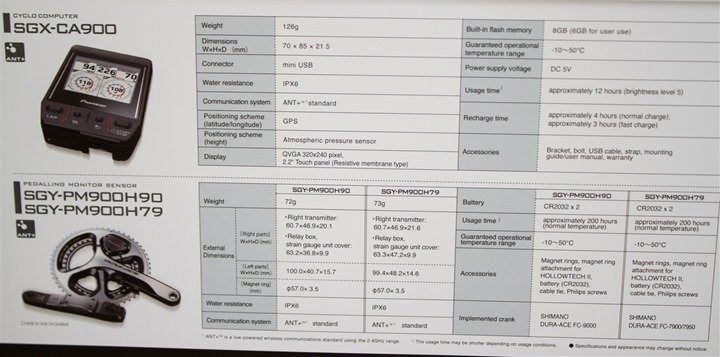 We talked about doing a system review down the road, but haven't solidified an exact date this fall.  Because of the removal of other power meter units off of my bike to make way for that, companies sorta operate like aircraft coming in to land – spaced based on arrival time.
Brim Brothers Power Meter: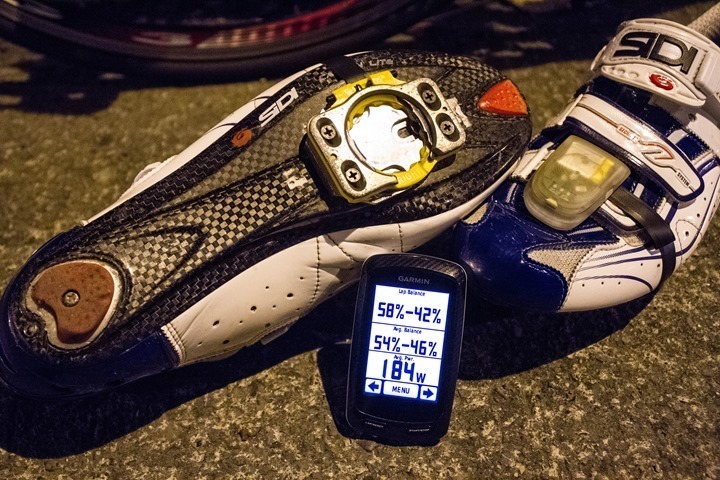 While I spent time talking with the folks from Brim Brothers on Thursday, much of the news actually comes from an e-mail sent out to all folks who have registered for pre-orders.  That e-mail went out about 7 days ago.  Rather than re-summarizing what they've also summarized, I'm simply going to include the entirety of the e-mail here:
"I'm writing to you because you are one of the many people who pre-ordered a Zone power meter from Brim Brothers, and we want to bring you up to date with how we're doing.

We're still working hard, and making progress, although time is slipping past far more quickly than we planned. The Zone power meter is now in field tests, but the work of dealing with the many tasks to get it into volume production is like climbing the Alpe d'Huez or Mont Ventoux at the end of a long Tour de France stage. We can see the top, we know we're getting there, and we just have to keep pushing!

At the moment our plan is to launch the power meter in the first few months of 2014. While that's later than we had hoped, we're putting a huge effort into meeting this schedule. We're very aware that our deadline has slipped a number of times. All we can say in our defense is that the time needed to develop innovative technology and put it into production is very difficult to predict. Over the last six months the company has gone through some structural changes, and we now have extra resources and renewed commitment to our goals.

We are still not announcing a price, but we are keeping a very close watch on trends in the power meter market. Price will be announced much closer to launch.

Speedplay Zero is still the pedal/cleat system that our first version will work with.

One piece of new information I can give you now is that the Zone power meter will provide the new "torque effectiveness" and "pedal smoothness" values that some Garmin displays will be able to show. These two data values will provide a measure of your cycling style and efficiency. In general, the Zone will work with any ANT+ display that can show power and cadence, and if the display is able to show them you will also see left/right power balance, torque effectiveness, and pedal smoothness.

Lastly, we'll be attending Eurobike on 28th and 29th August, and Interbike on 18th, 19th and 20th September. If you will be at either of those, then please let us know. We'd love to meet you and find out what you want from your Zone power meter."
The conversations I had with them in more detail were consistent with the e-mail above.  I'm optimistic we'll then see it on peoples bikes by next spring.  For those curious about my Brim Brothers tests ride, see this post here.
Ciclosport Power Meter: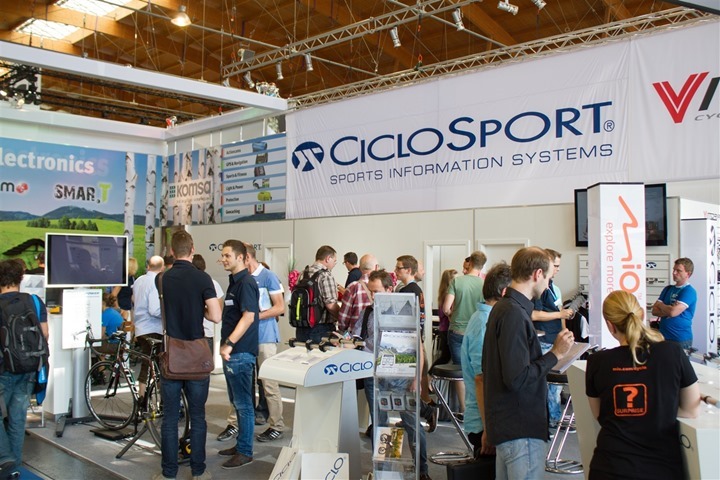 Finally, we've got the Ciclosportpower meter (CicloPower).  This bottom bracket focused unit snuck onto the show floor last year in a glass case.  This year, it's moved onto a bike that you could step up and simply pedal.  Which, I did.  The unit measures both left and right power.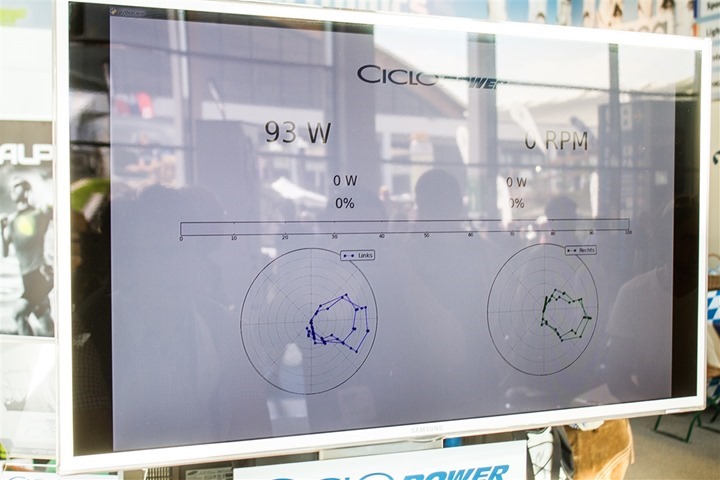 (Sorry for the photo, I assure you that shooting the glariest screen ever with the background of another massive glass structure with sun shining in is not particularly simple.)
The consumer will be able to choose between carbon and aluminum crank arms, as well as black or silver.  The unit is wired from the bottom bracket up to the battery and transmitter pod (though, decisions haven't been made regarding which BB's will be accommodated).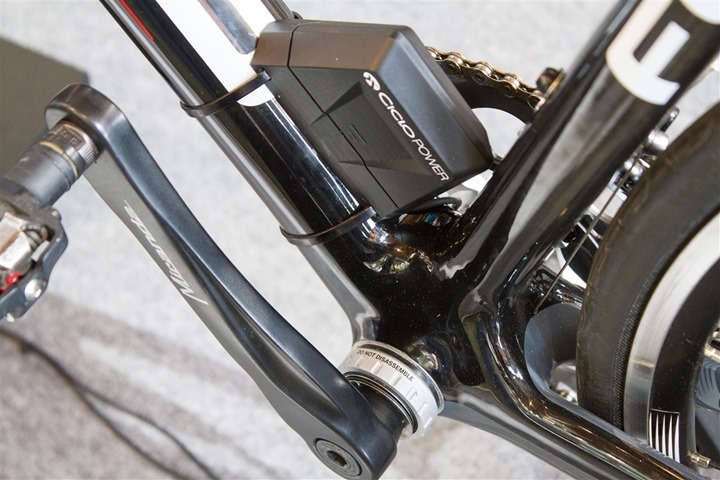 Once at the transmitter pod it sends the data via ANT+, including left/right power data per the ANT+ spec.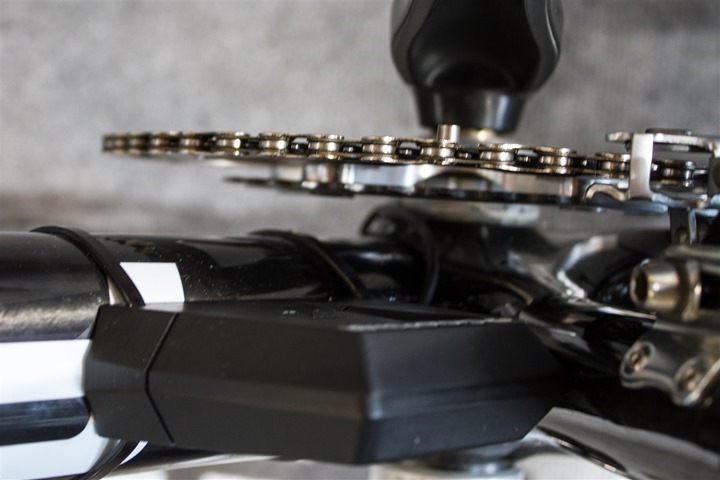 The unit gets 50 to 200 hours of use before recharging via USB.
The unit is targeted for a mid-2014 release (summer next year), and is planned to cost 999€, including the crank and arms (but not chain rings).  The 2014 release would be for Europe, with a target of 2015 for the USA and Asia if Europe goes well.  In general, the information continues to be pretty slim about this – even during conversations with them about it.
Thanks for reading!
—
Welcome to Eurobike week! This week during Eurobike I'll be tweeting from the exhibition show floor quite a bit, as well as posting frequently. Here's a quick and handy link to all Eurobike-related posts.