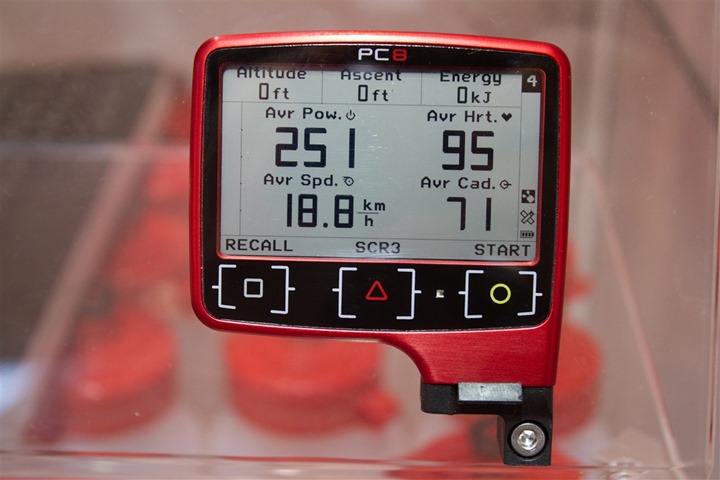 Updated August 30th, 7:58PM with clarifications/additions from SRM, see note at end for summary of changes.
Today SRM unwrapped their PC8 head unit, which is the successor to their existing PC7 head unit that's on the market today.  The PC8 is without question the biggest technological jump we've seen from SRM, packing in every communications chip type that's on the market today into a single device: GPS, WiFi, Bluetooth 4.0, accelerometers, and ANT+.
To start off with a visual refresher, here's a quick before and after comparing the PC7 to the PC8: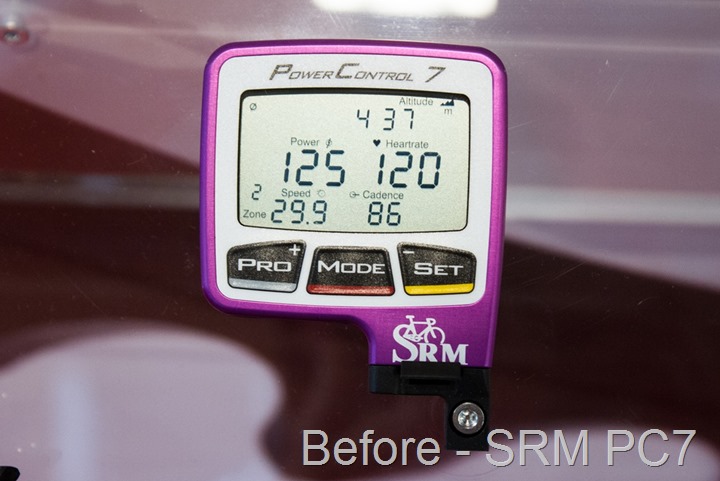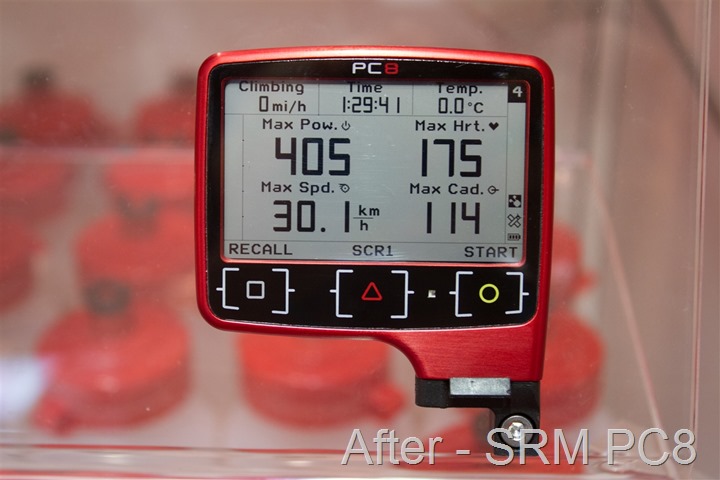 The most significant changes come in the form of technical upgrades to the internal guts, namely the inclusion of a number of new communication types:
– ANT+ for connection to ANT+ speed/cadence sensors, ANT+ power meters [updated], heart rate straps, and weight scales
– Bluetooth Smart for connecting to smartphones/tablets (not planned to connect to Bluetooth sensors) [Update: Here's a ton more detail on how that works]
– WiFi for download/upload of data, configuration of the data screens/pages
Outside of communications and sensors, there's further changes:
– 240x400px screen, not restricted to just calculator style numbers anymore
– Backlight with light sensor (illuminates when you go through tunnel/darkness)
– Speaker
– Touch-sensitive buttons
In playing with the unit, the display is as high-contrast and sharp as it appears below.  The touch sensitive buttons though did take a bit of getting used to compared to the PC7.  You almost need to apply the mantra that 'less is more' when touching them.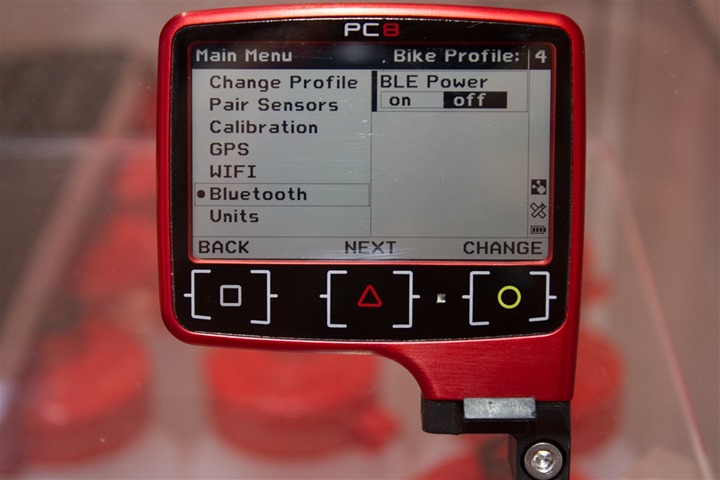 You'll notice above that Bluetooth Smart is included.  Their plan by launch is to develop apps across "a number of platforms" (i.e. Android, iOS, etc…) to allow downloading of the workouts from the device to your mobile device.  Further, they plan to make use of the WiFi to allow configuration of the data fields of your unit.  I pressed for more information on how that works (i.e. desktop app, cloud service, etc…) – but the details are still being worked out.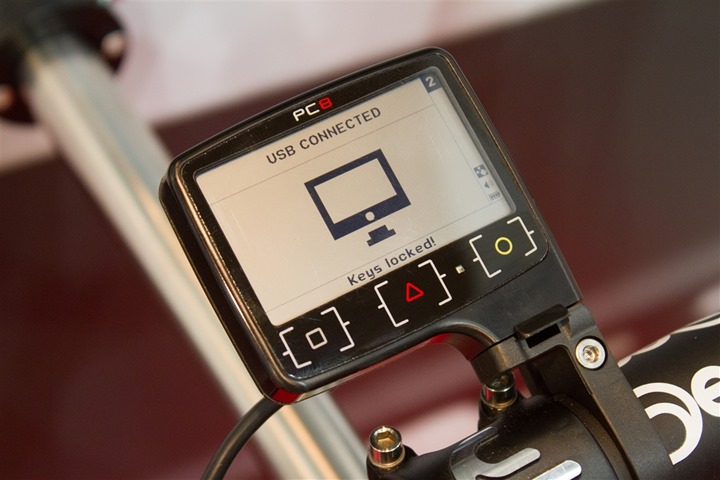 The unit supports multiple bike profiles, but most importantly now – unique sensor sets per each bike profile.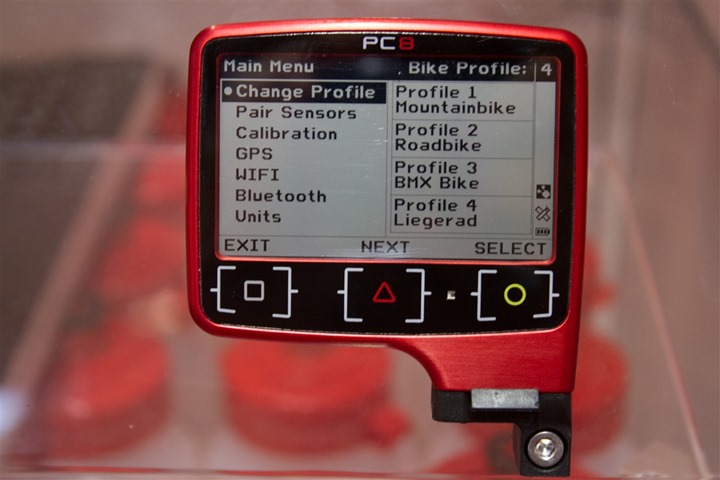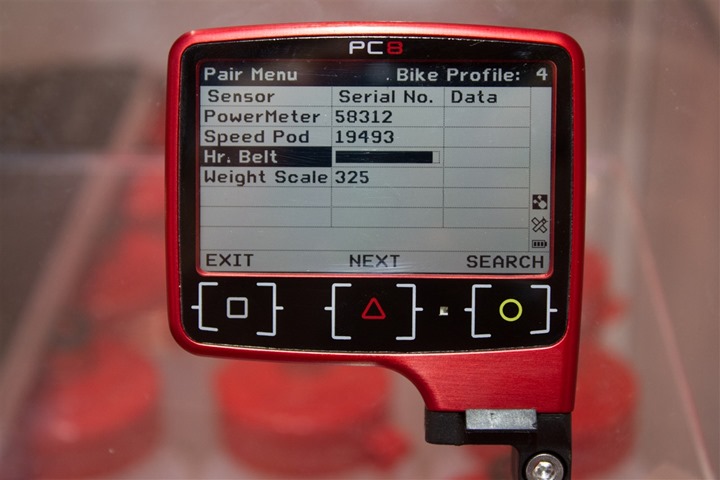 On the GPS front the unit incorporates both recording of GPS tracklogs, as well as following of GPS/GPX breadcrumb trail style routes (similar to an Edge 500).  It won't do turn-by-turn navigation like an Edge 800/810.  There is also no planned 'workout' type functionality (i.e. setting specific workout levels to target).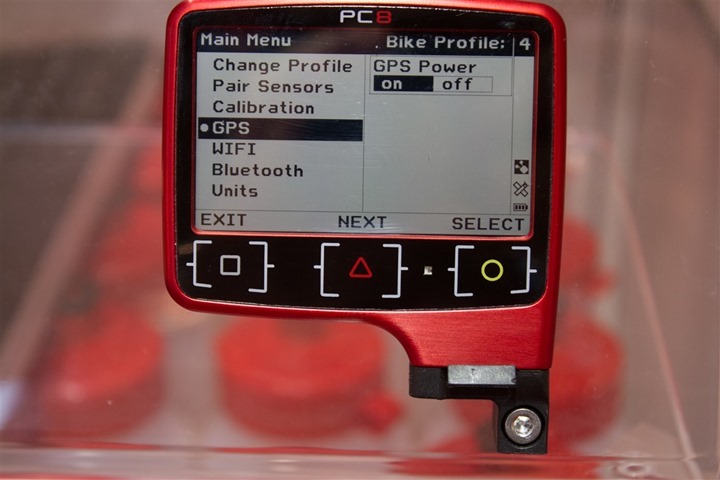 Finally, the unit will feature a re-chargeable battery system.  It uses the same connector as their upcoming rechargeable battery SRM power meters, thus the cable can be swapped back and forth between the two.  The head unit (PC8) will get 30 hours of battery life with GPS on, and 100 hours with GPS off.  Meanwhile, the hub will get 100 hours of battery life before requiring a recharge.  The rechargeable SRM hub will be certified to 1,000 recharges (recharge cycles).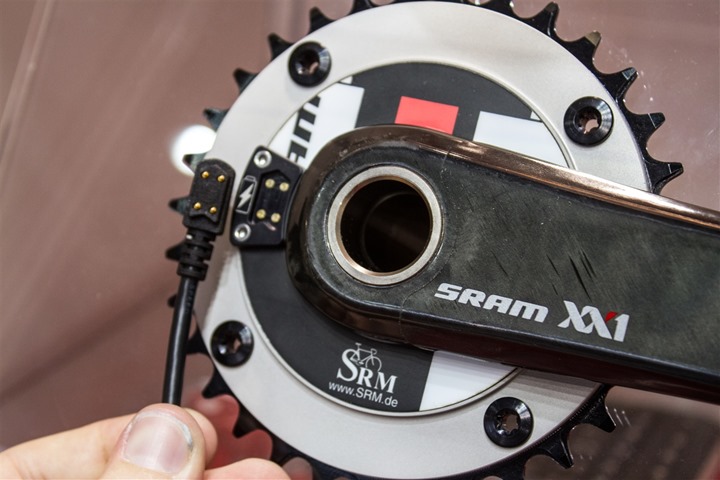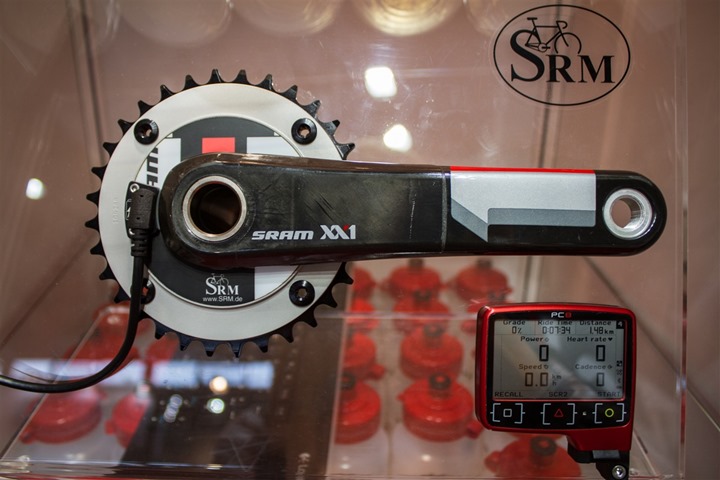 The PC8 will be offered in both a plastic casing and an aluminum casing.  The pricing will remain the same as it is today (550€/750€) for each head unit.
I, along with another journalist that was interviewing a different SRM representative at the time, enquired about SRM's thoughts on pricing and the greater power meter market at large (SRM is the most expensive on the market).  Specifically that given all the new entrants at lower prices (i.e. everything from Stages to Garmin Vector), as well as established players (PowerTap/Quarq), if SRM was considering lowering their prices to be more competitive – either with prices at the power meter level or the head unit level.  The answers we both got separately were a resounding, unequivocal…no.
SRM's Sebastian Raebiger explained to me: "We want to be a high end product, with no product for the masses."  He went on to further explain that their current production process of producing the unit wholly within Germany was the primary reason for the higher price – as well as the plans to keep it at that price point.
Both of us also further pressed for comment on SRM looking at other measurement points (i.e. pedals), or doing left/right power.  SRM representatives believe there's no value today in measuring power elsewhere, nor in providing left/right measurement.  They did concede recovery from injury was a potential use case for left/right power measurement, but don't see any plans to add it.  [Note: See updated comment at conclusion for further thoughts from SRM on this point.]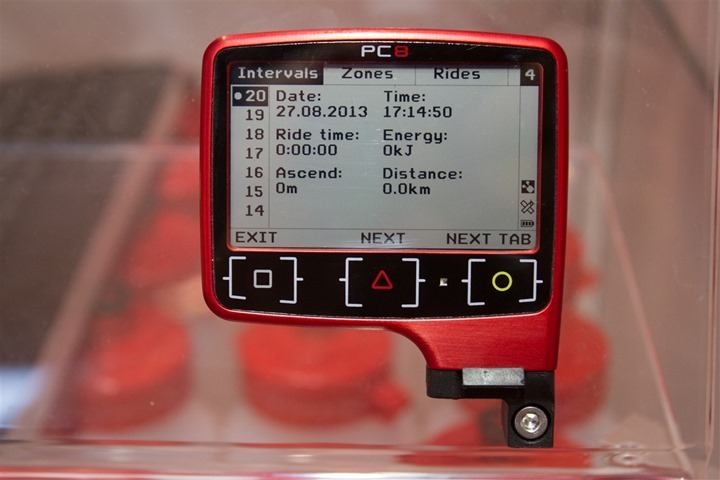 Finally, the PC8's availability is being targeted at summer May of 2014 (next year).  Given the sensors available within the unit, it'll be interesting to see how SRM is able to develop the software and services around that suite (specifically WiFi and Bluetooth Smart) to fully take advantage of the potential there around mobile device and cloud/web connectivity.

Thanks for reading!
Updated Note Aug 30th: SRM's Director of Sales and Marketing Mike Hall reached out to me today to provide some clarifications and additions to the features and functionality that were originally communicated to me during my talks with three different SRM reps at Eurobike.  These include the following updated:
1) The PC8 will indeed allow for all ANT+ power meters.
2) SRM will be implementing left/right balance metrics, including Torque Effectiveness and Pedal Smoothness
3) As previously noted, the Bluetooth 4.0 will be utilized for data transfers, and not sensors (including BLE HR straps)
4) The PC8 will allow workouts to be added to it and executed on it
5) The PC8 will have customizable training zones by power/HR/Critical Power/FTP
6) The PC8 will include the TrainingPeaks metrics of Normalized Power (NP), Training Stress Score (TSS), and Intensity Factor (IF)
7) They are targeting May 2014, as opposed to "Summer 2014" as previously communicated
I did want to include one additional note from Mike, which I've included in full below:
"The comment from Sebastian Raebiger about SRM seeing no value in left/right pedal, primarily comes from the small amount of peer reviewed research being done on training prescription (based on single leg workouts to improve 'balance' or performance). SRM has been working on a torque analysis system for the last 10 years, and have begun to see its successful application for bike fitting and positioning. Adding this feature to the PC8 will allow us to take that application outdoors. "
Further, their product manager of the PC8 itself will be at Interbike and he's committed to giving me a more detailed dive into it.
Update Sept 21st, 2013: While at Interbike, I got a look at the SRM iOS app, here's a full post on it.
—
Welcome to Eurobike week! This week during Eurobike I'll be tweeting from the exhibition show floor quite a bit, as well as posting frequently. Here's a quick and handy link to all Eurobike-related posts.