I'll be honest and straight forward, there's nothing fun about waking up at 7AM after falling asleep at 4AM.  And honestly, 'waking up' is probably a strong term.  It implies a state of alertness.  I assure you, for example, that I have no idea what happened on the scheduled 45 minute boat ride across the lake that somehow seemed to zap 1hr and 15 minutes from my schedule.  Where did the other 30 minutes go?
On the bright side, I was at least awake enough to take a photo of the 'border' between Germany and Switzerland on my walk to the ferry that morning: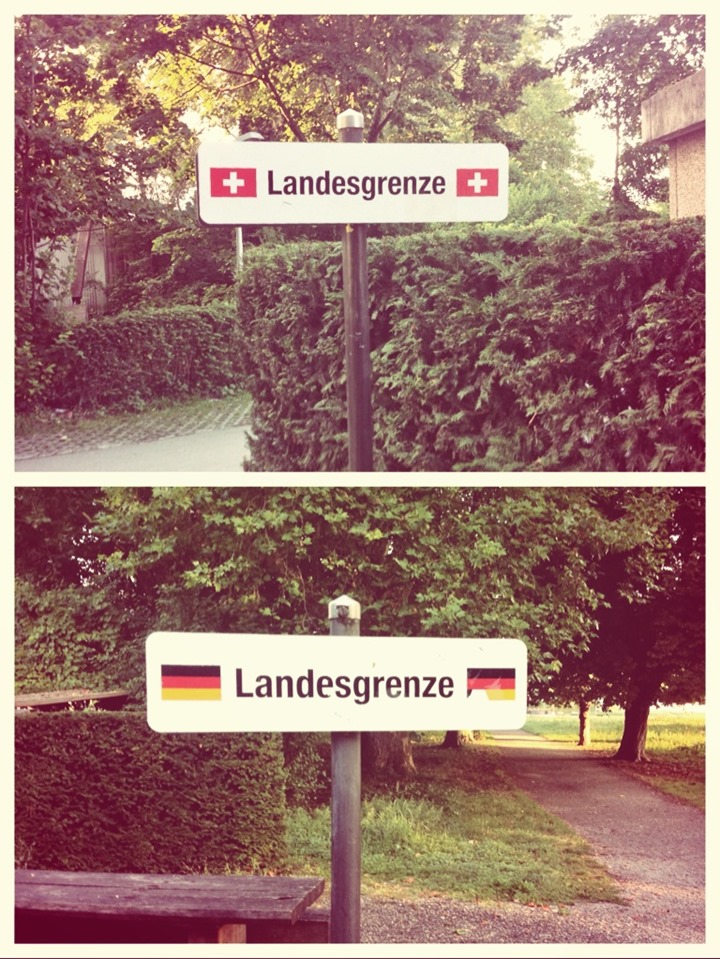 With that, I arrived at Eurobike ready to take on the day!  Or at least, ready to find some caffeine.  Regrettably, I didn't find any (or rather, want to stand in any lines).  Instead though, there was this slushy machine filed with sports nutrition.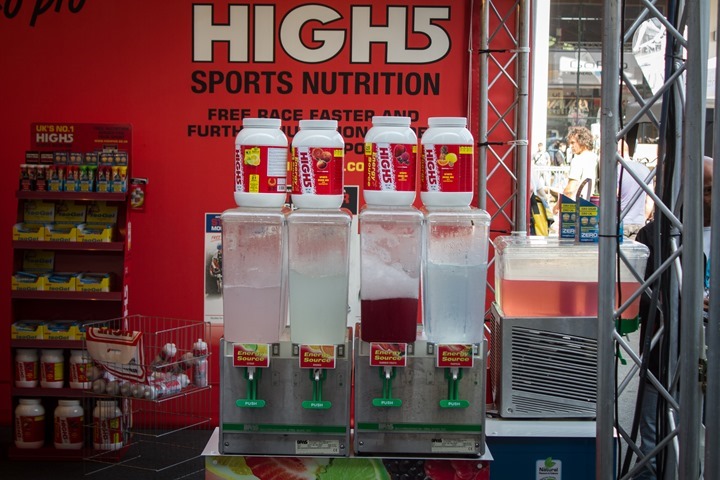 Just inside and down the hall from it is the long display of various cycling-related magazines.  Actually, both long hallways near the entrance have these, albeit with different publications.  Finding a magazine with cycling stuff in it isn't tricky, it's finding one in English that is.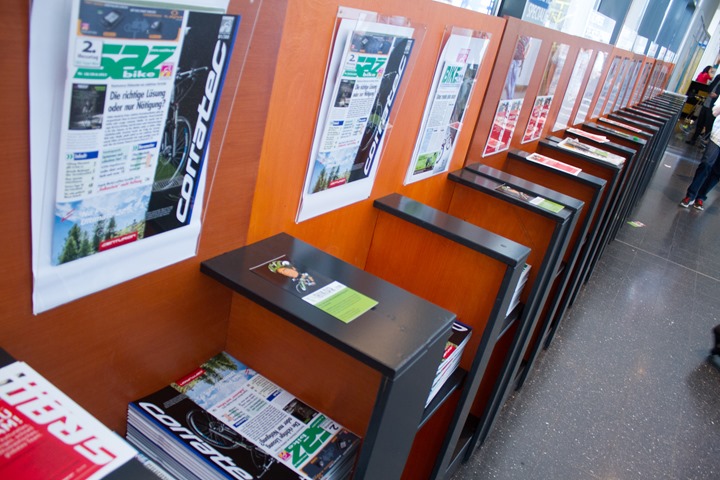 I was on a bit of a tight timeline on Thursday – running around quickly between meetings, so I didn't have quite as much time to check out individual bikes.  However, I'd point out that in order to gather attention to your bikes I'd suggest doing what Felt did.  These two bikes spun around like a carousel, continuously.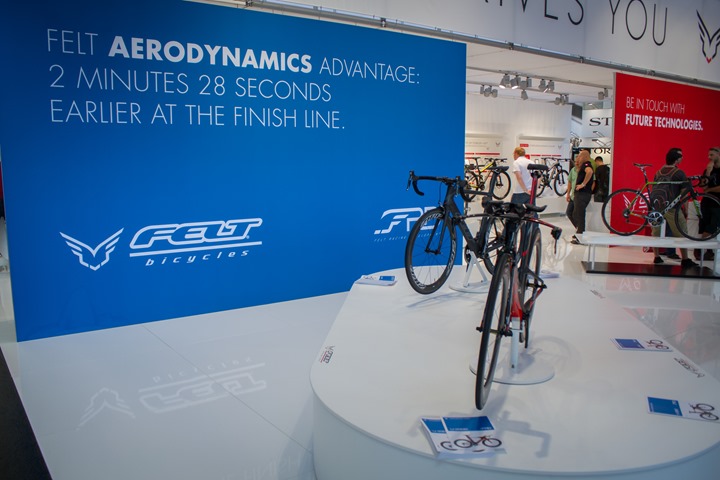 Or, simply be Hello Kitty: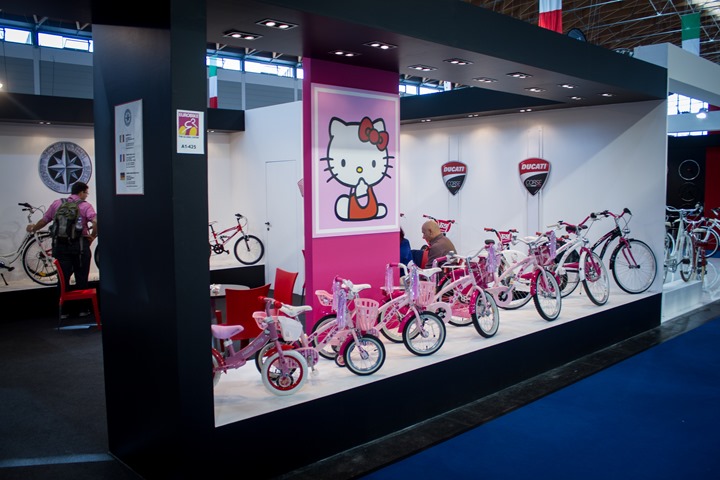 Then there was this bike design – which includes a little glove-compartment style compartment in it.  That's brilliant.  It's like a built-in bento box!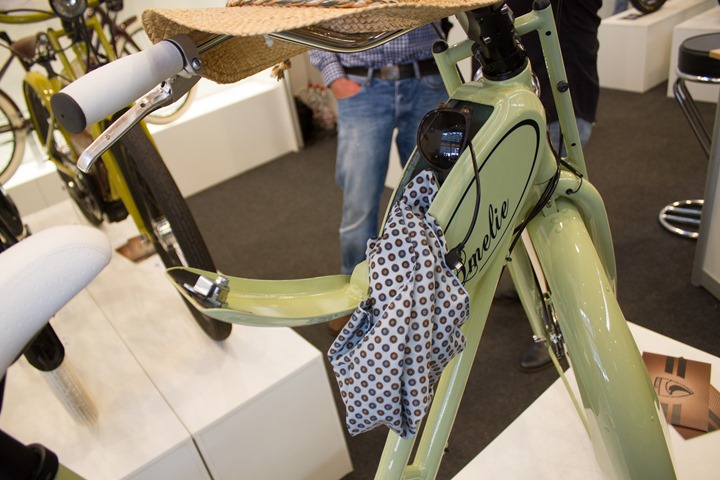 This booth took the award for most shrubbery, trees, grass and Christmas tree slices.  The slices were real by the way.  I feel sorry for the person who got that job: "Please go cut last year's Christmas trees into 3,243 slices."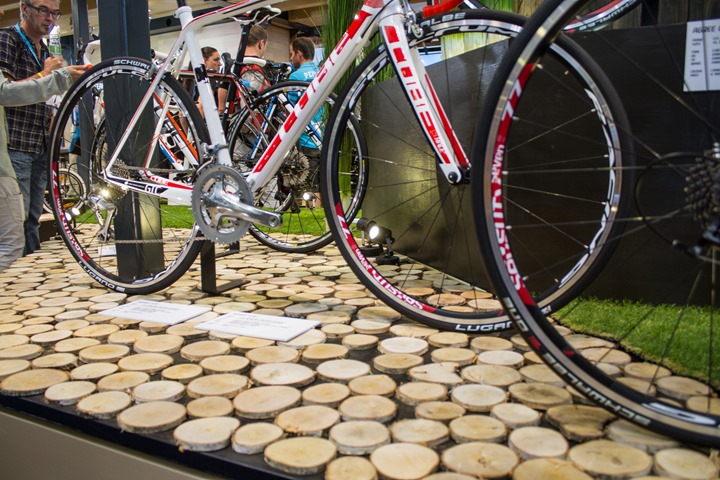 As many others, I happened to notice the new colors of the Continental Grand Prix's.  Why did I notice? Because I had just bought a new set of Grand Prix's three days earlier.  Sigh…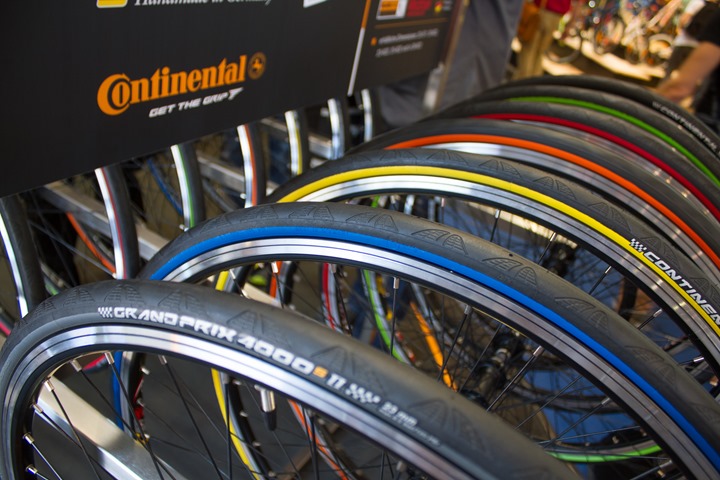 Also, a DCR reader said hello.  Actually, many of you did over the course of the few days.  This one (below) just happened to be on the bike (not a Garmin employee).  In fact, most booths that "hire" cyclists do so by simply advertising for help from local cycling teams (both guys and gals).  You'll see a number of companies asking for help again going into Interbike in a few weeks.  For example, I know Wahoo Fitness asked for help last year.  Your job is simple: Smile and pedal.  Usually free beer is provided.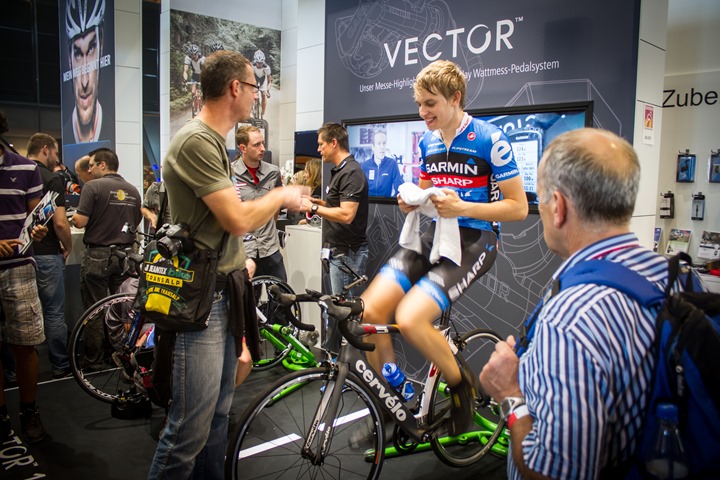 Next up I saw the bicycling helmet airbag system.  Unfortunately I didn't have time to get to talk to them, but hope I can make contact in the future and perhaps do a review on it.  I don't know how I'd handle the crash part though.  That seems less than ideal.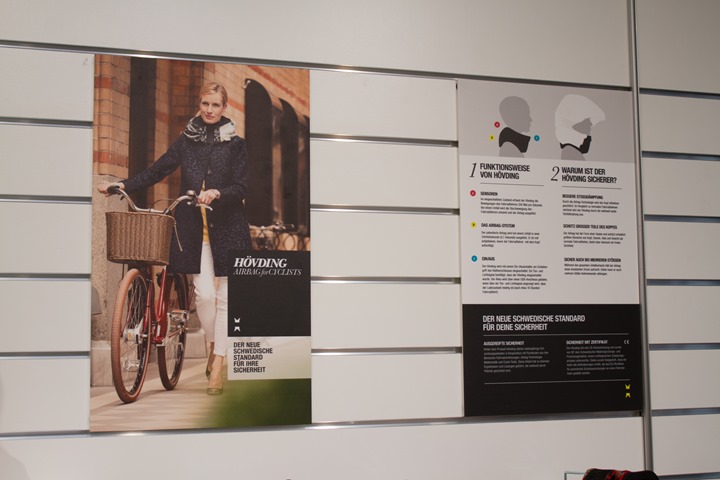 The concept is that it otherwise sits around your neck and then in the event of a crash it uses sensors to detect the crash and explode out an airbag before you hit the ground.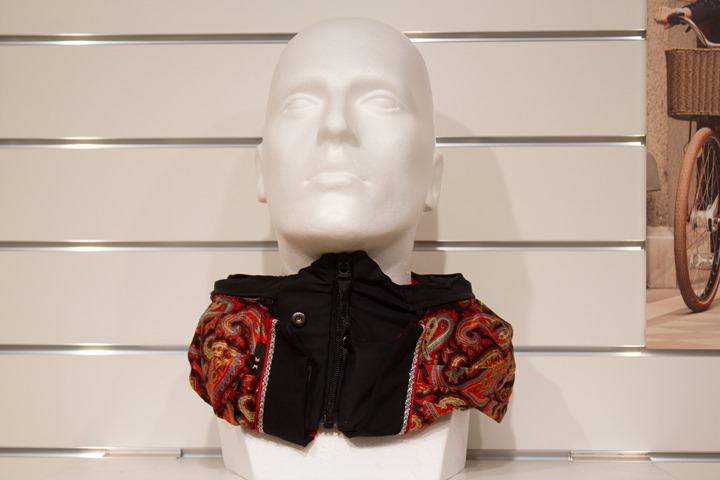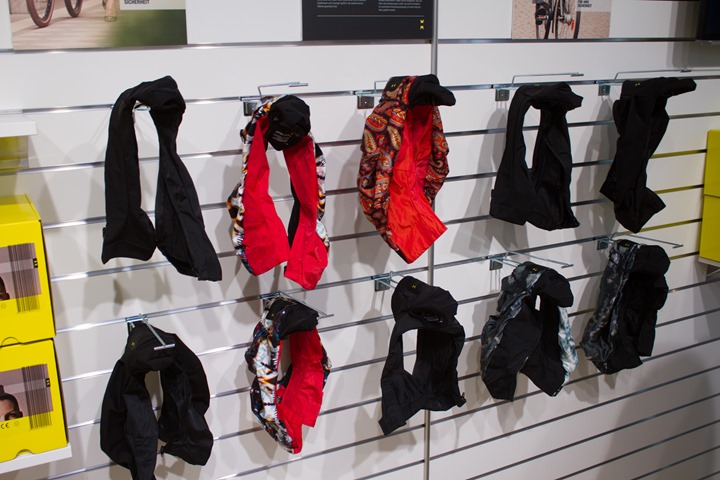 Most importantly however – it was finally sunny out!  At no point in my Eurobike history up until then has it done anything other than rain.  So this is a first for me.  I would often cross back and forth across the outdoor courtyard area to get between the halls, occasionally stopping to check things out.  Though, never quite having as much time as others to be able to just relax in the chairs.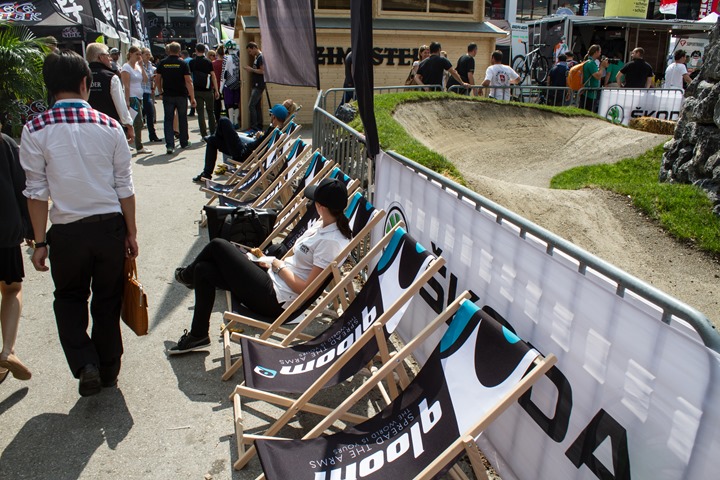 There's a slew of food options out there.  For example, this giant vat of chili (on the right side):
And if for some unexplainable reason you're trying to eat healthier, there's always this apple cart.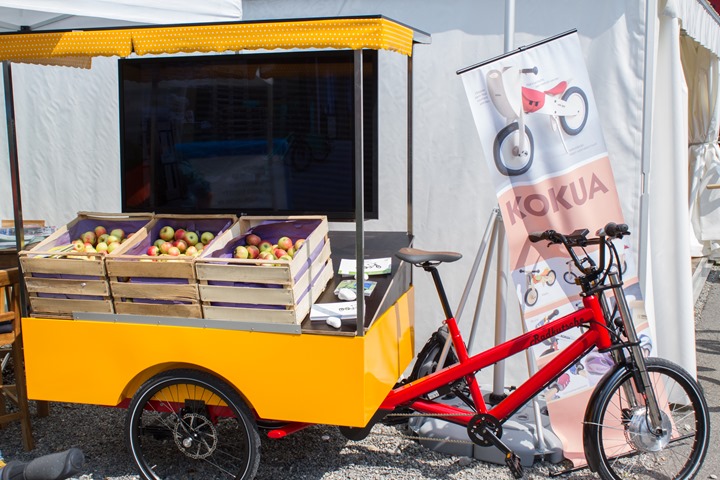 Of course, most folks were watching the action at the short looped track.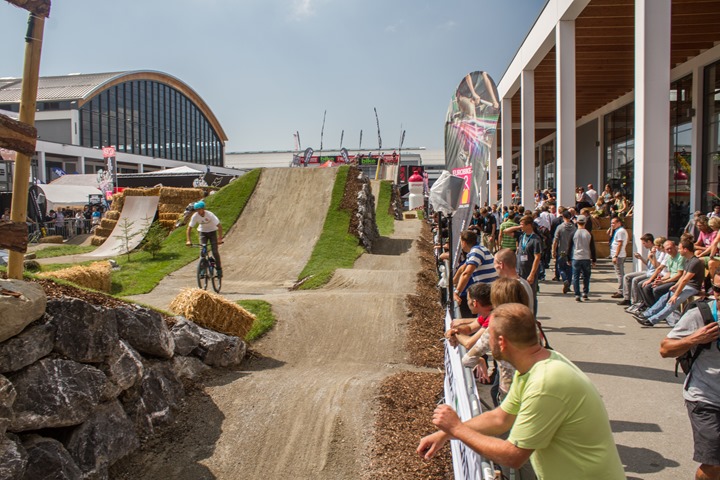 Riders would start by heading down the ramp onto the course, one at a time.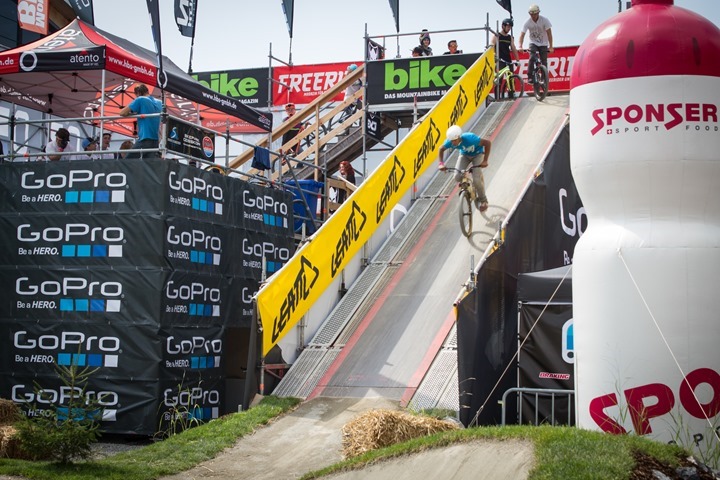 Then, they'd violate all sorts of my personal rules about placing one's ass above one's head (it never ends well).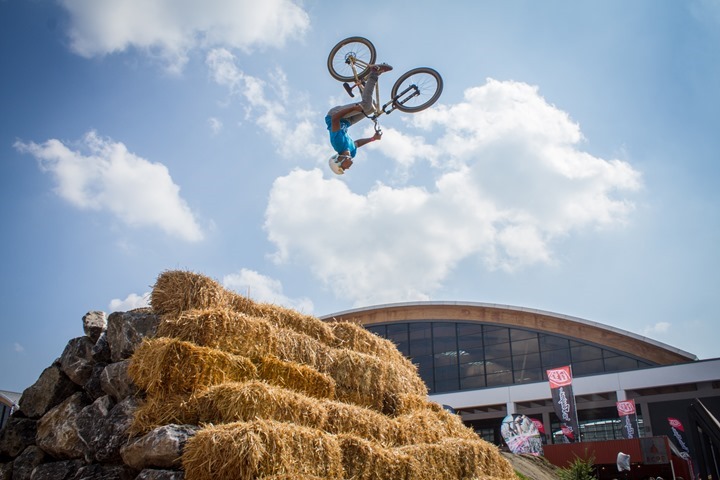 And while the guy above completed the maneuver without failure, the guys below were waiting around for the inevitable landing that didn't comply with typical airborne arrival procedures.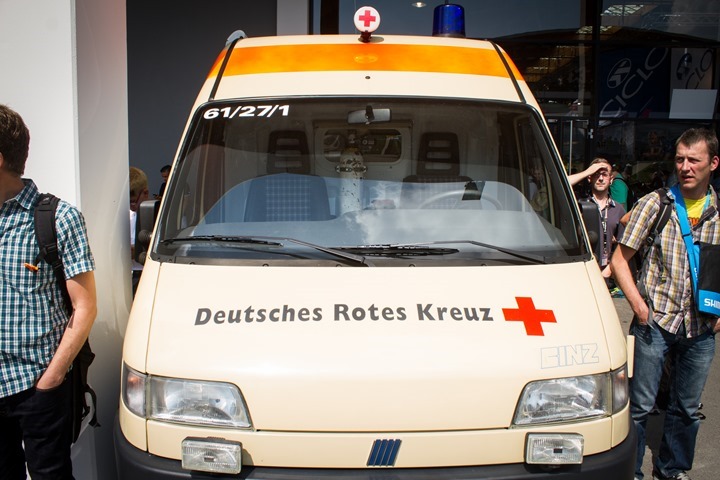 As I finished up my final loop around the convention center I swung by the Eurobike Awards.  These awards are determined earlier in the week (actually, last week) and then posted on Wednesday.
The awards cover a number of different categories of bike components.  But I've always found the whole concept of 'show awards' kinda messed up.  How exactly does one grant an award to a product that doesn't actually exist yet?  Or won't really exist for months?
To start, I don't mean to pick on O-Synce as I think the product concept is pretty cool (read my post on it here).  But they were the only technology product chosen, and in this case their product has a TBD release date and the product isn't beyond the prototype stage yet.  How does one evaluate a product that doesn't actually fully exist?  Did the judges even touch it?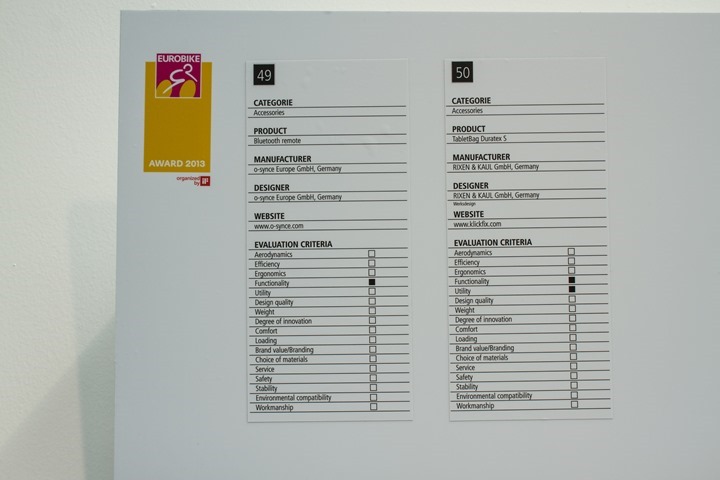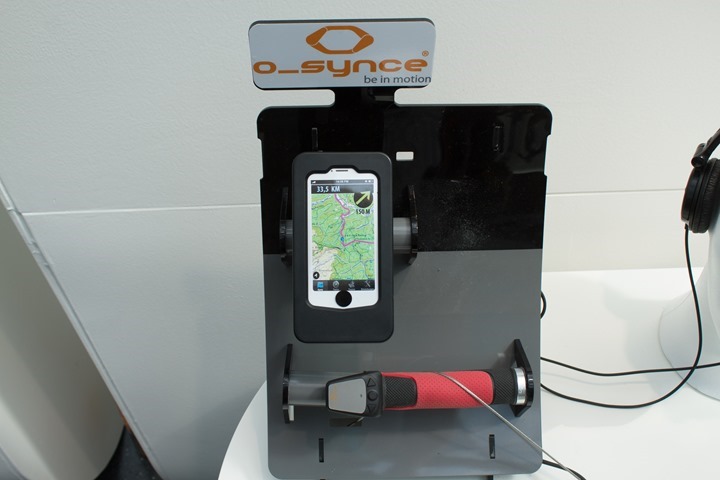 Again, I'm not picking on them – I'm picking on the whole concept of 'Best in Show' type awards.  I see this repeatedly at events throughout the year.  And quite frankly, I think the judging is nothing more than simply putting a bunch of names in a hat and pulling out random ones.
Last but not least it was time to head on out and catch the bus up to Zurich. I love that they offer free buses right from the front door straight to the airport check-in level (though, I'd then take a short train to the main train station).  You simply make a reservation on the bus ahead of time and you're good to go.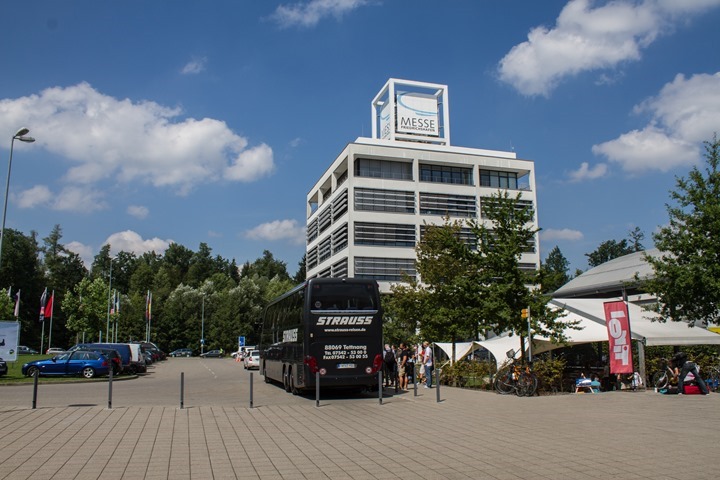 As I was walking out I noticed the massive pile of bikes at the bike-parking out front.  These are all folks that commuted in.  The bikes continue around the corner, and on the other side of the building as well.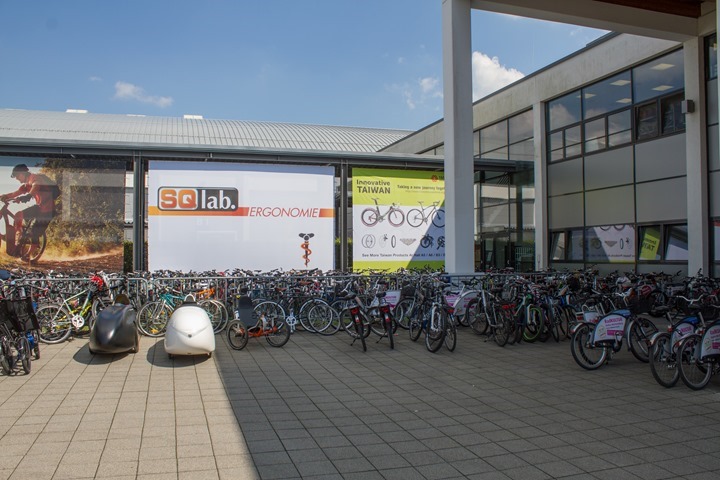 But two bikes in particular caught my eye.  Yes, these two.  Let's be honest for a moment.  That's awesome.  Awesome because they actually have the balls/whatever to simply ride these all 'no-big-deal' like to the commuting lot in front of the conference hall and simply park them there.  Again, no big deal, just me and my aerodynamic bullet bike.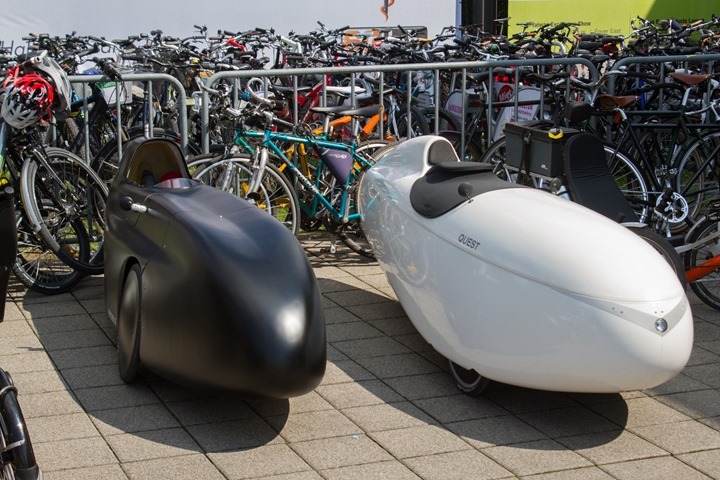 With that I boarded the two-hour bus ride to Zurich and then caught the TGV train from there to Paris.  That afforded me four additional laptop-powered hours to write posts and edit photos.
Upon arriving at the Gare de Lyon station in Paris I found the taxi line massive.  So I figured it appropriate I'd take the last semi-functional Velib bike out front and bike the short 7 minutes home.  My suitcase didn't quite fit in the basket, but I made it work.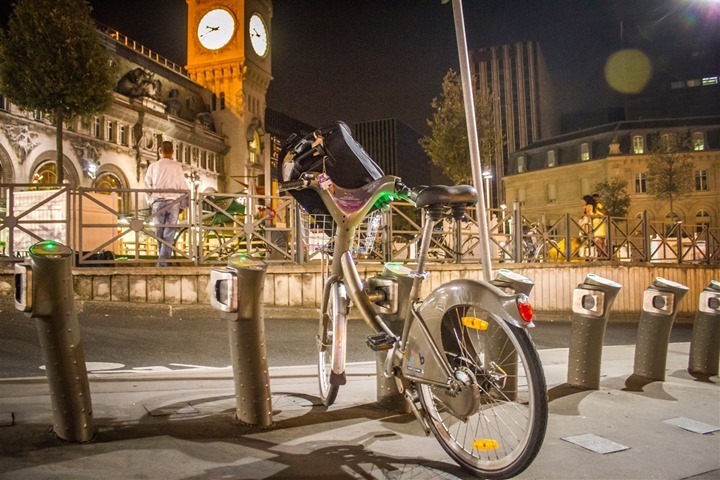 Thanks for reading this week – and hope you enjoyed all the Eurobike coverage!  Next up is Interbike in just over two weeks.  Plenty more new coming up there, especially from our US and Canadian based companies.
–
Welcome to Eurobike week! This week during Eurobike I'll be tweeting from the exhibition show floor quite a bit, as well as posting frequently. Here's a quick and handy link to all Eurobike-related posts.