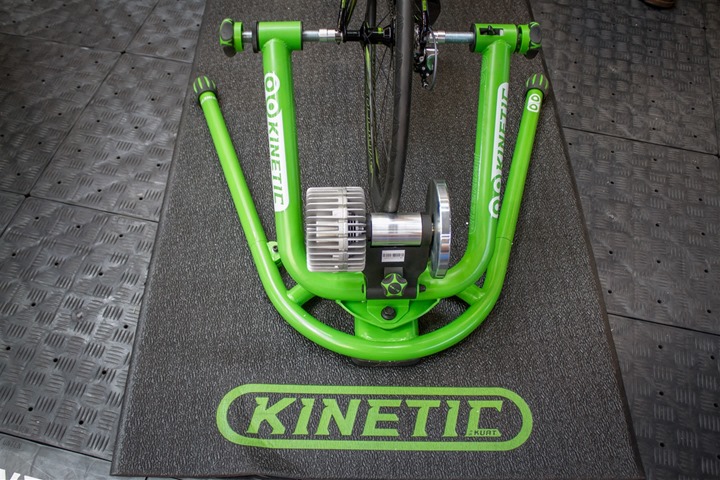 This week here at Eurobike Kurt Kinetic has debuted their latest updates to their existing trainer lineup.  While none of these changes are massive, nor are they new products, I figured I'd take a second to give you the rundown on where things stand.
The two models that got updates are the Rock and Roll trainer, and the Road Machine trainer.  I've got one of the Road Machine trainers and love it as a less expensive option, primarily because of the ability to use it with TrainerRoad and Kinetic inRide support.
The Rock and Roll trainer is of course the one that actually allows you to rock side to side – like you would on a real bike.  Whereas the Road Machine is static like a normal trainer.  Both the Road Machine and the Rock and Roll trainer are compatible with the Kinetic inRide Bluetooth Smartpower system that I reviewed last winter.  Both trainers are fluid based, thus they don't have a resistance control mechanism, but rather speed drives the amount of resistance.  More speed, more resistance…more sweat.
Starting with the Rock and Roll trainer, they've taken in the width of the legs a bit – simply so that they don't stick off the side of the trainer mat.  Secondly, they've pulled in the resistance unit closer to, up, and a bit under the bike more.  This helps minimize the length footprint of the trainer, but more importantly they were able to get rid of the vertical bouncing that some folks had during hard sprint efforts.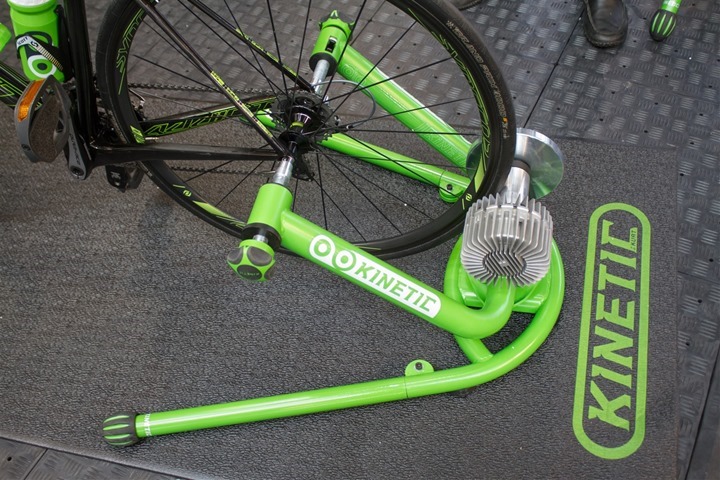 By bringing the resistance unit up, they've also raised the height of the wheel slightly.  In turn, the unit now works with 29ers (mountain bike type).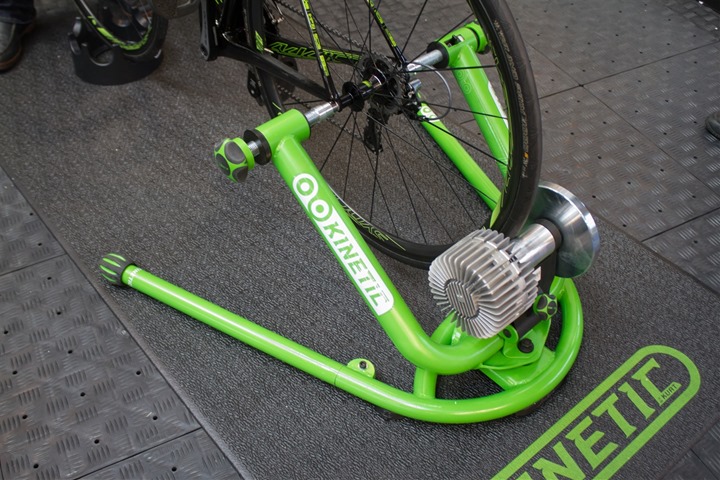 Next, you can see they've made the grips much cleaner and easier to tighten down than previous ones.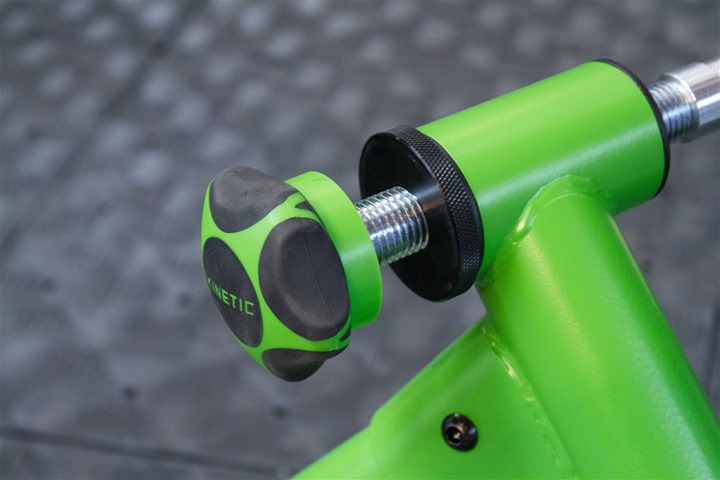 They've also changed the feet on the trainer to match the grips and then removed the bottom (rear) bar that was horizontal sorta below the resistance unit.  They found the unit was just as stable without it, and they could further reduce the footprint down to make it slide easier under most peoples beds.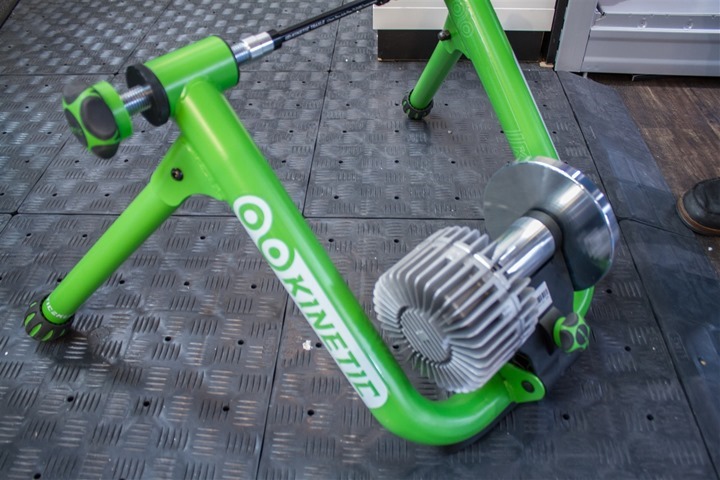 Also of note is that they've recently made available the Kinetic Traxle in three varieties: Fine, Medium, and Course.  Thru axles are for mountain bikes that may have a thru axle rear wheel.  They can be left in the bike both on the trainer as well as outside.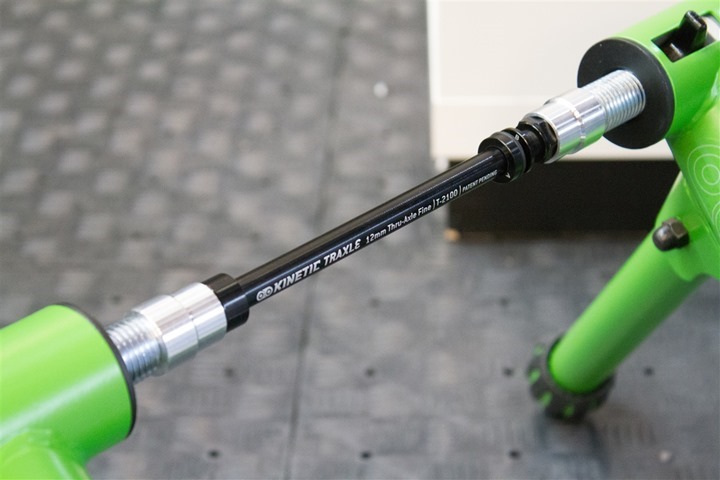 While the resistance unit itself has remained the same (thus all power curves remain the same), they did update the little knob on the back.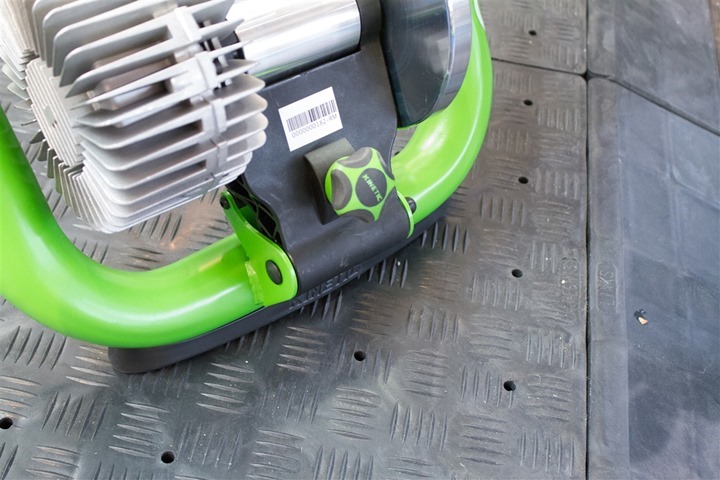 These units are all available now and over the coming weeks to distributors and retailers.  The price has gone up slightly though – about $10.
—
Welcome to Eurobike week! This week during Eurobike I'll be tweeting from the exhibition show floor quite a bit, as well as posting frequently. Here's a quick and handy link to all Eurobike-related posts.