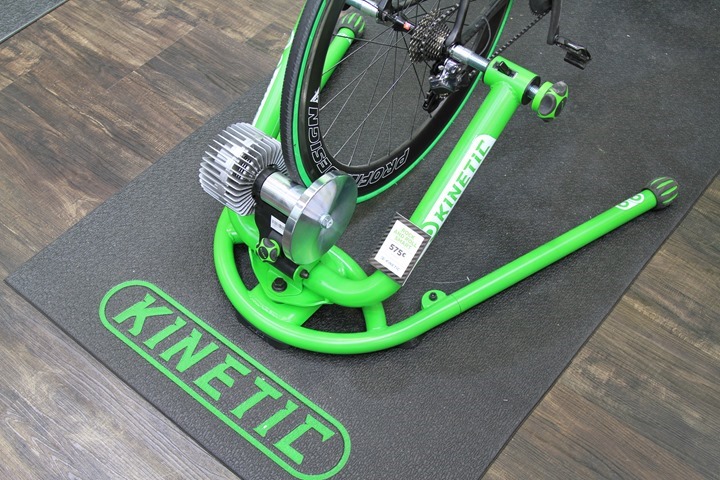 Kinetic was at Eurobike showing off both their updated trainer lineup, as well as their plans for trainer software world domination.  Let's get right to it.
The New Trainers: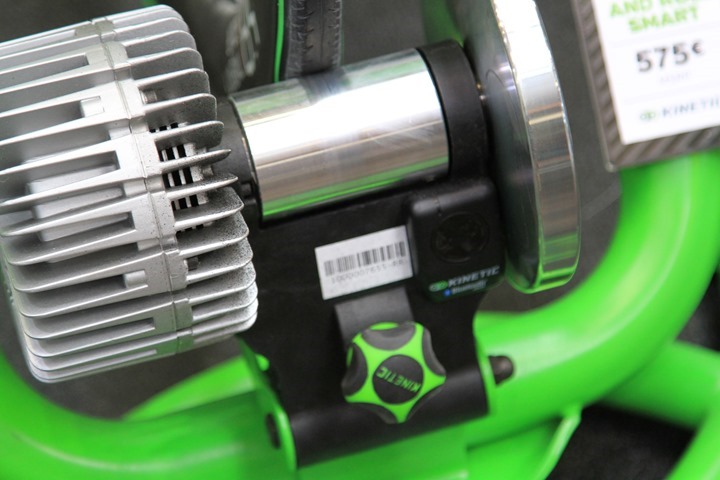 First up is their new smart trainers.  In many ways these are essentially taking their inRide pods and plopping them onto all new Rock & Roll and Road Machine trainers as the new baseline.  It used to be that these pods costs from $100 to $200, depending on when and where you bought it.
The inRide pod broadcast your power over Bluetooth Smart to the inRide app (and some compatible 3rd party apps). The pod can be seen below and the magnet built into the trainer, which triggers the pod.  From there it transmits trainer metrics over Bluetooth Smart, but not ANT+.
This differs from 3rd party apps that can determine power estimations (i.e. virtual power) based on known power curves.  See, with inRide it properly calibrates it during each ride as it has enough data to do so.  Whereas 3rd party power curve based estimates while generally consistent, aren't necessarily accurate.  TrainerRoad has a good piece on this actually.
In any event, with all new trainers the power transmitting pods are built right onto the back of them – straight out of the box.  As part of that inclusion though, the units did receive a slight price increase of about $20-$40 each.  The Road Machine is now $409USD (was $369USD) and the Rock and Roll is now $569USD (was $549USD).
Availability for the new units is estimated at the end of September.  They had expected them to arrive at retail sooner, but a number of their containers actually got caught up in the huge manufacturing/port facility explosion in China back a few weeks ago, and were only recently found.  But they're on the way to the US now though.
Kinetic.fit Software Platform: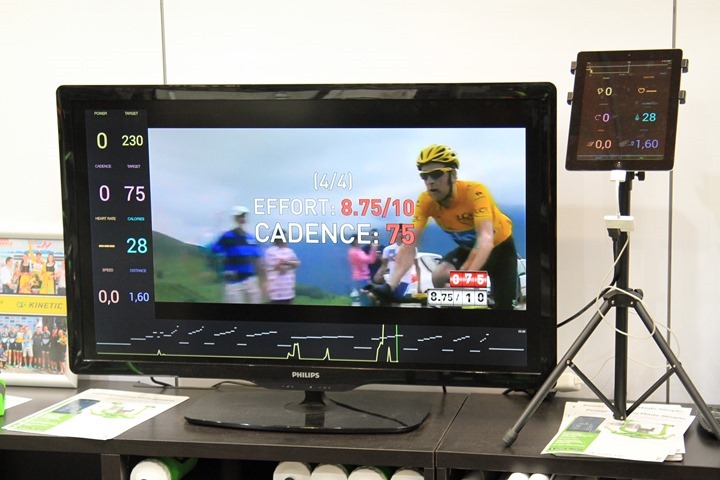 As part of their offerings this year, Kinetic will be launching a subscription based training platform as well, called Kinetic.fit.  This will include different tier options from free up to 20EUR a month.  Each tier containing a variety of features.
The four tiers are as follows:
Core (free): This is the free tier and includes a workout creator, some limited training plans, and power and heart rate zones

Smart (10€/month): Everything in core, but extends out to full training plans and full customization of the displays.  Most notable though is the second screen viewing where you can split-screen the outputs to have a secondary screen display different information.  Note that this is different than standard mirroring where both screens show the same thing.  You can see the secondary split screen above.

Smart Pro (15€/month): Everything above, but with competitions and extended challenges and rewards.

Smart Pro + The Sufferfest (€25/month): Same as Smart Pro except you get a monthly Sufferfest subscription included.
Here's a very poorly photo'd copy of all the different tiers.  Sorry for the sketch-ville, but it sat in my pocket all day long at the show, and then onto the RV for four days being moved around the table, then into my backpack pocket, and then onto a train ride where I eventually just dug it out now.  I have no idea why I didn't take a photo of it upfront like usual: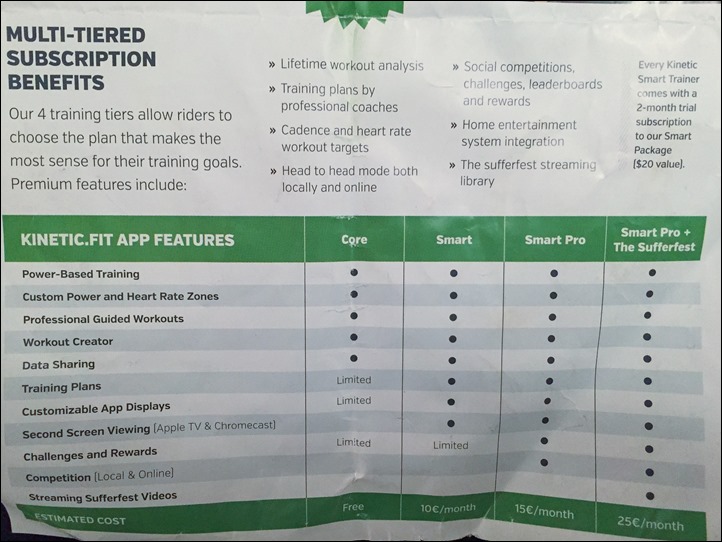 Now the platform is still being built out, with the different apps in various forms.  To start, Kinetic took over development of their existing iOS app (which has long been shared with Wahoo Fitness).  Then they've got an open Android beta coming at the end of September.
They're doing sort of a split approach to 3rd parties, some of which is good, and some of which is a bit concerning.  Starting with the concerning part is that they're going to lock down some of their existing transmission pieces.  Previously they transmitted out over open BLE for power/speed, which some 3rd party apps supported.  Now instead they're going to license the SDK to various companies, including TrainerRoad, Zwift, and Kinomap.
I suppose the good news there is that they're making an SDK, but the bad news is that they're potentially reigning that in – which sorta seems like the wrong direction to go in.  Especially since every other trainer company is going towards openness (heck, even CompuTrainer!).
Making a training suite from scratch will be difficult, and while things look to be off to a good start from some of the limited time I saw – I'm not sure if I'd trade my $10/month of TrainerRoad for $10/month of Kinetic Smart.  That'd be a hard sell for me.
Some Quick Thoughts: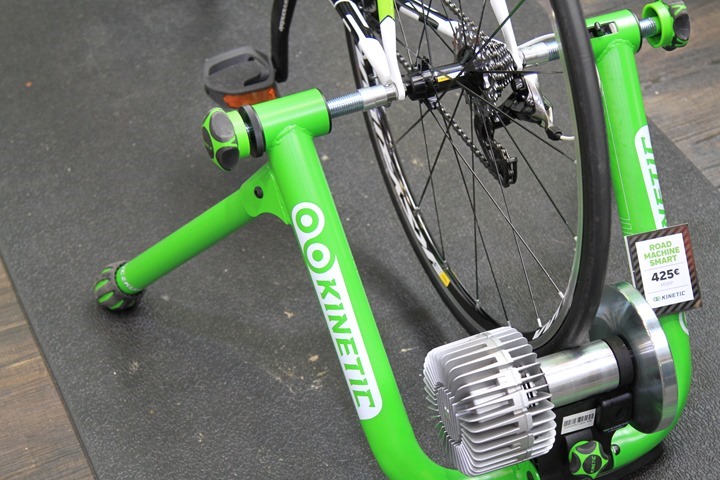 I think it's going to be exceptionally difficult for Kinetic to compete with this line-up of trainers this year in the market.  With offerings from Tacx, Elite, and Bkool all at equal or lower prices for significantly more functionality – it puts Kinetic in an awkward spot.  They used to be my 'go-to' recommendation for a mid-range trainer.  But with so many other companies all adding 'Smart' options of their own, and those companies adding in FE-C support at the same price that Kinetic lacks, it's a tough sell.  Plus, most of those also dual-transmit both ANT+ and Bluetooth Smart, whereas Kinetic is only doing Bluetooth Smart, and even then, only to 'licensed' SDK partners.
On top of of that, I think Kinetic is going to really struggle to find buyers for their training suite.  The offerings found by competitors such as Zwift, TrainerRoad and dozens of other apps are far cheaper.  Not to mention generally more capable.  Kinetic is also swimming against the trend right now of trainer companies getting out of making their own software (or at least, focusing less on it), and instead letting 3rd parties handle that.  We've seen minimal software updates from all the major trainer brands that had software suites – Tacx, Elite, even CompuTrainer – in favor of letting 3rd party apps run with things.  The only one that's expanded their software lineup is CycleOps, but they double-dip in that they sell that just as much to 3rd party trainers as they do their own trainers.
They did seem to acknowledge their various shortcomings though, and noted that they are keenly aware of the interest for a smart resistance controlled trainer – but noted that such a device unfortunately won't be on the docket for them this year.
—
With that, thanks for reading!  If you're looking to burn a bit of time, here's all my Eurobike 2015 posts!