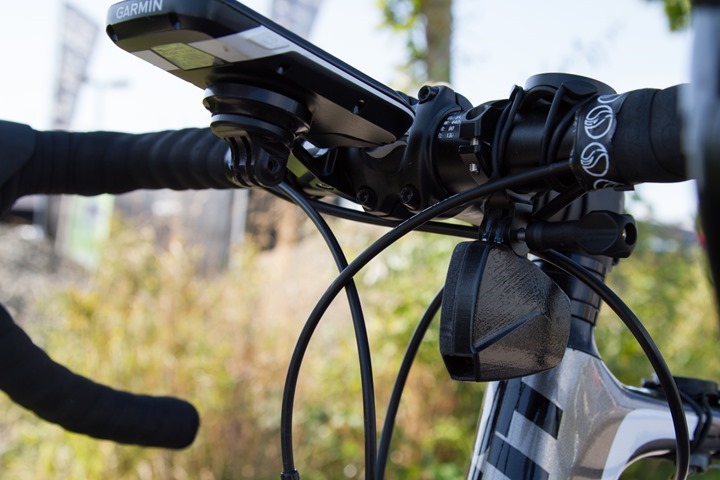 Today a Kickstarter project was launched for the PowerPod power meter, priced at $279US (but there are some initial cheaper price points available for early birds).  While the project may be launching on Kickstarter, the company behind it has long produced power related products in the segment – Velocomp, maker of the iBike.  They currently make a line of bike computer head units incorporating the underlying technology that the PowerPod is based on.
The PowerPod essentially takes away all of the previous head unit functionality and strips it away to just the core power sensor and software technologies that allows it to generate a power meter stream that you can connect your ANT+ head unit to (such as a Garmin cycling computer).  While some might quibble on the terminology of 'power meter' in terms of lack of strain gauges compared to a direct force power meter, for the purposes of me writing this post on PowerPod, I'm going to use the term.
I've had the chance to ride a prototype unit on a handful of rides over the last two days.  As such, things are bound to change between now and production.  Thus, much of the prototype aspect has more to do with the casing materials and the re-arrangement of existing electronics inside the new pod compared to past head units.  The core and underlying sensors and software used to determine power is unlikely to change significantly as it's the same capabilities found within their existing units, instead expect minor tweaks to the experience with respect to setup.
With that, let's dive into it.
(Note: While on Kickstarter the cheapest unlimited redemption option is $279, the standard retail price will be $299.  There are also early bird options on Kickstarter for cheaper than $279.  In order to minimize confusion down the road, I've changed the title to $299.)
The Hardware:
The PowerPod sits in a small case that you'll attach to your front handlebars via a standard GoPro-compatible connector. This is a much better solution than a custom-designed mount of their own, as it makes it easy to use 3rd party products.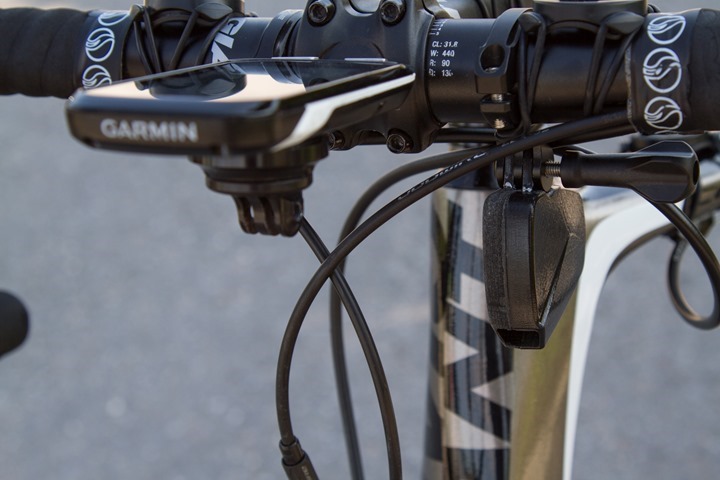 (For those curious why the GoPro screw wasn't in all the way, it was because there was a slight variance on the 3D printed prototype unit which caused it to not fit perfectly.  No worries, totally normal prototype stuff I usually see.  Getting the screw to that point required more than enough force that only a crash would have dislodged the unit – which the PowerPod guys checked and said it was fine.)
They'll include a GoPro compatible handlebar mount, or you can use one from any number of other companies.  For example, K-Edge, Barfly, and now even Garmin sell dual GoPro/Garmin mounts.  In this case the GoPro mount is on the bottom and the Garmin quarter-turn mount up top.  Here's the K-Edge combo mount that I use on my bike, with the PowerPod simply slotted in below the Garmin in one tidy package: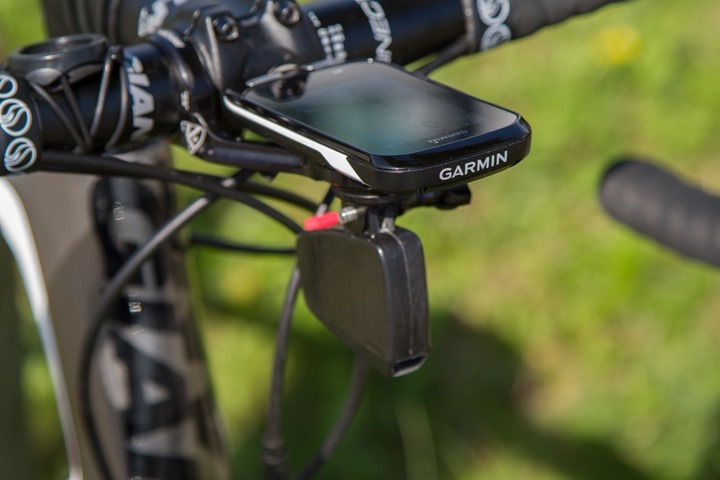 In the photos you'll see two units: The black ones are 3D printed units that I used during the ride (prototype case), whereas the red units are more like what the final case finish will look like (but this pod didn't have anything side).  But you'll be able to buy it in either color.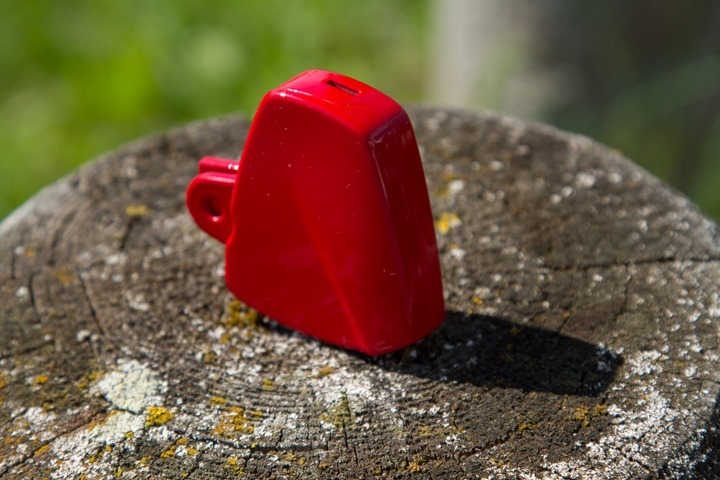 Interestingly, you'll note at the top that the GoPro connector is flat on one side – whereas most GoPro units have two rounded connectors.  The reason for this is to ensure it sits flush against the top of the mount.  It's actually kinda brilliant, though, not as brilliant as choosing the GoPro mount in the first place.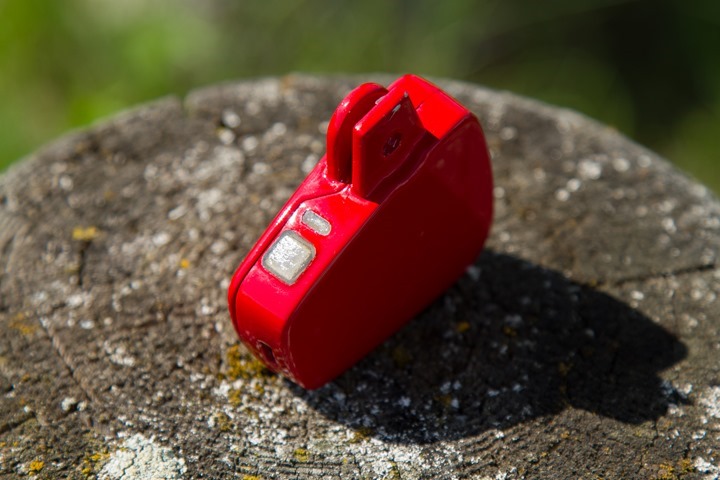 So if you turn the unit around, you'll see a small hole on the front, that's where the wind comes into the sensor.  It's based on this that it's able to measure wind speed and combined with the sensors (highly sensitive accelerometer & barometer inside of it), that it's able to generate power numbers.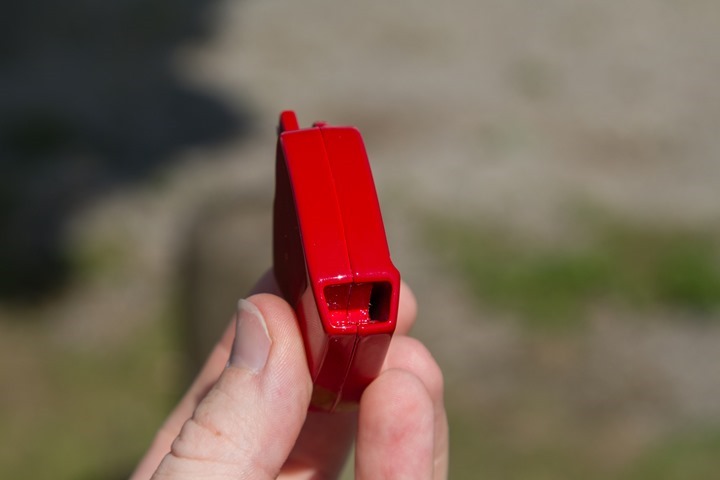 From a size standpoint, I lacked a variety of items in the DCR Eurobike Rental RV to compare it to that were common around the world – except a single 9V battery.  So that helps to give you a perspective on size. It's roughly the height of an egg (I didn't have one handy), though far skinnier than an egg.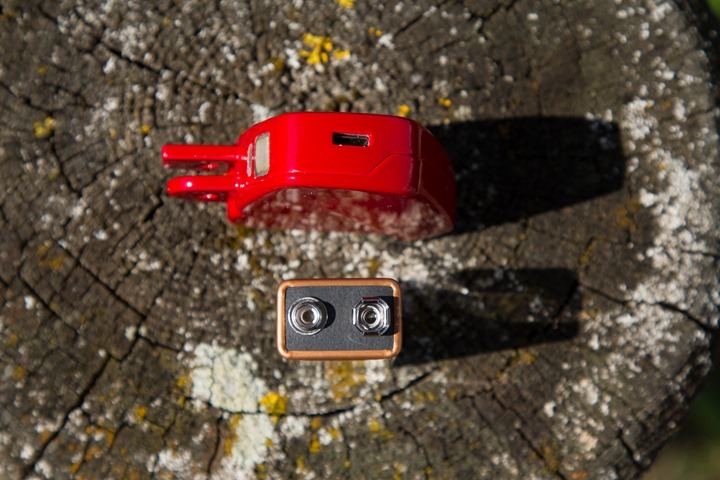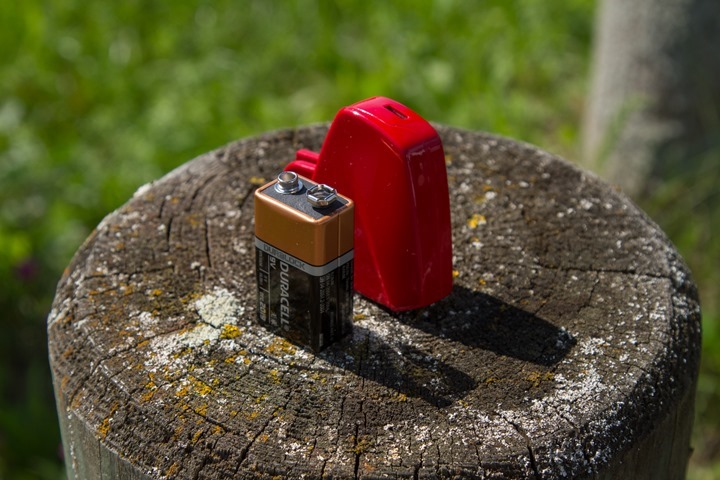 I didn't weigh it, but it's pretty trivial in terms of it feeling like picking up less than the 9V battery for sure.
On the back you'll see it has a micro-USB charging port.  This port is internally waterproofed to IPX7 standards, but the final production unit will have it bit more protected as well.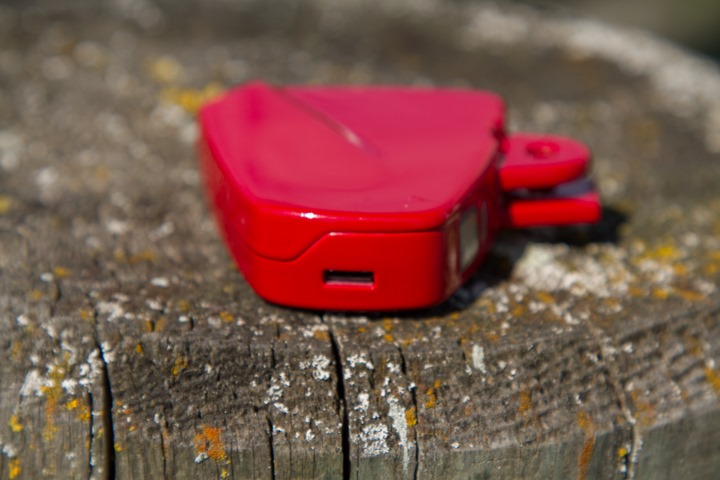 With this port you'll get about 20 hours of battery life before the unit needs charging (again, just a standard micro-USB cable).  That's on the lower end of power meter battery capacities, so that might be a bit of a challenge for some.
On the topic of Bluetooth Smart capabilities (either for configuration or for transmitting Bluetooth Smart power), in talking with them they are definitely not opposed to it.  They are evaluating whether there's enough demand for Bluetooth Smart power meters in today's market yet.  If they hear of that demand, they'll likely add an option there (read: say you want it in the comments and magic might happen).
Setup & Configuration:
In talking with the folks behind the PowerPod, their primary goal was to lower the bar to get power data.  That's being driven in two different areas: Price, and ease of setup.  At $299, they hit the first goal.  The second is done by simplifying the setup piece to essentially just doing a 5-minute calibration ride without any complexities.  Gone are the older iBike days of needing to do any special configuration in terms of the bike itself.  Out of the box the unit will make some assumptions around the rider and bike weight, as well as overall fitness profile.  You can tweak these later to get more accurate data.
The PowerPod will need an ANT+ speed sensor attached, either via a speed/cadence combo sensor or a standalone speed sensor – a cadence sensor can also be paired to provide additional data.  The speed sensor is used as part of the algorithms.  The cadence sensor meanwhile can slightly improve accuracy and responsiveness.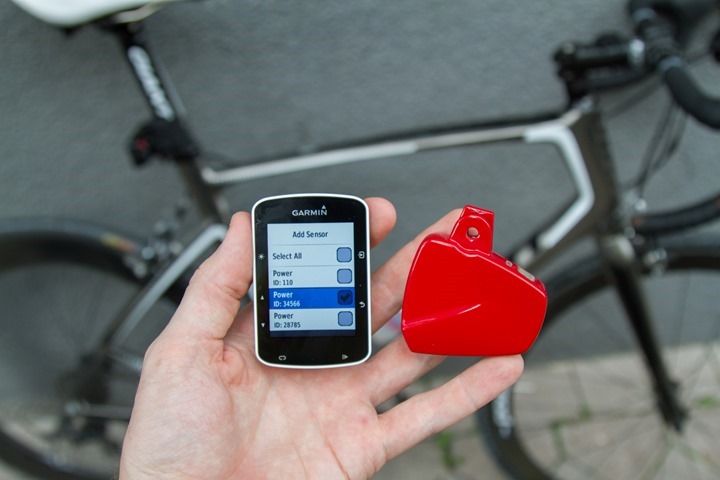 Next, you'll simply hold down the single button on the PowerPod for three seconds, which will search for a nearby cadence sensor.  After it finds it, it's ready for your 5-minute ride.
Before you do that though, you'll want to pair it to your ANT+ bike computer, such as a Garmin.  In my case I paired it to my Edge 1000.  It shows up like any other ANT+ power meter.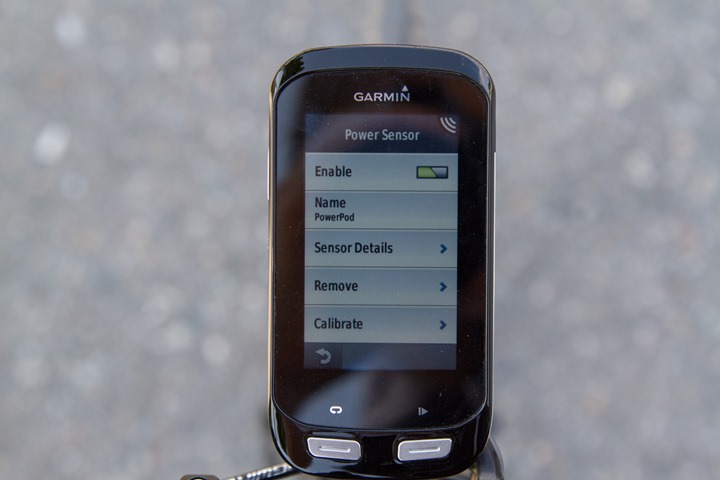 Once that's done I headed out on my 5-minute calibration ride.  In my case I just did a simple out and back down the street.  As I did this, the unit transmits a 'progress bar' of sorts to your bike computer.  It actually uses the power meter field to give you an update on the calibration process.  It does this by simply counting from 1 to 100, which is essentially your percent complete – as in 100% complete.  Below, at 16% complete.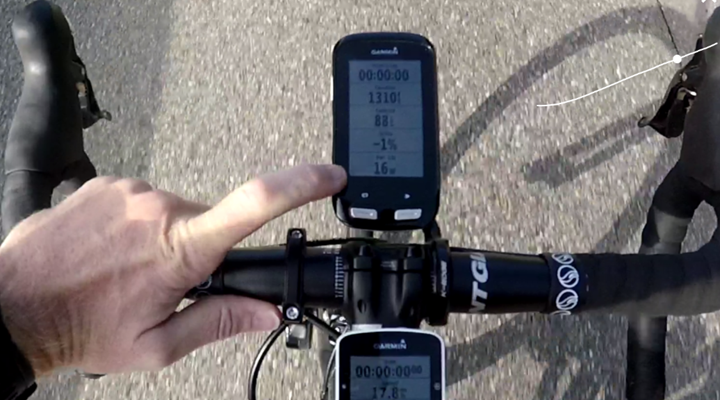 It's actually a reasonably ingenious way to use the data field to show status to the user (now below at 24% complete).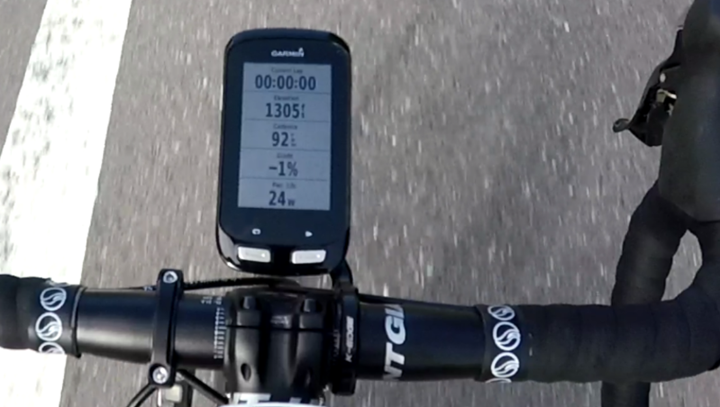 Once that's done, the unit is calibrated and ready to go.  So, off on a ride I went.  I started my data collection from this point.
Ride Data & Accuracy:
With the calibration behind us it was more or less like any other ride.  The unit transmits your power data instantly to any ANT+ head unit, so I'd see my power data on the head unit just like any other power meter.  The top one (the Edge 1000) is showing the PowerPod data.  Whereas the other three are showing data from the PowerTap G3 (Edge 810 right), bePRO (Edge 810 left), and Verve Infocrank power meters (Edge 520 bottom).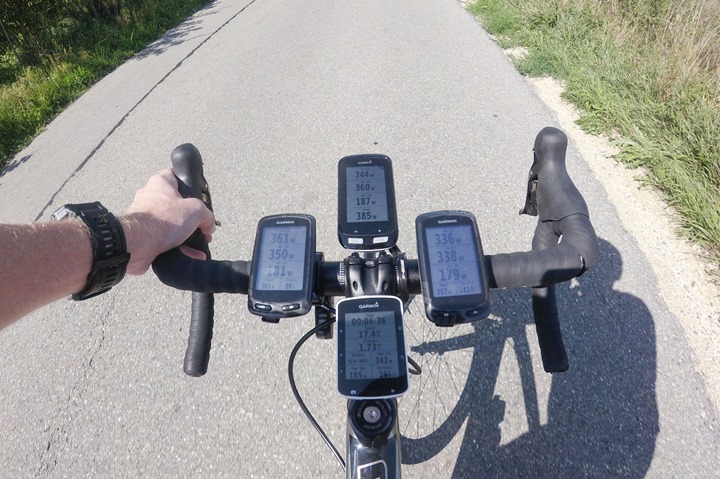 Over the course of two different rides I attempted to find conditions that can be challenging for any power meter – such as dramatic changes in wattages, rough surfaces (i.e. non-paved, or cobbles), as well as those that are more challenging to non-direct force power meters – such as drafting, and changes in body position.
The first set of conditions can demonstrate areas where a power meter might have problems accounting for sharp spikes in power, or under or oversmoothed values.  Further, products can sometimes be impacted by accelerometer issues related to rough surfaces.
The second set of conditions are important to note because the PowerPod depends on certain 'knowns'.  These include assumptions on weight, rider profile, as well as more dynamically monitored and continuously changing aspects such as bike position (i.e. if you're pushing more towards the front or back) and your position on the bike (i.e. sitting up vs aero/drops/etc..).  Finally, with the case of the PowerPod, it also has known assumptions on rolling resistance – thus potentially changing that variable (such as going off-road or onto cobbles) can impact accuracy.
So on the first ride, I pretty much let it be with all of the default settings for a completely vanilla out of the box configuration using default assumptions on my weight and physical fitness.  This resulted in slightly higher than expected numbers, as you can see below with that blue line often rising above the rest:

However, the PowerPod supports the ability (though not required) to update these default out of the box assumptions with more accurate data.  This is done by feeding it slightly more realistic configuration information about my body type, as well as using an existing ride file from the PowerPod to dial-in the settings more closely automatically.
Based on that, the app can actually regenerate the ride file using these new settings.  So we did that, just for fun.  Note that at no point was the PowerPod app (nor anyone from Velocomp) given my three other power meters data files – heck, I hadn't even downloaded them off the Edge units yet myself.  You can see that little gauge there on the screenshot, which shows us the impact of the change in settings and some of the original/calibrated values.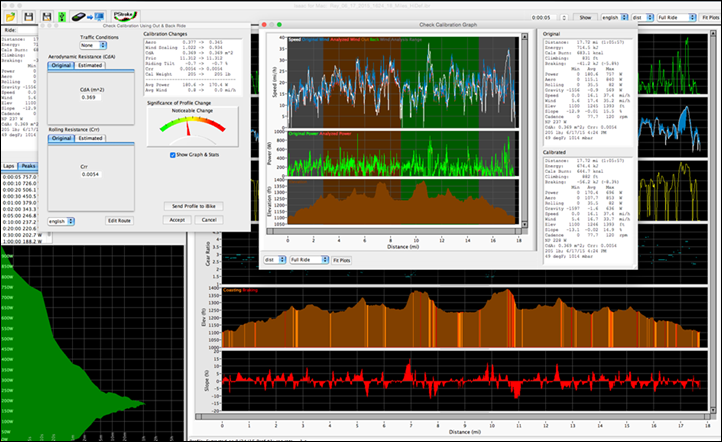 But I wanted to now take out this updated PowerPod configured unit for another whirl around the block (err…cows and cornfields).  This time it'd have the more detailed values stored directly within it.  This ride was a fair bit shorter, only about 20 minutes.  But I used that time to check off all the list of challenging conditions: Wind, hills, sprints, drafting, and rough roads.  Plus some normal steady state riding. Here's at a high level how that looked (I added a 30-second smoothing to it):

Now, let's dive into a few sections.  For the most part, the first 1/3rd of the ride was just getting out of the Eurobike area, though I did make one brief off-road endeavor (2:50ish), which you see early on.  We'll get back to that in a second though.  Otherwise, the steady state portions including the sprint actually track quite nicely:

Note that as is always the case when you try and make four power meters agree, there will be slight variances due to timing.  I use native file timecodes within the comparison charts to align, and then manually double-check those alignments against other metrics to ensure everything lines up.  Still, there's a lot of stuff that can cause even a 1-second delay to make a dot look more offset than it really is.  All of the metrics you see here are 30-second smoothed simply because comparing four power meters at lower smoothing rates sorta looks messy on graphs.
For fun, here's a video of that sprint I just talked about:
Next, at the turnaround I decided to do a bit of a section where I changed my position to be mock-aero.  So I was in the drops with my chest fairly low to the bars.  For the first portion, it tracks actually nicely though a bit low comparatively (it seems to be just a tiny bit delayed though).  However, what happens next is odd – it struggles with some soft pedaling coming out of that section.  So it's somewhat unfortunate that it gets the hard part on track, but the easy stuff trips up.  Though, some might argue that the difference between 60w and 125w of soft pedaling is sorta meaningless (since both are fairly low values).

Then, as I worked my way back I decided to sprint up to a random dude riding a bike and draft behind him a bit.  In this case we weren't going that fast (since the Royal We didn't tell him that he was part of this experiment).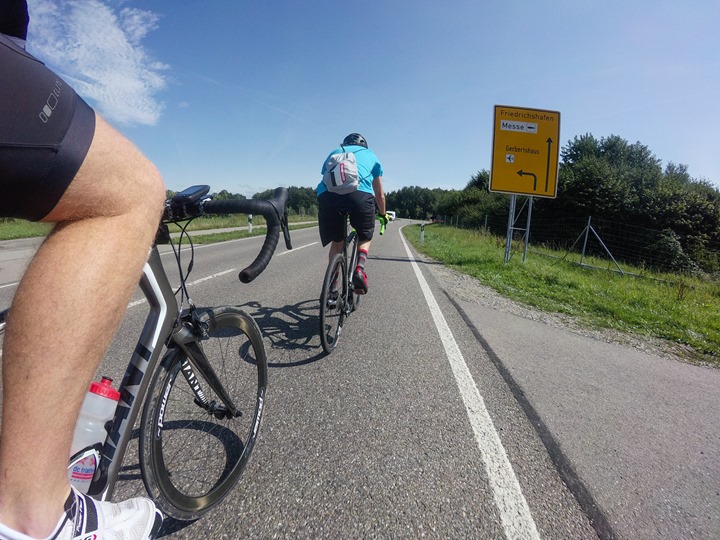 You see it tracks that initial brief surge to catch up to him in power very well, and then also tracks me sliding in behind him well (where the power drops).

That's good, because the aerodynamic change there could have been challenging for the PowerPod.  I saw the same tracking as well on the morning ride where I did something similar.  You can see this here, where I pulled in behind another rider (we were riding much closer since I actually knew the guy and were moving along pretty quick), and then towards the end I pulled out and away sprinting up, and you can see that tracks very well too.

Heck, this is actually the non-processed/corrected graph above prior to the updated calibration values.  Interestingly, the unit 'learns' constantly as you ride, adjusting to variations picked up by the sensor.  In the above – that's really nice clean lines and agreement between all those units, from the initial drafting to the spike.
Finally…the rough road section.  On both the outbound and return I found a few hundred meter stretch of gravel.  While the outbound wasn't horrible, the return is a bit more pronounced – likely because my speed was a fair bit higher going through that section than on the outbound.  In fact, as I enter the gravel section my speed is initially low, and then as I increase speed and power you can see the impact it has.  You can see here the large deviation in power (and then it starts to close back up again as I exit the gravel).  Now of course, most road riders aren't on gravel – so if you don't usually ride onto different road surfaces, it might not matter.  For me at home (Paris), I often encounter long and sustained cobblestone sections, so it's unclear to what extent that might impact things.

As one last chart, here's the mean/max chart for the four power meters, which shows just how closely they track over different time durations with power levels.  This is typically a really good way to see oddities in power come out more clearly than just simply overlays.

So overall, you can see it's generally positive on the ride but there's certainly a few caveats.  Whether or not those caveats will matter will depend on your specific riding style.  Finally, you can find all my raw/original files from these two rides here (Morning – Ride 1) and here (Afternoon – Ride 2), for those that wish to do their own analysis.
Wrap-up: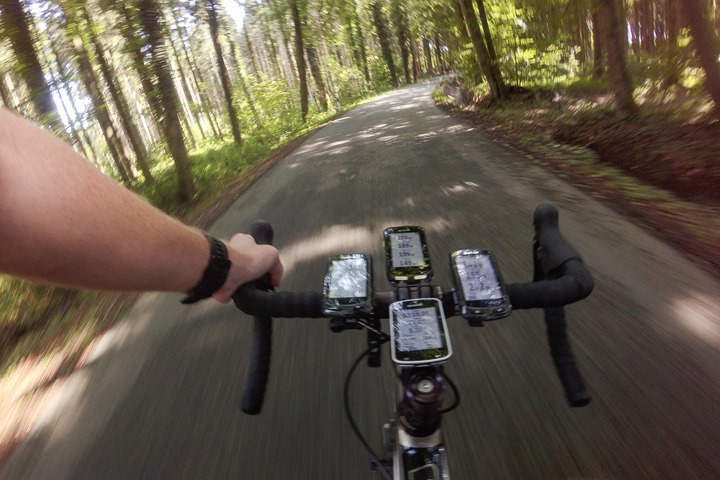 As a general rule, I'm all about lowering the bar to power meter adoption.  Sometimes that's in baby steps.  There will be different audiences for different power meters.  For example, while I'm not a huge fan of left-only power meters, I'm quite a fan of getting people to start understanding and using power – even if the device isn't quite as holistically accurate as a full left/right leg capturing capable direct force power meter.
In some ways, the same is true here.  There are indeed specific cases where the PowerPod isn't quite perfect, but there's also a lot of time (majority probably) when it's very good.  And there's also cases like using PowerPod with indoor trainers that require usage of power curves – which can be tricky without exact calibration due to tire pressures, compared to a standard power meter.  My past issues with the iBike have largely been in the head unit itself (price/functionality) rather than the algorithms used to generate power numbers.  With the PowerPod, they kinda 'solve' my main concerns in that they've separated it out into a very interesting little device – I'm thrilled to see them do this.  I think the device could actually be even more interesting if either of the standards bodies (i.e. ANT+ or BLE) got around to implementing some form of wind metrics that head units to consume in a standard way (and Velocomp says they'd whole-heartedly support that in an instant).  In certain scenarios that additional data can provide for some really fascinating aero testing.
Will this be the device for everyone? No.  But it's definitely a device for many people at a price point that introduces people to power.  And it's certainly a far better device than some vaporware power meters that are out there as well for the same price.  I can ride this product today, and show real data today, and understand exactly which situations it does well in.  Plus, I love their use and simplicity of both the GoPro mount, as well as the setup and configuration.  It's sorta impossible to screw up getting power on your bike quickly.
—
With that, thanks for reading!  If you're looking to burn a bit of time, here's all my Eurobike 2015 posts!