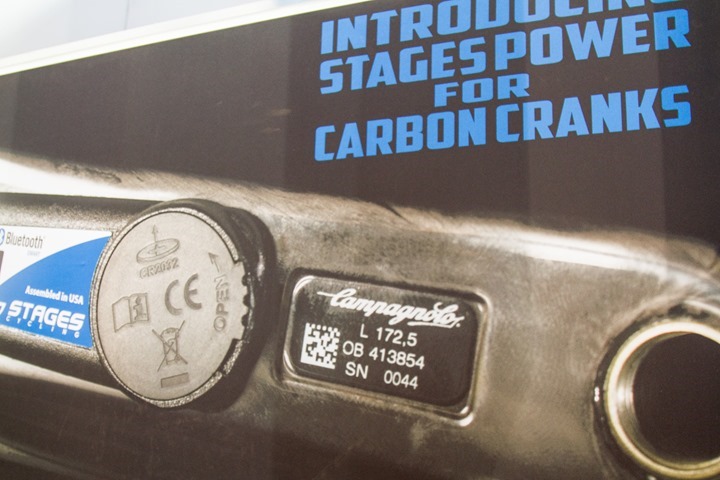 Today at Eurobike, Stages announced their first foray into offering carbon crank arm options with their power meters pre-installed.  You'll remember that up until today they've only offered aluminum cranks.  Today's announcement includes five new carbon models, while also rolling out entirely new pod designs to their existing lineup of power meters produced from here forward (officially called the '2016 product line')
Finally, I chatted with them a bit about left/right power and what that means to Stages and their product plans, especially given some of the sightings of dual Stages units out in the wild (primarily on Team Sky).
Stages Carbon Offerings: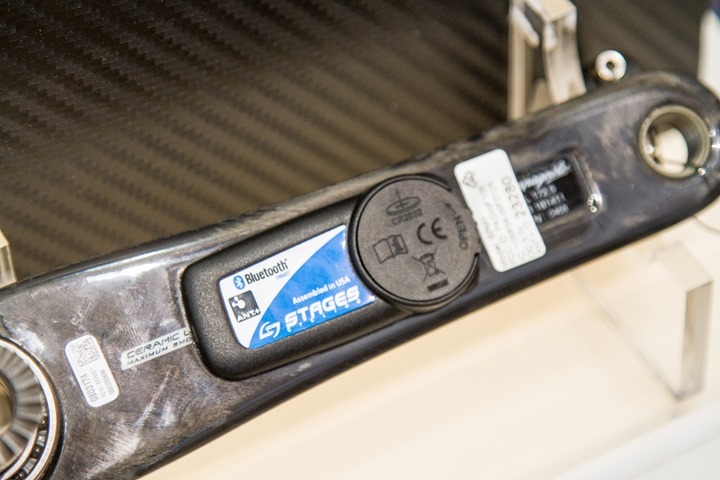 Stages has announced five different sets of carbon crank options.  Three of these options are using specific 3rd party crank arms (three on Campagnolo, one on FSA), and the 4th option is a 'house' option that's fully Stages branded.  This option and the FSA unit being the cheapest of the carbon offerings they have on tap.
In order to simplify things, here's the quick and dirty table of the new carbon products:
FSA SL-K Light BB30*: 170mm-175mm, 799€, Winter 2016
Stages Power Meter for BB30: 170mm-175mm options, 799€, Winter/Spring 2016
Campagnolo Super Record: 170mm-175mm, 1,199€, Winter/Spring2016
Campagnolo Record: 170mm-175mm, 999€, Winter/Spring2016
Campagnolo Chorus: 170mm-175mm, 899€, Winter/Spring2016
*(Retrofitting FSA 386EVO, SRAM BB30 road and mountain, BB spindle is 99€)
Here at Eurobike, Stages is officially only announcing the pricing in Euros, so for US pricing we'll have to wait two weeks till Interbike.  Yes, I know, it's annoying when companies do that and forgot the interwebs is global.  Though they said you can roughly do the comparative math and figure out the US pricing, which should be slightly different than the Euro pricing due to lack of VAT import and the exchange rate.  And just to be clear on the above – all prices include an average VAT of 19% in the list price noted.
Speaking of which, there were some minor downwards adjustments of Euro prices on different models of existing Stages alloy power meters, based on a variety of factors including the exchange rate.  This was from an all-time Stages price high that was reached in January when they had to increase prices slightly for the European market.
Now there's been a lot of talk about fatigue in carbon cranks and how that might impact power measurement/calibration over time with carbon arms.  In discussing this with Stages, they've spent immeasurable hours both in real-world outside testing of units for more than a year and a half, as well as automated fatigue testing inside their headquarters (you may remember some of my photos of that from a few years back).  They found that fatigue over time on carbon actually wasn't so much an issue when it comes to power meter accuracy.  Instead, they said it as actually how each model reacted uniquely to different temperature shifts, more so than on aluminum.  Thus, they've had to extensively analyze, model and validate temperature shifts for every carbon model they plan to announce.
Here's a quick gallery of all of the different carbon models/units they're offering this year:
Note that like their existing aluminum crank lineup – you cannot just send in your own cranks.  All must be purchased from Stages new.  However, they'll be working to do a better job of having more stock on hand than they did in past years upon launch – so wait times should be lower.  They noted that they've largely been operating on a next-day shipping option for almost everything since January.
New Pod Design: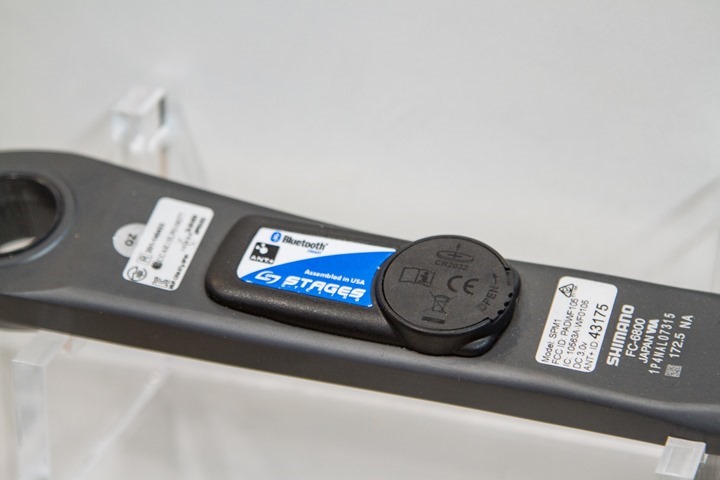 In addition to the new carbon options, the company is also pushing out a new pod design across the board.  The pod is the piece that's pre-installed on any crank arm you purchase from Stages.  It's where the strain gauges go along with the communications chipset (ANT+/BLE), and the battery.
It's the battery that has of course been cause for pain for some Stages owners over the last few years.  Not so much the battery itself really, but the battery casing.  That's been the cause of water ingest and then untimely death of the unit.  While Stages has been superb in replacing units for anyone impacted – it's definitely been a challenge for some, especially in wetter environments.
The new pod design is primarily aimed at eliminating that problem, with a new o-ring design as well as a better lid that's got thicker/wider tabs to minimize breakage. But the pod is also thinner (went on a diet).  This will reduce the height profile by 28%, which in turn increases compatibility on a handful of bikes/frames where units might have rubbed by perhaps a fraction of a millimeter for a few rides before wearing off the paint.  Additionally, it reduced the frontal area by 17%.
The door will be rolled out on all power meters shipping from Stages from here forward.  It's also been in use by Team Sky for much of this season, including the Tour de France this year.
Dual Sensor Products?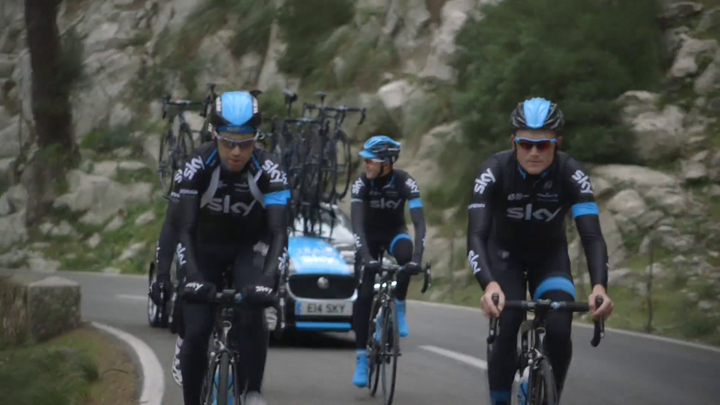 There has long been discussion on whether Stages would offer a left/right power meter (thus one pod on each crank arm).  They've in turn long noted that the value proposition there is minimal for them (and you), since the costs go up considerably when looking at the drive side (the right side), compared to the left side.  Everything from stockage of parts to clearances around the chain are infinitely more complex (as companies like 4iiii, Rotor, Pioneer, and others have seen).  As a result, Stages has pretty much just said 'not interested at this time'.
However, earlier this year a dual-Stages system was spotted on Team Sky, which ramped up loads of speculation that they were planning an imminent product release.  Stages confirmed to me that such a system has indeed been in use by Team Sky, though said it was factually incorrect that Chris Froome had been or is currently using it.
Rather instead, it's primarily been used by two riders that were both coming back from injuries that impacted single-leg power significantly.  This gave both Sky and Stages valuable data. For Team Sky, they could more accurately assess these rider's comebacks.  While for Stages they could flesh out how a dual product might look down the road.
But despite those units being out there – Stages said there's nothing on the near-term radar to ship those units beyond Team Sky.  During multiple conversations with them over the past two days they noted that if they were to enter the left/right power meter market, they'd really only do so if they felt they "could bring something significant and differentiating" to the left/right game.  They went on to say that they didn't see a lot of value in many of the separated left/right analysis metrics as seen today (a viewpoint I agree with and discussed in detail in a Vector-focused rant in my recent review of the PowerTap P1 pedals).
They said if they got to the point where they felt they could offer something totally unique (meaning, primarily on the software/data collection/analysis side), then they'd enter the market.  But until then, they're relatively content with the left-only business they've built up.  In other words, there's no left/right power meter coming anytime soon from them.
—
With that, thanks for reading!  If you're looking to burn a bit of time, here's all my Eurobike 2015 posts!