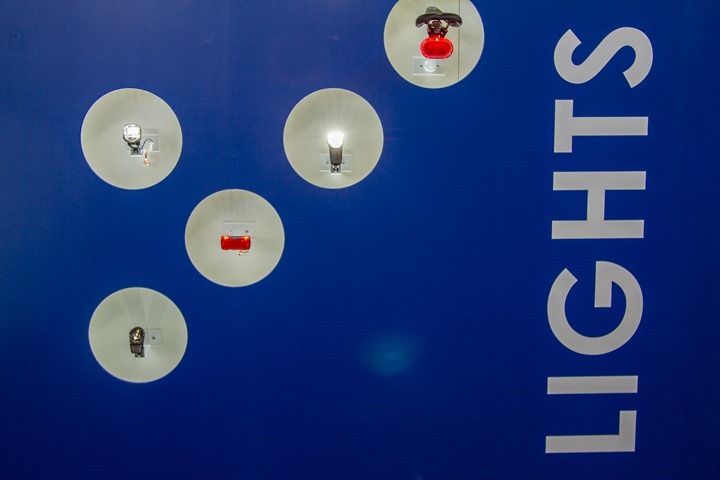 There's always been talk and demonstrations of the 'connected bike' at Eurobike.  After all, it's a buzz phrase.  You can stick 'Connected' or 'Smart' in front of anything and it makes your product instantly marketable.  Sorta like when people put 'i' in front of stuff: iHome, iBike, iBaby, and even iPig (seriously).
But this year at Eurobike there was a very clear undercurrent of interest in connected lights and locks (and even lube).  Every light vendor I hit up seemed to be looking at ways to integrate with sensors or smartphones, with a number already in the space with new products.  I was particularly interested in some of the data harvesting aspects that some companies want to start digging into – such as capturing road quality or light quality on bike paths/trails, and working with municipalities to better conditions (sorta like Strava is doing).
No doubt with 8 massive show halls I probably missed more than a few connected lights, they're a bit harder to spot since they don't always come from the tech companies.  But nonetheless, here's a small snippet of a few – from cheap to pricey.
Cycliq Fly12:
You'll remember back to CES in January when I first showed you the early prototypes of the Cyclic Fly12.  This product combines a front headlight with a camera.  Once you power on the unit the camera is always recording, just like their Fly6 taillight that's been in the market a while.  They launched their Kickstarter project a bit later, and are now very close to shipping out units.  I got to poke at one of their final prototypes for about 48 hours during the show, using it on a few rides around town and out into the woods.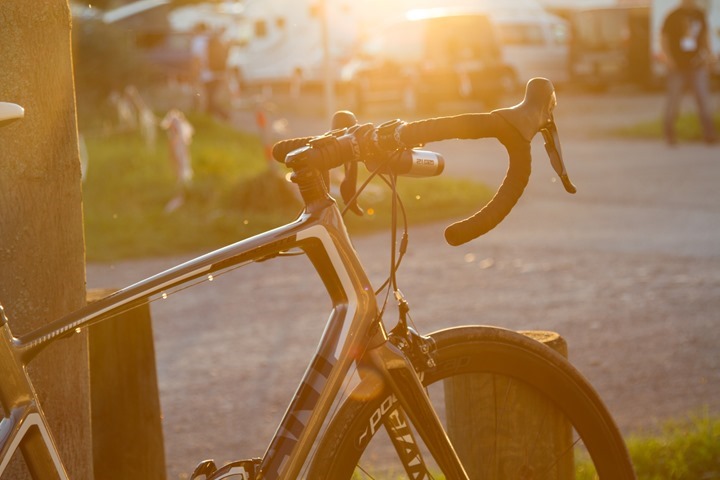 The unit now attaches via a GoPro mount, which works awesome.  I connected it up to the K-Edge combo GoPro/Garmin mount I already had on my bike.  It was a bit of a tight squeeze with the cabling, but not too bad.  They'll be working through some mounts of their own that'll ship with it.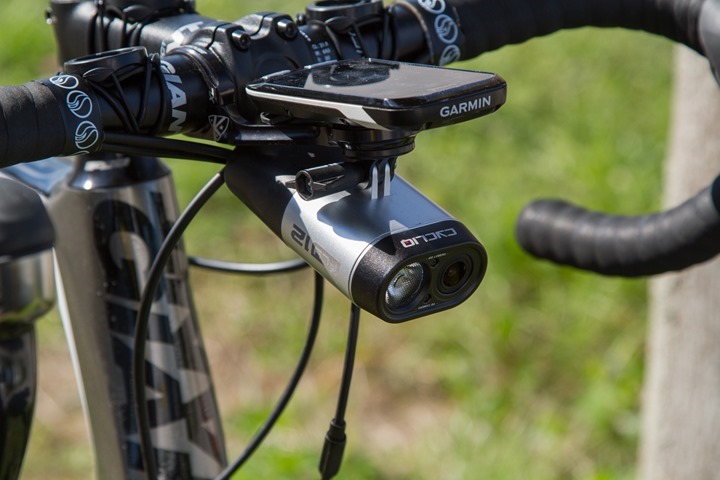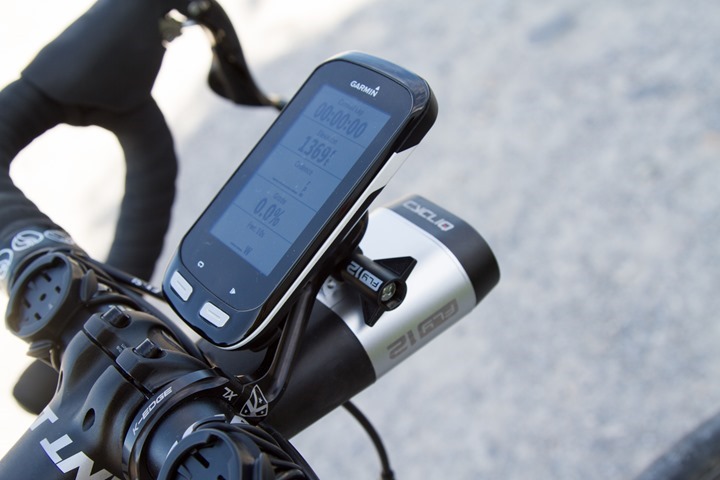 I took it out for two grocery store rides just before sunset, and then another later on afterwards.  I was generally quite impressed with the brightness of the light (400 lumens), as well as the recording quality in the dark.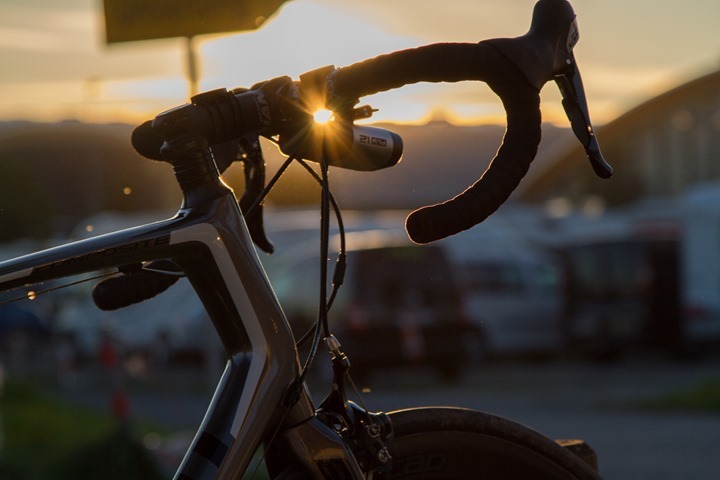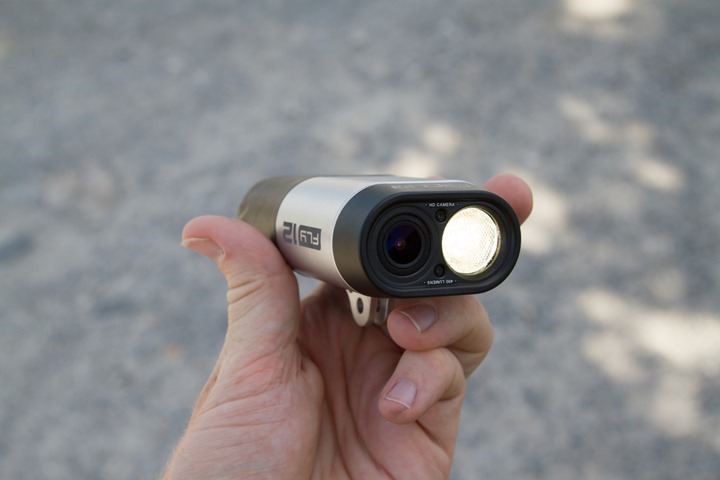 Here's some short sample footage I collected.  You'll have to ignore the timestamp, as I did these before I sync'd up to the app (was rushing to get out the door in time for sunset).  I've got three chunks in there of different times.
The app itself allows you to connect to the unit and then will soon overlay the 1' (3ft) safety marks on the video (to show you when drivers get too close).  It'll also soon integrate with Strava.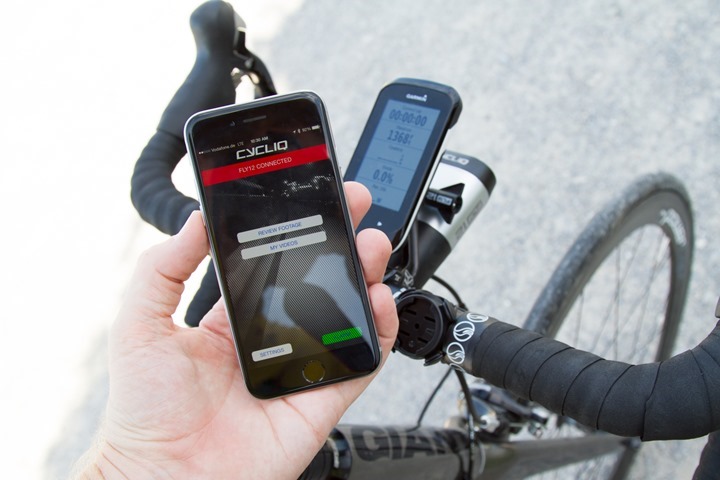 I told them that this sort of unit is ideal for hooking up to the ANT+ Bike Light standard that others including Garmin and Bontrager are using, since you could then control it (such as brightness and mode) from the head unit as well.
Good stuff though, and I'm looking forward to them finishing up the product and shipping.
Scottoiler Automated Lube System
:
Next up we've got the Scottoiler folks, who have developed an automated lube system.  The idea here being to automatically lube your chain to keep it clean of road gunk.  By semi-constantly lubricating it, it prevents gunk from building up on the chain.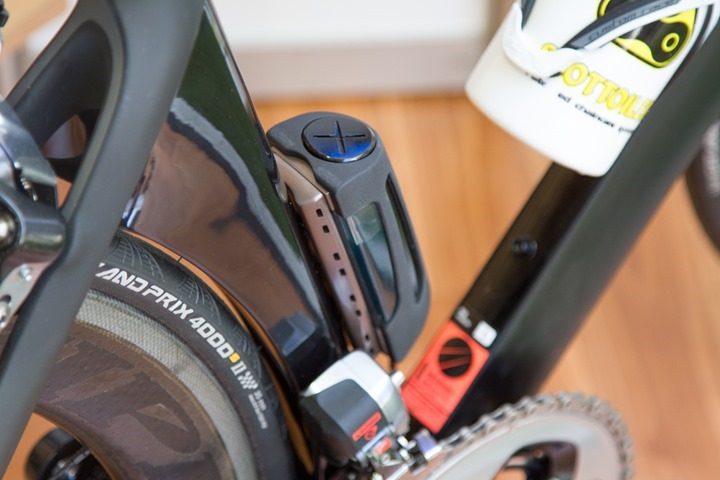 The unit attaches to the frame where you might otherwise put a water bottle.  It looks sorta like a mini-pump: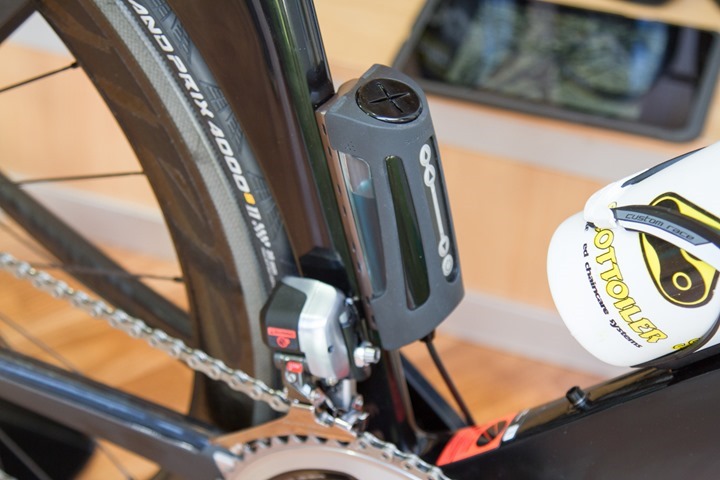 If you peek inside, you can see the fluid inside, showing you how full it is. The unit will automatically apply the lube to the chain as frequently as every 30 seconds in muddy/rainy conditions to roughly every 3 minutes in dry conditions (they have a big chart explaining it all on their Kickstarter campaign).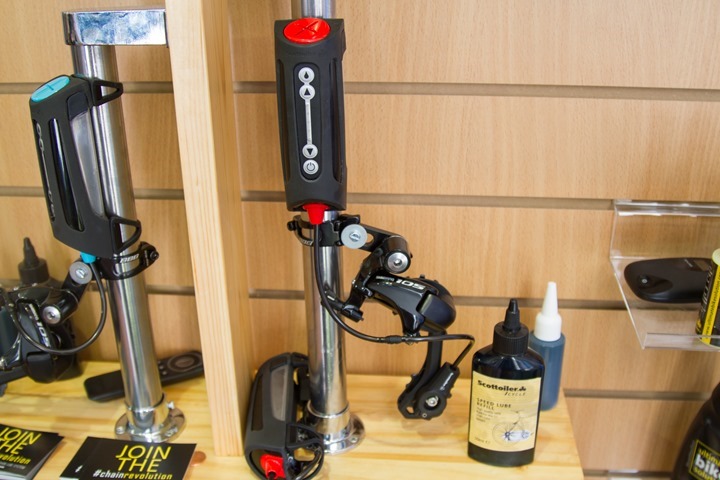 While I didn't try the unit, I did sneak away with some of their lube solution – it's what I used on my bike before doing all the various Tacx NEO trainer sound videos.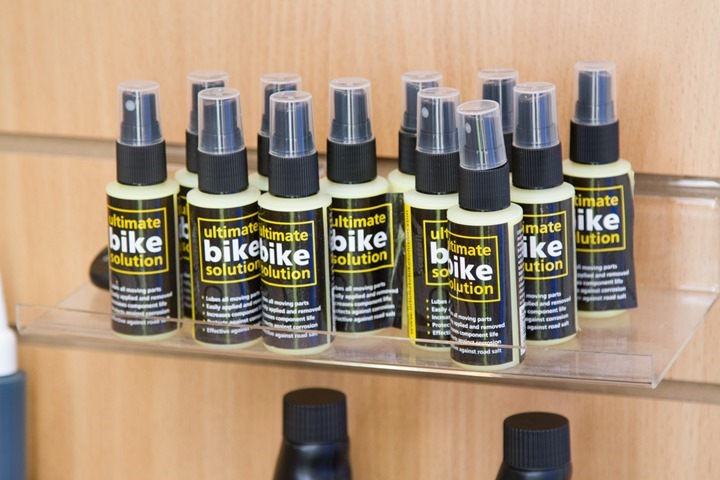 The company is currently up on Kickstarter doing a campaign right now to raise enough funds to ship the product, the campaign runs till October 11th.
Sigma Brake Lights:
As silly as this is, this may actually take my cake for the niftiest product of the show – mainly due to the $9 price point (the whole thing).  This tiny little pod allows you to create brake lights.  It's not so much designed for cars, as it is for other cyclists riding closely behind you.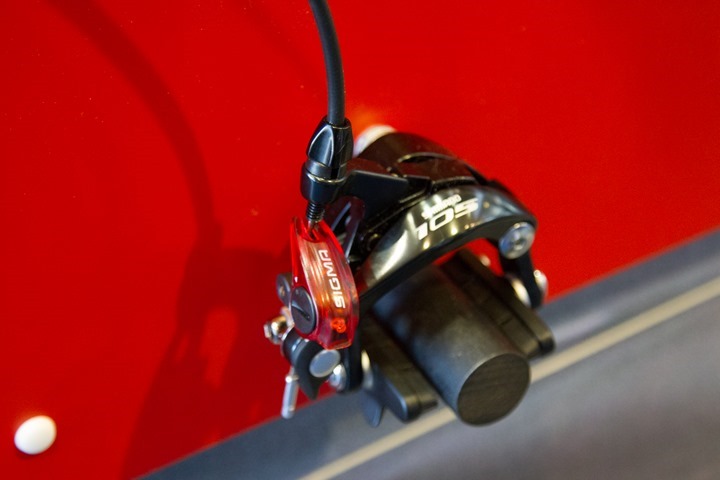 It uses a tiny little piece that clips on your brakes.  As you squeeze the brake cable, it triggers the rear light: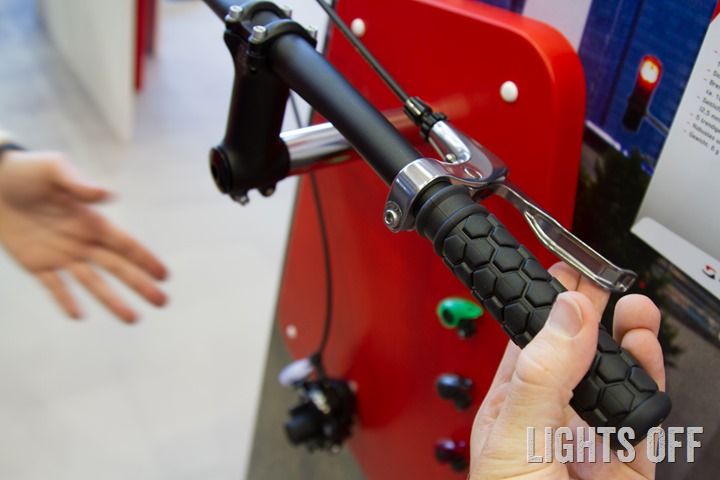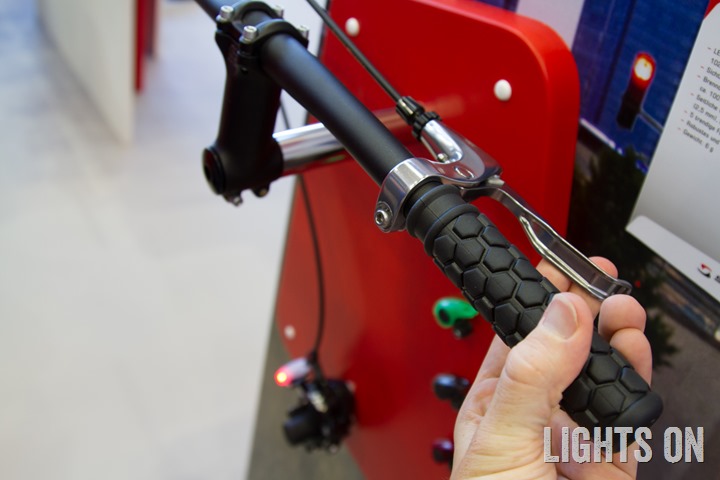 Here's another shot of the little rear light: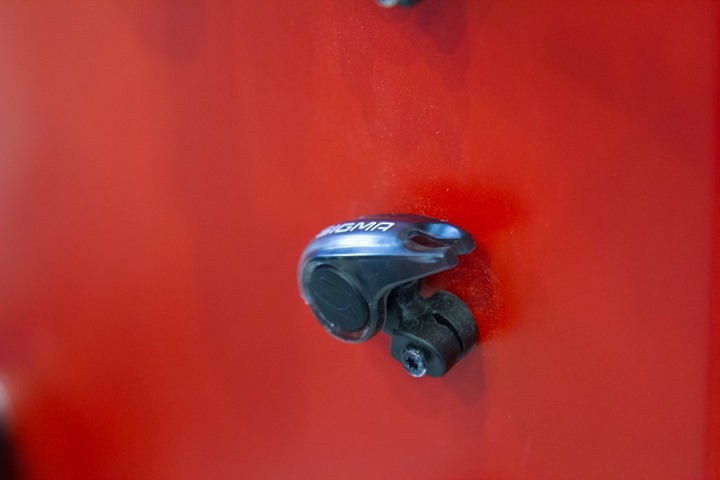 Seriously, it's silly brilliant and also awesomely cheap.
Sidekick Duo GoPro Lights: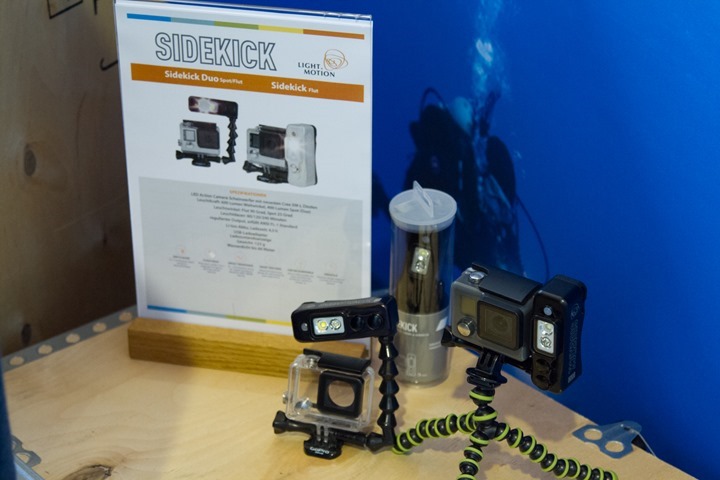 Next we've got these combo GoPro/bike light mounts, the Sidekick from Light & Motion.  This concept is sorta similar to one I showed last year from Knog. The main difference is that Knog wasn't movable side by side, whereas here you can tweak the direction of the light a little bit (though I can't honestly think of a case where I'd want the light pointing in a different direction than the camera).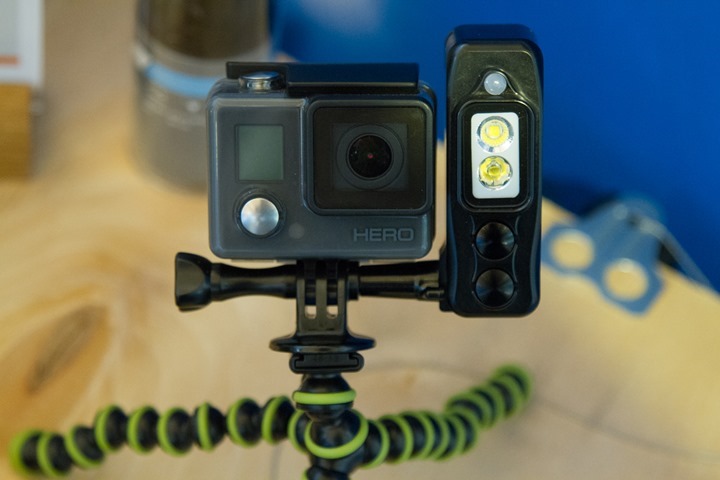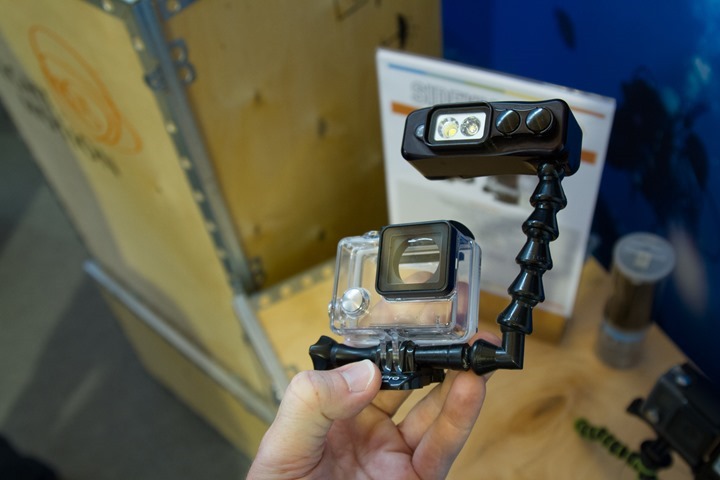 Still, you've got a few options here, and they pop on and off, giving you some flexibility.
Lupine Lighting Betty R 14: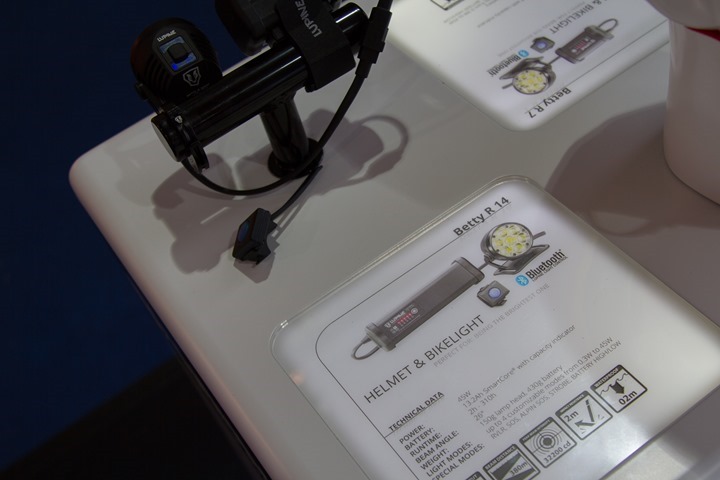 While not new – it's just something I noticed and it fits this post.  This is on the slightly simpler side of connected lights, with the Betty R 14 just using Bluetooth Smart to turn on and off the bike light from the remote control.  I think if you were to categorize connected lights, this is 'Phase 1', with other phases being control of lights from a head unit (perhaps Phase 2), recording of sensor data by the lights (perhaps Phase 3), and then integration with smart phone apps (maybe a Phase 4).
However, since the 4,500 lumen blowtorch of a system costs some $1,175US, it sorta just blows the rankings to bits.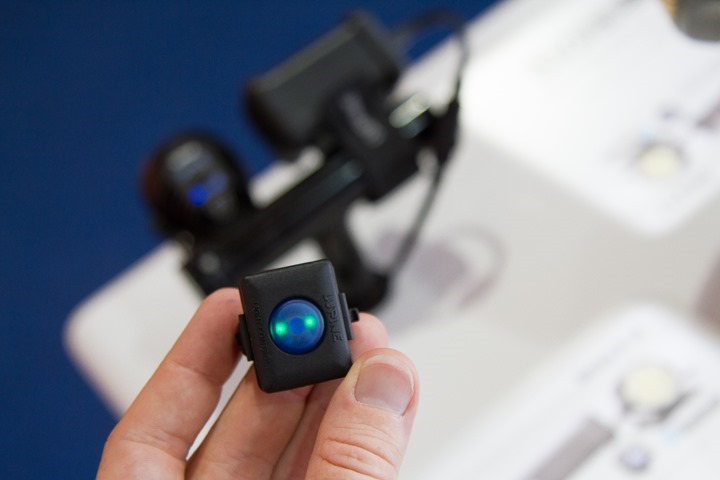 Still, interesting to see Bluetooth symbols next to bike lights so often around the show floor.
Master Lock:
Next is the connected bike lock from Master Lock.  We've seen many similar projects on Kickstarter over the past few years, some of which have actually shipped recently.  In the case of Master Lock the bike lock uses Bluetooth Smart to allow you to quickly unlock your bike lock from an app.  You can see here the lock is locked, with the blue light: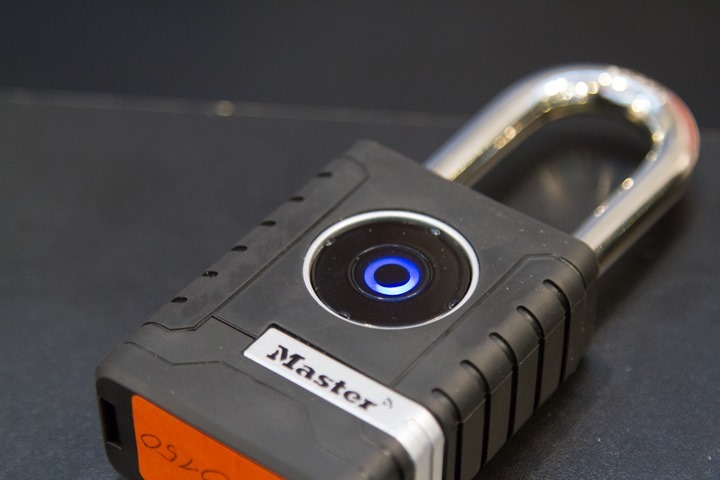 Then using the app we can unlock it, changing the light to green: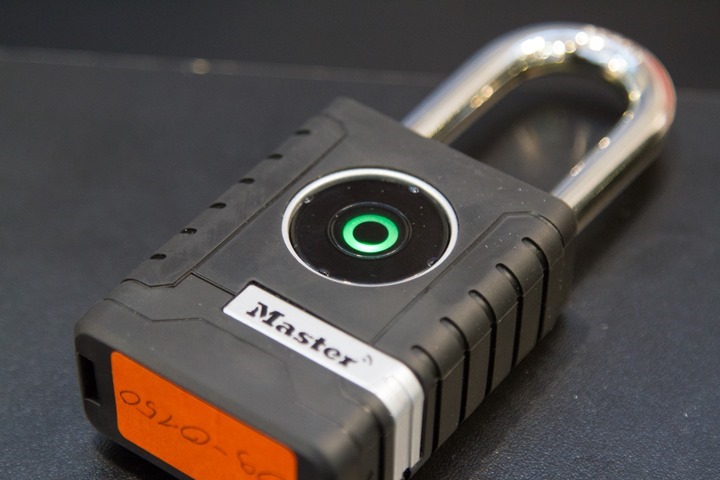 So what if your phone battery dies?  No worries, they've got you covered there.  You can create a code using the joystick on the front to open it (ahead of time obviously):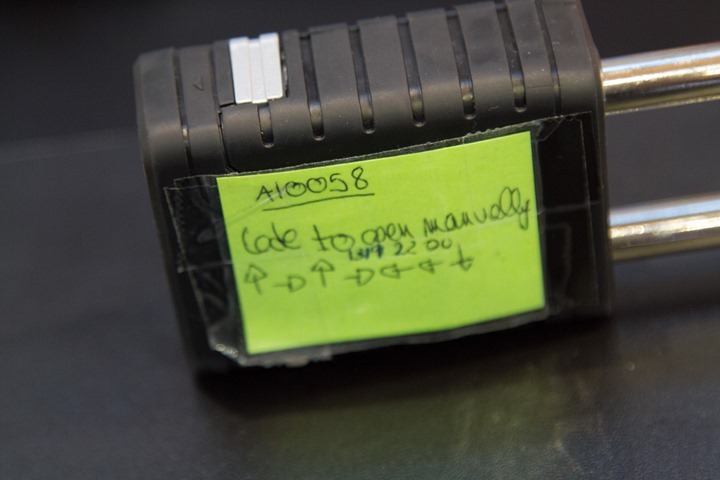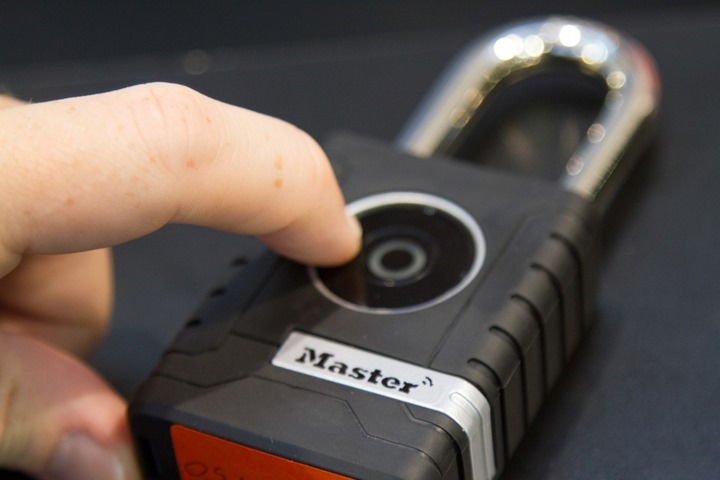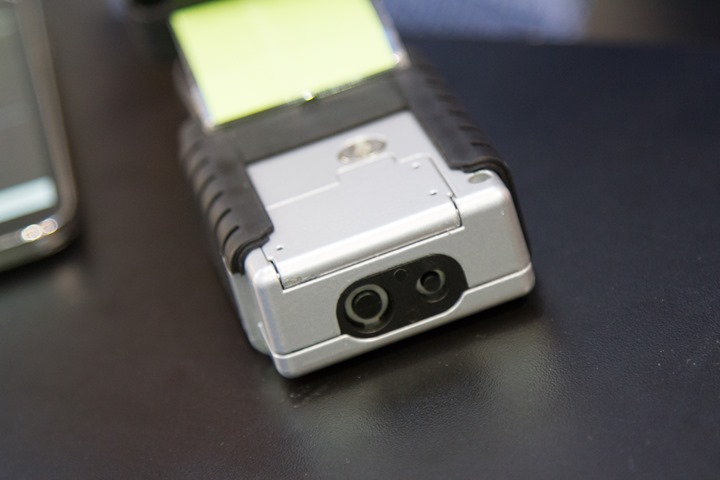 They've also introduced an interesting locker mode, which allows you to use the smartphone app to 'share' access to the bike. For example for friends and family.  You can give time-limited access as well.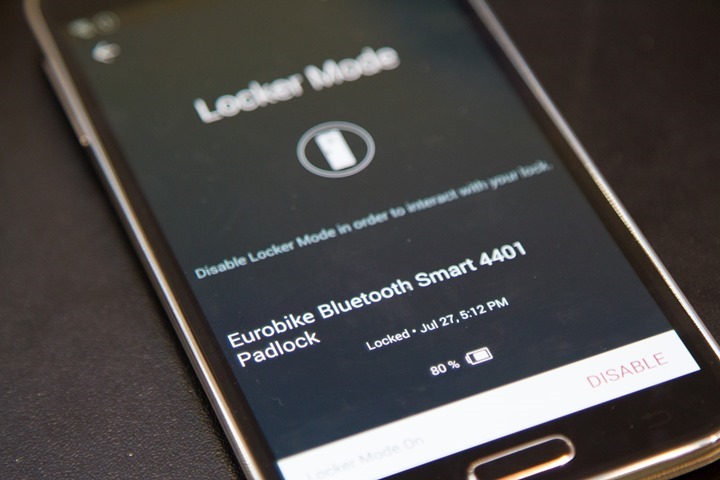 Pretty cool stuff.  The unit will cost about 140EUR, and be available by November.  The unit uses a simple 9V battery, which they say will last about 5 years.
Garmin Varia Lights:
Next we've got the Garmin Varia lights, which are connected via ANT+ to your head unit.  This is actually the first time I've seen them in person, so it was interesting getting a handle on the size.  Previously they've only ever showed computer generated imagery of them.  The Garmin lights are a bit more advanced than any other connected lights (including the Bontrager system) in that the (front) beam direction will automatically shift based on your speed.  Further, it utilizes the light sensor on your head unit to determine how much light to emit.  Also, it'll automatically change brightness if riding during the daytime and you go into a tunnel.
Meanwhile, here's the connected tail lights.
The taillights also have a left/right turn signal function, which can be triggered by the lighting remote control (by my count, we're up to three different Garmin cycling remote controls: Edge Remote, Varia Remote, VIRB Remote).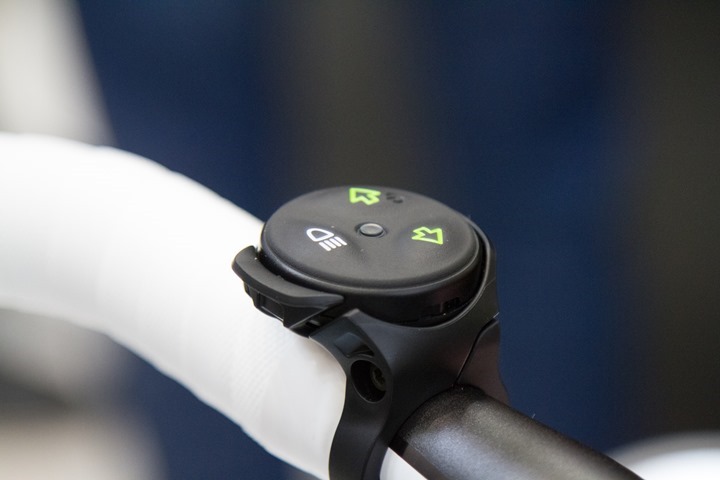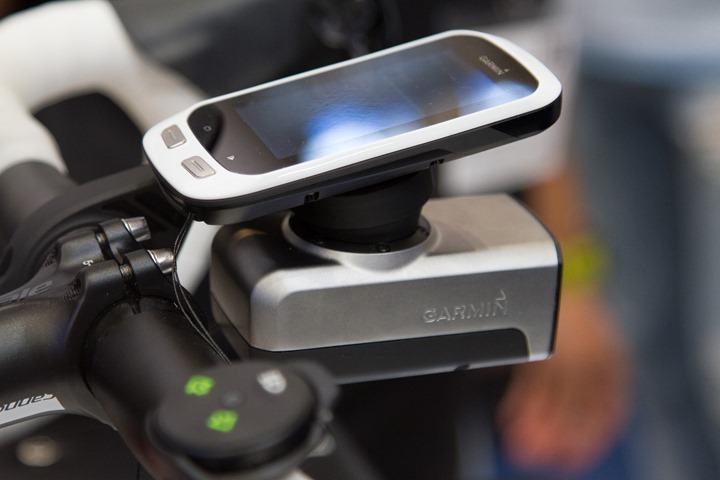 My only thought on these though was the size – they're collectively a bit bigger than I anticipated.  Especially the front, but also the rear as well.  Obviously since I just saw them here, I haven't had any on-road time so can't really saw how well they work one way or the other.
Lightweight Connected Wheels: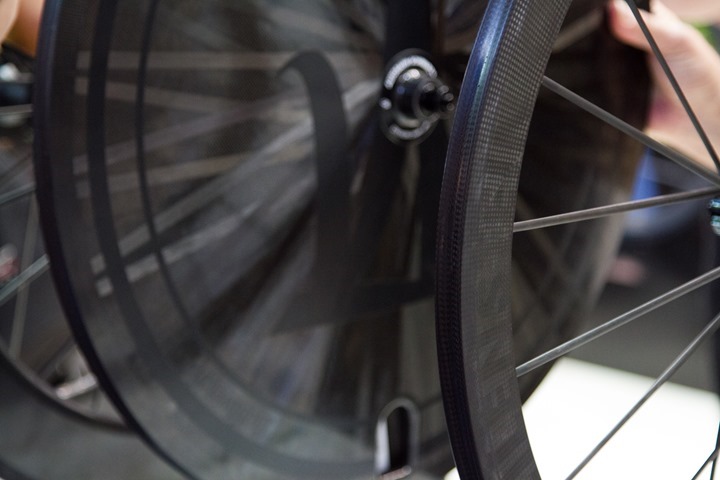 You'll remember last year that Lightweight had showed off some ANT+ connected wheels which included stats like tire pressure and tire temperature.  Well, these were gone this year.  I asked about them and was told that essentially the project is on a low-priority status, so not to expect anything near term.
—
With that, thanks for reading!  If you're looking to burn a bit of time, here's all my Eurobike 2015 posts!