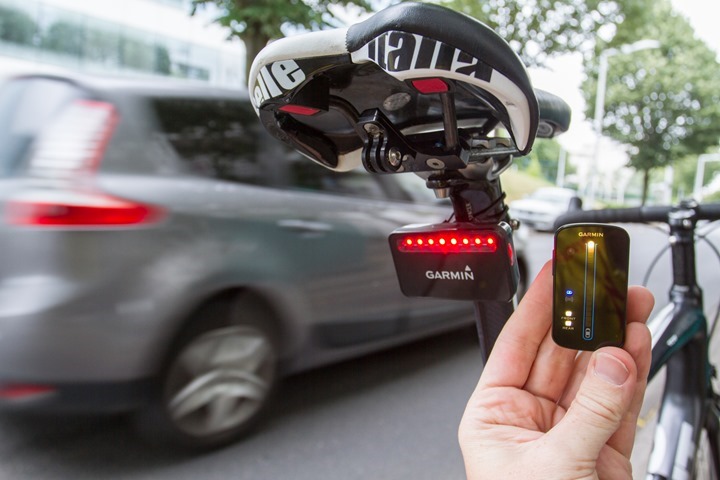 Today Garmin has introduced their Varia lineup of what they call 'smart cycling devices'.  This marketing terminology basically translates to connected bike lights and a bike radar system.  These two products connect to Garmin Edge cycling computers for additional functionality.
At the core there are two products in the announcement:
Varia Rearview Bike Radar: This is a radar system you mount to the back of your bike that warns you of approaching cars.  It then integrates with a small handlebar unit or your Edge to display car information.
Varia Smart Bike Lights: This is a front and rear bike light set that can automatically adjust brightness and angle of light based on GPS speed information.
Within these two product sets I've had hands-on time at various points with the radar system, but no hands-on time yet with just the light portion.  Thus, most of this post will focus on that, since that's what I know the best.
With that – let's dive right into things.
The Varia Bike Radar:
Now, those of you astute readers may remember that Garmin acquired a bike radar company earlier this year – iKubu – which made the Backtracker bike radar system.  That radar system was announced as a crowd funded project one year ago this month.  I actually tested that prototype device on a few rides and was very impressed with how well it worked given how early in the product cycle they were.  Here's the device it started from: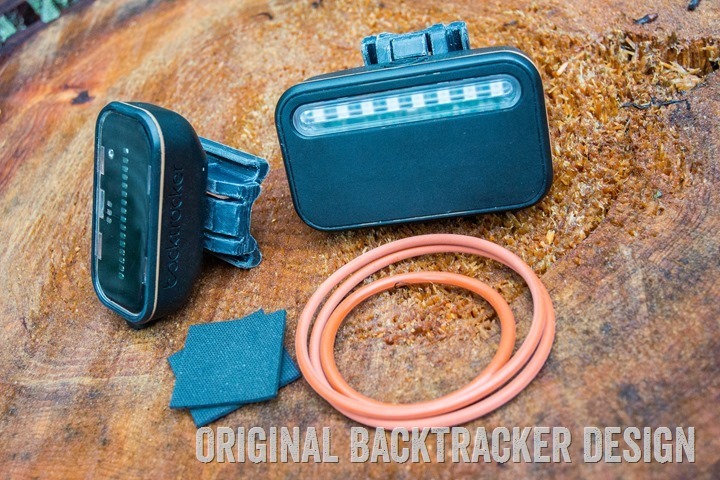 Following the January announcement, things went pretty quiet – which is totally normal for an acquisition.  What isn't normal for any tech acquisition is how quickly Garmin has turned around to release a product on it.  Just 7 months since acquisition to product announcement is pretty unheard of.
Nonetheless, here it is: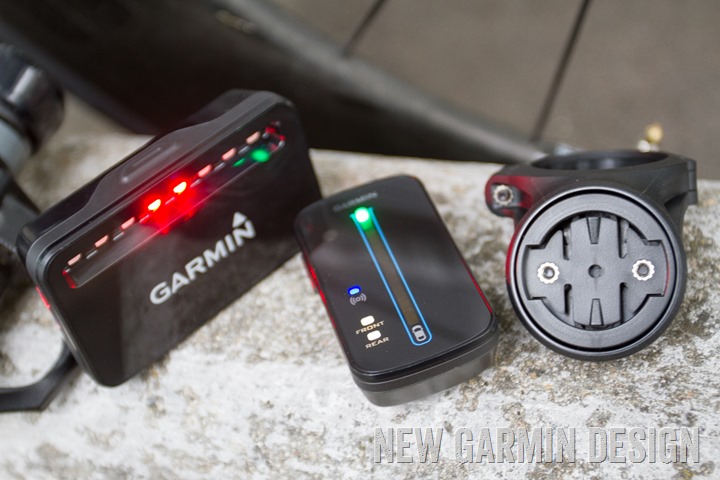 This new product looks similar to the initial prototype, except shrunken down and cleaned up.  You'll notice that the mount now takes the form of the Garmin Edge quarter-turn mount.  This is great in that it allows 3rd party companies to develop other mounting options for specialty bikes.
By default, the unit will ship with mounts for rear seat posts of both rounded and aero varieties.
So how does it all work?
Well first you've got the radar piece that sits on your rear seatpost.  This in turn detects approaching cars from behind and transmits that information wirelessly to the front display unit.  That display unit can be either the included small bike-computer looking display, or, it can also be certain Garmin Edge devices.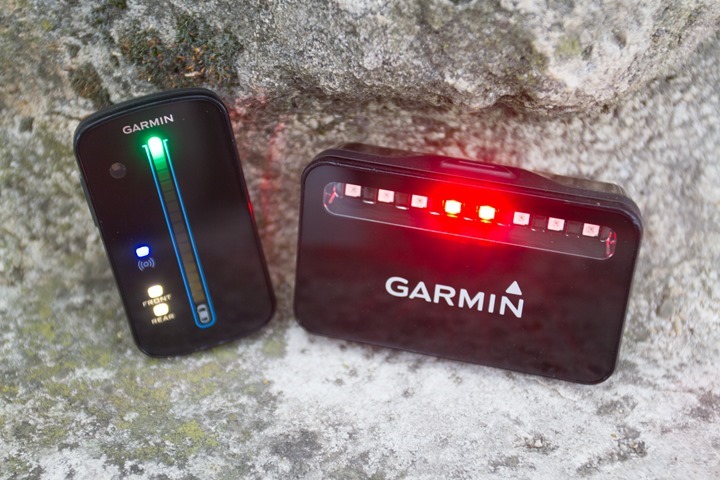 The rear radar also has a bike light of sorts built into it.  You can keep it set for constant-on or flashing, and when no cars are around it'll act just as a normal light in that respect.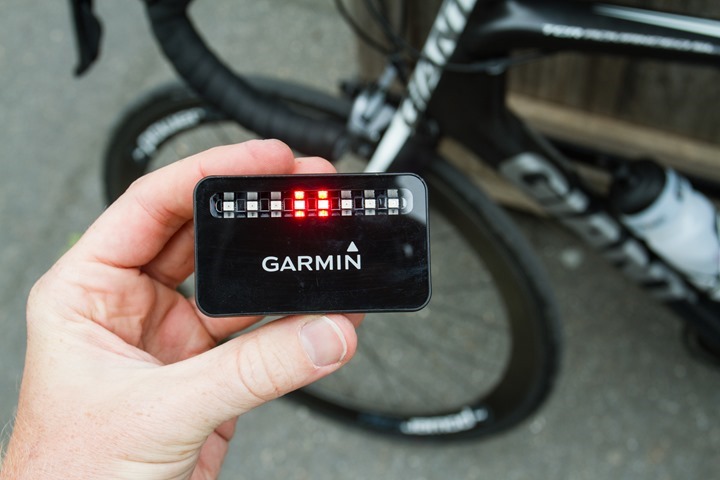 But, as a car approaches it'll start to slowly increase in horizontal width – expanding (and blinking) to warn cars that you're there.  The closer the car gets, the more vigorous it blinks.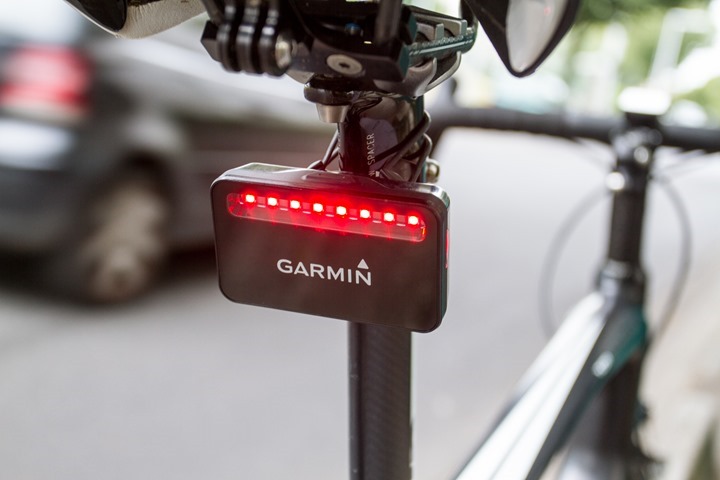 Meanwhile, up on the front display it'll show you where the car is, and the little yellow dot will slowly move towards you (the top).  The system can handle multiple cars, and will show one dot for each car.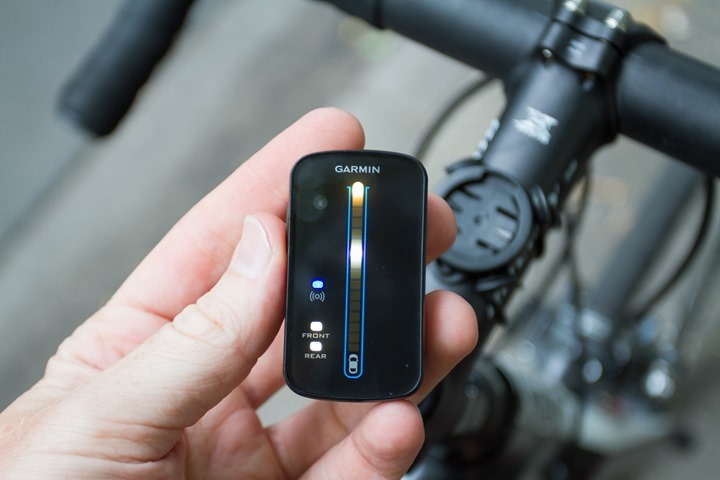 Once the car passes, the system will turn green.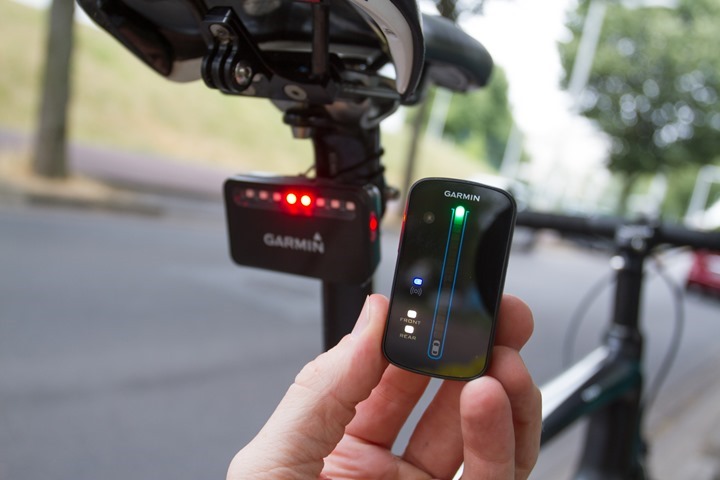 In many ways, the system is easier to explain and demonstrate in person – thus, I've put together a bit of a video showing how it all works:
As you can see, it doesn't detect false positives like trees, poles, or even parked cars.  In fact, you'll see at one point as the car (and bus) go into park, they effectively drop off the radar system – ensuring your not getting all sorts of useless data points.
Both of the units charge using a standard micro-USB port, so easy to charge: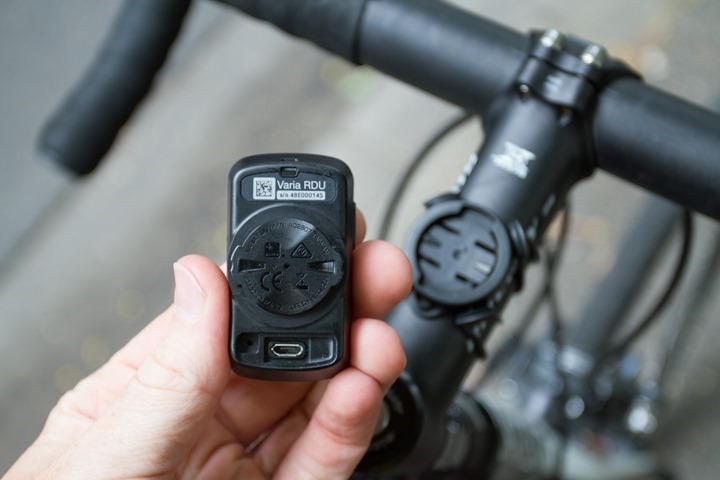 You can see below how the system looks on the Edge 1000, which probably gives a bit of insight into the integration on other Garmin Edge devices: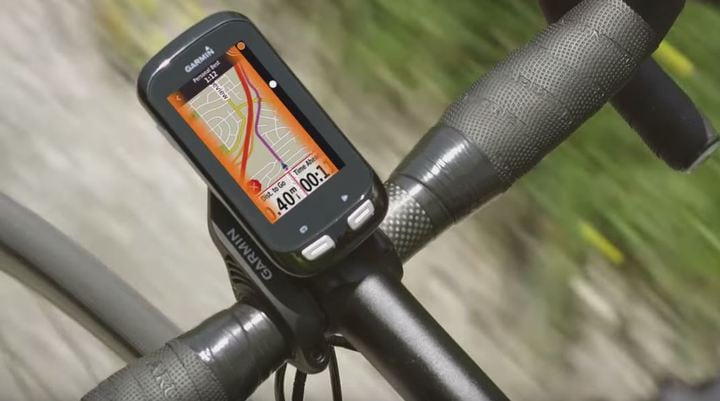 You can see it shows the same light system along the right side of the Edge device, ensuring you don't need to have multiple devices on your handlebars.
The price for the radar is $199 not including the display, or $299 including the display unit.  The point there being if you already have a Garmin Edge that's compatible you don't need to purchase anything else.  Both units are expected to start shipping in Q3 (by September 30th).
The Varia Smart Bike Lights:
Next we've got the Varia Smart Bike Lights.  These lights follow in the footsteps of the recently announced Bontrager (different company) smart bike lights, which connect via ANT+ to a small head unit.  In that vein, the Garmin variant steps up the game by adding in integration with the Garmin Edge GPS units.
The front and rear lights feature the following functions:
Front Light: The beam will automatically adjust focus point based on your speed.  This means that as you speed up, the beam adjusts to aim further out (since you're covering ground faster).  Additionally, the light will automatically illuminate based on the ambient light sensor within the Edge 1000.  This means if you go through a tunnel on a bright sunny day, it'll instantly turn on.
Rear Lights: This can be installed as an individual or a pair.  In a dual configuration it'll act as a turn signal – based on data from the Garmin Edge unit when you're riding a course.  Additionally, it has the same ambient light feature as the front light.
Additionally, the units can be controlled via the Garmin Edge remote (that's the tiny little pod you can place on your handlebars).  From a brightness standpoint, the front light has a brightness of 100 lux at 10 meters.  As part of that brightness it'll automatically reduce brightness as a car approaches, to prevent blinding the driver.
On the rear light, it has both a steady and flashing mode.
As noted earlier – I haven't really had any time with these lights – so I can't comment first-hand on how well they work, or provide much more detail on the integration.  Don't worry, in due time I definitely will.
The lights will also be available in Q3, with a price of $199 for the front light, and $69 for the rear light.  Or, as a bundle for $299 including the Varia remote.
Final Thoughts: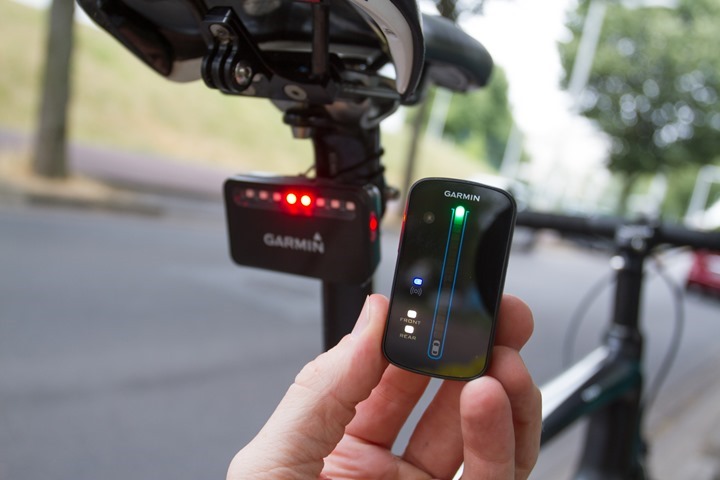 Overall I'm impressed with how quickly Garmin has brought this product to market, and, as I noted a year ago – I'm impressed with how well the product works (the Varia bike radar piece).  While it's probably debatable if it'll protect you from getting hit by a car, it's certainly something that can increase awareness on both sides of the equation.  As a cyclist you won't have a car sneak up on you, and as a driver – the vigorous blinking will serve as a secondary reminder of the cyclist.  Price-wise, the radar seems to be priced quite reasonably.
I think the Edge integration is precisely what this product really needed a year ago when it was all solo-cup by itself as a separate company.  By adding that integration they start to get into some potentially really interesting scenarios (for example, one could do VIRB Action Camera integration on approaching cars as a safety option).
On the separate bike lights, they too are interesting – but I'm worried that the lights are priced a bit high – especially the front light.  That said, I think the rear back lights having turn signals is definitely kinda cool, though whether or not a driver would notice/realize it is another question entirely.
With that – thanks for reading!  And as always feel free to drop any questions below and I'll try and get them answered.
—
Support the Page! If you found this information here useful, you can help support the site by pre-ordering the Varia Smart Bike Lights & Radar through Clever Training!  The radar system is available here, and the bike lights are available here. In addition, if you're a member of the DCR/CT VIP Program – you'll save a bundle as well!