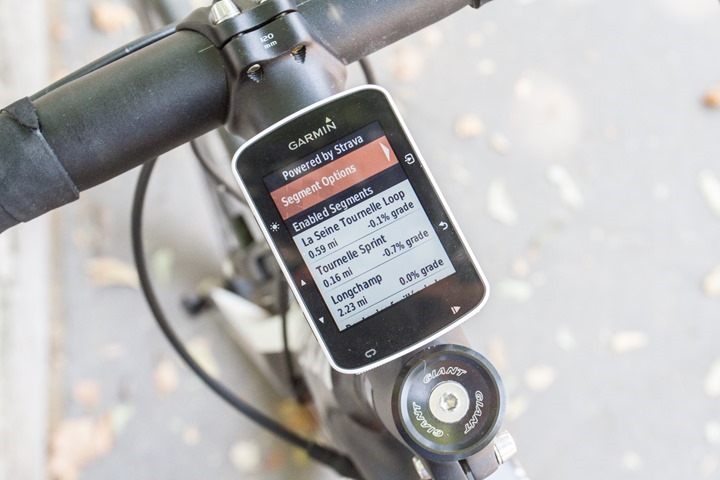 Note: As of August 25th, 2015 Garmin has now released firmware updates for the Edge 510, Edge 810, and Edge 1000. You can use Garmin Express (desktop app) or the Garmin Webupdater (also desktop app) to install these.
In addition to all of the Garmin new devices that have been announced today, they also announced support for Strava directly on your Edge handlebar unit.  This functionality allows you to race against various Strava course records to try and beat them, all while giving you updated status each second of the way.
While one might have assumed this would only be added to the just announced Edge 520, this is actually coming to a host of devices – including the Garmin Edge 510, Edge 810, and Edge 1000.  All of these devices will get an update in Q3 (so between now and the end of September) that enables this functionality.
I've spent a bit of time with the Edge 520 using the functionality on a handful of segments nearby me, so I've got the gist of things.  Given the screen real estate of the Edge 520 is the smallest of all of the supported units, it's fair to assume the experience will be pretty similar on the larger units.
Finally, before we get into all the details, it's worth noting that the Live Segments functionality is only available to Strava Premium members.
How it all works:
So how does it work from a technical standpoint?  Well, first off you've basically got two pieces at work here: The Strava site, and the Garmin Edge unit.  In between those two acting as a middleman is the Garmin Connect platform.
First, starting on the Strava side it'll prepare segments to load onto your Edge device with the following conditions:
A) Any segments you've starred (favorited)
B) Any segments you've set a goal on
C) A small collection of dynamically curated segments from your city
The first two are fairly straight forward.  This means that if you've got those segments that are marked as favorite or ones you want to do better on, it'll mark those for Garmin to send to your device.  Meanwhile, the third one is where Strava does some calculations behind the scenes and comes up with a handful of segments that are interesting in your area.  Usually less than 20 segments – they've said they're aiming for quality over quantity.  The area of interest is defined by what you've set in your profile.
Now that we know what segments will show up, Strava essentially puts that in a FedEx package for Garmin.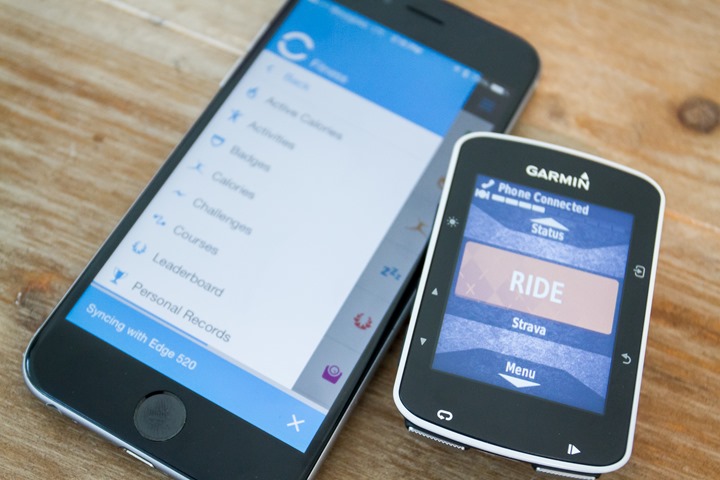 Next you take your Edge device and connect it to Garmin Connect.  This can be done in one of three ways: Bluetooth Smart (via your phone and Garmin Connect Mobile), WiFi (via WiFi network), and USB (via Garmin Express software).  This provides the highway that your Edge device needs to download that package from Strava.  Obviously, not all devices have WiFi, so that'll vary by device.
Anytime your device connects on one of those three avenues it'll download the segments to your device.  But what's included?
Well for starters, you'll get elevation information about the segment as well as a map of the segment.  This of course also includes the segment length.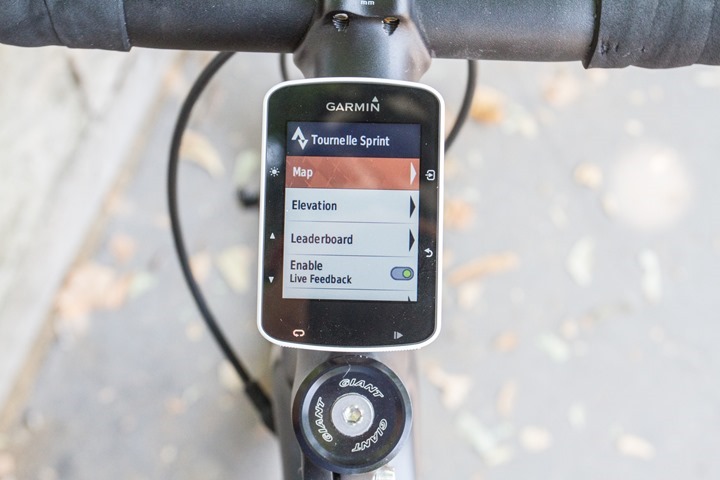 Additionally, you'll get leaderboard information.  The leaderboard info will include the segment leader (KOM), as well as information about the efforts of those that you follow.  And of course your best effort too.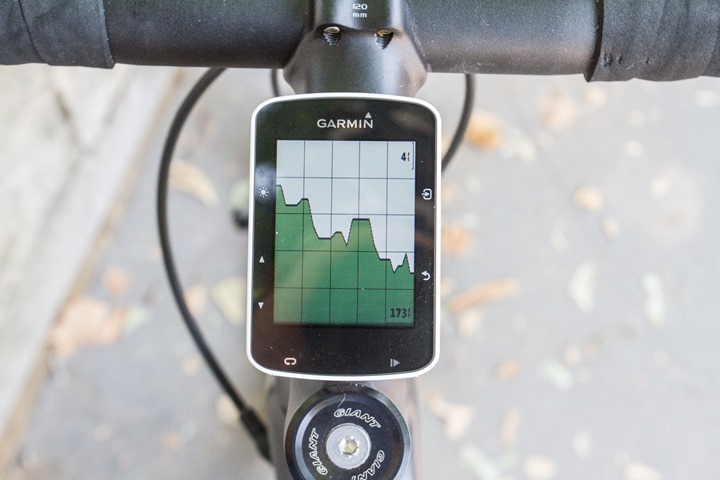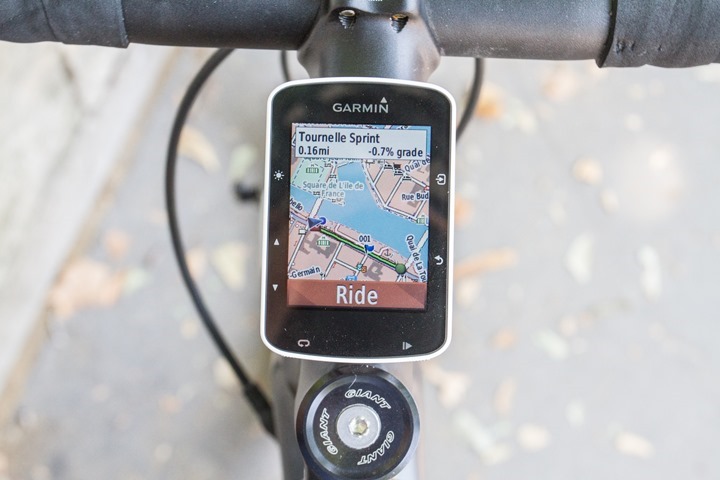 Again, all of this is pre-loaded prior to you pressing the start button on your ride.  During the ride itself it isn't real-time, nor is it pulling up random segments based on your exact location during the ride.
On the Edge you can enable or disable given/cached segments if you don't want them to trigger.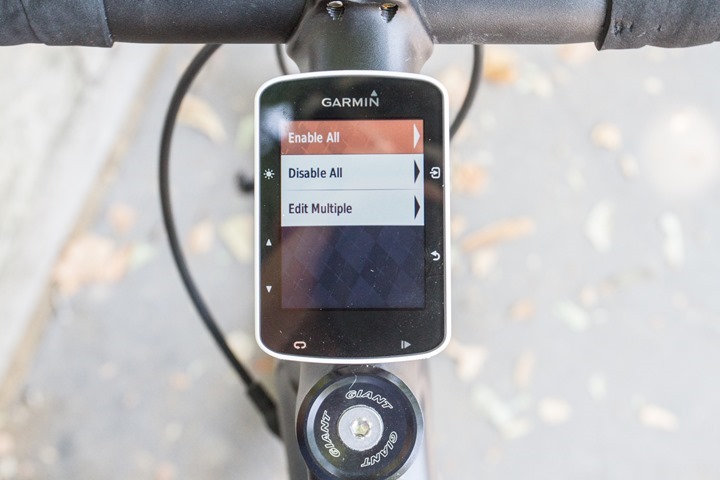 With all the prep work taken care of we head out for a ride.  There's nothing you need to do to 'start' a specific segment, that'll happen automatically.  Interestingly – the segments will display on your map – so it makes it a bit easier to find them.
As you're riding around town, the unit will automatically trigger as you near a segment.  In doing so it'll show you how much distance is left until you start the segment.  A countdown essentially: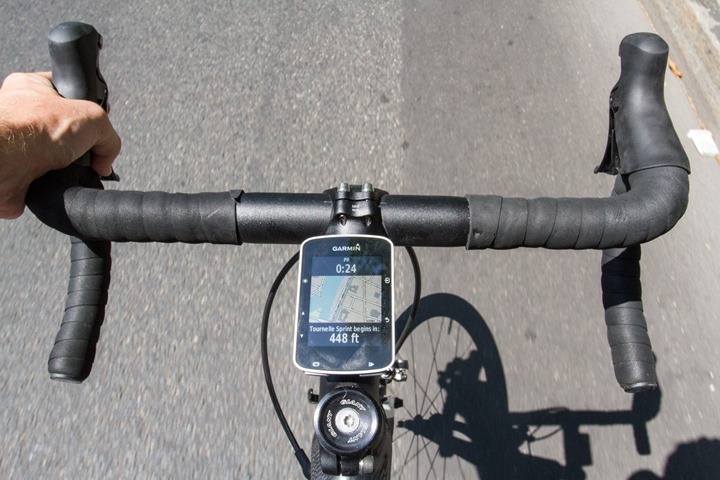 Next, as you pass the starting point it'll trigger a 'Go' and then start to give you real-time pacing: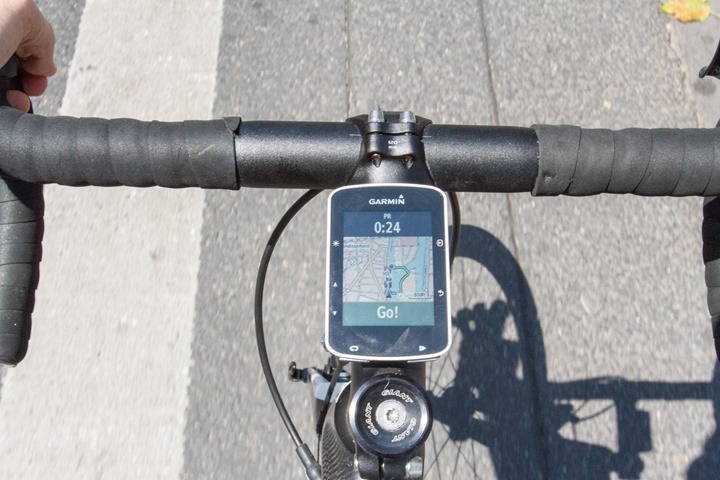 As you complete your effort it'll tell you how far ahead or behind you are.  Additionally it'll show you how far until the end of the segment.  Finally, up top it'll show you your goal, PR or the KOM.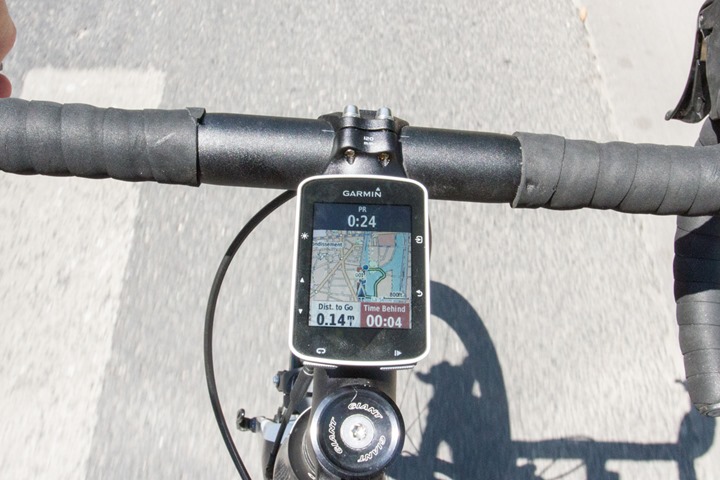 Next, as you finish the segment it'll let you know if you managed to hit a KOM or not, as well as information about your goal and a rival (i.e. a person you follow).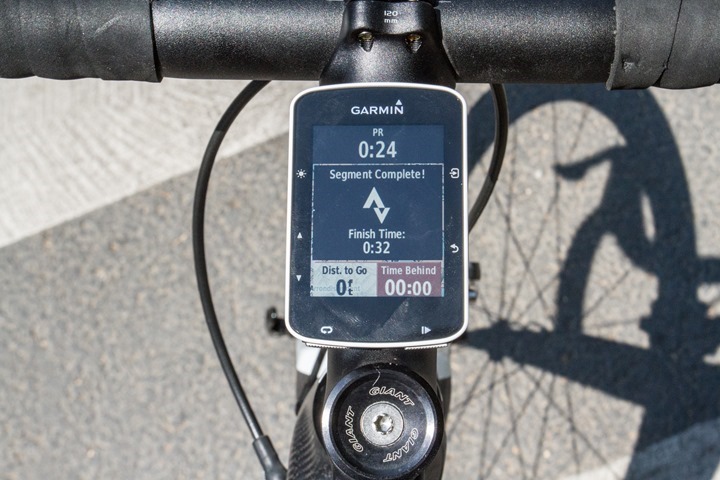 Here's a couple of other screenshots illustrating it if you happen to get a KOM:
Finally, now that you've finished the segment you can go about hunting for more segments.
Now the results aren't uploaded instantly – but not until you complete your ride and sync your device.  So it is plausible someone could best you while you're out riding around or eating ice cream at the corner shop mid-ride.
Once you end and save the activity (ride), it'll then automatically transfer the workout to Garmin Connect and onwards to Strava.  This is done via USB/Bluetooth Smart/WiFi, just like normal.  This particular piece hasn't changed any.
Upon completion of sending your ride over, it'll grab the updated leaderboard information as well from Strava.
Again, this functionality is coming to the Edge 510, Edge 810, Edge 1000 and of course the Edge 520 seen here.  It is NOT coming to the now 4-year old Edge 800 or the 6-year old Edge 500.  Also note that you DO NOT have to have a smartphone for the Edge 510/520/810/1000 to make it work with the segments, everything can be done via USB using your computer and Garmin Express.
Summary: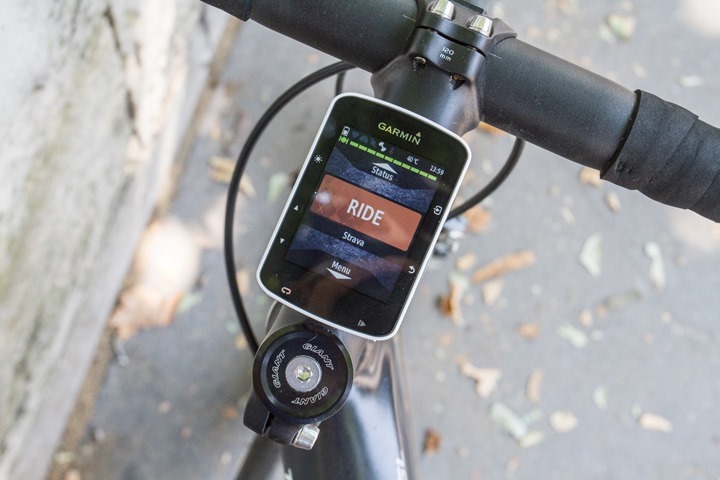 Overall this is definitely super cool – especially for those who are really into Strava.  The display of the segment times is very much like how it worked on Garmin Connect segments, except now for Strava.  Ultimately, that's what everyone wanted anyway.  I'm not really sure who actually competed on Garmin Connect segments – it'll be interesting to see if Garmin bothers to keep those around.
Obviously in the realm of technology this is a huge step forward for the two companies.  But it also leaves open a lot of potential for future integration.  For example, the ability to have all of this happen 'live' via your phone as you ride along.  For example on a ride I could wander in any number of directions, and stumble into any number of segments that weren't part of the dynamically selected ones.  So it'd be great to have that happen just using the data link on my cell phone.
While there might be some that complain about the Strava Premium membership only, I think it's a fair tradeoff – and will be interesting to see how much it drives Strava subscriptions.
Lastly, it's really cool here to see Garmin backport this to the Edge 510, 810, and (to a lesser extent), the Edge 1000.  The Edge 510 & 810 are 2.5 years old, and many times companies might have just said new devices only.  Meanwhile, the Edge 510 & 810 have received an impressive list of features over the years – from Di2 support to Cycling Dynamics and action cam control.  And a gazillion more items listed on the update page.
With that – thanks for reading!  Feel free to drop questions below, and I'd be happy to try and get them answered.