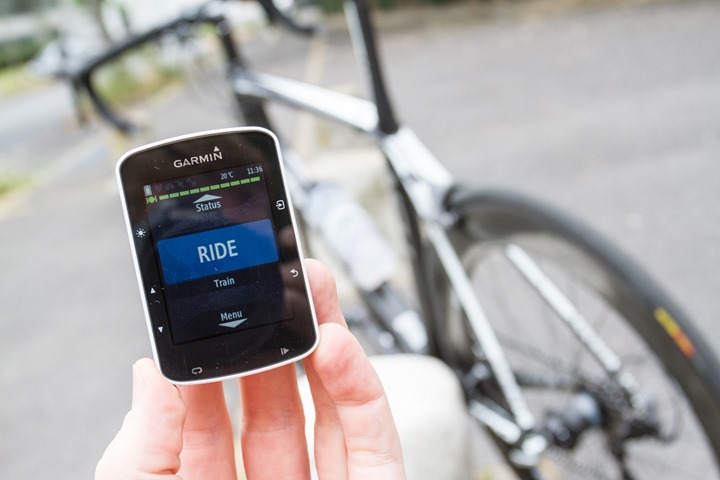 Today Garmin announced their latest bike computer, the Edge 520 – priced at $299USD.  This GPS-enabled unit instantly becomes the most advanced bike computer that Garmin has ever released, adding support for a flotilla of new features.  But fear not, owners of the Edge 1000/810/510 and even last week's Edge 25 are getting some of these new features too.
In addition to the Edge 520 announcement, Garmin also announced a new bike radar and bike light system, which I've covered in a separate post.  Further yet, they've announced deep integration with Strava for a number of devices (including the new Edge 520).  I talk about the Strava integration later in this post, but also in more detail in a separate dedicated post.
With that, let's get into the details.
What's new in the Edge 520: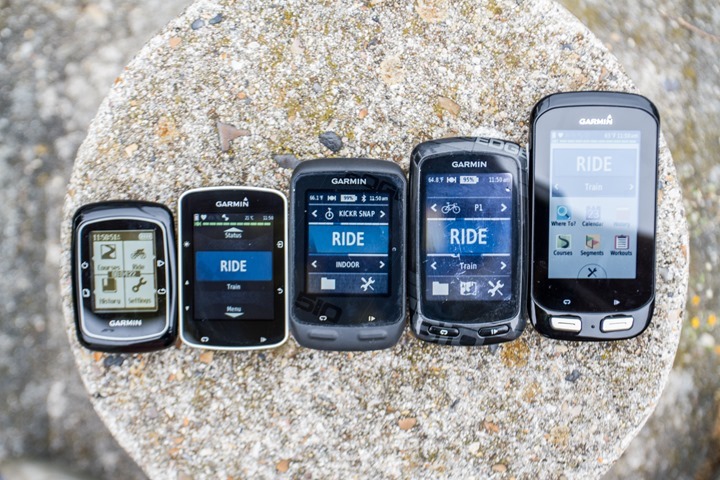 (Left to right: Edge 200/500, Edge 520, Edge 510, Edge 810, Edge 1000)
As I noted earlier, this is without question the most new features we've ever seen come to a bike computer – Garmin or otherwise.  It's like they've been saving up for the past 6 years since the release of the original Edge 500, and decided to cash out in one big swoop.  Some of the below have been added to other product lines (i.e. the Edge 1000), yet others are new altogether.  So I'm sorta using the Edge 500/510 as the baselines, and noting when and where there are variances.
Here's the skinny:
– Added on-device Strava Segment integration
– Added basemap to device
– Added ability to download 3rd party detailed maps
– Added Bluetooth Smart Text & Call Notifications (previously on Edge 1000)
– Added Recovery Advisor metrics (previously only on some Running/Tri units)
– Added VO2 Max Estimation (previously only on some newer Garmin units)
– Added FTP tracking and testing
– Added Personal Records
– Added Cycling Dynamics metrics (previously only on some newer Garmin units)
– Added ability to control Garmin Varia bike lights
– Added integration with Garmin Varia bike radar system
– Added ANT+ FE-C Trainer Control
– Addition of GLONASS support (was in Edge 510, but not 810 or 500)
– Time in zones (first seen on the FR920XT/Fenix3)
In addition to the above, when compared to the Edge 500, you'll find these new features that have been added to most Garmin devices as of late.  These are all present/added on the Edge 520:
– Integrated Live Tracking with phone
– Integrated Bluetooth Smart uploads to your mobile phone (and then sync'd to Strava/Training Peaks/Sport Tracks/etc…)
– Ability to download courses and workouts from phone to Edge 520
– Sensor pool concept & Activity Profiles (no bike profiles)
– Support for Edge Remote Control accessory
– Support for Shimano Di2 integration
– Support for Garmin VIRB control/integration
– Added Training Calendar support
– Added Auto Sleep option (turns off if not used for a while)
– Added Lap summary page (seen on Edge 510/810/1000, but not Edge 500)
– Support for ANT+ sensor types: Cadence sensors, Heart Rate Sensors, Power Meters, Speed Sensors, Speed/Cadence Sensors, VIRB action cams, Weight Scales
Now, there are a few things that have been missing from various recent Garmin units, so I double-checked to see if those were there.  They are as follows:
– ANT+ Weight Scale support was kept
– Sharing of files between units directly was kept
– Auto Lap by Position is present/kept
Phew, I think that about covers it.  Well, I hope it does anyway, if not, just drop a specific feature into the comments section and I can clarify.
Before we get into all the details, here's a video walk-through I've put together of the Edge 520.  It covers pretty much all of the major new features and lets you see how you interact with the device:
From here let's dig into some of the major features.  I'll of course go into much more detail in my eventual In-Depth Review, which is typically about 30-45 days after the unit starts shipping – once I have final production hardware and firmware.
Basic Use and Menus:
Let's start off with a few of the basics on use of the Edge 520.  First is that the unit has a slew of buttons, and is not touchscreen.  The buttons are as follows:
Upper left: Light & Power button
Middle Left: Up selection button
Lower Left: Down selection button
Bottom left: Lap button
Bottom right: Start/stop button
Upper Right: Select button (for menus)
Lower Right: 'Back' button (for menus)
It'll take a tiny bit of time getting used to the different buttons if you've come from other devices (even Garmin devices), most notably the lap and start buttons being on the bottom of the device.
Next, the home screen is aligned vertically in that you go up/down to the various functions.  In the middle you've got 'Ride', which is where you start a ride.  Down one option is all of the training and settings functions – such as following a course, doing a structured workout, or controlling a trainer.  As well as the settings menu.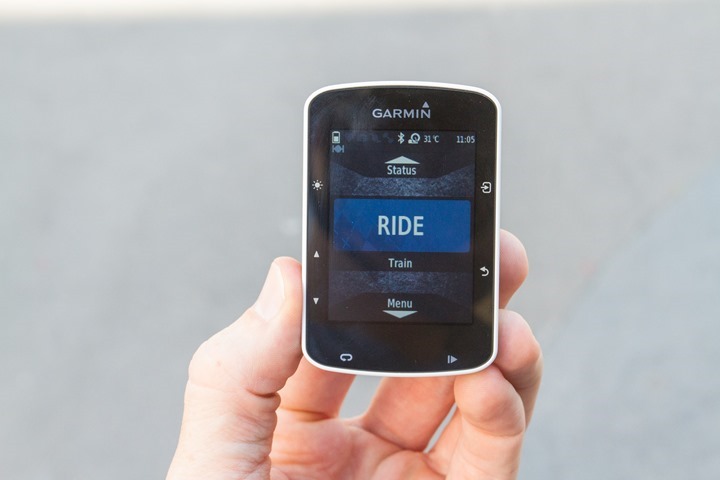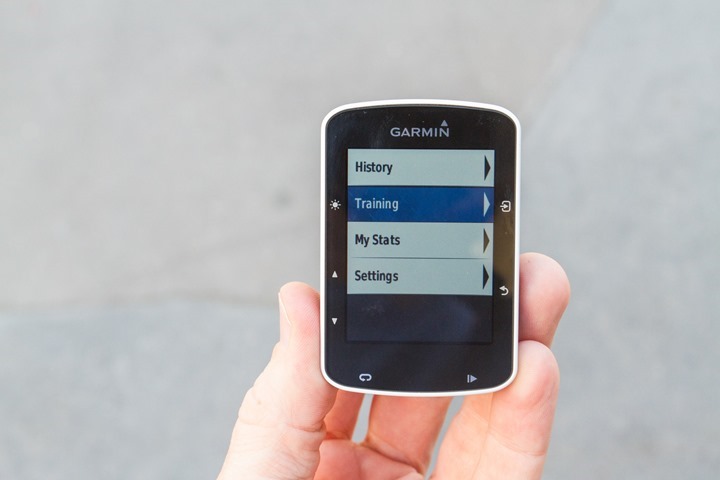 Meanwhile, if you scroll up you'll get to the 'Status' menu.  This menu shows aspects like screen brightness, GPS signal strength, sensor connectivity and mobile phone status.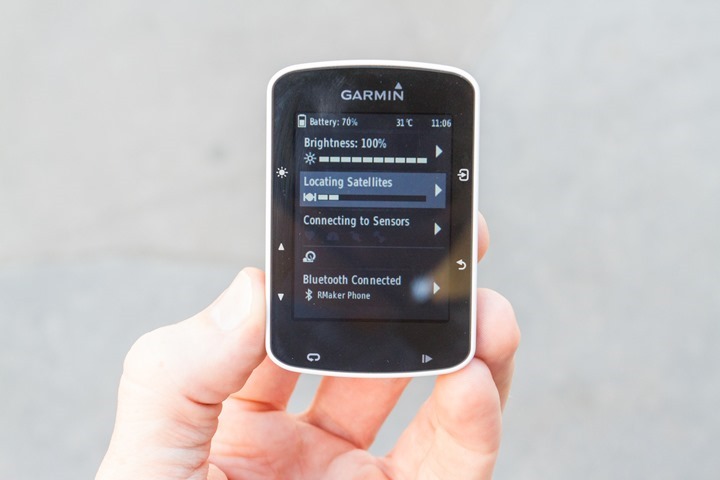 To start a ride, we'll just select the 'Ride' button.  From here it'll ask us what Activity Profile to use.  Activity Profiles were introduced with the Edge 510/810, and were designed to allow you to group settings such as data page configuration into a tidy bundle.  In my case, I've got a default Train option, and then a custom one I created called 'Strava'.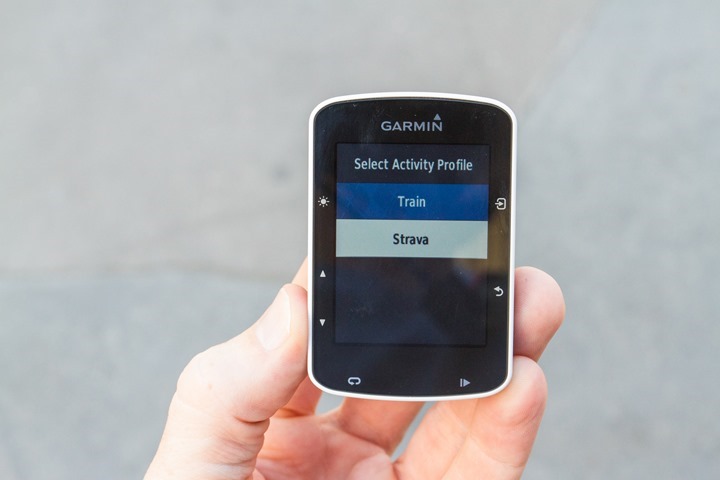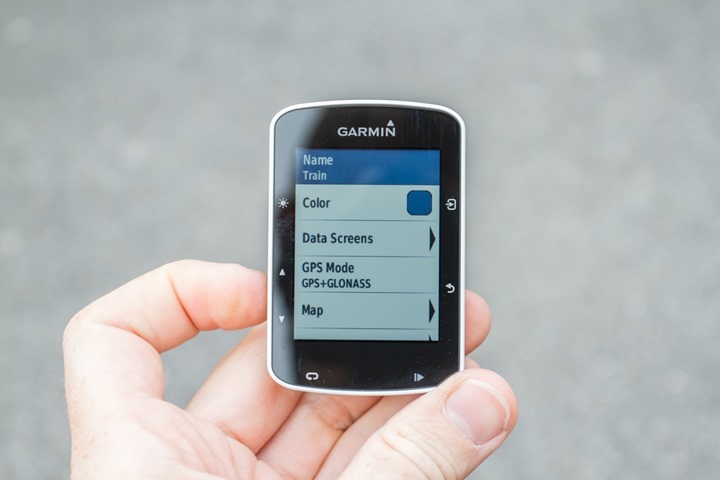 After selecting a profile you'll be brought to the familiar data screen page.  Meanwhile, the GPS chip goes off and finds satellites.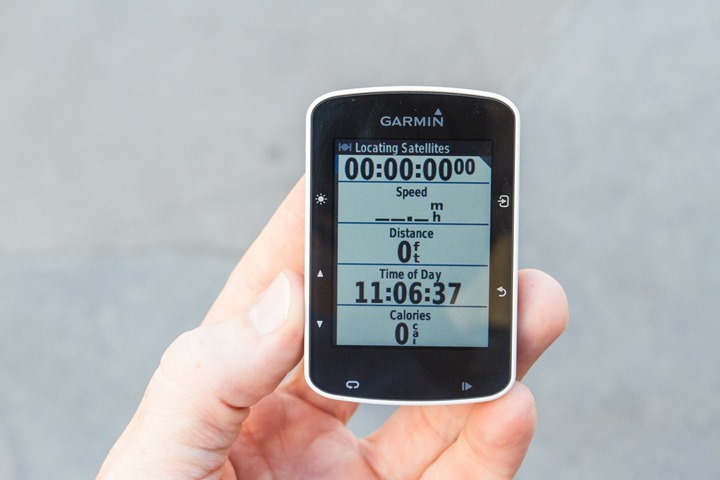 You can of course customize these pages with up to 10 data fields per page, and up to 5 pages (+ the Map, Compass, Elevation, Lap Summary, Virtual Partner, and Cycling Dynamics pages).  Here's a few pages: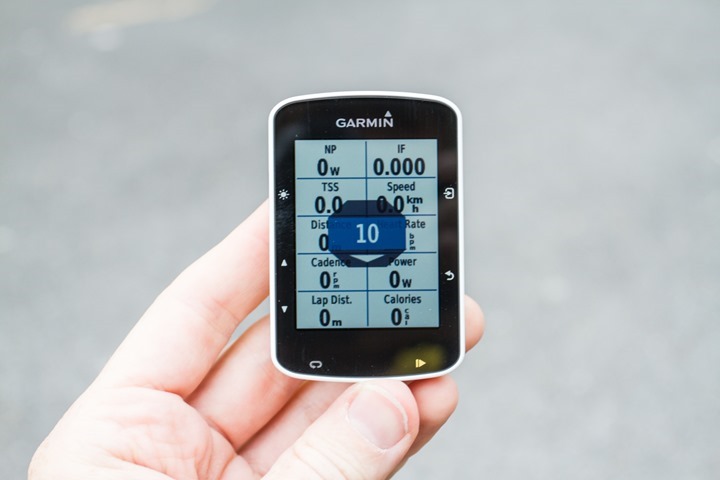 New to the Edge 520 is a bit of a quick access menu, which is accessible by pressing the upper right button.  This will bring up options for configuring in-ride settings, such as alerts, data fields and the elevation.  As well as the Status menu/page we talked about a few paragraphs ago.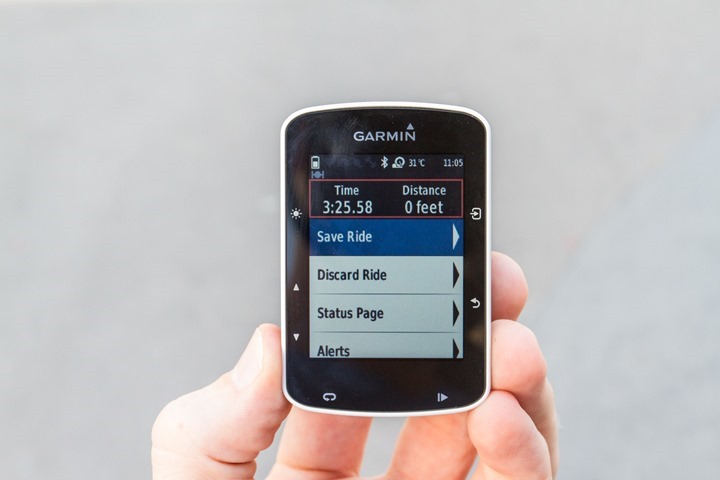 In addition to the regular data pages, you'll also have pages you can enable for Garmin Cycling Dynamics (Vector/Vector2 users), as well as the new map page: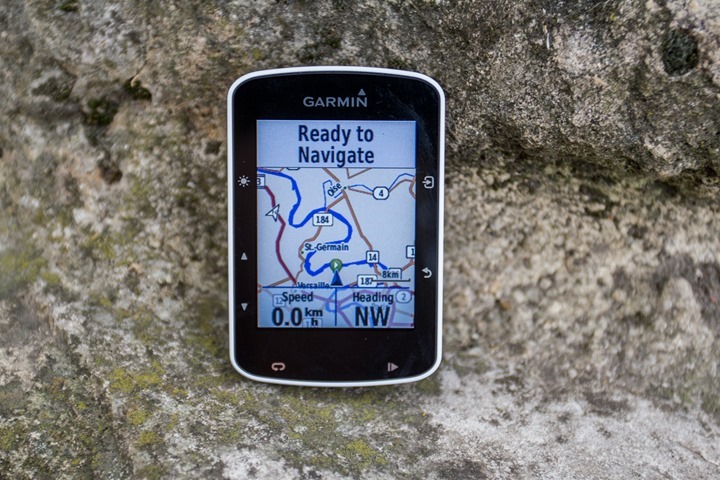 Post-ride there are some new metrics that haven't previously been seen or offered on the Edge series.  For example, you've got recovery time.  This started with the Garmin Forerunner series and has expanded to the triathlon watches: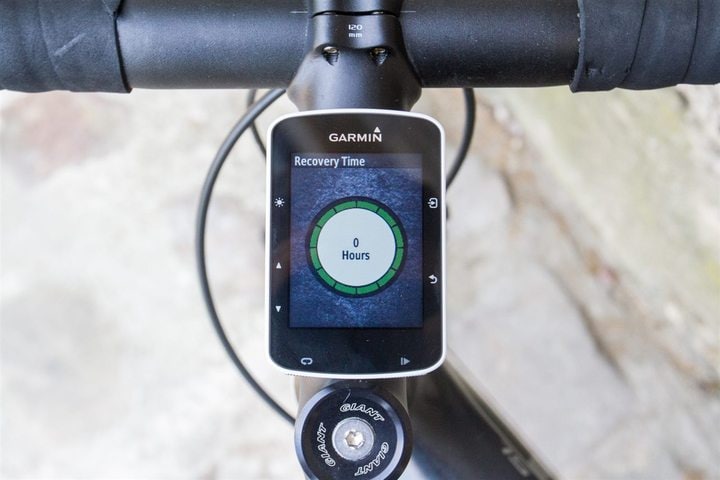 In addition, within the training options you can now automatically track your FTP levels, as well as perform an FTP test.  Pretty cool.
When it comes to riding the Edge, it'll act pretty much like any other Garmin Edge device from a basics standpoint.  The unit has a quarter-turn mount on the back of it, so it's completely compatible with any other Garmin Edge mount out there (including 3rd party ones):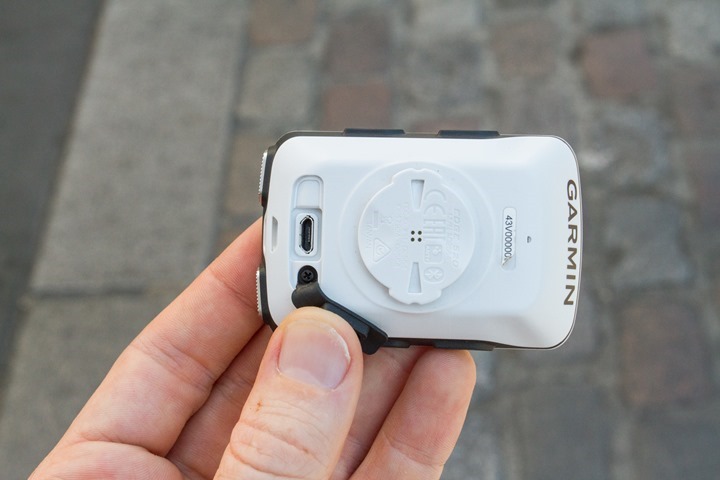 Looking at 3rd party out-front mounts, some of you have asked about how well it might fit with the bottom buttons and pressing them.  I grabbed three random mounts from my collection to try out: The Garmin forward mount, a K-Edge mount, and a Barfly mount.  Below are photos in a small gallery of all of them.
Now – here's what actually matters: Whether or not the mount is set 'down', or is 'level'.  For example, in the K-Edge mount you'll see it puts the unit down lower, which means the buttons get closer to the handlebars.  Whereas with the Garmin mount it's equal in height to the bars – so there's no button issues.
That said, in all three that I tried, I didn't have any real issues with pressing the buttons.  It might be a tad bit trickier with the sunken mounts in a sprint or something to press it, but overall not hard.   Of course, there are tons of mount variations from each company (meaning a dozen each from Barfly, K-Edge, etc…).  So you'll kinda have to use a bit of testing on any given specific model and your bike to see whether/where it fits.
Additionally, Garmin has gone with a micro-USB port for charging and data sync.  Note that the unit does NOT have an additional Micro-SD card slot though, so you can't expand the storage.
But you can also sync via Bluetooth Smart to your mobile phone (iOS/Android).  With this additional phone connectivity you gain the ability to see text messages and phone notifications directly on the Edge 520.
You can of course turn this functionality off as you see fit.  Finally note that the Edge 520 doesn't have WiFi within it, compared to the Edge 1000 which does.
Strava Segment Integration: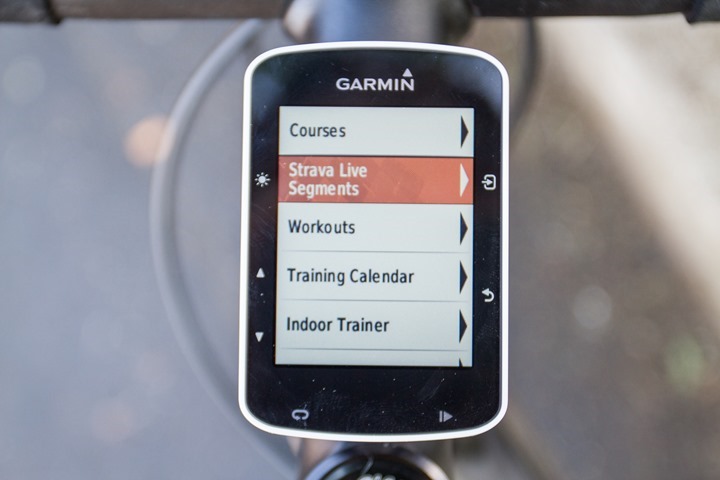 If past posts are any indication, the most desired sports tech feature out there is the ability to have Strava segments display live/real-time status on one's Garmin Edge device.  And now, that's possible.  With the Edge 520, Garmin has enabled the ability to race against various Strava leaderboard records directly on the Garmin Edge device itself.
This means you'll get status updates as you ride the individual Strava segments, such as how far ahead and behind the record your chasing:
You can specify a number of different records, be it in the KOM (King of the Mountain aka Course Record), or records of your friends, or your personal best.  Additionally, you can also race against your goals for a given segment.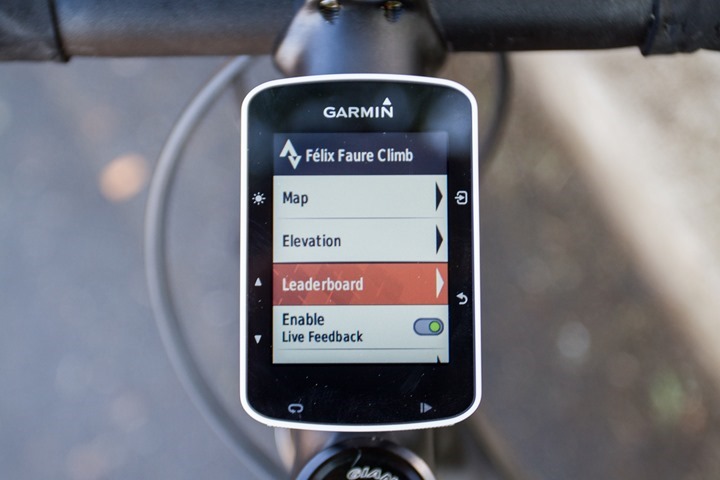 These leaderboards are automatically updated anytime your Garmin device syncs via Bluetooth Smart, USB, or WiFi (on Edge 1000), though it won't sync mid-ride.  Only before/after.  It'll sync various segments based on specific conditions and preferences.
Now, to be clear – Garmin is not the first company to introduce this.  Others (primarily apps) have had functionality like this previously.  For example, 4iiii introduced it two years ago.  Still, for most people it's having it on the Edge that they've been waiting for.
In order to give you a bit more detail on this feature – I've put together a standalone post where I walk through the entire process step by step of how it works.  You can view that here.
Oh, and one last thing: This is coming to not just the Edge 520, but also the Edge 510, Edge 810, and Edge 1000 – with a firmware update planned for Q3 (by the end of September).
ANT+ Trainer Control: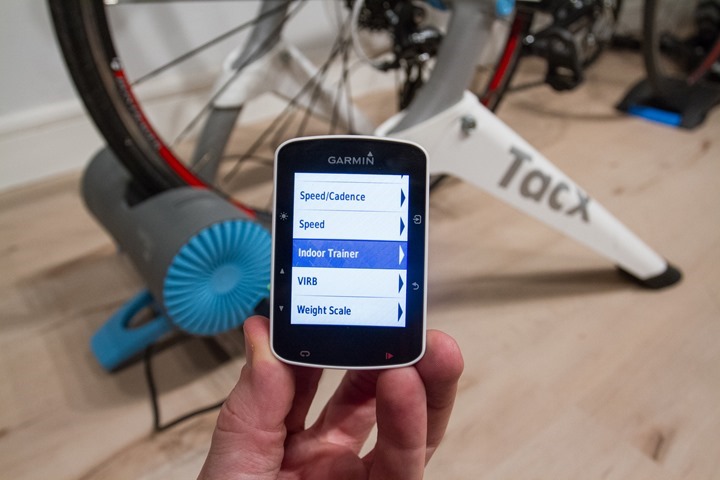 Next up we've got another new feature, the ability to control your electronic trainer directly from the Edge 520.  This allows you to set the resistance of trainers that support the semi-new ANT+ FE-C standard.  The FE-C (Fitness Equipment Control) standard enables trainer companies to allow apps and devices to set the wattage and other parameters on a bike trainer.  Only certain trainers support this functionality today, with the first units being the Tacx Smart Trainers that enabled support about three weeks ago (you can read all about that here).
Since then numerous apps have added support, including Zwift, TrainerRoad, Kinomap and others.  Additionally, other companies including Elite have stated plans for supporting it within their trainers.
As for the Edge 520, it allows you to search for and pair to an ANT+ Trainer: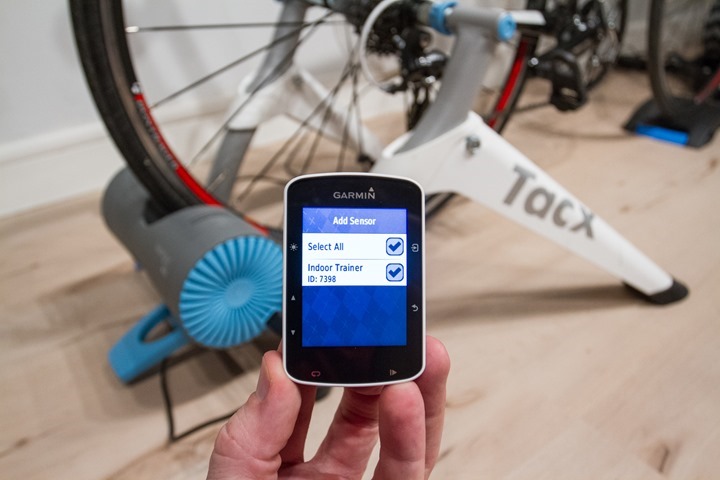 Then from there you can go ahead and complete tasks such as the normal calibration/roll-down that's usually done by most trainer apps: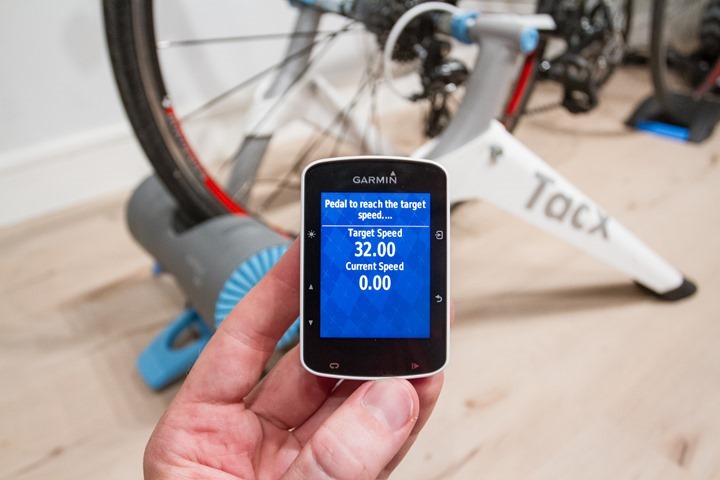 This would then report back a success or failure: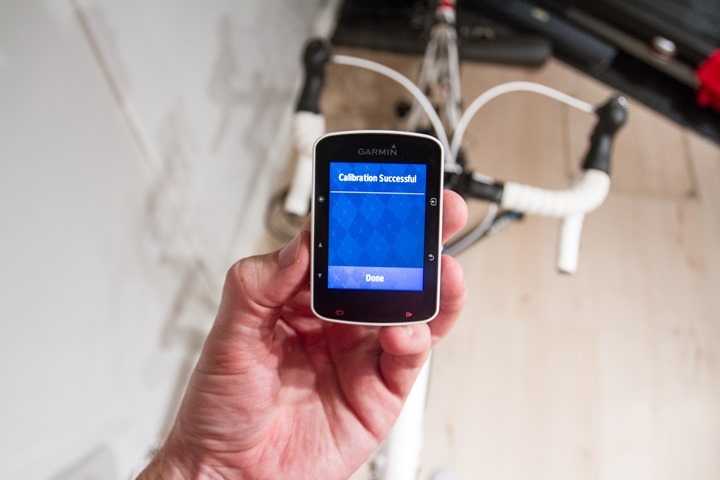 After that you've got a few options when it comes to your rides.  These are as follows:
– Follow an activity: This takes a past workout and allows you to re-ride it, simulating the elevation/incline in real time
– Follow a course: This allows you to ride a downloaded course (such as a race, route, or anything else), and changes elevation/incline in real time
– Follow a workout: This allows you to ride a downloaded workout (created on Garmin Connect), where it'll automatically change the resistance for each segment of the workout
– Specify Resistance: This will specify a given resistance level
– Specify Target Power: This is simple: You set a wattage value (i.e. 250w) and the trainer will keep that wattage
The cool thing about this is that it'll mean you can easily re-ride a given workout or race course.  That's often ideal if you're trying to learn pacing of effort on a specific route.  And no additional software is required to do so.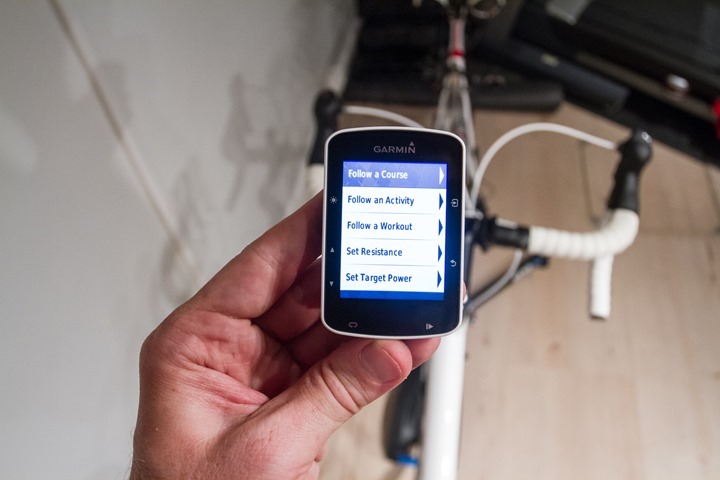 Same goes for riding a workout, it'll instantly change the power to whatever you've specified within the Garmin Connect workout file: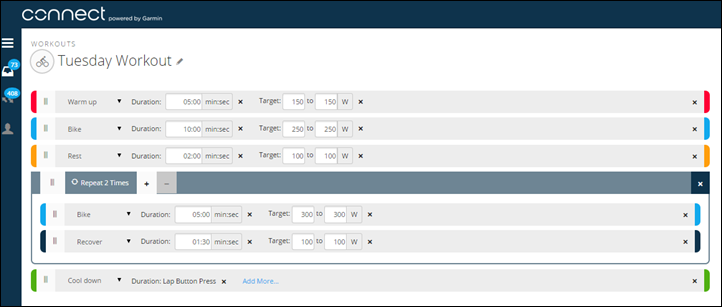 Here you can see the same thing on the Garmin Edge 520: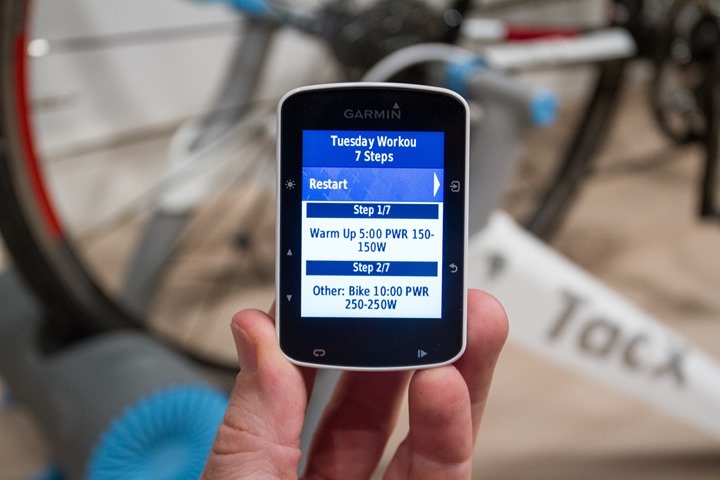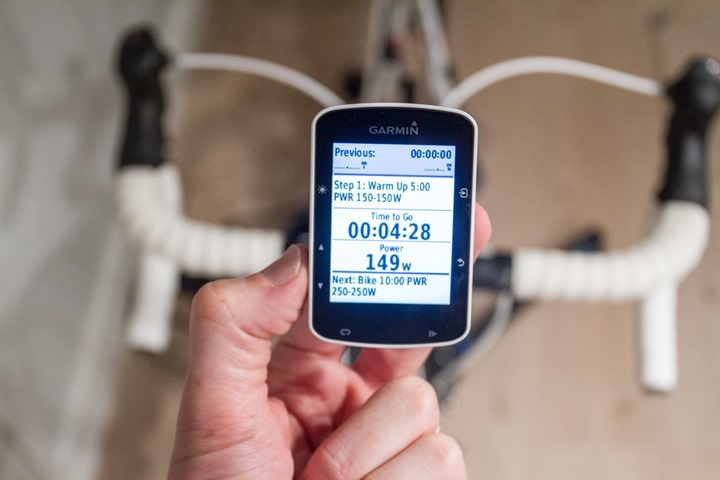 In talking with Wahoo Fitness, they have confirmed they will add supporting the ANT+ FE-C standard to the development roadmap for the Wahoo KICKR and KICKR SNAP.  Given the announcement just happened, they are working to narrow down an exact date for implementation of that profile.  But from their perspective they noted they are super-excited about this.
As for other trainer companies, I'll update this page/section here once companies confirm additional support of the FE-C profile.
(Update: Garmin has confirmed the Edge 1000 will receive FE-C support/control in/by Q4.  It will not be added to the Edge 510/810.)
Mapping Included: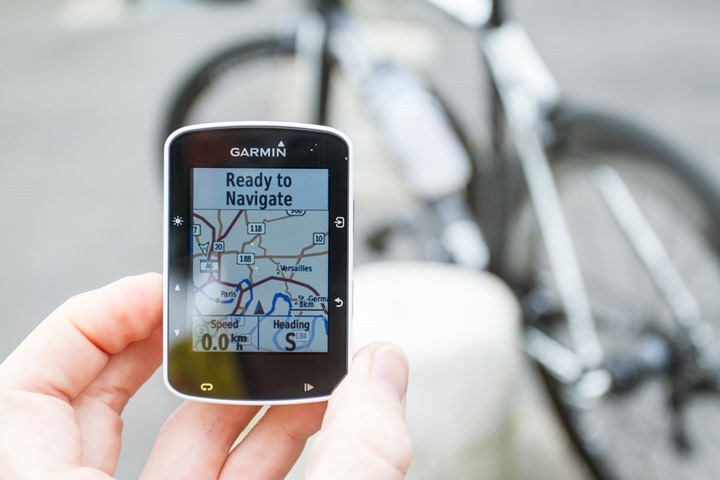 The Edge 520 includes what is known as a 'Basemap'.  For those that have been around the Garmin block a few times, you'll know that this map is fairly sparse.  But a map it is.  For example, in all of Paris it only shows about…well..three streets.  Oh, and the river (seen above).  The main goal of this map is to give you some rough perspective on where you are compared to the Edge 500/510 where it's just a blank page/canvas.
Now at first you might be in the camp of not wanting to look a gift horse in the mouth, but wishing for a bit more.  Well good news, through the same steps that I've outlined in in the past, you can download free (and highly detailed) maps of your choosing to the unit (note: I've updated that post with the Edge 520-specific instructions).  These maps are from Openstreet, and are community sourced.  They are the exact same maps you'll find on the Garmin Edge 1000 and Edge Touring units (as well as on Polar's V650).  Again, this isn't done on the Garmin website, but a 3rd party – but it's silly easy to follow and works beautifully.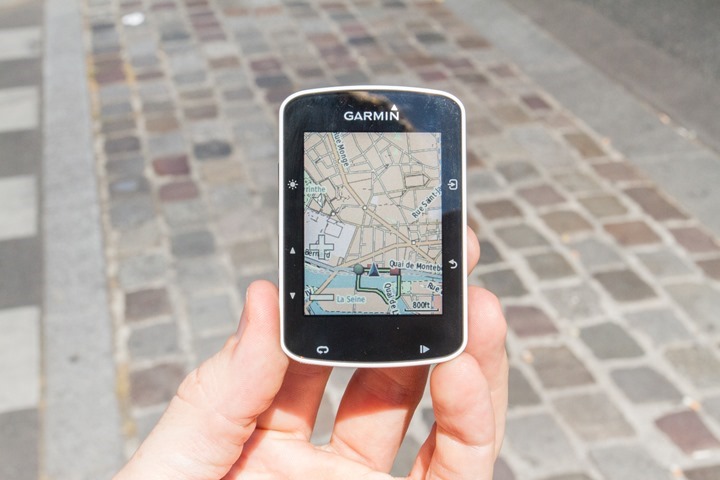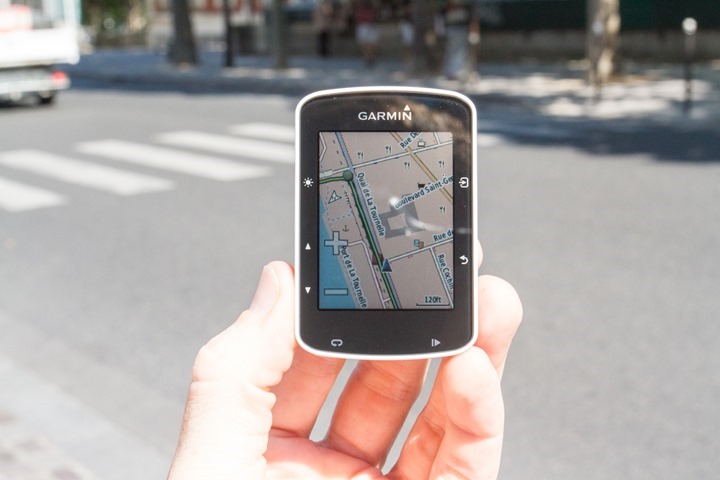 Due to the available space on the Edge 520, you won't be able to download a massive map area, but you can cover your usual riding territory and if you were touring you could easily cover a day or two and then reload.  On a stock Edge 520 there's approximately 54MB of free space.  For reference, the area of Paris and most of the surrounding areas is 21MB:

Or, looking at Washington DC, this area is 35MB:

And the (much greater) Sydney, Australia and area is 37MB: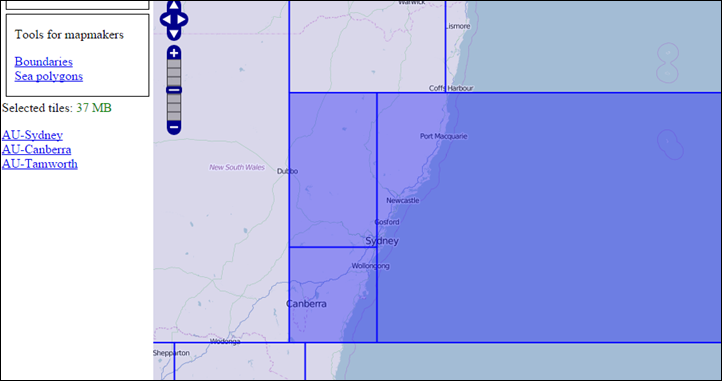 All of these easily fit within the 51MB of free space, plus have plenty of space for ride files afterwards.  The back of the napkin calculation for activity file space is .1MB per hour of riding (with GPS & ANT+ sensors).  So 10 hours = just 1MB.  You can use the site to figure out how much space is needed, just follow the instructions in my original post and manually select tiles.
With this said, it's important to note that the unit does NOT do routable directions though.  Meaning, it won't tell you to 'Turn left on Maple Street', but rather instead give you breadcrumb style tracks overlaid onto these maps.  Additionally, because it's not routable, it won't be able to give you directions across town.  Thus there is no point of interest database or similar.
The best way to think of this is that if you're looking to be able to create directions on the fly during your ride, the Edge 810/1000 are far better options.  But, if you just want to know where you are on the map and be able to zoom around to figure out where you're going – this will work quite well.
Product Comparison Charts:
I've added the Edge 520 to the product comparison database, which means you can compare it against any other GPS bike computer I've reviewed.  For the purposes of the below, I've added the Garmin Edge 500, Edge 510, and Edge 520, since that's likely the cross section of products people would be comparing against.
Remember, you can mix and match any products you'd like within the product comparison database, allowing you to create your own comparison charts.
Summary: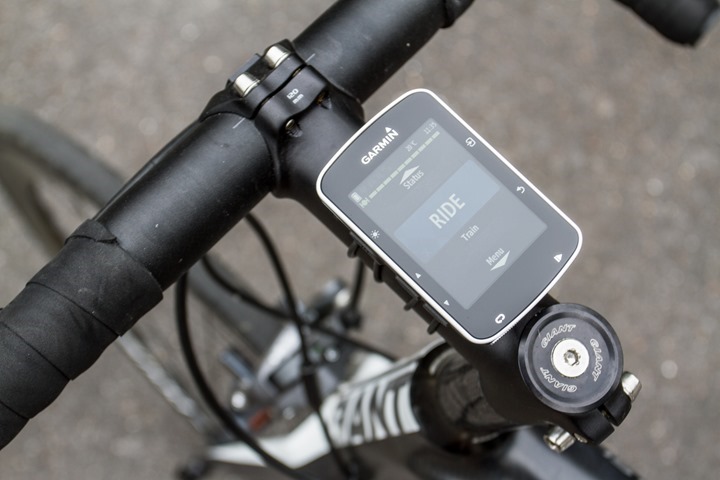 For those of you that are regular readers, you'll know well that I've been pretty hard on the Garmin Fitness team when it comes to the Garmin Edge devices over the past few years.  In my review of the Edge 510 device two years ago, I noted how the device fell far short of expectations.  And with the Edge 1000 unit, I noted that it was largely a device that nobody asked for.  Today however, I think it's a case of '3rd time's the charm', and the Edge 520 is almost exactly what folks have been asking for.
The features are precisely what I and many others have wanted, in terms of aspects like Strava integration, direct trainer control, and baseline mapping.  Plus a smaller size than the existing Edge 510.
Now there's no doubt always room for improvement.  For example, I'd really like to see Bluetooth Smart sensor support, and I think this might have actually been the rare case where touch screen support might have made sense (due to aspects like controlling trainer wattage).  Or the lack of WiFi is a bit peculiar, as is the lack of Connect IQ support.  But on the whole, for most users this device will hit the spot.
For me personally, assuming the final software and hardware isn't buggy – I expect this device to become my mainstay bike computer, replacing the large number of Edge 810 and Edge 1000's that I use on a day to day basis on my handlebars in various tests (most notably power meter tests where I run concurrent units).  The size being the most appealing aspect, combined with the connectivity.
—
Support the site: Found what you read above useful?  If so – then you can support the site here by ordering the Edge 520 via Clever Training.  They're accepting pre-orders for the unit, which Garmin says will ship in "Q3" (between now and Sept 30th) – though its expected to likely start shipping much sooner in late July.  They have both the base unit, as well as the bundle unit available, which can be selected from the drop-down list.  In addition, if you're a member of the DCR/CT VIP Program – you'll save a bundle as well!