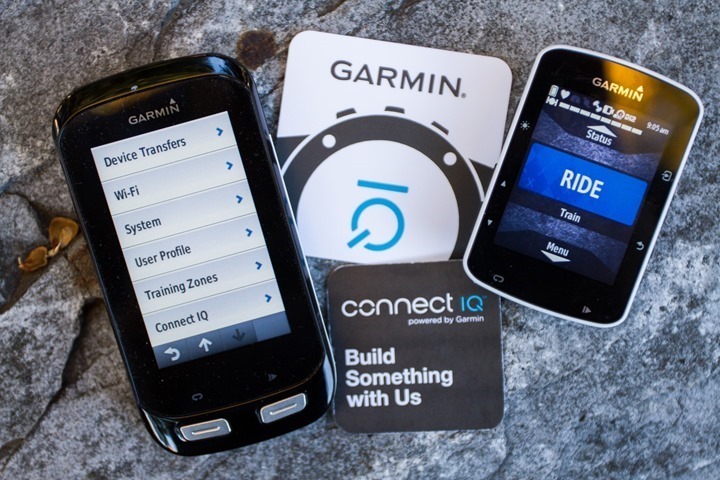 It's been about 5 months since Garmin announced Connect IQ would be coming to the latest Edge cycling units.  This would extend the Connect IQ platform from being previous wearables only (i.e. wrist worn things), to other Garmin device types.  Over these past few months they've released developer (beta) builds for 3rd parties to start creating apps. And now they've opened up the Connect IQ App store to Edge data fields (the first step in full Connect IQ compatibility).
I gave it all a whirl today to see how well it worked in its final state, as well as the integration with 3rd party products.  Let's dive into it.
Getting updated:
For the Edge 520 and Edge 1000 (and the derivative Edge 1000 Explore), you can use Garmin Express to update your unit, which will automatically download the updates for you to your Edge.  Or, if you have WiFi working on your Edge 1000 – it'll grab the updates that way too.
Note that there are no plans to bring Connect IQ to the older Edge 510 or Edge 810, nor the tiny Edge 20/25.  Connect IQ is available though on a crapton of Garmin wearables, including: Forerunner 230, 235, 630, 920XT, Fenix3, Fenix 3 HR, Vivoactive, Vivoactive HR and other non-fitness units.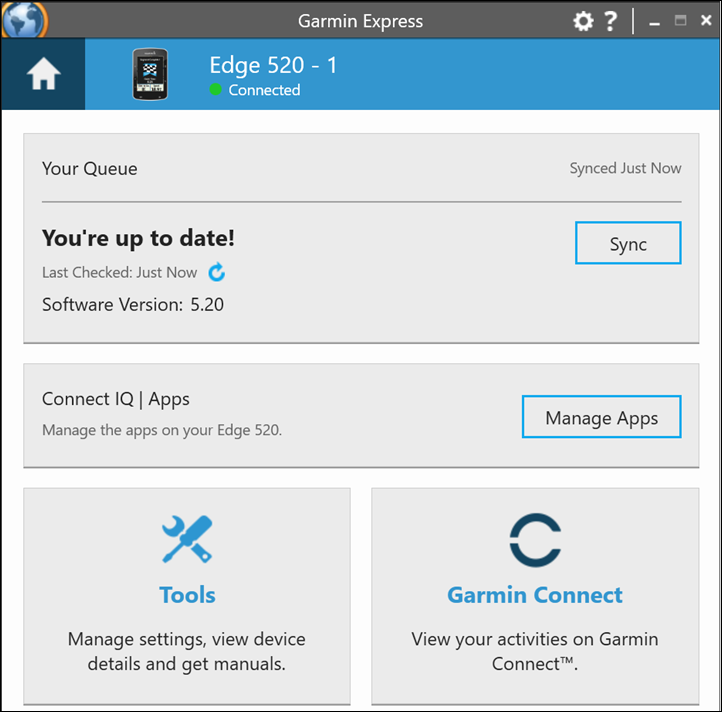 Note that you won't see the "Connect IQ | Apps" panel above (or on your mobile phone app) until you've unplugged the unit and let the software update install.  Then you'll plug it back in again, and/or connect it to your phone app to be able to add apps to it.  It's the whole chicken and the egg thing.
The upgrade process only takes a minute or so.  Well, unless you're still on CompuServe with a dial-up connection.  Then it'll take a bit longer.
The App Store:
Once you've got the firmware squared away you can go back to the app and click 'Manage Apps' to get some data field goodness installed.  Another click later and it'll take you to the web-based store to choose your apps (all of this is also possible on your phone).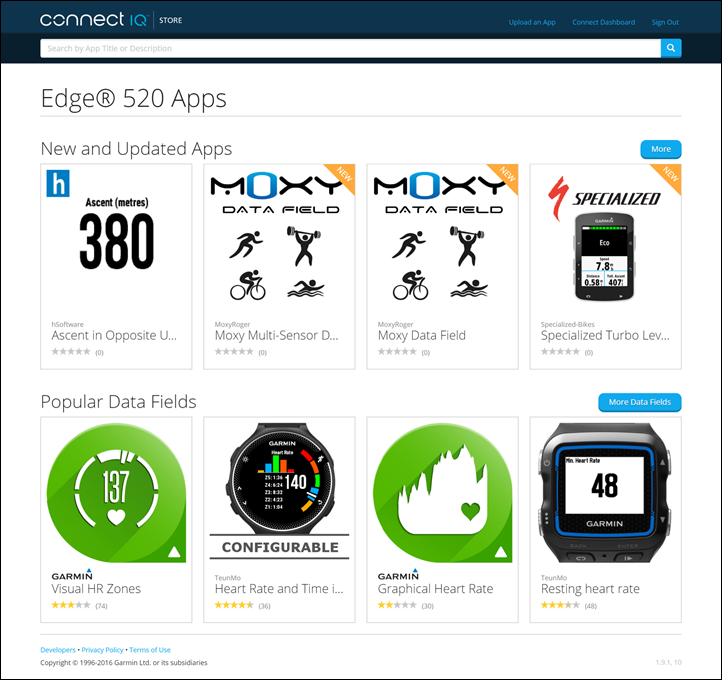 For the Edge there are basically three types of 'apps':
Apps: Confusing yes with having two things named the same, but apps in this context are real apps that can have multiple pages and menus (versus the umbrella name apps for everything in the Connect IQ store).  These aren't yet available.
Data Fields: These add in additional data fields you can select and add to your existing data pages and activity profiles.  These are what's now available.
Widgets: Widgets are connected data views that you can iterate through, kinda like the weather widget that you have on your Edge already.  These aren't yet available.
Cracking open the list, it's a mix of new data fields ones along with ones we've seen before.  For example, the Specialized one is new (and I previewed a variant of it back here in the fall), as is the BSX one.  But some of the others are just repeats of things we've seen on the wearables side before.
There are a few notable ones below though – like the 'Pace' option, which now allows you to convert a Garmin Edge into a pseudo running watch.  Useful for some that like to use a Garmin Edge on a running stroller or such.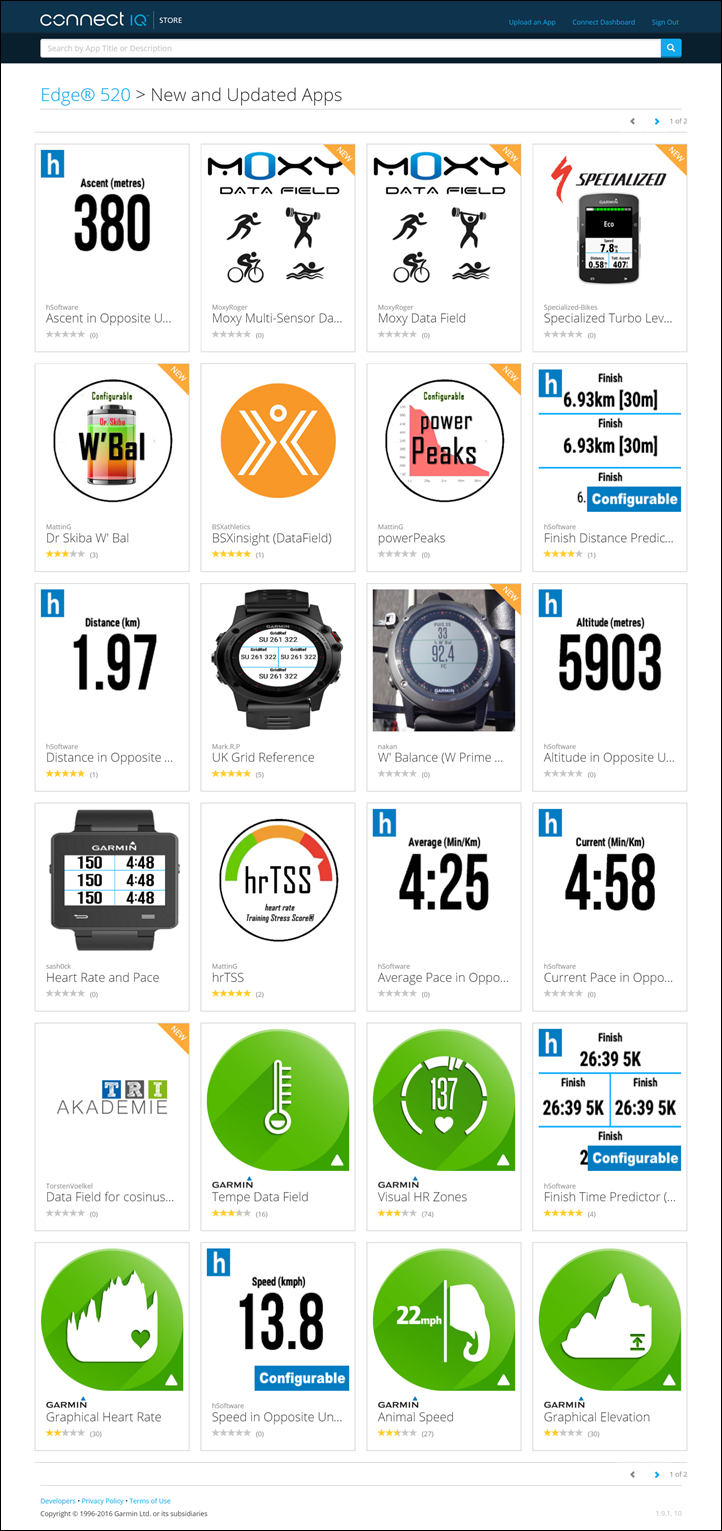 Since I've got a BSXinisght Lactate Threshold device, I went ahead and installed the BSX data field.

If we choose to install it, it'll go ahead and show up in Garmin Express: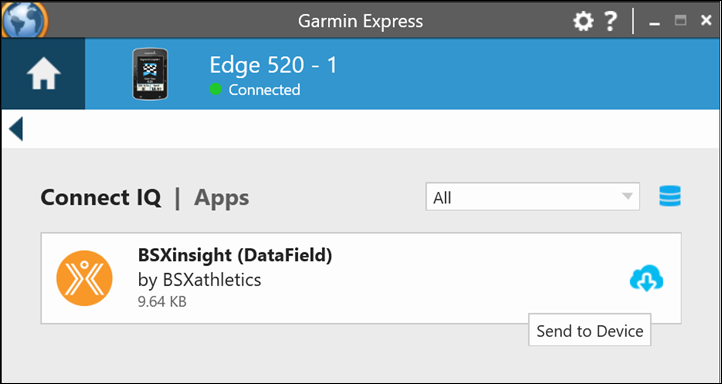 Then click the little cloud/arrow icon that installs it on the device.  No more than a few seconds later it's installed and ready to go.  Rinse/repeat for any other apps you want, like this 'Visual Speed Alarm' data field I've added.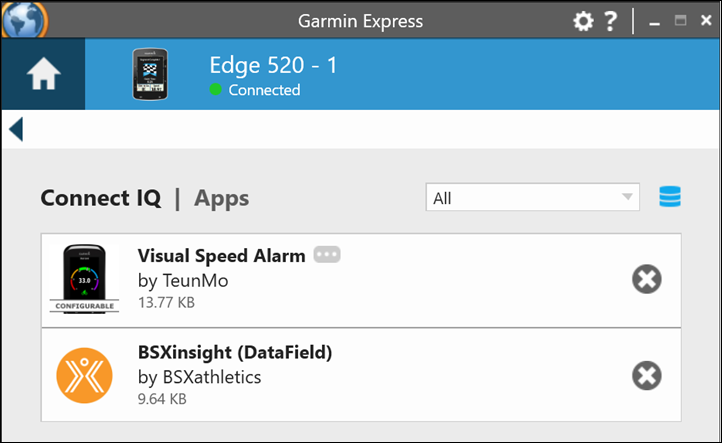 Note how the Visual Speed Alarm data field has the "…" next to it – that means that it has customizable settings.  So you can click that and tweak things.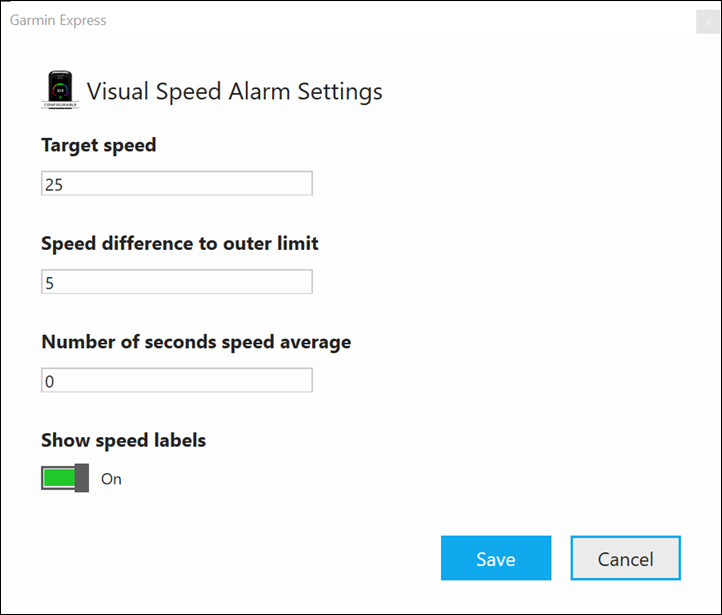 Click save and you're set to head outside.
Using the Apps:
At this point the Connect IQ data fields are ready to go, it's just a matter of selecting them on your head unit to use.
To add a Connect IQ data field to your activity profile, you'll dive into the settings just like you normally would to tweak things like data pages/views.  So that'd be: Menu > Settings > Activity Profiles > [Your Activity Profile] > Data Screens > [Screen #] > [Field #].
Next, you'll select the data field you want to edit, and you'll find the 'Connect IQ' data field option now added: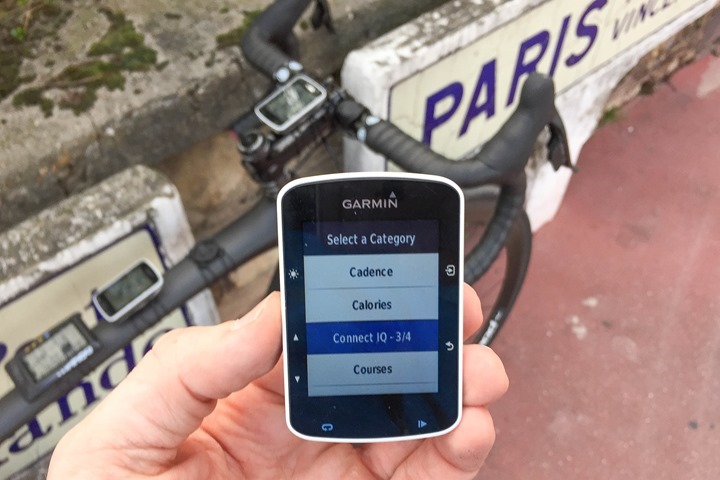 Once you do that, it'll show you the Connect IQ data fields that you've installed.  Simply select whatever you want to add to your screen.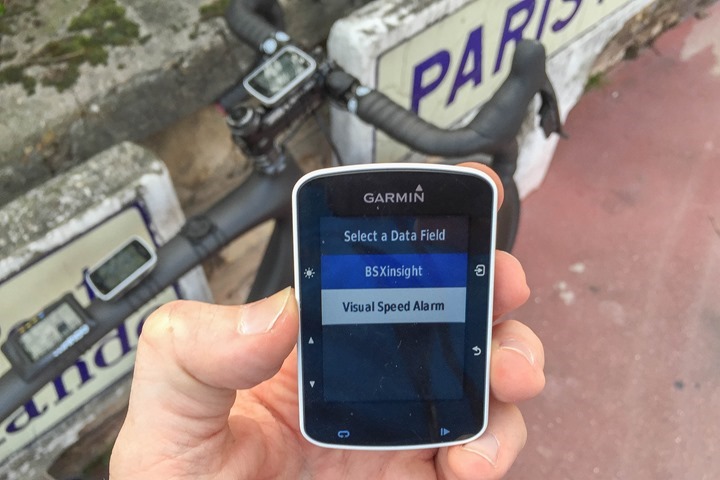 Here's what it looks when I created a full-page data field for the Connect IQ speed gauge data field seen earlier: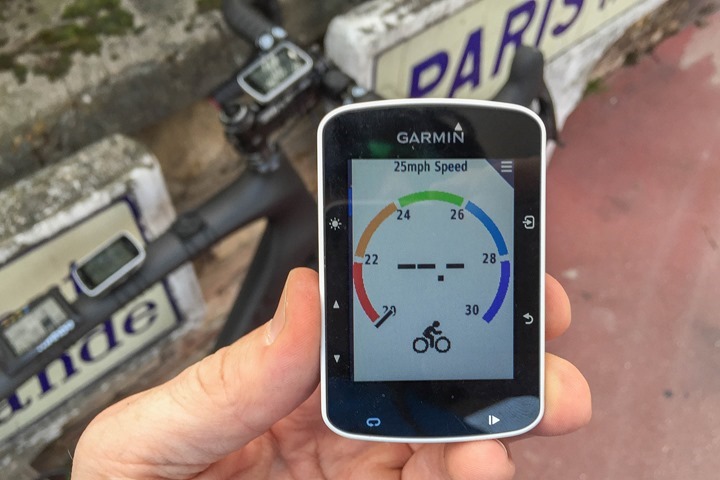 And then for another page I went ahead and added the BSXinsight muscle oxygenation and hemoglobin data field to an existing page, along with various power and HR metrics: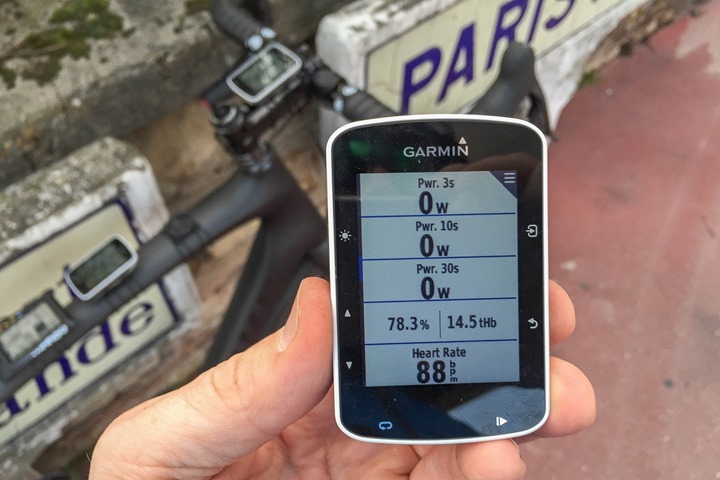 From here, we're ready to ride.  In the case of the BSX data field it just picks up the BSX ANT+ Muscle Oxygenation device profile data that's automatically transmitted from the BSX sensor: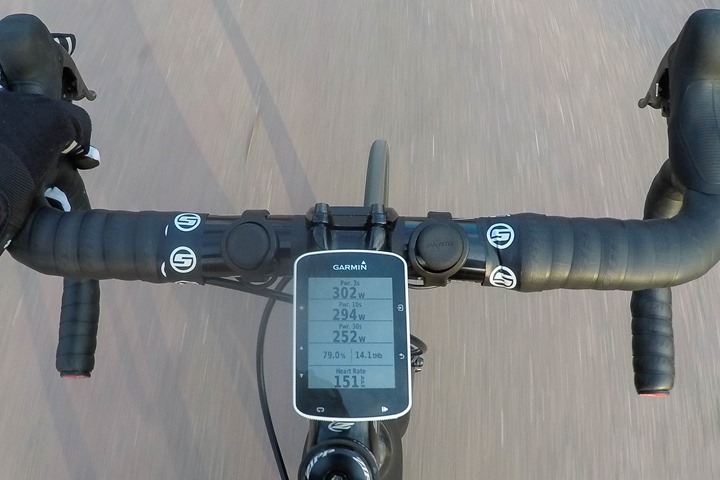 Meanwhile, the speed gauge shows my speed per how I configured it earlier: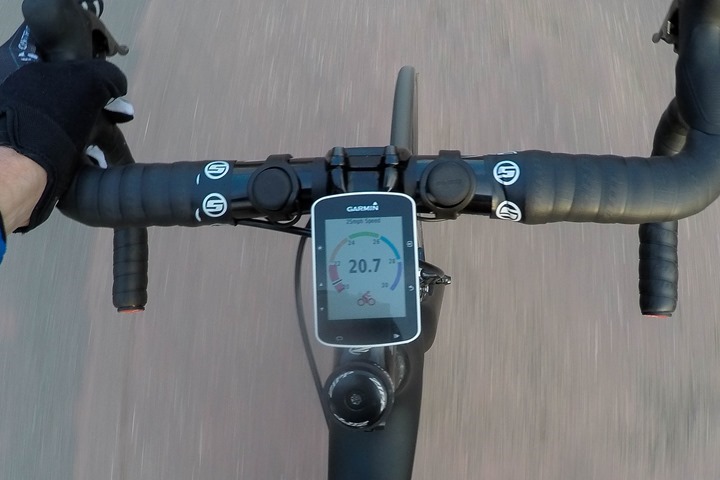 For the heck of it, during my ride, I put together a short video explaining all of this and showing how it works.
As you can see, all of this is fairly straightforward. Which would kinda be the goal.
Speaking of goals, or rather, goalposts – we're still waiting for the ability to write to the .FIT file.  So at this point the recording of the BSX or Moxy data (for example) isn't happening within the Garmin Edge device.  That muscle oxygenation data is just visually shown to you and is never saved.  Of course, BSX (and Moxy) are recording that behind the scenes on their device, but it doesn't make for an easy one-stop shop.
Garmin had previously said Q1 2016 for this capability, but it remains to be seen if they'll hit that date. With less than 20 days left in the quarter and no SDK (developer) releases supporting it, it seems unlikely.
Additionally, you don't see either Widgets or Apps yet available.  Those are coming, but aren't here today for consumers.  You can see more on that back in my preview post from this fall.
It's the apps where I'd expect to see larger companies start to take advantage of them.  For example, TrainerRoad has long looked into the benefits of an app for their platform.  Potential ideas could include allowing you to use a Garmin device instead of having to use a phone/keyboard for controls within the app (minimizing sweat issues with less water friendly devices).  They see potential in simplified account management as well.  In talking with TrainerRoad today, they're definitely still onboard with creating an app, but haven't specified a timeframe (but said they are waiting for .FIT file writing to go live first).
Finally, note that one interesting tidbit in the data field capabilities that was enabled today was 'generic ANT' access.  This means that companies can make up whatever they want from an ANT standpoint to communicate between sensors and the Edge Connect IQ apps.  In other words, coloring outside the lines and not using standard profiles (like HR, Speed, Cadence).  So I could create a generic ANT connection for something like aerodynamic data, or hydration data.  Neither of which have ANT+ standard profiles.  It doesn't solve the problem of recording yet, but it does enable scenarios like I talked about with the PowerPod future ideas and displaying real-time aerodynamic data relatively trivial.  And that sort of flexibility means smaller companies can create cool things and trial/demonstrate them easier.
With that – thanks for reading, and have a great weekend all!