Today is the day of SRAM & Quarq making official many unofficial and open-secret things.  The first I'll cover is the new Quarq race tracking service – Quarq Race Intelligence system.  And then I'll dive into certain tech aspects of the SRAM eTAP wireless shifting system.  And just as a brief reminder, SRAM owns Quarq (and has for years) – hence why these are all in the same post.
Quarq Race Intelligence
First up is the Quarq Race Intelligence platform.  This system has been in use for a number of months now at Ironman events to broadcast pro rider positions over the course of the day.  Additionally, we've seen that data incorporated into a new Ironman.com leaderboard page which gives up to the minute stats on pro racers.
The system starts though at the racer (and let's be clear, this is all about races – not training).  That's where the athlete will wear this slightly thick looking cell phone device coming in at 114g.  The device has 3G wireless capabilities built-into it, GPS functionality, as well as ANT+ connectivity.  I had a chance to poke at the device and platform quite some time ago when visiting Quarq this last spring (for which I still owe you all my awesome behind the scenes post).
The device can be worn/carried in one of three ways: On the bike (bike seatpost mount & Di2 battery mount), custom race-belt, and inside a jersey pocket.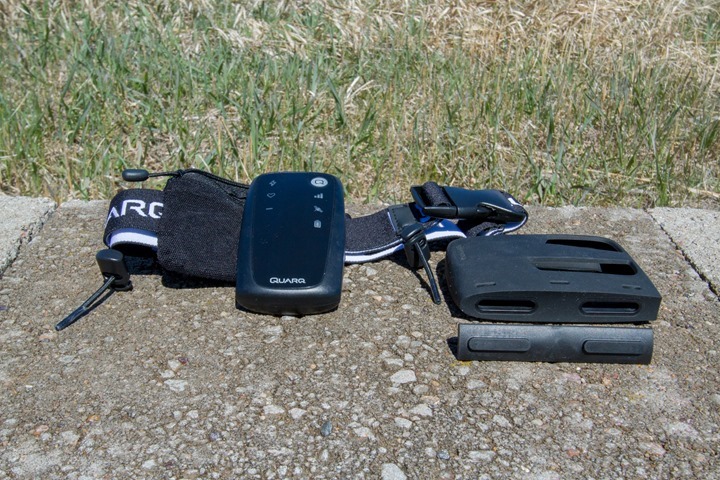 It has proximity pairing for easier and less error-prone pairing to devices (in the event of pairing in a busy race area).  Additionally, it can also generate vibration alerts to validate operation.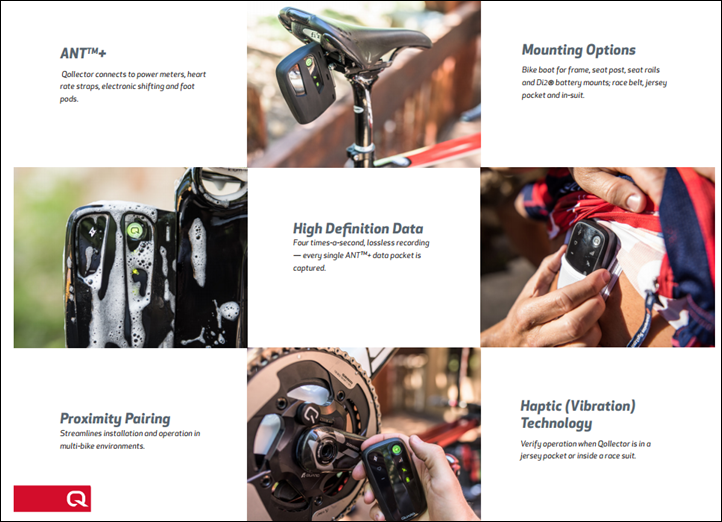 The unit has a 24hr battery life and is fully waterproof, as well as being "military spec" protection for resistance against salt-water corrosion.  The unit recharges via micro-USB port.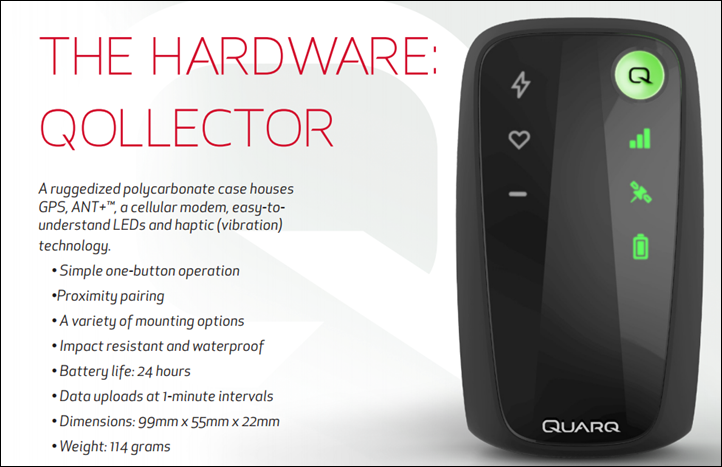 With the included connectivity it can pull in your ANT+ data (power, cadence, heart rate), layer in your GPS data such as speed and exact location, and then transmit that wirelessly every 60 seconds via cellular service to the backend web platform service.  It's here they'll visualize that on a web page that's updated every 10 seconds with all of the tracked racers: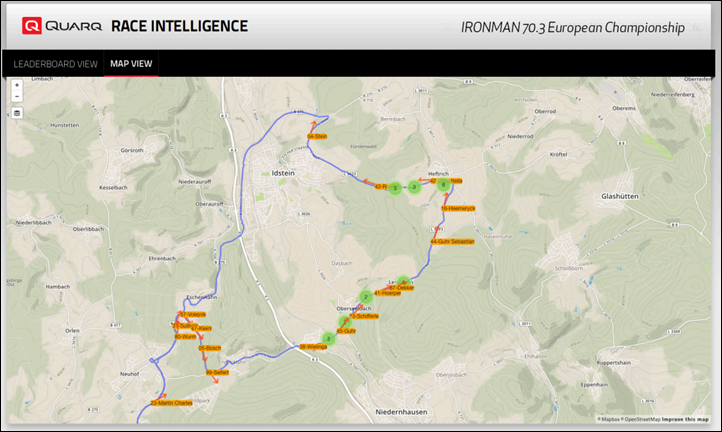 The backend web platform has both the analysis piece that shows the live position of the rider and data the rider selects to share (for example, if they selected to share power meter data), as well as their position in relation to other riders and the course as a whole.  It also makes predictions about ETA's and time gaps.  Further, the backend web platform actually saves all of the racers data in .FIT file format as well (the same as your Garmin), so it can effectively be used as a backup data source.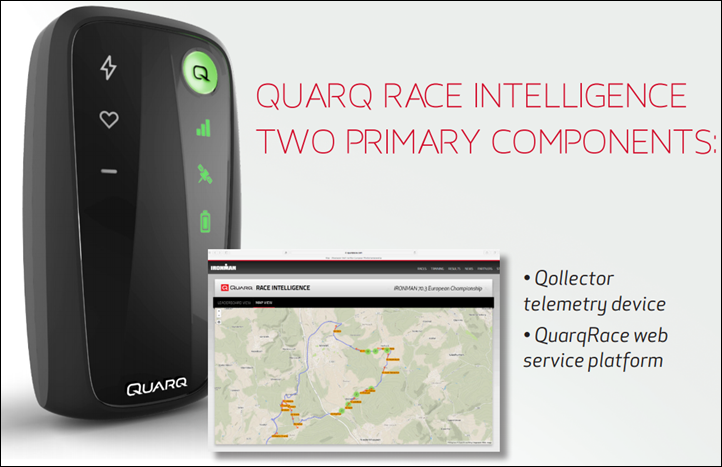 There are a fair number of uses here for this, such as spectators wanting to know where people are, but also for broadcasters as well.  In the case of events like Iron distance races with highly spread out fields it's impossible to have a TV camera on every rider/runner at every time.  With this, they'll get that.  In fact, this weekend at the 70.3 World Championships in Austria, every single one of the almost 90 professional athletes will be wearing the system.  Remember the unit is also worn on the run – ensuring data across both bike and run.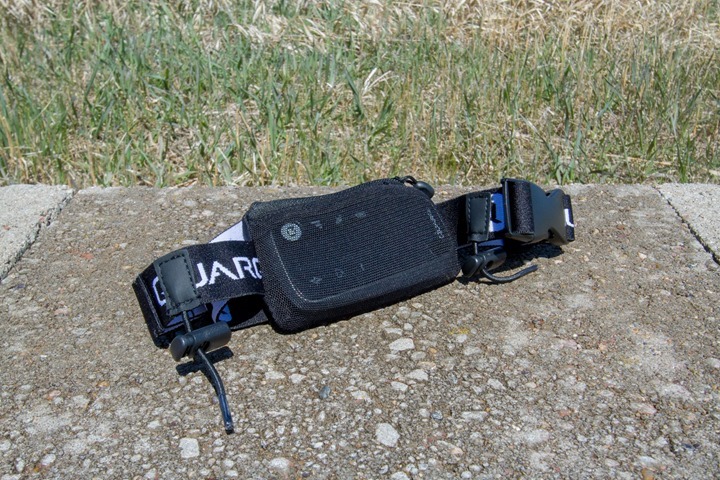 Additionally, they see uses for this within the pure cycling side of sport with team cars and being able to monitor racers in real time.  This system differs from what you saw this summer in the Tour de France with Dimension Data, in that that system depended on a bunch of 'heavy' infrastructure (helicopters, re-transmission devices, etc…).  Whereas the Quarq system is purely based on cellular infrastructure, and thus more easily deployed out of basically a big-ass suitcase.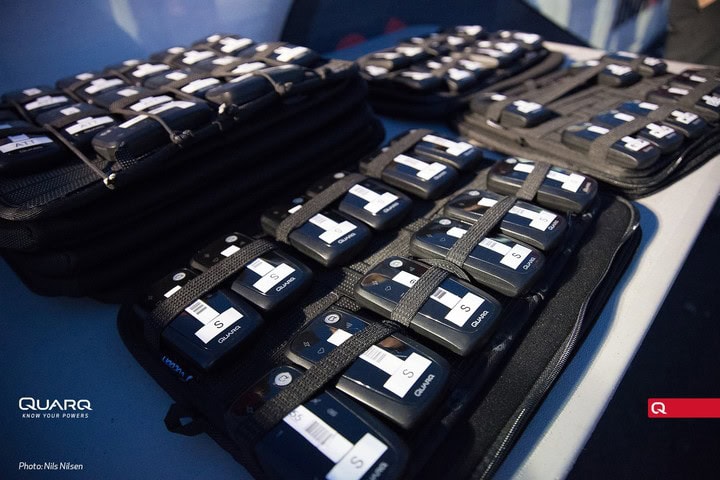 Obviously, without cell service you'll have no live updates though (whereas the Tour would have had less interruption but a higher cost of implementation not feasible for most other events).  In the case of a drop in cellular service for Quarq the unit will buffer the data.  Included is a 512MB storage capacity, which is enough for days of buffered data.  Once connectivity resumes it'll transmit all of that buffered data to the web service platform.  That platform also has an API available, so that 3rd parties can tap into the data.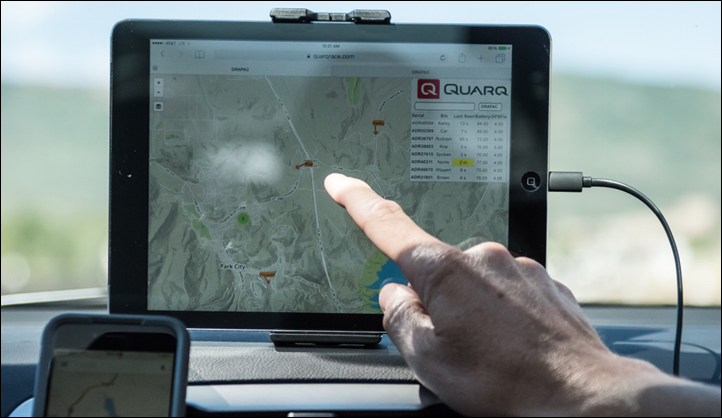 As I noted earlier – this system is designed 100% for tracking racing.  Not training, nor tracking someone you found on the leaked Ashley Madison database.  Just racing.  Well, today anyway.  Quarq is only working with race organizers, but are looking to expand that footprint beyond just Ironman.  As such, there isn't any pricing available because Quarq is mostly treating it as a development/testing effort for the next 6-12 months.  In other words, you'll probably start to see more clarity on pricing and distribution options next spring as they get it closer to a saleable product.  But do expect that product to be targeted in much the same way that timing systems like Championchip are marketed – aimed at race organizers.
It's definitely cool to see this technology – especially in iron distance triathlon where watching races using the older infrequently updated tracking pages was roughly akin to watching paint dry. Having watched a few races with the new system – it's far cooler and gets you more interested in the action.
SRAM eTAP Wireless Shifting: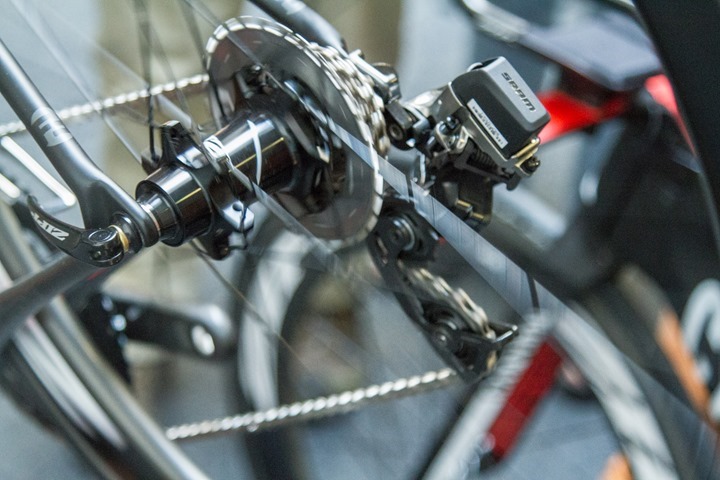 Finally, a few thoughts on the SRAM RED eTAP wireless shifting.  There will be approximately 1,548,234 articles on the interwebs within the next few minutes on the just/finally announced SRAM eTAP wireless shifting.  No doubt, it's cool.  And those millions of articles will likely do a great job covering the mechanical/component aspects of it (in terms of specs/compatibility/etc…).  My specific interest at this stage is primarily on the wireless & integration components.  Thus, I'm just going to talk about that here in more detail, other than to note these top-level bulleted specs:
– Complete wireless shifting system
– Core components: Front derailleur, Rear derailleur, Set of Shifters
– Optional Components: Wired remote shift buttons (called 'Blips'), for use on something like drops
– Derailleur's use battery pods, each getting about 60 hours of battery life
– Shifters use CR2032 coin cell batteries with about 2 years of life
– System uses accelerometers to detect no movement and goes to sleep within 30-seconds to save battery.
– Total price is $2,758/€2,691/£2,059 for full groupset (though each component also sold individually)
– Availability Spring 2016 Globally
– Does NOT use ANT+, Bluetooth Smart, or WiFi for shifting commands – fully proprietary internal system
– Does use ANT+ Shifting Protocol for read-only copy of status
The whole system has been on pro team bikes and riders for the better part of two years now, including a full team at the Tour de France this year – and countless other events, hence the open-secret part.
So with the top-level specs out of the way, what about the wireless side?  Well, it's got two pieces to it.  First is the internal communication that the shift commands are sent on.  That is a fully proprietary/closed network developed by computer engineers and cryptographers.  It is not ANT+, it is not Bluetooth Smart, and it is not WiFi.  In their case, they noted that security was one of the highest priorities and as such, the system has AES 128-bit encryption for all commands send.
This is far exceeding any other bike sensor data currently on the market today, and resolves many of the issues I talked about with respect to power meter data snooping/tweaking in the pro peloton.  SRAM says they hired "hackers" as part of the development process, to attempt to vet out security issues.  Which would be pretty common for any security-focused software project.
The unit pairing process occurs by physically pressing the buttons together at the same time for 15 seconds to pair to new components in the system (each component has a small function button as well as status light).  Once paired, the system cannot be paired to another shifter outside the system.  Again to be clear: It's a one to one relationship and cannot be multi-paired to another set of shifters.  This prevents someone else from attempting to shift on your behalf.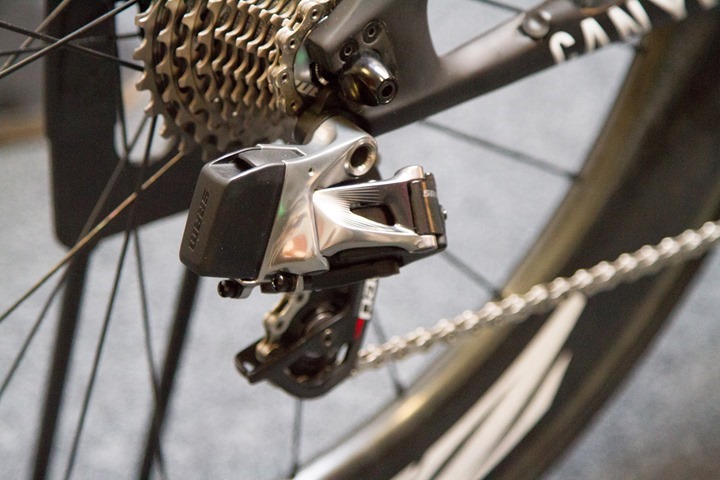 Now, while there's that private wireless communications channel for shifting – the unit will also broadcast over ANT+ the shifts that have occurred, as well as battery status.  This is essentially what Shimano Di2 does today over private-ANT.  That private-ANT channel is picked up by a number of head units including many newer Garmin devices, Mio devices, and I think a few others out there.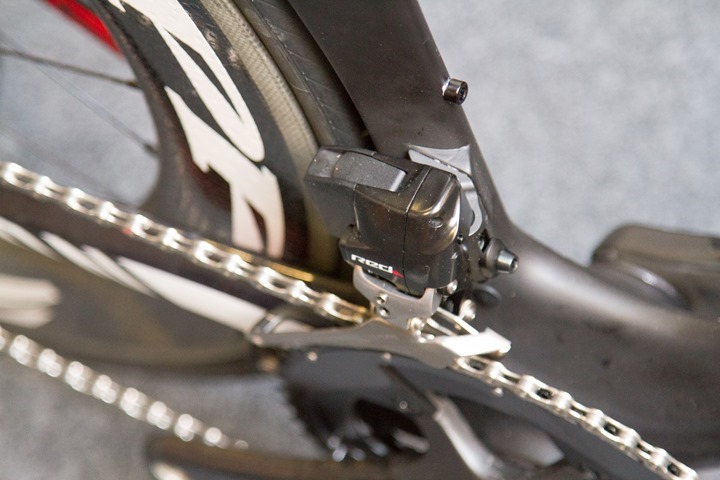 With the new SRAM eTAP wireless shifting, they'll be using the ANT+ Shifting Control protocol (which is a public/open standard) for only a read-only copy of those states, just like Shimano Di2 (but different, since Shimano is technically private).  SRAM has stated that they're already working with Garmin on getting the public ANT+ shifting protocol supported in Garmin head units for display (and recording).  But it's not clear as to which head units will support that yet.  Given the system doesn't release until next spring, I suppose they have some time to sort that out.
And, that's probably around the next time I'll dig into the system as well.
—
With that, thanks for reading!  If you're looking to burn a bit of time, here's all my Eurobike 2015 posts!