While at Eurobike, the folks behind the PowerPod have made two notable announcements.  Readers will remember the PowerPod was announced last Eurobike and started shipping a few months later.  It's become pretty darn popular since then, as a way to get power data from something you easily mount to your handlebars.  These two announcements are aimed at addressing the two remaining gaps in the product.
Bluetooth Smart PowerPod: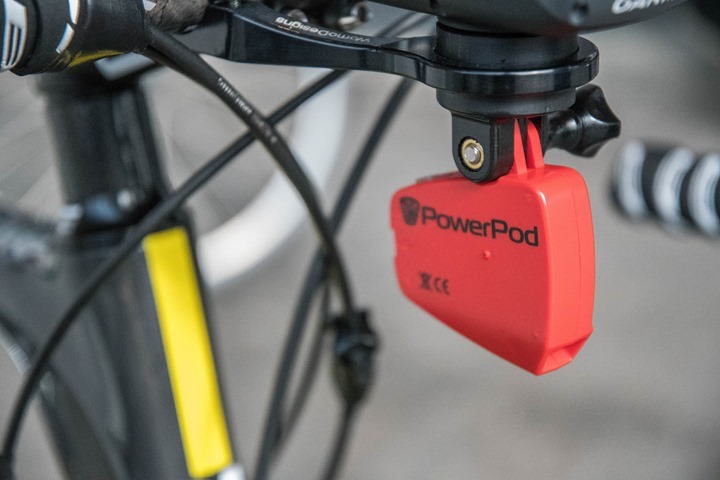 As part of the Kickstarter campaign the company had announced a Bluetooth Smart variant of PowerPod that would allow transmission of power via Bluetooth Smart.  This would enable apps such as Strava and now Zwift to connect to the device, but also allow head units like the Polar M450 and latest Suunto wearables to connect over Bluetooth Smart.  It previously only transmitted your power over ANT+ to compatible devices (anything that accepted the ANT+ power meter device profile).
As part of that stretch goal, the company had planned to ship that variant this past spring, but delays upon delays set in.  However, they've now got units coming in off the manufacturing line that should start arriving in people's hands by the end of the month for new pre-orders.
They had the BLE model on the stand at Eurobike, allowing folks to see how it works.  In a nutshell it works the same way as the original unit, except that now it broadcasts your power numbers as BLE.  However, it still requires pairing to an ANT+ sensor for speed.  Given that virtually all BLE sensors are dual ANT+/Bluetooth Smart these days, that's probably not a huge issue (albeit a minor annoyance).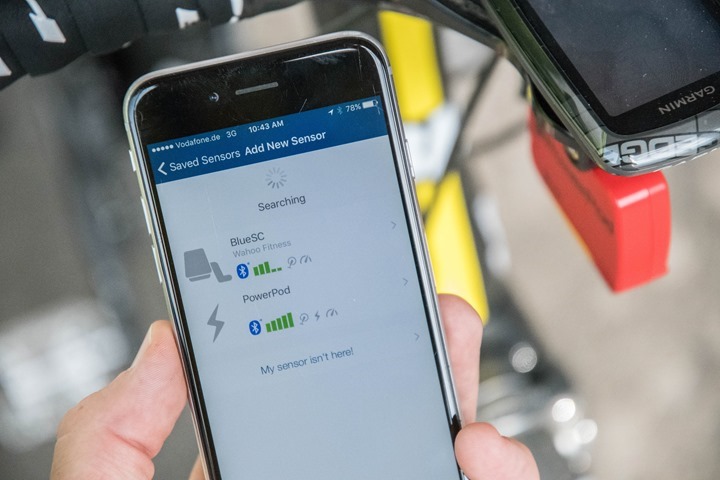 The other thing to note is at this time there isn't any form of Bluetooth Smart PowerPod mobile app to setup configuration on the PowerPod.  It'll still require the desktop app for any advanced configuration (it doesn't need it out of the box).
As a totally random side note, while talking with Argon 18 (a bike company) about their new crazy sensor-laden bike (post coming up shortly on that) which has an aerodynamic sensor in it, I'd really like to see a renewed focus from these companies on pushing through at least a draft of an ANT+ spec for aerodynamic sensors.  Argon 18 is pushing data to a Connect IQ data field to get live CDA information. That's something that PowerPod has also entertained (but not done).  Given the ANT+ Symposium is in a month, it seems like the perfect time for both of these ANT+ members to get together and do something cool.
Having a spec for this would make it easier for 3rd party companies (Garmin, Wahoo, and now Stages) to implement live CDA data fields into their head units.  And creating a draft spec isn't all that difficult, but it's even easier if at least two companies can agree on it.
New Road Surface Algorithms
In my in-depth review I noted that by and large the numbers were pretty solid compared to numerous other power meters.  This sentiment was echoed my countless readers in the comments.  However there was one area that both myself and readers found could be a challenge was when road conditions changed – such as to gravel or cobbles.
That's because the PowerPod based its power numbers on given calibration condition, and when that surface condition changed it threw things for a loop.  The unit used to take about 5-8 minutes to automatically recalibrate while riding, so if you transitioned to a gravel road permanently it would work out over time.  But if you changed surface conditions constantly, it wouldn't be so good.
They've introduced a new feature called Dynamic Coefficient of Rolling Resistance (DCRR), which is like saying DCR (me) with an extra R for good measure.  You can never have too many Rainmakers.
With this new feature the unit measures road roughness at 800 times per second and adjusts accordingly.  They've been testing it on chip roads (which behind cobbles are among the worst for screwing with accelerometers) as well gravel roads.
The company walked me through a detailed presentation of the changes, which I'll basically distill down into the following two key slides.  The rest is here if you want to view it.
The first slide shows the differences between a direct force power meter (on the right), and the PowerPod pre-firmware update (No DCRR correction) on a rough section of road.  You'll see it measures substantially lower than reality, which is exactly what I saw as well.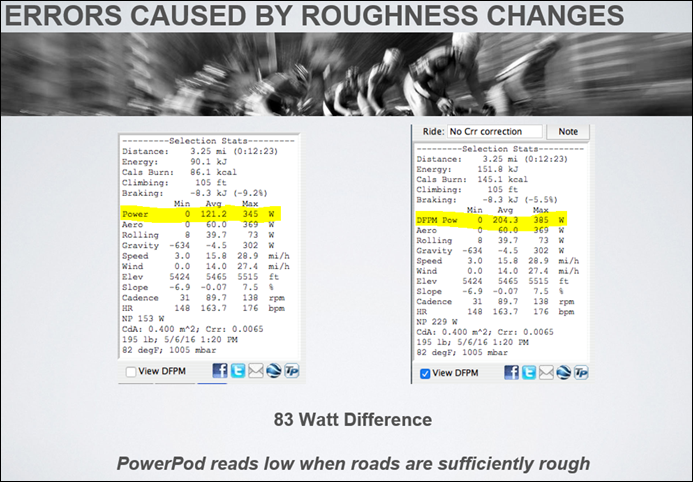 Next, you'll see the results where they turned on the corrections, which brings the difference to 2.6w between the two, which is far closer (and well within what I'd expect).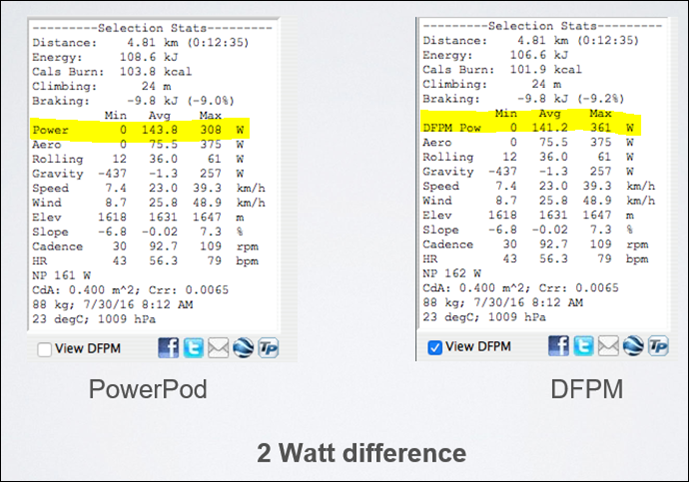 Not too shabby.
I haven't tested the update yet, but you can.  The firmware released last week so you'll just go ahead and connect your PowerPod to your computer using the usual software updater process.  At which point you're good to go.  The update is free.
Perhaps later in the fall when I get a chance I'll go ahead and do a side by side ride across a variety of conditions (including cobbles) to see how it handles.  I may wait for the Bluetooth Smart variant, just so I can knock out two birds with one stone.  But in the meantime, would be interested in hearing from DCR readers about DCRR, especially those that can show comparisons (their default Newton software does allow power comparisons exactly like above).
With that – thanks for reading!
(P.S.- Hang tight, working through about a dozen backlogged Eurobike related stories like this over the next few days, including more power meter details and lots of other sports tech gadgets!)