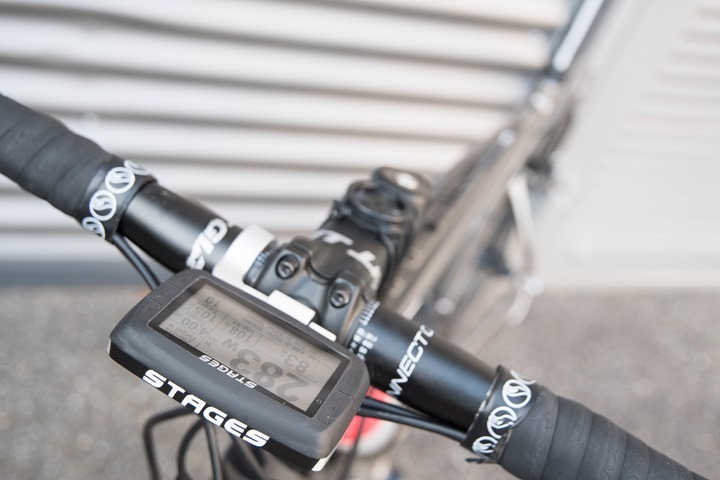 This past week at Eurobike, Stages expanded their product lineup beyond power meters and indoor bikes – now arriving on the bike computer and training site/platform scene.  They introduced two new products: The Stages Dash (bike computer) and Stages Link (training platform/site).
I had a chance to get fully briefed on both, as well as toy with both during Eurobike – which I'll cover below.  As a super-brief aside on one previous news item, Stages planned release of a Campagnolo Stages power meter; that effort has been delayed until an unknown date.  They continue to work on it, but there's no longer a date for when that might come to market.
In any case, onto the Dash!
The Dash Head Unit: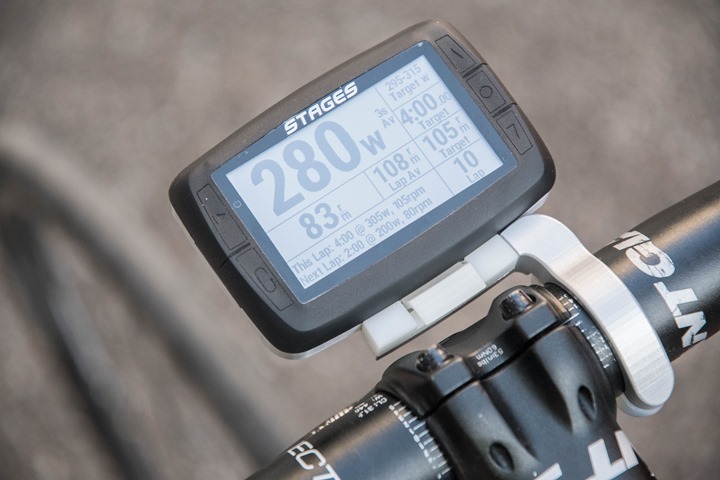 It's clear from using the Dash, that it's "all about that data", in both how they capture it as well as how they display it.  In talking with the company, they wanted to introduce a product that was more flexible than other head units out there in terms of data views, but also one that would do a better job recording the data.  Especially sensor data, and in particular power meter data.
If you want a brief video overview of the whole kit, I've put together this bit of audio-visual awesomeness (actually, the audio's not that awesome) which walks through all the key functions from sensors to workouts to customization of pages:
So to start from the outside of the Dash, you may have noticed in the video it can be oriented in both a landscape and vertical position.  The mounting system allows it to be switched to either orientation, with the assumption that most people on a road bike will want it in landscape mode, while most in a TT bike will want it in the vertical position: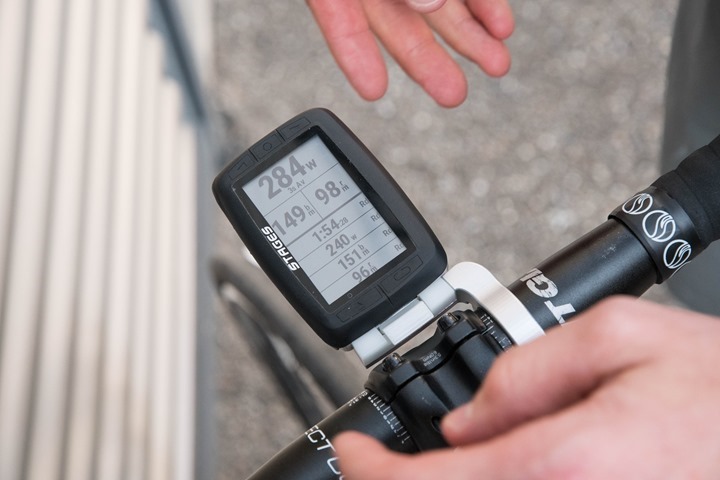 The company says they're willing to work with others for 3rd party mounts, and plans to publish/share the designs for the mount so that others can consume it.  They also noted that the locking mechanism on the mount should be easy for others to incorporate into designs (i.e. K-Edge or Barfly).  This would be notable if you wanted to put a GoPro or other action camera on the bottom of the mount (like a standard combo mount), which the current mounting system doesn't allow for.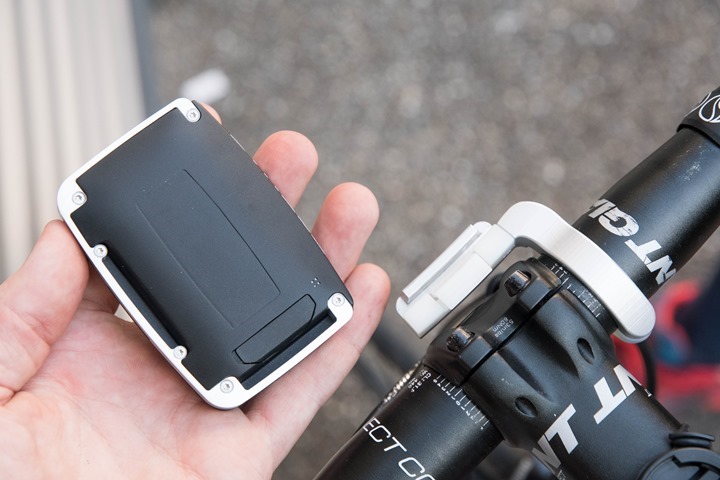 You'll find that all of the buttons on the unit are on the surface of the screen, as opposed to being on the sides.  This is done to make it easier to actually press those buttons – a common complaint when buttons are set on the side of bike computers, especially in this age of out-front mounts.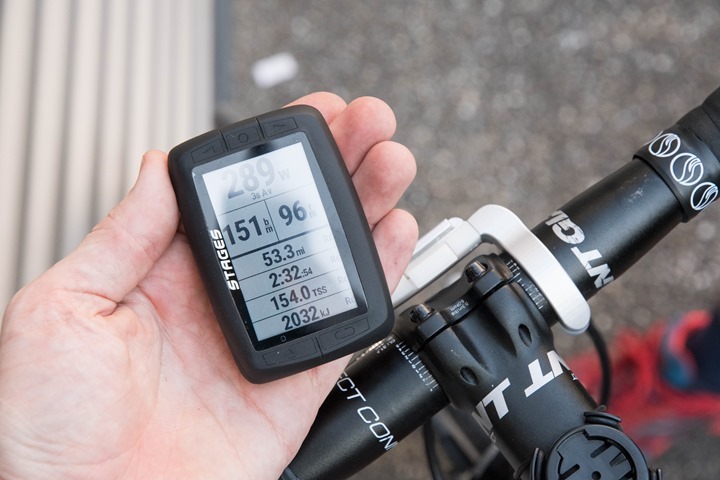 Next, from a hardware standpoint the unit has a pretty impressive battery claim – which is that it'll do 25-30 hours of GPS-on battery life.  That's well beyond any other bike computer head unit on the market today.  The unit is charged via micro-USB but still maintains an IPX7 waterproofing rating, as well as audible alerts.
The hardware also includes a barometric altimeter for more accurate elevation, accelerometers for potential usage down the road (i.e. crash detection), and a full ANT+/Bluetooth 4.0 chipset.  That chipset gives them broad range to connect to just about every sensor out there, similar to the Wahoo ELEMNT, but with a few more options.  To expand on that, here's a look at all the sensor types they currently support:
ANT+ Heart Rate sensors
ANT+ Speed-only, Cadence-only, Speed/Cadence Combo sensors
ANT+ SMO2 sensors (Moxy/BSX)
ANT+ Gear shifting profiles (SRAM eTAP, Campagnolo EPS)
ANT+ Power Meters
ANT+ FE-C Trainers
ANT Shimano Di2 Gear Shifting
Bluetooth Smart Heart Rate sensors
Bluetooth Smart Speed-only, Cadence-only, Speed/Cadence Combo sensors
Bluetooth Smart Power Meters
It's a pretty impressive listing.  They're also looking at potentially supporting down the road the ANT+ Lighting & Radar device profiles (for connected lights from Garmin and Bontrager).  You can search for sensors either via normal automatic search or manual ANT+ ID search, plus proximity pairing.
Now what's most cool about the sensors is the amount of data they're capturing at the sensor level, not to mention the pairing process.  With the Dash you have the concept of both activity profiles as well as bike profiles.  This is a bit different than a Garmin, where bike profiles have largely gone away and are now replaced by activity profiles.  Stages takes a bit of an 'either/or' approach and allows you to mix and match based on what meets your needs.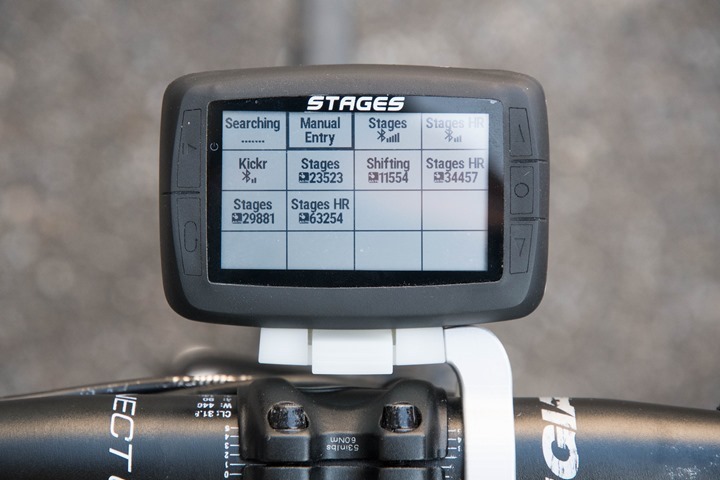 Next, like the Wahoo ELEMNT they'll only show relevant data for pages that you have actual sensors connected.  Meaning if you've got a bike without a power meter, they aren't going to show your power meter pages since those aren't terribly useful there.
When it comes to how you arrange your data fields, it's mind-bogglingly customizable.  You've got up to 16 data fields you can mess with, and within that you can mix and match in a wide variety of configurations.  It's kinda like playing Tetris in that you can rotate these blocks around in terms of sizes and end up making bigger/smaller/different shapes.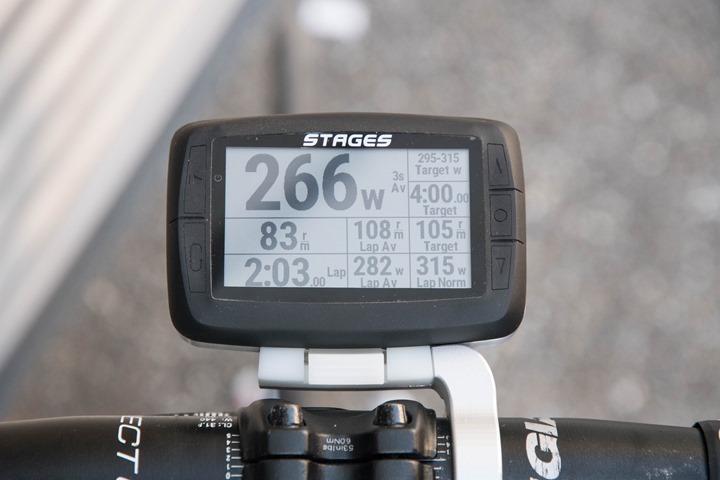 You can also split the screen in half, allowing one half of your screen to remain static, while the second half of your screen rotates through pages.  This is handy when you may have activity-specific data on one side (i.e. routing), and still want your favorite screens on the other.  You can customize up to 8 data fields per half of screen (logical, since you can do 16 data fields on a full screen).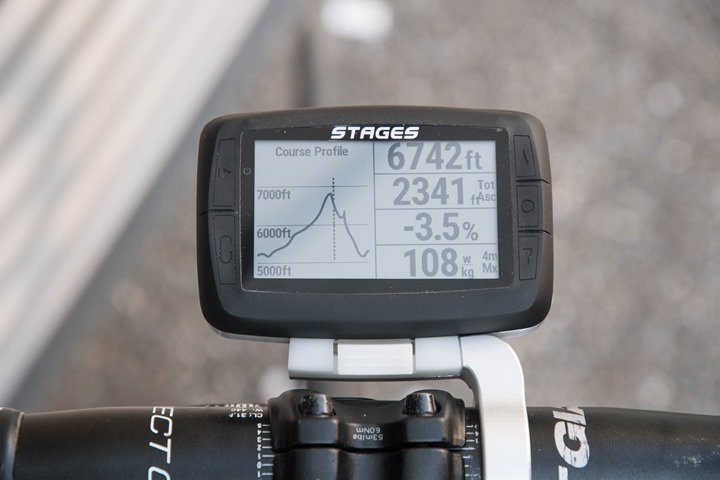 Configuration of these data fields can be done from the website, the companion app, or the device itself.  Changing it in any one place changes it in all places.
Next we have workouts.  The unit includes workouts functionality (something the Wahoo ELEMNT currently lacks, though all comparative Garmin Edge units have).  This allows you to create workouts from the web platform and then push them to the unit. You can specify targets of varying types, but also add (coach) annotations.  This is handy when you have specific instructions for a given phase of the workout (or race).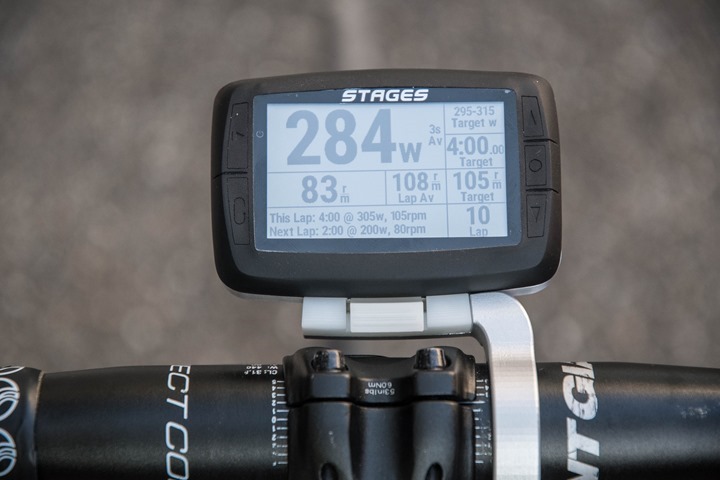 Further, they have basic breadcrumb trail capabilities for routes, which will not only show you where you're supposed to go (in a very basic manner), but also the planned elevation plots.  Note that this isn't turn-by-turn navigation – so it won't tell you 'Turn Left on Maple Street', but it's a start.  Stages did note that since the unit supports smartphone notifications, you could use various turn-by-turn apps and simply have those notifications appear on the Dash.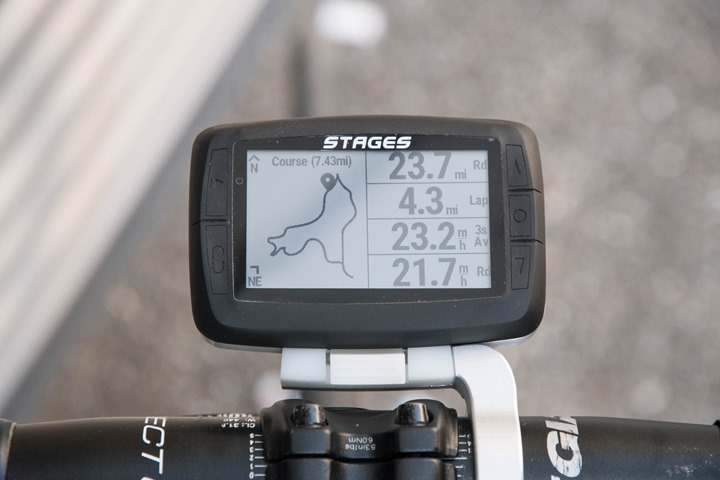 Finally, as I noted at the beginning – it's all about that data.  And Stages goes places where others haven't before.  To begin they support the ability to do high-speed data collection of power meters.  Right now this capability is only in their mobile app, but it'll now also be available in the Stages Dash.  What makes this more appealing for folks is that previously you had to do it outside of a given workout session, whereas now it's integrated into the head unit.  Recording rates are at 4hz or 64hz (4 times a second or 64 times a second).  These can also be done on-demand, such as at a sprint point.
In addition, and perhaps my favorite feature, is the ability to record the zero offset data.  This is the power meter calibration data points, which are typically done before each ride.  The main display home screen includes a giant calibration button, as a cue that perhaps you should calibrate for the most accurate results.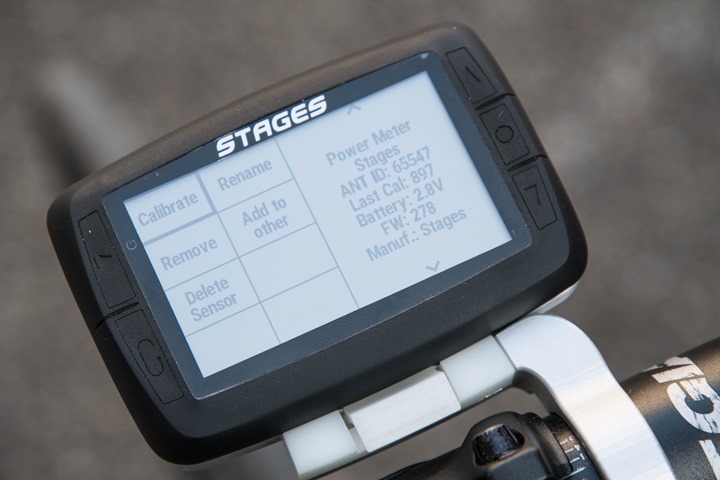 However, what happens after that point is most interesting.  The data is then saved and stored for later transmission to Stages Link (the website).  It's there that it'll start plotting that data as trends, allowing you to identify if something is amiss.  It'll also help coaches when an athlete has a sudden PR from a power standpoint, to act as a backstop and validate if the power was real or perhaps just a power meter calibration error.
By default the data is recorded in a new .Stages file format, akin to a camera raw file format.  This file is then transmitted to the Stages platform, where you can sync it automatically to Strava, TrainingPeaks, and others.  Or, you can just export it at as standard .FIT files if you'd like (along with other file formats).
The company says they'd like to see the .Stages format become a bit of an industry standard for bike computers to store data, since the existing .FIT file format seems to not grow fast enough to meet the needs of the industry (pointing to the power meter calibration points issue or high speed data).  I don't necessarily disagree with that sentiment, though, I'd probably have started by not naming my file .Stages, and going with something a bit more bike computer generic like perhaps: .AnythingElse.
Still, the underlying concept of what they're trying to do should be applauded.  I've often talked about my dislike for custom file formats, and in some ways this is no different. However, if they're making it such that they generate .FIT files immediately upon request on their site – then it's no different than Suunto and Polar, which both use proprietary transfer mechanisms between the device and their web platforms. Ultimately I want the athlete to have access to their data in open formats, and to that end, Stages does do so.
The Stages Dash will be available 'Early 2017' for $399.  They noted numerous times that they are interested in feedback from folks between now and that period on what features they should focus more on (i.e. lack of Strava Live Segments) or otherwise redirect efforts towards.  Historically speaking Stages has actually been pretty good at hitting their projected timelines for releases, and given how the product looks today – I expect that to be the same here.
The Training Platform – Stages Link: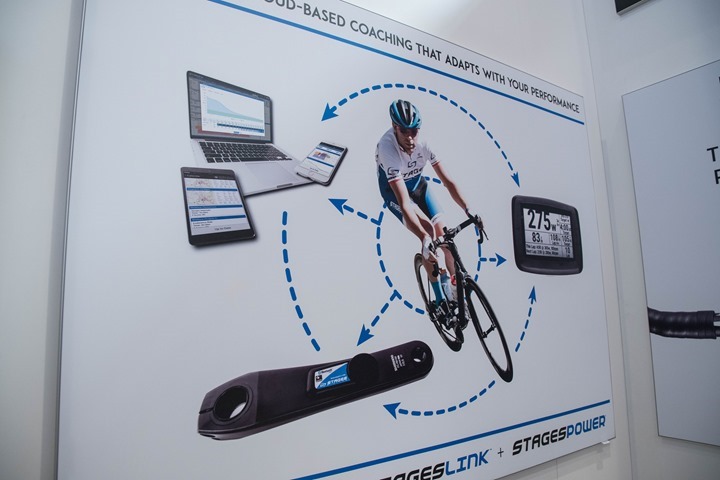 Phew!  So much stuff!
Next we've got Stages Link, which is the training platform.  This platform is designed to be a full-on training platform for data analysis, coaches, and Stages Dash management.  And in order to get a jumpstart on that, they've worked heavily with the popular Australian training app 'Today's Plan'.  This company has been making a legit competitor to TrainingPeaks for a year or two now, and decided to partner with Stages to accelerate Stages efforts.
Think of the Stages Link site as a Today's Plan+++.  It's got much of the same underlying analysis goodness, but with a twist from Stages.  Specifically aspects such as the ability to manage the Stages Dash head unit.  You can see that customization of data pages below: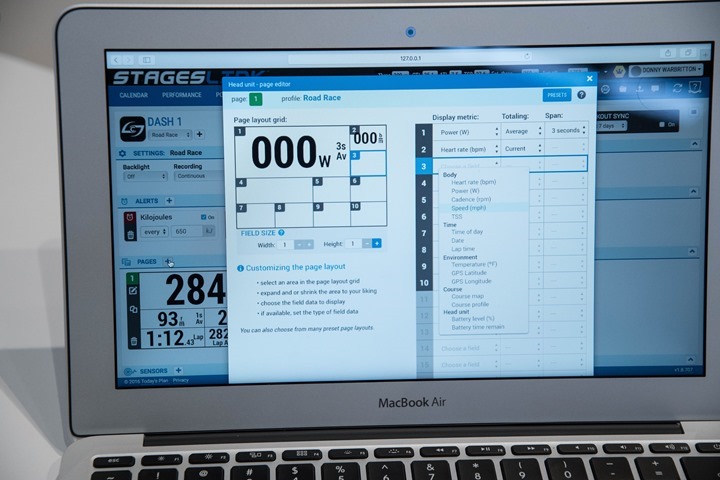 Another unique feature of the platform compared to others is the ability to have the power meter manager, which allows you to manage everything from firmware levels on your power meter (and let you know when it's askew) to battery levels and zero offsets (calibration data points).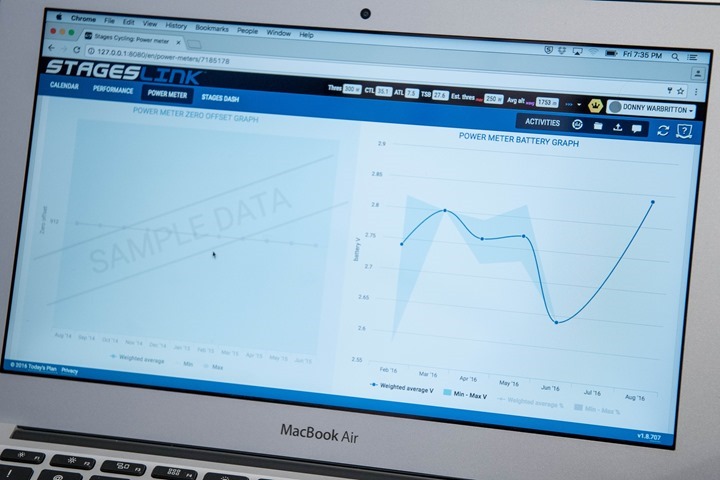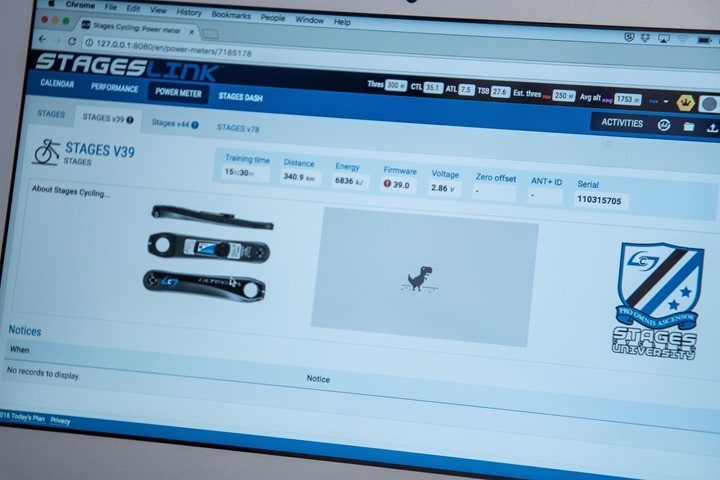 Within the workout manager you can create workouts and annotations, but also add alerts for hydration/nutrition. In fact, they're looking at getting this functionality even more detailed and allowing you to put in specific repeating alerts for something like 'Eat Gel Now' vs 'Drink Now', all of which will show up on the Stages Dash.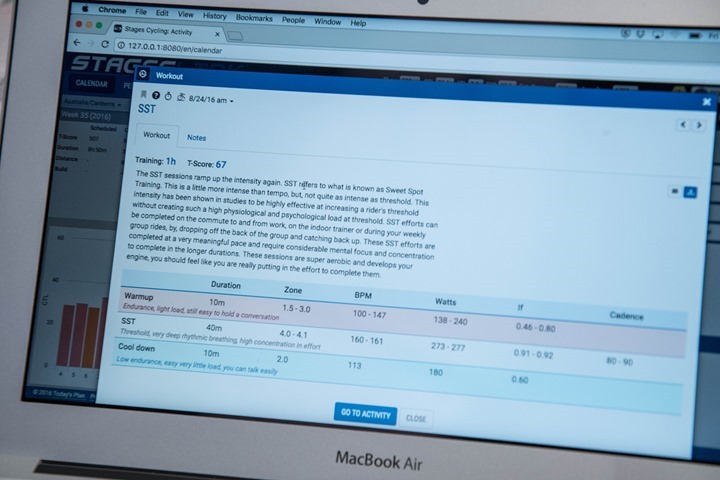 Related to the workout piece is the ability to do predictive CTL (training load) in the platform based on knowing your scheduled workouts and having that data on the service, combined with the historical workout data.
In that same vein, given it's a competitor to TrainingPeaks, you'll see the official TSS/NP/IF data on the Stages Dash device (which Stages has licensed from TrainingPeaks); however, you won't see that exact terminology on the site.  But rather slightly different metric names (and potentially different algorithms).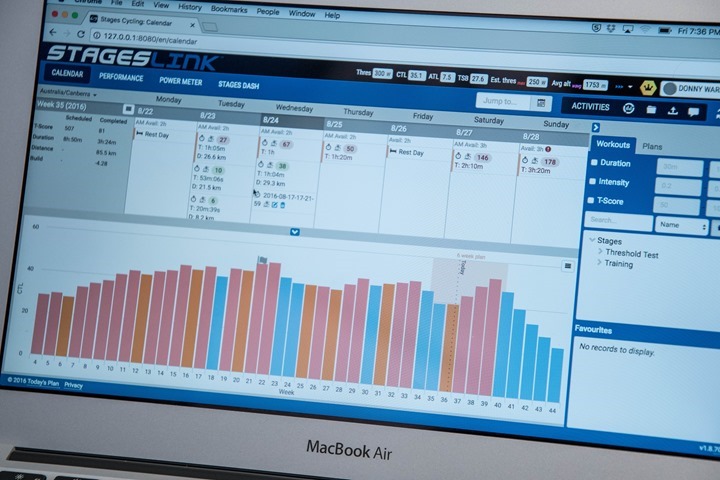 Beyond the more detailed Stages-specific items, you'll have your overview for completed activities and the ability to dive into them.  Stages was aiming to give top-level stats on one page, and then allow folks to go deeper in subsequent pages.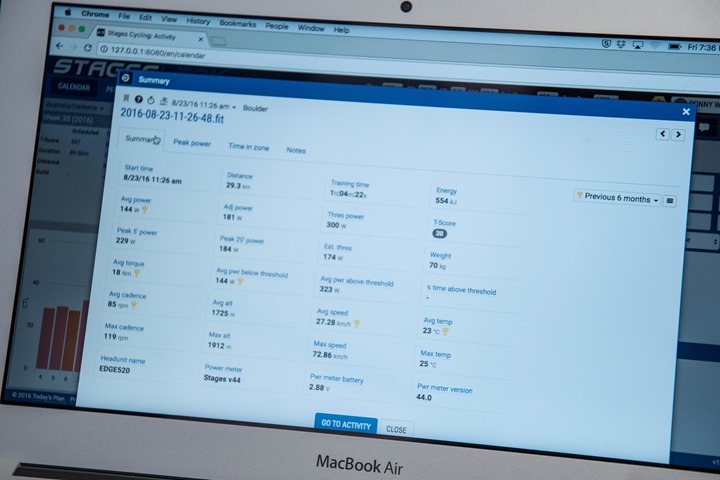 The exact pricing for the Stages Link site hasn't been determined yet, though it's got a bit sooner timeline for release, with the company aiming to get beta users on the platform over the course of the fall.  Note that at launch the platform doesn't support swimming or running, so it may be a bit tricky for triathletes.
Wrap-Up: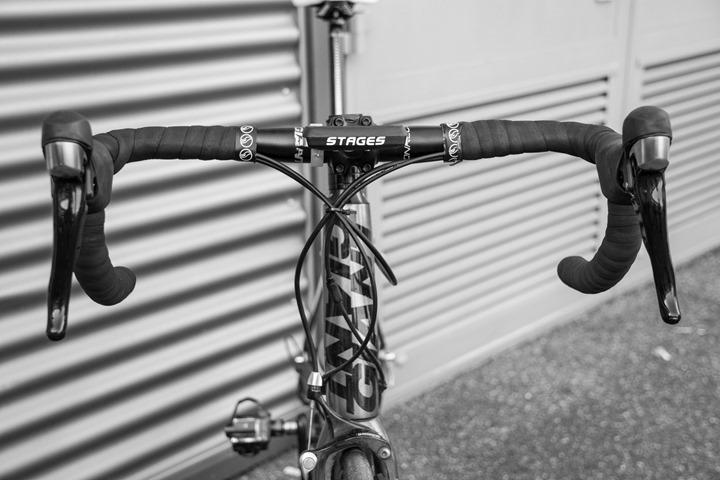 It's always cool to see more companies get into the head unit game, as it pushes all other companies further along.  Innovation and competition is good for consumers.  I'm pretty impressed with where Stages is from a development standpoint on Dash, given their release date isn't till next year.  They've stuffed a lot in there thus far, and they're open to tweaking their development plan prior to release.
Now in many ways the Dash reminds me a bit of the SRM PC8 in terms of the target audience, and to a lesser extent price.  With the Stages Dash being $399, it's about $100 more than the Garmin Edge 520 and Wahoo ELEMNT, which are becoming the most popular options for GPS bike units (each for slightly different reasons).  So at $70-$100 more, the Dash may be a hard pitch except to the most data-focused cyclists.  I think though that if Stages does a bit to broaden their appeal (i.e. adding Strava Live Segment support, Live Tracking, Turn-by-Turn navigation), then it could certainly take a chunk of the market share.
Still, I really like what they're doing when it comes to incorporating the power meter calibration data in there (something I and other power meter folks have been asking Garmin to do for years), as well as the high speed data options for those that want it. And interestingly, it's these small-sounding items that likely led to Stages developing the head unit in the first place.  Funny how small ignored requests can grow into competitors.
With that – thanks for reading, and feel free to drop any questions down below and I'll try and get them answered!
Update – June 7th 2017: The Stages Dash can now be ordered and is shipping this week, I'll be releasing a review within the next week.