(Update – May 18th, 2017 – See my full and new in-depth review published here!!!)
Quarq is turning 10 years old this year, and at Eurobike they rolled out a complete refresh of their power meter lineup.  This refresh covers all their models from low to high end units, and adds in additional OEM options for folks to buy power meter ready cranksets as part of bikes shipping from major bike manufacturers.
The DZero Models: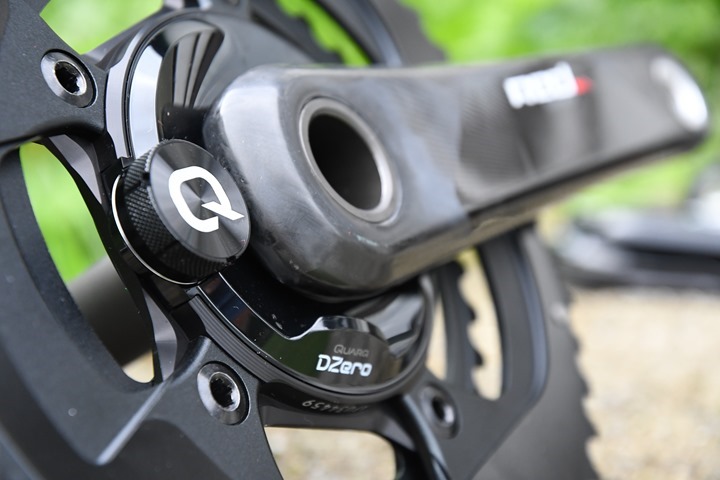 While these Quarq models are all new, the particular power meter location on the bike remains the same: the crank spider.  Thus, think of this as an evolutionary upgrade rather than Quarq going in a new direction on power meter measurement (i.e. to pedals or some other spot).
The new units feature hardware changes that now support the following:
– Revised strain gauge design for higher accuracy
– Dual ANT+ & Bluetooth Smart broadcasting of power/cadence data
– New multi-color LED for more status clarity (matches eTAP LED's)
– Support for Qalvin BLE edition (no longer need ANT+ adapter to configure)
– Support for Boost 148 (52mm chainline) compatibility for mountain bikes
– Support for BB386 EVO bottom bracket compatibility
The new strain gauge design increases in particular the performance of OmniCal, as it gives them higher levels of accuracy there than previously.
In addition, they're carrying forward technologies/specifications that they've integrated into past units:
– 10K temp compensation (details here in my behind the scenes post)
– OmniCal: Allowing you to change chainrings
– Accelerometer cadence
– IPX7 waterproofing
– Standard CR2032 batteries
– 2 year standard warranty
On the battery front, they've slightly reduced their battery claims to be more realistic.  The current units state 200 hours, versus 300 hours in the past.  Some might mistakenly attribute that to the addition of Bluetooth Smart, but in reality Quarq says it's just them as a company being a bit more realistic.  The addition of Bluetooth smart from a battery standpoint is negligible.  They noted that 300 hours was (and still is) quite achievable if you were looking at summer riding time, where battery conditions do better than in colder weather.  Whereas if you were talking winter, then it'd be more at the 200 hour level.  For most people, it'll likely sit somewhere in the middle.  Either way, the discussion is really just academic – since we're really just talking about a $1-2 CR2032 coin cell battery.
As noted above, they'll broadcast power and cadence over Bluetooth Smart now, which they've tested with a number of apps (i.e. Strava), as well as Polar head units.  I meanwhile tried it out on a Suunto Spartan down below in my first ride.  But more than that, it allows them to have a Qalvin version of their configuration app that 'just works' on iOS/Android for configuration changes.
The older ANT+ enabled Qalvin still works, but you just can't update the firmware on the new units with it, since that must be done via Bluetooth Smart.  They expect to retain the existing Windows/Mac versions of Qalvin using ANT+ USB sticks, whereas the Android/iOS version will use Bluetooth Smart.  This is roughly inline with what other companies do on updating of firmware.
The new models see a slight dip in price, from $20 cheaper to $270 cheaper – again, depending on the exact model.
Here's the rundown of the models/names/descriptions/price:
Quarq DZero Prices
| Model Name | Description | Price |
| --- | --- | --- |
| Quarq DZero Power Meter Chassis (Carbon) | For traditional 10- and 11-speed chainrings. Exogram carbon or forged aluminum crank arms. Hidden or non-hidden bolt spider. 130 BCD and 110 BCD. | $1079 / €929 / £858 |
| Quarq DZero Power Meter Chassis (Aluminum) | For traditional 10- and 11-speed chainrings. Exogram carbon or forged aluminum crank arms. Hidden or non-hidden bolt spider. 130 BCD and 110 BCD. | $779 / €779 / £693 |
| Quarq DFour Power Meter Chassis | A DZero power meter for Shimano 11-speed drivetrains, compatible with Shimano's 4-arm chainrings. | $1179 / €1029 / £968 |
| SRAM RED DZero Power Meter Chassis | The SRAM RED Power Meter moves to the DZero platform. Exogram carbon crank arms. Hidden bolt spider. 130 BCD and 110 BCD. | $1079 / €929 / £858 |
| SRAM XX1 Eagle Power Meter | CARBON TUNED crank arms, DZero spider. 170 and 175mm. 168Q. Conventional and Boost variants. | $1129 / €979 / £913 |
| Spiders only below | - | - |
| Quarq DZero Power Meter Spiders | DZero | $679 / €679 / £583 |
| Quarq DZero Power Meter Spiders | DFour | $779 / €779 / £693 |
| Quarq DZero Power Meter Spiders | XX1 | $729 / €729 / £638 |
Availability for these starts in just two weeks, on September 15th.  So none of that 2017 messiness here.
Oh, and finally – in case you're curious where the DZero name comes from, it's named after one of the two particle detectors located at Fermilab in Warrenville, Illinois.
Quarq Prime Power Ready: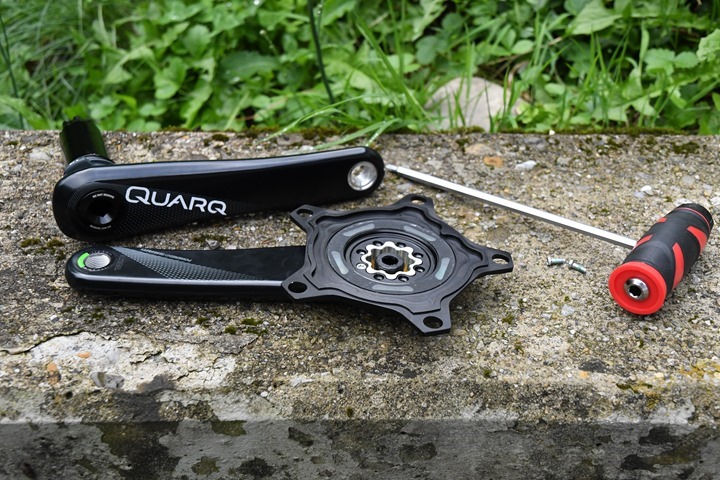 Next, to briefly touch on something I stumbled into at the Tour de France this year – Quarq Prime.  Quarq Prime is a platform/program that allows bike companies to sell a bike with a crankset that's ready to accept a Quarq power meter spider.  Those cranksets are called 'Quarq Prime Power Ready'.
At a high level, this isn't terribly different than you just managing to pick a compatible power meter for your bike's crankset.  But behind the scenes there are some minor changes in the cranksets to make the experience cleaner.  For example, the interface for where the two units attach is specifically designed to minimize zero-offset movement (which in turn increases accuracy/shift).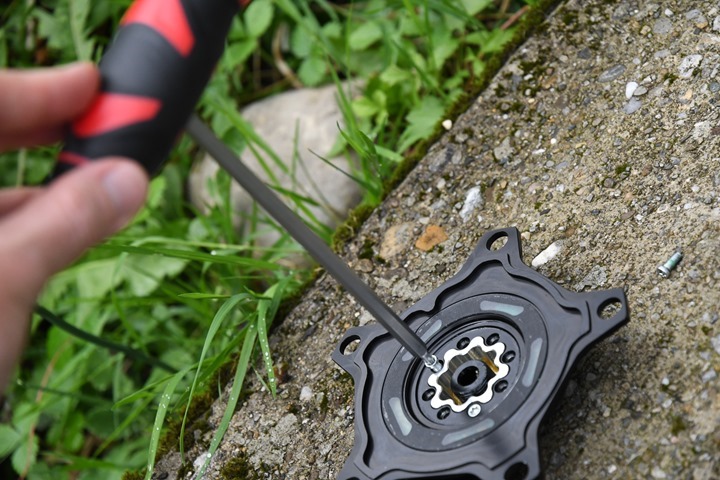 Second, they've include a nifty toolset with each Quarq spider that gets shipped.  This gives you a T20 (not T25) Torx wrench, that's designed to be a bit longer for easier installation.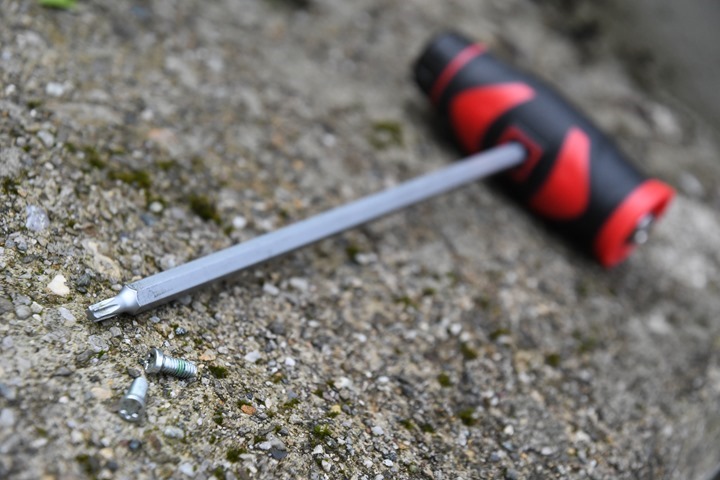 But ultimately, this is really about converting folks who have bought one of the Quarq Prime capable bikes to getting a power meter relatively easily.
There will be 2017 model frames from Canyon, Felt, Fuji, and Trek – among others.  These are based on the SRAM Force & SRAM Rival crank sets.  The folks at Bike Radar put together a pretty good round-up of bikes that are Quarq Prime already.
A First Ride: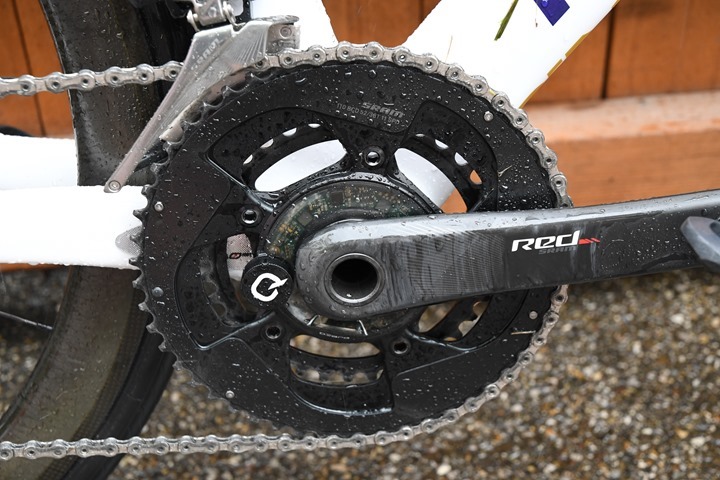 Monday morning I went out for a very wet ride with the new unit.  It'd be hard to imagine worse summer riding conditions than those of that morning.  Thunder and lightning continuously shook our starting location like a bad rock band.  Apparently I drew the short straw of the morning ride instead of the more pleasant sounding afternoon ride.  But it's okay: they had Snickers bars on-hand for ride nutrition, which makes it all better.
My loaner bike wasn't too shabby either: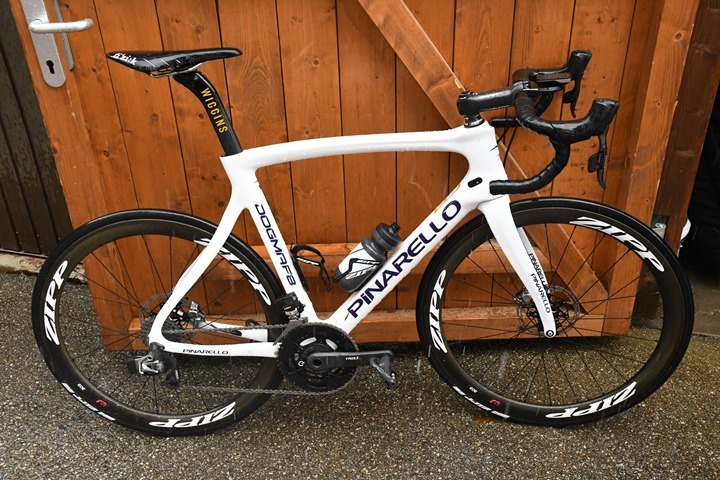 It was equipped with the also just announced SRAM HydroHC road disc brakes integrated with SRAM's RED eTAP system.  And then of course, a SRAM RED DZero power meter down below.  In fact, this particular prototype unit has a nifty translucent face plate that allows me to see the electronics inside: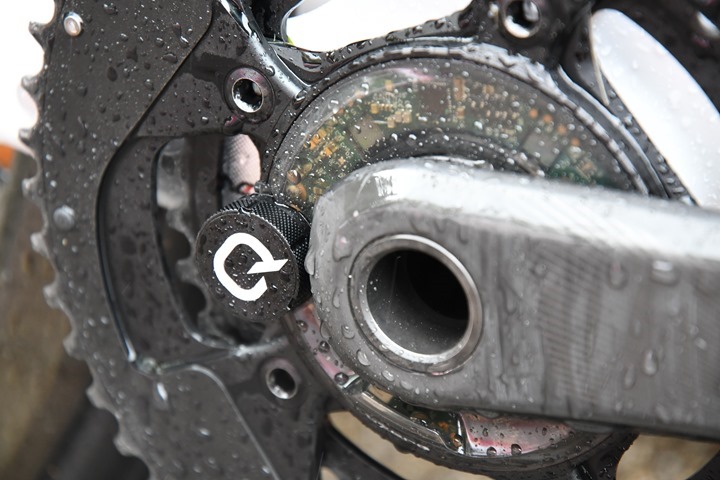 In any case, pretty geeky stuff aside, I got it all paired up with both a Garmin Edge 820 as well as a Suunto Spartan Ultra GPS watch.  I used the Edge 820 to pair to the ANT+ signal, while I used the Suunto Spartan Ultra watch to pair to the Bluetooth Smart signal. The Quarq does both concurrently.  I had no issues during the ride on the ANT+ signal.

However, on the Bluetooth Smart signal it only recorded the second half of the ride on the Suunto Spartan.  I'm going to give it a 90% chance that this is Suunto's issue, since my experience to date is pretty similar for other power meters I've tried with weird Bluetooth sensor recording issues on the Suunto Spartan.

In my case, I did not ride with another power meter on the bike – so I can't say whether it was accurate or not.  Though the numbers were at least consistent with my expectations for the effort I was putting out.  As part of a full in-depth review, I'll of course touch on accuracy.  And I'll also touch on compatibility in more depth and validate whether it was a Suunto or Quarq issue.
On the ANT+ Edge 820 side though, the data looked clean for both power and data, as also seen in the screenshots above.
I can say though that the rain didn't appear to impact things otherwise, nor the humidity or thunderstorms.  Not that I'd expect it to.  This was however definitely a case where having those new HydroHC disc brakes was pretty sweet.  Zero issues stopping there.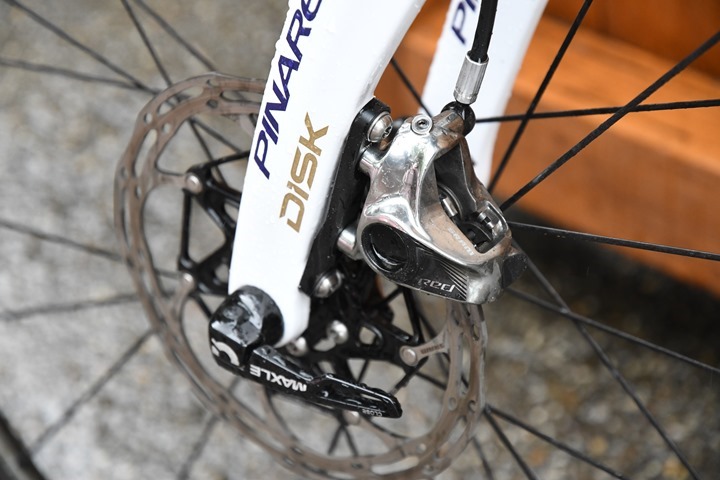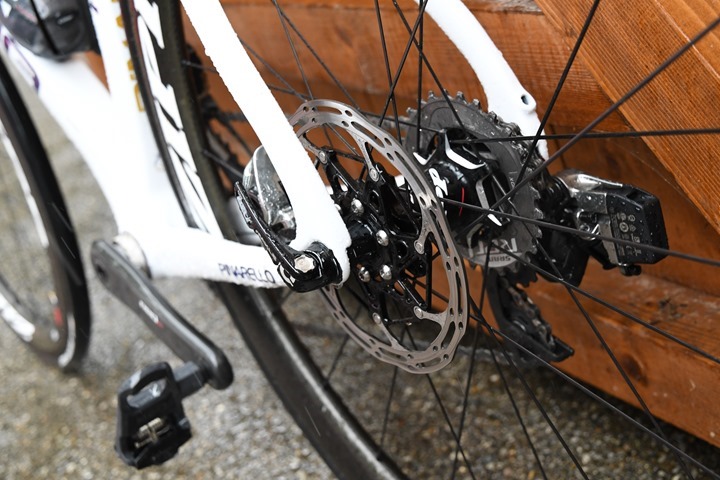 Speaking of other groups within SRAM, one interesting tidbit that came out at the SRAM Disc Brakes media presentation pieces was that during their testing they actually run special edition Quarq units that also capture data from sensors at the brakes.  This measures how much a rider brakes individually in both the front and back.  This is then wirelessly transmitted electronically to the Quarq for download later.  Further, Zipp also uses what sounds to be a similar setup for aerodynamic sensors for out on the road.  All these entities being under the SRAM umbrella.
Another tidbit that was notable on the eTAP front was that 15-20% of eTAP sets sold are for triathlon/TT bikes (there are only two kits, a TT and a road setup).
With that – thanks for reading!  I'll likely aim to do a full in-depth review of the lineup this fall, once they start shipping.  In the meantime, feel free to drop questions below.
Interview with Founder:
Updated to add: On Thursday evening at Eurobike, I sat down with Jim Meyer, founder of Quarq to talk about everything from the new power meters, historical tidbits, and what Kickstarter Jim wants to launch with Quarq.  Oh, and how to get SRAM to buy your company.  Fun times.  See below.  Note that you'll see something other than the side of the RV around the 1-minute marker…