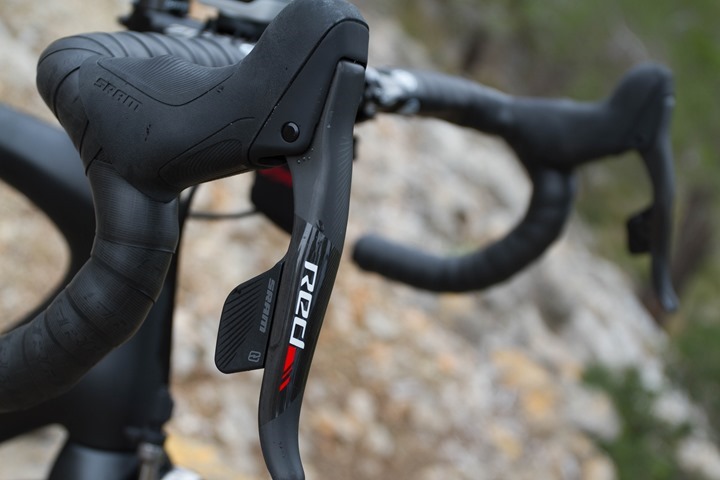 SRAM RED eTAP has probably been one of the more closely followed sports tech products in the cycling industry as it worked its way to release.  Of course, the vast majority of that multi-year journey was through various media spot shots, faked derailleur cables, and all assortment of other goodness designed to throw people off the track.  It wasn't until last August that it was officially announced with pricing details and the like.
About two months ago SRAM dropped off an eTAP system for me to dig into it.  Since then I've been riding the crap out of it, taking it with me on travels and planes, and figuring out where any holes in the armor are.  Based on that I'm ready to give you the mother of all eTAP reviews.
Finally, note that eTAP is considered electronic shifting, just like Shimano Di2 and Campy's EPS.  However, remember that the term 'electronic shifting' is not the same as wireless shifting.  While eTAP is wireless electronic shifting, Shimano's Di2 and Campagnolo's EPS are not (they are wired electronic shifting).  I cover this in far more detail later on in this section comparing the technologies.
Oh, and lastly – SRAM dropped off an eTAP equipped bike as well as boxed sets of eTAP to install.  All of which (like usual) will be going back to them shortly.  If you want to support the blog, check out the links at the bottom of the post.
In the road bike box: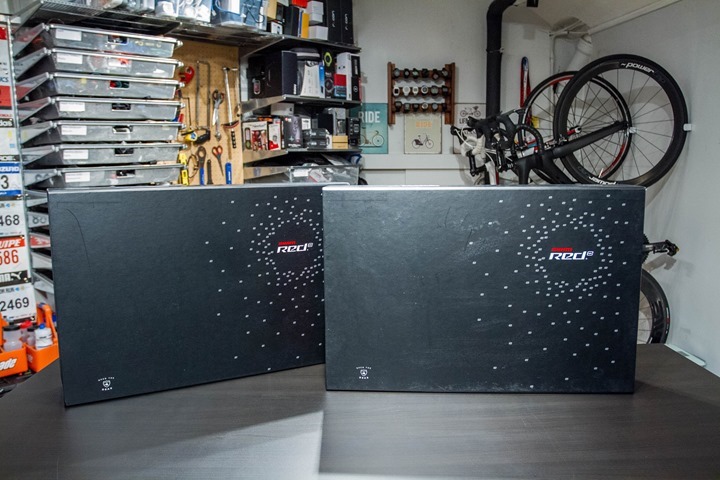 Remember when I said they dropped off an eTAP system? Well, actually, it was three eTAP systems.  Initially they swung by with a full bike configured with eTAP.  I merely had to wrap the bars and I was good to go.  However, later on I had them send me over two fully boxed systems – just like you'd be getting if you ordered.  One road bike system, and one triathlon/TT bike system.  I now have enough eTAP parts to equip a 747.  Or, write text messages with eTAP boxes:
I've divided up the unboxing into two sections: Road & Triathlon.  Simply pick whichever is applicable to you.  For the most part, the only differences between the two are at the handlebar side of things.
First up on the road side is the monster box that eTAP comes in.  This required me totally re-arrange my unboxing station within The Cave.  Aside from trainers (which I unbox on the floor), I've never had to unbox something this big.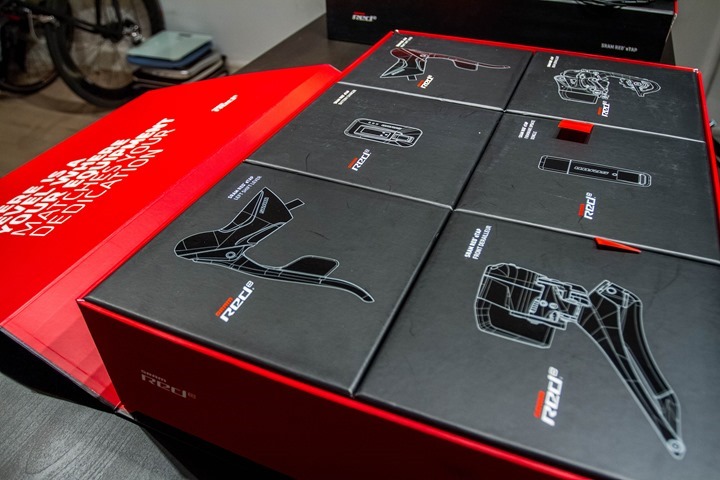 However, after applying an Ikea table to the situation, I was good to go.  First up, the road bike kit: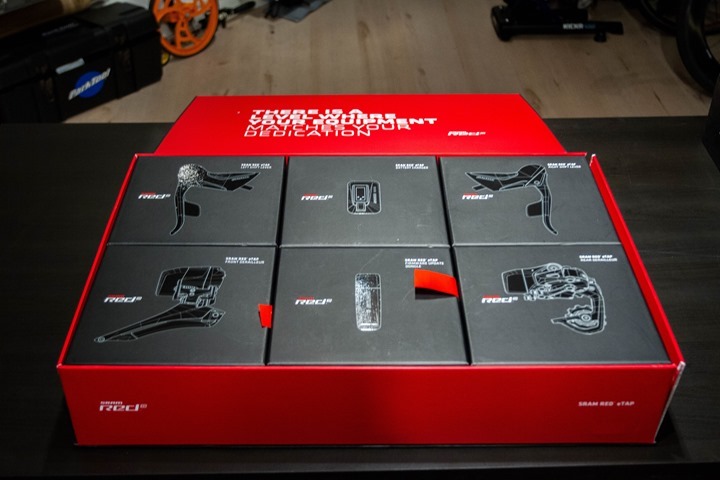 Within it you've got six individual boxes.  Each containing a part approximately 1/20th the volume of the individual part box.  To begin, we'll start with the SRAM USB stick, simply because…well, that's how the boxes tumbled out.  Down the road this will communicate to your eTAP system for firmware updates, but for today it's just a paperweight since no such firmware updates exist yet.
(Interwebs Pro Tip: You can click on any photo to make it bigger)
Next we've got the front derailleur.  This box also includes the battery, as well as a small packet with attachment screws and a shim of sorts that you'll use to ensure clean shifting (more on that in the install section).
Here's the screw bag.  It's just one screw really.  Plus the shims.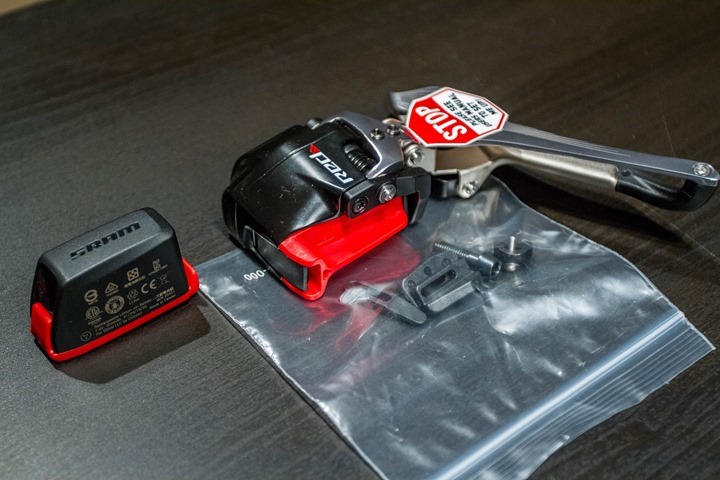 Next it's the two shifters.  Both left and right; in each box, it's just the shifter.  First, the left shifter:
Then the right shifter.  They're identical, except one is left, and one is right.
Then there's the battery charger and international adapters.  The charger is 100-240v, so you don't need a transformer.  Just plug it in wherever you go.  It's actually technically powered by micro-USB, so you can also just plug it into any USB outlet you'd like.
Finally, the rear derailleur.  Inside you'll find just the derailleur and the battery.  That is all.
The derailleur has the bolt that you'll screw onto your frame built into it, so no need for other parts.
Wait – there's actually more!  Below those six boxes are actually two more skinny boxes inset into the bottom of the larger eTAP delivery box.  These include the brake cables and brake cable housing (tubes).
Here's what the whole kit looks like on a table.  There's a number of quick-start guides in there, which you could use.  Though I find following various SRAM install videos on YouTube a bit easier.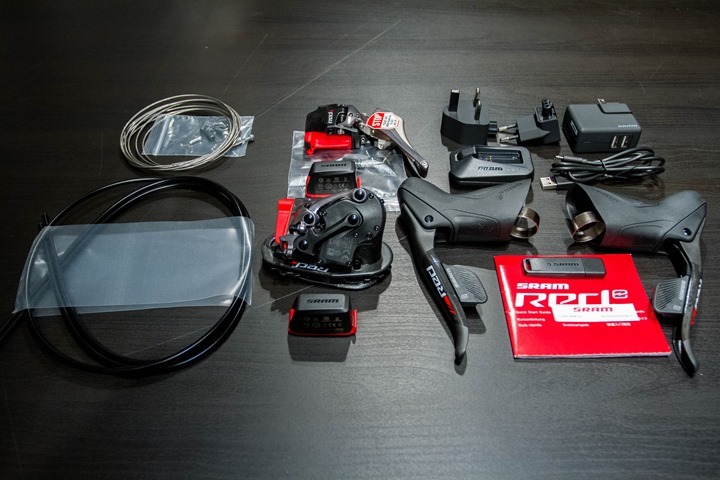 Note that by default blips are not included within the kit/box for road, only for triathlon.  Though, I highly recommend you purchase them.  Additionally, blip holders are not included either.  If you buy blips, ensure you buy blip holders (I'll talk about what happens later if you don't, but essentially kittens will die).
Here's what blip holder looks like before you install it.  It's about the least exciting piece of plastic and screw you'll find in this review.  But, it makes all the difference in the world for the blips.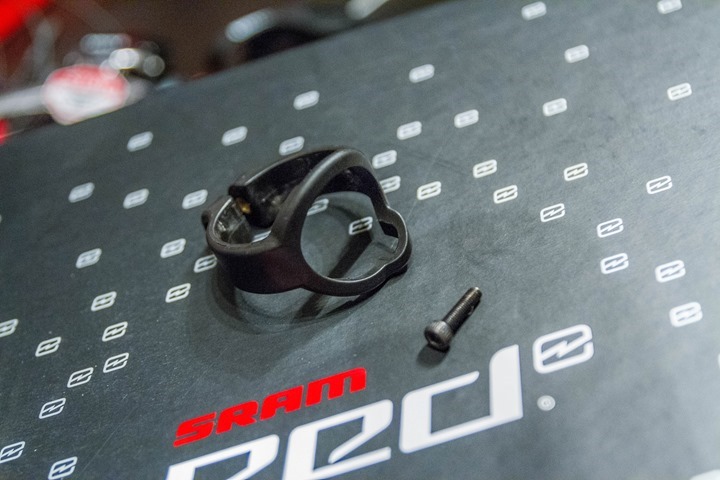 I'll cover blips in the next section on triathlon and more later in the install section.  With that, let's get onto the tri setup.
In the tri bike box: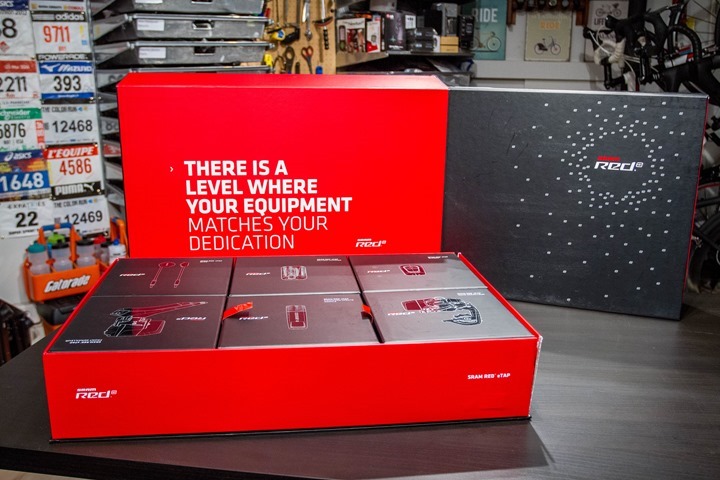 Ok, next up is the triathlon bike variant.  This is called the 'aero' kit.  You'll find many of the same parts here as the road bike kit.  For example, same derailleurs (front/back), and same USB stick.  Others will be similar but slightly different – like the Blips.  And finally there are some parts totally new – such as the receiver box.
Let's dive into it.  First, the box: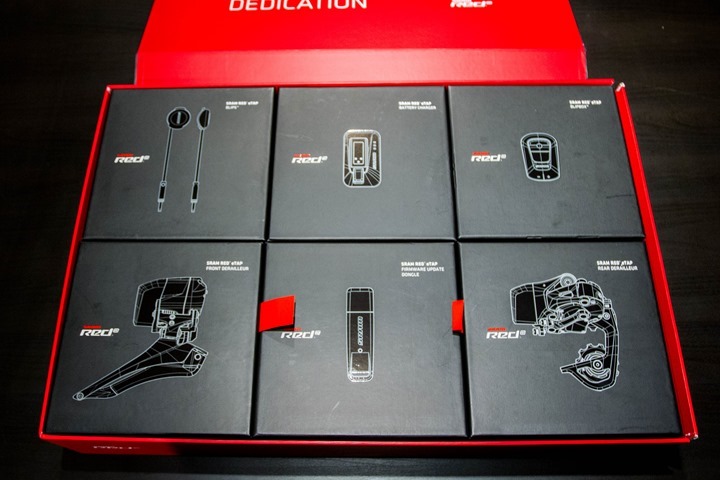 Now, cracked open.  Like before each interior box is labeled: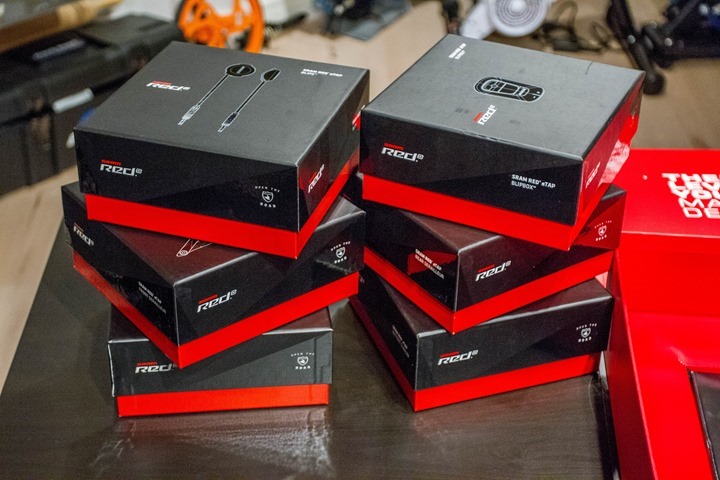 Rather than go through all of the same/duplicate boxes again, here's an unboxing gallery of what's in each of those individual boxes in the aero (triathlon) kit:
Here's the whole triathlon kit unboxed now out on the table: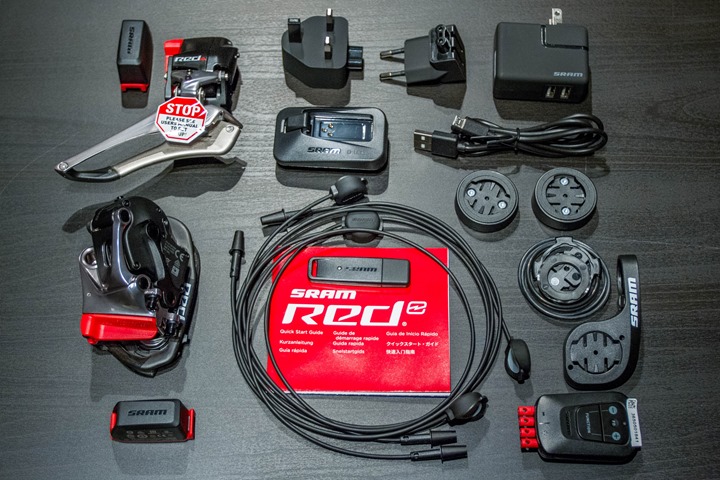 Instead I'm going to focus on the pieces that are different/unique to the tri setup.  The most unique of which is the BlipBox, which is a junction box.  Basically it's akin to the left/right wireless shifters from the road kit being combined into a single piece of hardware.
On the bottom you've got four ports.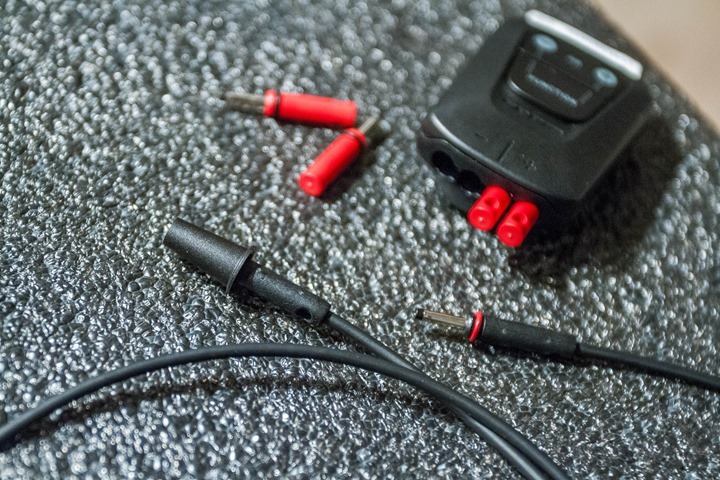 These are what you plug the blips into: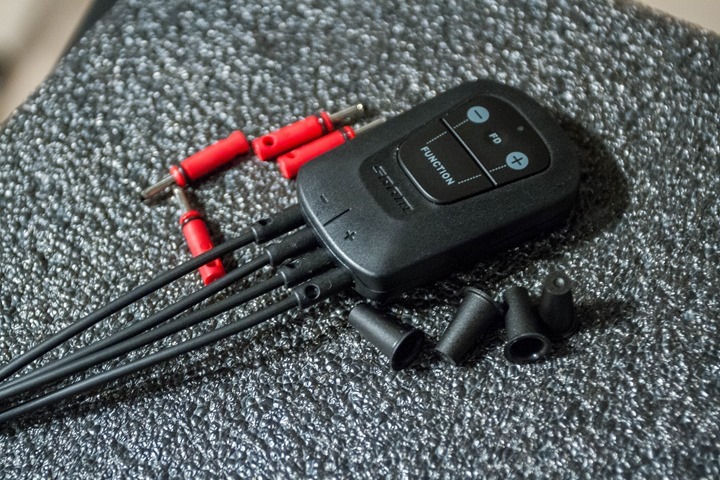 Blips are remote shifters, but wired ones.  Despite all you may have read on eTAP, there are actually some wired components – most notably the blips.  They're always wired from one of the shifters on a road bike, or from the BlipBox on a triathlon/TT bike.
Unlike the road kit, you get four blips here with the tri kit (in my case, all the same length – though they are made in four lengths: 150, 230, 450 and 650 millimeters).  Now technically you only need two of them, one for each aerobar.  But in reality, all the cool kids will also wire-up a blip to the brake handlebar area too.  That way you can shift in either location.
With that junction box you got a small pile of mounts.  These mounts are designed to give you options for where you stash that junction box.  The BlipBox junction box is a fair bit larger than a Di2 junction box (actually, it's a crap-ton larger).  So it's a bit more difficult to conceal: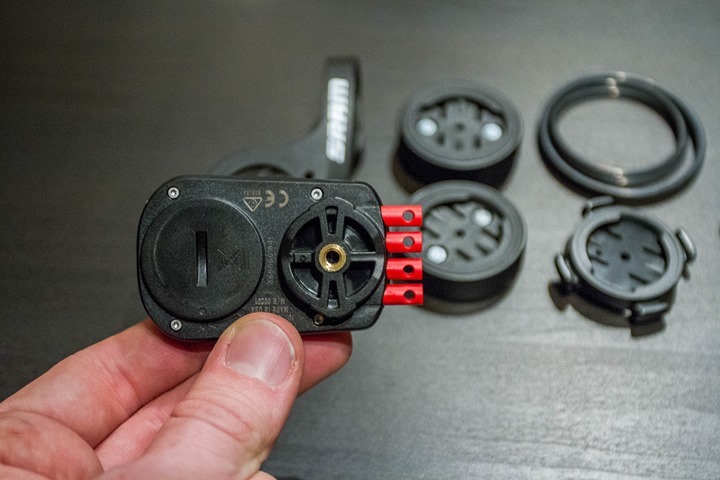 Since I didn't have a triathlon bike with a crankset on it that would have been compatible, I only did the install for the road bike side of the house.  But, I did mock-up how it would work on my triathlon bike to understand some of the limitations you might have on certain frames.
All of the fancy imagery you'll see from SRAM marketing materials and other publications with bikes given to them by SRAM will have a nifty little landing spot behind the stem that magically fits the BlipBox perfectly.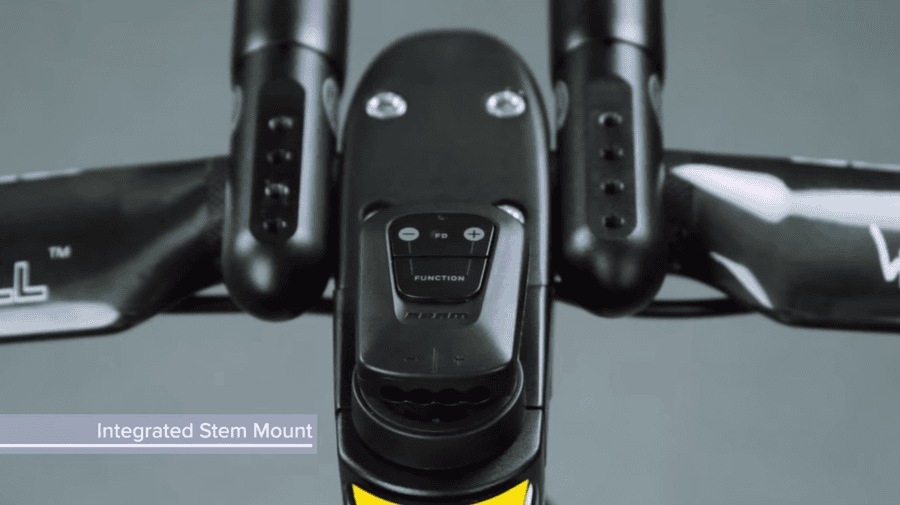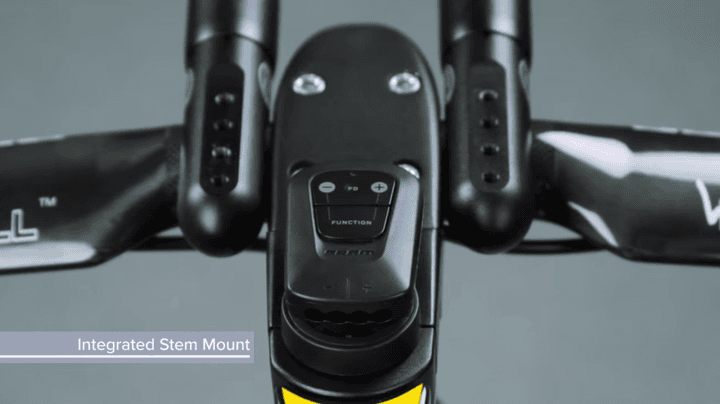 Of course, said magical spot doesn't actually exist on most other triathlon bikes.  So you're going to have to make do in a few other spots.  One would be on the top bar, but the rounded mount doesn't actually fit there, as it's not rounded enough: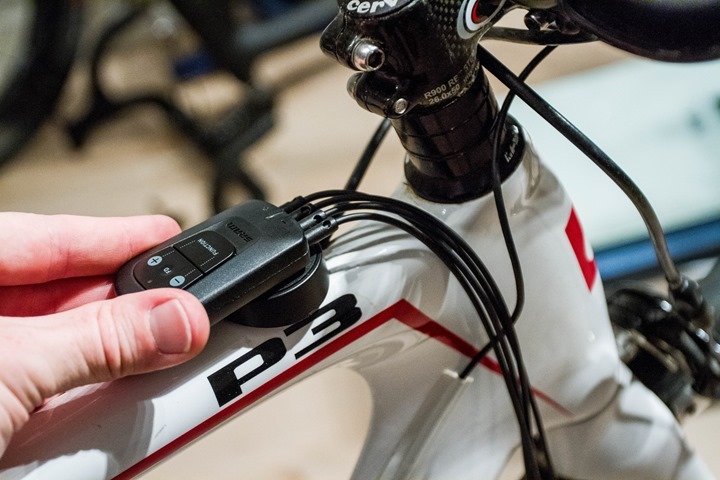 Next would be using SRAM's mount, either right-side up, or upside-down in between the aerobars:
If you did it upside-down, then you could lay a Barfly TT mount over the top of it, and it kinda disappears: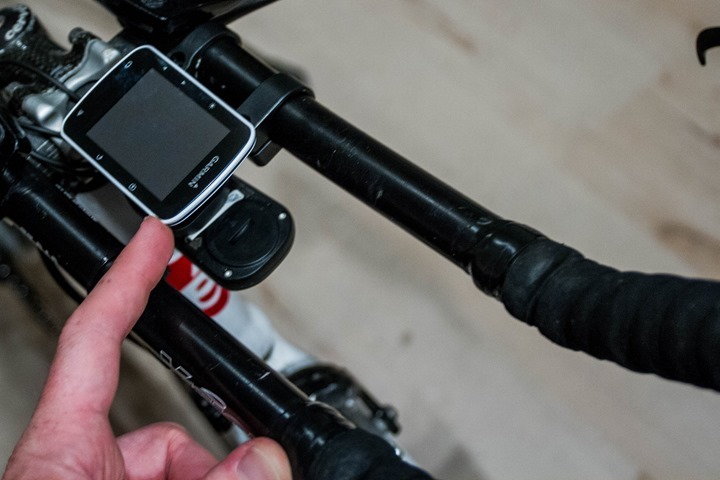 There's also a stem-mount option that situates it a bit further back (though that requires you purchase another accessory).
Meanwhile, the blips would be over near the brakes, allowing for secondary control there: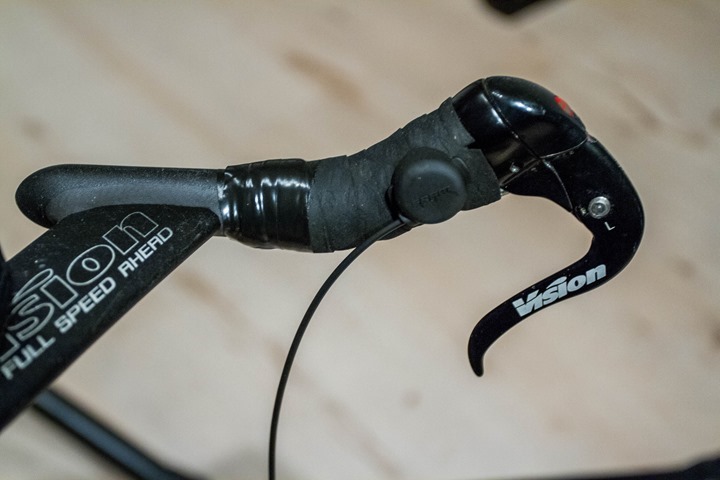 It's not super-pretty, but it works.  And I suppose my tri bike is a few years older now – so some newer ones have better/flatter spots for this.
Wait- there's more! For a triathlon bike, I'd recommend that you look at the BlipGrip's, which are essentially tips for the front of your aerobars, to keep that portion looking clean rather than blip holders.
Beyond those parts, everything else is the same in the kit as the road bike.  You've got the derailleurs which will go in their spots, and the batteries onto them too.  Same goes for the charger.
Weights:
What's that? You want to know how much each and every possible component weighs?  And you don't trust SRAM's official numbers?  Ok, no problem.  Below is a massive gallery of all the components on my (hopefully) trusty little scale:
Note I didn't weigh the brake cables because A) They wouldn't fit on my scale, and B) You'd cut them to length for your frame, which would impact the brake cables weight considerably.  Same goes for brake cable housing.
Installation: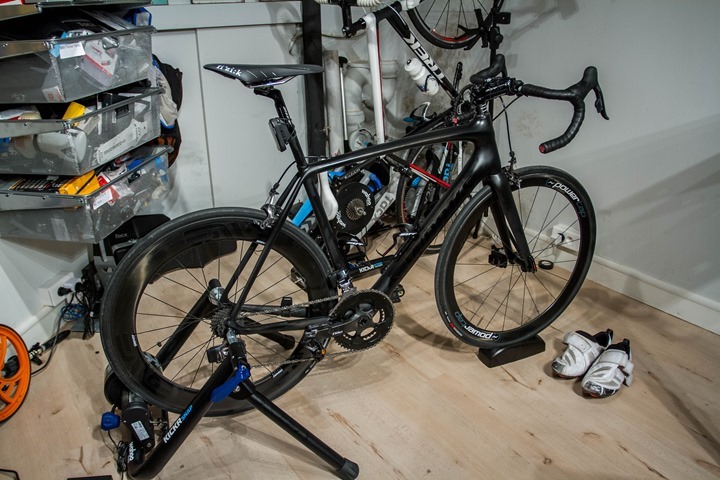 In my case, SRAM dropped a bike fully configured with eTAP, but I figured it'd be fun to go ahead and take it all apart and see if I could put it back together again.  What could possibly go wrong?
First up, I removed all of the SRAM RED eTAP components (and brakes) from the bike.  That's the easy part of course, even my dog can destroy something.  That left me with just the frame sans eTAP.
Next, I took those eTAP components that were on my bike and put them off to the side.  I wasn't going to use those.  Nope – I'd use one of the brand new boxes.  That way it's just like you would be installing them.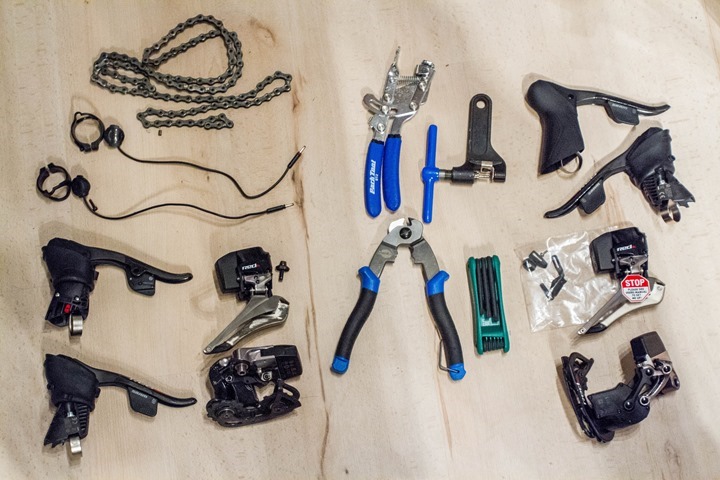 First up after getting all your parts laid out is pairing up the wireless components.  I'm going to go through this first for road, and then note the singular difference in the triathlon variant.
eTAP works on a closed wireless network that has a set limit for the number of devices attached to it.  Devices can only be added when the physical function/pairing button is pressed, and only for 20 seconds.  Finally, you can only add the two shifters and the two derailleurs.  Meaning, you can't add a 3rd derailleur, or a 3rd wireless shifter (blips don't count against this limit as they aren't wireless).  This prevents people from doing Bad Things™.
To pair, you'll hold down the rear derailleur function button for a few seconds till it starts blinking.  The rear derailleur is the master of the system from a pairing standpoint.  Then, go ahead and press and hold function buttons on the other three components till each of them blink.  You'll do this for the front derailleur, the left shifter, and the right shifter.
The entire process takes less than a minute.  At this point if you press the shift buttons on either shifter, it should cause the rear derailleur to shift up/down.  If you hold both shift buttons together, then the front shifter should react.
This is also the time to place your derailleurs on the table and watch them try and crawl wirelessly.  By law this is required for all YouTube videos discussing eTAP.  Go look in the fine print, it's in there.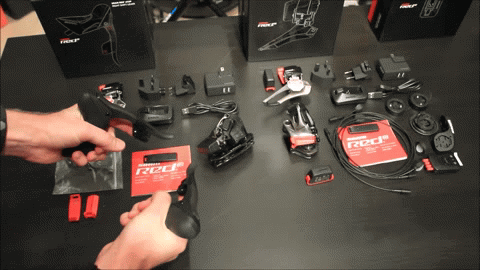 Ok, next it's time to get things mounted up.  You'll need four tools to make this happen: A 5mm, 4mm, 2.5mm, and 2mm Allen key.  Oh, and something to cut the brake cables.  And to re-connect your chain together.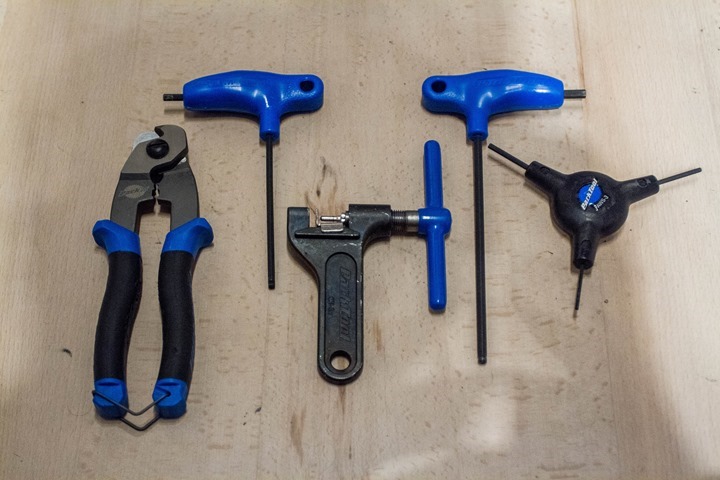 First we'll start with the handlebar shifters and get them mounted up.  You'll want to fold back the hoods a bit, so you can easily access the screw for tightening.  Also, this is where the CR2032 coin cell battery lives, in the event you need to get to that in a year or two (how long it lasts).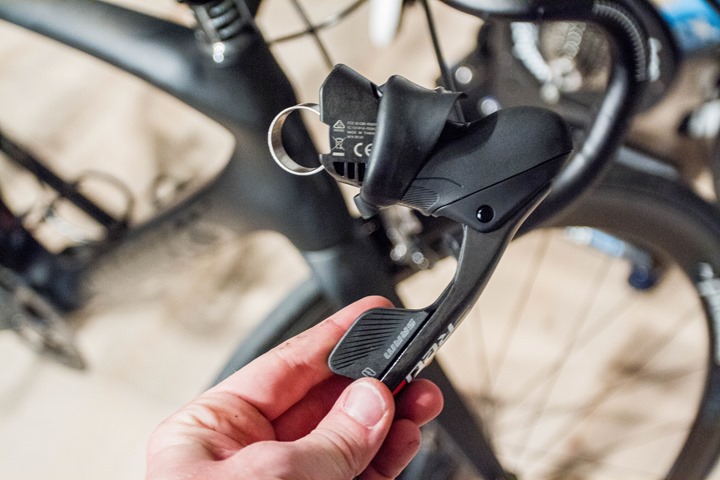 Note that at this point you'd have no bar tape on your bars, so things are pretty easy to slide on: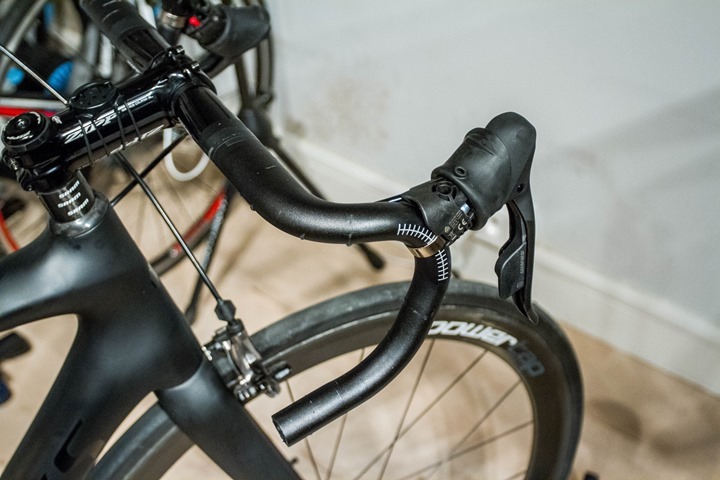 Repeat for the other side now.
Around this point you'll need to consider when you want to deal with running your brake cables.  Depending on your frame this will either suck or be easy.  You can do this now or later, your choice.
Most eTAP install videos/guides conveniently forget about this step, because it's annoying.  This is where you'll need to measure your brake cable (using an existing one is a good idea), as well as snip the cable housing too.  Along with crimping on the end cap.  The install is not hard by any means assuming you have the right tools, but it can be tedious depending on your frame.
Next up is adding the front derailleur.  It's just a single screw.
Once you've got it loosely screwed on, you'll go ahead and adjust the height to match the very thin line on the leading edge of the derailleur.  This should line up with the top of the larger chainring.  You can shift the derailleur to the large chainring either through the shifters, or by just pressing the little button next to it once.
Then we've got the rear derailleur.  Again, just a single hex wrench to get it on there.  Note at this point we haven't put the chain on yet.
Next up is putting the chain on.  There's a million guides out there for how to do this and ensure it's of proper length (if a new chain).  However, this is a good point to note that you'll need a tool for popping the chain links back together again.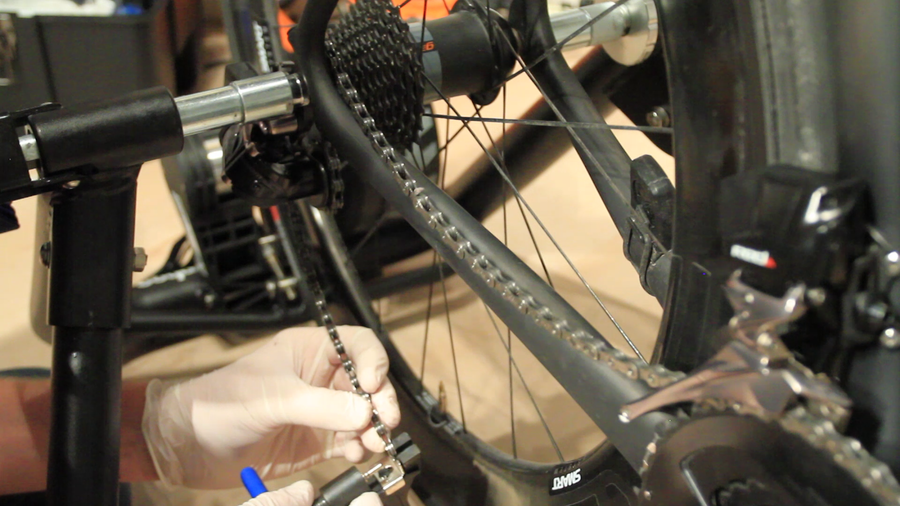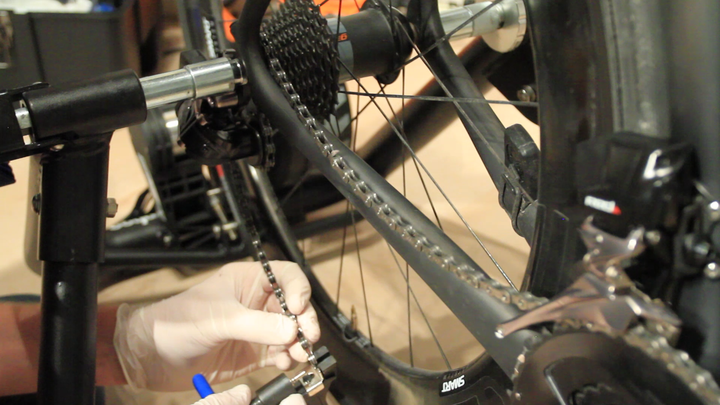 Next will be setting the limits of the rear derailleur.  There's two parts to this. First is using the limits screws on the derailleur to set those points.  But then you've got the ability on the front shifters to micro-adjust cog to cog tuning by holding down both the paddle and the function buttons together.
For the front derailleur, there's no micro-adjustments, just screws.  However, if you use the little guidelines (etched in), then it tends to work out pretty darn well.  In the below photos, I'm pointing at the etched markings using the tip of the hex wrench.
After all that's set, you can use micro-shifting to adjust the shifting in the event of any alignment issues (causing noises).  Each time you use micro-shifting on the rear derailleur (by pressing both function button + paddle on the right shifter), it'll move it .2mm.
Finally, you'll want to install what is effectively a little brace/wedge to minimize any movement during shifting of the front derailleur.  Your kit came with a few options, so you'll choose the one that makes the most sense for your frame: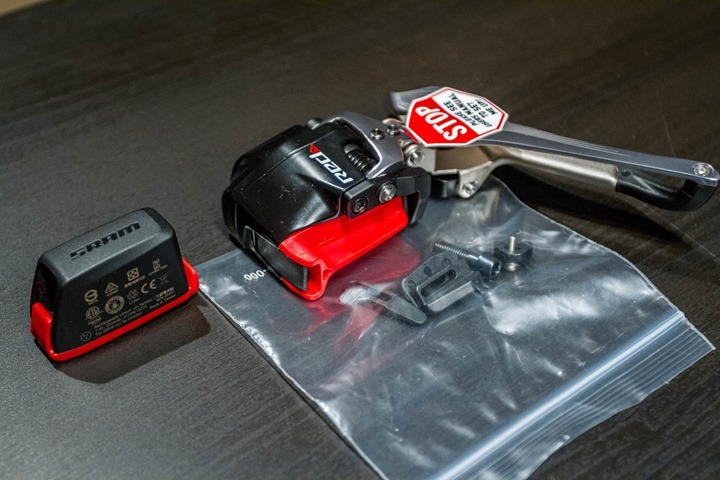 At this point, you should be mostly good to go on shifting.  However, you'll more than likely want to get some blips installed.  Blips enable you to shift without having to touch the shifters.  Think of them as remote shifters.
They are wired though to your shifters, rather than being another wireless component.  So the wires run from the shifters (left and right) to an individual blip.  Blips are also used on triathlon bikes.
The blips attach to one of two ports on each shifter.  So in theory you could have two buttons on each side (for a total of three shifters per side, or six shifters per bike).  Just stick the cable in the port and then go ahead and place it where you want.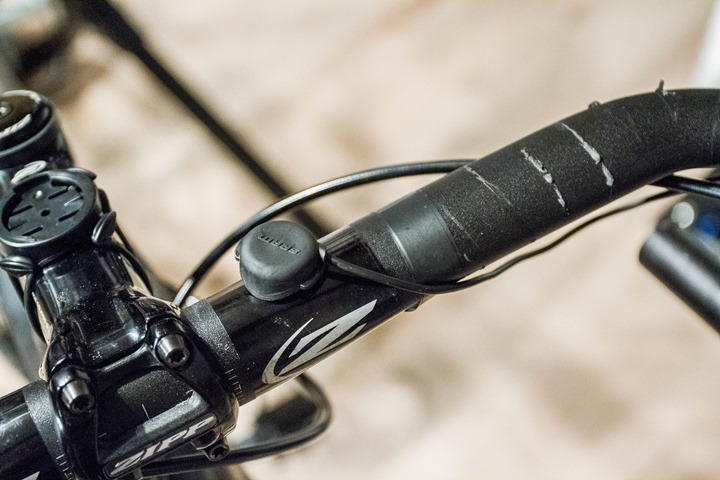 In my case, I used the blip holders to hold the blips in a logical spot.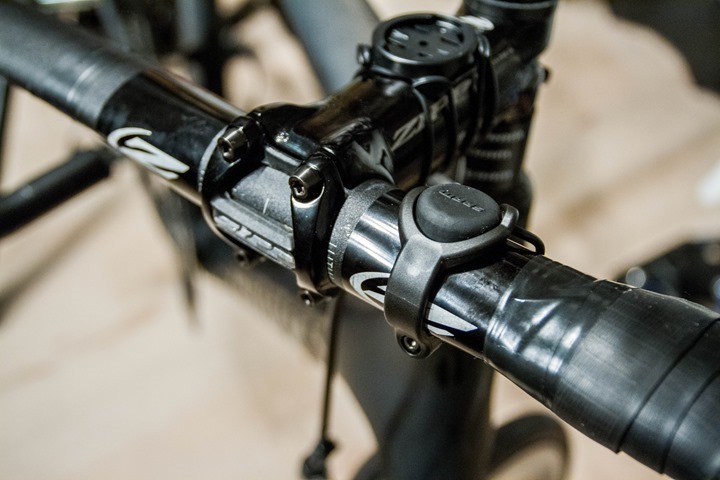 Note that without the blip holders the blips would just float around.  In my case I got creative and wrapped it under the Garmin mount rubber bands, but at that point it was kinda useless as it wasn't natural to get to.  So like I said, unless you want bike style kittens to die, just get the blip holders.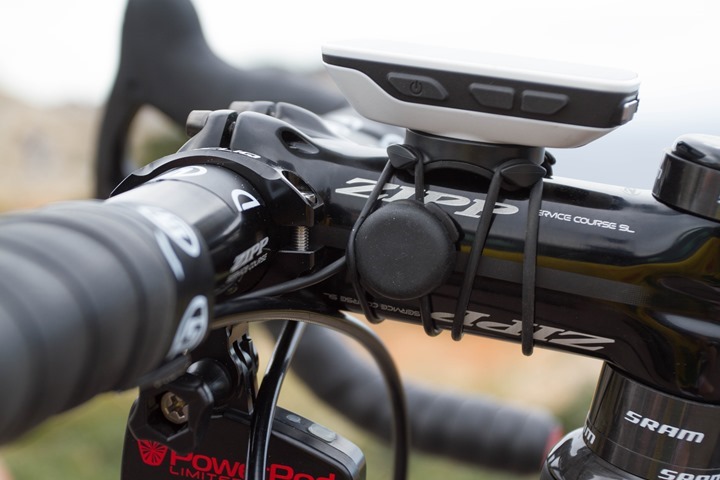 I did that for a weekend until the blip holders came in, but it's a bit messy.  Now they look much prettier: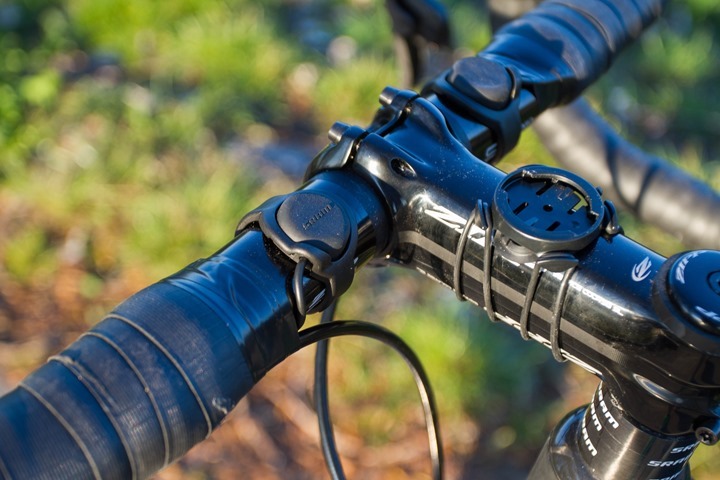 Once all that's done go ahead and attach your brakes, wrap back up the bars using bar tape and you're on your way!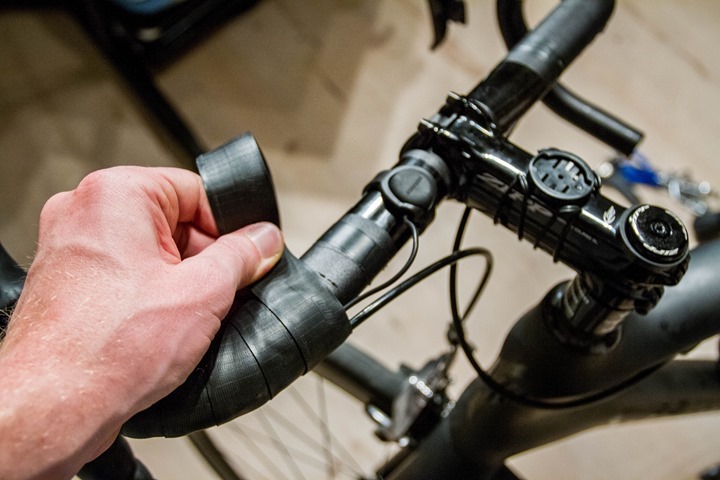 At this point the install is complete and you're ready to begin riding.
Day to Day Usage: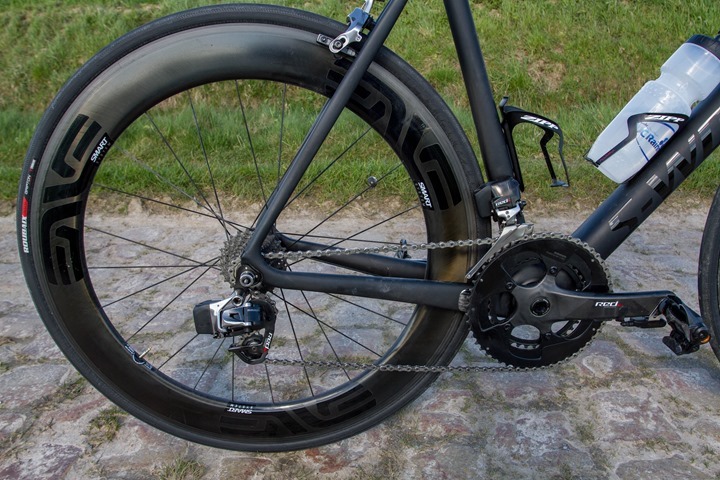 The eTAP system is pretty darn simple to use.  You basically need to know only three button combinations: Left shifter button, right shifter, and both shifters together.  As long as you can memorize that – you're golden.
Unlike most conventional shifting schemes, eTAP's shifting is setup such that BOTH the left and the right shifters control the rear derailleur.  Meaning, you press the left shifter to make it easier (on the rear derailleur), and then the right shifter to make it harder (again, on the cassette in the rear).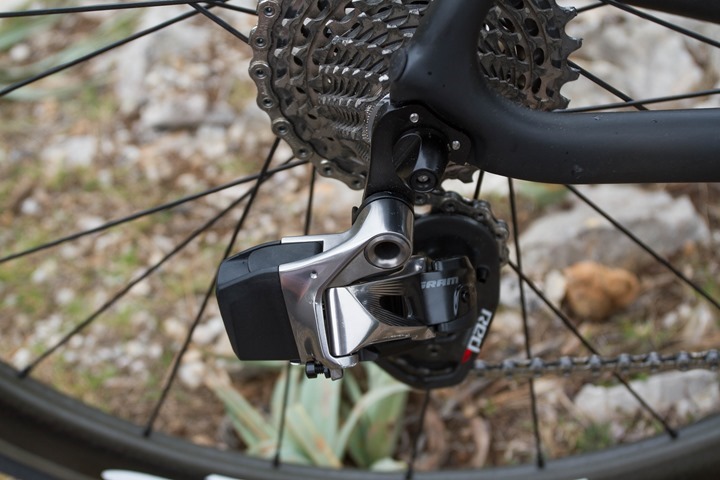 Meanwhile, to change into the 'big ring' up front, you'll hold both shifters down together at the same time.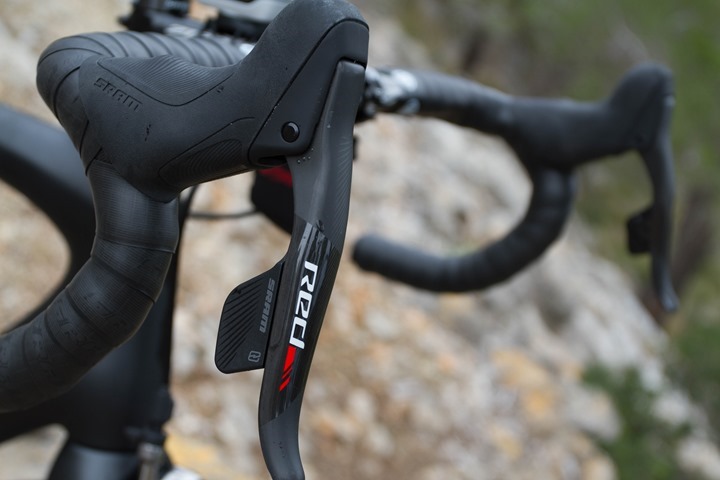 And that's the end of this week's episode of: "How to shift with SRAM RED eTAP."
Actually, to be fair, you can also hold down either the left or right shifter to cascade up/down the rear cassette.  So it'd be the conventional equivalent of hitting the shift button a crap-ton of times.
In my experience, eTAP responds just as quickly (or quicker) than any well maintained mechanical set.  I know a lot of people want to weigh in on this and dissect it to all eternity.  Within my FAQ section I offer my (probably humorous) analysis of speed to shift.
Having installed Shimano Di2 (electronic, but not wireless) on my triathlon bike almost two years ago – I find that system is pretty equal in shifting speed.  I don't see any real difference between the two of them.
Next up are batteries.  Of course, batteries are required for this whole system to work.  And much discussion has been made about the batteries.  It's notable that in the case of eTAP there are numerous batteries, whereas in the case of Di2 there is just one.  But more on that later.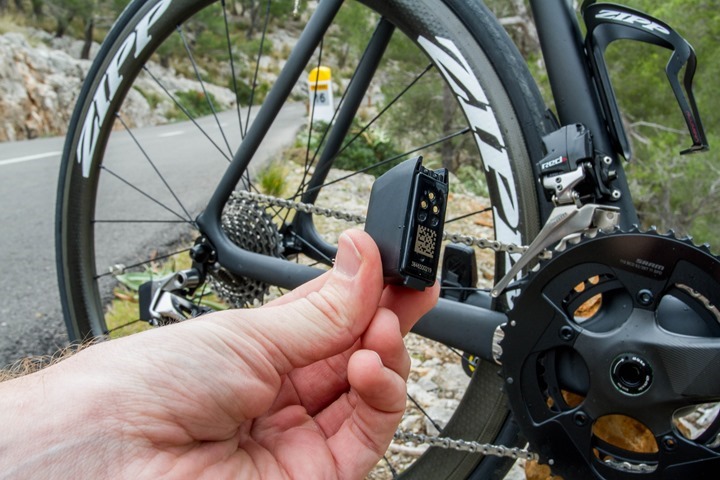 Here's the simple rules of eTAP batteries that you need to keep in mind:
Types: There are two types of batteries in the eTAP System: Two rechargeable ones (one per derailleur), and two coin-cell ones (one per shifter).
Ride Time Part 1: The big rechargeable derailleur batteries get about 1000KM of riding time per charge.
Ride Time Part 2: The little coin cell batteries in the shifters get about 1-2 years of riding time per $1-$2 investment.
Charge Time: The derailleur rechargeable batteries take an hour to recharge fully.
Swappage: The two derailleur batteries are interchangeable.  So you can swap between front and rear derailleur in case one dies.
Lights: The derailleurs have a status indicator on them, allowing you to see how close to empty you are.
Extras: You can buy extra batteries, which you could put in your saddle bag for that time when you somehow forgot to charge it.
Weight: Each battery weighs 24g.  For reference, a single double-stuffed Oreo cookie I just ate weighs 6g.  Obviously, the double-stuffed doesn't give as much energy though as the eTAP battery.
Note that SRAM recommends you pop off the two rechargeable batteries if you travel long distances (i.e. a plane flight).  That's because movement can keep the system awake. Note that keeping awake is still far less battery than shifting with it.  Of course, taking off the batteries only takes about 5 seconds.  So it's easy.
And that's about all you need to know about batteries.  The kit comes with that charger you saw earlier, which charges a single battery at a time.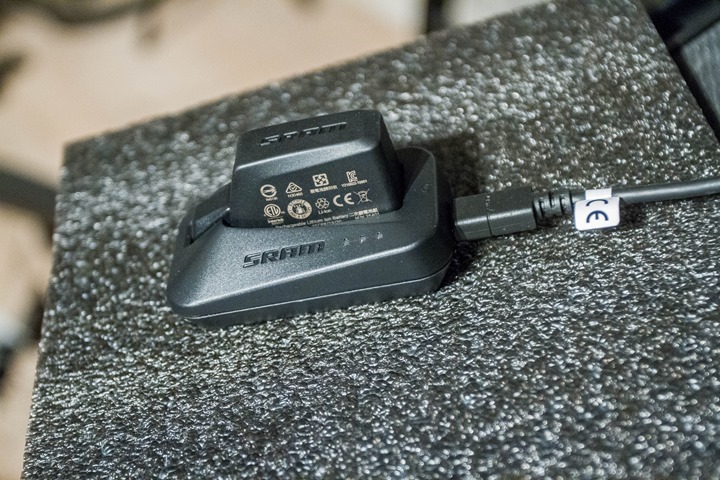 Note that you're far more likely to have your rear battery die before your front battery.  That's because most of us shift quite a bit more on the rear cassette than we do to/from the big ring.  And if you're in southern Florida, you may never even need that front battery.
The practical benefit to knowing battery depletion differences though is that in the event your front battery dies in a bad spot, you can swap the battery to the front to change the gear, and then move it back.  Same goes if your rear dies and you don't need front shifting anymore.
Speaking of batteries, now is a good time to talk about why bike computer integration is interesting – as it solves this battery status problem for us.
Bike Computer Integration:
SRAM RED eTAP is the first electronic shifting system to use the ANT+ Shifting device profile to transmit gear status information.  As of today, April 13th, 2016, two different companies have released support for eTAP: Garmin with the Edge 520/1000 & Wahoo Fitness with their ELEMNT.
(Note: Depending on what time you read this, it may be a few hours until the new Edge 520/1000 updates show up.)
This update to the Edge 520/1000 adds support for the ANT+ Shifting profile (it already has Di2 support).  You'll have noticed that the rear derailleur had the ANT+ logo on it, taunting said ANT+ Shifting profile compatibility: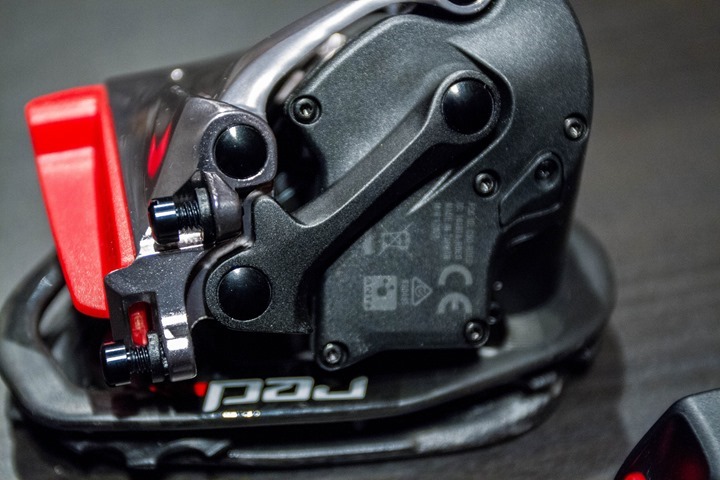 Let's go through how it works on both the Garmin & Wahoo units.  Starting with Wahoo (since they were first), you'll dive into the menus and pair the eTAP system just as you would any other sensor (like a HR strap or power meter):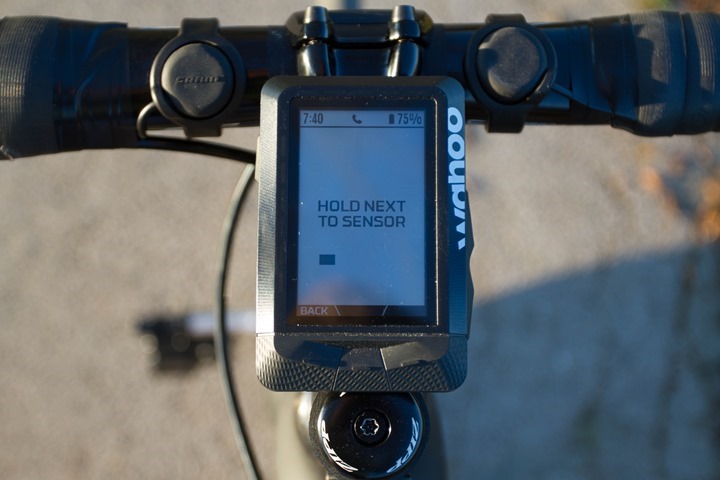 It'll find eTAP and ask you to confirm it.  Once that's done, you can see the battery status of each of the four batteries in the settings panel: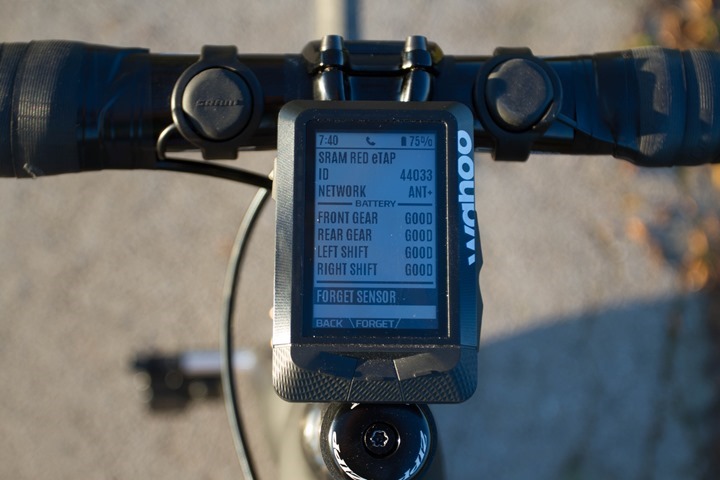 Next you'll head into the app and add electronic shifting related data fields to your display pages.  This is totally customizable.  Here's a page I made with every possible shifting metric: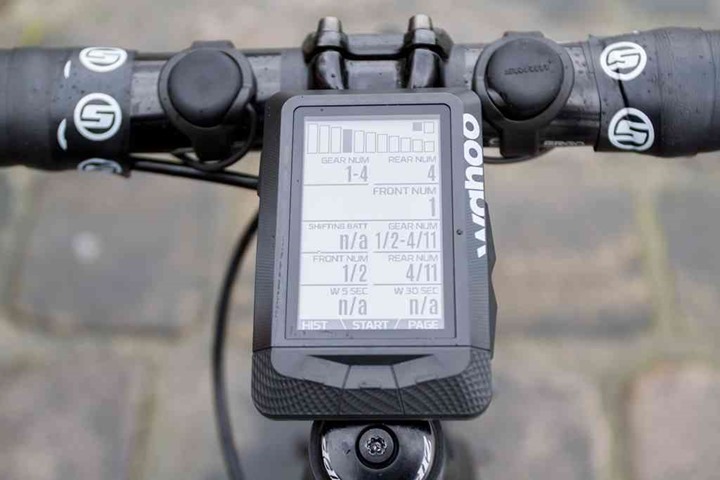 As you shift, you'll see these numbers update.  It takes about a second or two for the fields to show your current gear.  And at present on the ELEMNT you can't change chainring/cassette sizes (that's coming though).
Also of note is that at present the ELEMNT doesn't record eTAP (or Di2) data yet.  That's also in the near-term pipeline, but today the data is only visible on the head unit during the ride.
Next up we've got the Edge 520 & Edge 1000.  In this case, I'm demonstrating a beta firmware.  The final firmware version should be released today to the world at large.  You'll remember that Garmin has long had Shimano Di2 support in the Edge series.  That started with the Edge 1000 nearly two years ago.
To begin on the Garmin, I'll go ahead and go into the sensors menu and search for 'Shifting: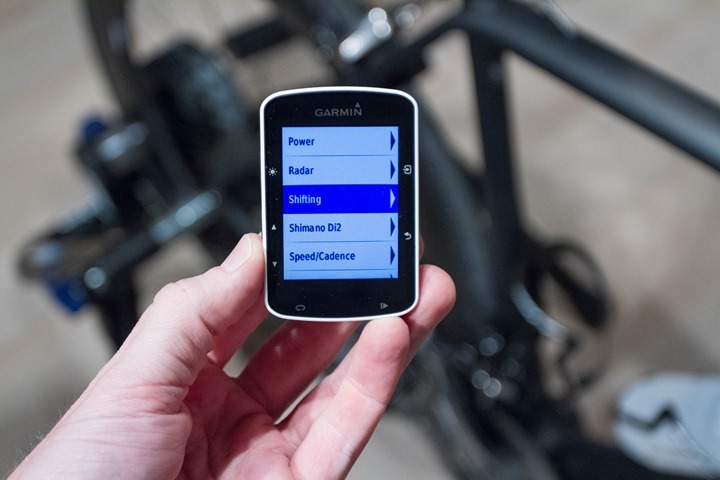 You'll want to press your eTAP shift buttons a few times to ensure the system is awake, and within a second or two the Garmin will find it and show the ANT+ ID: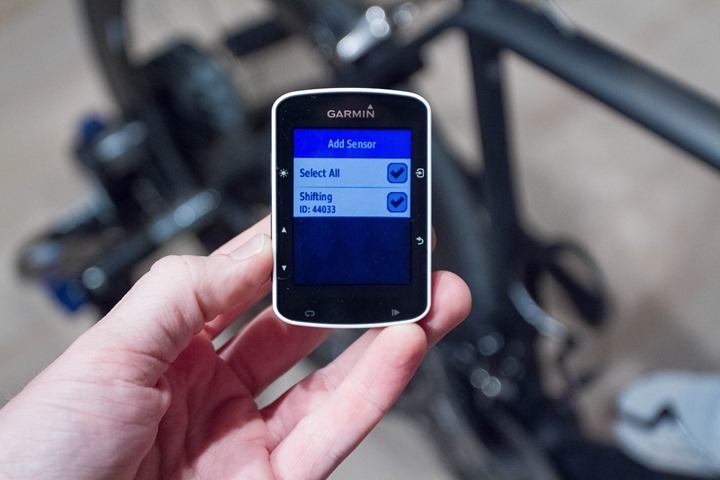 Next you can open up the sensor and rename it, such as I did: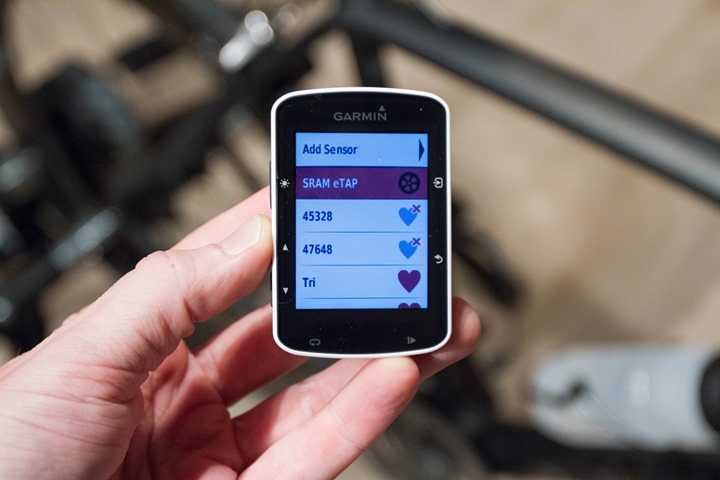 Further, by going into settings you can select your gearing configuration.  This ensures that subsequent displays are correct, as well as recorded data: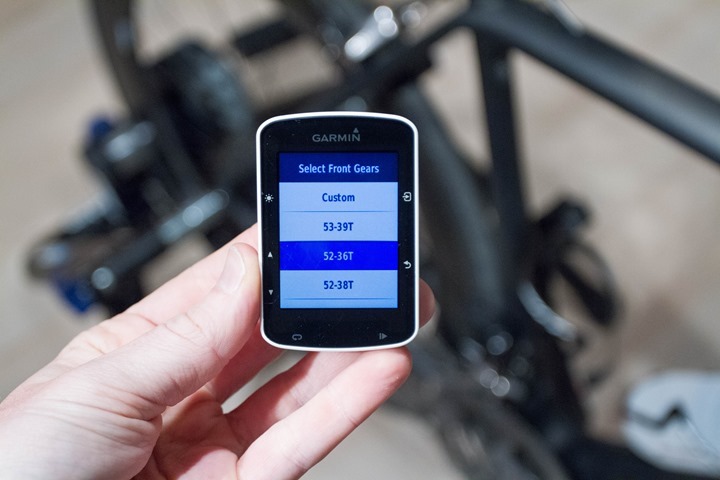 There's both some handy common preset options, or you can go all rogue and manually enter yours in.  With that – you're done on the config side!
The only thing left to do is add the data fields you want to a data page.  In this case, I just added all of the applicable gear/shifting data fields to a data page.
You can see the battery status displayed on a standard data page.  In the case of Garmin, they list the lowest battery out of the eTAP four (compared to Wahoo not having a data field on the main page, but instead showing each battery individually via the settings).  So a bit of Apples to Oranges.
Garmin also displays individual battery status, though it's deep into the sensor settings.
Otherwise, the shifting scheme is very similar.  Like Wahoo, most shifts are displayed within 1-2 seconds.  Unlike Wahoo though, Garmin already records this data to the .FIT file within your unit.  While this data isn't displayed on Garmin Connect, it is displayed on some 3rd party sites.  For example, the site 'Di2Stats.com' displays the data without issue.
Both Garmin and Wahoo noted to me that one of the 'challenges' of eTAP is that it goes to sleep very quickly from a transmission standpoint over the ANT+ Shifting stream (within 30 seconds).  So you may see connection/reconnection messages.  It's not a sensor dropout, it's just..well…going to sleep and waking back up again.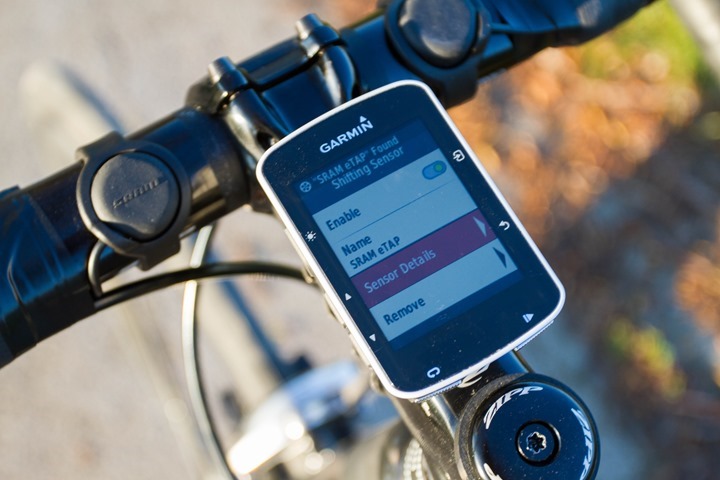 Finally, note that other 3rd party head units can all add similar functionality over ANT+ to support eTAP.  Right now, none do.  I of course expect that to change in time.  Also note that while Mio was the first company to add Shimano Di2 support, that's running a very different language.  So even though a product (be it Mio, Garmin or Pioneer) has Di2 support, it doesn't make for a hill of beans when it comes to eTAP support (which uses the ANT+ Shifting standard).  So those devices would need firmware updates to make them compatible.  That said, I fully expect to see that happen quickly, likely more for Pioneer than Mio.
The USB Adapter: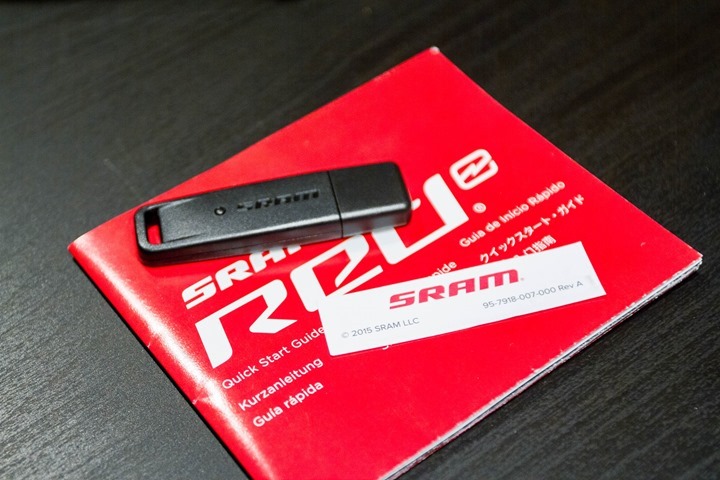 And this will be my shortest section ever written in a review.  See the above USB stick?  The one that came in that massive interior box inside the even bigger exterior box.  It doesn't do anything.  But don't throw it away.
Someday it might grow up to do something, but not today.  Unlike Shimano Di2 & Campagnolo EPS, there is no programming the eTAP system or otherwise customizing it.  Interestingly enough, SRAM has an entire page dedicated to questions on programming (13 questions at last count).  Where all the answers begin and end with 'No'.  It's like one of my favorite commercial series.
How it's different than Di2: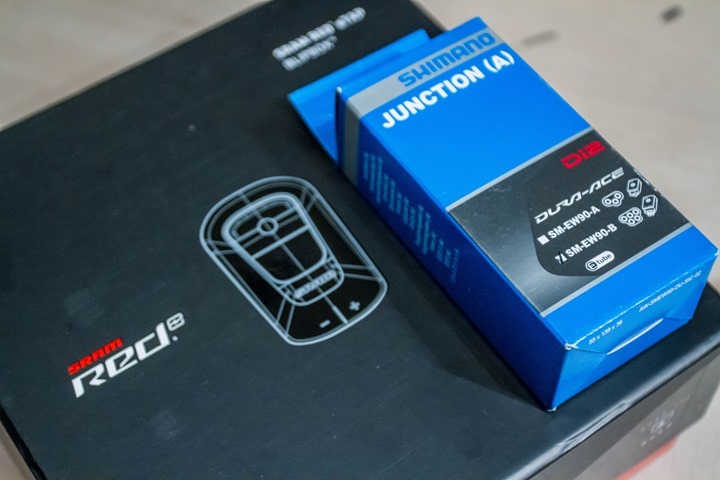 At first glance you may be thinking that Di2 (or Campy's EPS) and eTAP are virtually the same, but in reality, they are much more different than you'd think.  The only thing they share is that all are electronic shifting.  After that, it ends.  Here's a bit of a consolidated/bulleted list of how they differ:
Wired vs Wireless: We'll start with the most obvious.  eTAP is totally wireless, while Di2/EPS is wired.  It's just that instead of mechanical shifting cables, it's electronic signals on Di2/EPS (like a fly by wire airplane).  So with eTAP you don't have to run any shifting cabling for a new bike build, whereas with Di2 you still need to run cabling and add in junction boxes.
Extra shifters: Both systems allow secondary shift points, aka blips in eTAP lingo.  Note that these blips are actually wired to your main shifters in eTAP on a road bike (though the junction box on a tri bike). In Di2 they go into a central junction box.
Battery: eTAP has batteries at each control point (i.e. one per shifter, derailleur, etc…).  Whereas Shimano has a single battery that's connected to everything centrally.  There are both benefits and drawbacks to both approaches.  With eTAP, if a rechargeable battery dies mid-ride, you can swap them around to make it work (with Di2, it's all over).  On the flip side, the singular Di2 battery lasts a heck of a lot longer than eTAP's does (estimated at 2,000km vs 1,000km for ETAP).  eTAP also has CR2032 coin cell batteries in the shifters, but those last years, so really less of a concern.
Integration with Garmin/Wahoo/etc…: Both products have integration points with Garmin, Wahoo, Mio, Pioneer and others.  So that's really a wash.  In the case of Di2 you need to purchase the extra ~$70 SM-EWW01 adapter, while with eTAP it's built in with no additional required stuff.  Neither use Bluetooth.
Compatibility: Both have pros and cons when it comes to compatibility.  In general Di2 has greater compatibility, simply due to being in the market longer.  Ultimately though, you're really going to want to check your specific bike config (current or planned) to figure out if you're in luck.
Weight: Exact weights will vary depending on how many blips (shift points) you install, as well as length of brake cabling.  But in general eTAP will be slightly lighter (barely) than Di2.  Note that sometimes sites forget to include the brake cabling/housing.
Cost: Generally speaking (again, depending on the exact components you select), eTAP will be a little cheaper.  Especially once you add in aspects like the Di2 ANT wireless transmitter.
Ease of install: eTAP is easier, there's no question there.  But, does that really matter?  For most of us, the install is a one-time thing (potentially done by someone else such as a bike shop).  However, the trickle-down effect here is that eTAP will be a cleaner/more streamlined layout.
Ease of use: Having both, they're both pretty easy to use.  There's a small learning curve for either one when you switch into it, but realistically if you're just riding that one bike – you'll adapt within a few minutes.  While some (including myself) would note that eTAP is super-easy to learn, I guarantee you that if you have multiple bikes (some without eTAP), you'll occasionally forget to double-hold to shift the front ring.  Usually happens to me once a ride, even after two months of riding with it numerous times a week.  But that's also likely because I've got numerous bikes.
Shifting performance: As one who's spent a fair bit of time now on both (2 years on Di2, 2 months on eTAP), I just don't see any real-world difference between shifting performance.  If you read all sorts of reviews, everyone gives different opinions.  Some say Di2 is faster, no wait, eTAP is faster.  No wait, eTAP is faster in the front but not the back.  Correction – eTAP is faster on both between 9AM and 11AM, but Di2 is faster on a Sunday at exactly 10:30AM.  For four minutes only.  Seriously folks.  These shifts happen at millisecond speeds on both systems – and they're just as fast as each other from a practical standpoint.  Perhaps someday I'll rent a crazy high-speed camera and try and figure out which one is truly faster.  But realistically, it doesn't matter, they both respond instantly.
Frequently Asked Questions (FAQ):
I've decided to start a bit of an FAQ here.  I'll add more questions to it as I find common questions within the comments section.  For now, most of these are security/wireless focused simply because my brain floats that direction first.
Is it truly wireless?
Mostly, yes.  It's wireless between each of the front shifters and the rear derailleur and front derailleur.  However, it is not wireless between any of the blips (little extra/accessory buttons) that you may have added.  Those communicate via a thin wire to the shifters (where the signal is wirelessly transmitted back to the derailleurs)
If it's wireless, is it hackable?
Anything is hackable with the right amount of time and resources.  Anyone who says otherwise is lying.  However, what matters is how viable an attack is.  Either from an ease of execution standpoint, or whether it's worthwhile (cost/time).  At present no vulnerabilities have been disclosed by SRAM, nor have there been any rumors of any such vulnerabilities.  In a 'worst case' scenario, should a method be found to shift on behalf of another rider, then someone could shift into a non-ideal gear at a non-ideal time.
My hope is that when the time comes that a vulnerability is found (and eventually, there will be one), that SRAM moves just like any other software company would to get people to update their units via wireless firmware update.  After all, they did include that USB updater stick with every kit.
Can the signal be blocked?
Sure, it's possible.  And it's certainly an attack vector that many have discussed.  Especially amid sprint finishes.  A wireless signal jammer could prevent a racer from shifting into the gear and cost them the stage (or race) win.  But that hasn't happened…yet.  Or at least, yet that we know about.
Can someone snoop on my gearing data?
Yes and no.  Right now eTAP transmits the signal via the ANT+ Shifting Profile, which is open.  Just like power meter data and heart rate data is unencrypted and broadcast across the pro peloton and amateur races alike today.  Despite all the worry about this, there's never been anyone who's done anything of true interest with this.  Of course, anyone aside from me trying it out last summer.
Could someone attach another pair of shifters wirelessly to my bike?
No. The system maxes out once two shifters (left/right) are attached.  It won't allow any more.  That said, if someone had access to your bike at the start of a race and you didn't realize it, they could (physically pressing the buttons on your derailleur) pair your derailleurs to their shifters (or an extra set of shifters).  That'd leave you hosed.  While unlikely to occur, it's certainly a possibility. On the bright side, assuming you figured out what was occurring, repairing them only takes a few seconds.
Should I buy an extra (3rd) battery?
It depends on how much you're riding.  Or, how lazy/forgetful you are.  I fall more into the lazy/forgetful camp than the vast quantities of riding camp (so much so that just yesterday I found I finally went through my first eTAP battery and it wouldn't shift up front).  If I were to pickup a 3rd battery, it'd be to put inside my saddlebag, so in the event I forgot, I'd ideally have one in there.  I'd probably come up with some sort of scheme to quarterly rotate it through to my main system and onto a charger.  I haven't tested how long a unit will hold a charge, but my guess is many months.
What cranksets  and cassettes is it compatible with?
First off, only 11-speed right now (not 10-speed).  So that might be a deal killer for some.  Next, on the crankset standpoint, SRAM states that it's compatible with "the same road drivetrain components as RED 22, Force 22, and Rival 22".  From there you've gotta work backwards and figure out if your crank is compatible with those components.
Will it fit my bike frame?
I've got no idea, I don't make a habit of memorizing frame dimensions (I can't even memorize my apartment door code).  But SRAM has put together the mother of all tech specs to figuring it out.  While it's kinda complex to wade through, it is at least detailed.
Is there a super-secret FAQ that you can point me at?
It's rare that I link to company informational pages, mostly because many of them suck.  But I'll give SRAM credit here – their eTAP support pages/FAQ are surprisingly detailed.  It's divided up into a bunch of different categories, so it's relatively easy to navigate.
Of course, if you fail finding your answer in this post  (or in their support pages), definitely check out the comments section down below.
Should I get Blips?
In my opinion, for a road bike, yes (it's included in the tri/aero kit).  I see it as part of the appeal of eTAP (multi-point shifting).  Note that if you get blips, be sure to get blip holders.  Getting blips without blip holders is like getting car wheels without hub caps.  They just look silly.
Summary: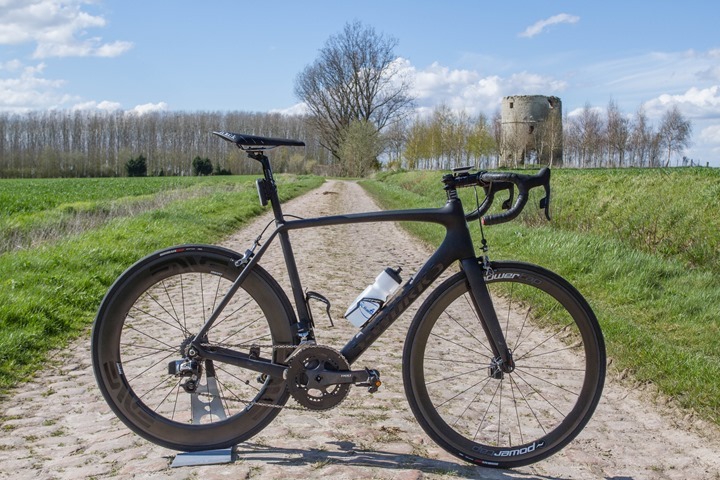 If I were to use one word to describe the eTAP system, it'd be 'clean'.  And if it were three words? 'Clean but pricey'.  And that's kinda where this all ends.  Sure, some will debate whether or not you need electronic groupsets at all.  And that's a perfectly fine debate to have sitting around a backroom card table smoking cigars talking about the days airplanes allowed smoking onboard.  But since you got this far in the review, then you're likely past that point.  You're probably trying to decide which electronic system is best for you, or, perhaps, whether or not this is the right time to get into an electronic groupset.
The first step is deciding whether or not you want it wireless.  If the answer is yes, then your decision has been made: eTAP (there's only one wireless system).  But if you're after electronic in general, then you've got Shimano Di2, SRAM RED eTAP, and Campy's EPS.  At which point things get far more complex.
Both Shimano and Campy have a more customizable system than eTAP does.  In that you can program functions and do other cool stuff.  With eTAP, it's very straightforward and minimalist.  Or…clean.  And clean is often elegant, as it the case here.
While Shimano and Campy have more customization, the downside to a Di2 install (for example) is that you need more parts and figuring out those pieces can be more complex.  Of course, most bike shops can easily do that for you.  With eTAP, you can easily install it yourself.  I have no doubt that if I gave my wife these oversized box of parts, a few YouTube install videos, and a Starbucks drink – she'd be able to install it solo without too much issue.  I highly doubt she'd have the same result with a Di2 install.
All of which boils down to the most basic question of: Is it worth it?
To be honest: I don't know.
As a guy who's not a bike mechanic by any stretch, I actually feel more in control of my shifting situation than I do with mechanical.  The thought of re-running shifting cables or dealing with all of that is simply messier. In this case, there's none of that to deal with.  I can micro-adjust shifting alignment by merely holding two buttons down.  And done.
Yet at the same time, the whole setup is one more thing to charge.  Or, 2-4 more things to charge or ensure have sufficient power.  But realistically, for most cyclists you're talking remembering to charge only once a month or two.
As I said before – I really don't know if it's worth the cost.  Nor do I know if it's worth the cost for whatever your use case is.  Perhaps so, perhaps not.  That's up to you to decide.  As for me?  I do have a sneaking suspicion that my next bike I'll install eTAP on it.  But then again, I'm the guy with at least three power meters per bike.  So one should probably put my purchasing choices into perspective.
Thanks for reading!
Wanna save 10%? Or found this review useful? Read on!
Hopefully you found this review useful.  At the end of the day, I'm an athlete just like you looking for the most detail possible on a new purchase – so my review is written from the standpoint of how I used the device.  The reviews generally take a lot of hours to put together, so it's a fair bit of work (and labor of love).  As you probably noticed by looking below, I also take time to answer all the questions posted in the comments – and there's quite a bit of detail in there as well.
I've partnered with Clever Training to offer all DC Rainmaker readers an exclusive 10% discount across the board on all products (except clearance items).  You can pickup the eTAP kits from Clever Training. Then receive 10% off of everything in your cart by adding code DCR10BTF at checkout.  By doing so, you not only support the site (and all the work I do here) – but you also get a sweet discount. And, since this item is more than $75, you get free US shipping as well.
SRAM eTAP Road Kit
SRAM eTAP Aero/Triathlon Kit
SRAM eTAP Blips (road)
Additionally, you can also use Amazon to purchase the unit or accessories (though, no discount on Amazon).  Or, anything else you pickup on Amazon helps support the site as well (socks, laundry detergent, cowbells).  If you're outside the US, I've got links to all of the major individual country Amazon stores on the sidebar towards the top.  Though, Clever Training also ships there too and you get the 10% discount.
Thanks for reading!