This announcement has been a super-long time coming.  As in, babies have been made in less time.  Almost exactly one year ago The Girl and I started looking at expansion space – both for The CupCakery as well as a place that I could store all of the gizmos, gadgets and trainers that had been piling up in our small Parisian apartment.  At one point last spring we peaked at over 10 trainers in our apartment, along with six bikes.  Seriously.
Meanwhile, The Girl's CupCakery business continues to require extra space of her own.  As the many readers who have visited the shop in Paris know – the space is tiny, and what you see is all there is.  So last fall we started looking into options to increase space for both sides of our worlds.
We had many attempts over the course of the last year, but back in late May we finally signed on a new commercial location.  This location would be perfect for both of us – one half for me, and one half for her.  Actually, slightly more than half for her.  Plus, a combined and legit office space with desks and all!
Of course, it wasn't quite as simple as that.  No, this stood in the way: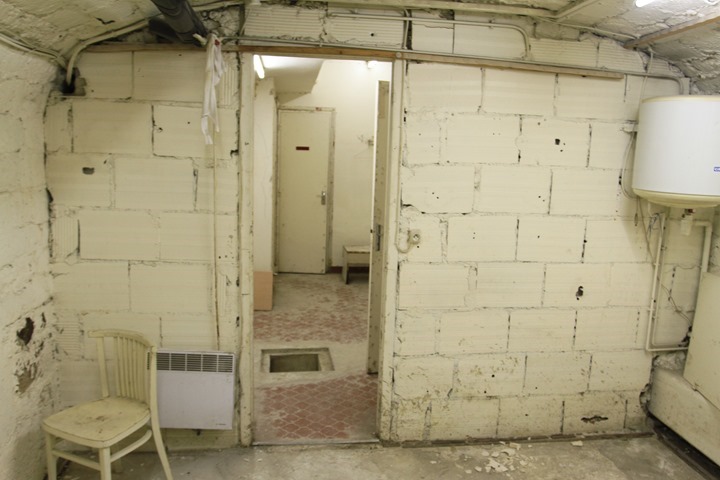 We had a lot of construction to do.  Along with all the other things you'd expect when building a new space – from paperwork to designing kitchens and office plans.  With the exception of the actual construction, we did everything else design-wise by ourselves (along with our awesome employees assisting in keeping things smooth on the French workflow side).
You know all those '5 Random Things' posts I do each weekend?  If only you saw what we really were doing.  It actually looked a bit more like this: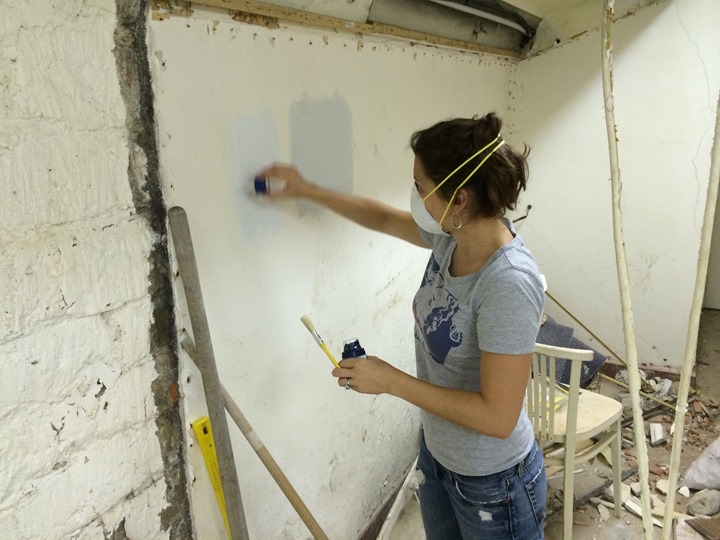 And this: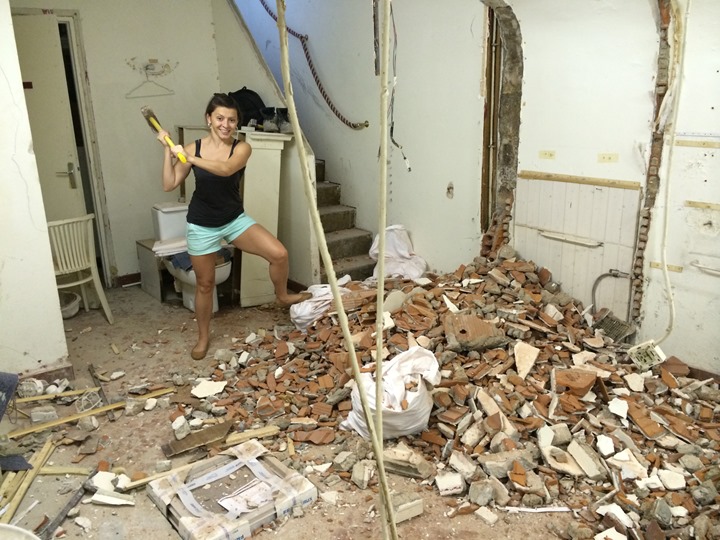 And spray-painting instructions continually since apparently written notes kept getting overlooked: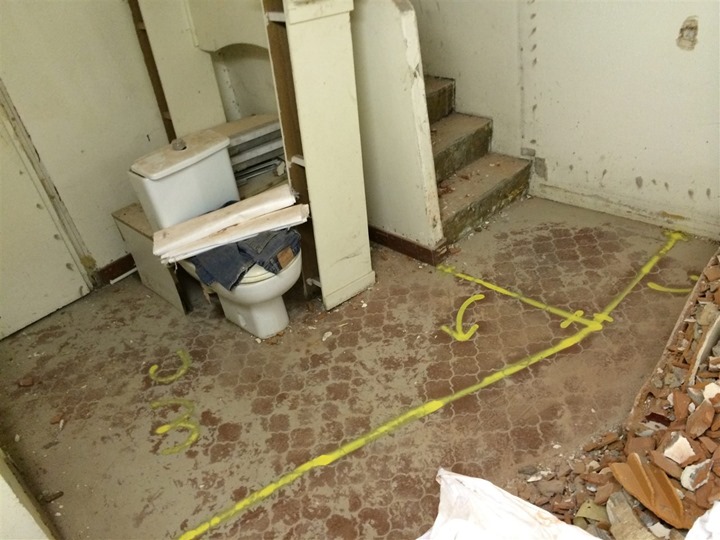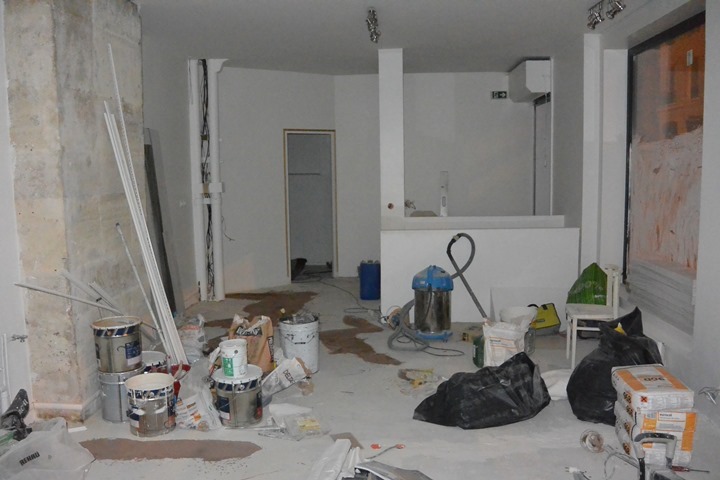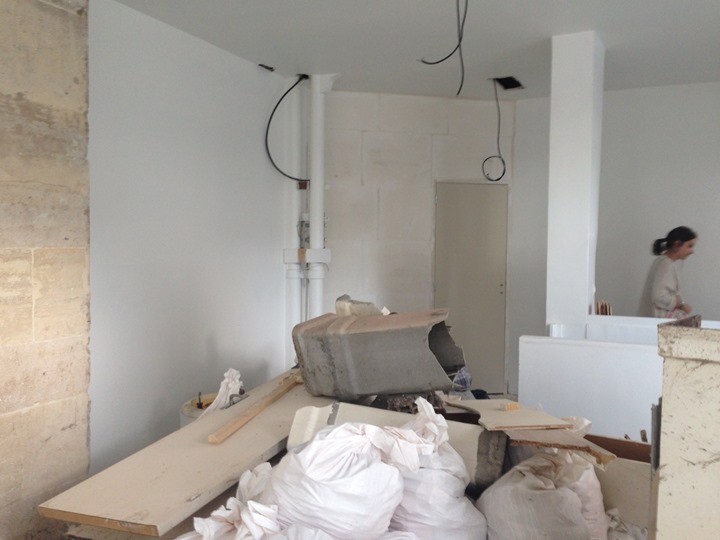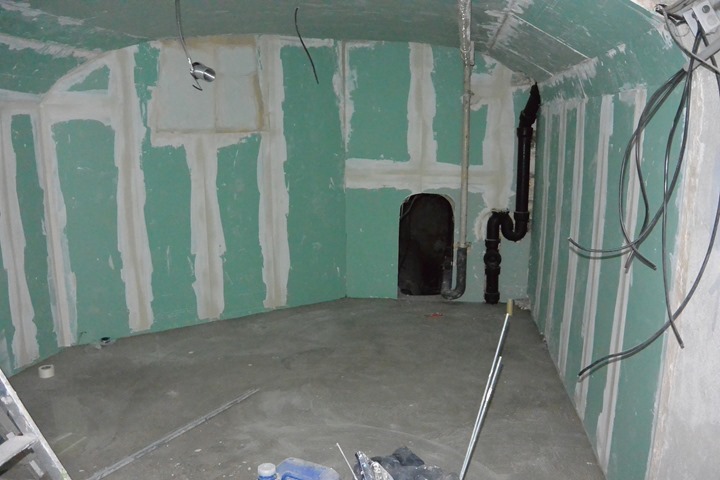 We spent every day and night from June till October dealing with construction crews, contractors, real estate agents and everyone else in between (and many folks we didn't really want in between).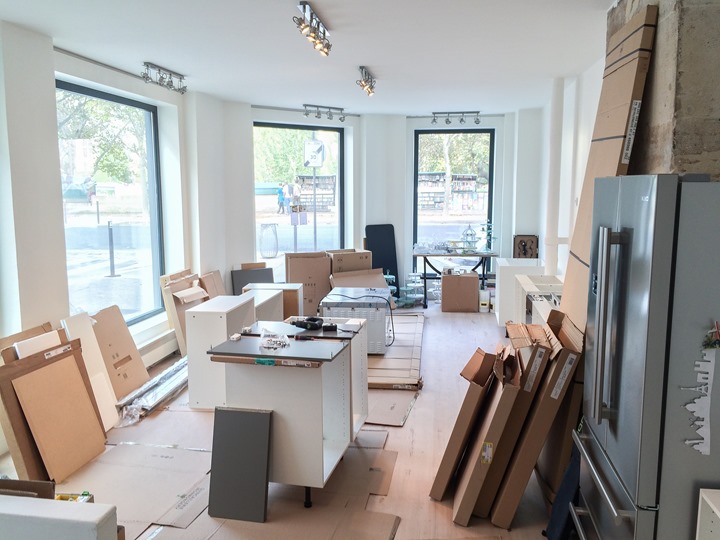 Each morning and each night we'd start off with the construction crew clarifying items and explaining to them in a very Americana way that 'C'est la vie' was not good enough.  Quite frankly, it was exhausting for both of us.  Though, we do have some hilarious stories to tell (along with ones where we just wanted to cry in frustration).  But, we're incredibly happy to be past that phase of things.
So what's the end resultant?  Well…let's dive into it!
The DC Rainmaker Cave!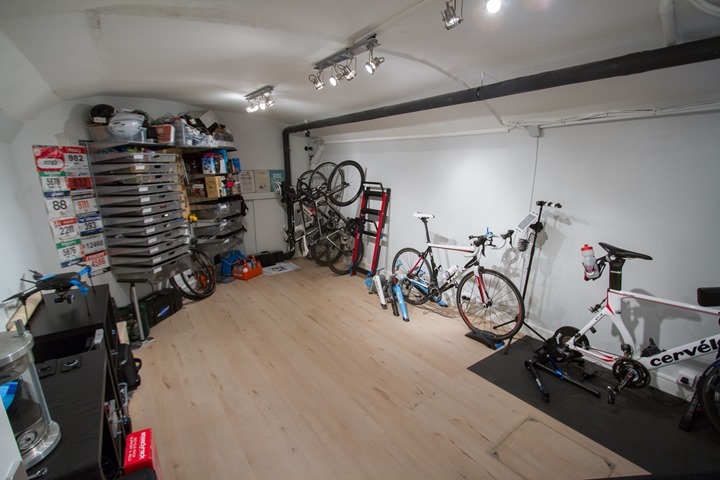 You know how guys have 'Man Caves'?  Well, I actually have a legit cave.  Seriously.  It's underground – the whole thing, and leads into a complex cave system.
The bulk of construction in the studio was actually underground, turning a scene worthy of a Law and Order kidnapper holding locale into something more appropriate for me.  Here's the tour of things!  First, you've gotta go underground though: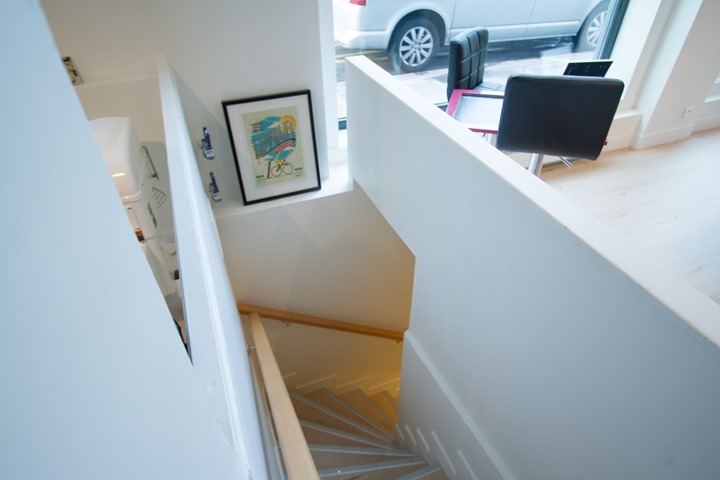 First up is a storage place for most of the products. One of the biggest challenges I often face is finding parts and devices.  I get hundreds of questions a day, and I'm often trying to quickly grab a watch to test or answer a question.  Previously I had just boxes upon boxes, and I had to try and keep track of what went where.  Now, it's all perfectly labeled: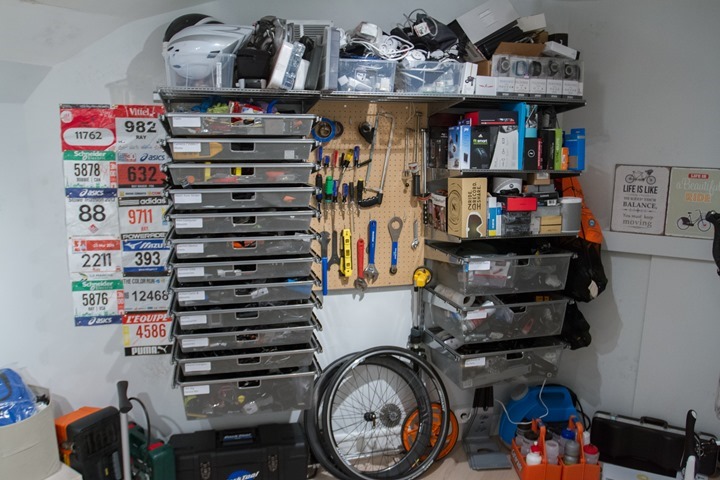 Do you need a heart rate strap?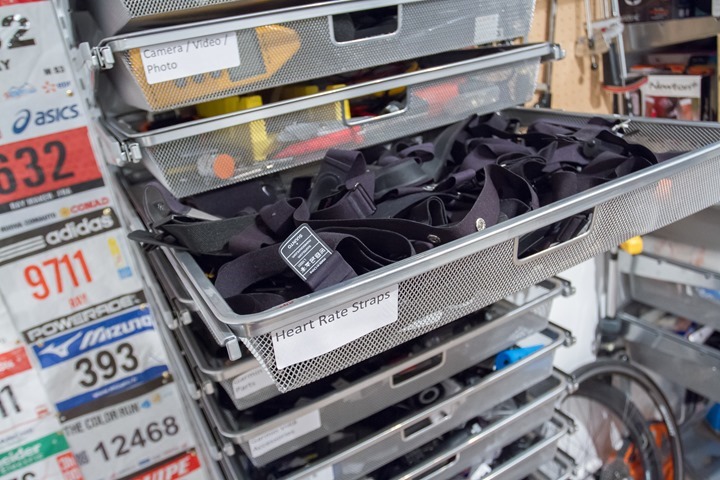 Which is totally different from the mass of straight watches/devices that I've bought over time to continue supporting reviews after I send the trial units back to companies: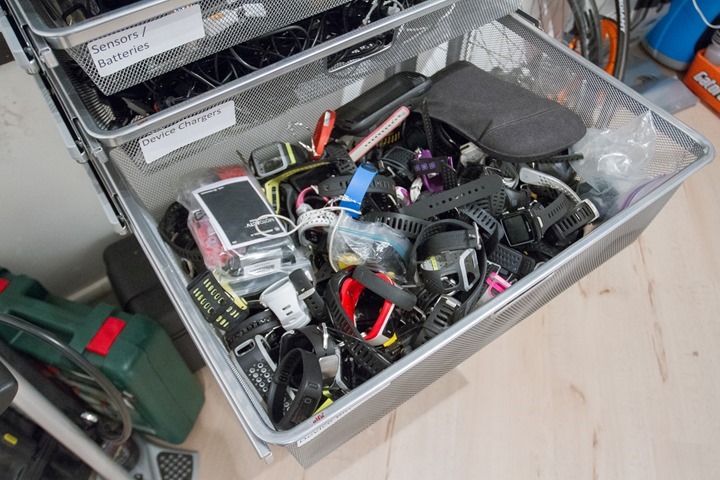 Then there's the slew of new products that I've bought or have been sent to check out: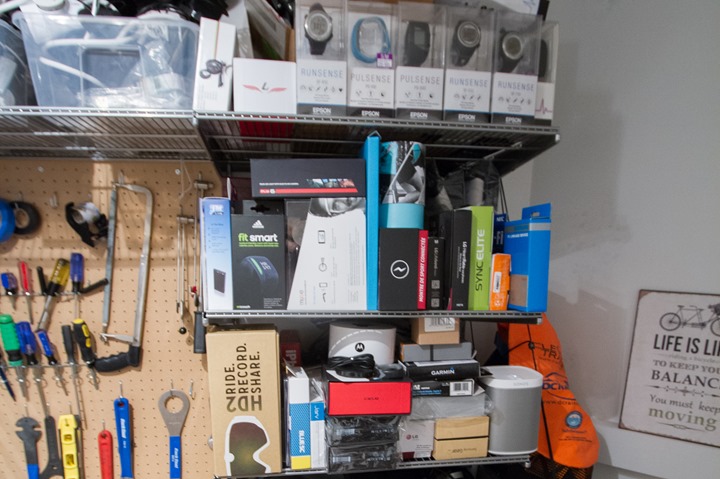 Of course, just because I bought something doesn't mean a review will happen.  Sometimes I just test things out to see how they work and to answer random questions.
Down below that I've got a slew of bike parts for quick swaps –from cranks to cassettes to pedals and more.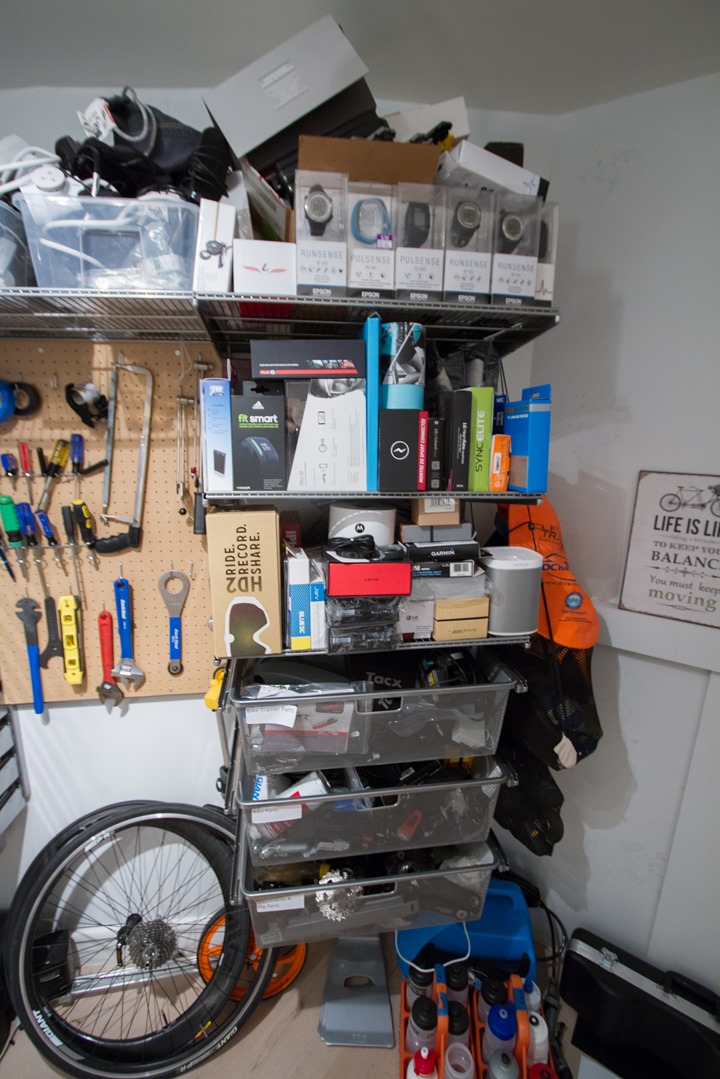 And down below that there's the famous water bottle holders, along with a stack of stands for holding bikes.  I use them outdoors when doing product shots, as well as indoors occasionally simply to hold a bike upright.  Off to the left you see my distance measuring wheel.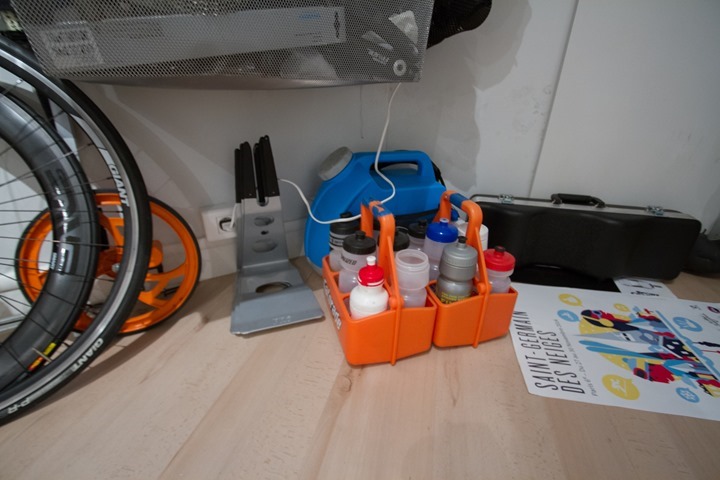 (Update since many of you have asked: The storage system is called 'Elfa', and I found it at Leroy Merlin (our equivelant of Home Depot), here's Elfa's site.  It looks like in the US The Container Store carries it.
The thing I liked most about it, is that all I had to drill into the wall is the single track at the top. Everything else just hangs from it. So there's none of that awful keeping each spar perfectly level while you drill it into the wall piece. Just the one top one and done.  Here's a photo I took at the hardware store showing some of the options.)
The folks at Clever Training as part of a house warming gift sent over a massive Park Toolbox.  This is awesome as it's ensured I have everything I need to swap out new bike parts that I'm constantly rotating through (i.e. power meters with differing bottom bracket configurations).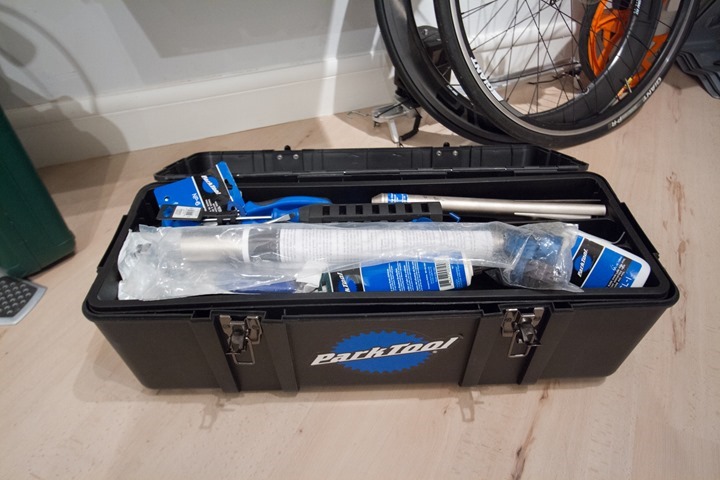 Looking back, towards the right we've got the charging station and photography area.  You can see a the 3DR IRIS+ Quadrocopter sitting there, ready to get packed to head with me on a trip.  They've got a follow-me mode that should work while cycling with a GoPro action cam (we'll see next week in a much more deserted locale).  And behind that the much loved rolling pin.
Below it I've got huge and powerful USB charging strips to allow me to charge up tons of stuff at once.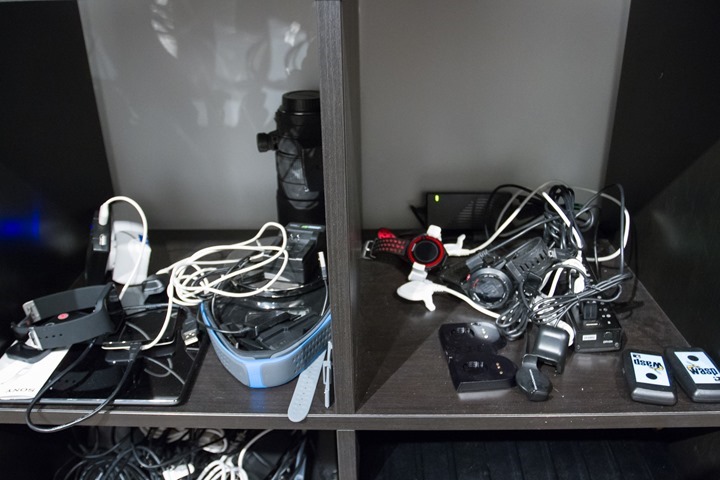 Next to that…the magical water pressure testing system: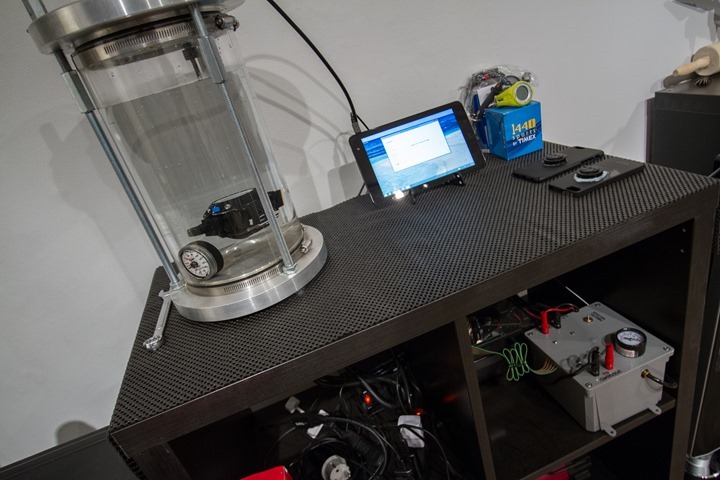 I can instantly set the tablet to emulate a given water pressure (down to 50m) and conduct tests including pressing of buttons.  I can also emulate various pressure changes in a completely computerized and automated way.  More on that in a future myth busting post…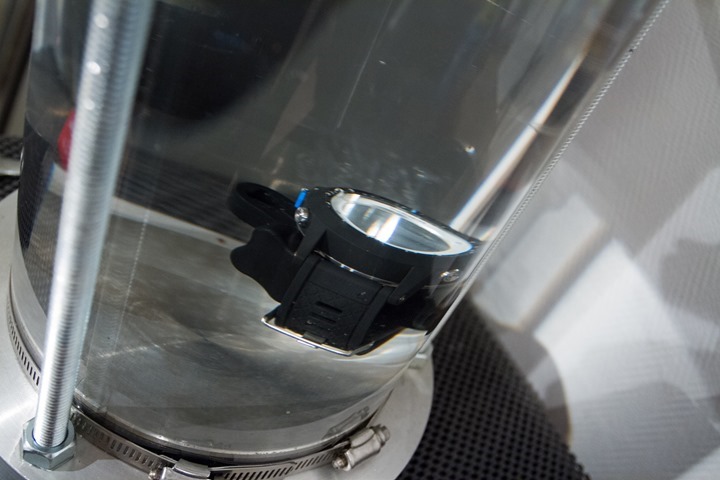 On the other side of the room I've got some of our bikes up against the wall using the CLUG's.  This was a Kickstarter project that recently started shipping: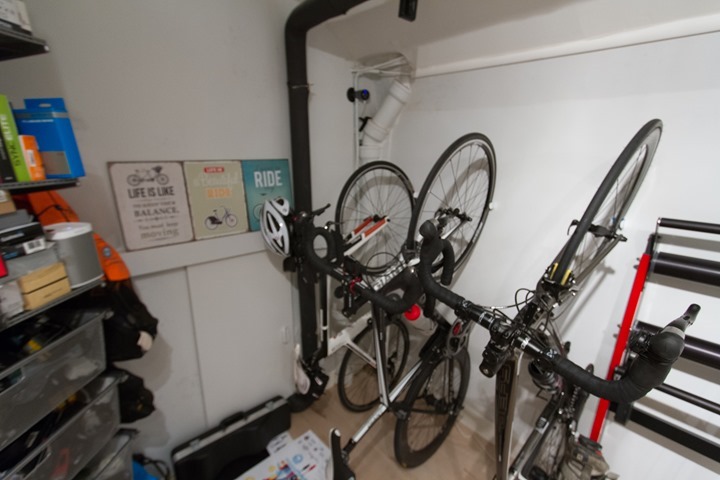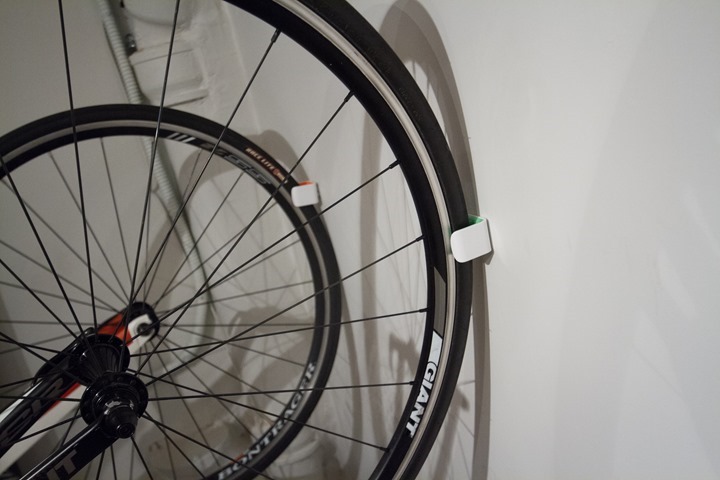 To the right of that I have an empty space for new trainers or various product photography.  Empty space is my friend! Right now it has the Tacx Smart trainers in there, along with the insideRide rollers.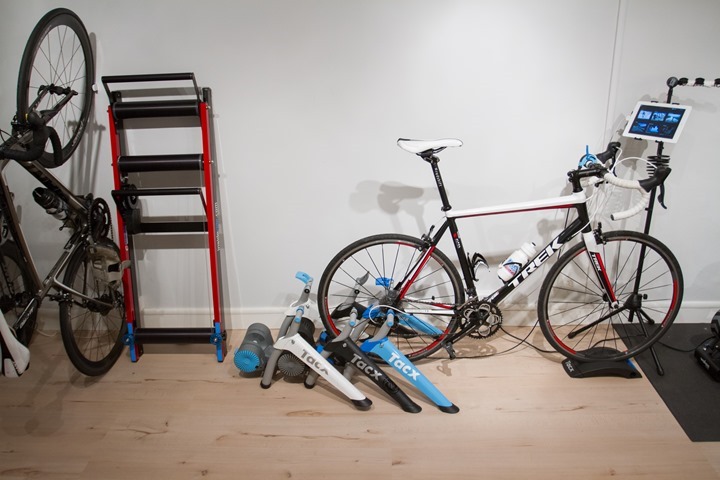 Then, I've got my more stationary trainer area.  This space includes a TV and computer, along with an Apple TV so I can Airplay content from the iPad/iPhone.  Obviously I just move the fan out to blow air on me.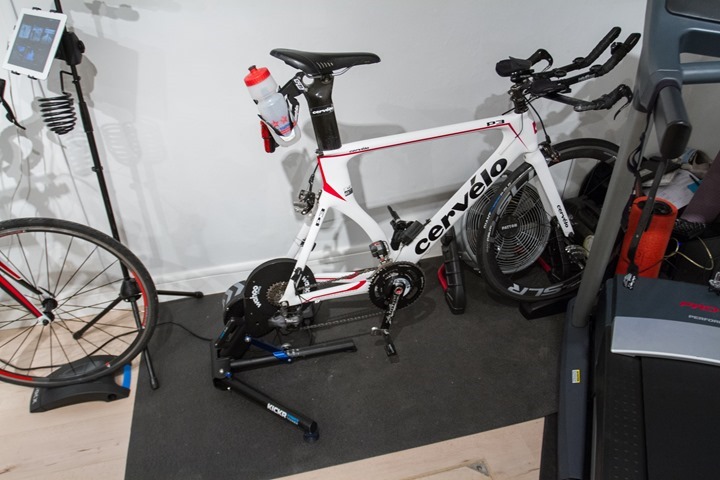 Finally, in the main space I have a treadmill – perfect for doing various indoor running tests (or just workouts):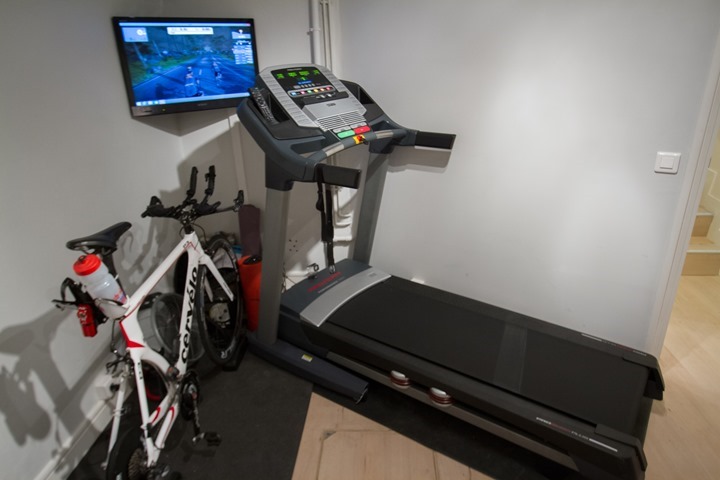 My treadmill search was long and slow.  Unfortunately, for reasons that make no sense – Pro-Form sends their crappier units to Europe, without possibility to get the fancier (and even cheaper) US units with all sorts of neat displays.  I'm not really a big fan of the company due to their patent troll practices, but product wise it checked off all the boxes, including full on automation of the treadmill with WiFi connectivity and automatic uploading.
This allows me, for example, to have a treadmill test suite for watches that claim to do indoor pace accurately without a footpod (most still suck there).  I can repeat that test exactly the same each time for each watch, with the results and test baseline fully saved.  Really cool.  And that's before I get into the ability to create any course/route on earth and re-run it.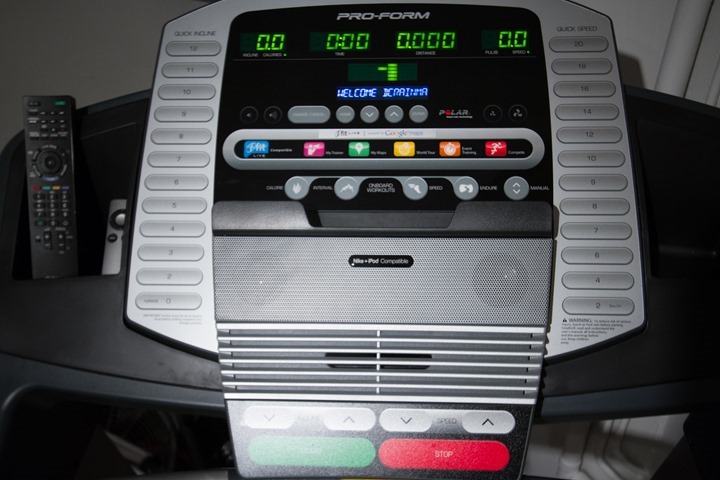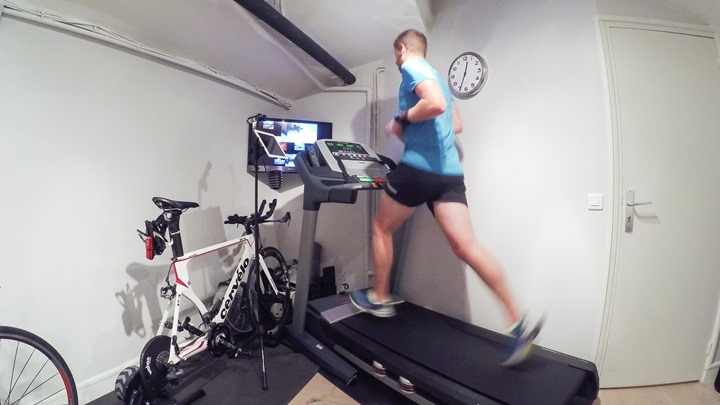 Next to the cave itself is a full shower suite.  We put in the shower and bathroom so we can quickly transition from workout to regular work.  There's still a bit of touch up work to complete in here, but the basics all work.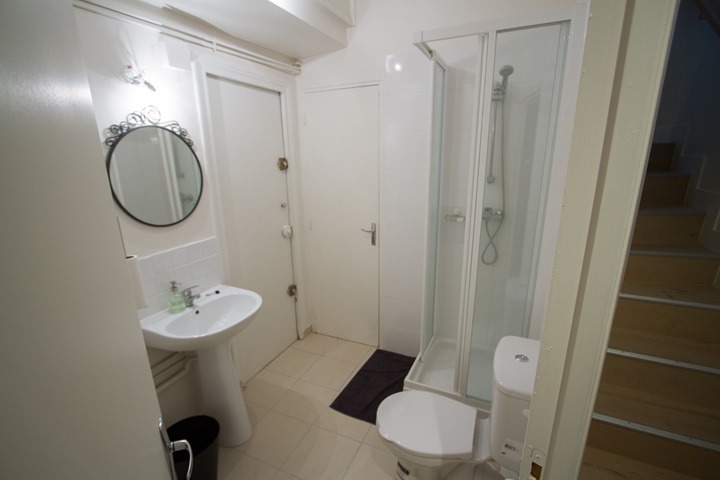 But perhaps the real magic is in the caves, where we have a two separate storage areas that are massive for putting boxes of trainers I'm currently testing, along with all assortment of other things.  They're all back through the system of underground cave tunnels: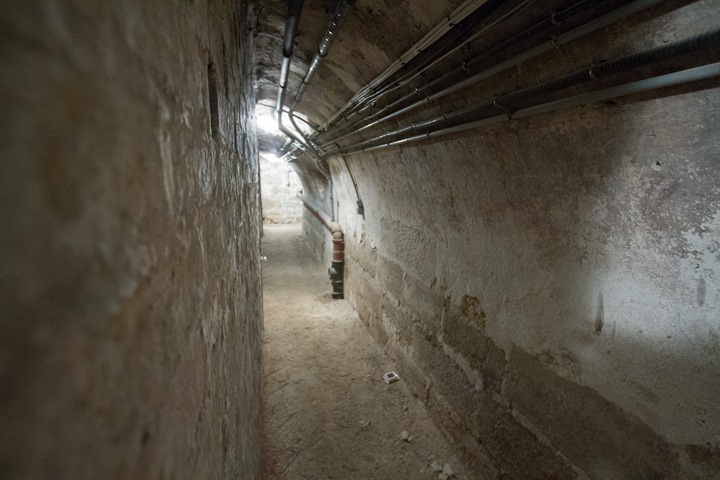 I've been in the space since mid-August, though hadn't really got into the groove of things until early October.  The space is great when other companies come to town, as it means meetings aren't in our apartment at the kitchen table.  And best of all, it means almost all of my DCR stuff is out of our apartment.  Huge awesomeness there!
Here's a video walkthrough of the whole space, including starting from the street and through the caves a bit.  Enjoy!
Now let's head upstairs…
Bertie's Cake Studio: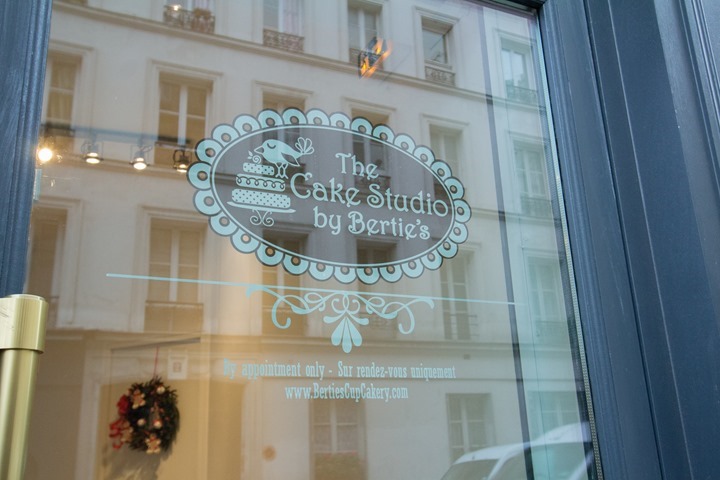 Next we've got The Girl's new space.  The goal of this space was actually not a second Bertie's CupCakery location serving cupcakes.  Rather, a core and growing aspect of our business is actually cakes and custom orders.  Weddings, birthday parties, corporate events, etc… even the occasional private jet catering.  As this has exploded it's become increasingly difficult to complete this work in the tiny kitchen at the main shop (which many of you have stopped by to see!).  Especially since all cupcakes are baked daily at the main shop, so that still has to continue at the same time you might be preparing a multitude of intricate wedding cakes on a given day for pickup.
Finally, the existing locale doesn't have anywhere to have a consultation.  So when a bride or event planner comes in to plan an event we're providing cakes to, they can't do that since we only have a single tiny table outside (and it pretty much rains all winter in Paris).
Without further ado, here's the new space!  The location is on a street corner, overlooking the Seine: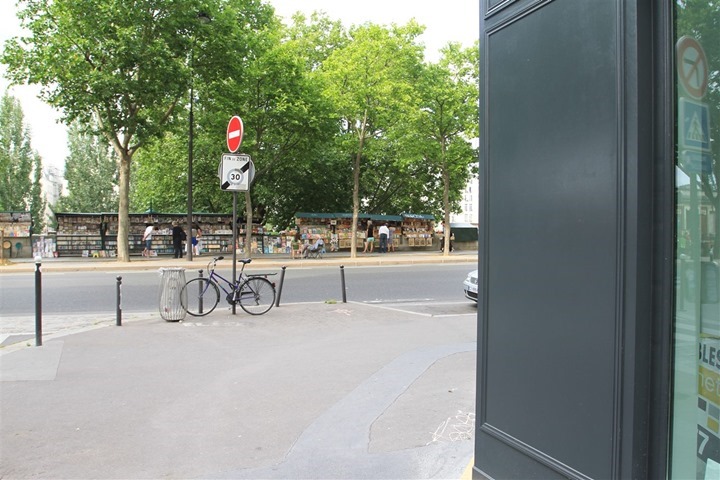 (Two photos taken prior to us starting construction internally, so the old realty company signs are still up)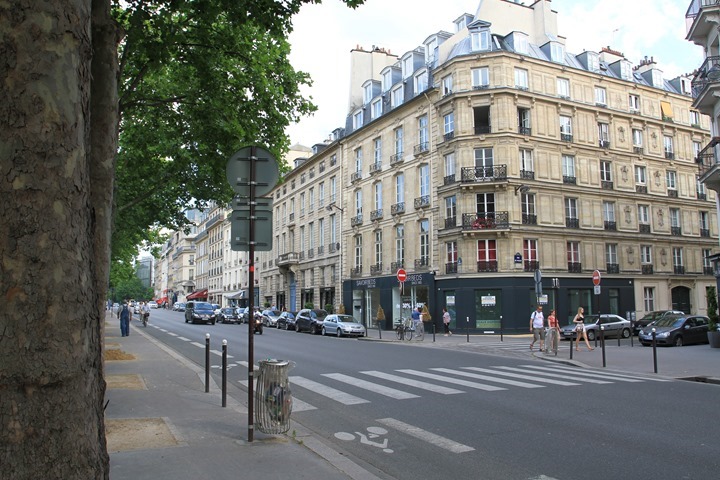 It has massive windows on all sides, which are constantly filled with people watching and checking out the displays: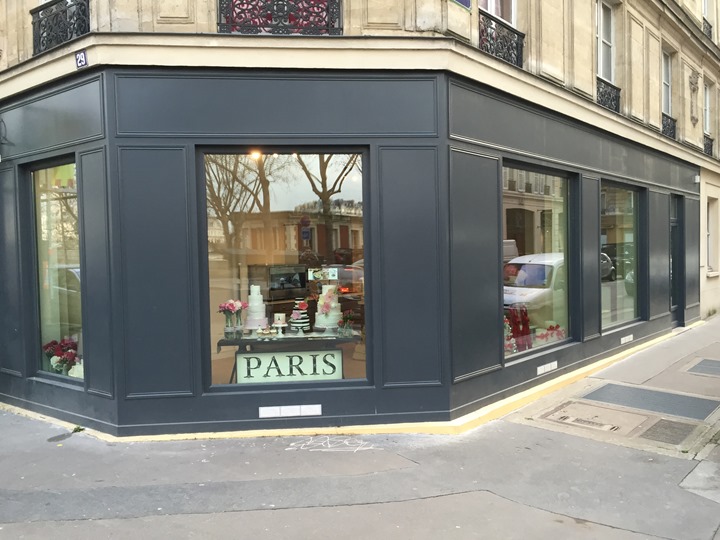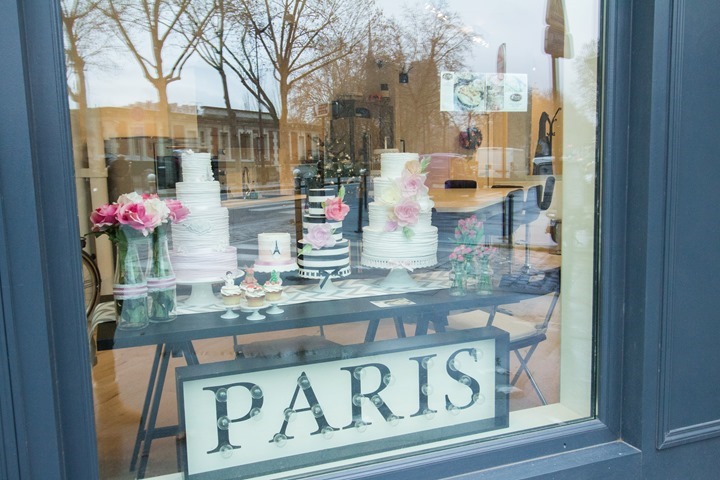 We're still working through some of the city permitting process to get our external signage and painting done.  But we did successfully install our little window logo on Thursday.  Woot!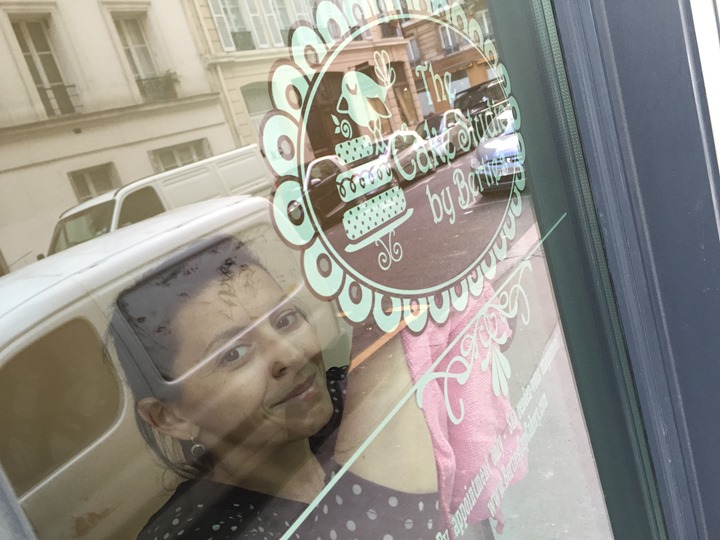 Once you head inside there is the kitchen area.  We wanted it to feel a bit more like a home kitchen, but still have all the same functionality as our existing commercialized kitchen at the other shop.  So to that end we have the same oven as we do in our main location – capable of everything from hundreds of cupcakes an hour, to massive wedding cakes, or, just a frozen pizza for us for dinner.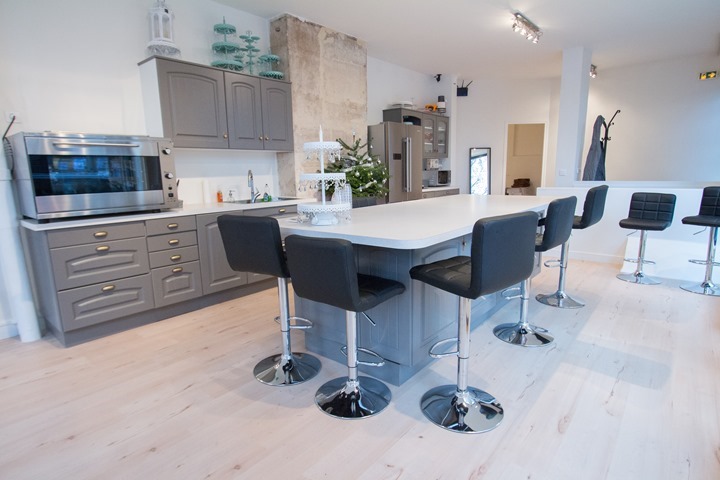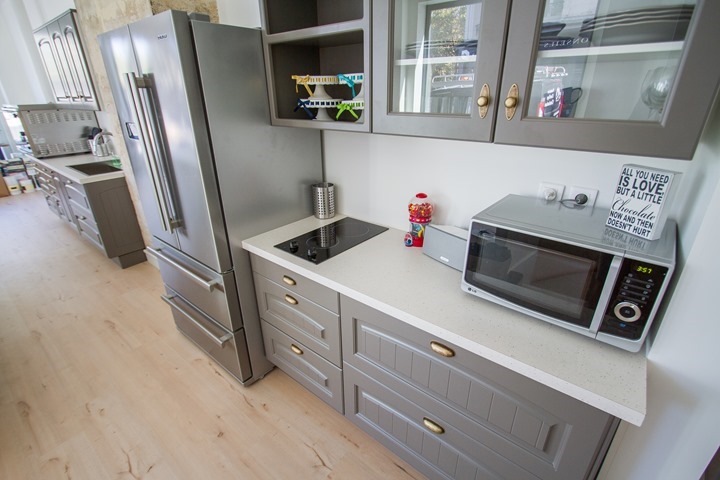 Many cakes come out of the studio each week, from both The Girl and our other awesome baker.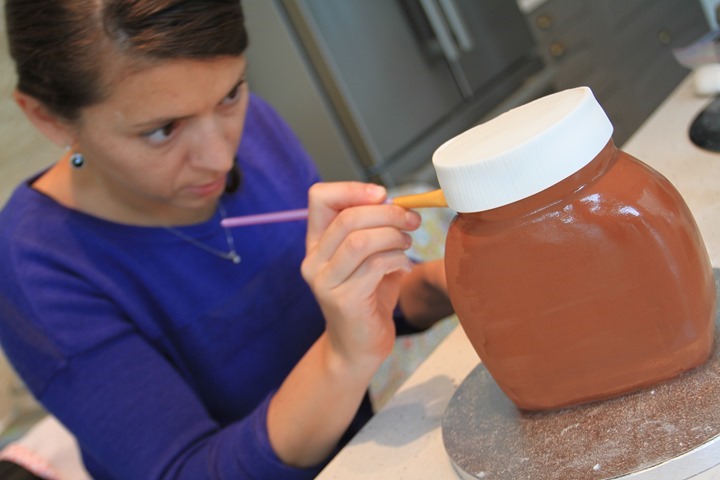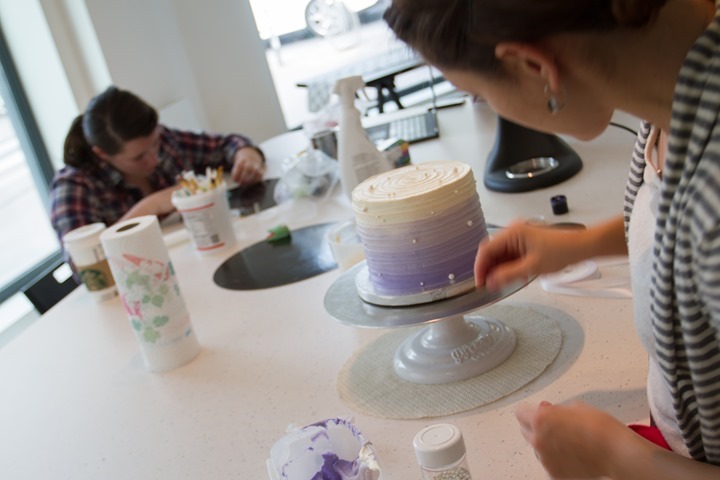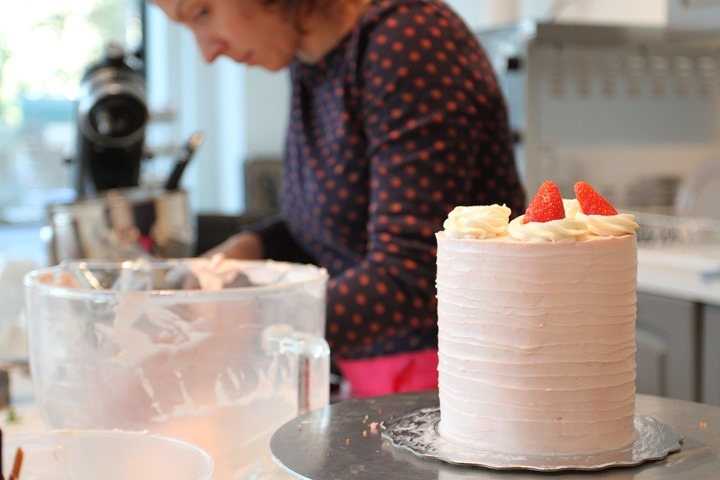 We've got a massive 'American Style' fridge (seriously, it's what they're called here).  This is ideal for us to be able to store cakes preparing for delivery, or, under construction: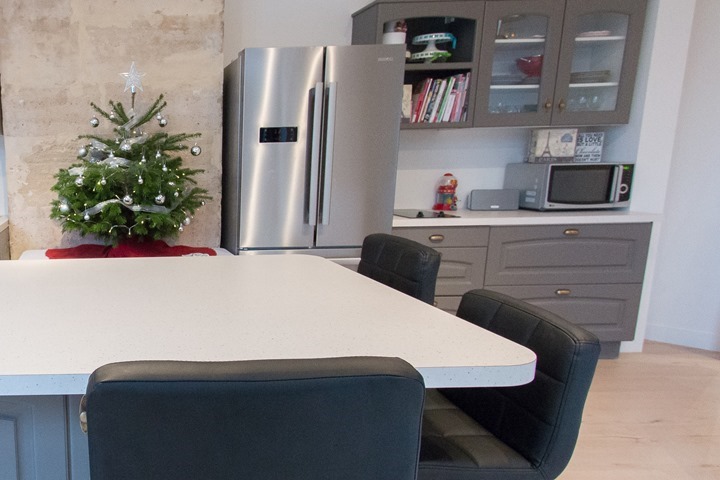 Of course, in addition to the show space, we also gained a communal office area that we could both work from.  However, it's in a bit of a 'work in progress' state.  So we'll just leave that behind a closed door for the moment…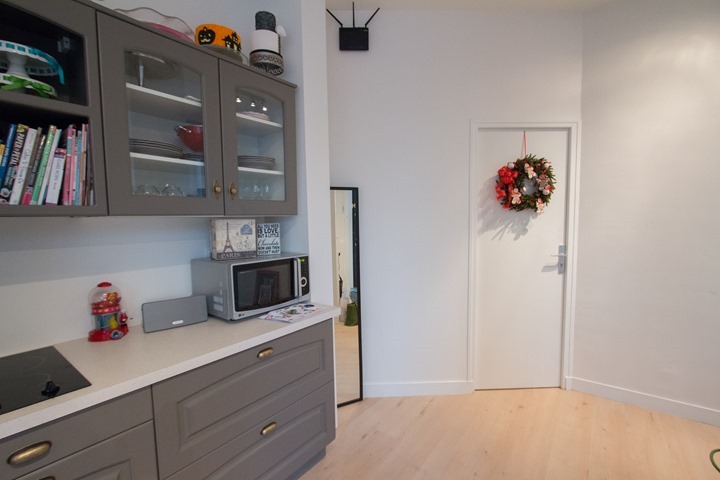 So now we work side by side each day (at least when I'm not travelling for work).  Thankfully even when I'm in town I work from home, so I just work here instead next to her.  It's great! 🙂  And of course we've got a handy-dandy couch for those late nights.
To bring it back to reality though…everything in the communal office space is Ikea.  No reason to spend unnecessary money in this area.  We spent many a late night building it all.  Also of note, the locking file cabinets are a complete and total nightmare.
Finally, we've got another cake-specific storage room that also has a laundry machine (primarily to wash aprons and rags from the shop, but also our athletic gear).  Here's me getting the machine in – it fit…by about 1mm (at most).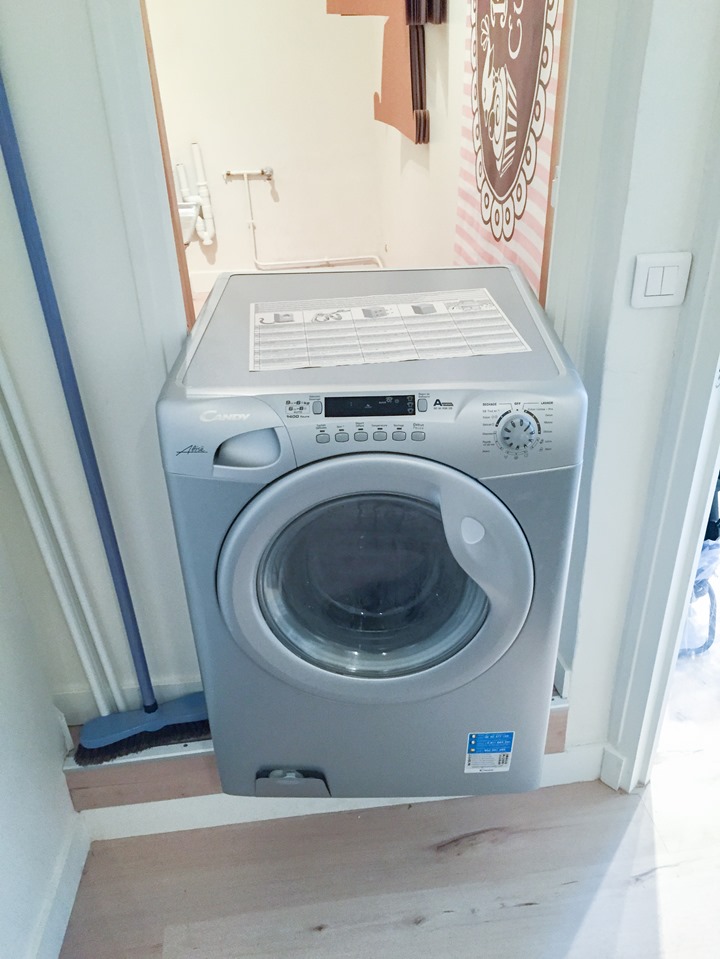 And with that, we conclude the full tour of the new spot!  If you happen to walk along the river and see the location, and it looks like we're inside, feel free to knock on the door and say hello!
Thanks for reading!