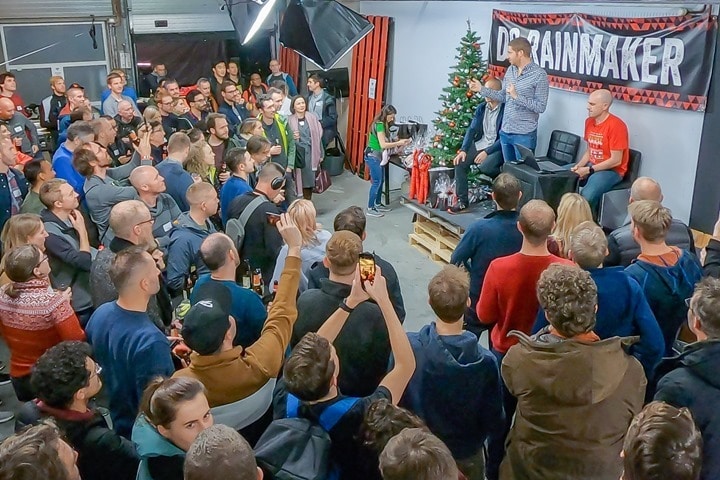 This past weekend we held our 6th annual DCR Cave Open House (now the 2nd winter one in Amsterdam, or 3rd counting our first summer edition this past July). It was once again a sold out crowd, for both the morning run as well as the evening festivities at the Cave. These events are so much crazy bigger than our first one six years ago! All in, between the run and the evening open house, we had nearly 200 people show up!
People came from all around the world, though largely from within Europe. They came from England, Scotland, Ireland, Belgium, Germany, Czech Republic, Russia, France, Spain, and many more. A few different people from the US as part of other trips, and one from Taiwan. Plus of course GPLAMA from Australia and DesFit from Colorado.  And then a large pile pedaled their way in from around the Netherlands. Woot!
Here's a quick recap to all the goodness!
The Morning Run:
First up on the docket was the morning run. This has been a tradition since the first open house, and the goal is to get in a few of the sights of the city for those from out of town, as well as to catch-up with everyone at a nice leisurely pace. Like last year, All4Running – a local running shop here, helped out on the morning of by not only providing a place for us to meet and store stuff, but also goodie bags for everyone and drinks afterwards. They're awesome!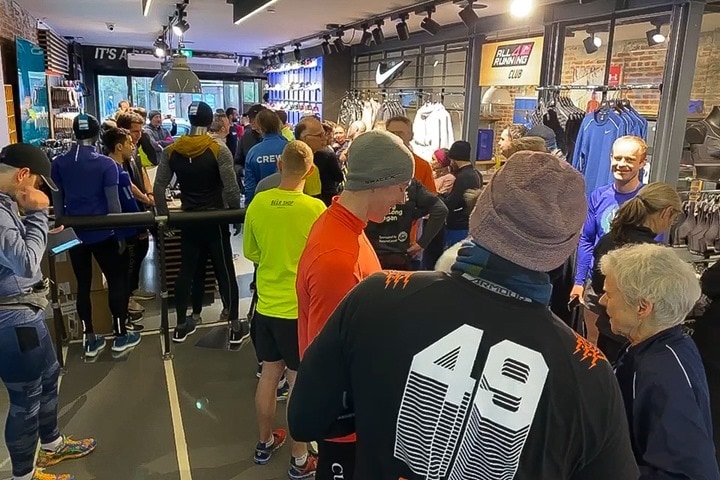 We then did a quick intro outside, giving a couple more minutes for any folks running a wee bit behind to catch up. Of course, our group pic got photobombed by a cyclist. Welcome to Amsterdam!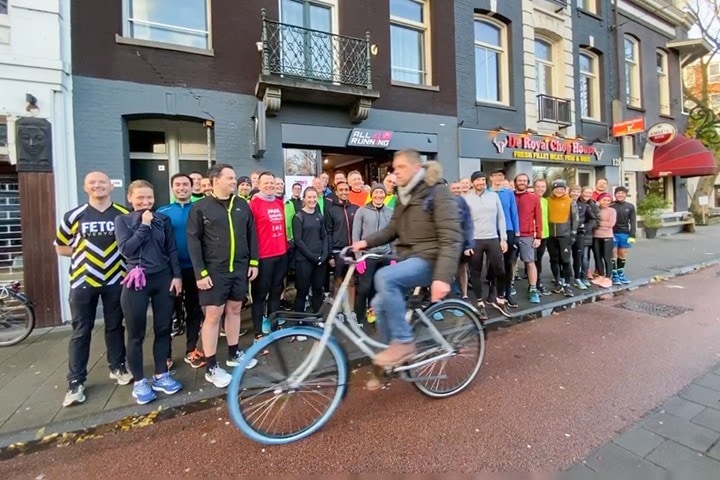 After that, it was into Vondelpark as one giant conga line!
The Girl was out on the Urban Arrow (with Peanut 3 actually under her coat). She'd pedal ahead to get some group shots: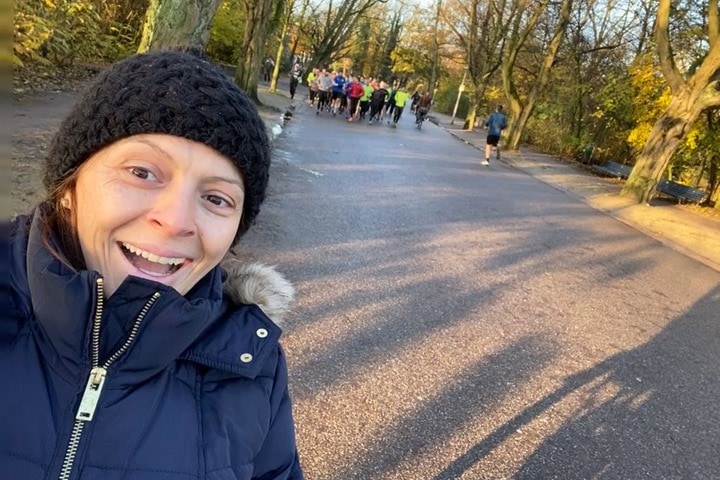 I think my combination of cold fingers with early morning light netted me a large collection of slightly fuzzy running photos. Sorry y'all!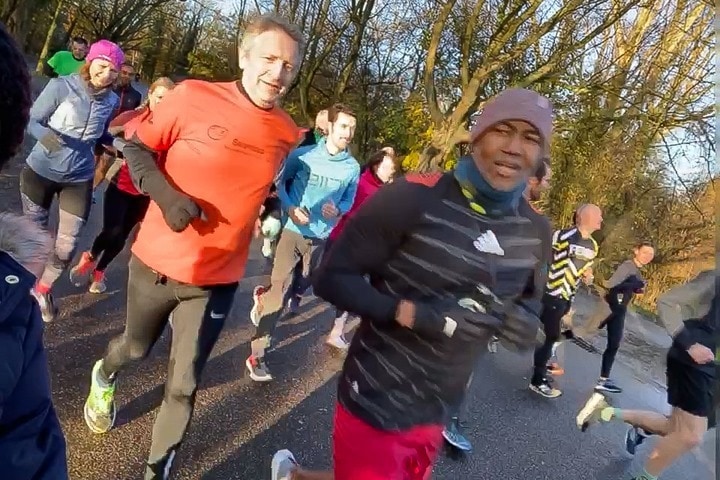 Our primary stop was in front of the Rijksmuseum for a big group shot! Or twelve shots.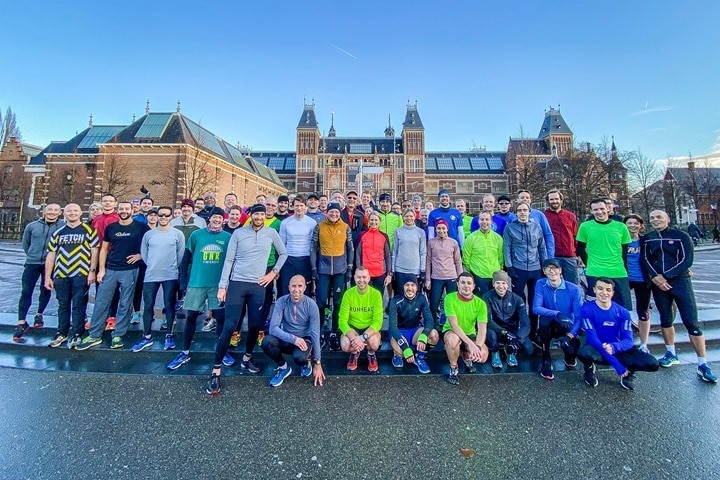 I'm not sure exactly what The Girl was doing – but I just found this in the pile of photos: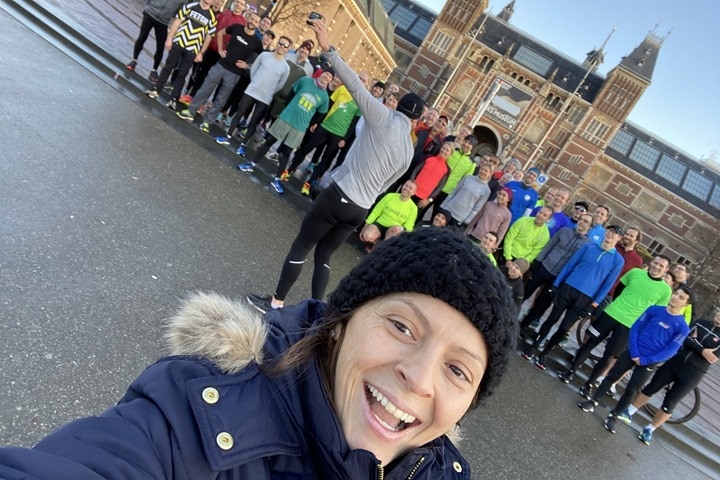 And then some tourists decided they wanted to get in the shot too. Obviously, the more the merrier!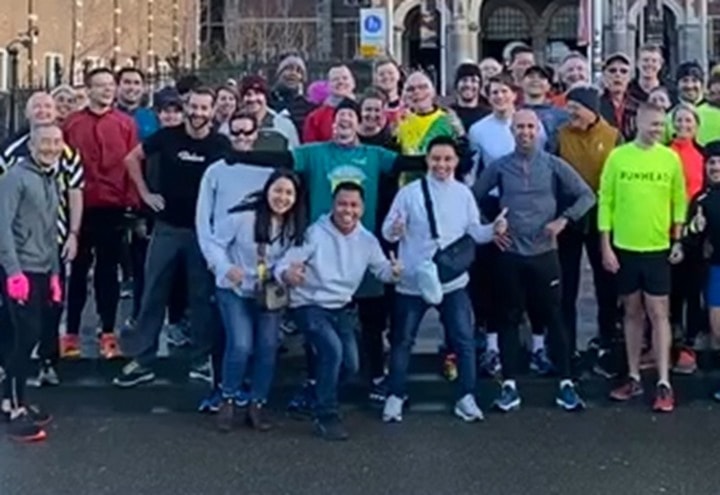 Of course, after posing in front of the museum, it was time to run through it!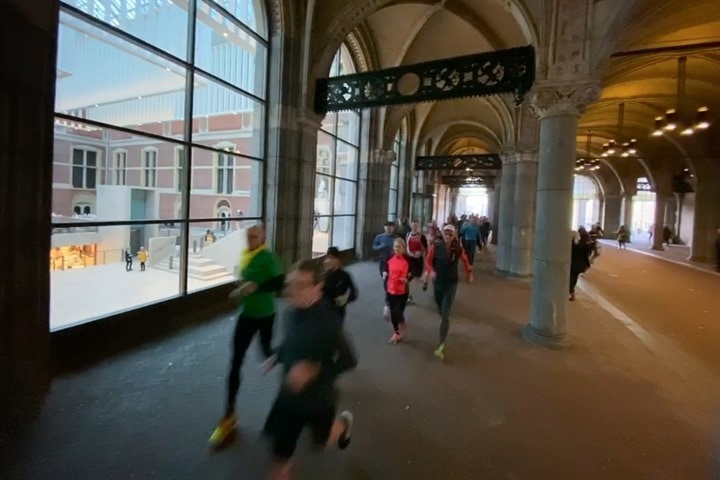 After that, it was back onto the roads as we traversed the town!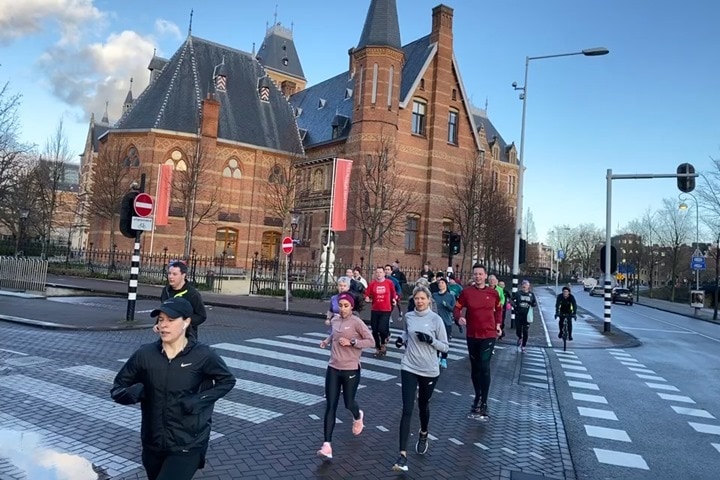 In fact, repeat Open House attendee WayeOfLife was also Plogging, which is where you pickup/collect discarded street trash along the way. For this run he focused on picking up cigarette boxes.
He also recruited a few volunteers, and they had bags full of them by the end.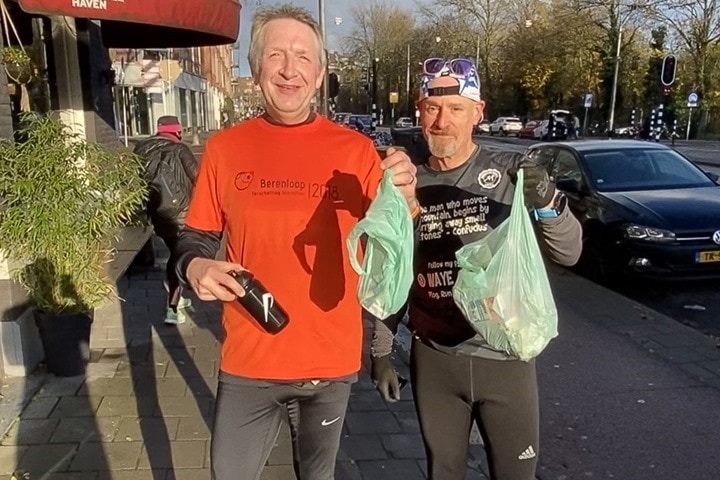 Soon we found ourselves doing a loop around Olympic Stadium.
I added this purely because I thought it'd look cool on Strava afterwards: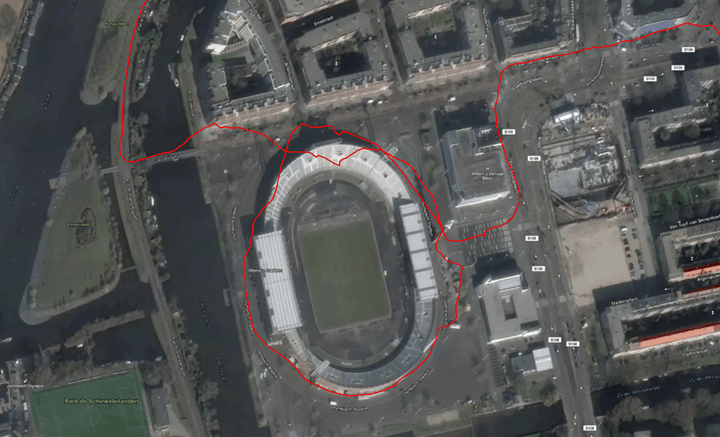 Only problem? I didn't take into account the fact that my GPS track would also track me running out randomly to get photos of the group from a distance. Huh. Or, that the GPS itself would decide to go through the stadium.
As we worked our way back, the Banana Car went driving by on the bike path. Our very long snake of a line of runners stretching off into the distance behind me: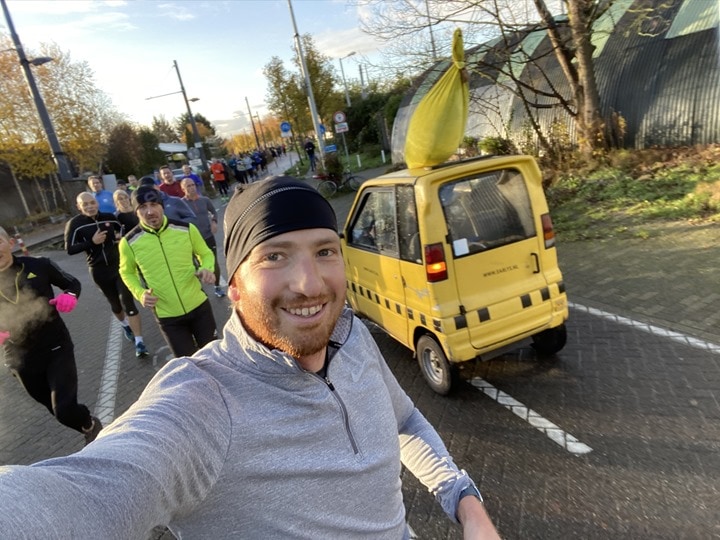 And then it was back down the canals before crossing one last bridge back to the start: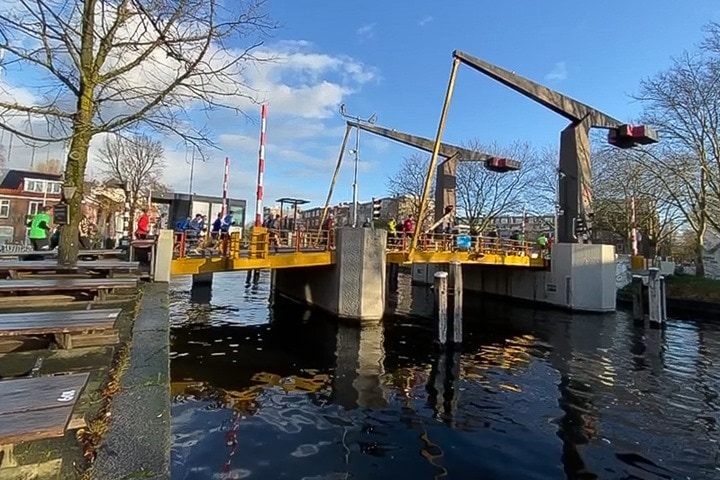 Once back at the shop, All4Running got bags of goodness for everyone, plus some refreshments.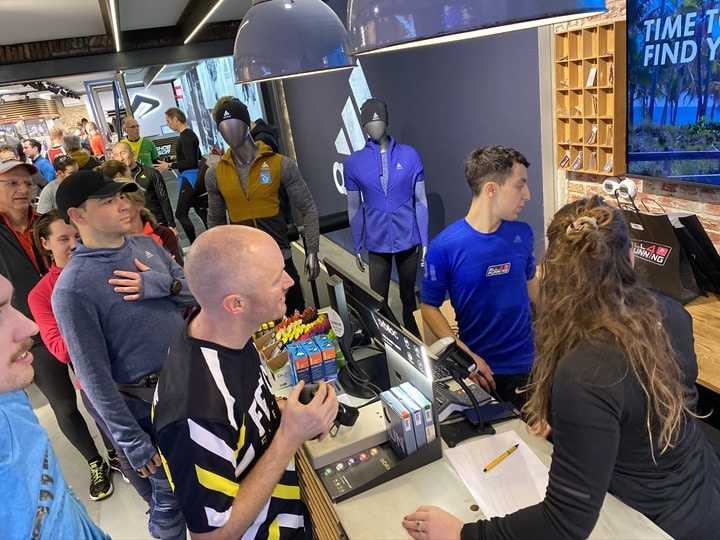 A huge thanks to everyone who came out for the morning run. Some of you weren't able to make the open house portion later that night, so it's awesome to at least get to go for a run with ya in the morning. Plus, we all lucked out (once again!) on the weather. It was great for this time of year – sunny and a bit chilly. Perfect!
The Evening Open House:
Later that evening it was time for the main event – the Open House! Heck, this year we even had a tent outside for check-in via an iPad. Slowly but surely we're getting this event planning thing figured out! Though, not enough that I actually have a picture of said tent or check-in.
In any case, here's the downstairs at some point during the evening:
In the back we had a bar that The Girl was operating – complete with Peanut #3 attached to her in a carrier for the evening. P3 was great the entire night! And in fact wasn't the only baby there. I saw at least two more little ones enjoying the evening.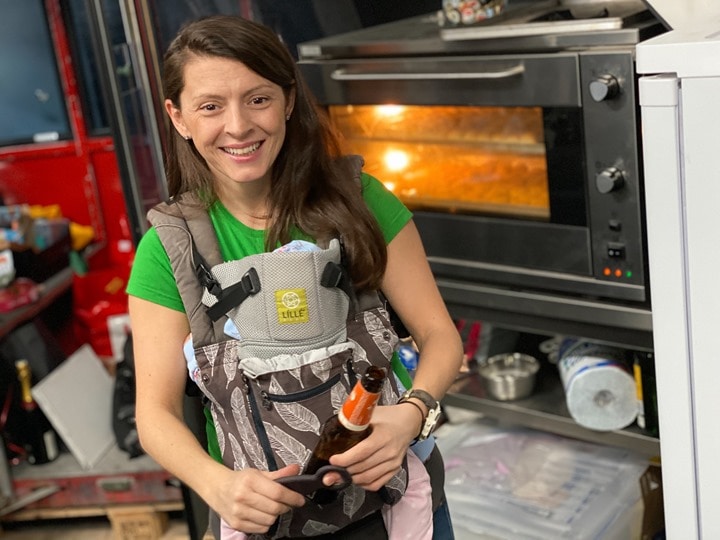 Up at the front we had a bunch of food, as well as food on tables. I also didn't think to get a picture of that either. I really sucked at getting photos this time. In fact, come to think of it – I don't think I even ate anything other than grabbing a single piece of something off of a tray as it went across the floor. Eeks!
Downstairs we had a Wahoo KICKR+KICKR CLIMB station setup, though, the iPad it was attached to was struggling with battery issues for some reason. On the opposite side we had an Elite Suito + the new steering device setup. That was running FulGaz on a big screen: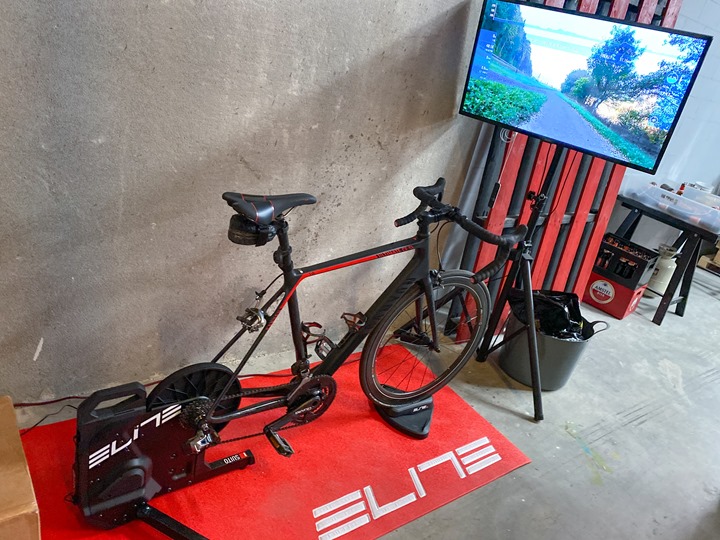 Also floating around was the Oreka bike treadmill-like trainer, but we didn't have that rideable for the evening since I'm pretty sure that'd have ended poorly.  And of course in the back was the ever-growing fleet of trainers.
Meanwhile, upstairs was where most of the action was: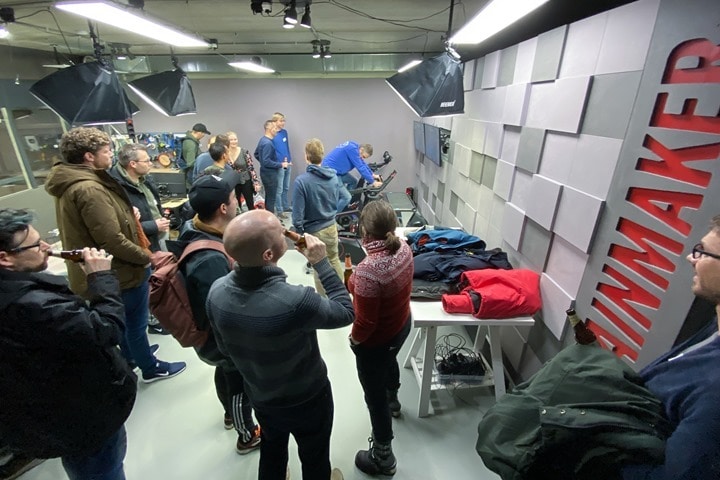 It's here in the main studio/shooting room where folks were able to jump on the three indoor bikes I currently have in-house: The Wahoo KICKR Bike, Tacx NEO Bike Smart, and Wattbike Atom. Side by side – perfect for seeing how they feel one after another (and many many many people did just that).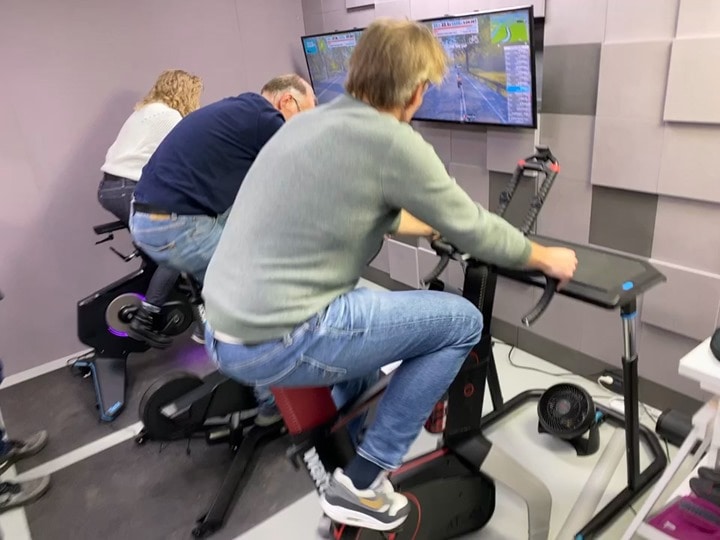 I took a photo of the screens at the end of the night (don't worry, we discarded the mileage). The TACX NEO Bike accumulated 27.5mi (44.25km), while the KICKR Bike was at 33.5mi (53.91km). I didn't have enough big screen TV's for the Wattbike Atom. Things to sort out for next year!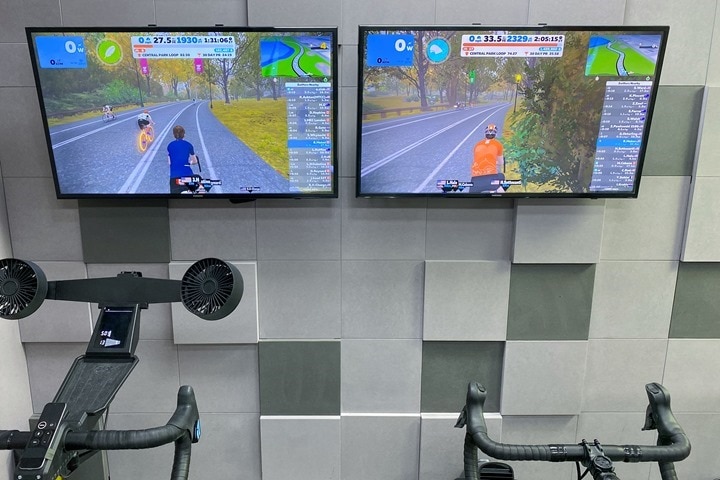 Next door was the main storage room, where endless rows of bins kept all the gadgets semi-organized. Plus the main office areas to sit and relax and chat. Maybe it's time for another DCR Cave Tour – now that it's been a year since the last one. It's so much different now! Though, actually, GPLAMA did a quick tour right before the Open House this year, which he put up on his channel within the Team Lama Members section.
After everyone got settled it was time to give away a few things and record the FIT File Podcast. In fact, we even did a video of it this time. Actually, not only did we do a video, we even had three different camera angles. And get this: They all actually worked. I mean, sure, there were three of us figuring this out – but hey – every once in a while the blind squirrel finds a nut.
You can watch the whole thing right here:
After that, we gave a bunch of goodness away. GoPro Hero 8, Wahoo ROAM, Polar OH1 Plus, Garmin FR945, and a few smaller Garmin FR35's. All sent over from Clever Training. Plus a bunch of goodie bag packages of tech running shorts and other assorted fitness bits.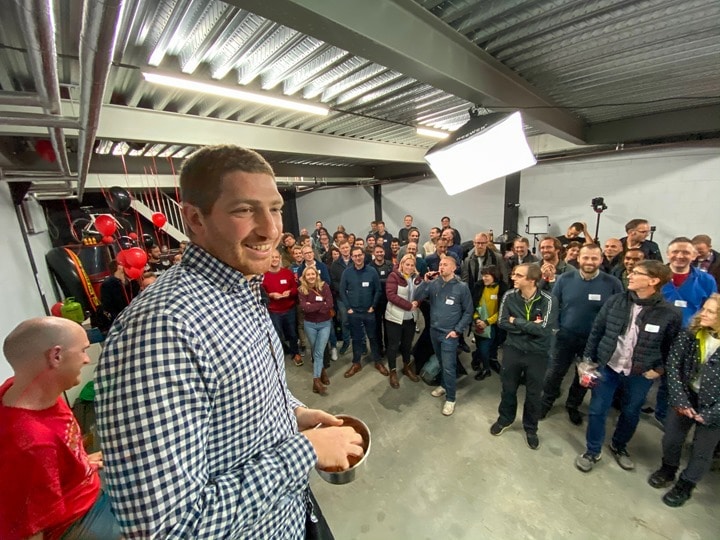 Here's a selfie I took towards the end, of one chunk of the group: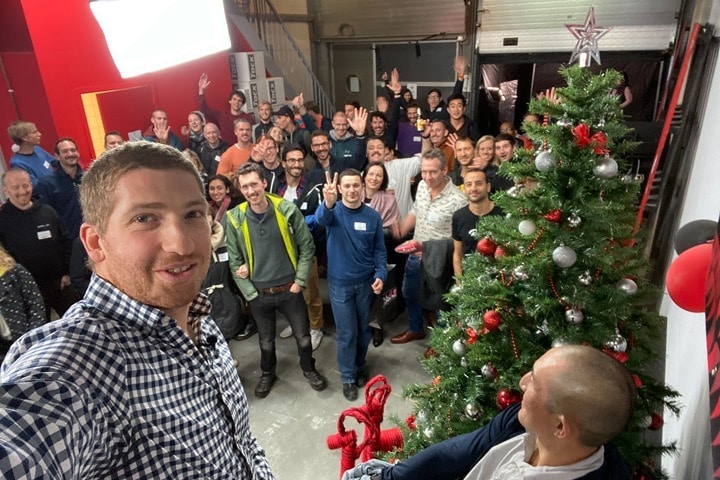 After that, I was able to continue catching up with many of you chatting all things sports tech. And yup – Harry was able to punch his ticket for the longest streak of DCR Open House attendees – going 5 straight annual winter events strong (including the Paris ones):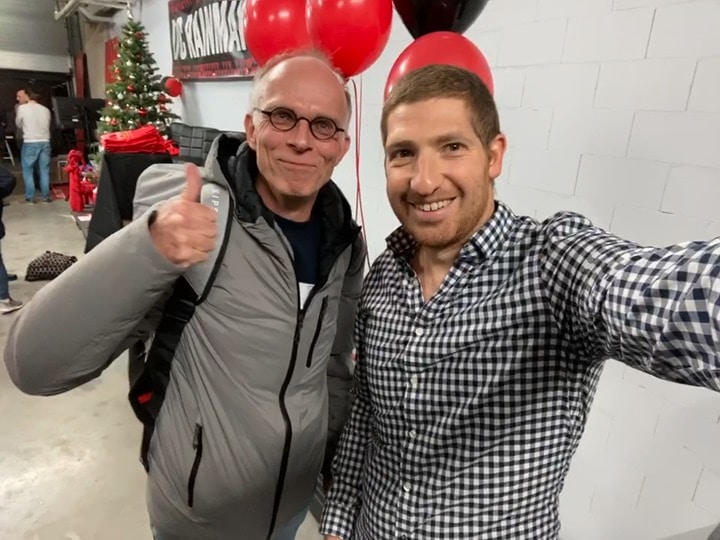 After that – folks stayed for many hours (till 1AM actually) chatting up the night. Oh…and trying to their best to take on our beer supply. And while they came close – we still have a few bottles left from our nearly 800 servings of alcohol we had on-hand. Good effort folks…try harder next time!
Speaking of which, we're looking forward to putting on another summer open house next summer. We haven't quite finalized the date or time frame yet (it'll likely either be closer to the Tour de France time range, or later in the summer around Eurobike) – we should know by early February
Oh – also – if you're headed to the Tour Down Under, then we're also doing a big meet-up down there one evening mid-week. Bike, Tech, and Beer! We're just finalizing the last bit of logistics, but be on the lookout for that soon! GPLama will be there of course, and I think we've even suckered DesFit into making the trip as well.
And again – a huge thanks to everyone who came to the event, and the many of you I got to chat with. Another great night for sure!