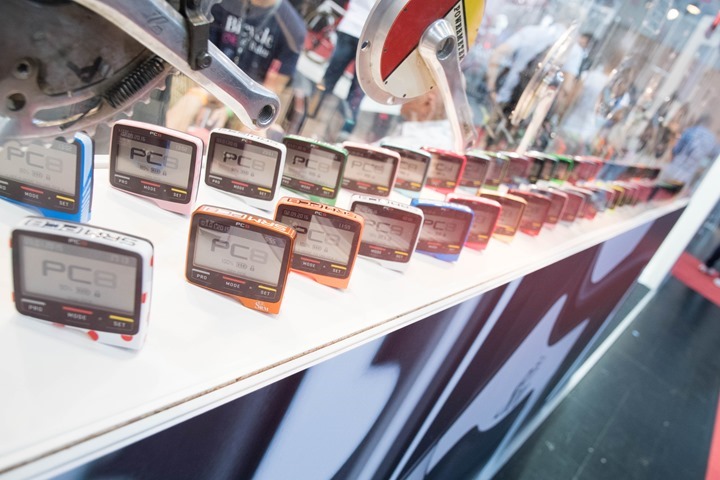 Okey doke. Before we dive into Interbike next week, I figured I'd round up some loose ends with Eurobike's minor power meter updates and announcements.  Or rather, by popular demand as it were – you decided on Twitter last night that you wanted to hear about power meters! Don't worry Magnum and Lezyne, you'll get your day in the spotlight shortly.
This post is somewhat of an 'odds and ends' pile of power meter related news.  Typically for major announcements I'll put them into dedicated posts.  This year, that was the following lineup:
A look at the new Power2Max NG power meters
PowerPod rolls out ANT+/Bluetooth Smart version, improved road surface algorithms
First Ride: Quarq's New DZero Power Meter Series
A Look at Luck's Cycling Shoe Power Meter
However, sometimes announcements that were more probably major announcements (like the P1S left-only pedals below) end up in the round-up as the week goes on, sleep disappears, and my level of enthusiasm for more writing posts wanes.  Such is life.
PowerTap P1S Left-Only Pedals: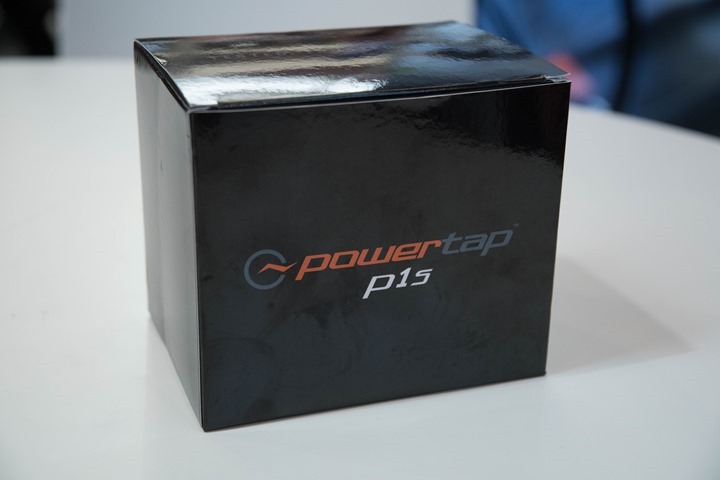 It's been about 18 months since PowerTap first announced the PowerTap P1 pedals.  It wasn't until about a year ago (fall 2015) that distribution started flowing, and really wasn't until this past spring (2016) that orders fully caught up with demand.  However, with the company on top of demand now, they've introduced a left-only variant of the popular P1 pedals – the P1S.
This is essentially the same thing that Garmin, Polar, and who knows how many others have done in terms of taking what was a dual-leg offering and making a single-leg offering.
The P1S is $699USD, and will be available later this year (2016). If you want to later upgrade that to a dual-sensing (left/right pedals) system you can do so.  The exact price of that upgrade hasn't been determined yet, but it sounds like it'll basically be a wash vs buying the full set up front (meaning, it won't cost you any extra than it would have to buy dual initially).  But again, that's the initial plans.  Below with the orange cap is the one with the power meter goodness, while the black cap has no goodness.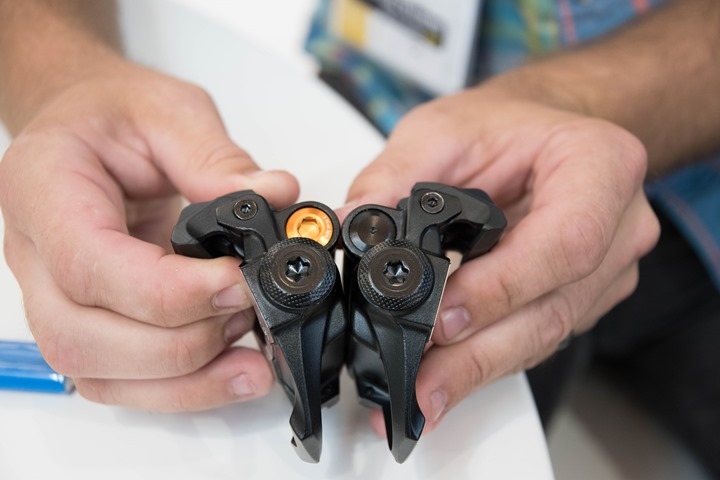 Within the box, you'll find both a left and right pedal – so everything will look nice and tidy. It's just that the right side will be empty in terms of power meter goodness.  Again, this is identical to what Garmin and Polar have done with their pedal solutions.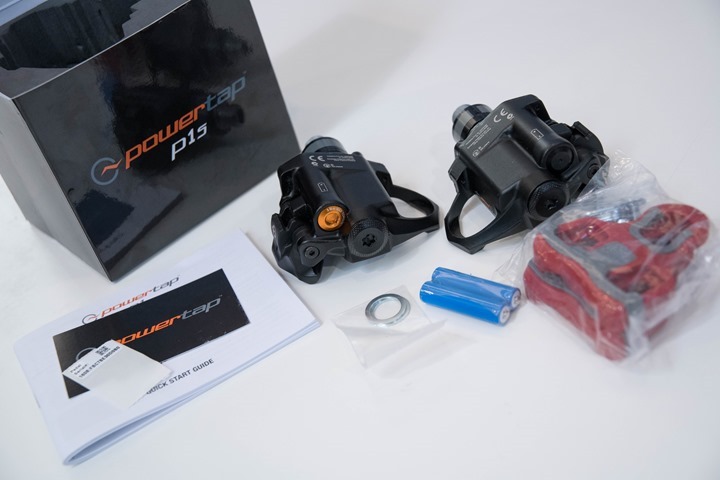 In addition, PowerTap rolled out their Advanced Pedal Metrics that they hinted at last spring.  I actually spent a bit of time with this over the summer from time to time.  These metrics give you additional pedal stroke data in roughly the same vein as what Garmin, Verve Pioneer, and Rotor have done.  Below are some screenshots: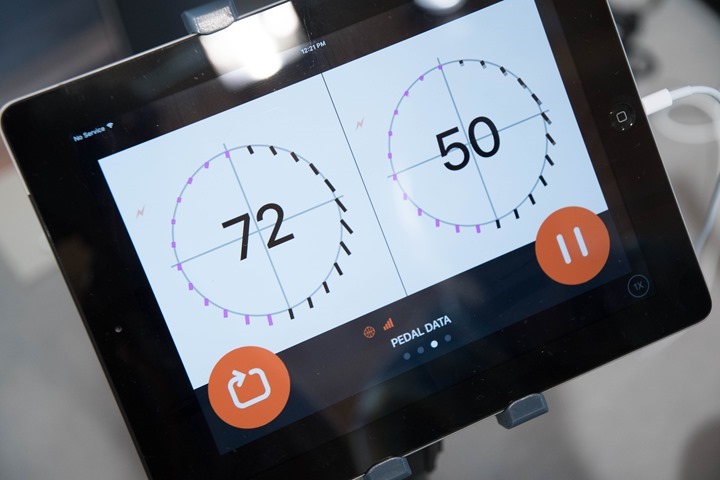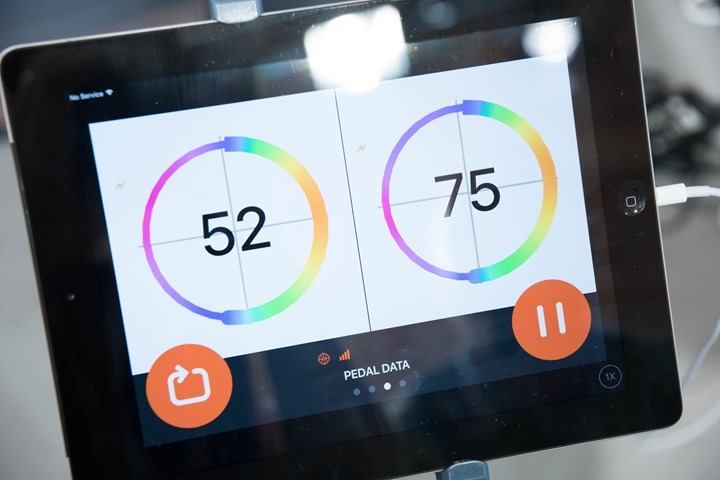 Now the one catch here is that these metrics are only displayable with an iOS app, and it's essentially something you'd do in real-time. There isn't an option to display the data afterwards.  The functionality at this time is more focused on bike fit than post-ride analysis.  The app update is free though, and the firmware needed is already in the pedals you have today.
Side Note: You can now pre-order the PowerTap P1S from Clever Training.  Like almost everything else you buy there, you'll save 10% using the DCR Coupon Code DCR10BTF, plus you'll get free US shipping.  And of course, it supports the site here and makes you awesome.
SRM's New Crank Arms:
Next, we've got some new crank arms out by SRM.  Previously SRM has focused on putting together a package that's compatible with a given crank arm type (i.e. Shimano, SRAM, ROTOR, etc…).  But now they've introduced their own lineup for crank arms.  This is inline with what we saw Stages do a few years ago actually.
The reason? Greater bike frame compatibility.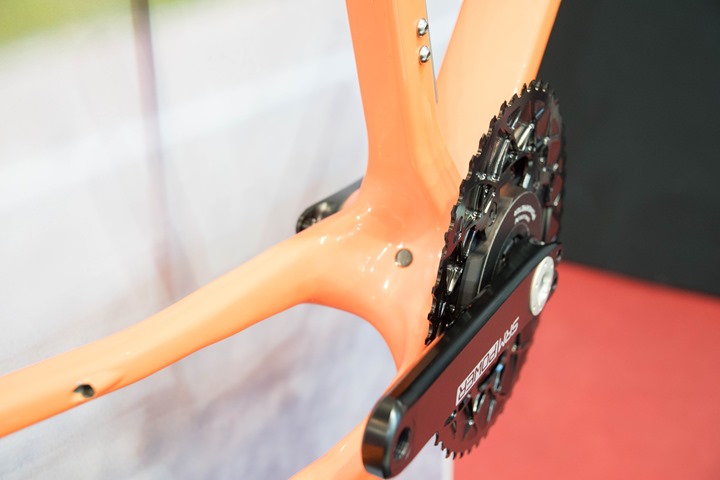 As more and more of the major crank-arm/set manufacturers are now also power meter companies (SRAM, Rotor, Shimano, and probably soon others too) – there's little incentive for these companies to make it easier for other power meter companies to offer greater bike compatibility.  Rather, these companies will simply do it themselves and cut the power meter middleman.  That's all combined with aero-focused bikes becoming more and more complex for component makers to adapt 3rd party parts to.
These first sets of carbon cranks are made by THM, and are integrated with their existing spider product.  They didn't have prices for their carbon ones, though they did have a €1,728 price point for their aluminum ones.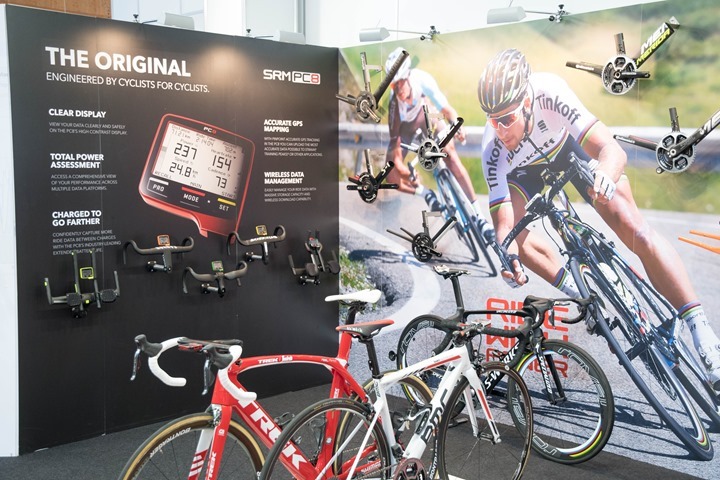 In addition, I did ask about where the rechargeable unit they touted from a few years ago stood – and it sounds like there are no immediate plans at this point, which echoes what they said last year at Eurobike/Interbike.
At Interbike, I'll cover more of the software announcements they've had – so stay tuned there!
Shimano's Updated Prototypes: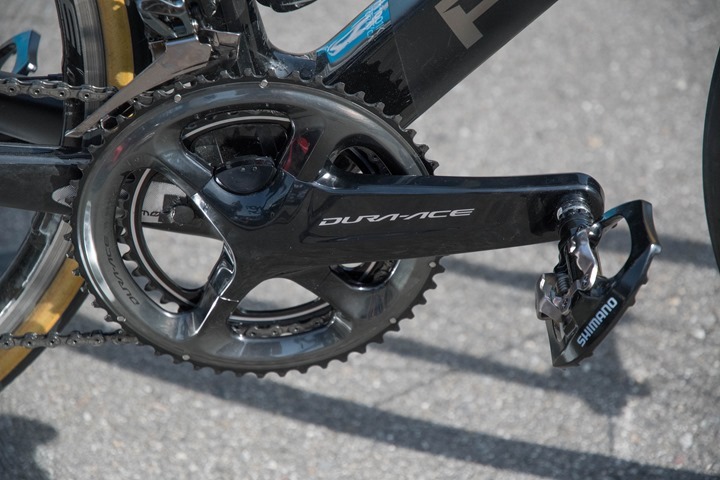 This next one's a quickie!  I just wanted to point out that Shimano did indeed have their previously announced power meter not only on display at Eurobike, but also a single bike was quietly floating around the outdoor demo area.  That version can be seen below:
You'll remember they announced this back in late June just prior to the Tour de France, but at the time didn't actually have any samples on-hand at the event.  So this is a solid improvement on that.
The timelines from multiple people I've talked to still sound like next spring sometime (assuming nothing goes wrong), so it's definitely not a near-term option if you're in the market.
Stages & Campy Plans: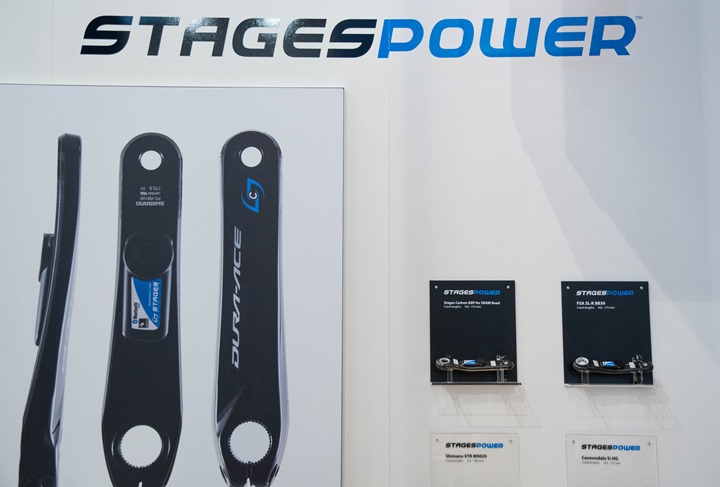 Another quickie here – which is merely to note that Stages has suspended timelines for their Campagnolo power meter offerings, which they initially announced last year at Eurobike.
Officially there isn't any specific reason given here, but multiple people in the power meter industry I've talked to have noted how 'challenging' the carbon is on the Campy crank arms, specifically noting that the variability is throwing many power meter attempts for a loop.  I suspect Stages is in that same loop-de-loop.  Stages seemed to have validated that to a DCR Reader when he asked back in August, getting an answer via Facebook of:
"Unfortunately, that information was released when we had several working prototype units. When it came time to start production, some serious issues were uncovered, and we currently have no plans to release Campy based power meters.  We will only release product when we can be sure that we are producing reliable, accurate, and durable power meters."
On the bright side for them, they announced a pretty cool head unit – so check that out here.
Who was silent?
Of course, there are a number of players that weren't officially at Eurobike, or didn't announce anything at Eurobike.  Just to let ya know that I haven't forgotten about them, let's round them up here:
Pioneer: I'd look ahead to next week at Interbike, where they traditionally have made announcements.
4iiii: They announced a bunch of stuff back at Sea Otter in April, they're still working to get dual-sided out the door.  They will be at Interbike though.
ROTOR: They also made their announcements this past spring, so nothing new there other than shipping.
WatTeam: They were not at Eurobike, and aren't officially slated to be at Interbike.  But, it does sound like they'll be floating around – so I'll be looking to catch-up with them there.
LIMITS: They started shipping some units since Eurobike, though the jury seems to be rather variable on accuracy. You can see the comments section on my LIMITS accuracy post for more details.
Garmin: Nothing new at Eurobike on the Vector power meter front, and I don't really expect anything new at Interbike either.
Look: They announced their dual ANT+/BLE units last year, and were demo'ing them at Eurobike this year.  Nothing new otherwise though.
Polar: While Polar is still technically selling their Look partnership created power meters, I think it's pretty clear that collaboration is dead since Look has done their own thing now – leaving Polar with an outdated and overpriced offering.
Of course, again, remember the list of companies at the beginning of the post that I already covered in dedicated posts.
With that – thanks for reading and have a good weekend!  Next week will kickoff Interbike, plus things like GoPro's announcements on Monday.  Good times for sure!
P.S. – Looking for the annual power meter recommendation post? It'll come out Tuesday, Sept 26th.  Basically following the Interbike show to take into account any new announcements there.  Enjoy!