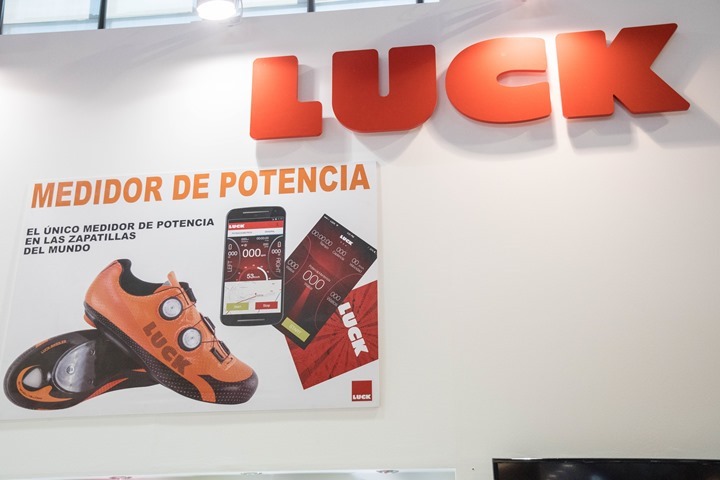 It's been a few years since Luck first showed off prototypes of their cycling shoe with a built in power meter.  In previous years it was rarely prominently displayed.  It was sorta available to see on special request.  The Spanish company is known for making cycling shoes, not so much power meters.
But this year it was out in full view and with a display element that took up about a third of the booth – complete with a cyclist pedaling away on a bike.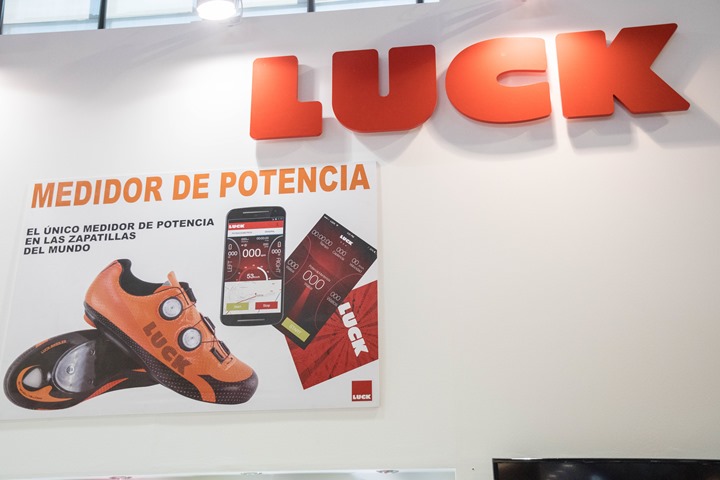 Now before we talk about the power meter piece, we need to start with the understanding that this only works with their cycling shoes.  The good news is that it works with all of their cycling shoes, from their 50EUR ones up to their 350EUR editions.  So you don't have to get a pricey cycling shoe to make this work.  The two ends of that price range seen below.
Now the reason you need their shoes is that it essentially snaps onto the bottom of the shoe.  Start by looking at the bottom of the shoe below.  That unit has the power meter on it.  Notice how it has a bit of an 'edge' or secondary plate along the bottom from the back of the orange piece up to the cleat?  Like a secondary level?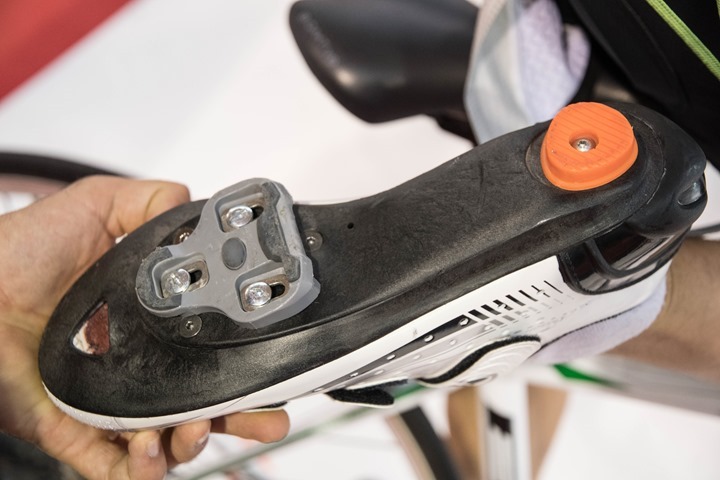 Here, this makes it a bit easier to see when I change position: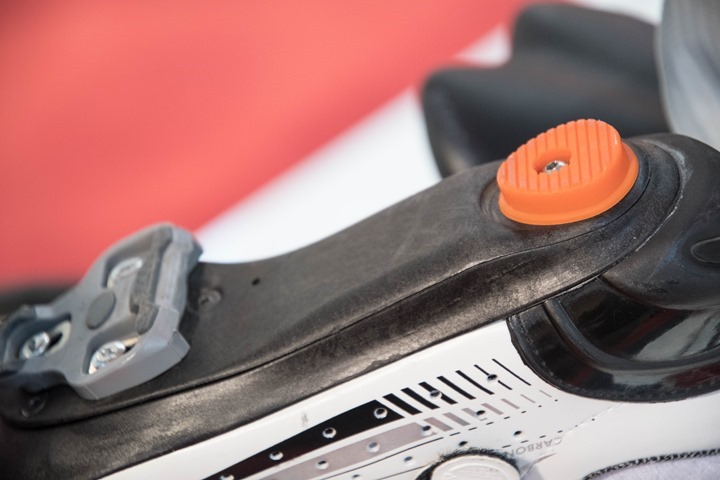 You can see that there's a small secondary riser that's put in place that includes the power meter measurement piece.  That's where everything from the communications stack to the strain gauges and the battery all sit.  Basically, all the typical components of a power meter fit within that area.
So what about the specs?  Well, it's an interesting bout of them.  Here's the top-line details:
– Claimed +/- 2% accuracy
– Dual open ANT+/Bluetooth Smart broadcasting of power/cadence
– Additional force vector information with their app
– Weight of ~35g (additional)
– Wireless charging
– 10 hours of battery life per charge
– Single-sided or dual-leg option
– Availability in Q1 2017
– Price of 200EUR per side, plus shoe
So at first glance the price is actually quite reasonable – in fact, the cheapest of any power meter out there.  You have to buy their shoe, but even taking that into account your minimum price would be 250EUR, which is well below any others for a direct force power meter (DFPM).  I will note my Spanish is limited to Hola, so our communications were limited.  So we validated prices via the calculator/notepad apps, just to be sure there.  Same with other specs.  Still, there's room for errors in any non-native speaking scenario.  But you can validate most things here on their page.
In any case, they did have the unit broadcasting up to a big screen TV paired to an Android app: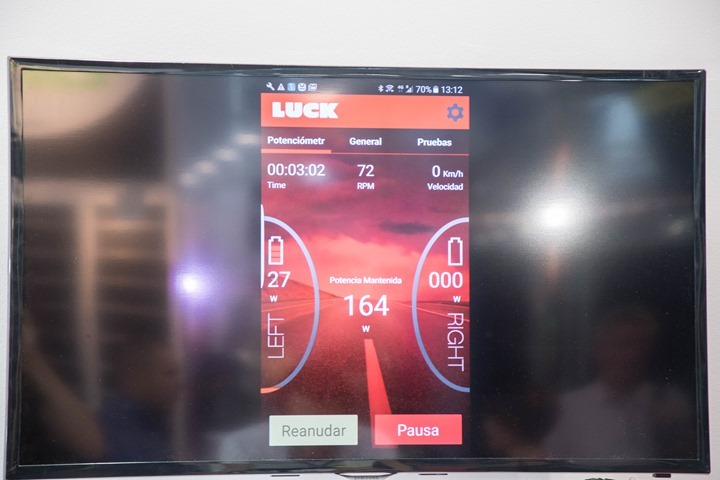 Now in this demo, only the left side seemed functional.  An observation I doubled-down on while editing these photos now and noticed small wires coming out of the shoes.  That matches with our conversation and taking me around to the right side of the bike to show me that shoe.  My guess is that shoe isn't actually functional, but more 'pretty' instead.  This matches the exact set of circumstances that the Bikeradar folks got too.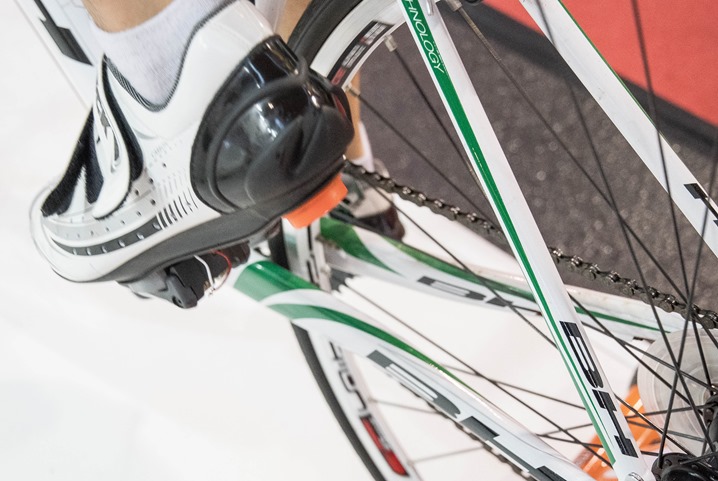 Which isn't a huge problem per se, but it re-enforces my gut feeling that we won't see these per their timelines of Q1 2017.  In fact, they initially said in our conversation late 2016, but then backtracked to Q1 2017.
My bet is we'll see them next Eurobike (August 2017), but, at that price point if they can make that happen – that's a pretty huge thing.  It would allow folks to choose any cleat type they'd like, and any bike configuration they'd like.  It'd be the ultimate in bike portability.  And perhaps by then they can get that 10-hours of battery life up a bit, because frankly, 10 hours is a non-starter.  In my opinion the absolute minimum threshold here is 20 hours of claimed spec.  The wireless charging does soften that blow slightly though, since you could just toss them on a wireless charging pad (in our conversation it sounded like the exact same pads as for wireless phones today) versus having to plug them in.
In any case – as I like seeing both new competitors, but even more so new power measurement spots and ways to expand the technology as new price points.  If they had a 200EUR per side in my shoes with my existing cleats that's both accurate and gets a bit more battery life, I'll definitely be the first customer for it.  That'd be cool.
Thanks for reading!