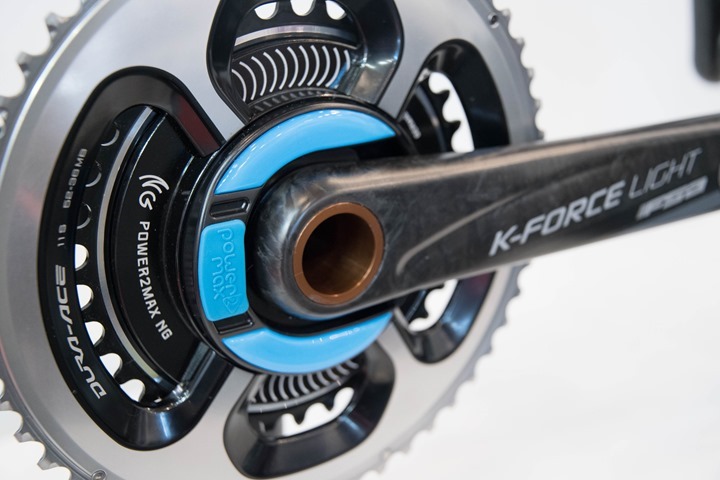 Each year at Eurobike we see Power2Max make evolutionary changes to their power meter lineup.  In doing so, they've continued to climb the market penetration ladder – despite not being a household name.  One only needs to look at the annual Ironman Kona bike count numbers from last year to see the impacts of that.  They've surpassed both SRM & PowerTap in terms of units on bikes, leaving only Garmin, Stages, and Quarq above them.
(As a side note, I completely expect the top 6 to shuffle quite a bit again this year, though, I don't expect to see Power2Max's placement shift significantly.)
What's new: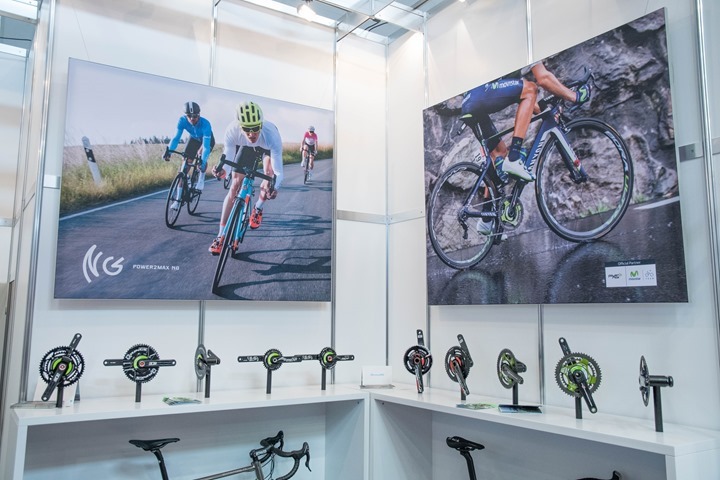 This year at Eurobike, Power2Max shuffled the deck themselves when it came to their power meter lineup.  They've introduced a new NG series (Next Generation), which adds in a bunch of new features.  In many ways, their announcements mirrored that of Quarq and their new DZero units – with both companies adding nearly identical features and shipping timelines.  All within a few hours of each other (technically Power2Max beat Quarq by four hours in terms of press embargoes).
The new features for Power2Max are:
– Dual ANT+ & Bluetooth Smart broadcasting
– Increased accuracy, claimed at +/- 1%
– Changed to USB battery power vs past coin cell
– You can now update your own firmware
– Slightly lighter in weight than before
– Inclusion of torque efficiency and pedal smoothness metrics
The company says the new units are a "totally new build" than the previous generation Type S power meters.  Those units I've tested in the past and have done well.  Whereas these ones the company is claiming a +/- 1% accuracy level.  That'd be the highest claim in the power meter realm, where most folks hover at the +/- 2% claim.  They noted that from testing it's producing more accurate levels than that, but that's the stated claim they're going with for now.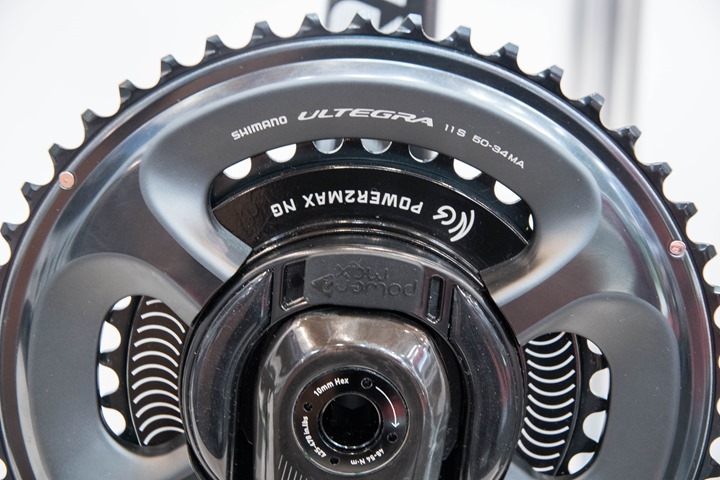 In many ways that mirrors statements I've seen from others in terms of technology advancing to the point where companies (well, good ones anyways) are able to get higher and higher accuracy claims for the vast majority of scenarios.  But there's always an odd-ball scenario that would go above that lower level (for example, one scenario that tops out at .75%), that pushes the envelope.  Wahoo and Tacx both mentioned similar things on the trainer front too.
Power2Max is doing a dynamic calibration of their units, which means they're calibrating across the entire pedal stroke (rotation).  This is similar to what Garmin does with their Vector units in the factory, where they calibrate at numerous points around the pedal stroke.
Ok, in any case, the big ticket item here for most folks will be the Bluetooth Smart compatibility, allowing you to pair it up to head units from Suunto and Polar, as well as Bluetooth Smart power meter capable apps.  In this case, I just plopped out the Wahoo Fitness app, which easily found it: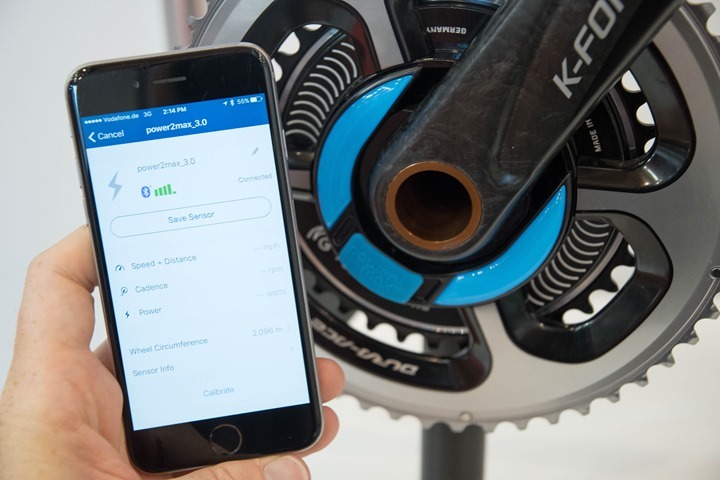 The company says they've also tested with the Wahoo ELEMNT.  They've had beta testers use other apps and devices, but didn't have a more detailed compatibility matrix built out yet.
The second most notable thing is that change from a coin cell battery to a USB powered battery.  This is almost akin to the move that SRM has been trying to make for a few years, but hasn't quite nailed (released) yet.  In SRM's case they were aiming for a wireless charging type system.  Whereas in Power2Max's case they went with standard micro-USB protected by a cover: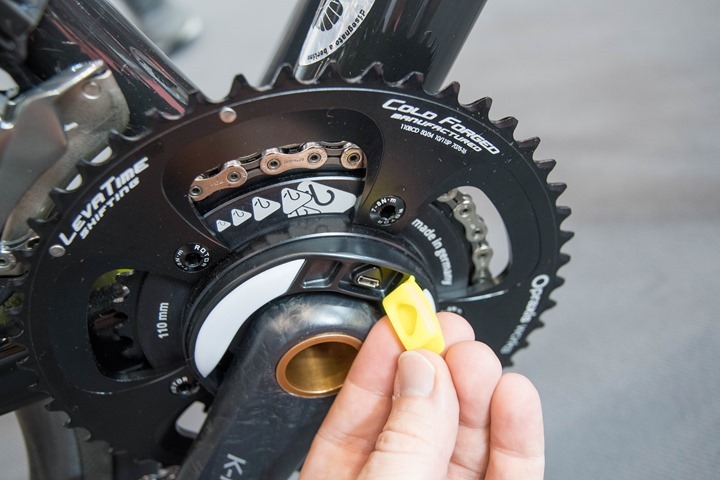 You'll remember that Power2Max is hardly the first micro-USB powered power meter on the market, as bePRO introduced theirs a year ago without issue.  Similarly, so did WatTeam, though, they've yet to resume production after halting things this past spring.  The Power2Max USB battery is stated at 150 hours of battery life between charges.  That's substantially more than bePRO and WatTeam.
In addition, the units got the ability to get firmware updates, should they be released down the road.  Previously that required sending the units back to Power2Max.  Though for the most part I don't expect too many updates, as Power2Max has tended to keep things pretty vanilla when it comes to changes in software.
Availability and such: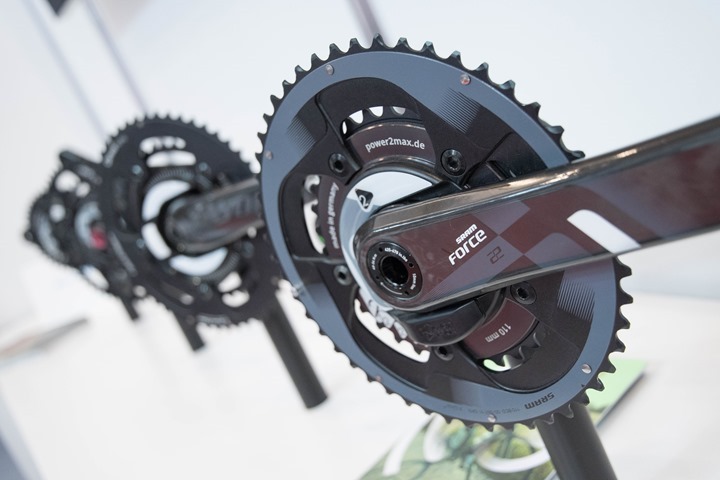 So, how much will these new units set you back and when will they start shipping?
Well the current plan is a bit flexible on the shipping date.  They won't open pre-orders for another 2-4 weeks, and then from there expect shipping within the November-December timeframe.  Historically speaking Power2Max has been pretty disciplined when it comes to announced dates and shipping timeframes.  Note that the mountain bike variants won't be on the immediate docket.  Rather, those will come "sometime in 2017", but they declined to state whether that'd be the first half or second half.  Obviously, that's a pretty big difference.
As for pricing, right now Euro pricing is available, and the units are definitely more pricey than the existing Type-S units, about 43% more actually.  That's honestly fairly substantial, and may put a solid dent in their sales.  For example the cheapest offering of the NG units is 990EUR, while the cheapest Type-S is 690EUR.
Here's the NG unit chart.  No, I didn't choose lime green as the font color, it came that way from their PDF.

Compare that to the Type-S prices (a line that will be retained):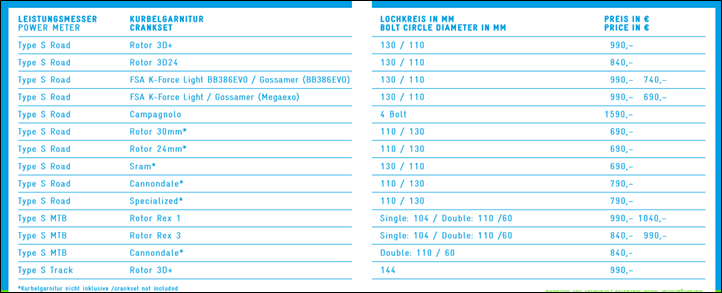 It'll be interesting to see how this lineup fares with the higher price point.  Looking at Quarq's new Euro prices, the cheapest is at 679EUR.  Historically Power2Max has always been cheaper, and at this point they're still 20EUR more expensive for the Type-S (non-dual ANT+/BLE), and 320EUR more expensive for the NG.  Eeks.
Still, I'll be looking forward to checking them out later this fall once they start shipping and see how they fare.  It's good to get more dual ANT+/BLE options into the market.  Plus, Power2Max typically has more crankset compatibility options than Quarq does, largely due to not being tied to SRAM (maker of their own cranksets).  So that's certainly a factor as well to consider when choosing.
With that – thanks for reading!