Best I could tell, there were six power meter companies at Sea Otter: Garmin, 4iiii, Rotor, SRAM/Quarq, Stages, and Verve.
I've already covered the new 4iiii product announcements in this post, and Garmin didn't announce anything at Sea Otter beyond their Edge related software updates. ROTOR was present, but their news was focused on getting their previously announced dual 2INpower (dual leg system) out the door, which sounds like it should be any moment now.  I'll be reviewing that once it does get out the door.  And while SRAM/Quarq was there, they didn't have anything new to announce power-meter wise.
So that leaves Stages & Verve.  Both had minor announcements and updates, so I figured I'd do a quick round-up of them.
Stages: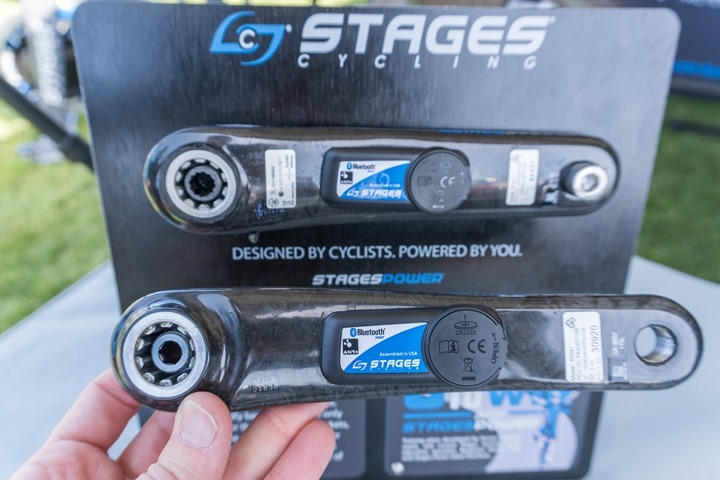 Starting with Stages is providing some updates on the products they launched last fall at Eurobike/Interbike in 2015.
First up is their carbon variants that they announced previously.  While they started shipping the BB30 version back in January, the GXP version is looking to hit production next month.  With the BB30 version they noted they have no back orders/waiting time, and with the GXP version it hasn't opened yet to orders.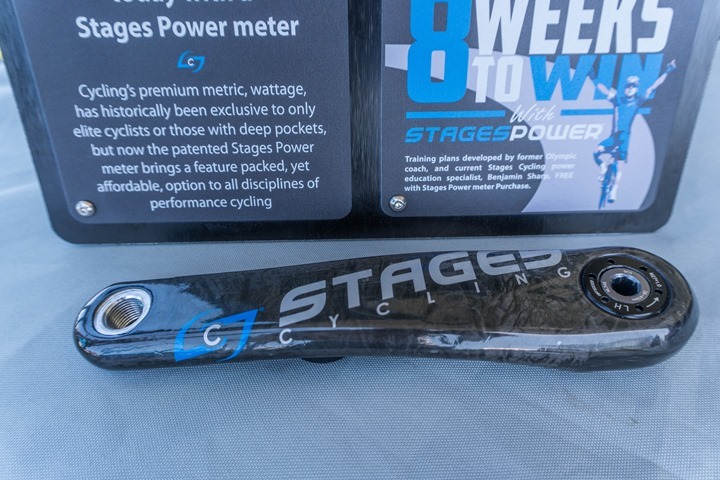 Additionally, the previously announced Campagnolo variant is slated to start shipping in late June.
Lastly, I asked a bit about the dual system that they've been testing with Team Sky and I showed updated pics of them in my Paris-Roubaix post last week.  They noted that obviously they're still testing it, but for them it's more of a business type decision as to whether there's a market there at the price point they'd have to enter in.  Or if the market is too crowded already for dual solutions at a price point that would make sense for them.  I believe the term they used was 'unconvinced'.
Verve Infocrank: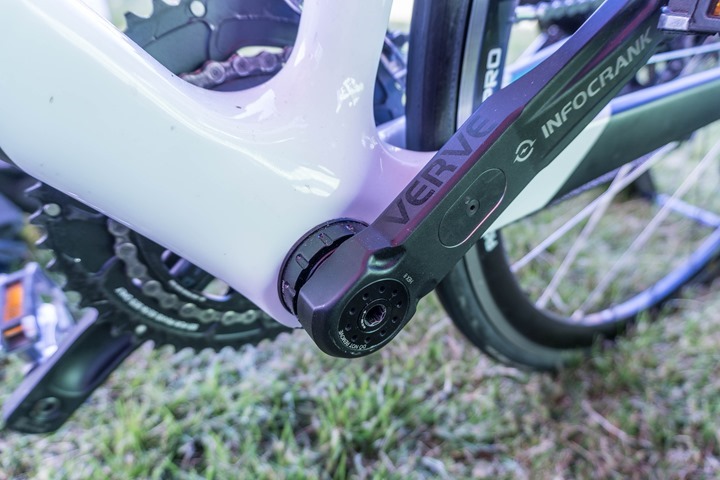 Next we've got Verve and their Infocrank power meter.
Their most recent news is a firmware update last week that gets rid of the need for magnets.  You'll remember from my review that I found their magnet setup fairly frustrating (and the use of 'fairly' is an understatement).  They've released an option now that allows you to update your power meter firmware and throw away the magnets.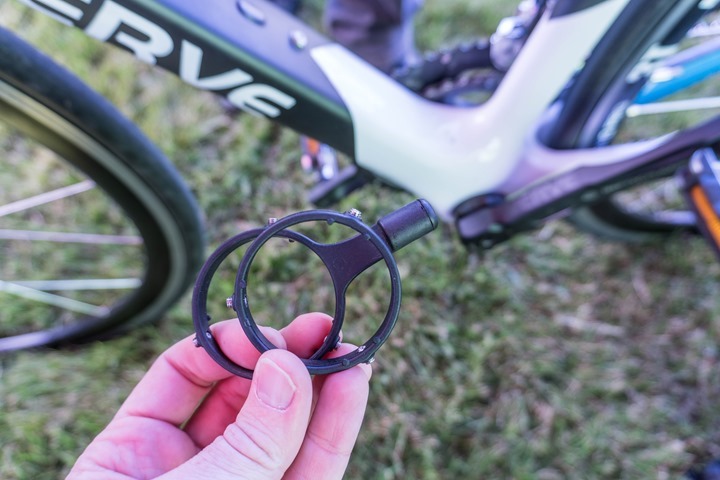 You can still use the magnets if you'd like, as the current firmware has a maximum RPM (cadence) value of 200RPM.  It has no minimum (they demonstrated 6RPM for me in the booth).  Keep in mind, unless you specifically know you do 200RPM, then you don't need such functionality.  Most cyclists will keep below 100-105RPM for the majority of their cycling, with only brief interludes much above that.
I'll usually test most power meters to about 170RPM, beyond which my legs fall off.  In any case, the update is free and can already be had.
Next up, they're working on a cloud-based app aimed at giving fitters, coaches, and other physiotherapy focused folks additional higher resolution data with respect to the pedal stroke.  This data would be collected on a indoor trainer setting, using a desktop computer with an ANT+ USB stick.  It can be shown in real-time, as well as saved to their cloud based service.
They showed off four different plots while I was there.  First was a look at the torque applied to each crank arm, shown in real-time as you pedaled on the plots below.  This is kinda like the old CompuTrainer SpinScan plots.  You've also got your more normal metrics up top, so you can keep an eye on those as you go.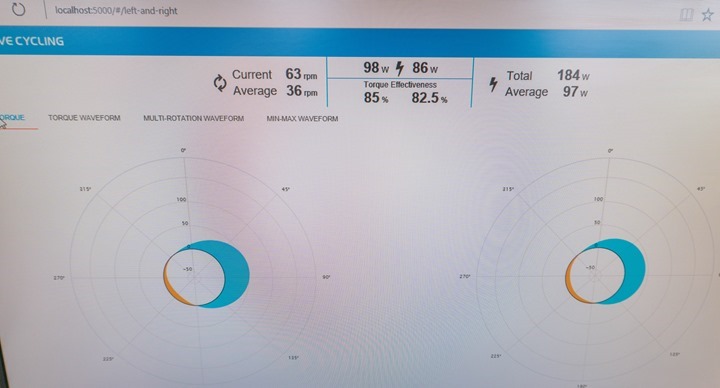 Next there's a waveform version of that, showing the exact same thing as above, just as a waveform instead.  It shows one complete rotation and is updating in real-time.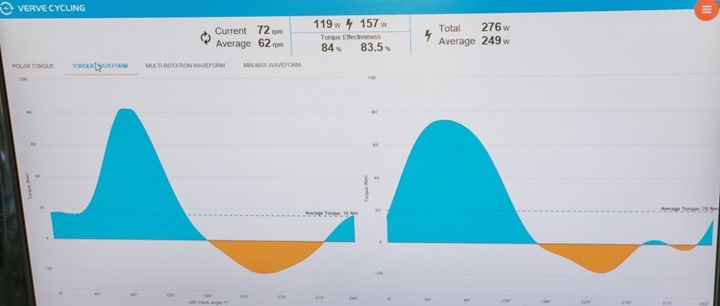 Then there's the multi-rotation waveform.  This takes the above plot and allows you to view multiple pedal rotations over a short timeframe.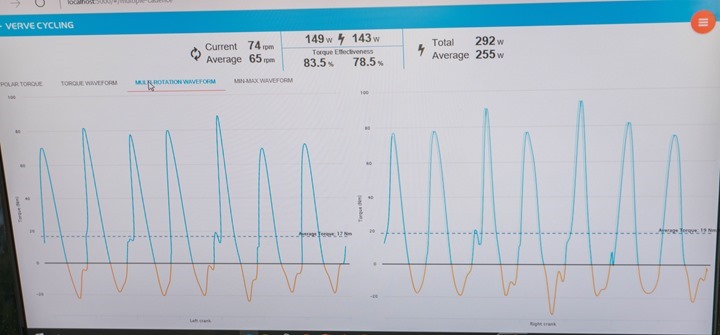 Finally we've got my favorite one, which is showing you the mean-max variations of your pedal stroke over time, but in a shaded area.  So think of it like the graph two above, but with the current as the line in the graph and the shaded area as your historical lines (near-term historical anyway).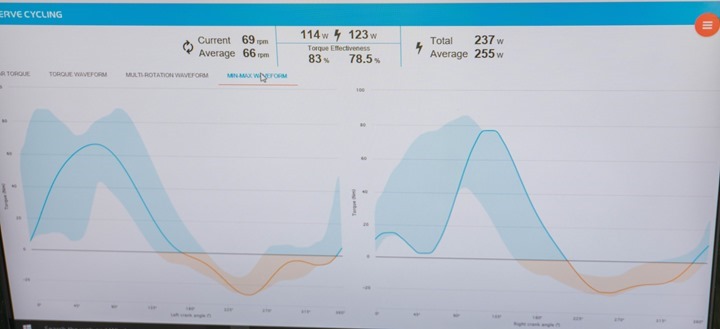 The plan is to release the app/platform at some point in the next few weeks, which will support multiple user sets being stored and available online for retrieval..  Again as noted earlier it's really aimed at coaches, sport scientists, and other 'service providers' to do work with customers/clients in an indoor setting.
The pricing will vary a little bit depending on the number of users a coach/etc has, but the aim is about $50/month.
–
Looking for more to read? Then check out all my Sea Otter posts here!