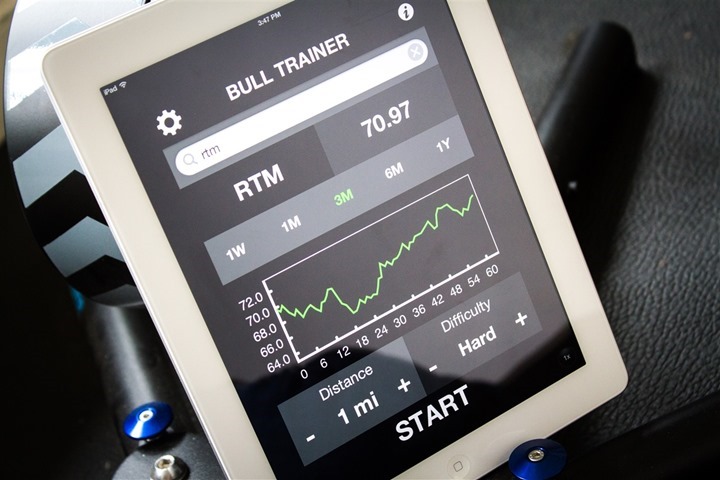 The company behind the popular Kinomap training software has released a new app – Bull Trainer.  This app allows you to 'ride' the historical graphs of any publically traded company.  Depending on how volatile that company is, your workout may be hard or easy.  Obviously, choosing something that's been on the decline (here's a starter list of the worst performing stocks of 2013), would make your life pretty easy.
Instead, it's best to choose a stock that's either climbing a bit, or one that's having a rocky year.  Unless you're training for Ironman Florida.  Then finding something boring would be appropriate.  Ultimately, the whole point of the app is to be able to essentially create quick and fun courses without having to overthink it.  Given there are thousands upon thousands of stock symbols to lookup – it makes it easy to get pretty random.
At any rate, I've had the chance to poke at an early release version of it over the past week or so.  So here's a quick look at things.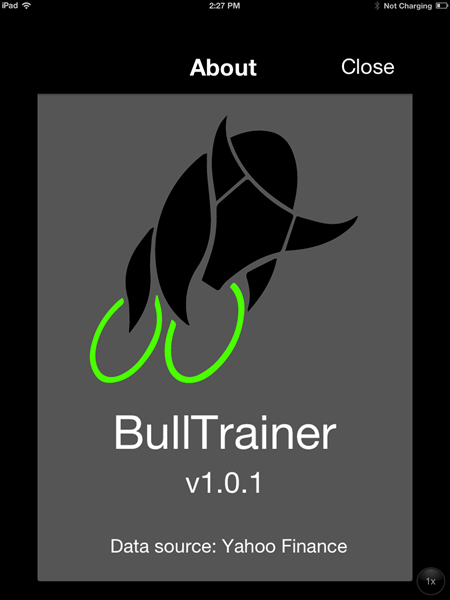 To start off with you'll search for a stock symbol.  As you search, the autocomplete will fill in company or symbol names: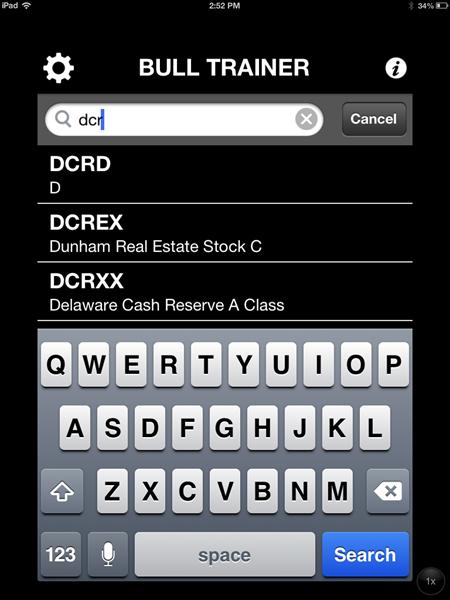 I decided to go pretty random, and first looked up 'DCR', but no such symbol exists.  Instead, I then went with my initials – RTM – and found something.
Looking at the graphs, it actually looked like a pretty good one to use.  It had lots of uphill, with a bit of downhill resting in between.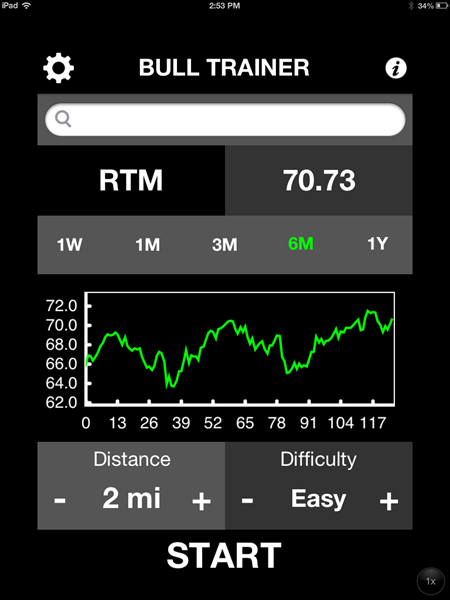 You can change the timescale of the stock you're looking at using the standard timeframes: 1 Week, 1 Month, 3 Months, 6 Months, and 1 Year.  This in turn changes the graphs below: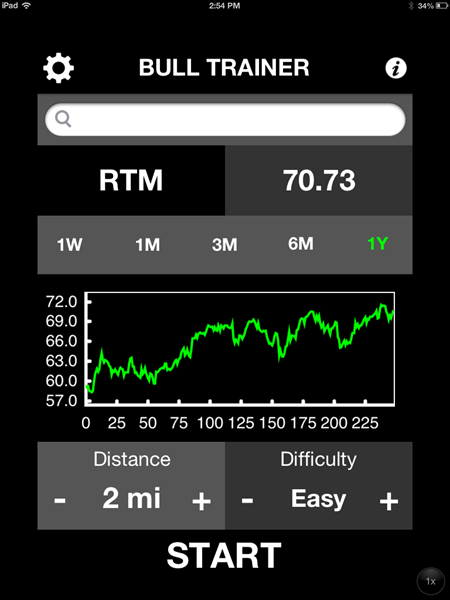 Next you can change the distance of your 'ride'.  You can set this as either miles or metric, in my case, I just kept it miles.  The stock will be scaled to that distance.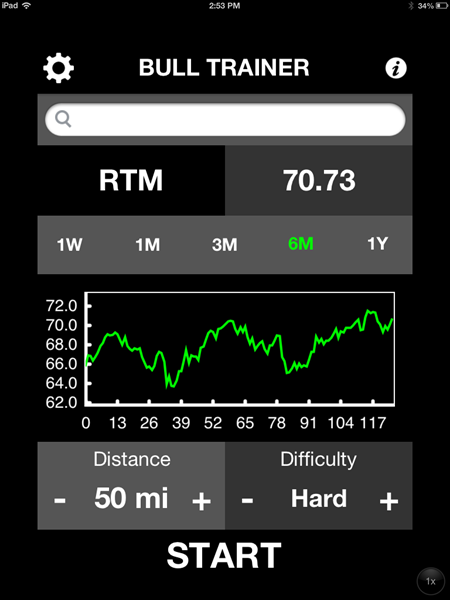 Then we've got the difficulty, which scales how difficult the route is.  This effectively either magnifies or simplifies some of the ups and downs.
Last but not least before we start, we've got a few settings.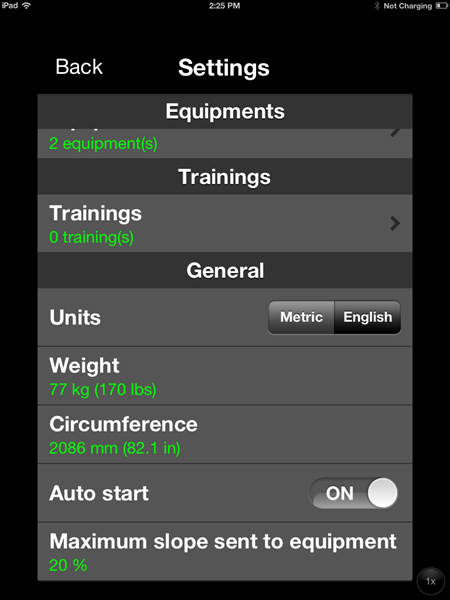 It's here that we'll start off by adding in the Wahoo KICKR Trainer, which is connecting over Bluetooth Smart.  Today you can just add the trainer, but can't add any other sensor types (i.e. cadence or HR).  Though that appears to be a beta limitation.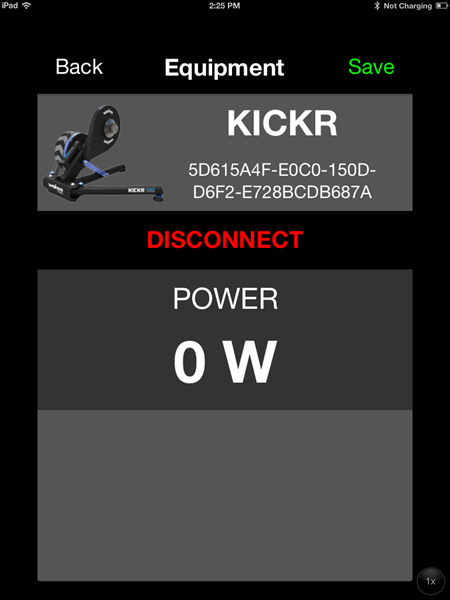 Then, we'll go back and specify any configuration options such as Metric/Statute (i.e. Kilometers or Miles), your weight, circumference, and auto start.
Finally, there's a maximum slope option – which essentially ensures that if there's a massive spike in a stock price, it won't be like trying to ride up a cliff.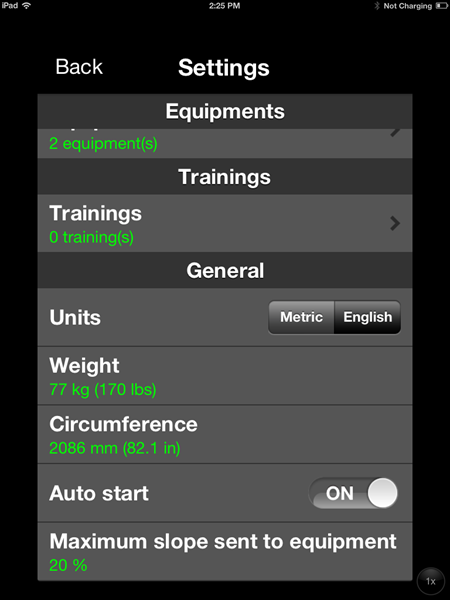 With that, we'll go ahead and press start, which provides a 5-second countdown: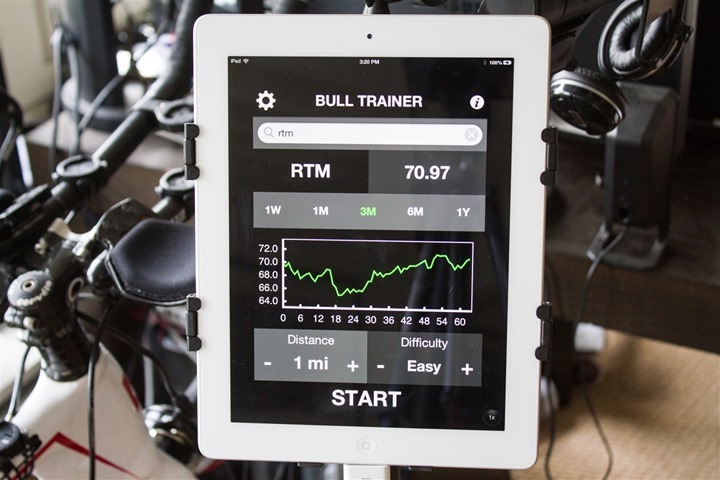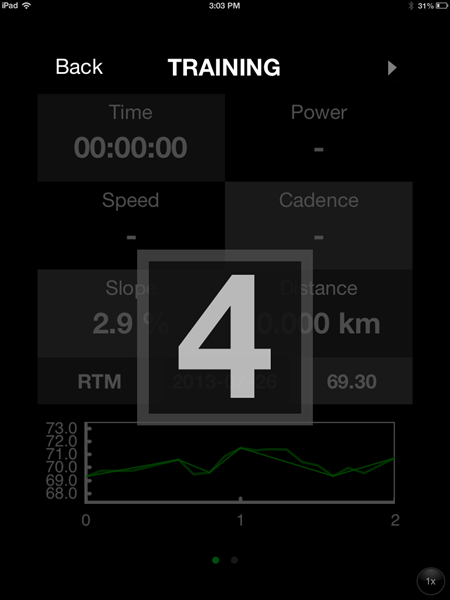 Once you've started, you'll see your key training stats listed on the page.  There isn't any way to customize these today, but for the most part this is your core items.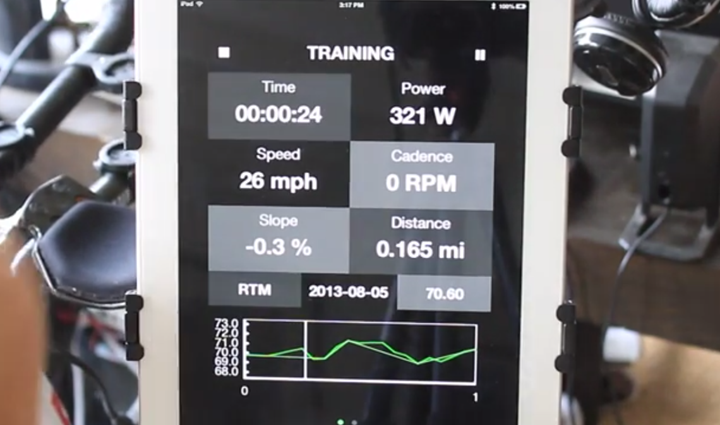 Along the bottom it's got a graph of the actual stock price, along with the slightly grade adjusted course plan.  The app smooths out some of the daily wonkiness so it's more realistic.  Otherwise it'd be like riding across a rock garden.
Beyond this point it's fairly straightforward in how it works.  The app will adjust the resistance accordingly based on the incline.  You'll see that as you 'go up' in a stock price (the price is displayed along the bottom), the unit will increase resistance.  And as you 'go down', the unit will decrease resistance.  You can pause/resume and stop as well.
I've put together a short video showing it from start to finish:
As you can see, the app smooths out some of the jumps in the stock price, which helps.  Though I found that a bit more smoothing might be ideal in some cases – or perhaps, a bit more gradual ramp between grades.  For example, going from 0% grade to 10% grade in 1 second is a bit jarring.
All in all, it works pretty much exactly like you expect.  The beta software has some minor bugs in connecting to the stock data service, which was initially provided by Yahoo – but upon switching providers I've been told those data connection issues have been resolved.  But once it connects you're good to go from there on out.
The app costs $7.99 (one-time price), and will be on the app store in the next week.   It runs on any iPod/iPad/iPhone as long as it has Bluetooth 4.0 (Bluetooth Smart), or has the ANT+ adapter from Wahoo Fitness.  Given the price, it seems like a fun app to have in your stable when you can't figure out what to ride.
Thanks for reading!
—
Welcome to Eurobike week! This week during Eurobike I'll be tweeting from the exhibition show floor quite a bit, as well as posting frequently. Here's a quick and handy link to all Eurobike-related posts.