The folks at Kinomap have been pretty busy lately, adding a slew of new features to their existing Kinomap trainer app, as well as optimizing some of the existing functions in the app.
First up is expanded compatibility with the CycleOps PowerBeam Pro using ANT+.  For those that have an existing PowerBeam Pro you can start leveraging the Kinomap for training videos.  I've previously covered Kinomap functionality within the Wahoo KICKR review (so check that out for a more general overview).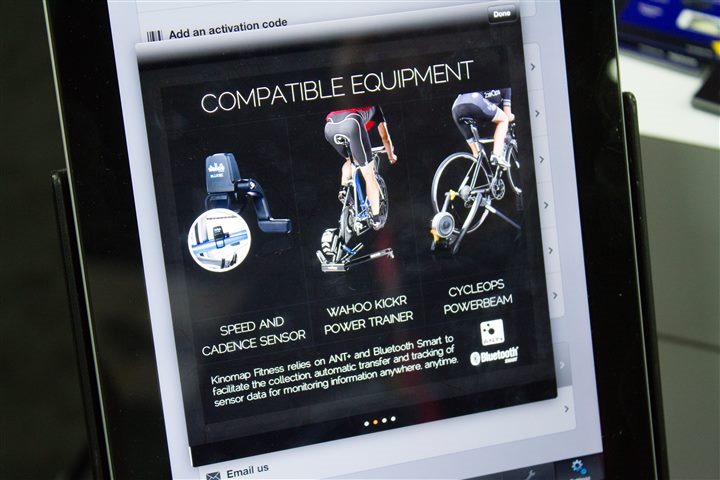 Kinomap is currently using the existing ANT control options over the PowerBeam Pro to control the resistance, however, as the PowerBeam and other trainers shift to the standard ANT+ Bicycle Trainer control device profile, Kinomap will be adding that as well (meaning it'll eventually be compatible with other units like the BKOOL).
Additionally, Kinomap is also going to be compatible with the new Bluetooth Smart PowerBeam trainers once those start shipping withen the next month or so.  The advantage there is that unlike the ANT+ trainers which would require the ANT+ adapter for your iDevice, this can be handled fully within a Bluetooth 4.0 compatible iPhone/iPad (i.e., iPhone 4s and newer).
Additionally, these changes are also available on the iPhone platform in a scaled down version, as seen in their Bull Trainer App:
Next up on the Kinomap app side are some new settings that a number of folks have asked for.  The two items of note are:
Rate of Resistance Change: This is a slider which allows you to minimize what are typically elevation false-positives and minimize the impact of elevation spikes and changes by setting a maximum percent of resistance change.
Maximum Slope: This acts as an overall failsafe for the maximum slope that it'll transmit to the trainer, set in percentage.
You can see these below: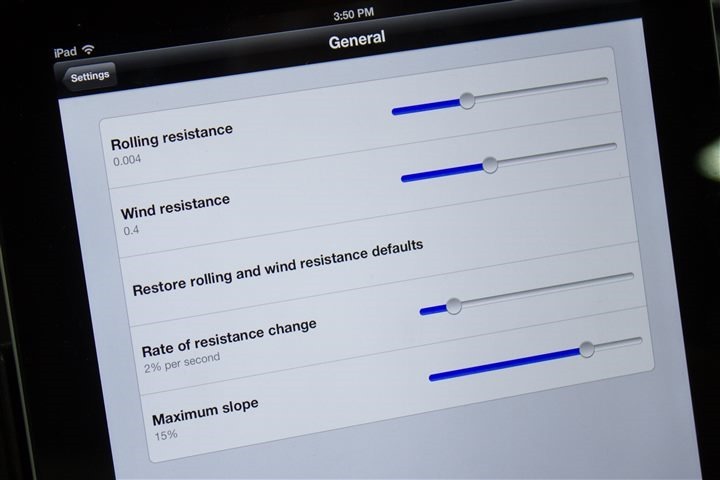 Now while the above settings are great, they are to some degree putting Band-Aids on the underlying problem of bad elevation data in course videos.
To solve that underlying problem there are two changes coming.  First is a user-tool I'll talk about later in this post.  And second is that Kinomap has started going through its database of videos and applying elevation corrections and smoothing to try and ferret out elevation abnormalities.
In addition to all that though there's a new tool that's about to be released into beta that allows you to much more easily upload your own videos with GPS files.  Best of all, the whole thing is written using HTML5, so it doesn't require you to download anything to your computer (and also, will easily work across platforms).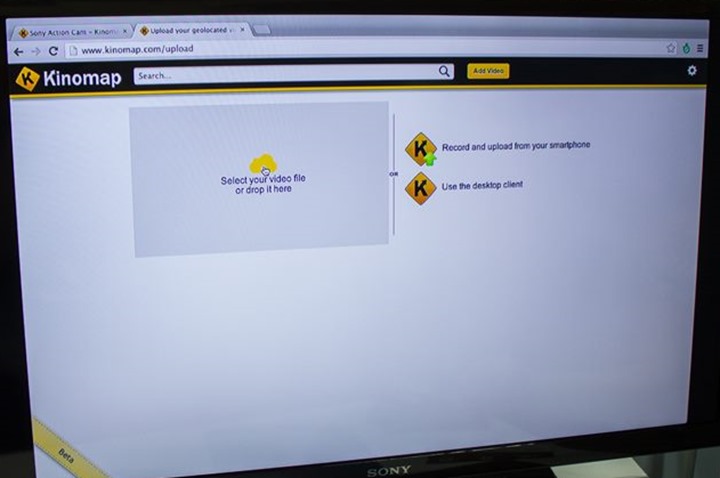 First up is selecting your video file from your device.  In most cases this will be coming from a GoPro or similar sports action camera.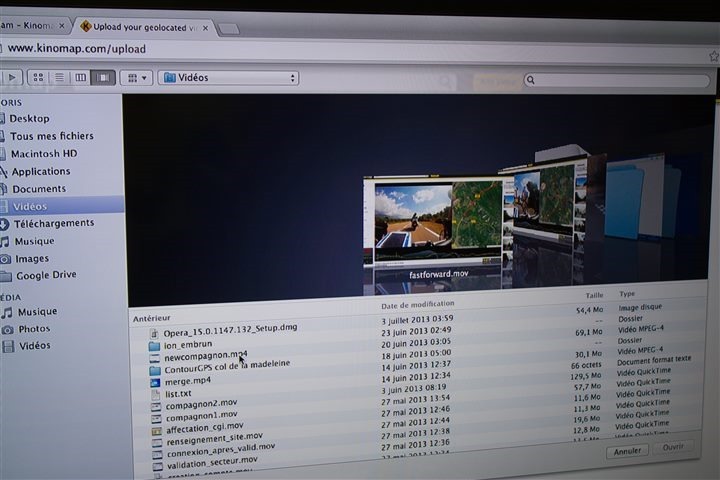 The video can be previewed on the left side.  Meanwhile, your next step is adding in the GPS file.  You've got two options here.  One is the more basic option of adding a standard GPX file (with GPS information).  You can see this option at right on the upper half of the screen.  The second option is to leverage the Garmin Communicator plug-in if you have that installed, to pull it directly from your device (or, the ANT Agent software).  Below you can see it being pulled from Garmin FR910XT files.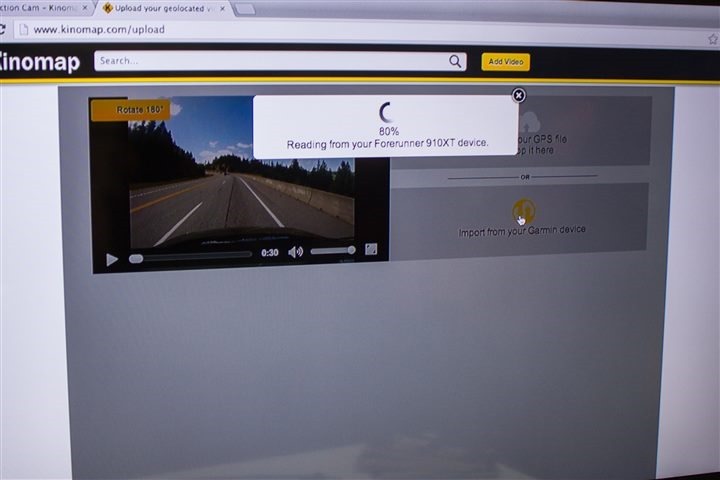 Once that's complete you'll see the map of your file along with the video on the left.  A few options worthy of note.  First is that you can rotate the video in the event you forgot to do that on your device (for example, attached upsidedown).  Second is that you can mute the sound – getting rid of an hour's worth of wind.  Then you've got a method to go ahead and make the snippet smaller than the actual video/file – if for example you wanted to remove your 2 minutes of extra footage at the start/end of a ride.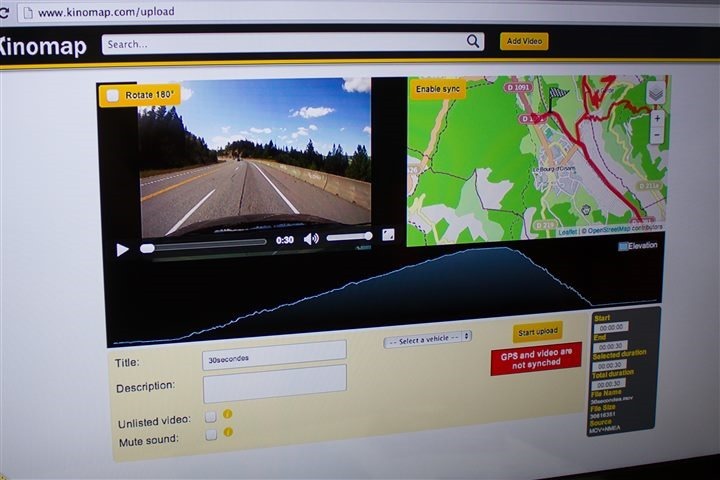 While the software has a simple button to sync the two files, I generally find that's the most complex part of most of these software suites.  Meaning that often times you may press 'start' on your GoPro and then 5 seconds later press start on your Garmin.  Or, you're riding with your Garmin for an hour before you start the video for a certain section.
Thankfully it's a bit easier here.  Instead of just playing the time guessing game, you can simply zoom in and find the spot on the map.  That's pretty easy since you can simply look at the video and match the two up quickly.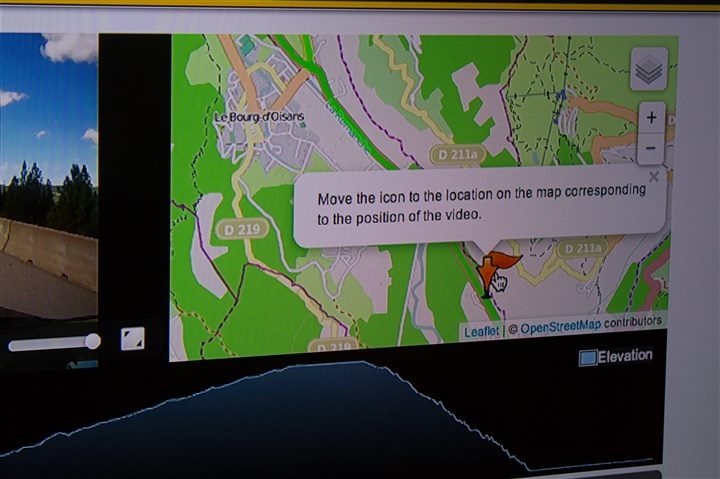 Then just go ahead and save the specified location.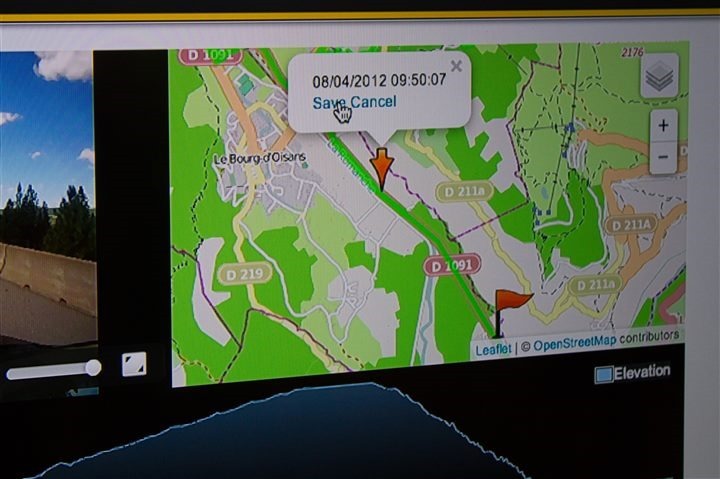 Next, you'll have noticed there's an elevation chart plotted as well.  The problem there is that depending on which GPS device you have you may have either GPS altimeter data (generally not so hot), or barometric altimeter data (generally more consistent/smooth).
In order to help alleviate issues there you can let the app plot a more stable elevation profile across some of these little variances.  Below you can see a highly zoomed in section with the raw elevation data shown as the spikey line.
In this case the ability to override that original source with a more smoothed profile is available, which you can see above.  You can simply drag up/down points (and create new points) to help mold any elevation changes you'd like.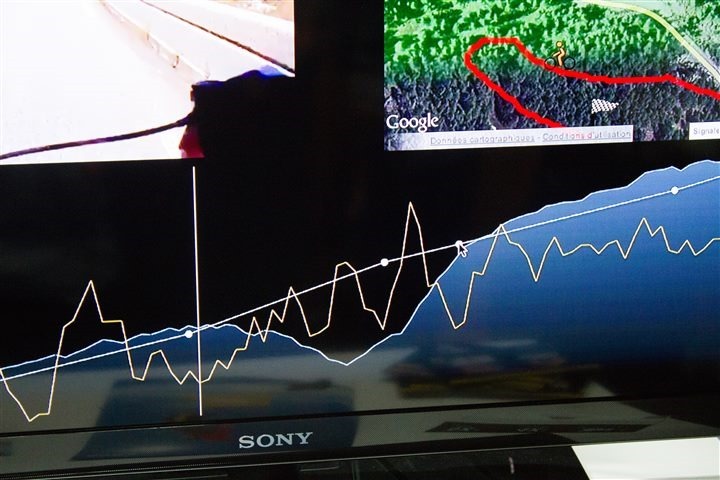 As it stands today this will allow you to modify your own videos upon upload.  Additionally, as noted above, Kinomap is working to start processing the most popular existing videos with better elevation data.  Beyond that, they're also looking at perhaps enabling some community members with the tool to help fix other videos, sorta like moderators on a forum.
With the announcement of Sony's new HDR-AS30V action cam that includes GPS, Kinomap has been updated to automatically read in the correct files from them and allow you to literally make videos in a pretty streamlined fashion.  I ordered one of these cameras and will be testing it out alongside the Garmin VIRB/VIRB Elite in the near future.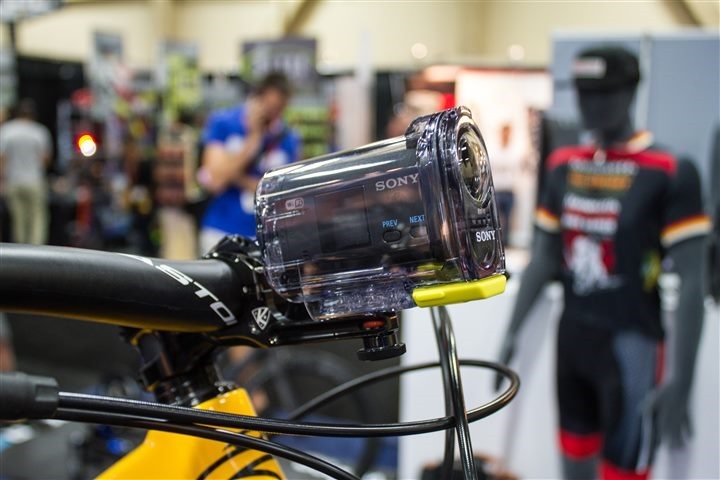 Lastly, to round up some final availability/pricing items:
Kinomap today costs $12US/month (prices converted automatically to other currencies) if you buy it one month at a time.  But you can buy it up to 12 months at a time and the price drops to $75 for the year.  This is handled via the App Store subscription functionality.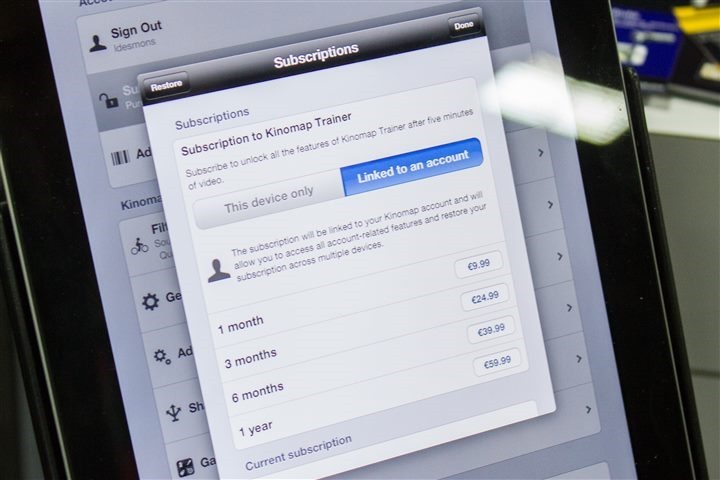 Additionally, they're also working with other trainer companies to put in-box coupon codes that will give you a few months trial.  That coupon code can be enabled via the same subscription setting with the app.
Going forward, Kinomap is working on an Android version of the app, and may have some early beta versions of the app starting in the January timeframe – potentially tied in with CES 2014 the first week of January.  Additionally, as noted up above, they're part of the ANT+ Bicycle Trainer Technical Working Group (TWG), and will be implementing the beta and then final device profiles here as soon as they're available.
With that, thanks for reading!
–
Welcome to Interbike week! This week during Interbike 2013 I'll be tweeting from the exhibition show floor quite a bit, as well as posting frequently. Here's a quick and handy link to all Interbike-related posts.