This week Tate Labs (which is the real name of the company behind the Barfly) unveiled a bunch of new mounts to allow you to mount just about anything on the planet to your bike.
You'll remember my previous post on the Barfly as part of a review on it.
These mounts build on that same mount style, but simply add more compatibility with additional devices.  You're seeing Barfly work with more and more companies to come up with good quick-release style mounts in areas that companies traditionally came up with their own crappy mounts (this trend isn't specific to Tate Labs, others are doing it).
First up is probably my favorite, the Fizik integrated Garmin compatible mount.  This one actually slides right into the tiny little hole on the Fizik stems: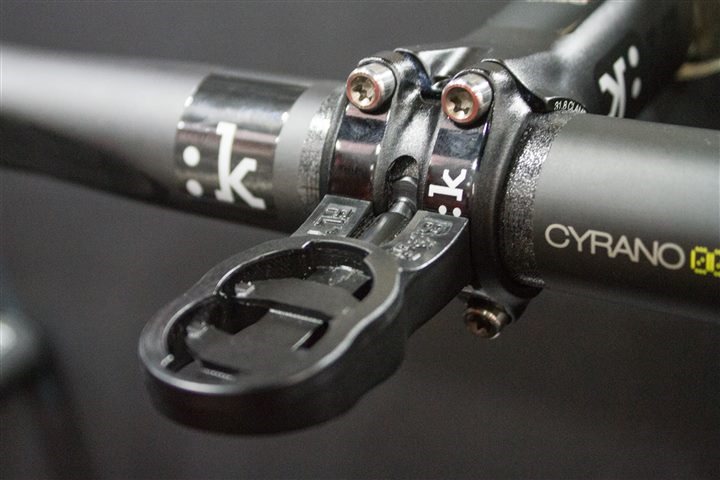 The mount is actually just the plastic portion and isn't the front piece of the stem that has the bolts in it.  It simply is installed and held in place by the force of the stem being installed.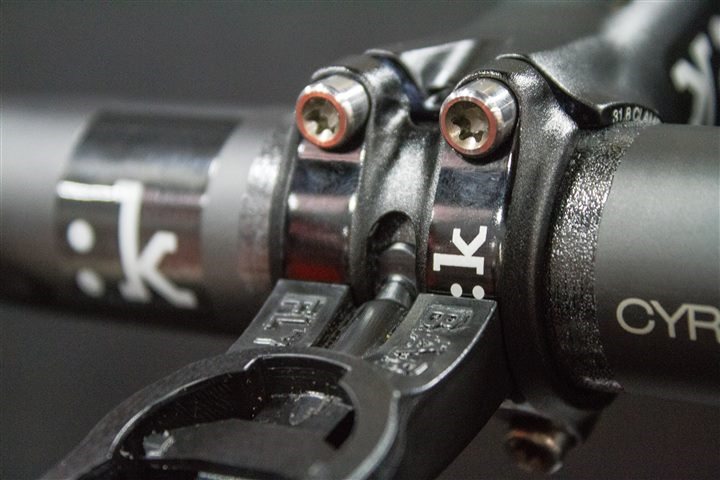 Like the majority of Barfly mounts, it can also accommodate holding the Di2 shifting box below it: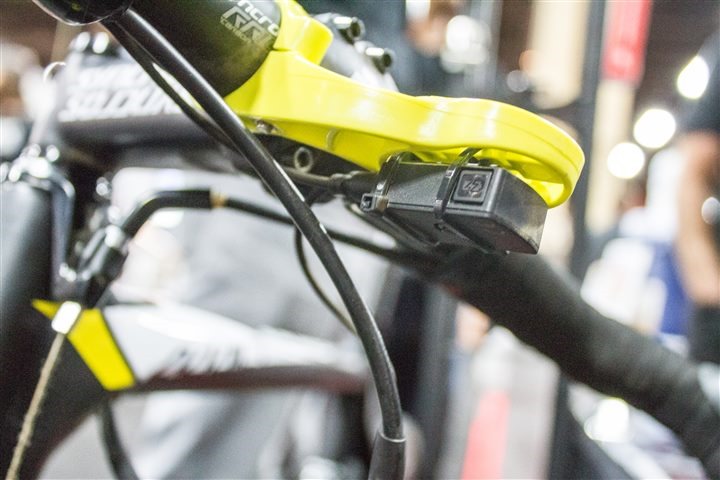 The easiest way you can tell if it's compatible with Di2 is that (like the colored units below) it has a place where the ziptie can go in between the two mount 'bubbles'.  Those bubbles are so that you can mount either the smaller Edge 500, or the larger Edge 510/800/810 and still have it clear the bars.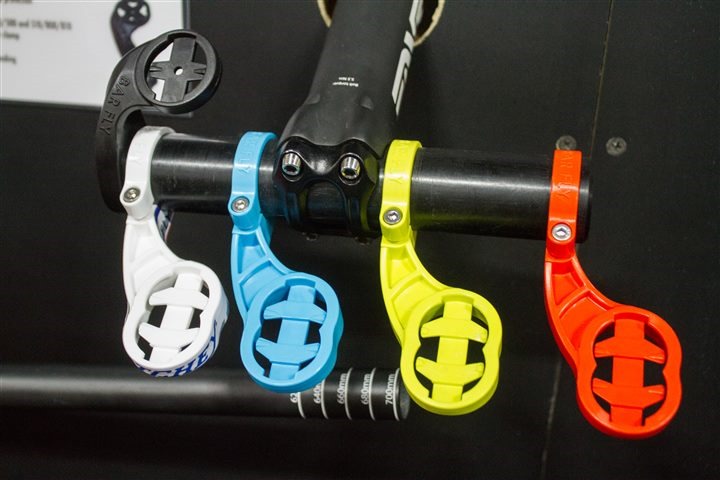 Next is the new iPhone mount.  This $129 mount includes the waterproof/ruggedized case, and will hold it in a variety of positions.  Up first is landscape mode: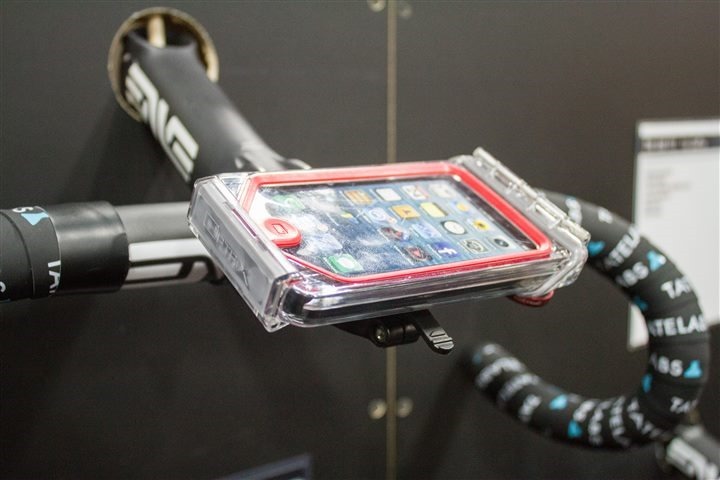 Which you can then turn up to record video: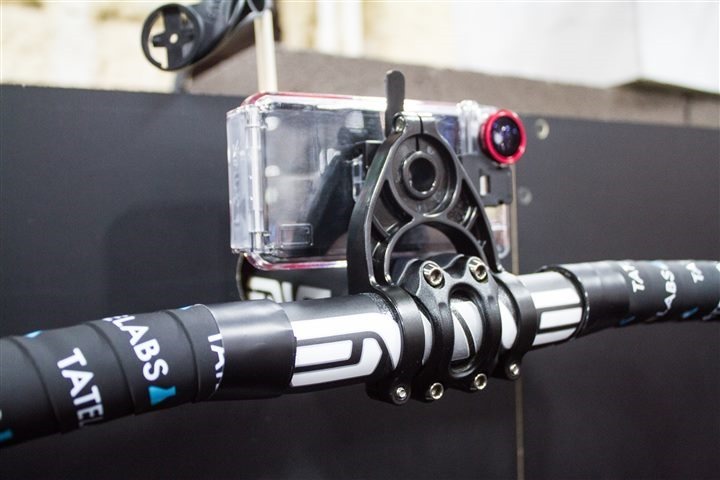 And finally rotate to go into traditional portrait mode.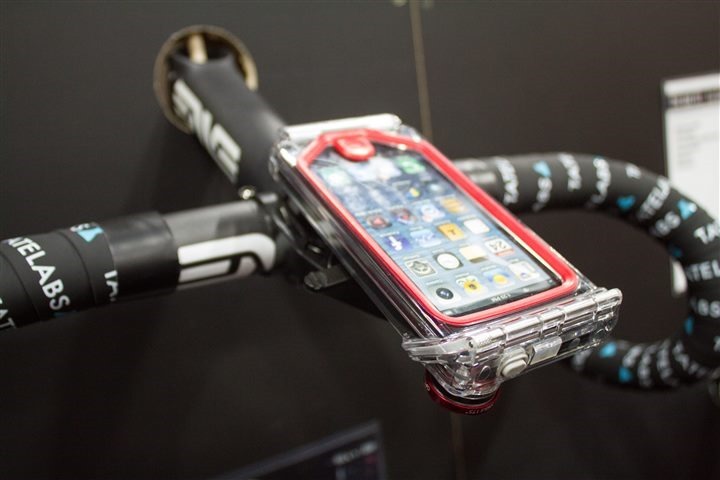 Of note is they are actually offering a deal for $189 (+$60US) to include the 4iiii's Viiiiva ANT+ to Bluetooth Smart HR strap.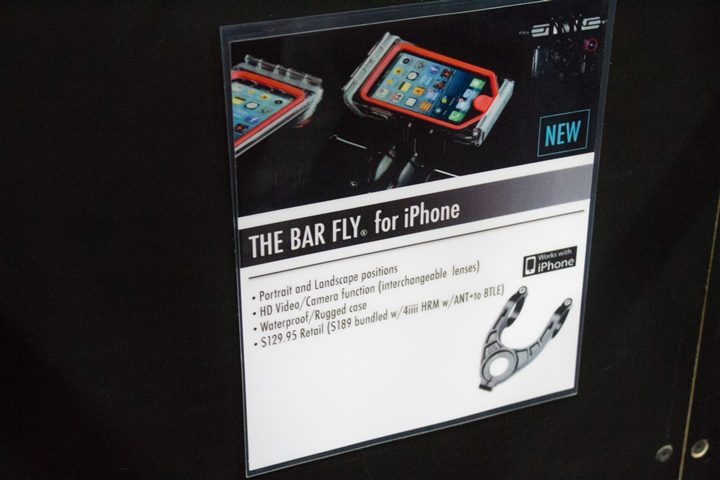 Going back to smaller units, they had the Bar Fly for the Joule & Joule GPS computers on show, though this isn't super-new.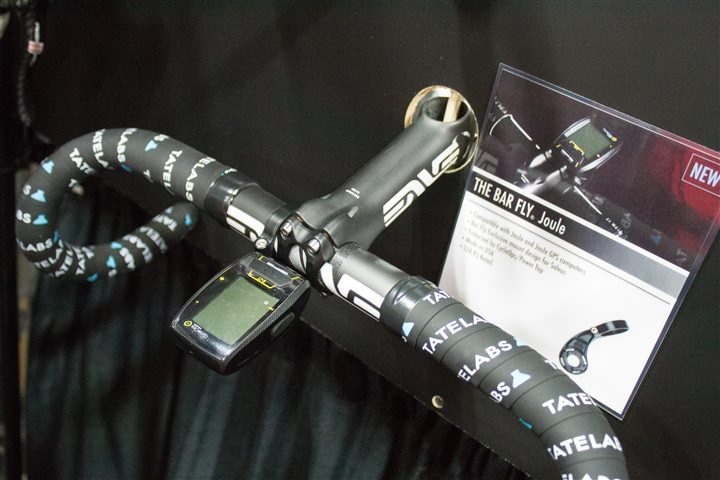 Along with a similar line for the new Cateye Stealth 10 and 50 units (and many other non-high-end Cateyes as well).  I also saw over in the Soleus booth a Barfly mount for their latest GPS bike computer as well.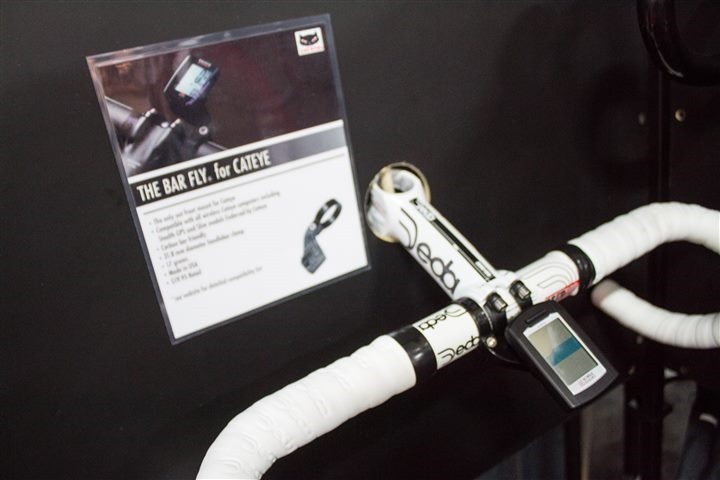 Looking at the mountain bike side they've added a bunch of different mounts for specific handlebar sizes. You'll note that the mountain bike mounts tend to be oriented such that they sit on top of the stem: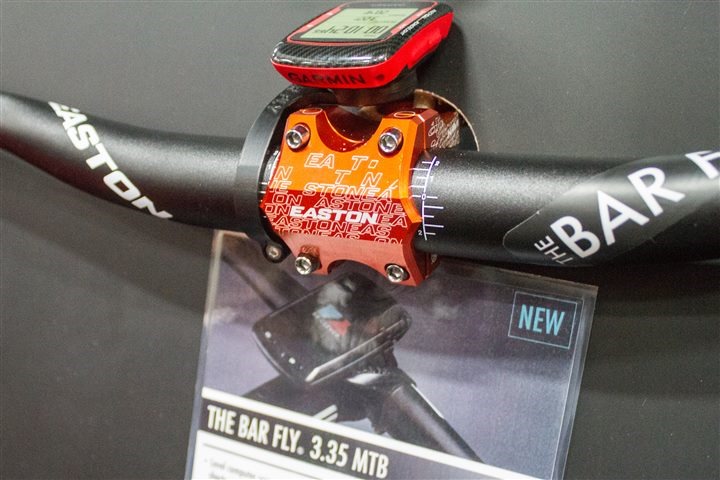 As well as the new Bar Fly 2.35 – again for larger handlebars.
Next up is the new Barfly GoPro mount.  This offers two position options – either equal to the bar, as seen below: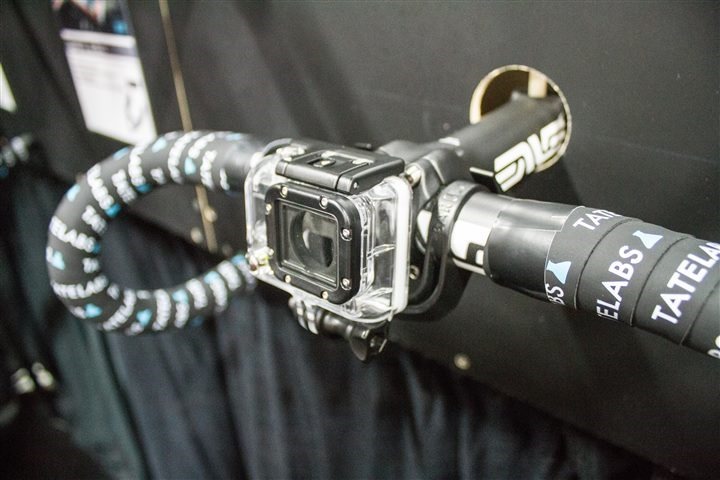 As well as above the bar.  In this configuration, the final mount (below is a prototype), will actually allow you to mount two GoPro cameras to it.  One that could be turned around and face you (recording your agony), and another mounted lower on the same bracket to record the forward view.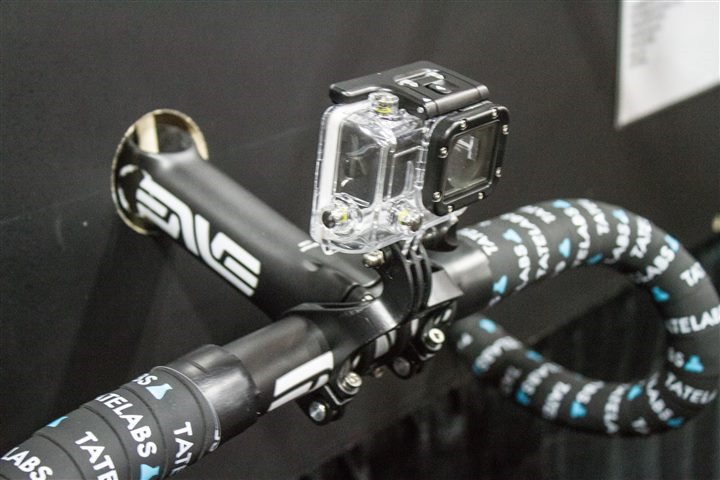 For the bike commuter they've added a universe mount that's capable of holding a bike light down below, and then a device of your choosing up above.  Here you see the standard Garmin quarter-turn mount added to the top: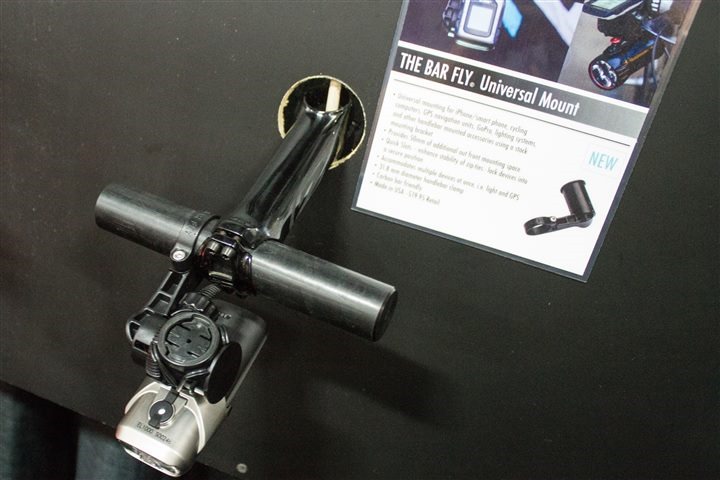 Last but not least they're going to be selling a saddle bag.  Or rather, more of a saddle strap.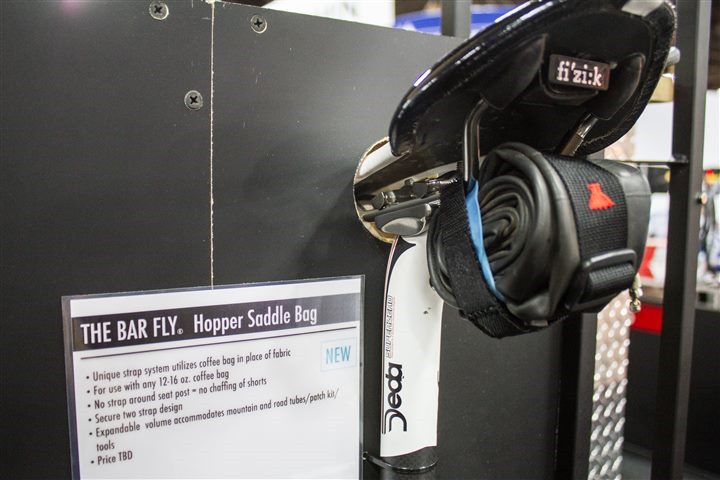 The unit is designed to be used to hold coffee bags and can expand or contract based on the size of the stuff you've stuck in there.  It's a pretty interesting design, though personally I'd probably prefer it include something a bit more long-term waterproof than a coffee bag.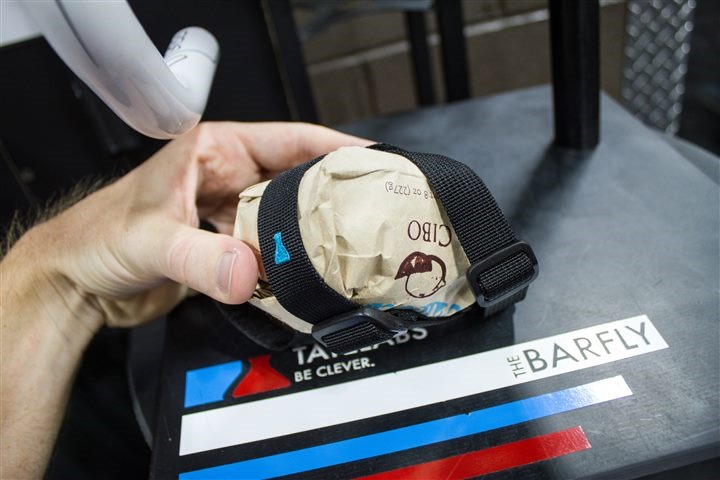 I'll be taking out some of these mounts as they become available for review as part of a larger mount shootout post I'm working on.  Additionally, some of my upcoming action camera review posts will leverage mounts from various companies, including Tate Labs and others.  In that context I'll be talking about what I like and don't like about the different options once I get more ride-time.
Thanks for reading!
–
Welcome to Interbike week! This week during Interbike 2013 I'll be tweeting from the exhibition show floor quite a bit, as well as posting frequently. Here's a quick and handy link to all Interbike-related posts.