Over the past five days PowerTap has released a slew of new products – some big ones, and some smaller updates. But, all definitely worth talking about. Before getting into it, as I've noted on a lot of recent posts involving the company, the organization over the PowerTap products is now called 'PowerTap', instead of CycleOps. Just an FYI in case you get all tangled up below.
The company has been making products for 15 years, and had this pretty cool display case of all their units – from the first units on the left side to the most recent prototypes at the far right corner. It's like a museum in a box. Or rather, three museum boxes.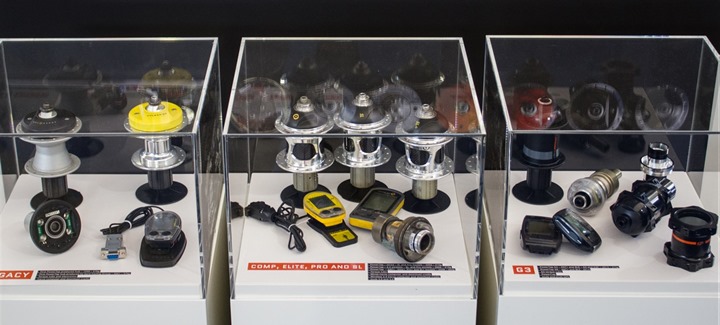 New PowerTap GS Hubs:
First on the docket are new PoweTap hubs. They've now partnered with DT Swiss to add the PowerTap GS line. The GS line with DT Swiss is really about increasing some of the performance and durability metrics of the PowerTap brand. The 'S' in the name represents 'straight pull'.
From a technical specification standpoint, here's the quick rundown:
– DT Swiss 240 straight pull hub shell, and DT Swiss bearings
– 24-spoke rear, 20-spoke front
– Shimano/SRAM or Campy compatible
– 320 grams rear / 107 grams front
– Power accuracy of +/- 1.5%
– Field-serviceable electronics (meaning, removable cap)
Below you can see the PowerTap GS (that's the DT Swiss one). On the left is a shell, whereas on the right is the full put together hub including all parts (an unbranded prototype):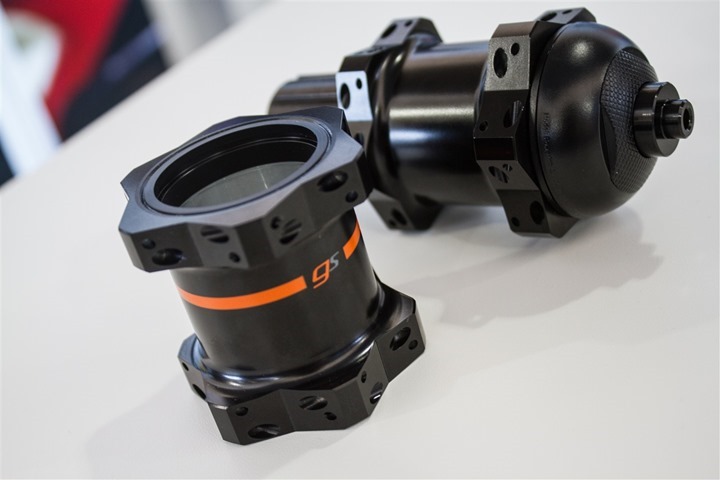 If you were to extract the hub out part by part you can see what it looks like from right to left – ending with the fully put together product on the left: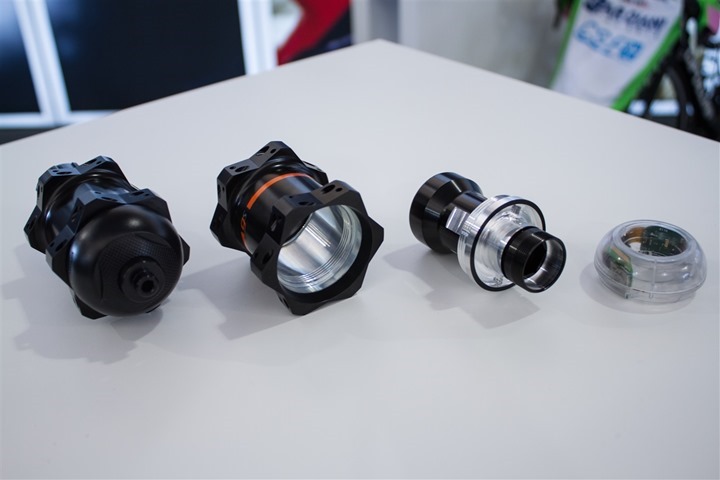 Comparing the the PowerTap G3 line (left) with the PowerTap GS line (right), you'll see that the caps are similar (and interchangeable), but the bodies differ a bit.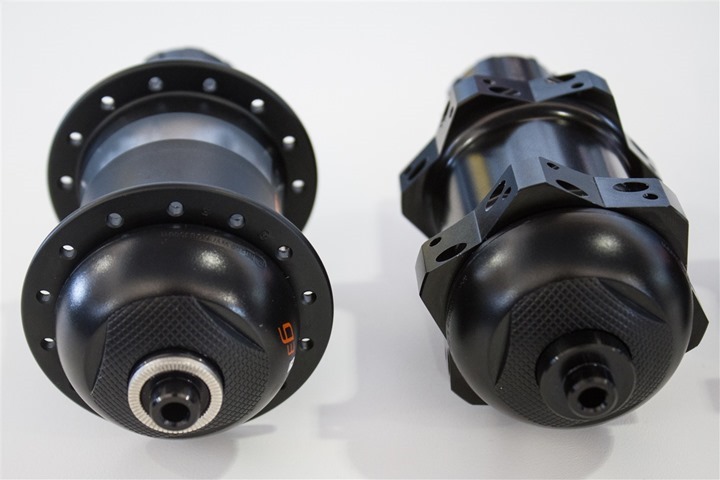 It's important to understand the G3 line isn't going away. Nor is this replacing it. It's simply an additional option on the table – hence why it's called GS and not G4. An option that comes at a higher price point at $1079 (versus the $799 for the G3 these days). The GS will be available later this calendar year around the holidays.
My overall guidance for those looking at PowerTap hubs is purchase whichever hub suits your stylistic preferences. Again, the G3 isn't being discontinued, replaced, phased out, or anything else implying any of those things. If this were a car company, PowerTap simply decided to start making SUV's as well as trucks. Different target audiences. They've got the same technology in them, and the G3 is rockin' for the price today – so you won't go wrong with either.
New PowerTap Bluetooth Smart interchangeable hubcaps: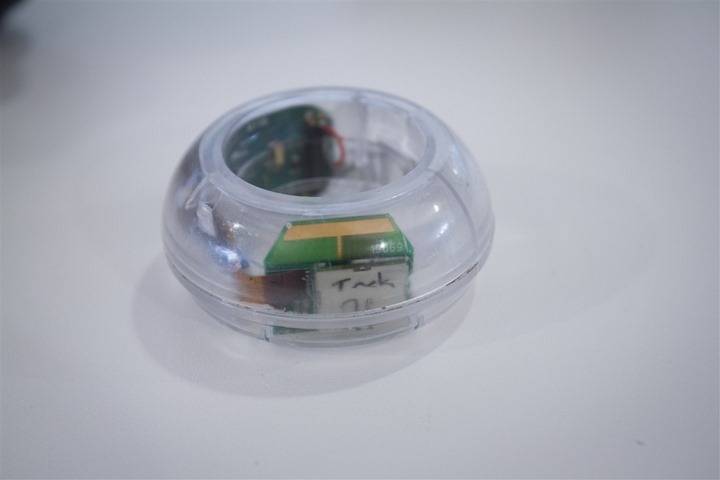 (A development cap, showing the insides)
Next on the docket will be upcoming Bluetooth Smart caps for the PowerTap G3 and GS. And in fact, older PowerTap non-G3/GS units can be sent in and have the caps added via a shim process that PowerTap can do.
The Bluetooth Smart caps will be Bluetooth Smart only (thus not ANT+), but can be easily swapped back and forth between ANT+ and Bluetooth Smart.
Short of having a combo-chip like what Stages does, this is the next best thing. I wouldn't advise anyone go out and purchase a full Bluetooth Smart-only power meter these days, as there's simply no head units that can support it today. But having the ability to swap the cap out is pretty cool long-term and gives folks tons of flexibility.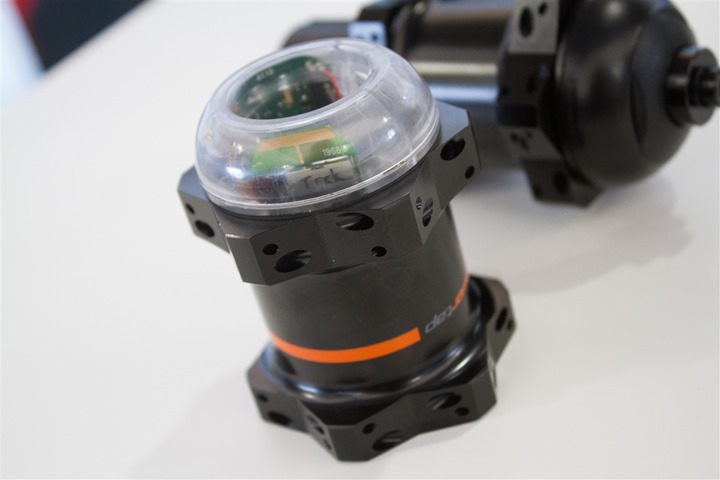 In many ways this is inline with what Polar and Garmin have said as well. Polar announced yesterday further details of their Bluetooth Smart pod upgrade program for their power meter, while Garmin has stated that should they eventually offer a Bluetooth Smart pod, then it'll simply be a case of swapping out the pod (similar in function to PowerTap's caps).
Right now the only reason you'd want Bluetooth Smart in your power meter is if you really wanted to train with your phone with power and didn't want to use an adapter on the phone. There's no advantage beyond that (actually, there are some disadvantages).
Of course, this begs the question of what PowerTap is planning as far as Bluetooth Smart head units go. In talking with PowerTap's Jesse Bartholomew, he noted:
"We're very interested in a Bluetooth Smart compatible Joule, but at the moment the technology that allows for master capability (which is needed for pairing to sensors) really isn't commercially available. In our opinion, requiring the phone to be present for pairing or data transfer of any kind seems inadequate. Also, the data transfer rates supported by Bluetooth Smart are not sufficient for sending a complete ride file post-ride. We're in the process of evaluating the options for overcoming these hurdles."
Translation: The chipsets that offer dual-mode ANT+ and Bluetooth Smart master are in a bit of a pickle today. The chips that everyone has been waiting on are just now making it to the market after nearly a year delay. Other companies that are doing dual ANT+ and Bluetooth Smart master devices are either having to put two chips in the device, or having a situation where a single chip can only be used for one portion at a time (like the Motoactv).
In any case, the estimated MSRP of the PowerTap G3/GS Bluetooth Smart cap will be $129 – but that price could fluctuate in the coming months as the product is brought to market.
New PowerTap Trainers: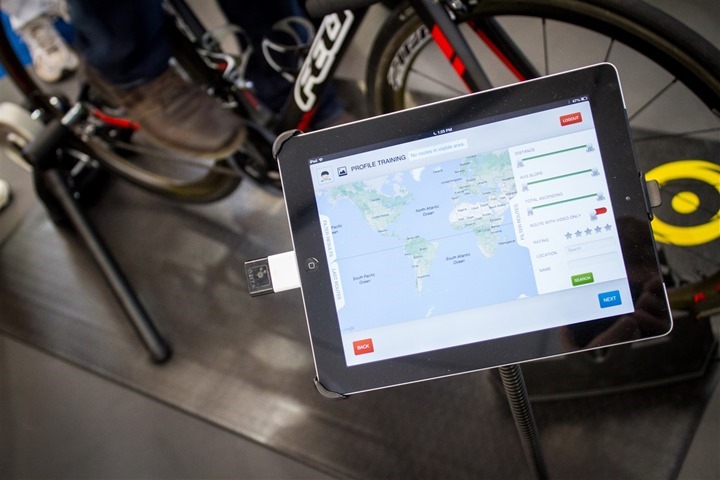 In addition to Bluetooth for the PowerTap hubs, they're also bringing out a new PowerBeam Pro Trainer with Bluetooth Smart capabilities. The new Bluetooth Smart trainers will be sold alongside the existing ANT+ PowerBeam Pro's.
Currently the plan is to have these available in time for the upcoming North America winter season in the next 2 months or so. They will be compatible with the iPad app below natively, not requiring the ANT+ dongle. It didn't sound like they'd be fully compatible with other KICKR apps today, as it sounds like there's a bit of work that needs to be done on standardization between the implementation of the two device platforms in order to make that happen (for Bluetooth Smart). But longer term that's the goal.
There's no 'upgrade' path from the ANT+ version to the Bluetooth Smart version short of swapping out the entire resistance unit. However, PowerTap stressed they see little reason to swap out today, since from their perspective ANT+ PowerBeam's would actually give you more compatibility due to the standards that are being put in place over the next month or two.
Next up, they've added a new unit to the lineup – the Silencer. This direct drive trainer is a fair bit quieter than the LeMond trainer that it might be compared to. However, unlike the LeMond this won't have any method of transmitting data from it (ANT+, Bluetooth Smart, or otherwise).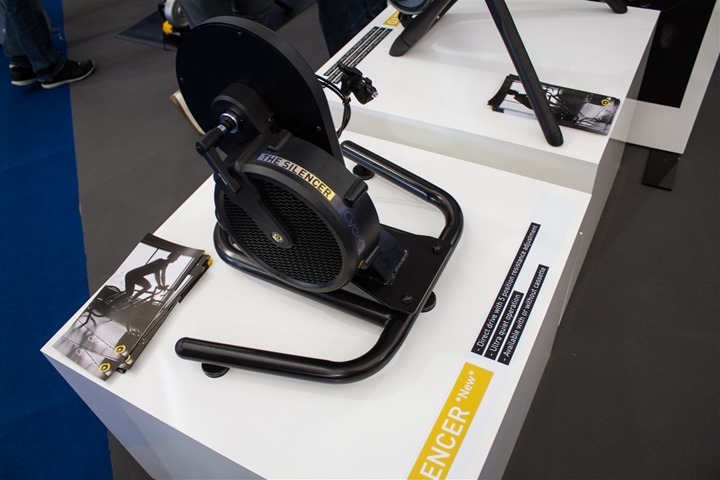 Additionally, the Silencer will allow you to adjust resistance using a small lever that you can attach to your handlebars (the LeMond is wind-driven, so you just go faster to increase resistance). The Silencer will retail for $659 without a cassette, and $729 with a cassette.
Perhaps the coolest changes are those coming to the remainder of mid-range trainers (and higher) in the lineup. They're getting two key changes that rock. The one I'm most excited about is a resistance knob that automatically 'snaps' when you reach the proper pressure (tightness). The knob is built to basically make a popping sound so you can't over tighten it. This has the bonus in that it gets your calibration value pretty consistent ride after ride – even if you don't calibrate the unit using the software (not applicable to those units that don't have software functionality – but ideal for things like TrainerRoad compatibility that depend on proper tightness).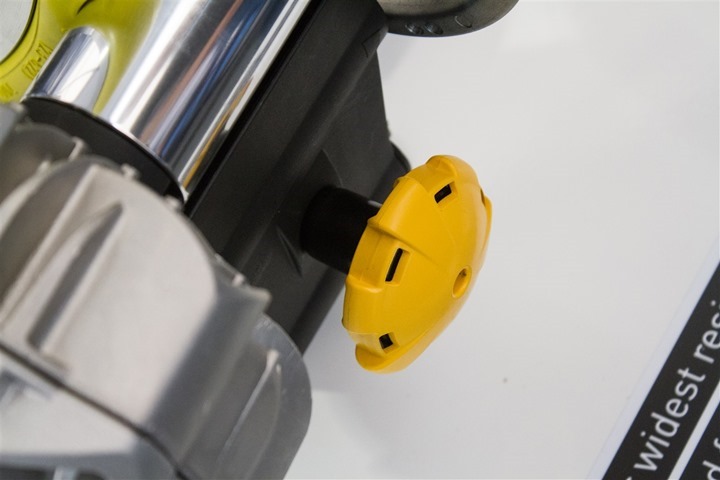 Next the units have changed out the locking/tightening mechanism on both sides. On the riders left side they've made a simple two-stage lock adjustment for quickly removing the unit.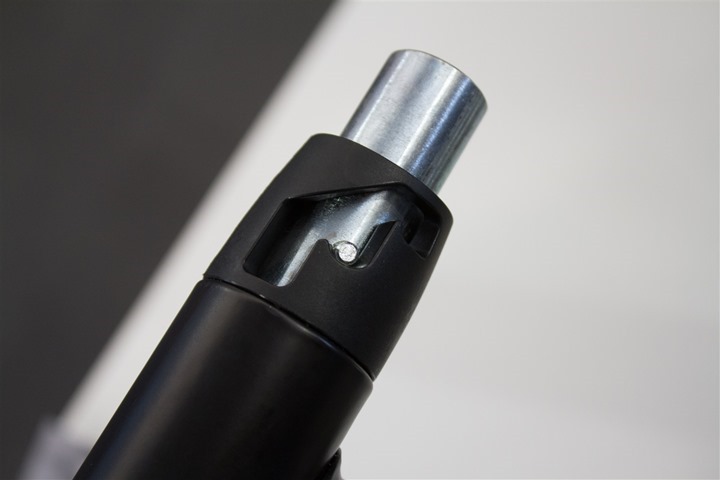 And on the right the unit has more of a lever to lock it in place. The cool part is inside that lever is a spring that helps snap it in place.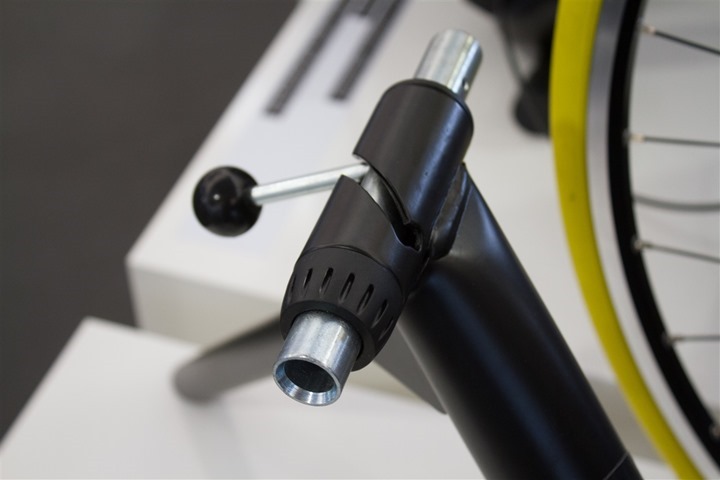 Here's the whole area of change: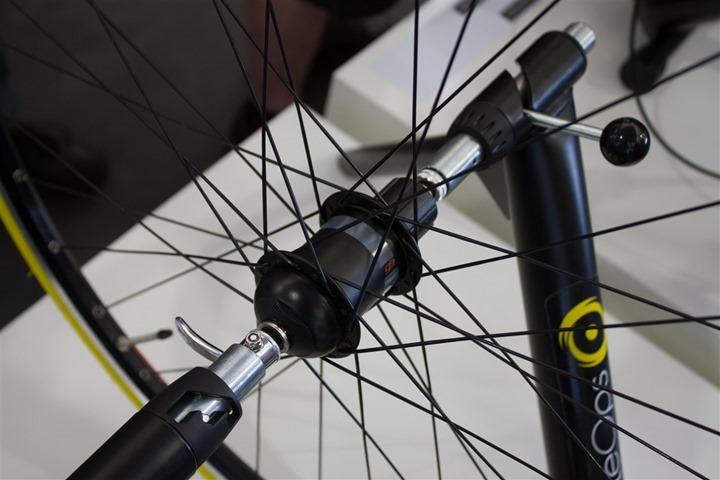 New iPad Trainer App (compatible with more than just CycleOps):
Last but not least they've got their new iPad training app. In playing with it briefly – it's very cool and quite polished. The app is most unique in that it's not only compatible with all of the CycleOps trainers – but also compatible with the Wahoo KICKR. Finally, it'll actually work with any power meter and/or ANT+ speed sensor as well.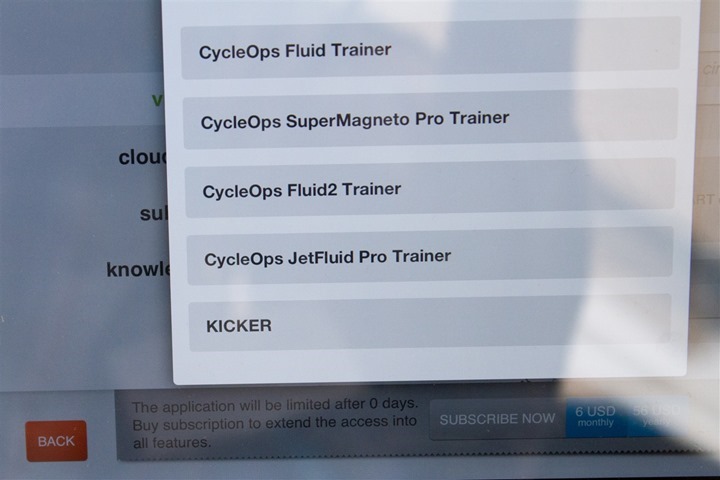 For those CycleOps trainers that are Bluetooth Smart, you can connect the app straight from your BT4.0 compatible iPad right to the trainer without any further accessories. But for all previous ANT+ enabled trainers, you'll need the ANT+ adapter from Wahoo Fitness. If you have one of the newest iPad's with a Lightning port, you'll need that adapter too – seen below with both adapters.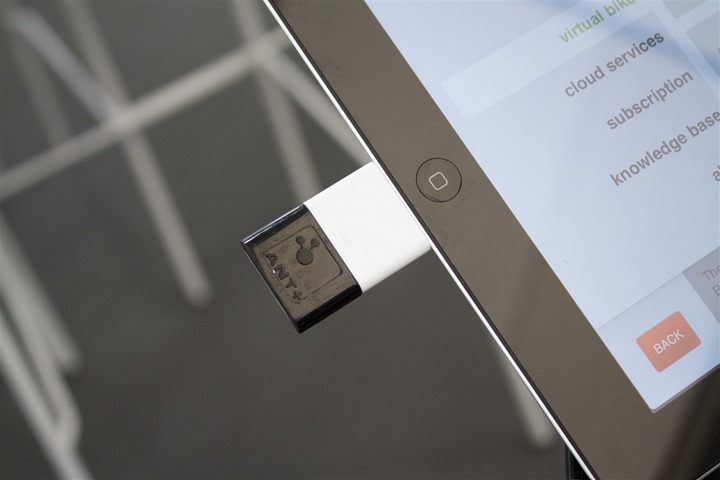 The app has a few core modes today – mostly becoming a blend of desktop apps from CycleOps/PowerTap in the past. First up is the video training mode. In this mode the unit will utilize the existing online database from CycleOps of online videos. This is pulling from the same fairly large database that their CycleOps Virtual Trainer software suite pulls from today.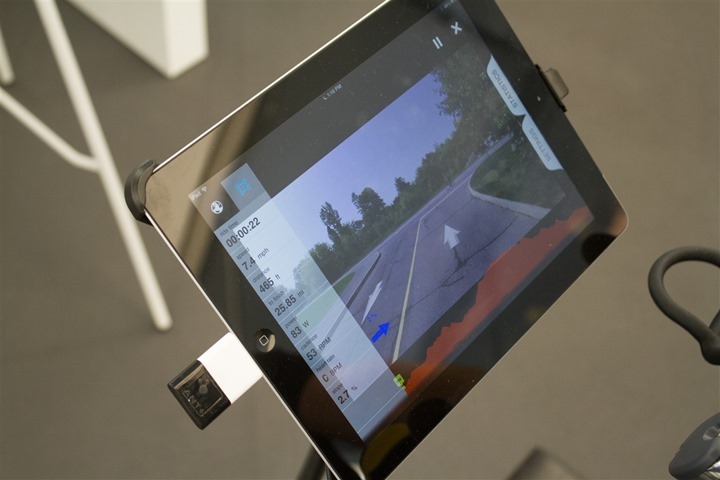 As you ride, the unit will automatically progress the video forward based on your actual speed. Along the left you'll have common metrics like power, cadence, HR, etc…
Next we've got the ability to ride a given route that's been published to the site. You can search for routes or races and then the iPad software will control the resistance on the tainer unit accordingly.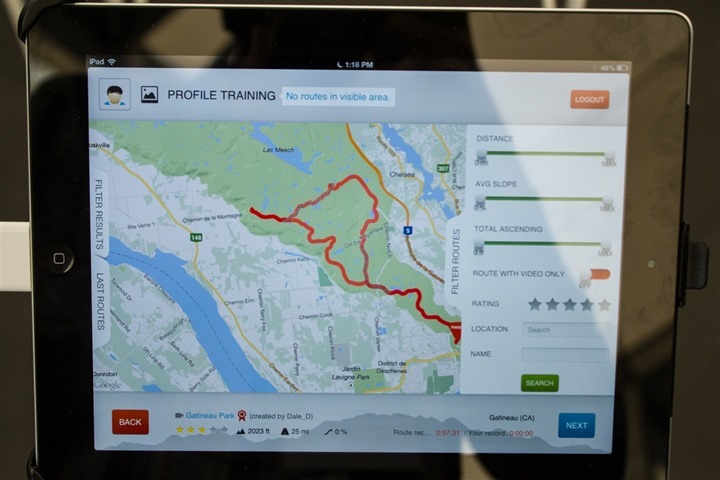 As you ride the route, it'll also update your location on the map using Google Earth: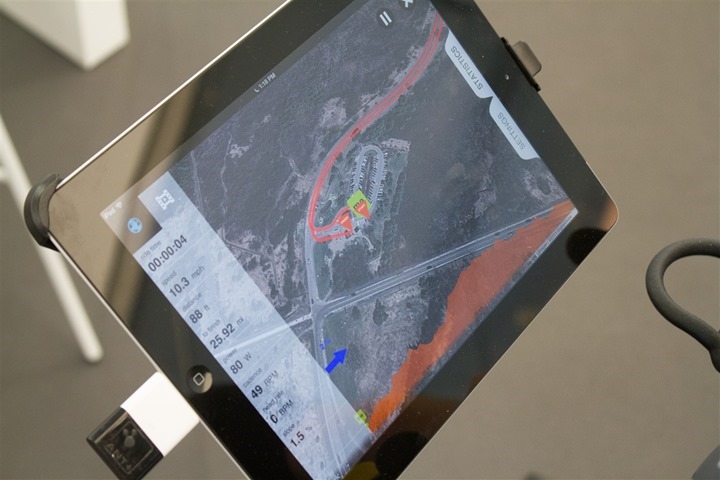 Note that today they don't have an ability yet to directly download your own/past GPS/GPX files to the iPad unless you use the fee-based desktop software first to upload them to the service. Then the iPad can download them from the service for free. It sounds like they're working out how to make that process a bit more seamless (and free). If they can sort that out, it'd actually make for the first iPad app on the market to actually control the KICKR while riding a full GPX/GPS file (CycleOps/PowerTap, Tacx, CompuTrainer and others have had that for a while). So, it's technically possible today, it just takes some hoops to get through.
Next we've got an interval/workout mode. In this mode you can go ahead and define different workout segments and target power levels. The app will walk you through the workout. You'll notice that if you've got your own movie files on your iPad you can watch those from the upper left corner. I also like that you can skip intervals – something most apps don't permit you to do.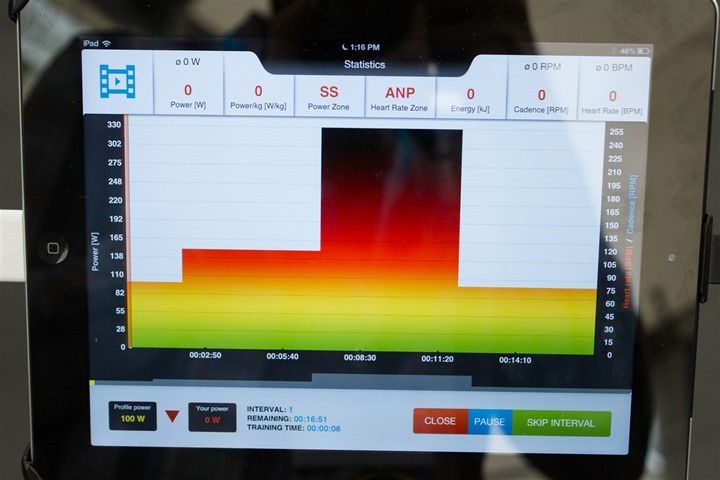 You can see here in the settings page how we've got the CycleOps IC300 trainer paired via ANT+, and can pair additional sensors as well down below (Bluetooth Smart and ANT+). The app supports creating multiple bike profiles as well, so sharing it within your household is pretty straight forward (or, amongst the N+1 ideal number of bikes you personally own).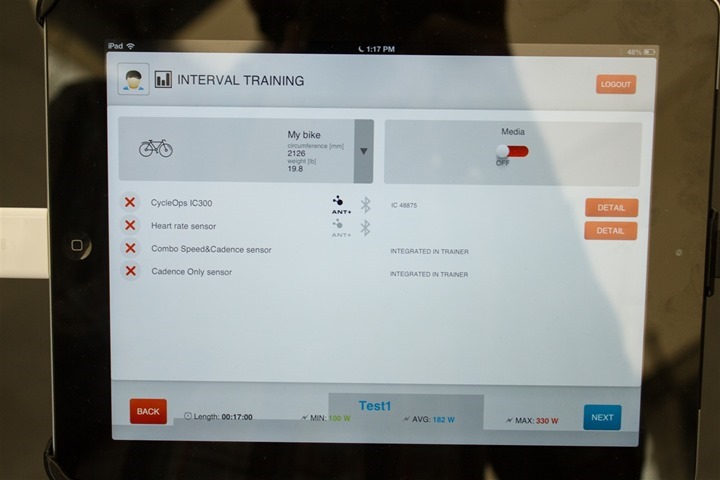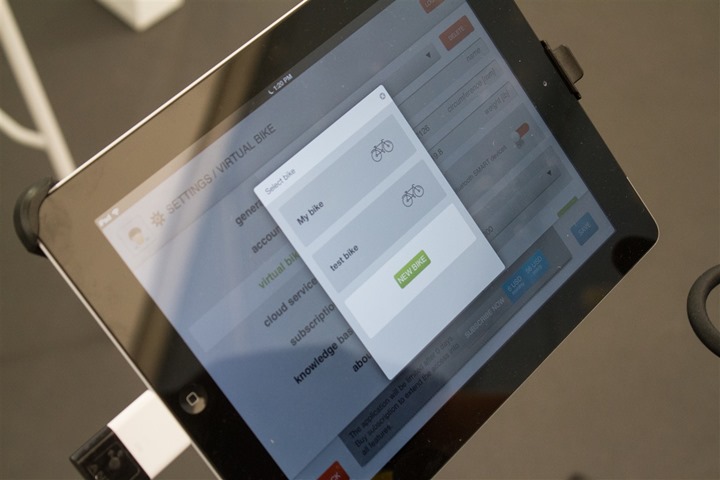 Upon completion of workouts, they'll show up in the workout history page on the unit.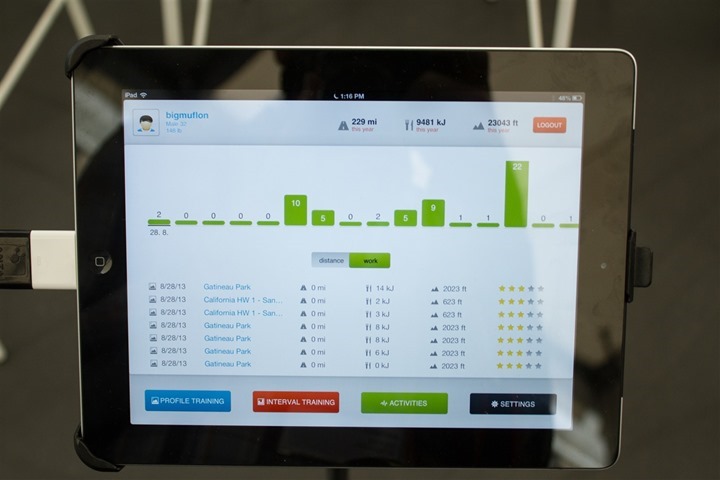 Additionally, you can export out the files easily to a number of different web services out there.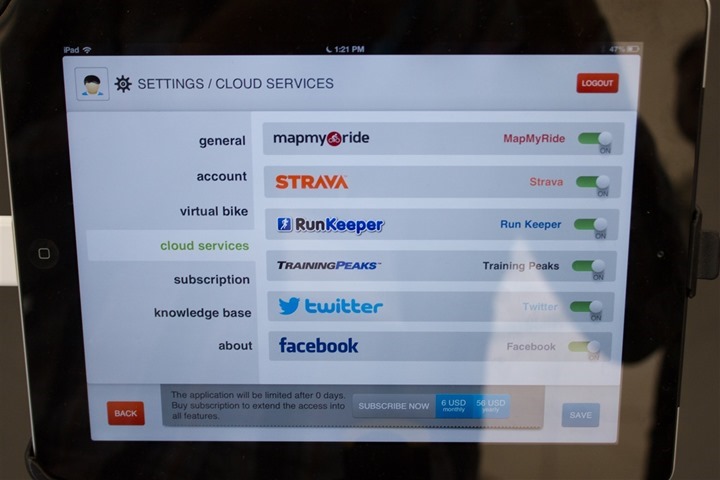 Last but not least is pricing information. The app will be $6US a month, paid via the Apple subscription model. Or, you can buy a whole year for $56US.
The cool part is they're allowing a two-week trial of the app before paying. Though, as part of that trial they are going to limit you to only a few short online videos and other limitations, which I think is fair – and still pretty cool.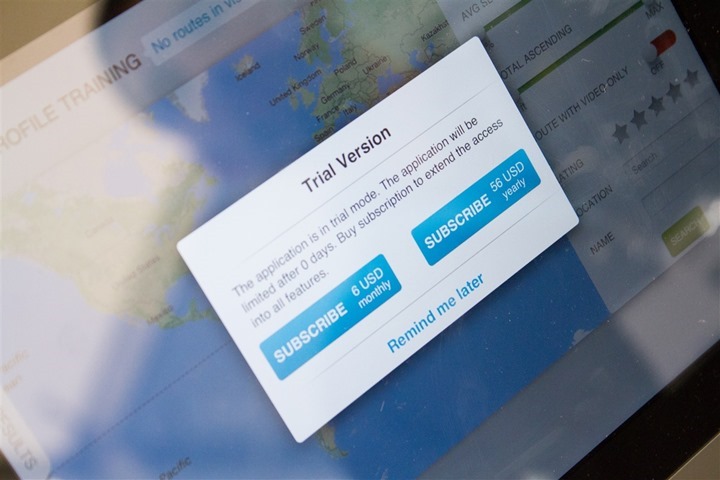 The app will be out on the Apple store at the end of September, just around the Interbike timeframe. Additionally, they're working on an Android version as well.
Also, the desktop app that I've previously reviewed will be moving to a subscription model as well, and it too now also supports the Wahoo KICKR. If you've got a CycleOps trainer today, or the KICKR and are trying to figure out if it's compatible – this page here is probably one of the clearest compatibility pages I've seen in the sports technology industry.
—
Welcome to Eurobike week! This week during Eurobike I'll be tweeting from the exhibition show floor quite a bit, as well as posting frequently. Here's a quick and handy link to all Eurobike-related posts.