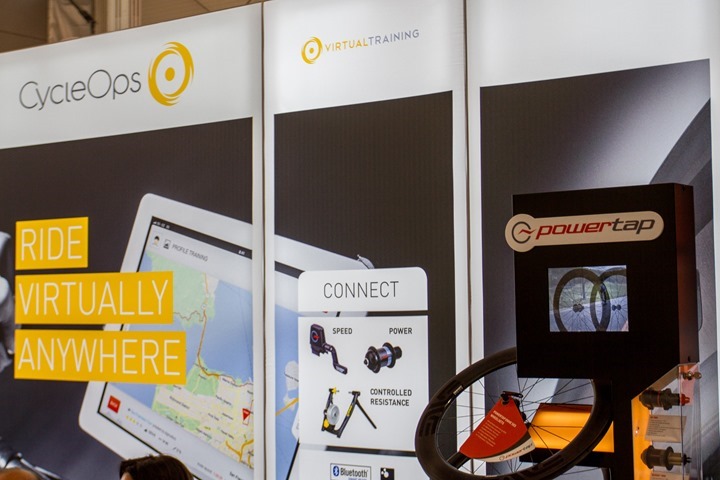 Last year at Eurobike, PowerTap had on display a bit of a historical timeline of the company's past products.  15 years worth of power meter products on display, a nod to the company's long line of various developments that hit retail shelves.
This year however, they've taken a slightly different tack.  Instead of showing off past products in their primary display, they're showing off a collection of product prototypes.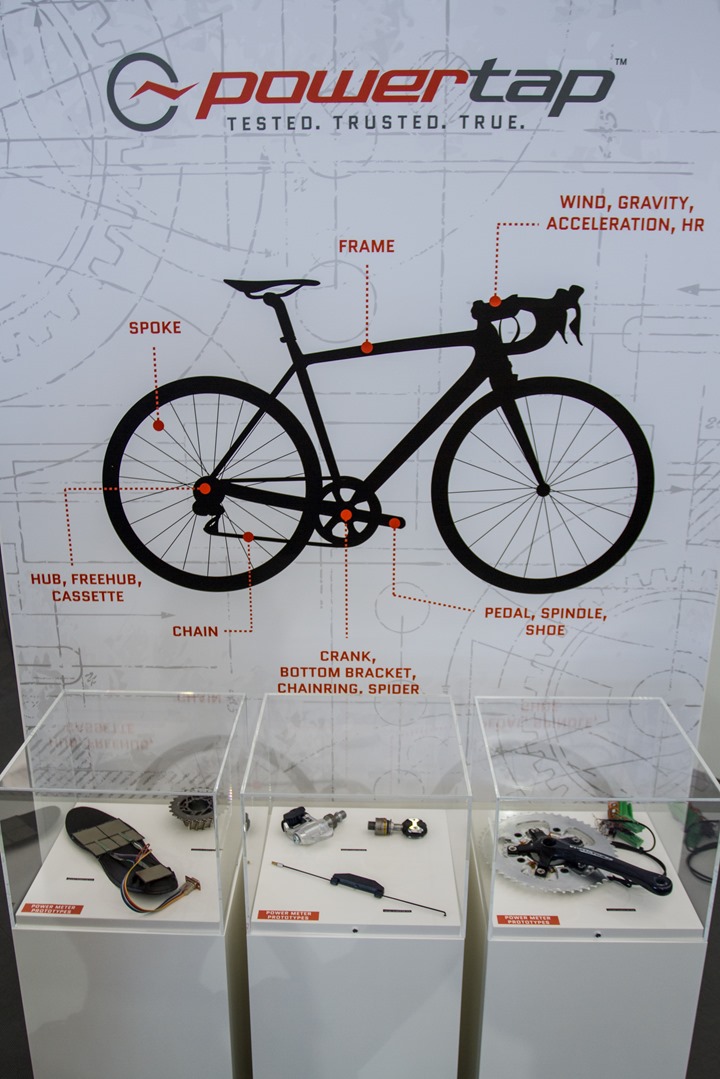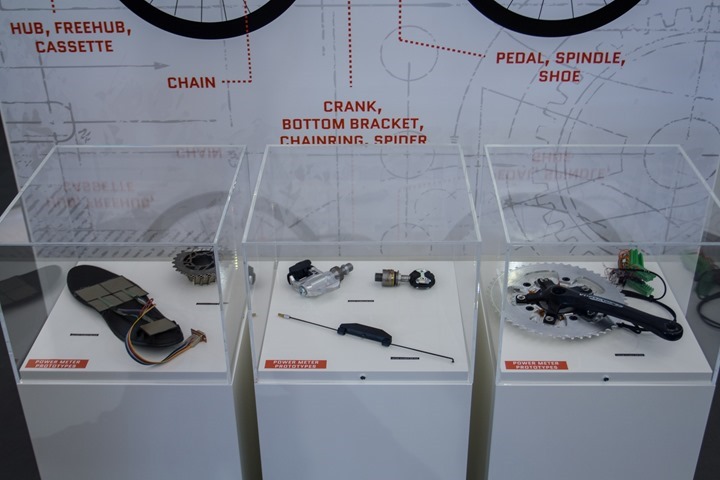 For example, as you moved from left to right through the cases you've first got an insole option along with a cassette based option: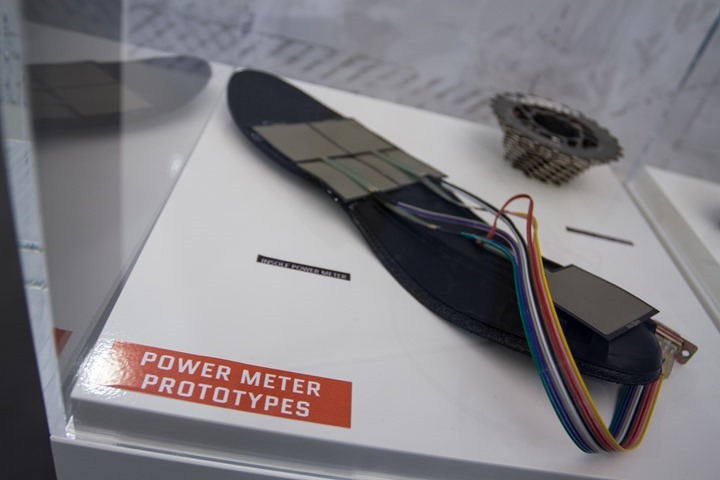 Then there's a spoke based unit, with two pedal based units behind it.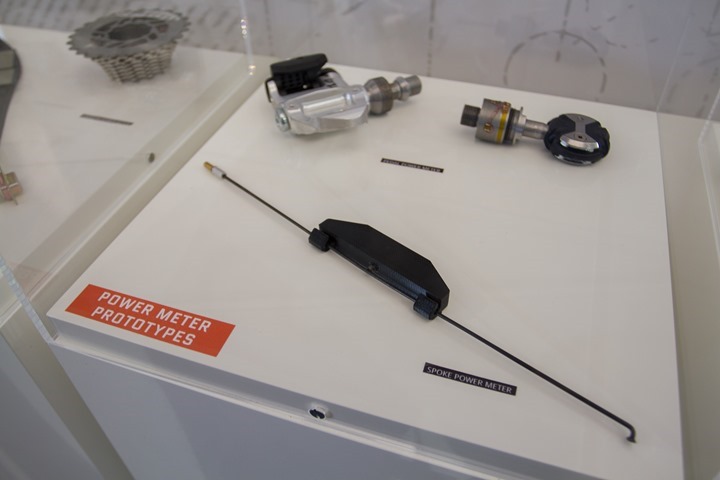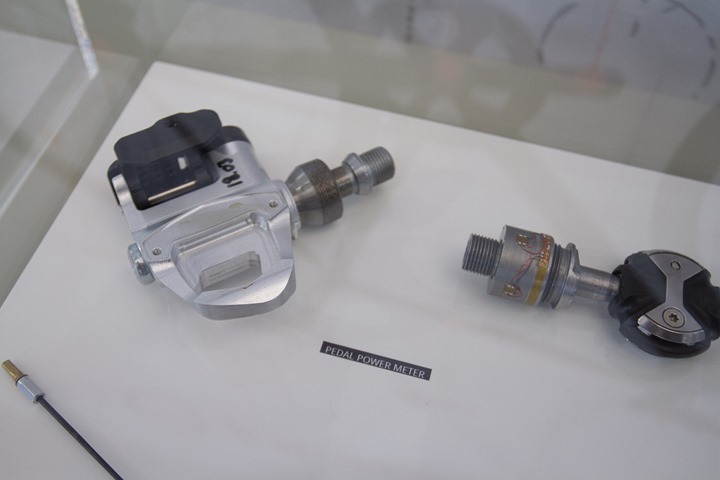 Finally, in the right case there's a crank-based power meter.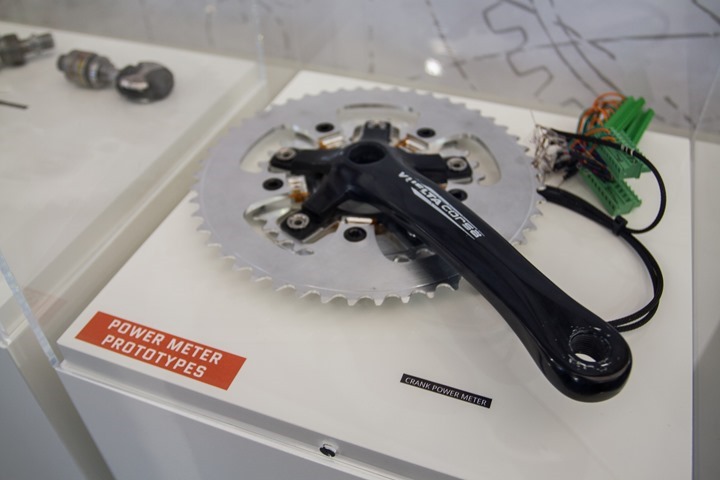 Now all of these units were or are fully functional.  The trick is figuring out which are current prototypes versus past units of since shuttered projects.
Outside of a very high level tour through the different units, PowerTap engineers would only state – with a smirk – that:
"Something is coming."
No timelines, nor specifics, or prices.  Basically, the power meter engineering equivalent of walking into a crowded room – farting – and walking out leaving everyone in the room pointing fingers.
The display does seem to be an admission though that they don't see the rear hub as the end-game for the company.  And in fact, other past forays have already shown that – such as the PowerCal a few years ago.  Though, they did seem to indicate that any future products would likely fall in line with the same accuracy demands of their PowerTap product line.
Speaking of new products, they are showing off a few newly announced units, including a new PowerTap G3 based disc-brake hub coming later this year (officially Q4).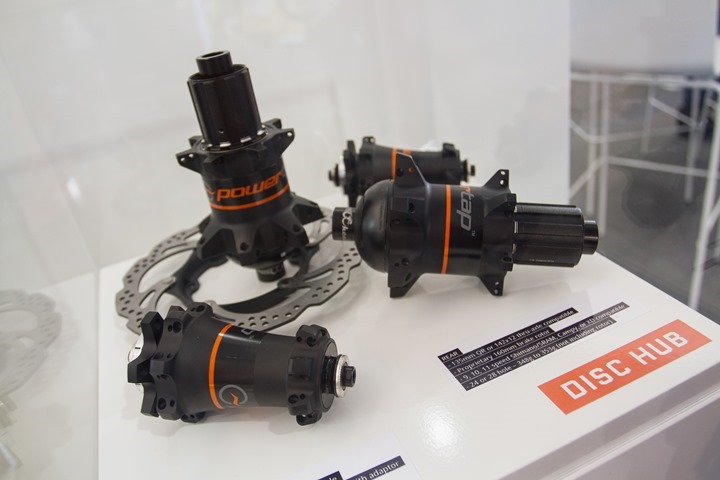 The rear hub will be available in either 135mm QR or 142×12 thru-axle variants.  Though it will require use of their proprietary 160mm brake rotor due to ensuring compatibility with their electronics.  The unit will be available as 9/10/11 speed Shimano/SRAM, Campy or XD compatible.  And finally as either 24 or 28 hole.  The weight not including the rotor will range from 348g to 353g depending on the model.
From a product standpoint it's the same internals as a normal G3, just with a different shell.  The final price isn't yet finalized – but will be less than $1,000US (how much less is up in the air).
They are also making available a matching front fork component.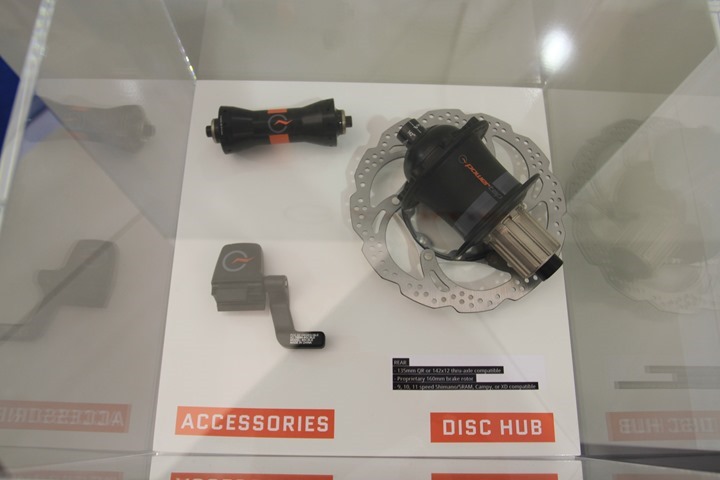 Last but not least, we've got some minor updates on the trainer front.  Well, not the trainers themselves, but rather the apps that connect to their trainer lineup – such as this Bluetooth Smart enabled unit seen below.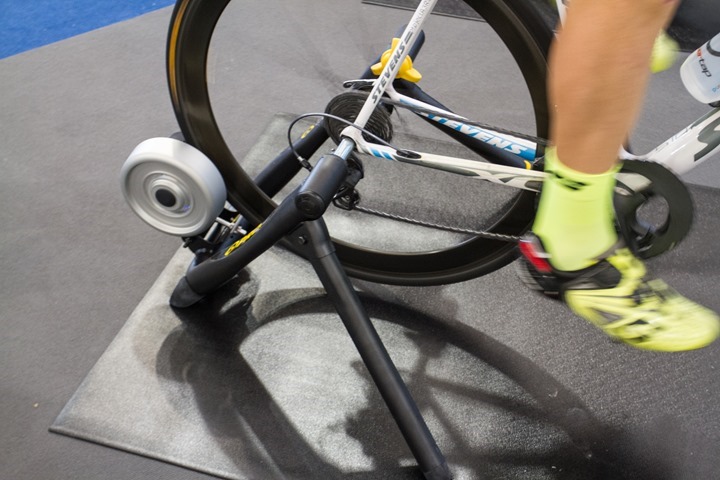 They'll be shortly releasing a new iPhone app which will compliment their iPad app, focused on trainer integration and control of Bluetooth Smart trainers.  The new iOS app allows one to control the trainer for specific routes pulled from their cloud service, as well as allowing you to simply set a specific wattage.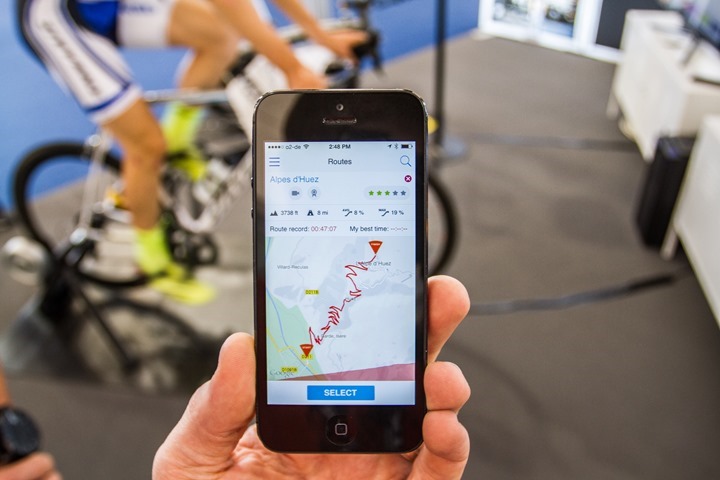 This is a welcomed addition as I often find myself at my trainer without my iPad charged, but my phone is usually charged – making control while I hammer away on the trainer easy.  The app has already been submitted to the app store, so it's really just a case of Apple approving it.  They expect at the absolute latest by Interbike (two weeks away).  But it could just as easily be tonight.
They'll be following up with a small form factor Android app as well with the same functionality.  However, that app won't hit for another couple of months, likely ahead of the holidays though.  For now you can still use their full Android tablet app though in the event you have an Android tablet (plus they have desktop apps too).
Finally, as a minor note – expect to see them refresh all of their existing sensors (such as the heart rate strap and speed/cadence sensor) with dual ANT+/Bluetooth Smart sensors as they move forward.
Overall we're seeing some minor updates from CylceOps/PowerTap as a company at Eurobike/Interbike, with what is clearly a focus on R&D and new product development over the short term.
—
With that, thanks for reading!  If you're looking to burn a bit of time, here's all my Eurobike 2014 posts!