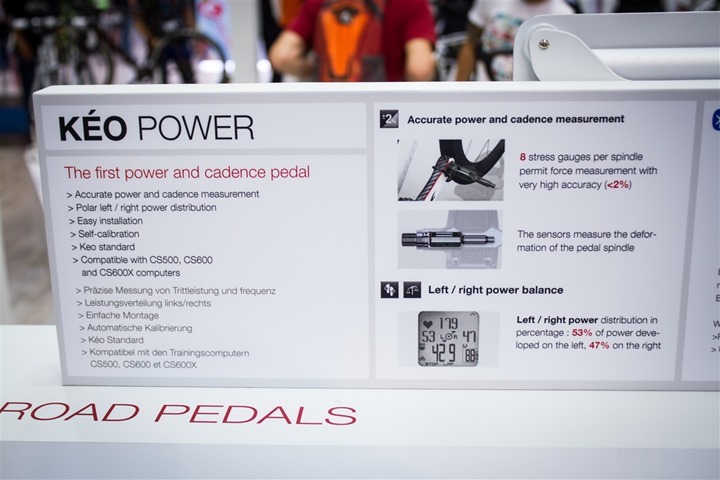 While Polar is strangely absent from this years Eurobike show floor, their partner with the already released Polar/Look Keo Power System – Look – was present and more than happy to sit down and talk about their upcoming plans for Bluetooth Smart.
You'll remember I reviewed the Polar/Look pedal based power meter last summer (2012) when it first came out.  At the time they discussed their plans for eventual incorporation of Bluetooth Smart into the device once the Bluetooth Smart profiles were standardized.  While loose timelines were bantered about, nothing formal was fully communicated on those dates.
Since then, it sounds like things have gotten a bit more solidified – at least on paper. Or rather, on the booth displays: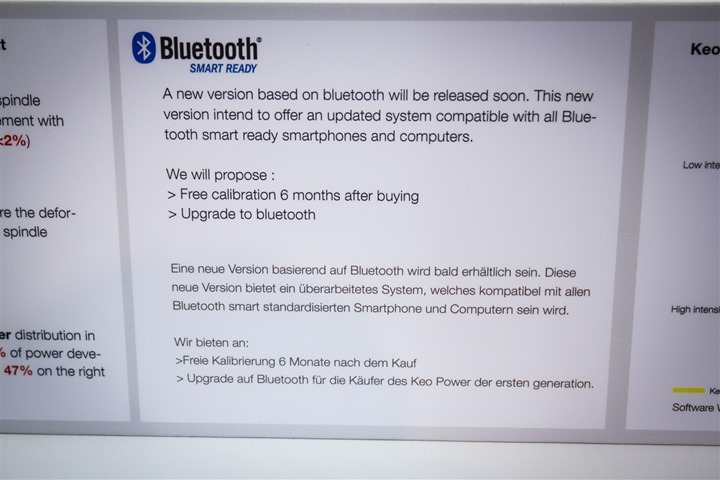 I spent time chatting with two engineers from Look's power meter team, which is based nearby in France.  While they were limited in what they could discuss – primarily at Polar's direction – we were able to cover some key points about what's on tap.
The Bluetooth Smart update is being targeted for March or April of next year (2014).  It may come sooner, but that's the timeline they're sticking to for now.  The 'upgrade' package will actually incorporate two different items:
1) They'll swap out the pedal pods from being Polar W.I.N.D. to being Bluetooth Smart compatible (they'll still remain backwards compatible)
2) At the same time, they'll be updating the software on the pedal side of the crank to add additional metrics that can be broadcast by the power meter
The pedal pods are the small little things that hang off the side of the pedals, and where all the communications occur.  As part of that change, the pods have been redesigned (old pods shown below, they didn't have new pods on hand).  Specifically, they are minimizing the thickness of the pod to minimize issues some folks have with it hitting the chain.  Further, they're changing the dimensions to allow for wider crank arms that have come onto the market recently.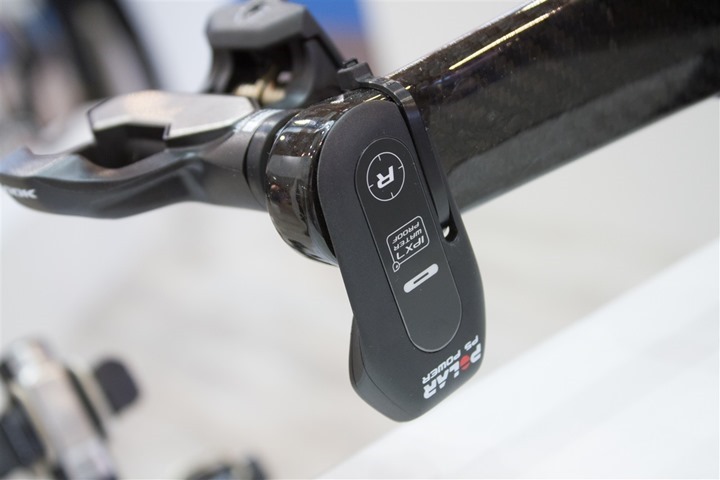 They were very closed lip when it came to discussing what additional power meter metrics they'll be adding to the pedals themselves, but I suspect we'll see them roughly in line with what other pedal and left/right power meters are adding around Torque Effectiveness and Pedal Smoothness.  But again, that's just a guess of mine based on the fact that everyone else is doing it.
They won't be adding any additional calibration modes though, nor any way to check the torque of the system (both of which aren't available today).
The swap out will require the units be sent back to the distributor and/or Look (it's still being decided).  A price hasn't been set yet either, but they didn't expect it to be expensive.  While the pedal spindle software upgrade will be free, the switch to Bluetooth Smart won't be.  But they deferred to Polar on that from a pricing standpoint, clarifying it's up to them.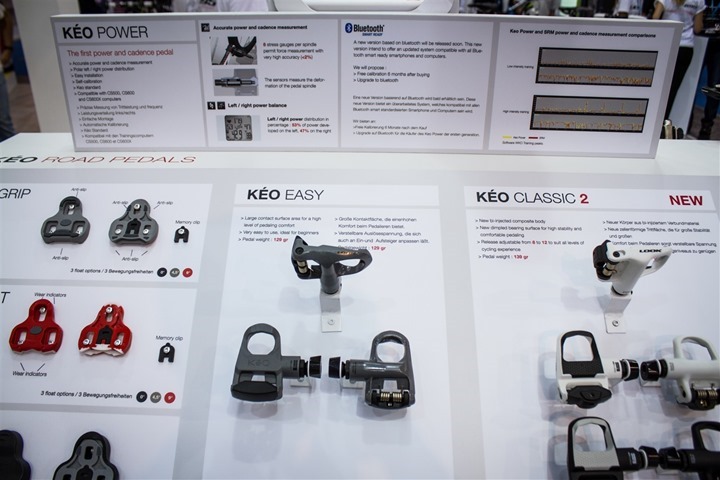 As far as Bluetooth Smart standards go, I got slightly conflicting answers that I'm working to get a bit more clarification on from others (language barriers can sometimes be tricky in complex technical discussions).  At one point they noted that they were adopting the standard Bluetooth Smart power meter device profile (like Stages and other BLE power meters such as the newly announced PowerTap units).  However, at another point they noted the creation of an app to be able to read the Polar BLE pedals.  The reason being that upon sending back to the factory and as part of the swap-out they're doing away with the master/slave concept, and instead just assigning left/right.  What that really means though as they explained further is that it truly becomes two virtually independent power meter systems (left and right).
As such, the Bluetooth Smart power meter device profile today and the apps available today don't accommodate that natively (the concept of two PM's really being one PM).  Technically speaking, both statements above could be accurate – resulting in a scenario where you'd essentially have to pick one leg or the other.
Speaking of devices, it should be noted that there's still not actually any Bluetooth Smart power meter sensor-capable head units on the market today, nor any announced.  There are cycling head units with Bluetooth in them (Edge 510/810), but that's not Bluetooth 4.0, and thus not Bluetooth Smart compatible.  The TomTom Multisport units while technically capable of connecting to Bluetooth Smart sensors, do not connect to power meters today.  Finally, units like the LEIKR watch while Bluetooth Smart capable, aren't configured to receive sensor data from Bluetooth Smart power meters.
While the Look folks conceded the obvious – Polar is working on "something" to fill the gap – that's about as specific as they were going to get.  No specific timelines, though obviously it'd have to be prior to next March/April.  And with the potential for them finishing the pedal update earlier in 2014, I'd guess they are targeting a bit earlier than March/April for a Bluetooth Smart capable head unit.
In any case, it sounds like things will mostly go back into the underground until then.  The team plans to start field testing of the Bluetooth Smart pods in the next 2-3 weeks.  I suspect the next point we'll hear more information is at CES in early January (where Polar is traditionally present).
Thanks for reading!
—
Welcome to Eurobike week! This week during Eurobike I'll be tweeting from the exhibition show floor quite a bit, as well as posting frequently. Here's a quick and handy link to all Eurobike-related posts.