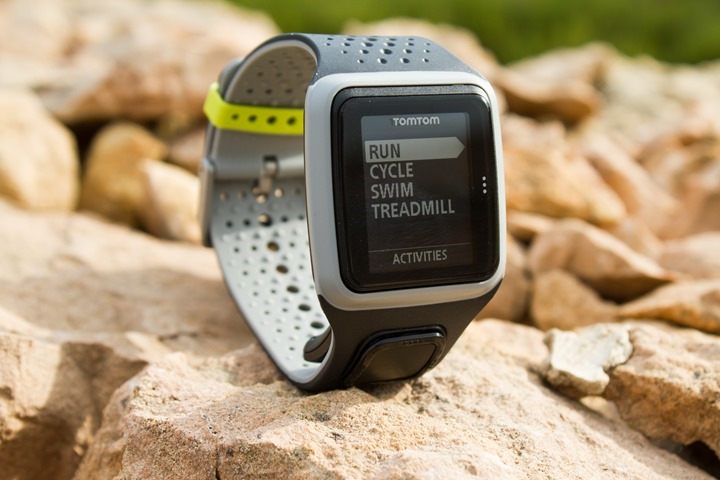 TomTom announced their first athletic GPS units back in April, but it's as of today that you can finally buy them (well, at least the Runner edition). These two units were produced solely by TomTom (previously they had a partnership with Nike on the Nike+ GPS Sportwatch). The first unit out of the chute from an availability standpoint is the TomTom Runner, which is aimed at the mid-range running market (from a price standpoint at $169). And the second unit is the TomTom Multisport, which is $30 more, but covers cycling and indoor swimming.
Over the last six weeks I've been using the units pretty extensively, and by now have a pretty solid grasp on how they work. Because I want to be transparent about my reviews, once my evaluation period with the TomTom units has elapsed, I send it back to TomTom in the Netherlands. Simple as that. Sorta like hiking in wilderness trails – leave only footprints. Note that as of this writing, the Multisport edition is still in beta, and thus items may and will likely change between now and the release of the unit later in July.
Lastly, at the end of the day keep in mind I'm just like any other regular triathlete out there. I write these reviews because I'm inherently a curious person with a technology background (my day job), and thus I try and be as complete as I can. But, if I've missed something or if you spot something that doesn't quite jive – just let me know and I'll be happy to get it all sorted out. Also, because the technology world constantly changes, I try and go back and update these reviews as new features and functionality are added – or if bugs are fixed.
Unboxing:
There are two different units available from TomTom: The Runner and the Multisport. The Runner is targeted at, well, runners. Whereas the Multisport is aimed at those who swim/bike/run. While I'll be reviewing both in this review, I only have the full unboxing experience for the Runner, as the Multisport final box isn't quite yet complete (though the watch hardware I have is complete). This is very typical of most products I receive early in the release cycle.
With that, here's where things start: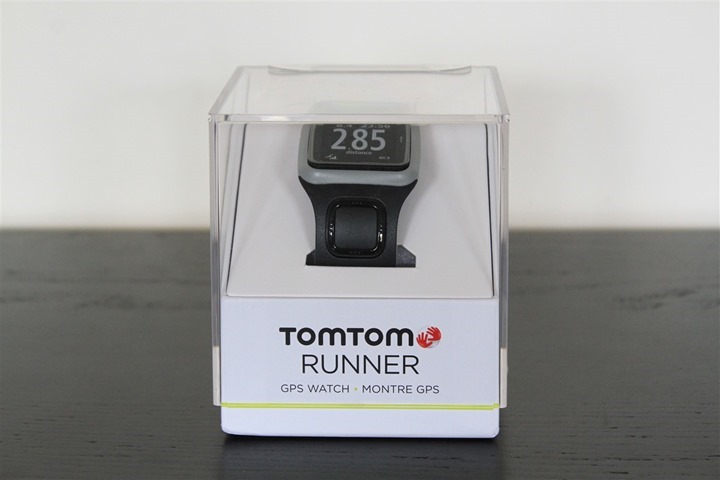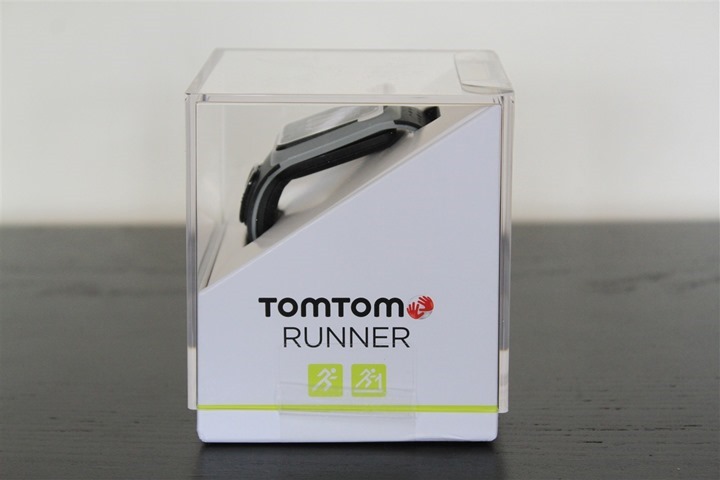 On the back of the box they've got a display of some of the different unique modes/screens within the TomTom unit.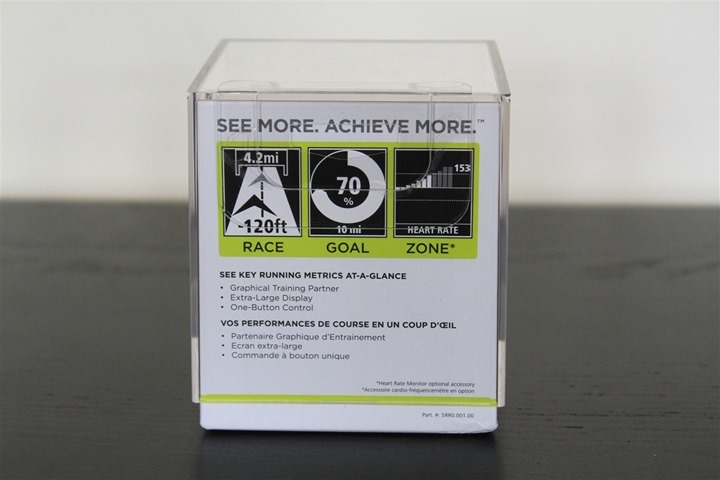 Cracking it open we've got the three core pieces of the unit. They are the unit itself, the charging cable, and the manual.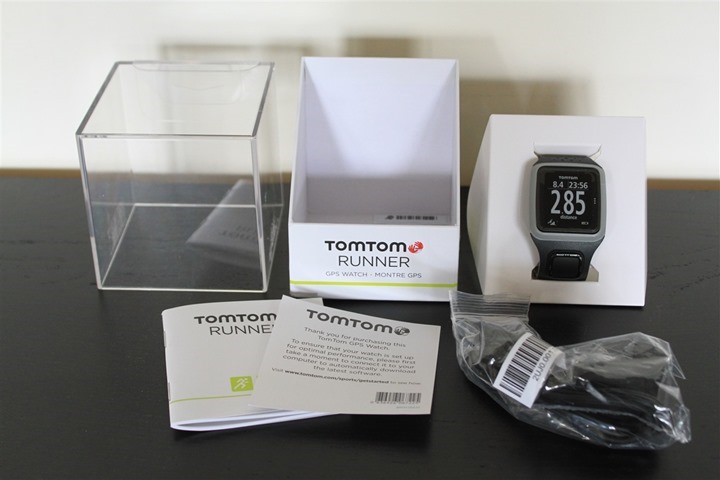 Here's the charging cable going nude without the plastic baggie.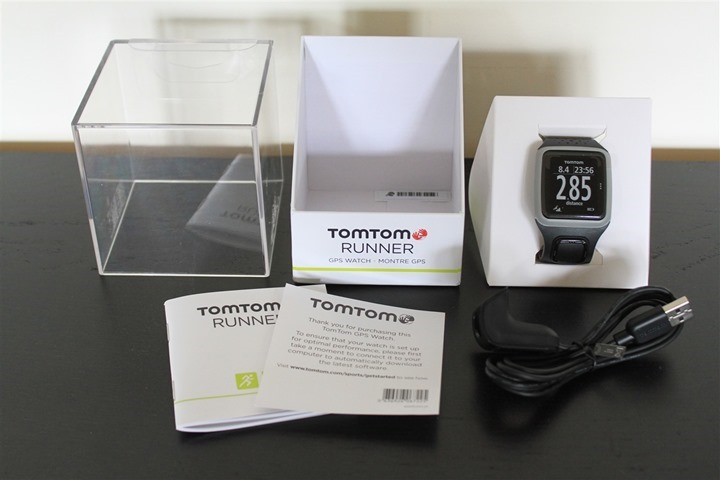 Looking at each piece in a touch bit more detail, first up is the USB charging cable. This is how the unit both transfers data to your computer, as well as gets charged up.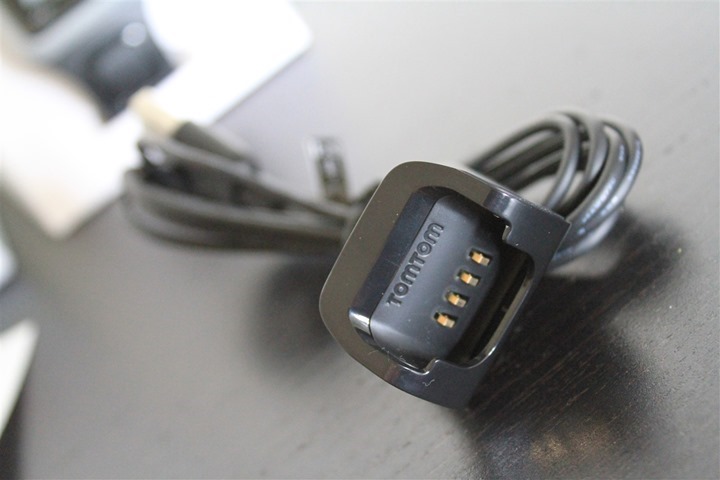 The watch module will detach from the strap and land in the charger for charging: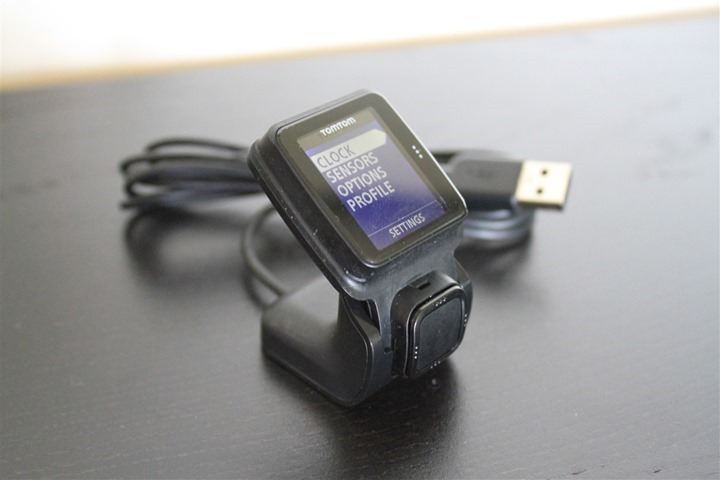 Next we have the shortest manual known to mankind. Though, repeated in 28 languages (ok, slightly less languages). There's not much of use in here.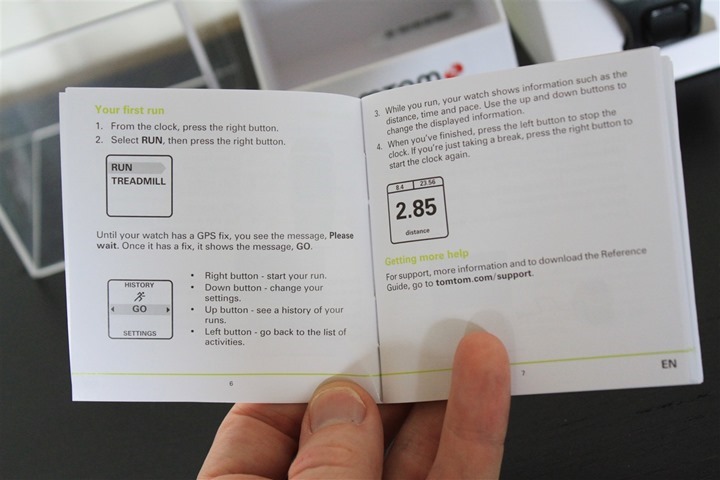 Finally, it's the unit itself.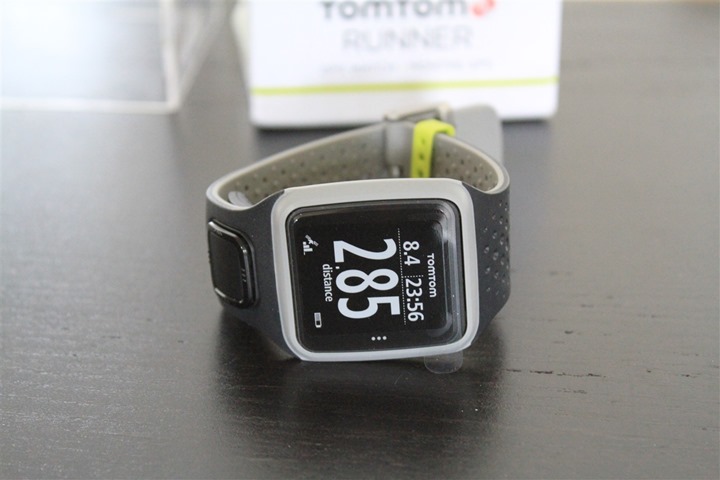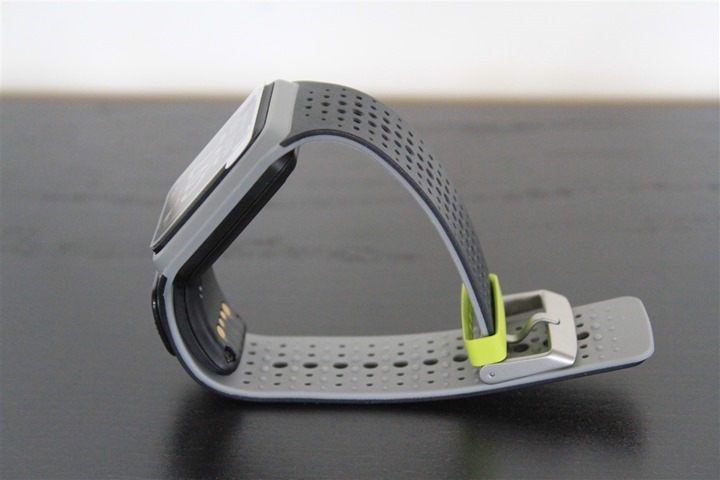 Here's a look at the back of the watch, which shows the waterproof rating of 5ATM (roughly 50m deep). No problems with swimming here.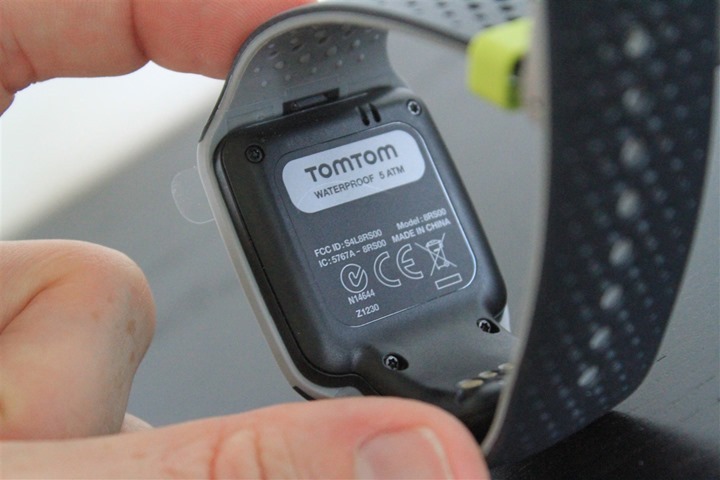 As you probably noticed that there's actually two parts here. First is the strap, and second is the watch module. TomTom makes a few different straps as well: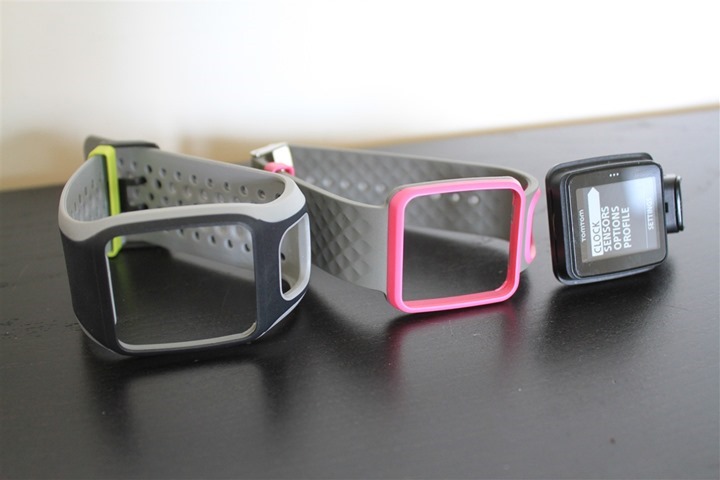 Note that even though the strap sizes are different, the watch module sizes remain the same. This means everything can be swapped between different straps as you see fit. For example, The Girl could wear the pink strap (smaller), and I could wear the larger strap, and then share the watch pod.
Finally, if you buy a unit with a heart rate strap, you'll have that as well.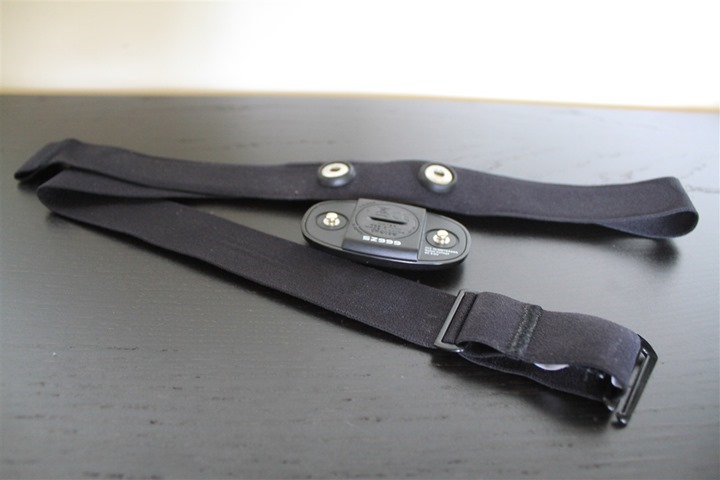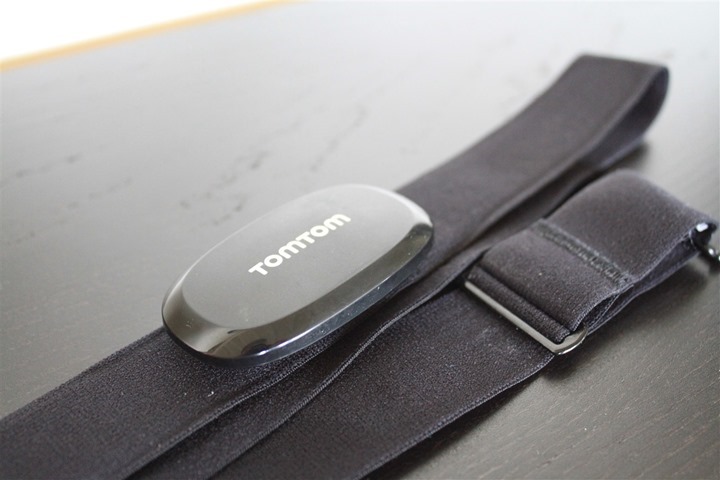 The strap is Bluetooth Smart, and is pretty similar to other straps on the market. The one notable item is I haven't seen any HR spikes/dropouts with this strap however – so that's definitely good news!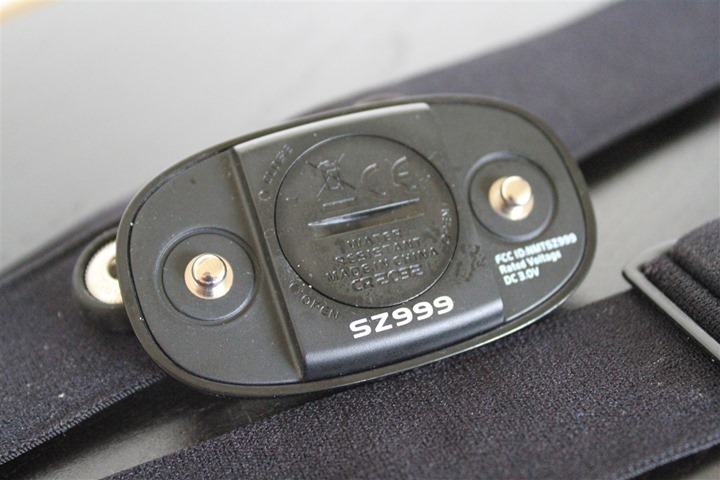 Now that we've got everything all unboxed, let's take a look at how it stacks up size-wise.
Size Comparisons:
From a size standpoint, the unit is actually pretty similar to others on the market in this class as far as overall footprint on your wrist goes. You can see from left to right that they're roughly all in the same ballpark.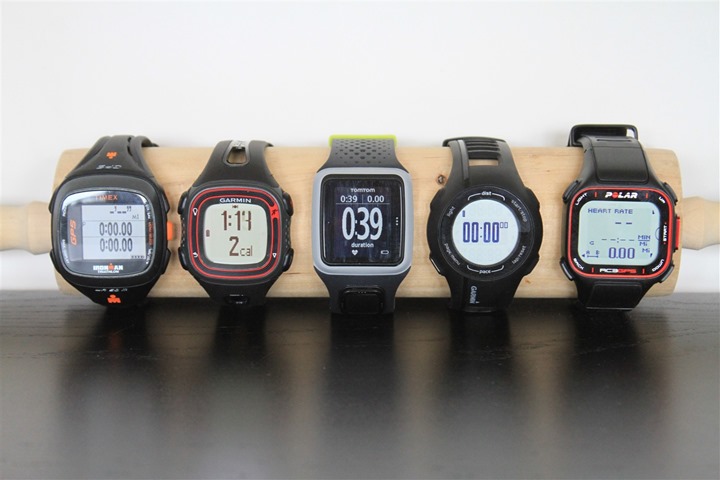 (Left to right: Timex Run Trainer 2.0, Garmin FR10, TomTom unit, Garmin FR110/210, Polar RC3)
Where you see a bit of difference though is in the thickness. In this case the TomTom unit is definitely the slimmest. This comes a bit from the fact that the 'joystick' controller pad is lower than the face of the watch, thus a lot of thickness is moved from that area to lower on your wrist.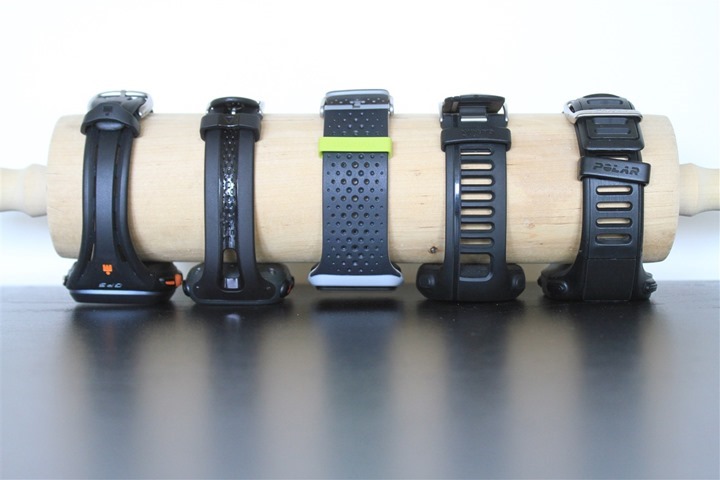 As noted in the unboxing, there are a few different straps offered, which can impact the overall size of the watch on your wrist: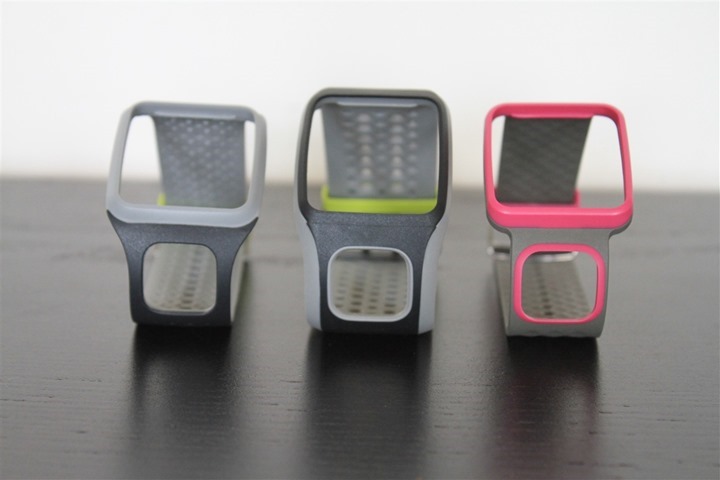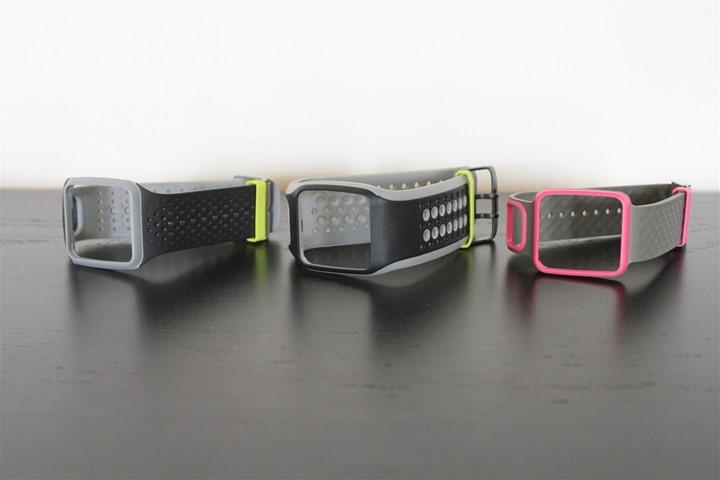 Finally, many folks will (rightly) draw similarities to the Nike+ GPS watch. And the similarities are pretty striking. It's no secret that the team that worked on the Nike+ GPS watch was this TomTom team. And while they had to start from the ground up with the TomTom Runner and Multisport watch, the two units really do feel more like brothers than distant friends from separate companies.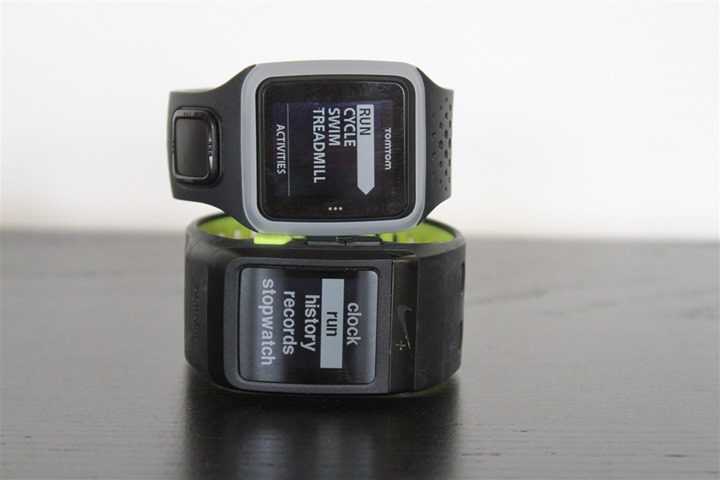 Whether it be the display, the menu system, or even the exact timeouts within the menus – it's all very similar.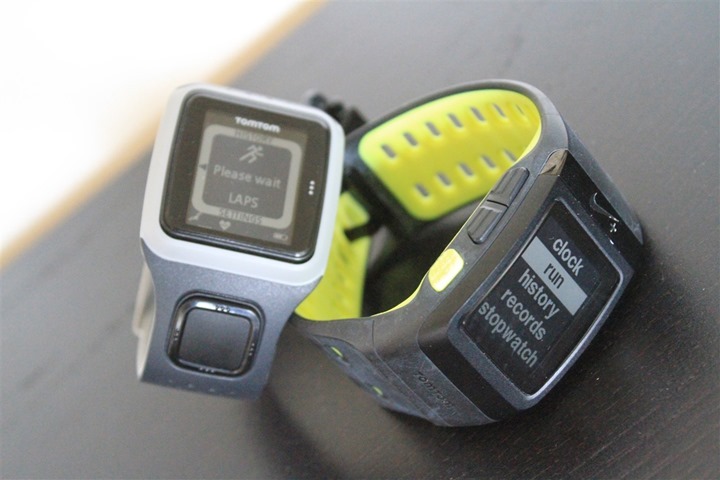 I'll dive into more differences a bit later on though. In the meantime, let's get running.
Running:
Getting Started:
To start your run you'll press the right button on the joystick pad to access the activities menu. Depending on your model you'll have two run options (Run & Treadmill), or if you bought the Multisport unit, you'll have Swimming and Cycling as well.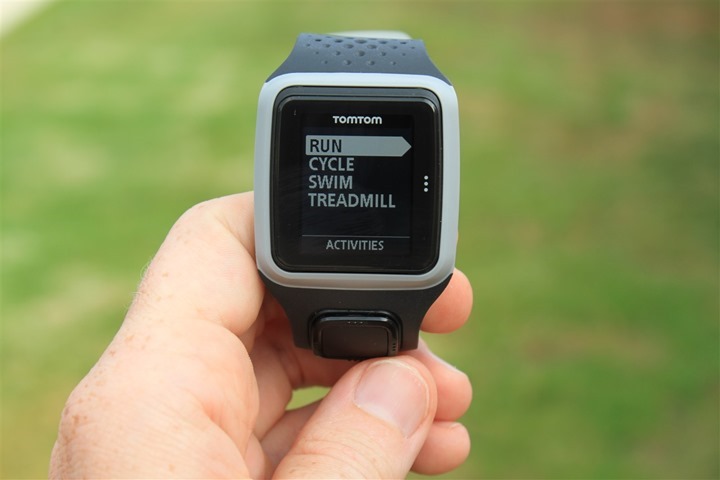 You'll tap to the right again to begin satellite searching. As I'll talk about later on in the satellite section, this is the fastest unit I've tested (by a long shot) to get reception.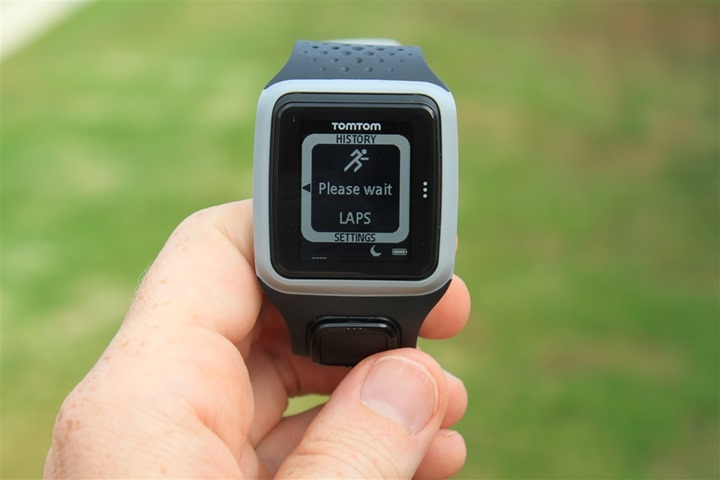 At the same time it'll search for your heart rate strap as well. Once that is found the little heart rate icon will illuminate at the bottom. Upon satellite searching completion, the page will change to 'Go'.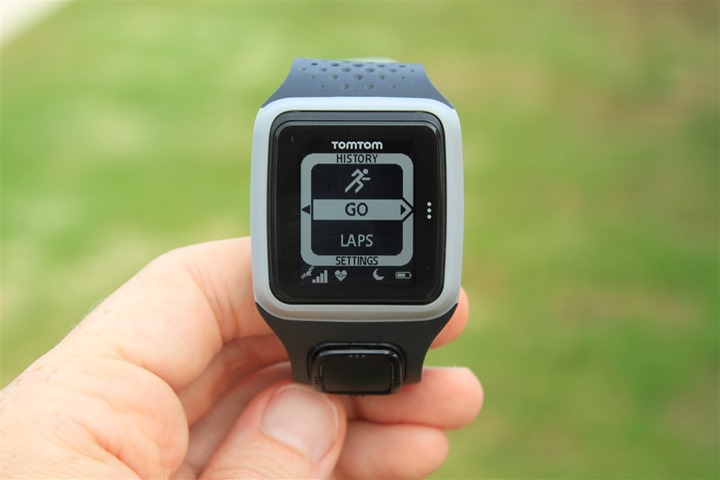 With those two complete, we can begin our run. To do so we'll just press the right button again, and that starts it.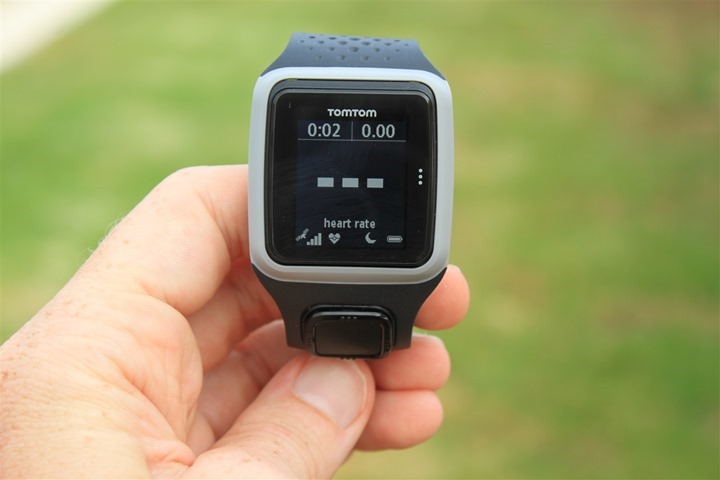 The unit will always be recording when you've started an activity. You'll see at the top (assuming you haven't changed any display fields yet) your total time and total distance increasing:
Meanwhile, on the bottom you've got a variable display field.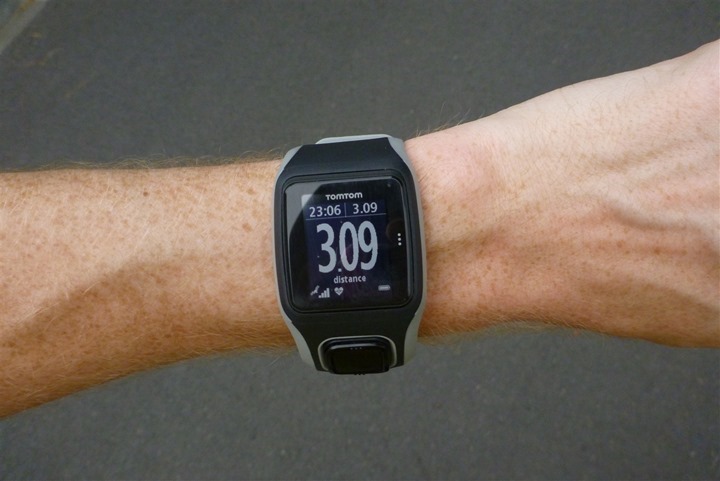 This field can display the following stats about your run:
– Clock
– Duration
– Distance
– Pace
– Avg. Pace
– Calories
– Heart Rate
– Laps (if laps are enabled)
The upper fields can be configured within the menu system (left and right can be changed):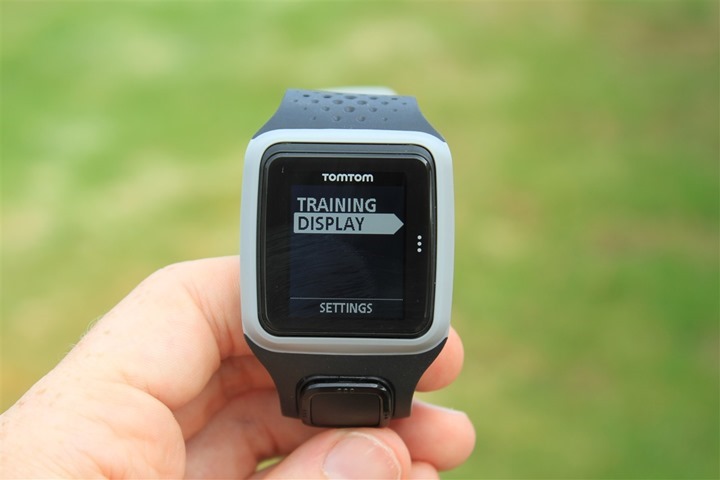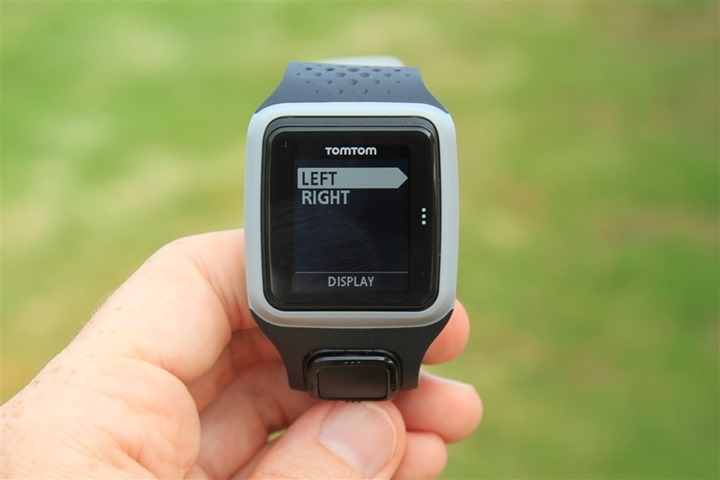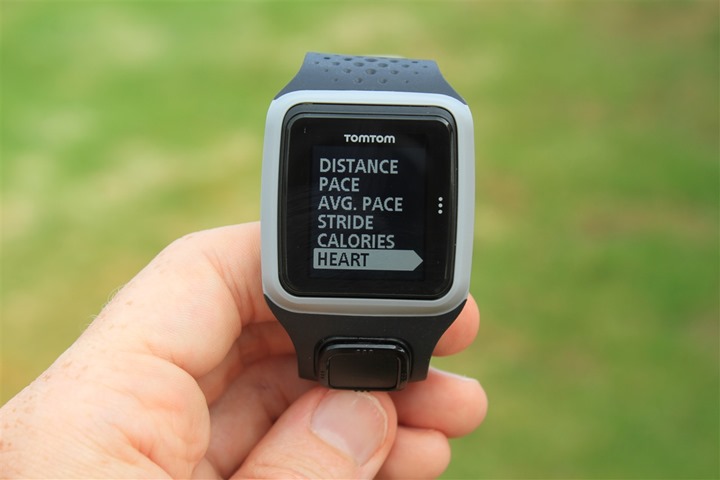 Going back to that bottom field, you can press up or down to iterate through the different fields. As you scroll up or down you'll go through each field available on the watch.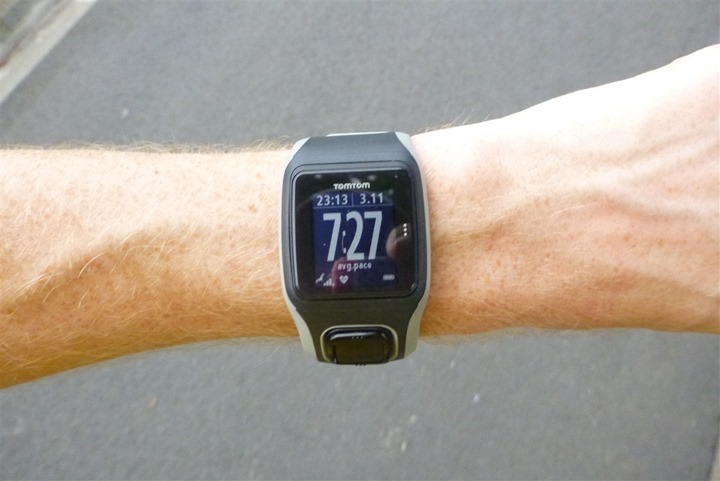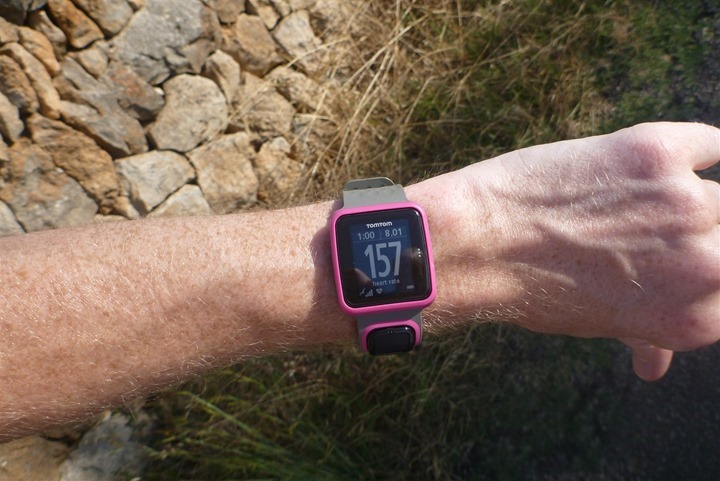 Finally, to pause your run, you press the left button, which will take you to a summary screen. To resume, just press the right button.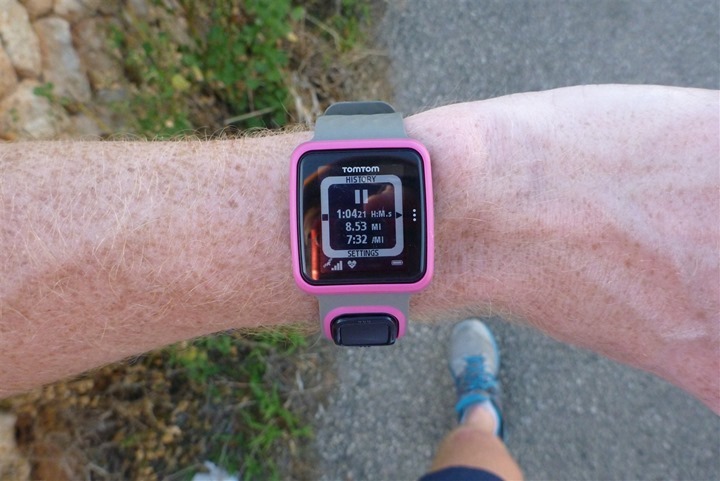 To end the run, you'll press the left button again. The only area I'm concerned about here is winter running beneath a jacket, where two quick left presses by your coat could easily end your run. We'll see how that works out longer term.
I'm now going to walk through some of the training modes. Note that you can only enable a single training mode per run.
Goals Mode: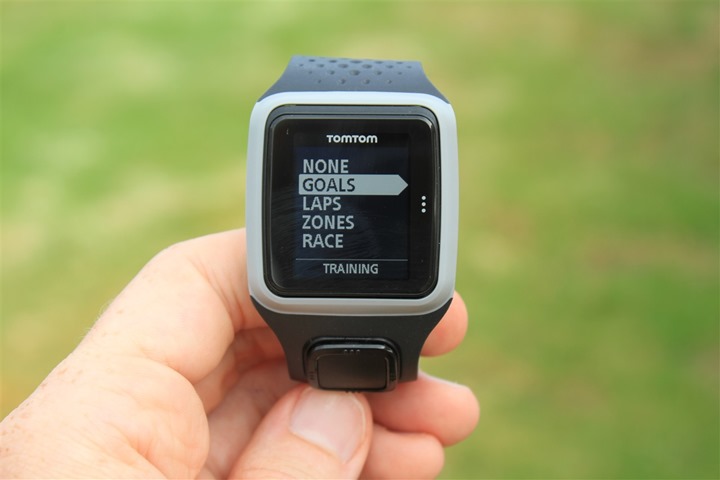 The Goals mode allows you to specify a goal (time, distance or calories) and then receive a chart indicating your progress towards that goal during the run (it's specific to a run, not overall goal).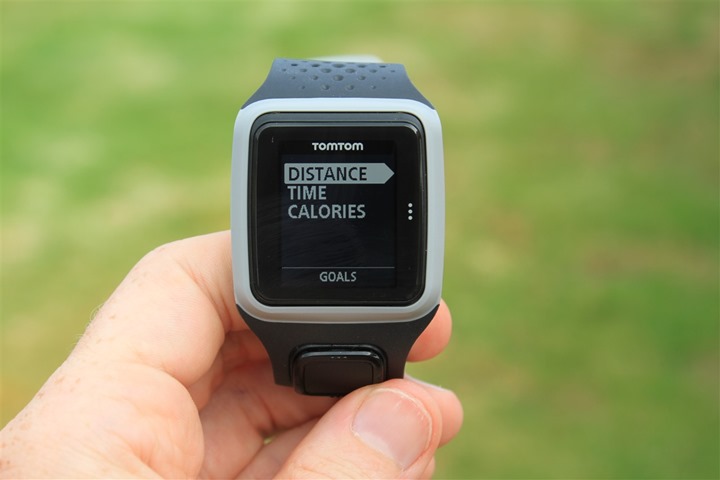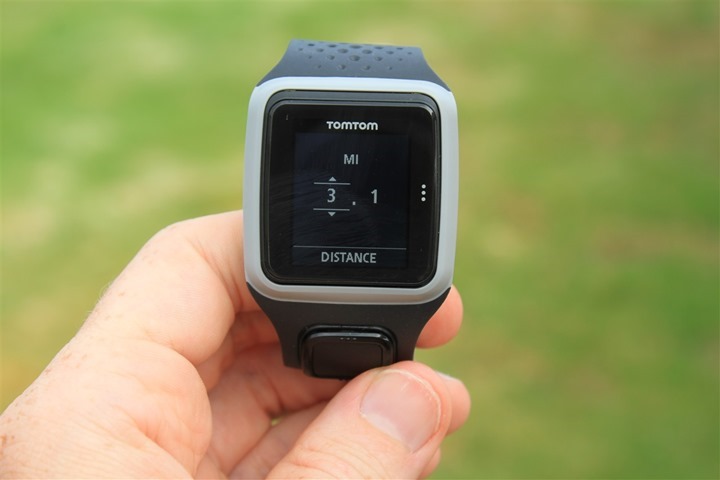 Within the run, if you press the right button you'll see status against that goal in the form of a chart: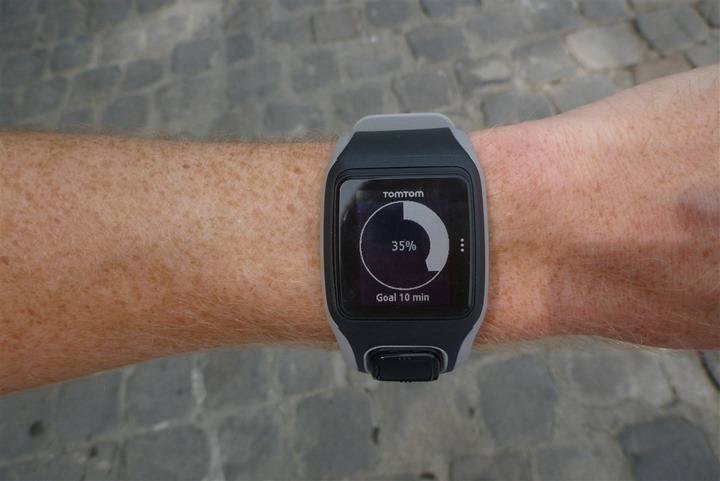 Additionally, at 50%, 90%, and 110% of goal, you'll receive a pop-up alert: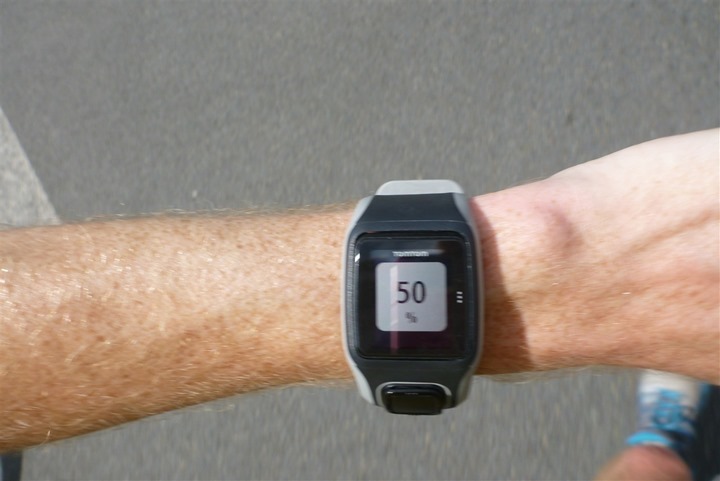 I'm not sure I entirely understand the value of the Goals mode. Given the watch displays distance, I've personally never had a problem understanding that when it shows 'Mile 2' and I'm running a marathon, I thus still have a crap-ton of distance to run. I don't really need a Pac-Man pie chart to show me that.
Where I think this feature could be modified to be useful is to shift it towards Weekly/Monthly goals instead. For example, the ability to show a weekly goal of running 30 miles, and then my progress towards that goal.
Laps Mode: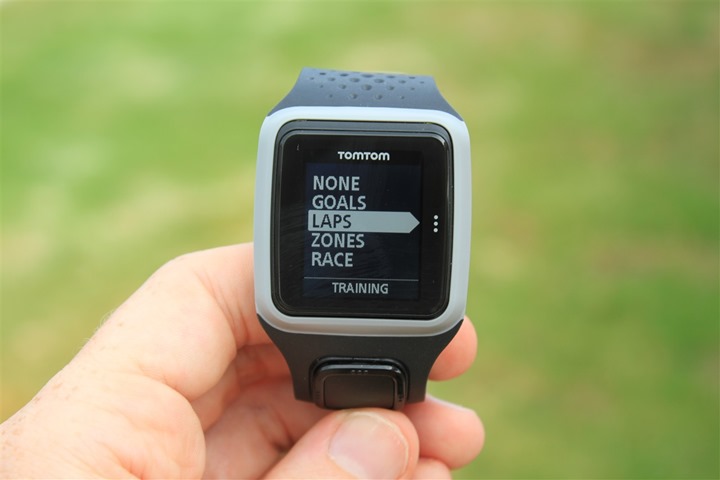 In order to create laps, you must be in Laps mode. Within that mode you can then specify automatic laps based on time or distance, or you can specify manual laps.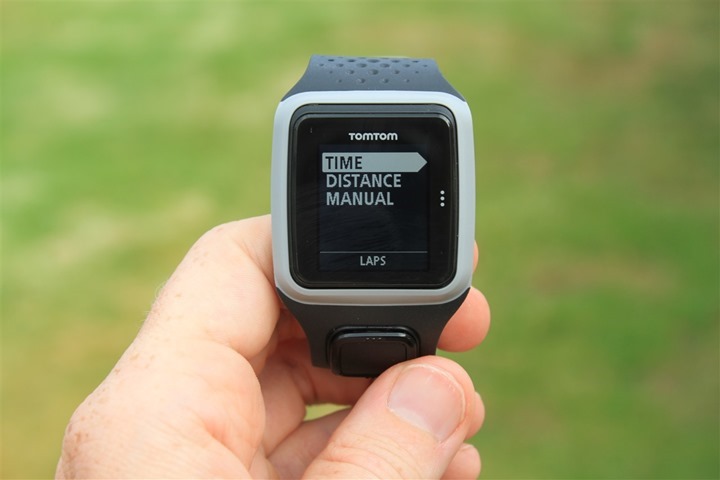 When you specify manual laps you'll tap the right side of the watch (where the three dots are) to get manual laps. This will then enumerate the lap marker on the watch itself while running: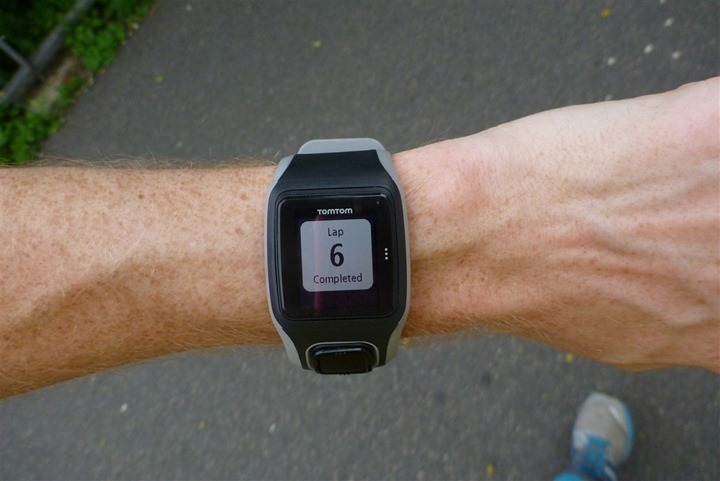 Additionally, Laps mode will enable per-lap data display fields, including a lap counter: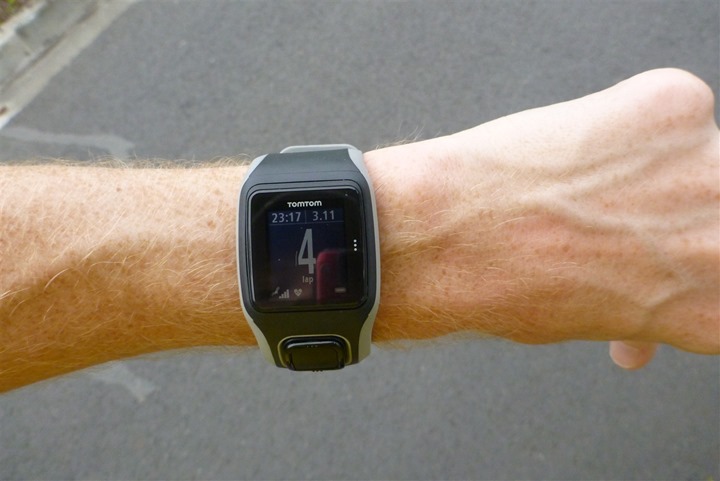 Note again that by default Laps mode is off, and it cannot be used with other modes.
Zones Mode: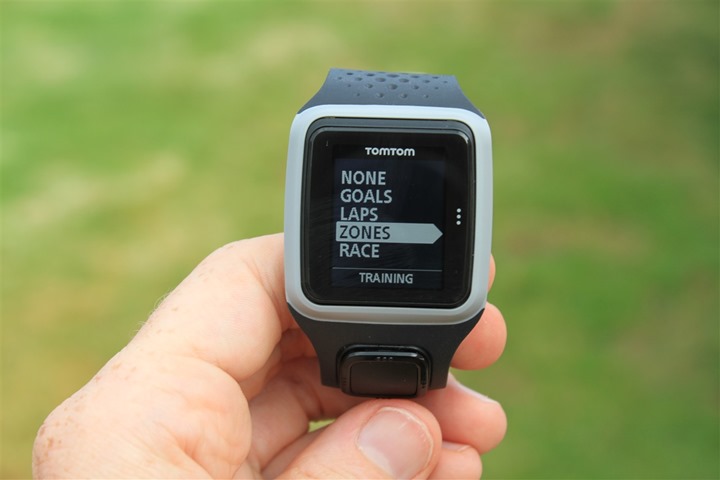 Zones mode allows you to create a 'target zone' during a run, and then receive alerts based on your performance against that target.
You can configure zones for either pace or heart rate.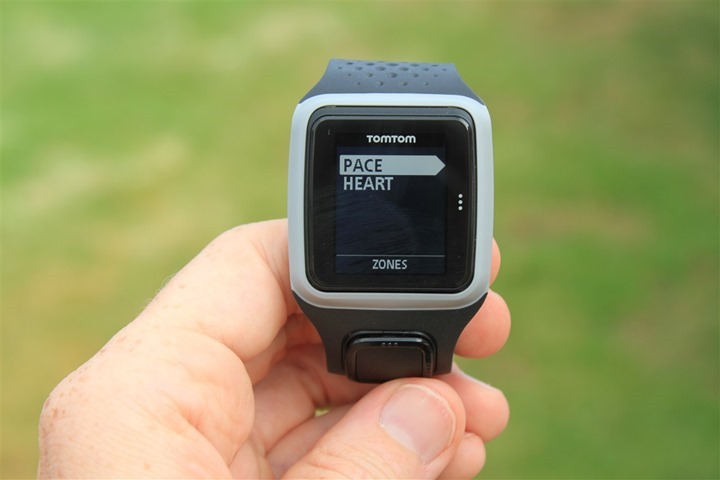 When configuring a pace goal you'll specify the goal pace (i.e. 7:30/mile), and then you'll specify the +/- factor – in my case I set it for +/- 20/secs a mile. This allows you to fluctuate slightly above or below the goal.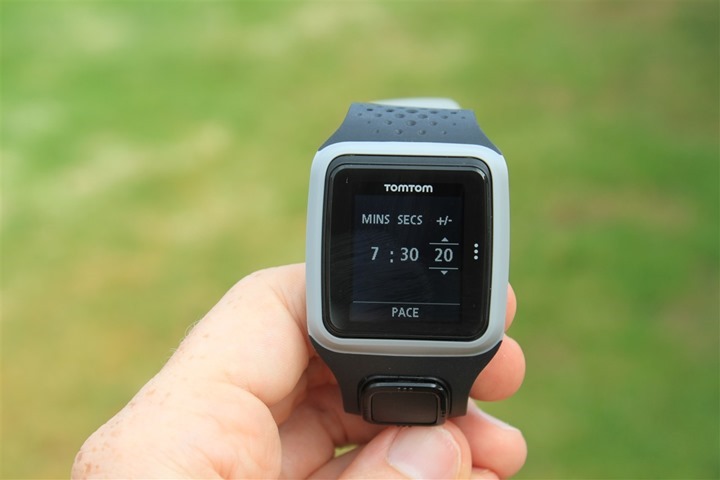 It works the same for heart rate as well.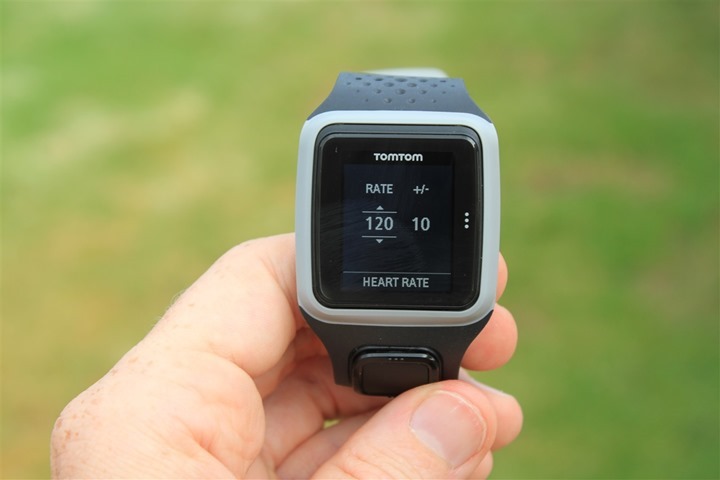 While running, you'll receive alerts if you go below the target zone, in this case, in the form of an arrow: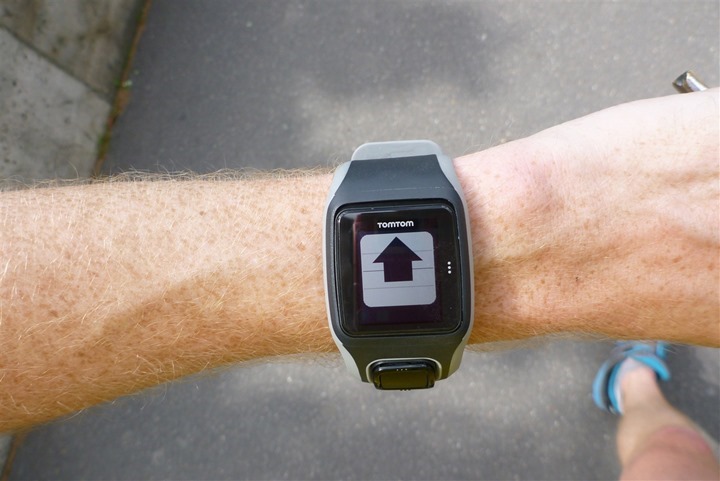 And once you're back in the zone, you'll receive a target icon that denotes being back in the target zone.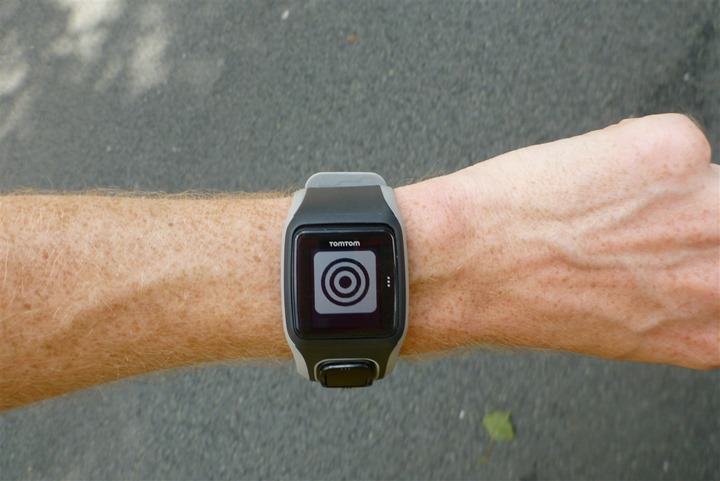 In addition to these notifications, you can also enable the zone chart by pressing the right button: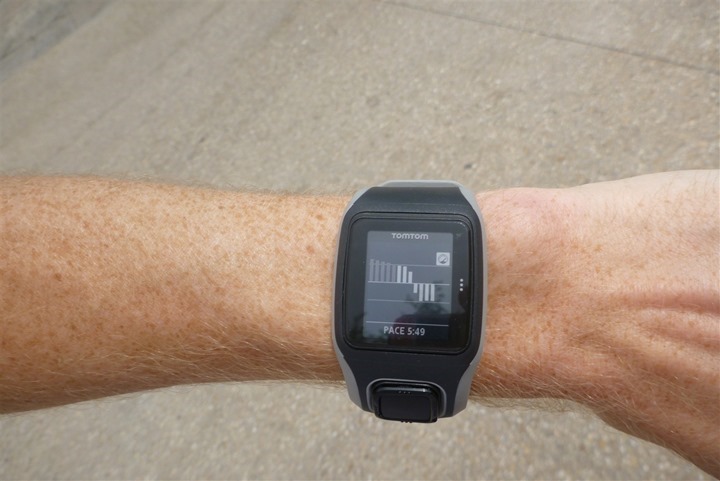 This will show my pace in the form of little lines, sorta like a bar chart. You can see as I shifted my pace, the lines went down lower, below the 'target' pace line.
Race Mode: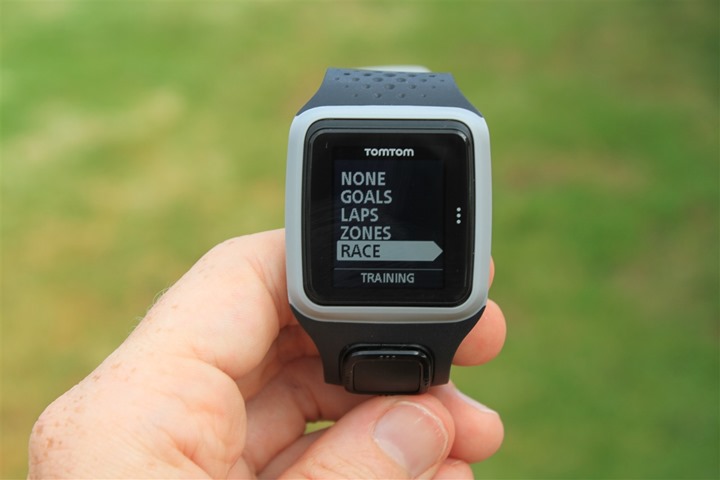 Finally, Race mode. Race mode enables you to virtually race against past performances on your watch. By default, the unit comes preloaded with a handful of times to race against. These times become displaced as you run and create history within the watch.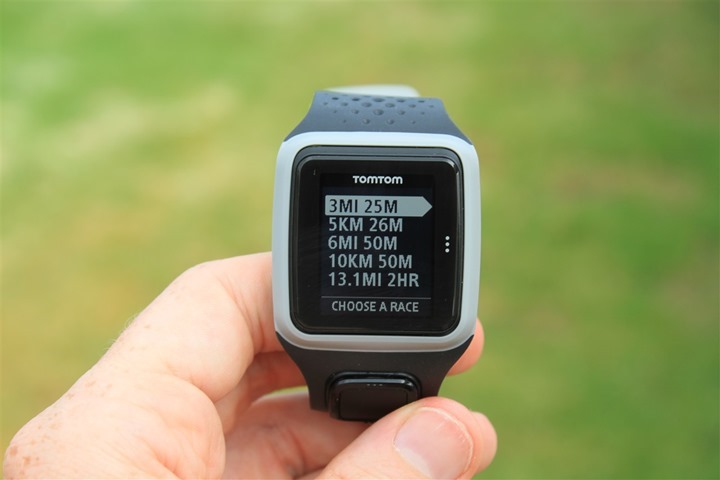 In race mode it'll display a little roadway showing how far ahead or behind you are, as well as how many miles are left in the race.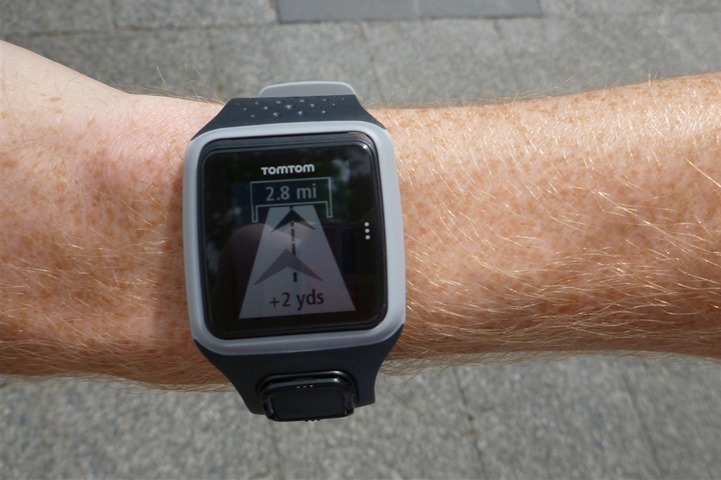 When you overtake the historical pace (race pace), you'll get an indicator that you're now in first place.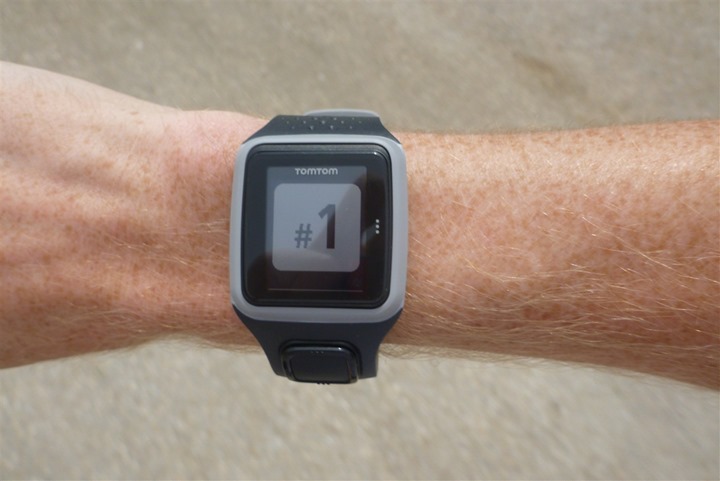 When you fall back, you'll get a warning that you're now in second place: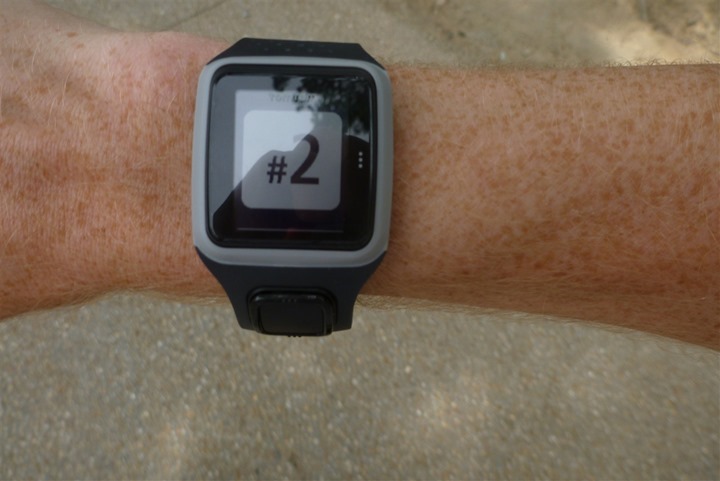 Cycling: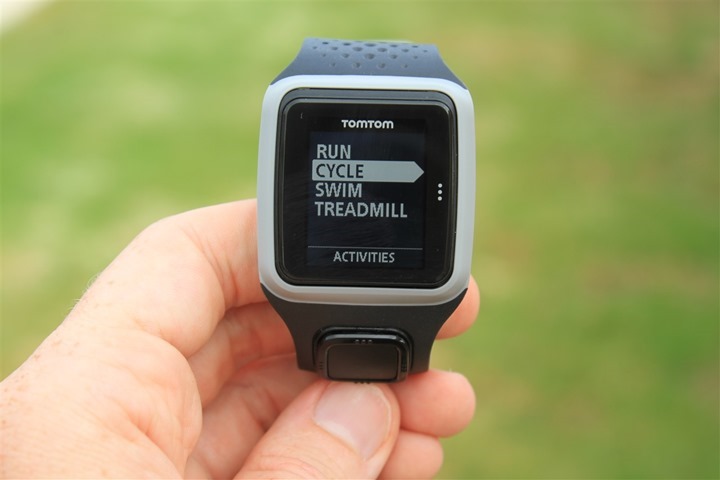 Cycling mode is only offered on the Multisport watch, and will not appear within the Running watch. Cycling mode is in many ways very similar to running from a modes and functional standpoint.
Like running, to start an activity you'll begin with finding satellite signal and sensors.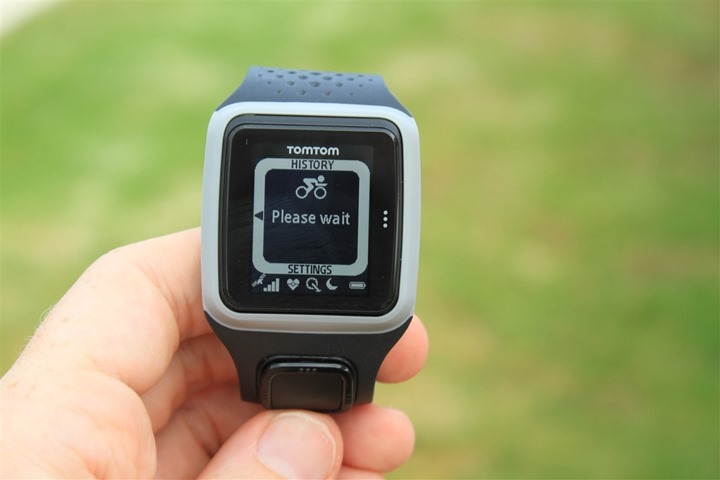 The difference is that here we have the option of utilizing a Bluetooth Smart Speed & Cadence sensor. You'll need to enable the sensor beforehand in the Sensors menu under settings. There won't be any confirmation at the time you do that, instead, you'll have to wait until you go and start your activity.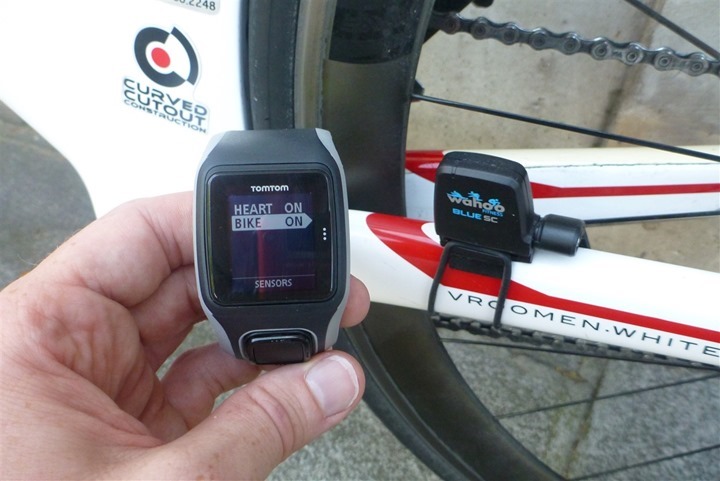 Note that it's super-important that you configure your wheel size correctly if you have a speed/cadence sensor. The TomTom unit will NOT use GPS to determine speed or distance if you have such a sensor, and instead utilize the sensor. By default, this data will likely be wrong, because your wheel size will likely be incorrect.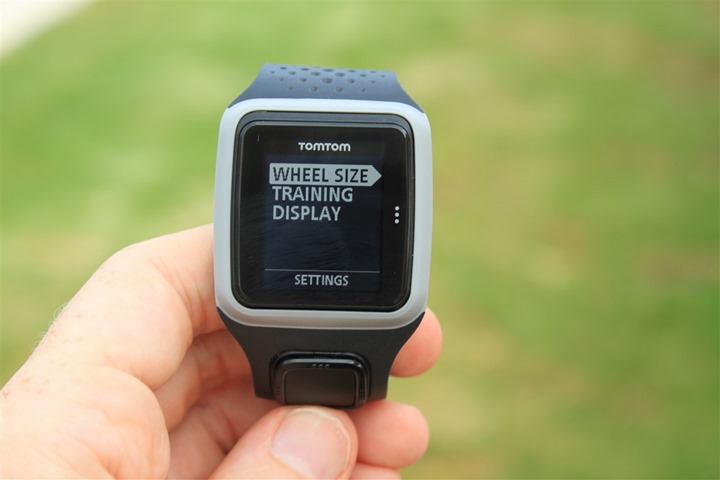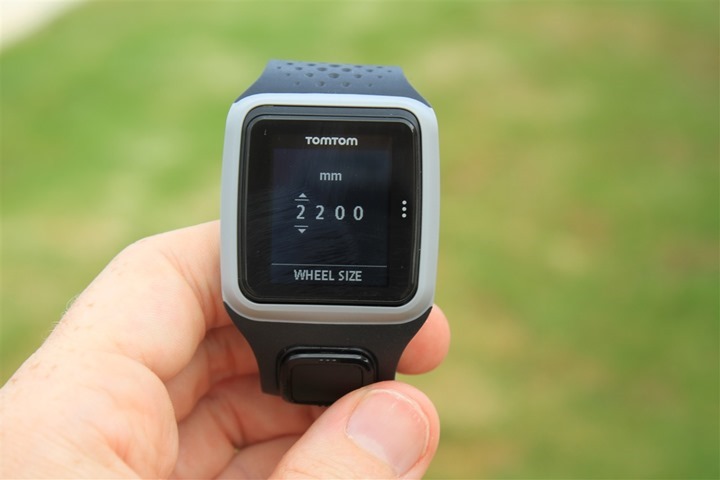 The cycling mode includes additional data fields that aren't available in other modes, primarily around ascent and cadence:
Here's the total listing of data fields that you can display/configure in cycling mode:
– Clock
– Duration
– Distance
– Speed
– Avg. Speed
– Cadence
– Calories
– Heart Rate
– Altitude
– Ascent
Note that there are some minor changes to a few of the modes. All logical ones based on having different metrics. For example, within the Zones mode, you'll now have Speed instead of pace.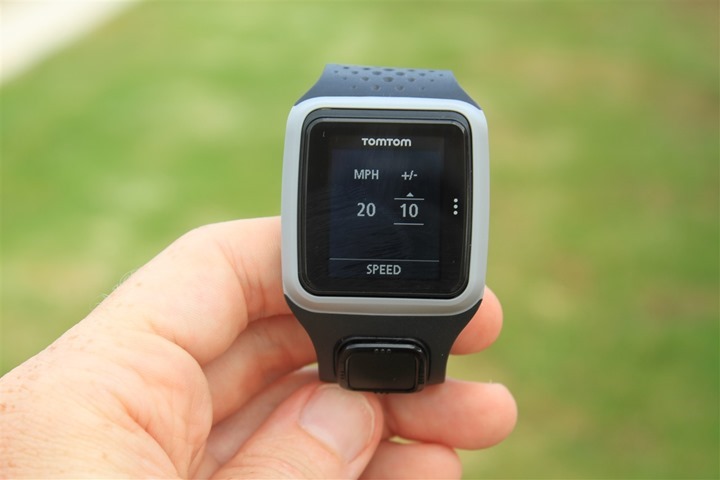 Additionally, you'll see cadence displayed as a target zone as well.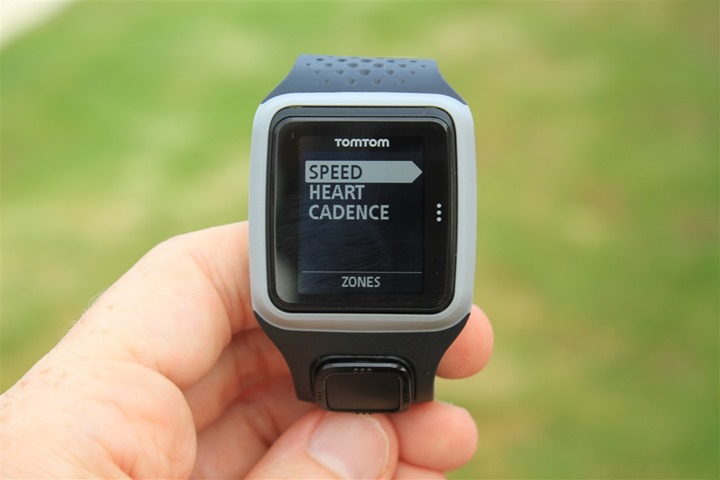 Also note that TomTom is including a bike mount with the Multisport unit. It won't work for triathlon bikes, but will work on regular road bikes:
So in my case, I just wore it on my wrist instead: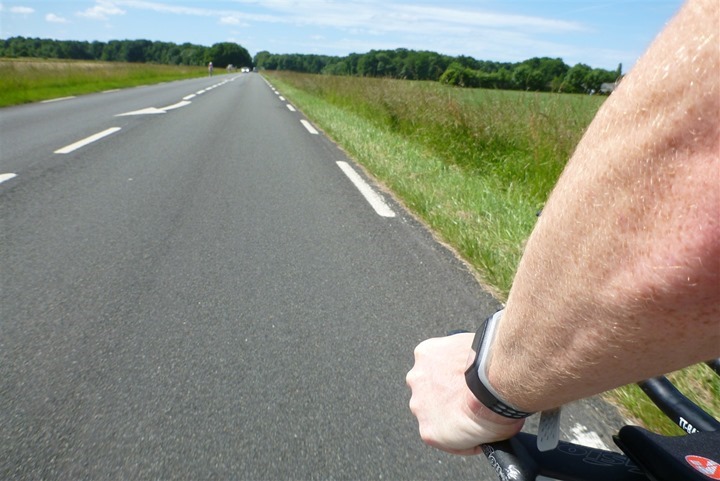 While you can't really see the data on your wrist normally on a tri-bike, if you rotate your hands up, you can see it. In aerobars, the challenge is pretty much the same.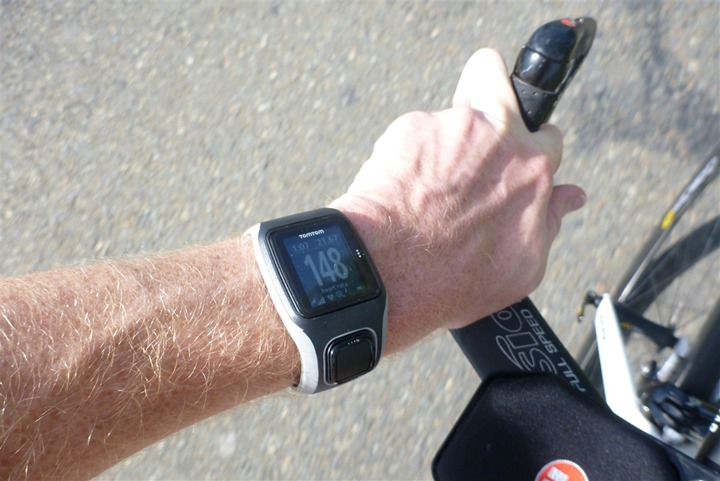 Upon completion of your ride, you'll receive similar data on the site (which again, I'll dive into more later).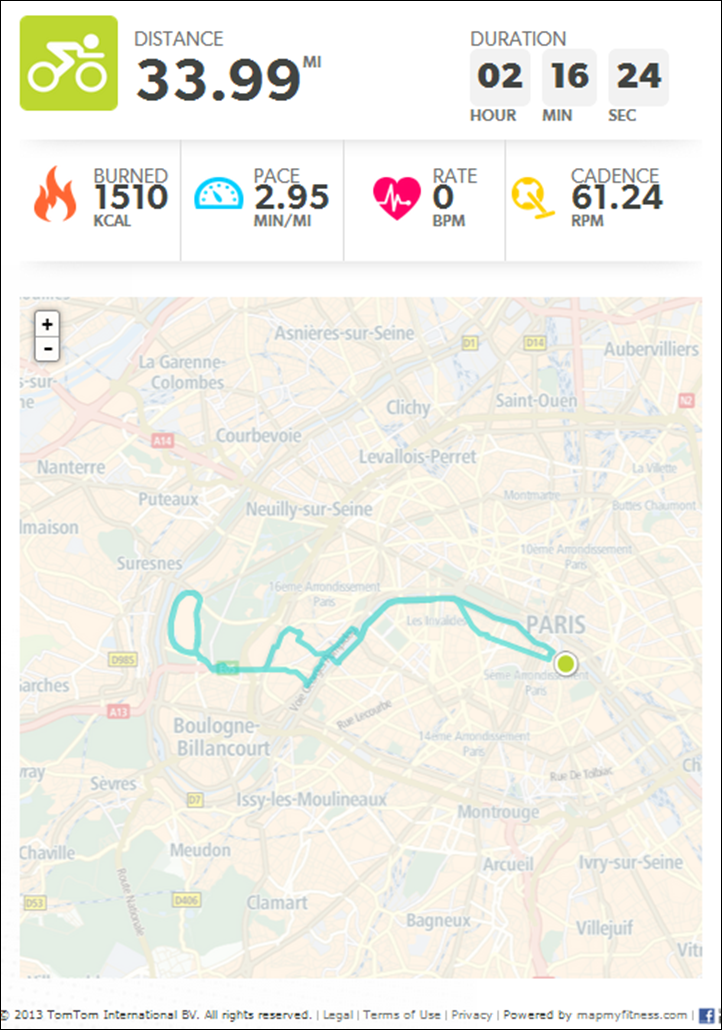 Beyond the additional cadence/altitude data fields, the unit works exactly the same as in running. It would be interesting to see TomTom look at adding support for Bluetooth Smart power meters, such as the Stages Power Meter. They would be the only watch out there to do so.  Interestingly, only a handful of watches today would even be capable of enabling that scenario, they include the Garmin Fenix, Motorola Motoactv (discontinued), the Leikr GPS (not yet available).
Swimming (indoor/pool):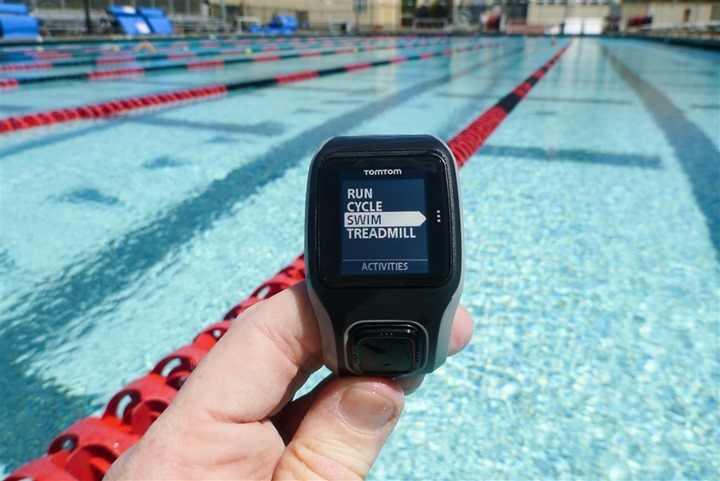 The Swimming functionality is part of the TomTom Multisport unit, and is not included in the Runner edition. As of this writing, this section is still somewhat heavy in beta, thus some aspects may not be finalized yet. So consider this more of a preview than the 'end-all-be-all'.
Once you're ready to begin swimming you'll tap right into the swimming activity. The TomTom unit is using accelerometers to measure distance within a pool, and thus won't be using the GPS. At present, the TomTom Multisport unit only supports pool swimming (not openwater).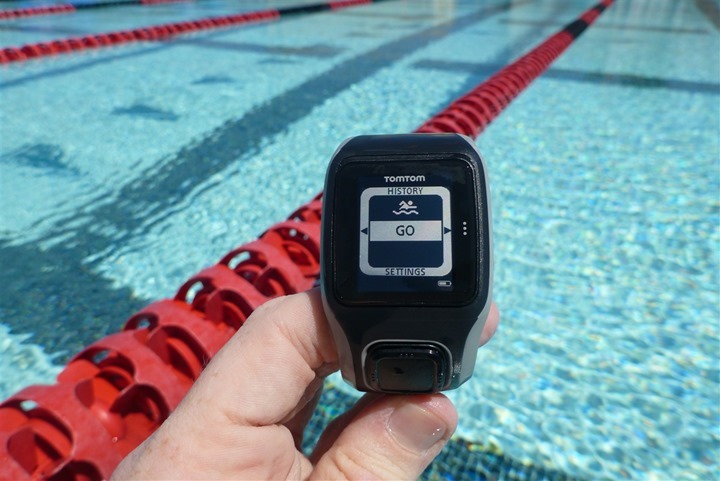 You'll need to setup your pool size prior to starting. This enables the unit to accurately track distance.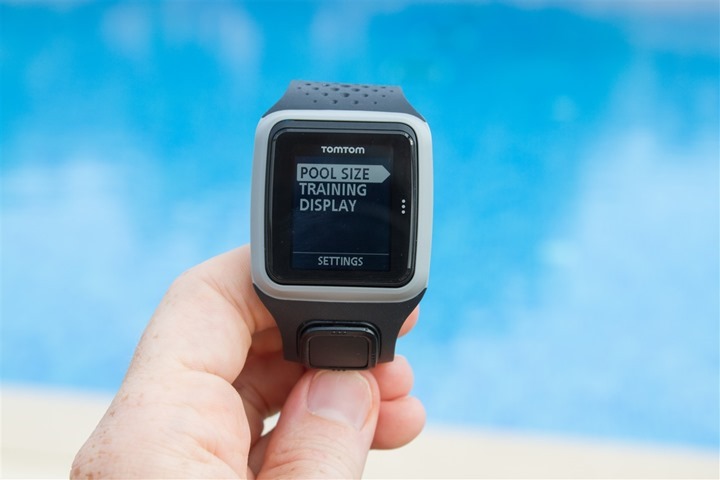 Currently pool sizes can be modified from 15m to 50m in length. Within the beta, there is not yet a 'yards' option.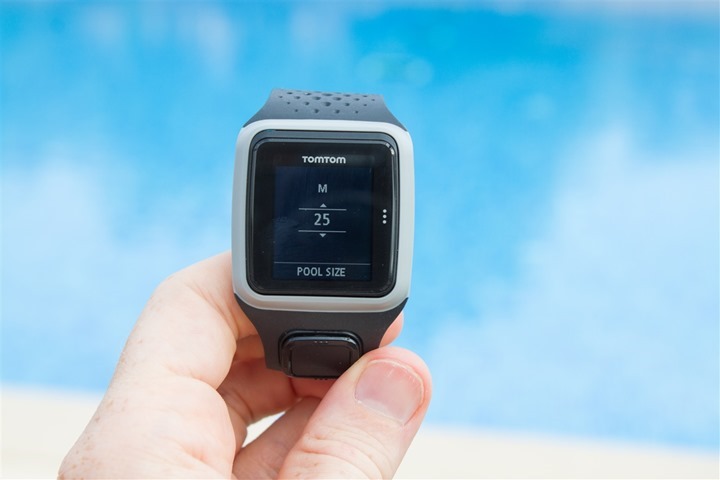 Currently on the unit you can customize the following display fields:
– Clock
– Duration
– Distance
– Lengths
– SWOLF
– Strokes
– Calories
Once you're ready to begin swimming you'll tap right again to start the counter. While swimming you'll get distance and time information display along the top (assuming default fields), though you can modify both of those based on the fields above.
Additionally, just like in running and cycling you can iterate through the different data fields by pressing up and down. For example, you can see lengths displayed here: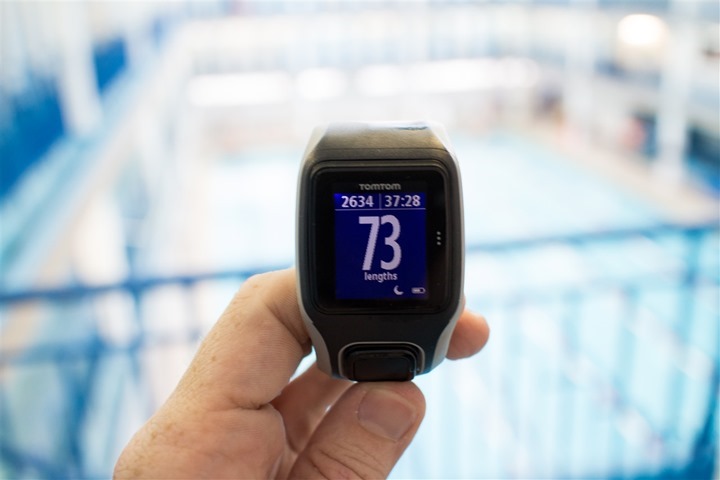 Or distance, as shown below. The distance on my unit looks a bit funky because it's a 33-meter pool, being displayed in yards. Thus it's not going to be any of the pretty round-numbers you're used to in 25/50 m/y pools.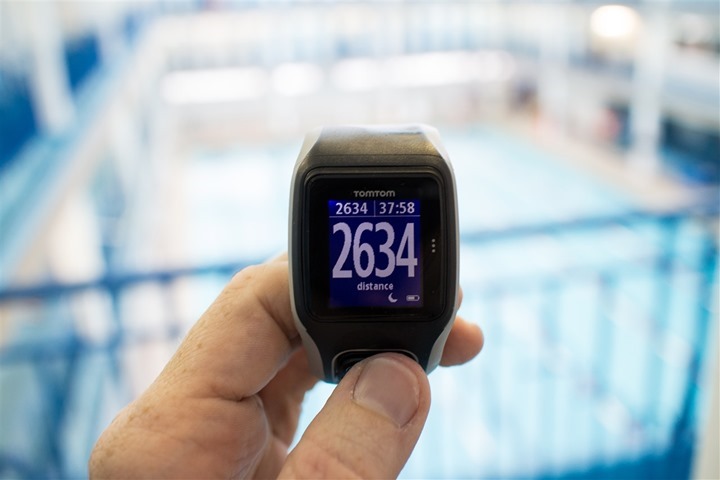 You can pause the timer by pressing the left button, which will show your current totals.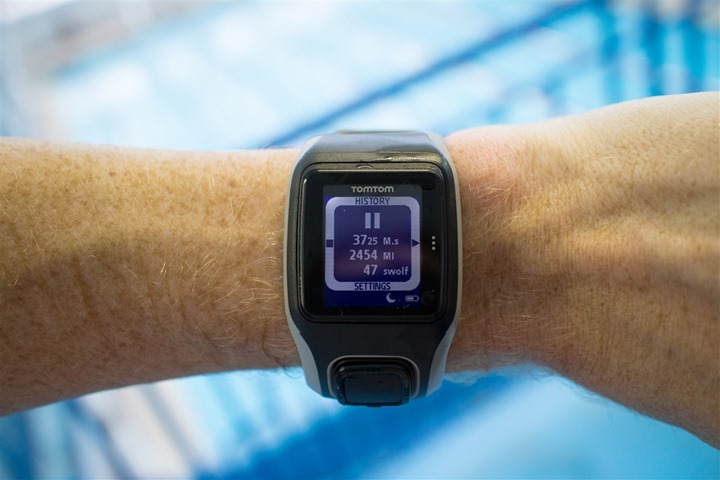 Right now the swim functionality is best described as 'under construction' From an accuracy standpoint I found it spot-on with the Garmin Swim I use, aside from an initial beta bug with a starting counter (the starting value was elevated). But from a lap by lap standpoint it updated a few meters after I pushed off the wall and the lengths were incrementing exactly the same as both the Garmin Swim and my actual counting.
There's no issues with either flip turns or open-turns (non-flip), as I routinely have to mix both turn types up given my crowded pool. There's also been no issues with accelerations mid-lane either.
Treadmill running with internal accelerometer: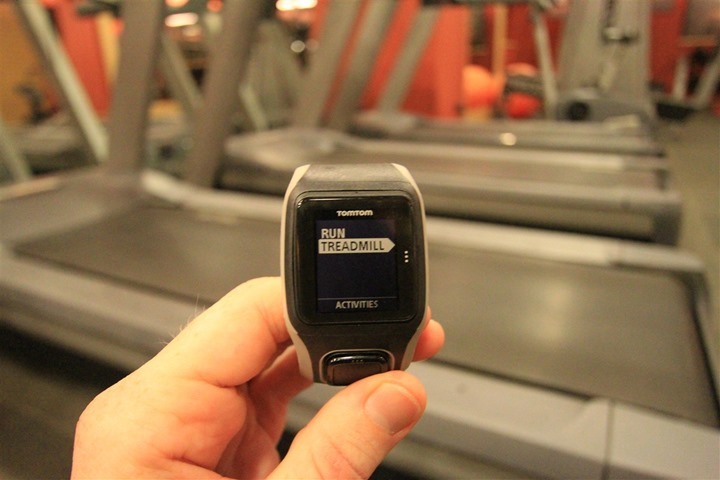 The TomTom watch isn't the first unit on the market to offer indoor pace/distance data without requiring a footpod. In fact, there's been a number of watches over the years, with mixed success. The TomTom includes a 3D accelerometer, which enables it to not only recognize swimming strokes, but also estimate running distance without the GPS or a traditional footpod on your shoes.
In my testing with the unit inside, it generally fared well. It's really important to note that treadmill accuracy (that is, of the treadmill itself) is actually quite variable. Just like other machinery, treadmills do actually need regular maintenance and calibration. Various gyms and hotels have different practices for doing so (read: most never do), thus, I would take any accuracy numbers with a gigantic boulder sized grain of salt.
In one example below, I did a roughly 1hr 23m run on a treadmill. I started the TomTom watch at the same moment that the treadmill started moving. And then stopped it at the completion. Because it was a typical hotel gym treadmill, it did forcibly stop me at 60m to reset itself. Thus I have two numbers to add together. I was very good in ensuring that the two distance systems (treadmill and TomTom) were stopped/started at exactly the same time.
I found that overall, the device tracked quite well – especially once I was up to normal speed. What was interesting though was that the first 1-2 minutes I saw the most variation. Meaning that after two minutes I was .05 miles apart. Yet, after that, I only 'drifted' about .00 to .01 per mile until the completion of the first 60m. Then again, as I restarted the treadmill I saw the same .05 differential occur, before evening out. My pace for the first 75 minutes was pretty hard set at 7:30/mile, with a slight decrease in pace around the 50-55m marker to 7:45/mile. The last 8 minutes were a series of sprints up to 5:30/mile.
The total treadmill distance was: 10.85mi (7.85mi + 3.00mi = 10.85m)
The total TomTom distance was: 11.18mi
Here's the resulting photo: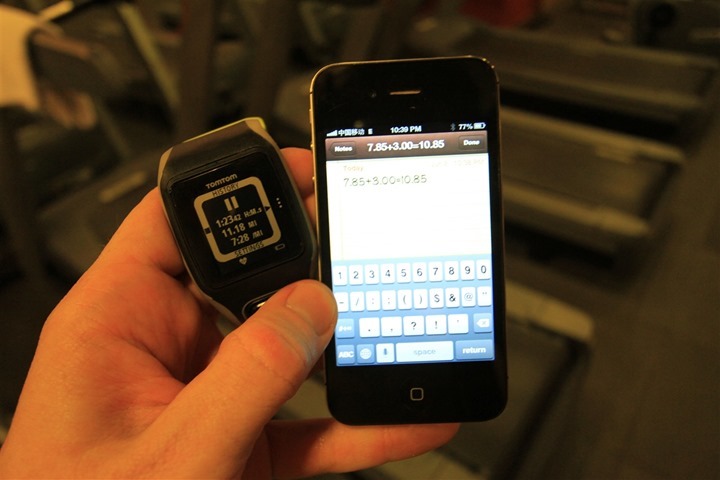 Now, that's not bad, but I was curious what specifically was causing the gaps to increase or stabilize. My next treadmill workout made it painfully obvious. In this workout, I spent the first 15 minutes mostly at a 7:00-7:30/mile pace. During this section everything tracked spot-on. It got a little bit lost in the first minute as it ramped up – causing a .02 difference, but after that, it stuck right on until I hit the 15 minute marker.
At that point, I started doing faster intervals – with the treadmill set for 6:00/min/mile. This is when I started seeing the gap widen. About .02-.04 per mile. This caused me to suspect it wasn't accurately capturing the faster running – and in fact, looking at the pace, I saw exactly that – an offset.
Now, the real separation came towards the very end of the workout with more of the sprints I did the first night. In this case the treadmill was set for 4:50/mile – yet while running at this pace the watch never showed lower than 6:45/mile – a massive difference. Ultimately, resulting in this: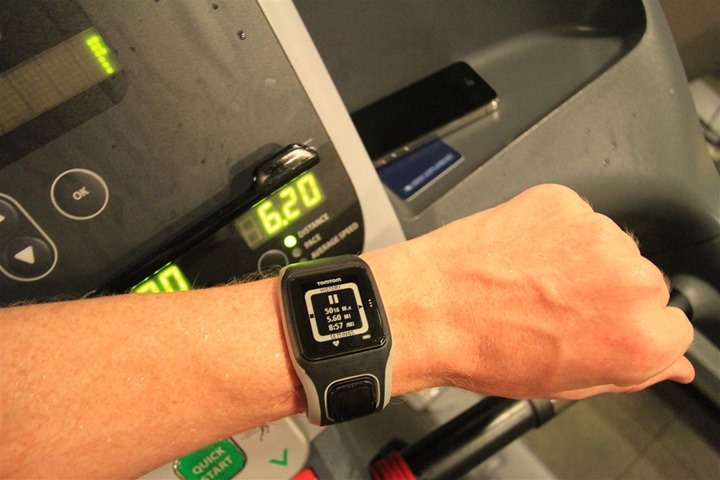 On the flip-side, while I was doing the cool-down and walking, it was spot on at 20:00/min/mile that I had it set for.
Once completed, you'll get your summary information and a pace graph online: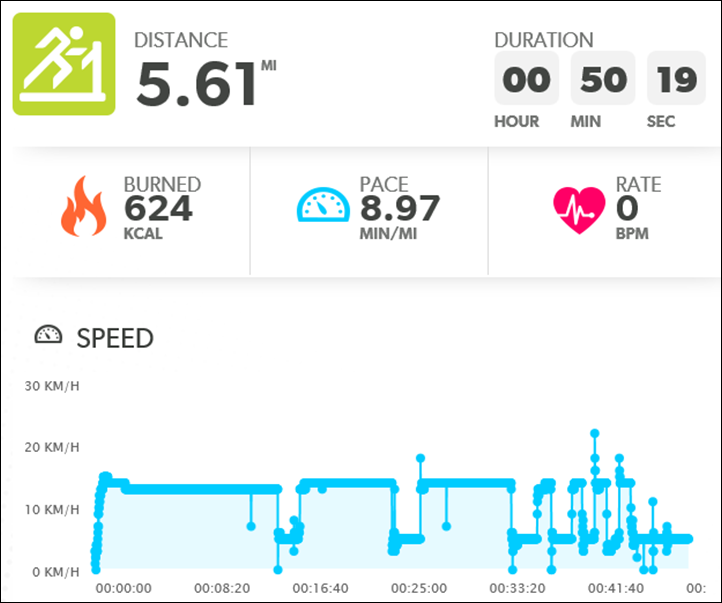 Looking at the longer treadmill run I did (below), you can see where this was one that I largely just went into 'set it and forget it' mode. You see the pace is near perfect across the entire length of the run. However what's interesting actually is those brief 'drops'. Any guesses on what that is?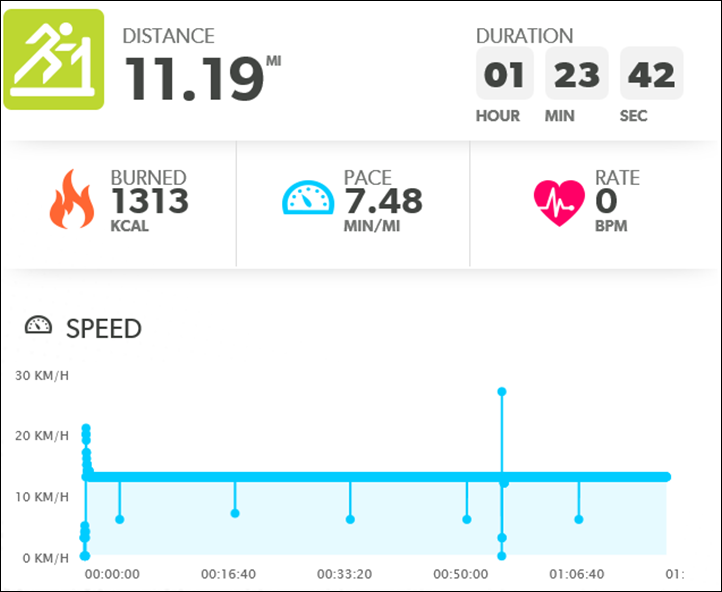 It's actually me grabbing the waterbottle and taking a drink. As you can see, because the speed is dependent on my wrist movements, changes to that can and will impact your running.
Now, in the last week they've added a calibration option, which means that post-run I can re-calibrate the run to the 'known' distance (i.e. treadmill/track).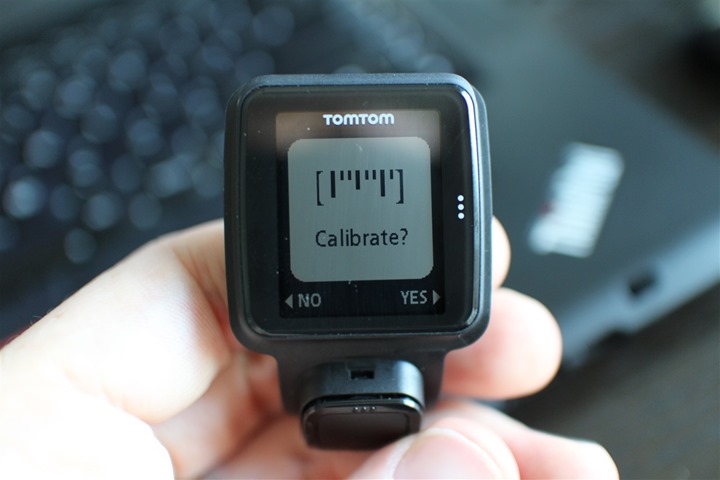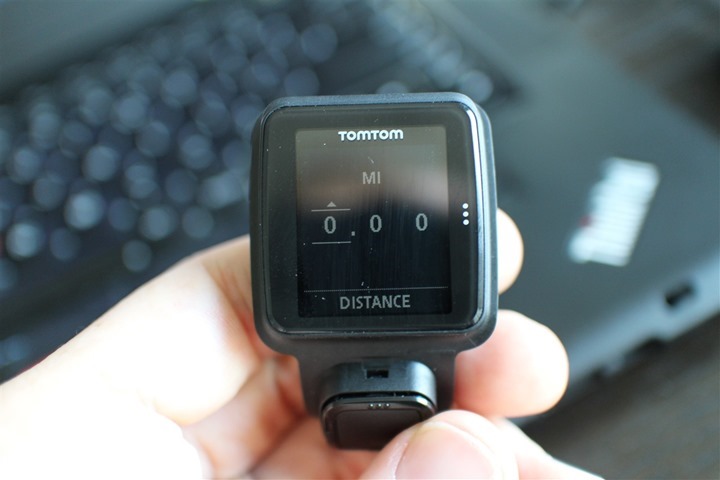 Unfortunately, I won't be able to re-test this specific portion until I access a treadmill. The good news is I have access to one mid-week this week while on a trip.
Finally, one interesting note is that despite having internal speed and distance, the unit is unable to switch from GPS to accelerometer while in a tunnel. One of my frequent running routes takes me through some tunnels (fairly long in fact), and while other units on the market will switchover automatically to footpods, the TomTom unit will just register zero pace.
Indoor Cycling/Trainers: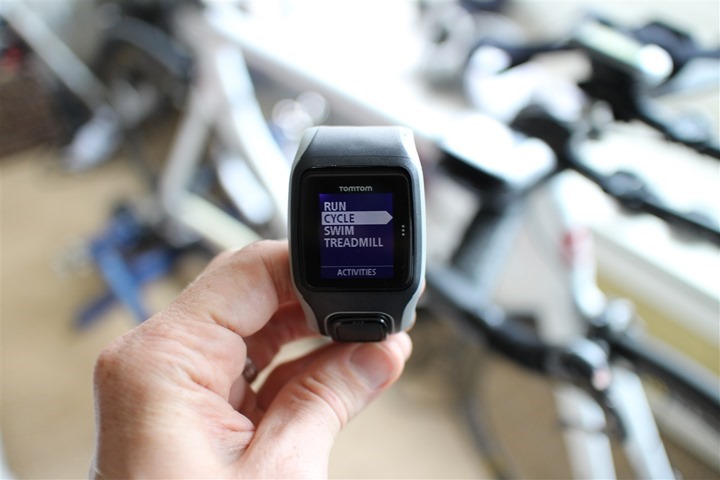 The TomTom Multisport unit supports gathering speed, distance and heart rate data while indoors on a trainer (the Runner edition does not). To do so though you'll need to get a Bluetooth Smart speed/cadence sensor. Today, pretty much the only choice on the market is the Wahoo Fitness Blue SC.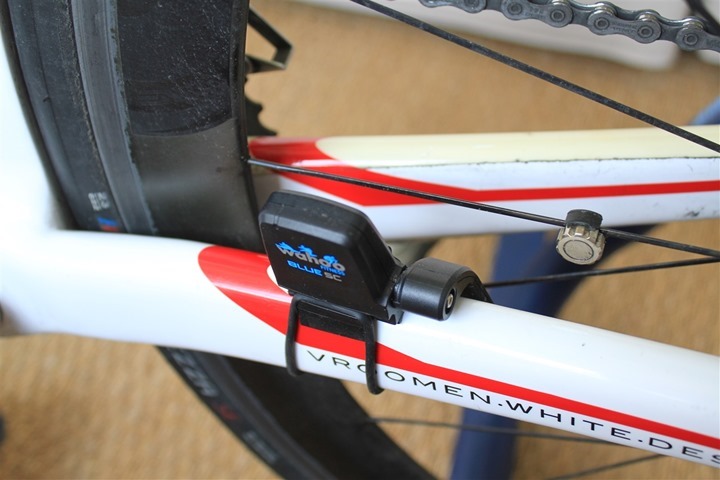 Note that while this may look like your typical ANT+ speed/cadence sensor, it uses Bluetooth 4.0 instead to communicate. Thus, any previous sensors you have won't work here.
Once you've got that all paired away (as I did already in the Cycling section), you'll be good to go. To start an indoor mode you'll just go into 'Cycling' like normal: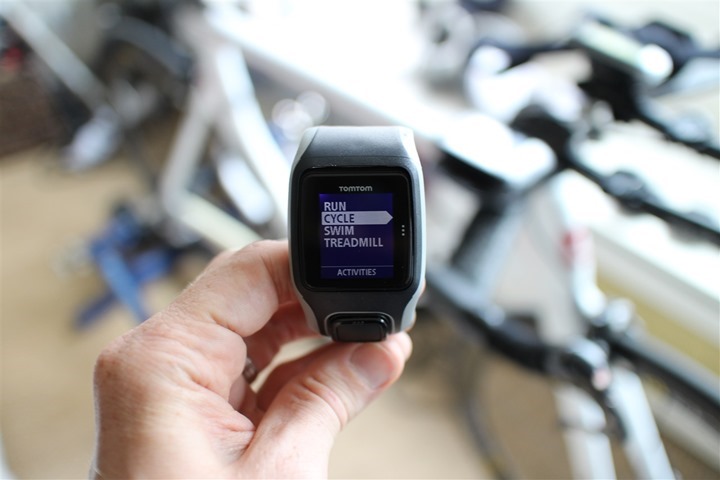 Then, once the Speed/Cadence icon appears, you're ready to begin.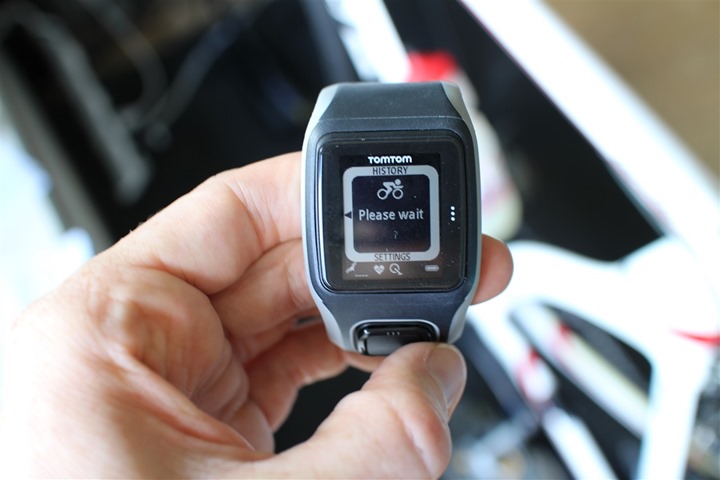 By default you can't actually turn off GPS in this mode. You just sorta start without it. You'll see above that it's otherwise still trying to find signal indoors.
Now, before you start you'll probably want to configure your wheel size. The unit requires manual configuration and doesn't do it ahead of time using GPS from outdoor riding. To access the manual configuration simply tap the down button while on the cycling screen to access settings: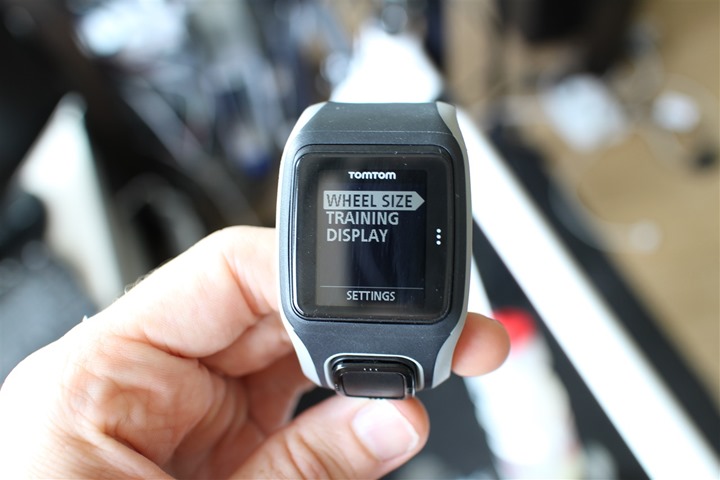 Then here you can specify wheel size (in mm):
Once that's done, you'll have accurate speed and distance. While riding, you'll see your speed and distance displayed. Note that the speed sensor will always override the GPS sensor.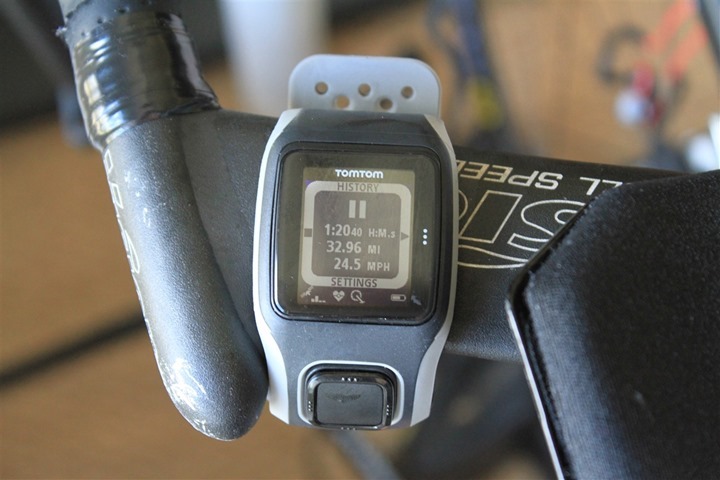 Additionally, you'll get cadence and heart rate information just like outdoors.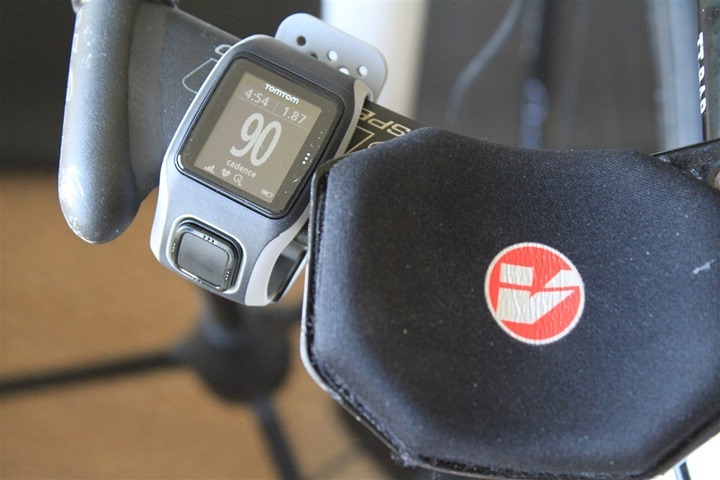 Finally, after completing your ride, you'll be able to see the same data online as well. Now because you can't turn off GPS, you'll get some pretty weird maps – basically just showing you hanging out in the same place as the GPS fluctuates: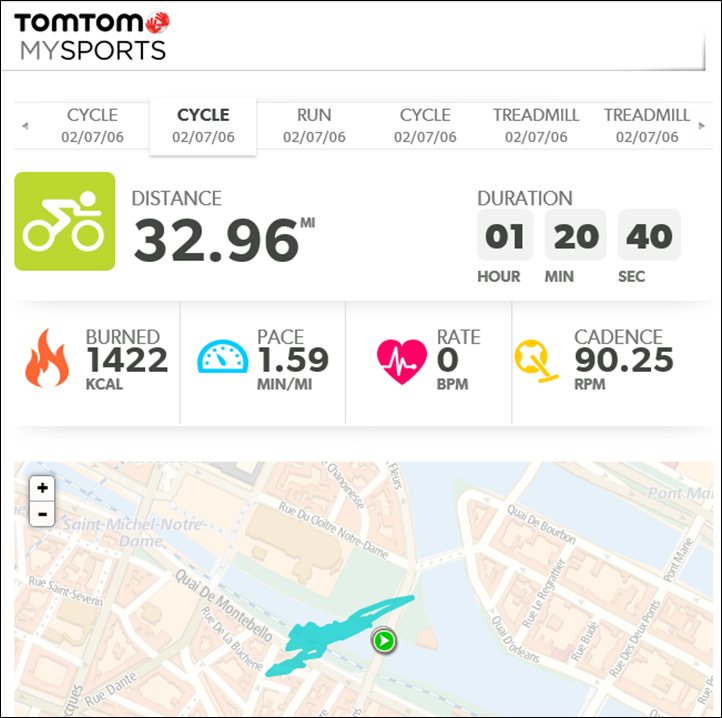 Beyond the map and summary information up top however, the site today doesn't have any further detail or graphs. That's all coming TomTom says, but won't hit until at least later this summer.
Outside the site, about the only complaint I have here is that I wish there was a way to just turn off the GPS searching. I'd assume there's a hit on battery there to have the GPS antenna on (always is), so it'd be nice to simply say "No thanks" to GPS location.
Multisport mode:
At this stage, a multisport mode isn't included within the device…yet. This means that it's similar to most non-multisport GPS watches in that if you wanted to use it in a race, you'd need to stop a given activity in one mode and then start a new activity in a different mode. This isn't ideal, but I don't think it's actually a show-stopper. Because of the incredibly quick GPS acquisition this unit has over other units, taking just a couple of seconds while you're racking your bike or putting on your helmet to have it restart to a new mode won't really be an issue.
To show how quickly I'm able to swap modes, here's a quick video:
As you can see, it's not as simple as a one-tap operation like true multisport watches, but it's not horrible either.
In talking with the TomTom team, they're aware of this limitation (especially given the Multisport unit is basically targeted at…uhhh..multisport athletes who might actually race). They do plan to address it, but they don't have a specific timeline to do so.
Bluetooth Smart functionality and compatibility: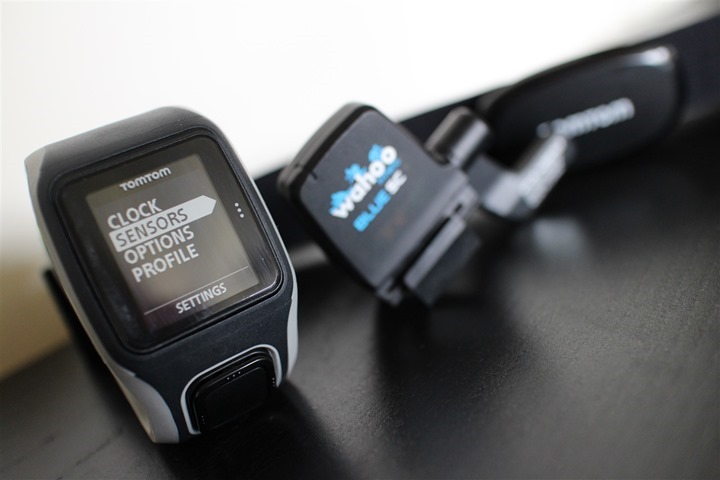 Bluetooth connectivity in fitness devices and apps today is largely focused on two areas: Connecting to your phone for data upload, and connecting to accessories such as heart rate straps.
The TomTom watch is the 3rd watch on the market to offer Bluetooth Smart compatibility (behind the Motorola Motoactv and the Garmin Fenix). Only the Motorola Motoactv offered any sort of Bluetooth Smart accessory functionality though, as the Fenix solely uses Bluetooth Smart for connecting to phones (the Motoactv did both).
Within that context the TomTom unit today focuses on connecting to accessories, and today that's limited to the Bluetooth Smart heart rate strap and Bluetooth Smart cycling speed & cadence sensor.
The device conforms to the standards for connecting to Bluetooth Smart devices per the established fitness device profiles for both types (HRM & SPD/CAD sensor), thus you're able to use any company's strap or cadence sensor as long as it's Bluetooth Smart. On the heart rate strap this includes a myriad of options (in addition to TomTom's own option), though the most popular being the Polar H6/H7 straps, and the Wahoo Fitness Blue HR straps. On the speed/cadence sensor side, this is really just limited to the Wahoo Blue SC speed/cadence sensor.
Note that the TomTom units are NOT ANT+ compatible. This means that any accessory you have from a Garmin device or the like are not compatible. Nor is it Polar compatible (except the H6/H7 straps, which are clearly labeled on the front as such). Nor is it regular older Bluetooth compatible (must be Bluetooth Smart). And finally, it's not Nike+ compatible (straps or footpods).
Update – Winter 2014: TomTom has added the ability to sync from your phone directly to the TomTom Runner and Multisport watches.  Here's all the details in this post.
Backlight & Day to Day Watch Mode:
The unit features a backlight that can be turned on or off by tapping the screen. It illuminates pretty well and I didn't have any problems on any of my night runs or tunnels in viewing it.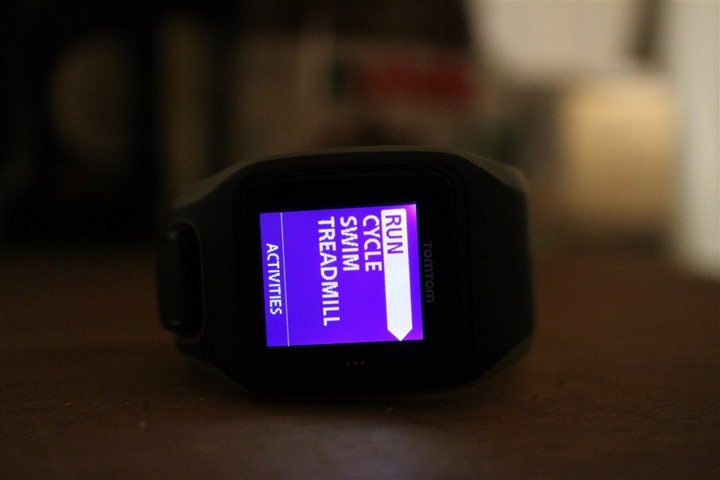 There isn't much in the way of configuration for the backlight however, it's just sorta an on or off kind of thing.
In addition to the backlight, the unit can be used as a day to day watch without any problems. You can swap between 12hr and 24hr time, as well as specify the date and time. It will not by default show the correct time based on time zones and your current location. But, the TomTom software on your computer will however change it to the current computer time when you connect the device.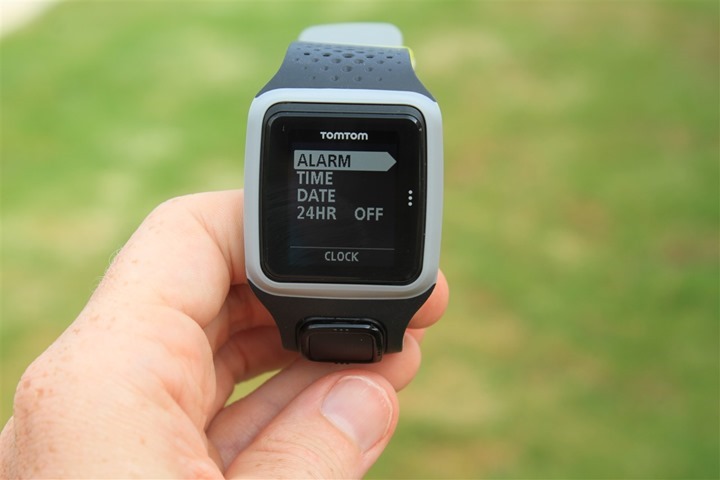 It includes a single alarm that can be set. There are no further customizations to the alarm options.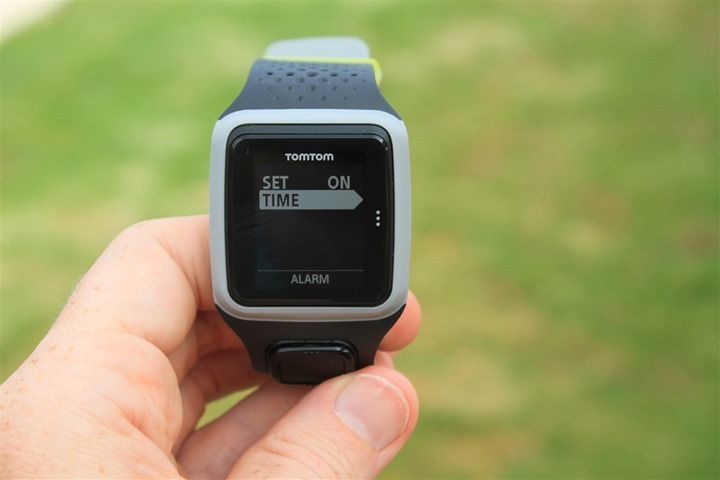 When the alarm triggers, it'll vibrate and beep for two minutes.  You can press snooze as well.  Here's a little video I shot showing it doing it's alarm buzzing thing – including dancing around on my desk.
Downloading Data: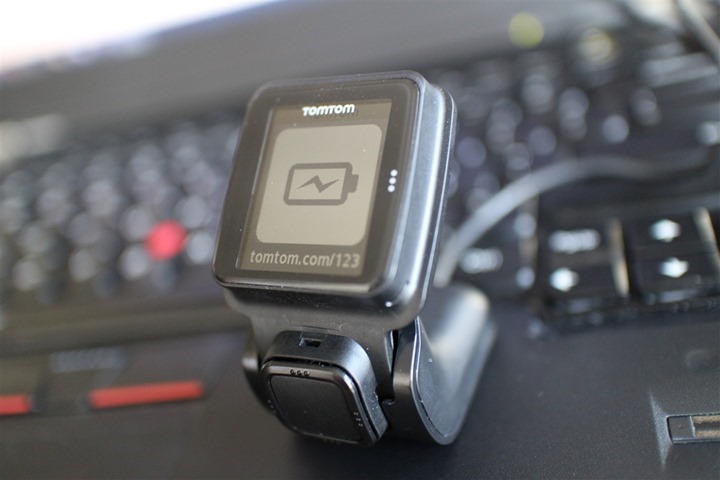 One of the primary reasons you'd buy the TomTom units over cheaper units would be the ability to upload your workouts upon completion. You'll first need to download the TomTom software, which acts as a device agent/connector to the website. Officially called the TomTom MySport Connector, it acts as a way to set some basic settings on the watch, but primarily it uploads the data to the TomTom site as well as various 3rd party sites and can export files as well (more on that later).
The first thing you'll do when you connect the unit to the computer for the first time is setup an account, and setup/name the watch. What's actually cool here is that you can utilize two different accounts for different watches, all while sharing the same computer. Each watch is paired to a unique account online, and the computer just knows based on the watch which account it goes to.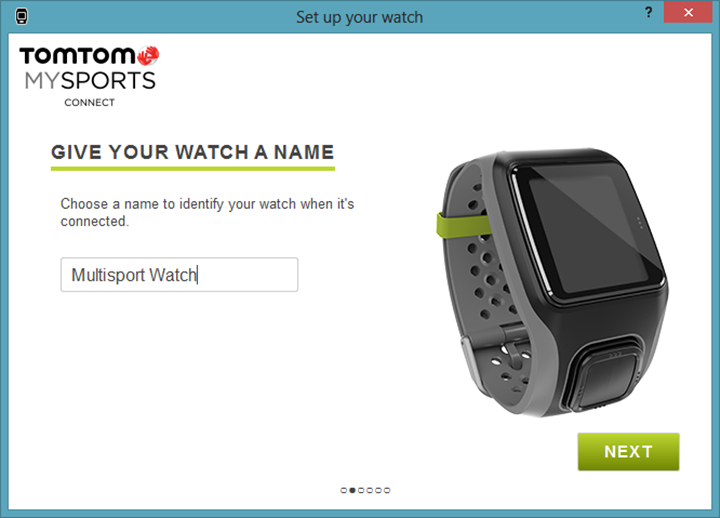 You'll then be brought over to setup your watch with the online site – MySports – which is where you'll analyze the data.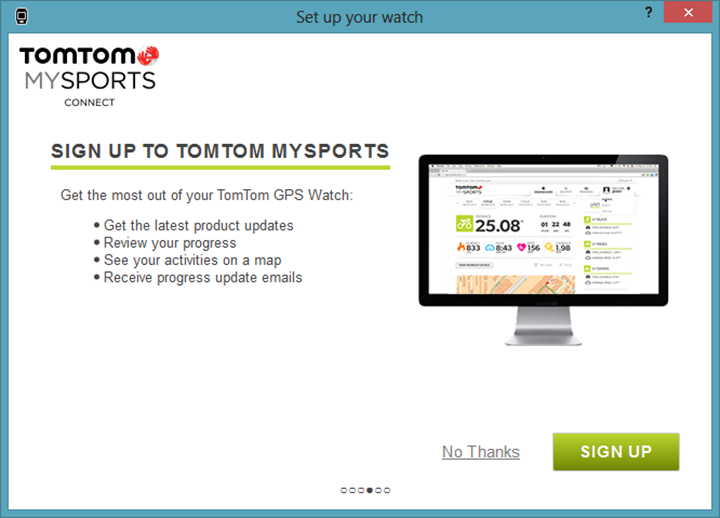 It only asks a few questions, and can also be linked to MapMyFitness accounts as well. Once that's done, you'll be ready to go!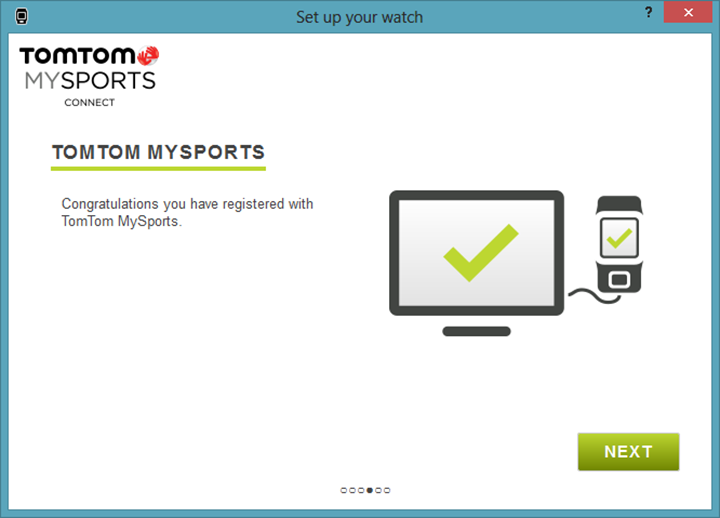 This will bring you to the main device screen (this is the local software we're talking about, not the site). It's here you'll see the software version, product ID, and watch name.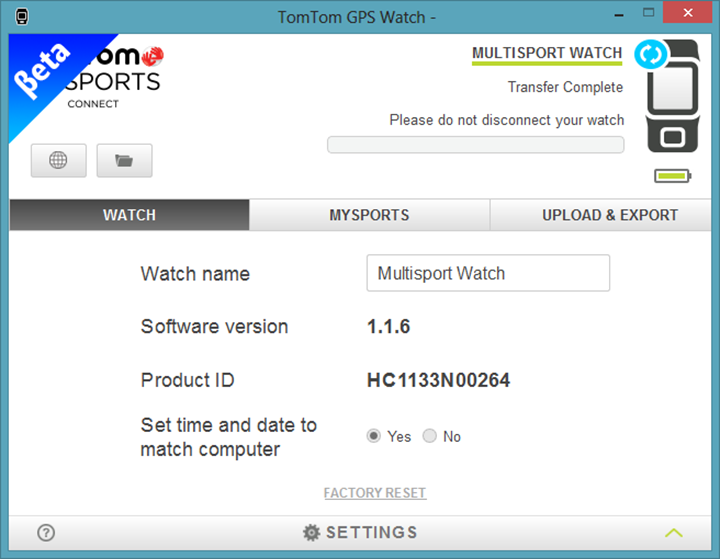 If I click on the 'MySports' tab, you'll see that it's connected to an account, and that it'll automatically open my browser and show my activity after completion.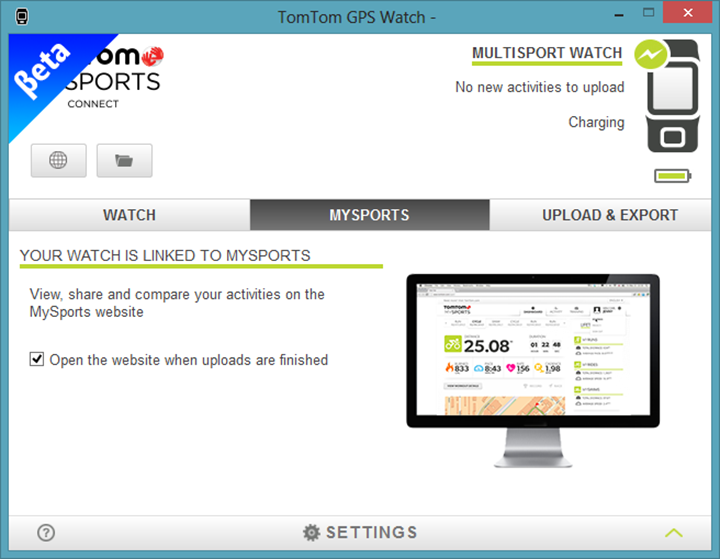 Finally, on the Upload & Export tab, I can configure various 3rd party services. Again, I'll dive into that in a later section.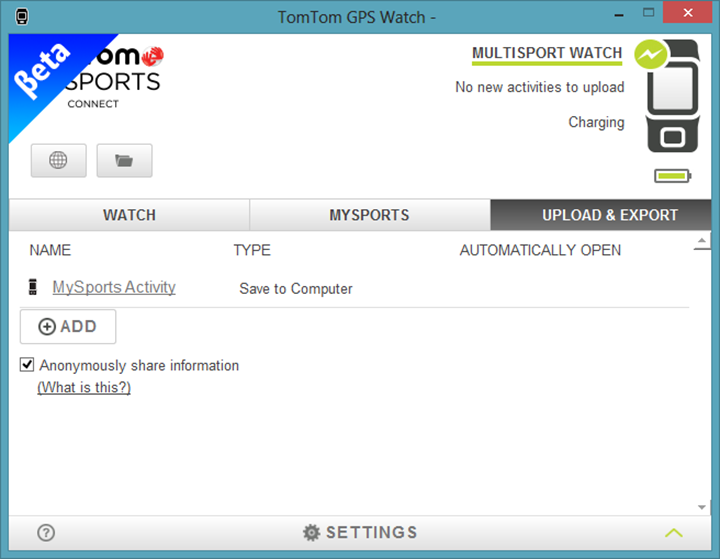 When I plug the watch into the computer it'll automatically transfer my files to the site. It's pretty quick and simple, taking only a few seconds.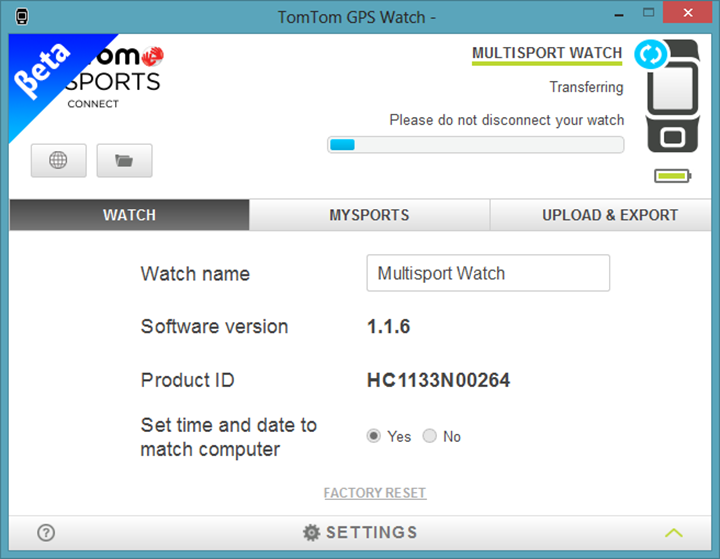 Once it's complete, it'll continue to charge the unit and show the battery state. With that, let's go to the site to check out the activities.
Analyzing data on TomTom MySport site:
Once you've uploaded an activity, it'll appear on the MySport site. The TomTom MySport site is a free site that's powered by MapMyFitness (same folks that bring you MapMyRun/Ride/etc…). TomTom worked with them to leverage their infrastructure for the site, enabling the TomTom folks to work on the watch. Unfortunately, as you'll see, things aren't so great here for early adopters.
Here's what you'll see once you've uploaded your run/bike/swim: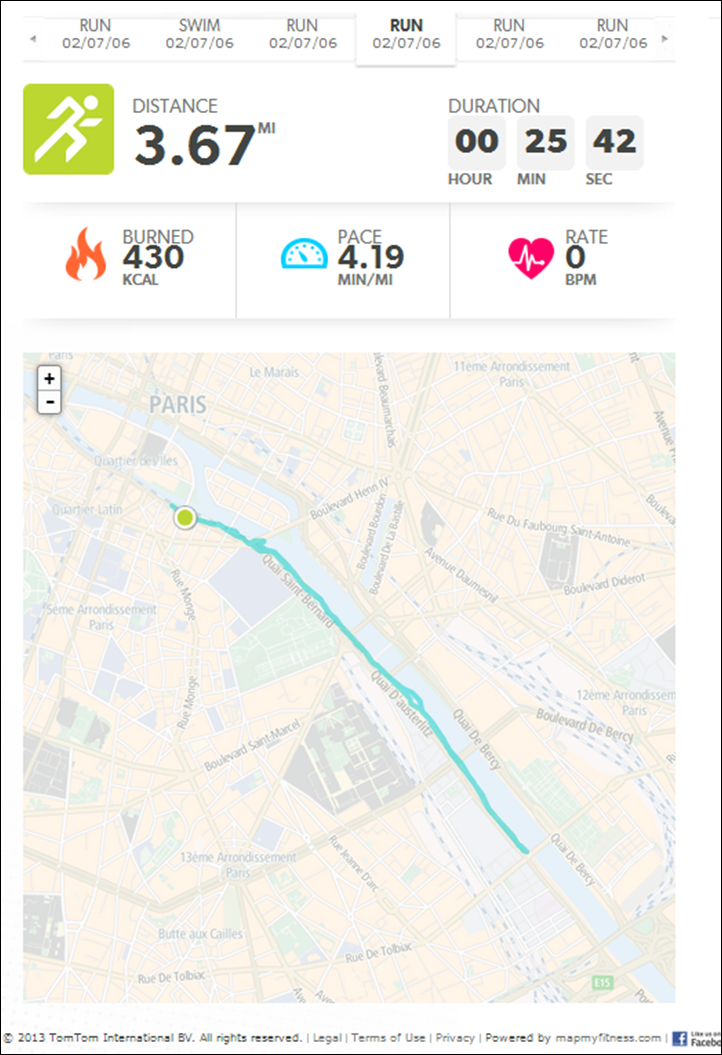 At the top you've got high level dashboard stats – essentially summary and averages: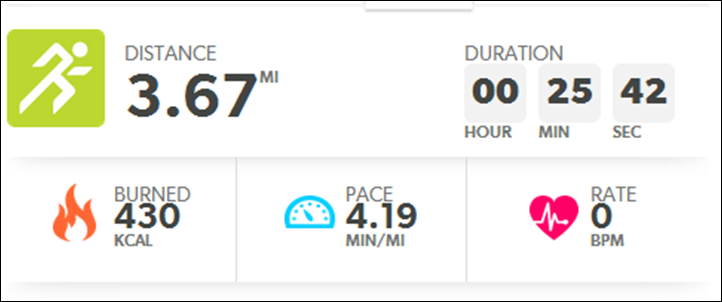 Next, you've got the map: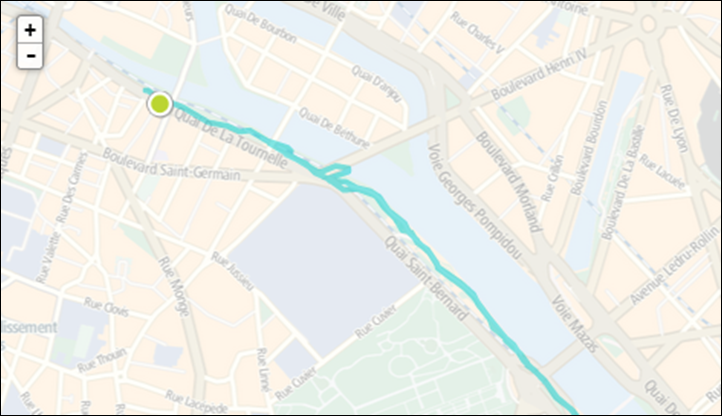 And that's it. In the case of a treadmill or swim workout, or any cycling workout where GPS couldn't be found, you'll also get a graph instead of the map: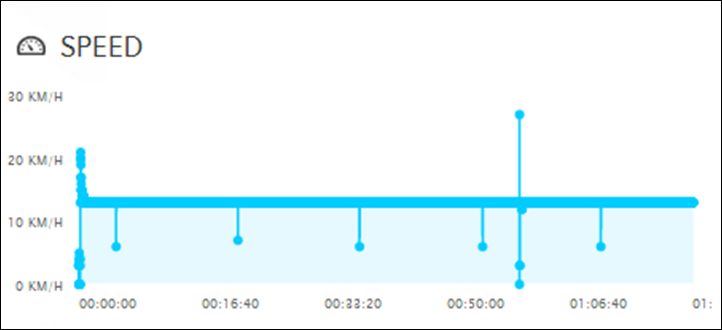 What's sorta odd is that you don't get any of these graphs if there's GPS signal. Instead, you just get the map.
In talking with the TomTom team, more comprehensive site features (including activity detail view) are coming, but not until later this summer.
In an effort to show where they're going, the TomTom team has provided the following images as a general overview of where they expect the site to be in the coming months. Obviously, things could change, and also obviously, since this is from them – it's not something I can independently validate from a functionality standpoint.
Nonetheless, I think it shows really good promise of what's to come.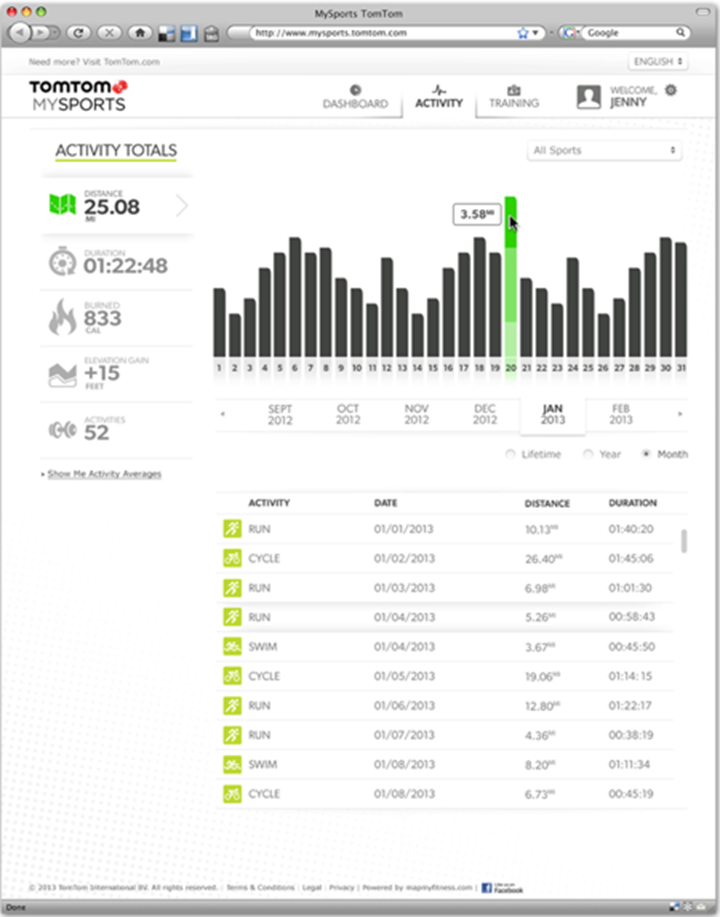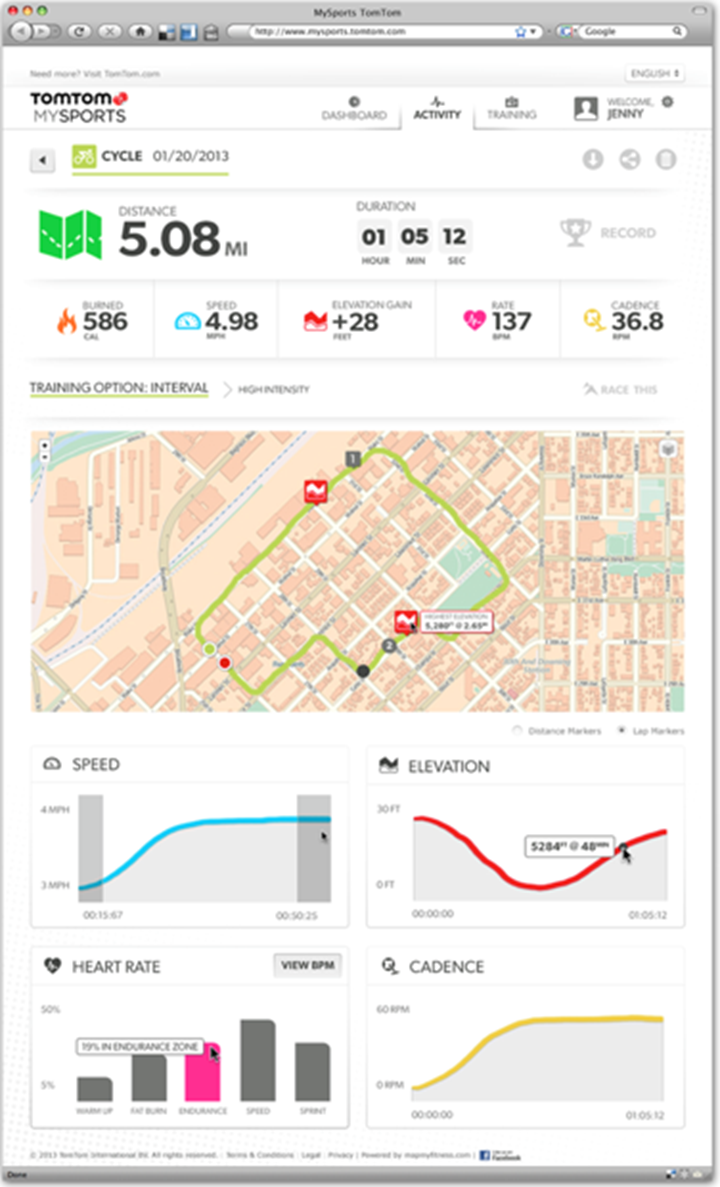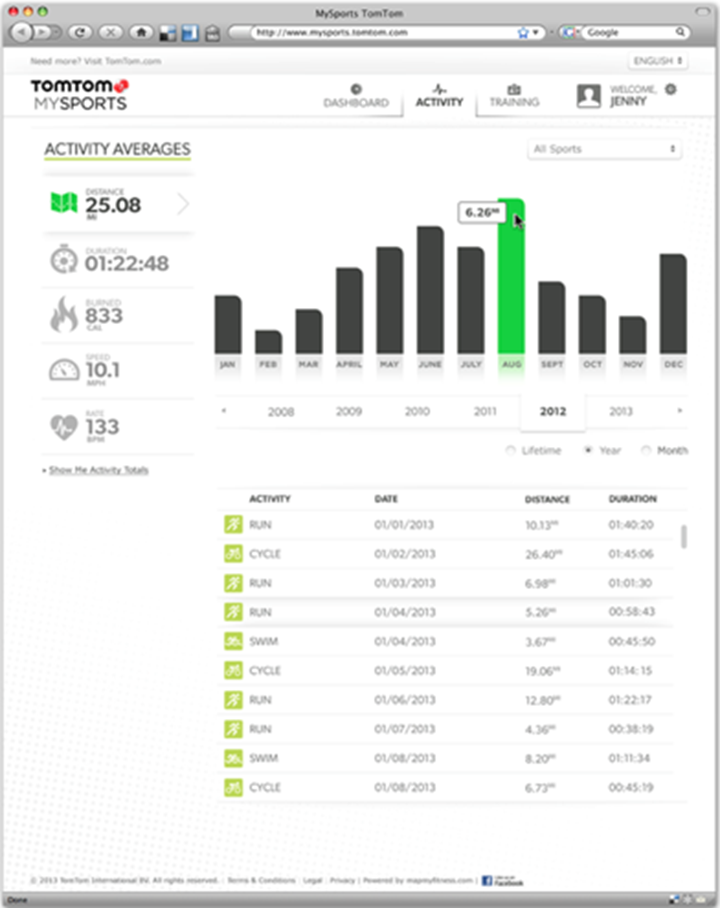 3rd Party Support Software Support:
Woot! Another company that listened to me on file format support. TomTom outputs all workout files in multiple file formats, including standard .FIT file formats. Not only that, they've even configured their agent to upload straight to major services. Seriously, super-cool. Why don't more companies do this?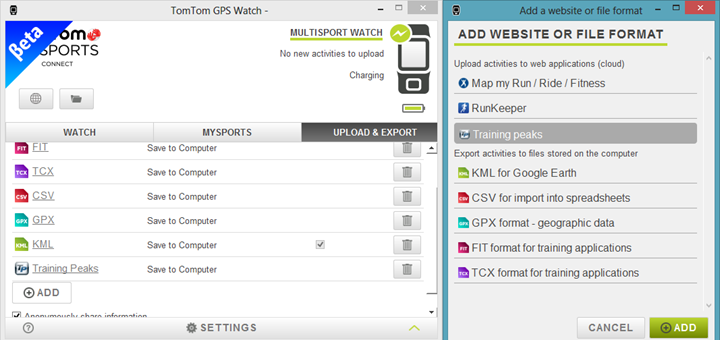 Here's the total listing of sites and formats as of today. Note that I'd expect this list to continue to expand over time – at least, that's their goal. I saw it expand quite a bit during the beta cycle.
– .KML
– .FIT
– .GPX
– .TCX
– TrainingPeaks.com
– RunKeeper
– MapMyRun/Ride/Fitness/WalkTheDog/etc…
The core item there though is honestly the .FIT format. That's effectively the universal fitness file for today's platforms (i.e. Strava, Garmin Connect, DailyMile, etc…). I don't know of any sports training log or platform that doesn't support that file format (and honestly, if it doesn't support it – you probably don't want to use it).
Here's a few I've tested using the .FIT file format from it:
– Garmin Connect
– Strava
– Sport Tracks
– Training Peaks
In order to allow you to test your site/app, I'll be uploading a handful of files later tonight that you can go ahead and test. This includes bike (with HR/SPD/CAD sensors), outdoor run (with HR sensor), indoor treadmill run, and swimming.
Satellite Reception, Accuracy, and Pace Stability: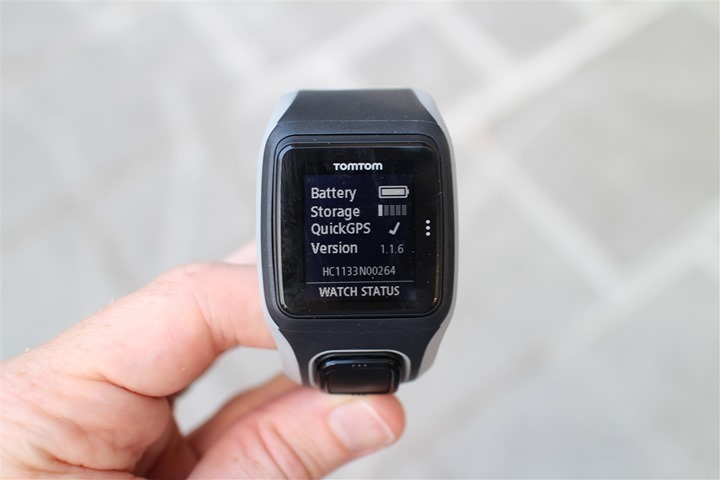 The TomTom watch is one of only two units that I'm aware of that pre-loads satellite positions for the following three days each time you connect to the computer (the other unit being the Nike+ GPS). This means it actually knows where the satellites are, and in theory can find them quicker than just looking at the sky and trying to figure it out. If you tap the left button, you'll see 'QuickGPS' listed, and if there's a checkbox there, then you're good to go for quick reception.
While on my China trip earlier this month I figured I'd test this out in the most demanding method possible: I'd go 5,000 miles from where the unit was last brought outside, then turn it on and see how it fared. In this case, I had downloaded the data within the last 72 hours, but did not power it on for a GPS fix otherwise. For fun, I had a FR910XT with me, and it was under the same conditions (not powered on since Paris, France). Here's the video result:
As you can see, it did cost the FR910XT about 14 seconds to 'turn-on' (since the TomTom unit stays on), but even considering that, we're still talking a MASSIVE difference here. The TomTom time from pressing start on activity was 15 seconds, whereas the FR910XT from the moment it started looking for satellites to completion was 46 seconds. From a conditions standpoint, this was on top of a wall, with a clear view of the sky in every direction. Thus both units had a 'best possible case' scenario.
While at home in more of a 'less than ideal' case with buildings and all, I found the unit on-par with other units in terms of satellite connectivity in buildings. I then kicked it up a notch and went to NYC, starting a run from midtown Manhattan in very dense buildings. It doesn't really get any more dense than this. In this case, the unit happily found connectivity in about 15-20 seconds. Meanwhile, the Garmin FR610 I had with me was unable to find satellite after 6 minutes of trying.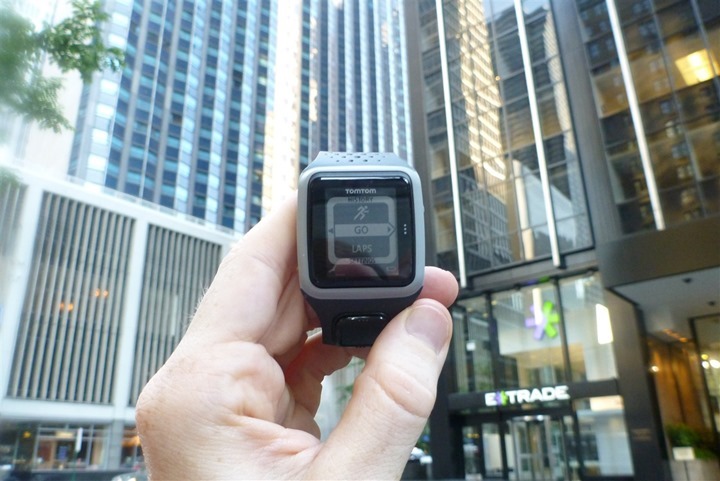 Looking at satellite accuracy with respect to distance. Here's a handful of photos at the end of various runs.
Below, the Garmin FR910XT @ 8.55mi, the TomTom @ 8.53mi.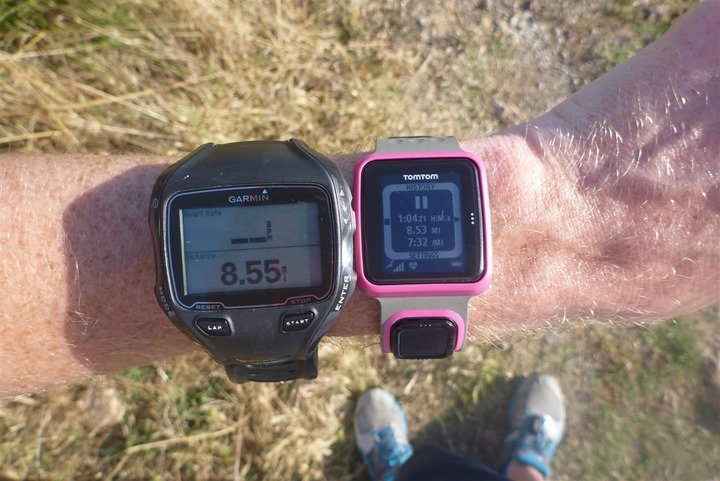 Below: The Garmin FR610 @ 4.00mi, the TomTom @ 4.09mi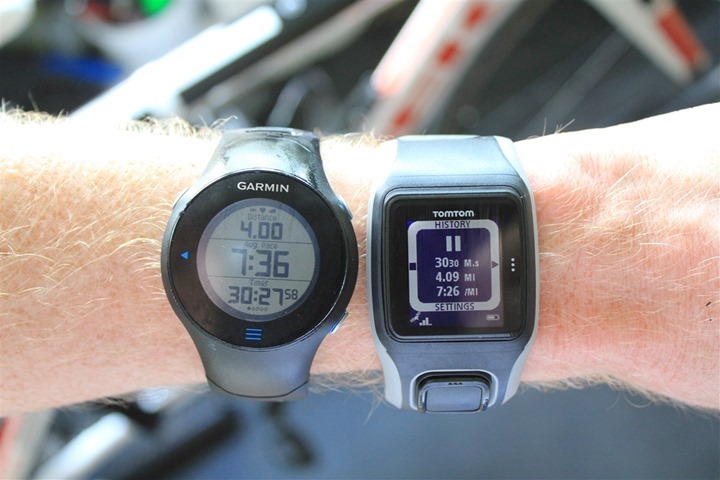 Below: Garmin FR610 @ 10.05mi, the TomTom @ 10.12mi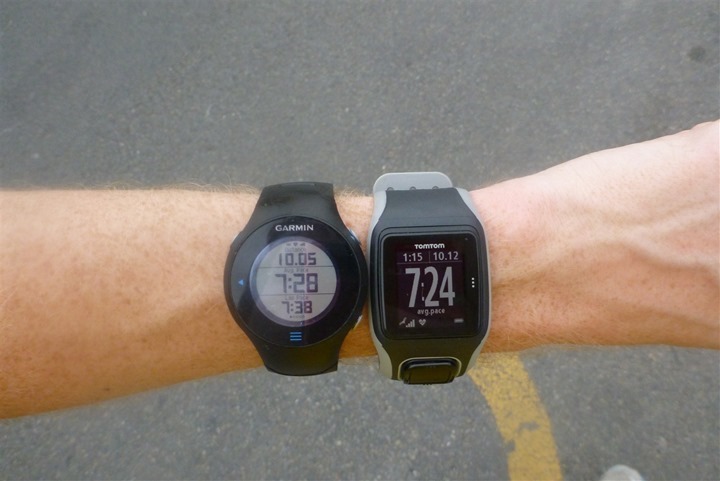 Next, looking at pace stability, I find the unit quite good. Here's a look at running with it out and about where I maintained what I thought was a pretty constant pace:
Not too shabby at all.
From a reception, accuracy, and pace stability standpoint, I'm not seeing any issues at all with the current firmware. As always however, with almost every watch I've reviewed, firmware changes can have a major impact to stability in these areas. Thus, down the road it could get better or worse.
Updating Firmware:
Like almost every watch on the market today, the TomTom units support firmware updating (to address either bug fixes or new features). When a new firmware has been published, it will automatically show up within the TomTom Active Watch software, which is the little device agent that hangs out and uploads your workouts. Then, when you open it up and start the sync, it'll update the firmware (though, after uploading your files first):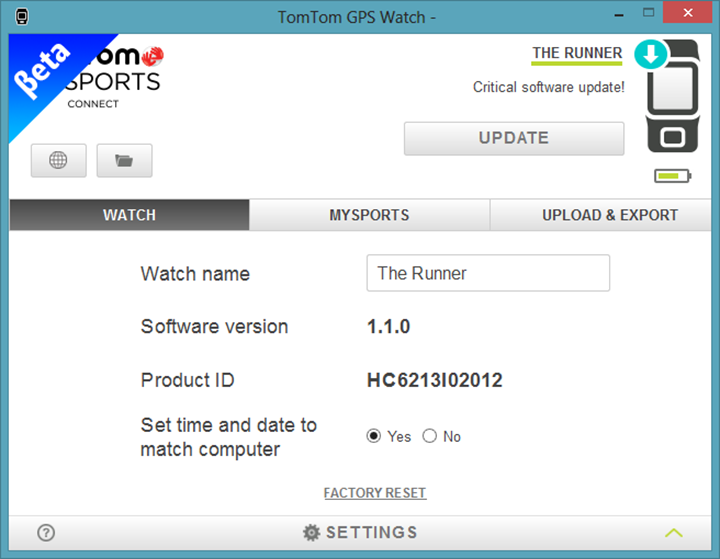 The process doesn't take more than 15-30 seconds to download the firmware file, and then it takes perhaps 1-2 minutes on average to update the watch itself: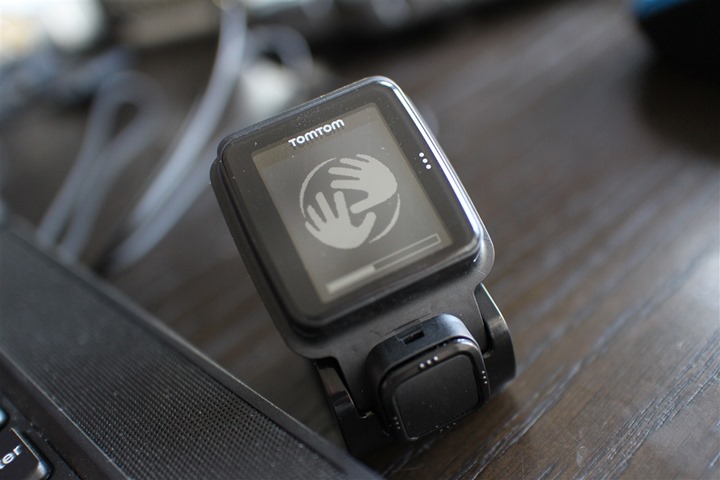 Once that's done, you're good to go. Over the past 45 days I've done this process multiple times and it's always saved my settings as well. Pretty much works just like you expect it to.

TomTom Mobile App:

(Added December 2nd, 2013)
Today, TomTom announced that they'll be releasing mobile apps (iOS and Android) that will allow the TomTom Runner and Multisport watches to upload completed workouts to the TomTom website.
This synchronization will occur over Bluetooth Smart, which requires an iOS device with Bluetooth 4.0.  That's basically any iPhone 4s or higher, or 3rd generation or newer iPad's (or iPod's).  The release timeline has it being submitted to the Apple store "shortly", and then pending approval, it will be available for users to download free of charge.
In addition, they're also working on an Android version as well.  That will likely require an Android device with 4.3 on it (OS level), which supports Bluetooth Smart fully (as well as requiring a Bluetooth 4.0 capable phone).  There are no released timelines for the Android app, though development is underway.
I'll be getting access to the app later this week to start poking at it.  In the meantime, TomTom shared some screenshots of it, which I've included below.  Note that the display units can be changed between Metric and Statute.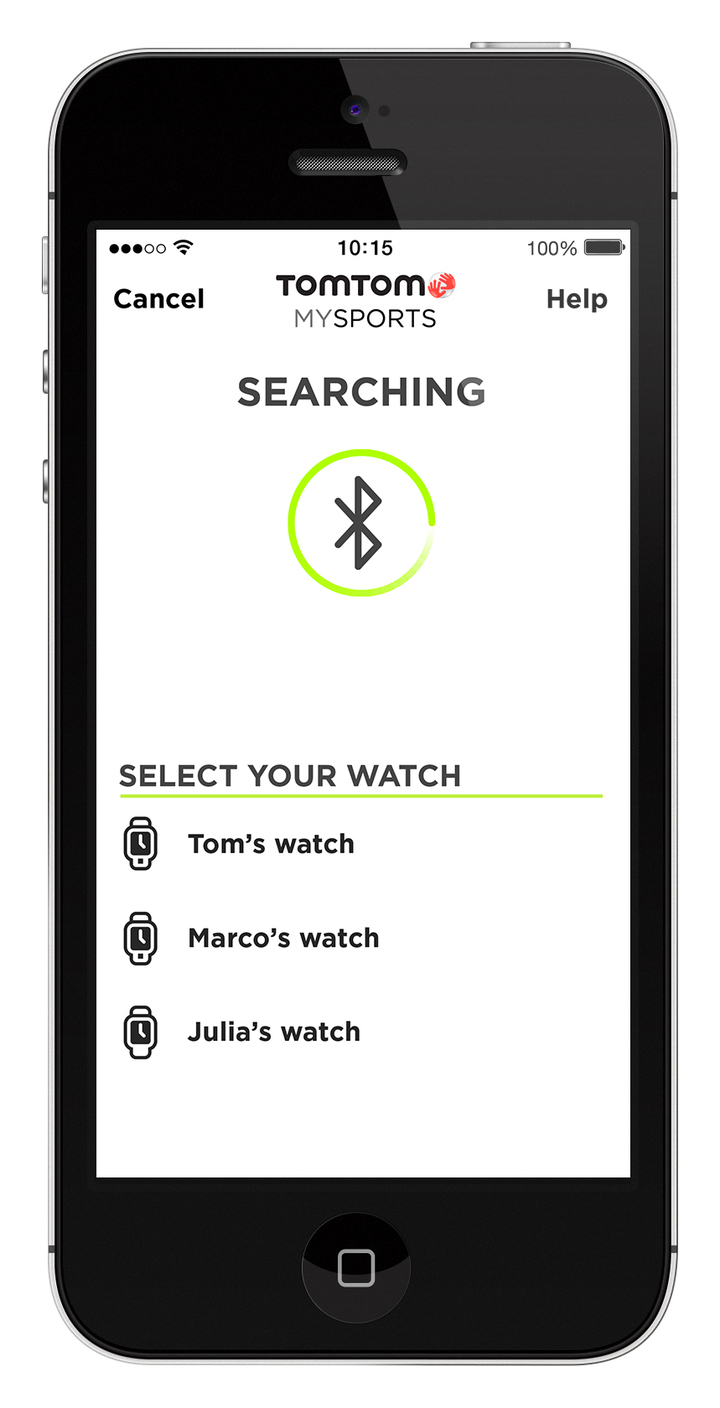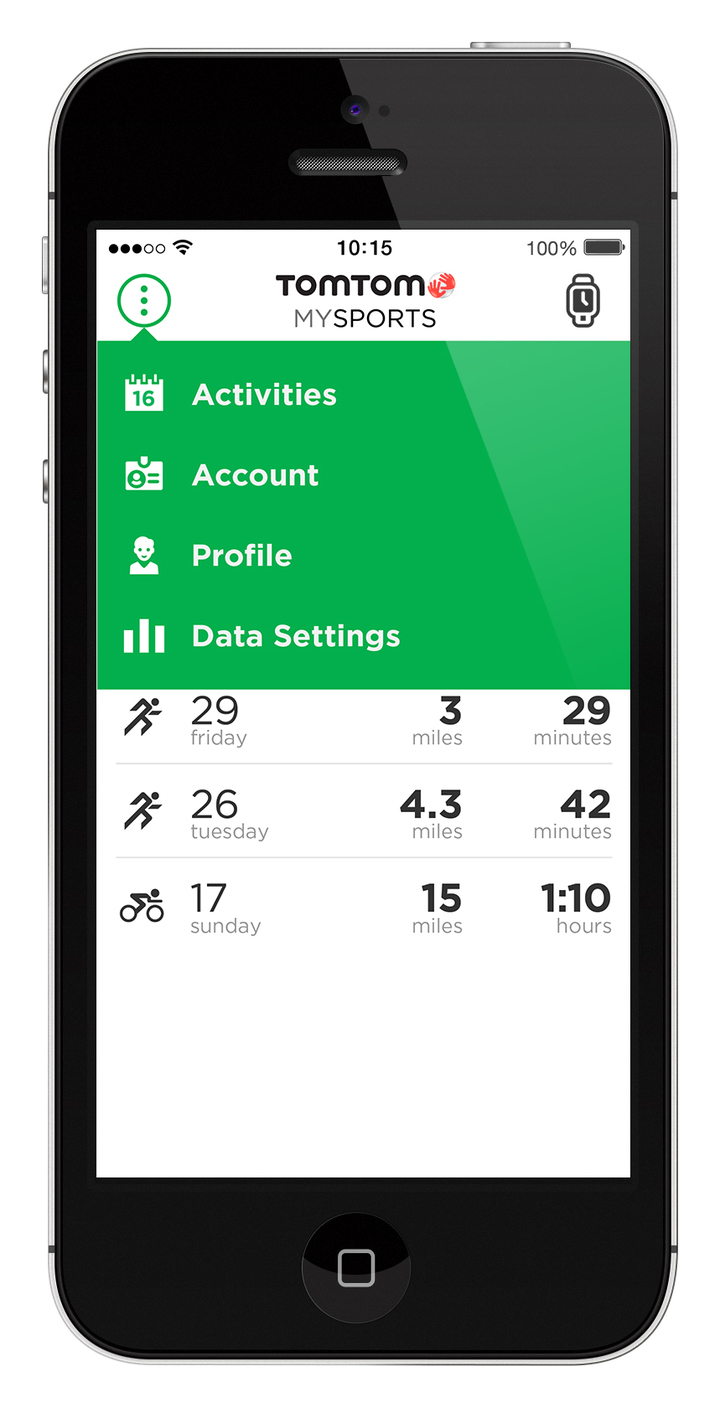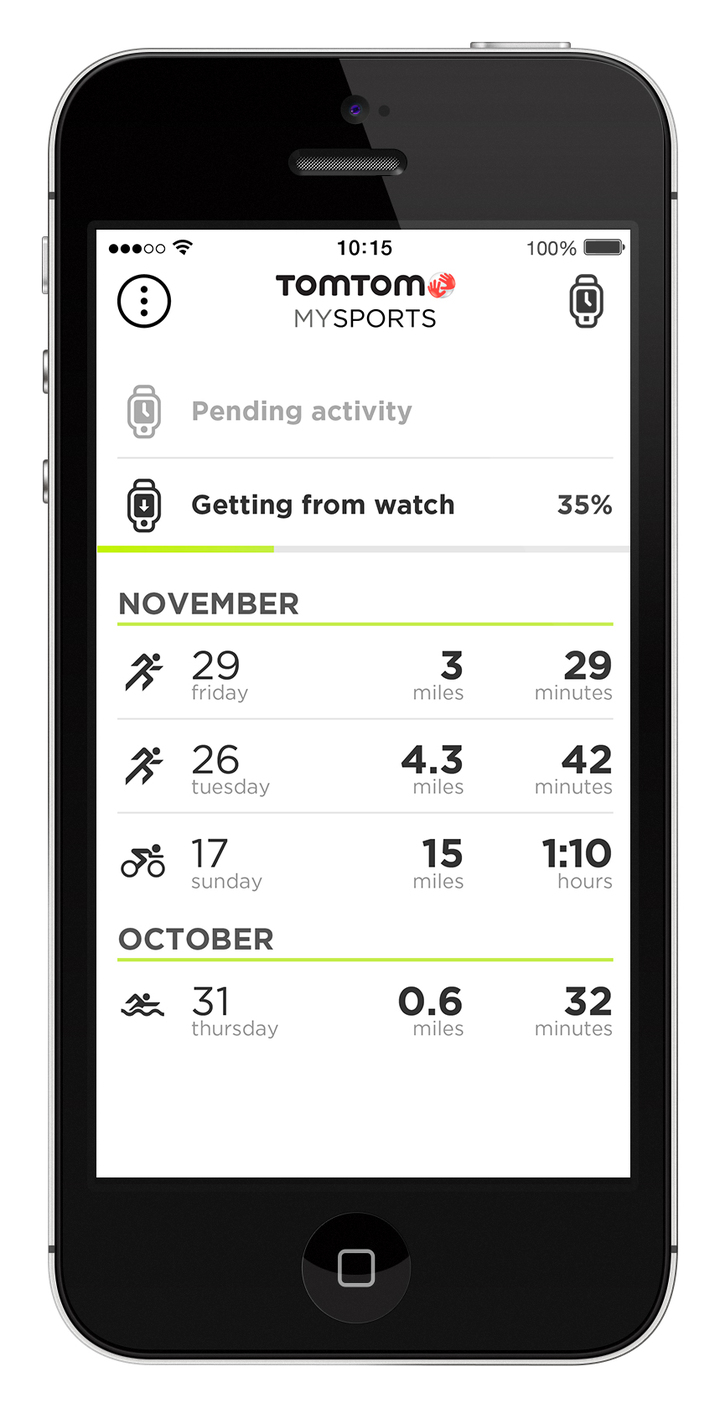 I think this is a big step forward, and hopefully the starting point of things to come – especially if they can extend the phone functionality forward to match that of the Garmin FR220 (basically adding in Live Tracking), which the TomTom Runner watch competes with.
Once the app is released, I'll add in an updated section with the functionality covered like any other component in the review.
Update – January 30th: Here's my in-depth look at the new app, now released.
Bugs and notes:
Because I had the watch for such an extended period of time during beta testing, it can often be difficult to separate beta bugs from production bugs. Meaning those bugs that the vendor has claimed fixed in the final firmware, from those that may still be sneaking around. As such, I'm really focusing on bugs I saw with the 'final firmware'. In the case of the TomTom watch, the issues I've seen are largely in the 'annoyance' category, rather than the show-stopper category. Some get fairly close though to showstopper though. Remember a 'bug' is different than 'by design'. For example, the lack of a feature is something I highlight within a given section, whereas something not really working right is below. Also note that I'm not including bugs for the Multisport unit given you can't buy it yet, and they're still working on it.
Anyway, here's what I have on my list:
I'm not yet sold on the strap design: During the beta phase there's been a few different straps I've played with. They've progressively gotten better, but both myself and The Girl had numerous issues with the unit falling out of the strap after we took off the watch…sometimes onto concrete (good news, no breakage!). While they've improved the 'tightness' some, I'd like to withhold judgment until after a few more weeks/months of testing to see if that plastic loosens up and puts me back in the same spot.
Sensor connectivity: I'm seeing some issues with sensors and finding the HR strap and/or speed/cadence sensor upon attempting to start an activity. TomTom is looking at this and trying to track down why I'm seeing it (they haven't seen it elsewhere or with other beta testers).
Race Modes aren't correctly populating in my unit: I'm seeing issues where the races aren't showing up for previous efforts, nor the default ones. TomTom notes they are fixing this.
The Website: The website is pretty rough right now. Really rough. Not terribly useful at all type of rough. The good news is that you can upload your .FIT file to just about anything else, including oddly enough even to Garmin Connect. TomTom has shown the images of their site plans down the line, and it does indeed look improved. But ultimately it's not here for users purchasing today.
Comparison Tables:
In order to assist you in comparing features, below is a comparison table of the TomTom units against others that I see as competitors and in the same class. Note that you can both expand the chart, as well as create your own comparison chart against other models that I've reviewed here.
Up first is the TomTom Runner comparison chart (against other running-focused units):
Next, is the TomTom Multisport comparison chart (against other triathlon units):
The products are dynamically generated, so it's really best to expand out the chart to see all results and/or customize your own.
Looking at the Pros and Cons, here's where I think things currently stand (subject to change on the Multisport unit side):
Pros:
– Simple & Clean interface
– Incredibly awesome satellite connectivity speeds
– Tracks distance and pace well
– Contains Bluetooth Smart support
– [Multisport Unit] Indoor pool swim at low-cost
Cons:
– No ANT+ support, means new purchase of accessories for most
– Bluetooth Smart connection not used for phone connectivity (Now added)
– Website is pretty slim right now
– [Multisport Unit] No openwater swim support
– [Multisport Unit] No multisport mode for triathlons/races
Summary: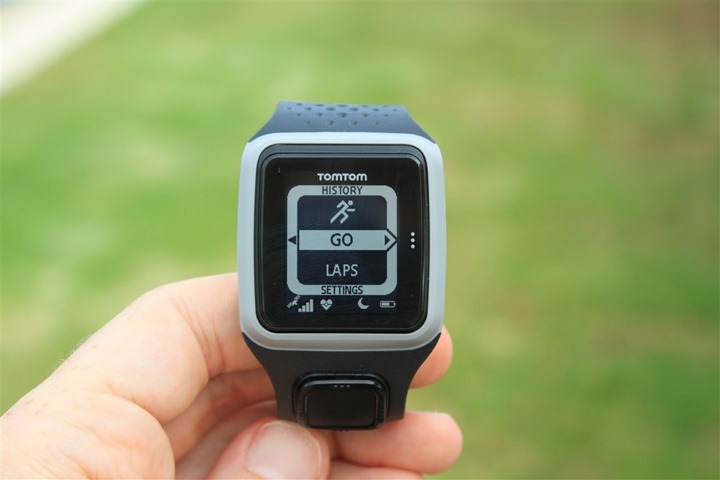 Looking at the TomTom Runner watch first, it's a good first release for TomTom from a device standpoint. Overall, it works well, and accuracy is solid. I LOVE the fast satellite acquisition. I can't state enough just how quick and awesome that component is. I really enjoy knowing that if I turn my watch on as I walk out my front door, I have signal less than 25 yards later when I finish crossing the street to start my run.
From a user interface standpoint, the unit is simplistic – which can be both good and bad. For those wanting the most simplistic running experience possible, this is a good unit that makes it easy to track your speed and distance. For those wanting a more advanced user experience, you'll probably find the unit a bit underwhelming. In many ways, if you liked the Nike+ GPS unit, you'll likely like this unit. And if you didn't like that unit, you'll probably feel the same here.
There are a few areas where I'm not a huge fan of the implementation. For example, the lack of ability to have a lap button in all modes is somewhat frustrating. And the inability to scroll 'forever' through the display fields while running is kind of a pain (you reach the top/bottom of the list and then have to scroll back down again). Additionally, I'm concerned about the band long-term and keeping the watch module from falling out when you take off your watch.
Shifting gears briefly to the TomTom Multisport watch, it's a bit too soon to tell. They've got the core of an interesting watch for triathletes, but they need to add a multisport mode. It's on their radar, but there isn't a timeline yet. Once they finalize the unit out of beta I'll come back with some more thoughts here (again, the Multisport edition is not yet for sale – but is slated for late July).
Finally – looking at areas that touch on both units. First up is the use of standard file formats. I'm pretty jazzed about this. As you can see, I had no issues uploading files to various services out there. This is a huge departure from the Nike+ GPS, which was extremely limited to just the Nike+ website (though some API's have recently been introduced, it's still difficult to get data to other platforms for that). So definitely good news there.
Next, the website. TomTom is working on it, but for a launch, it's not good at all. I covered my concernes above pretty well, and simply scrolling further down the page won't change them.
Lastly, the use of Bluetooth Smart over ANT+ is a bit of a null issue for the Runner edition given the internal pace/distance support for treadmills (thus not needing a footpod), but I think it's going to dog TomTom on the multisport edition. As it stands today, there's just a lot of athletes that have ANT+ gear, and there's very little Bluetooth Smart variety (or product) in the market today. Further, the lack of smartphone integration using Bluetooth in the unit is a bit of a shame (Update: Now added). That's really one of the major reasons you'd choose to implement Bluetooth into the watch itself, and in that single area, there wasn't anything done. Long term I think this will pan out for them and be a positive feature. But short-term it's more of a disability when it comes to converting users of other devices.
With that, I'm looking forward to seeing how the unit matures over the coming months. Ultimately, more competition in the GPS running watch space is ideal – but more competition in the GPS multisport device is what we really need. Hopefully TomTom can bring that competition.
As always, if you have any questions, feel free to drop them below and I'll do my best to get them answered. Thanks for reading!
Found this review useful? Here's how you can help support future reviews with just a single click! Read on…
I've partnered with Clever Training to offer all DC Rainmaker readers an exclusive 10% discount across the board on all products (except clearance items). You can pickup the TomTom units below. Then receive 10% off of everything in your cart by adding code DCR10BTF at checkout. By doing so, you not only support the site (and all the work I do here) – but you also get a sweet discount. And, since this item is more than $75, you get free US shipping as well.
TomTom Runner GPS unit ($169)
TomTom Multisport GPS unit ($199)
Additionally, you can also use Amazon to purchase accessories (though, no discount on either from Amazon). Or, anything else you pickup on Amazon helps support the site as well (socks, laundry detergent, cowbells). If you're outside the US, I've got links to all of the major individual country Amazon stores on the sidebar towards the top. Though, Clever Training also ships most places too and you get the 10% discount. Thanks for reading!
As you've seen throughout the review there are numerous compatible accessories for the unit. I've consolidated them all into the below chart, with additional information (full posts) available on some of the accessories to the far right. Also, everything here is verified by me – so if it's on the list, you'll know it'll work. And as you can see, I mix and match accessories based on compatibility – so if a compatible accessory is available at a lower price below, you can grab that instead.
TomTom Runner unit compatibility:
TomTom Multisport unit compatibility:
And as always, feel free to post comments or questions in the comments section below, I'll be happy to try and answer them as quickly as possible. And lastly, if you felt this review was useful – I always appreciate feedback in the comments below. Thanks! Finally, I've written up a ton of helpful guides around using most of the major fitness devices, which you may find useful in getting started with the devices. These guides are all listed on this page here.