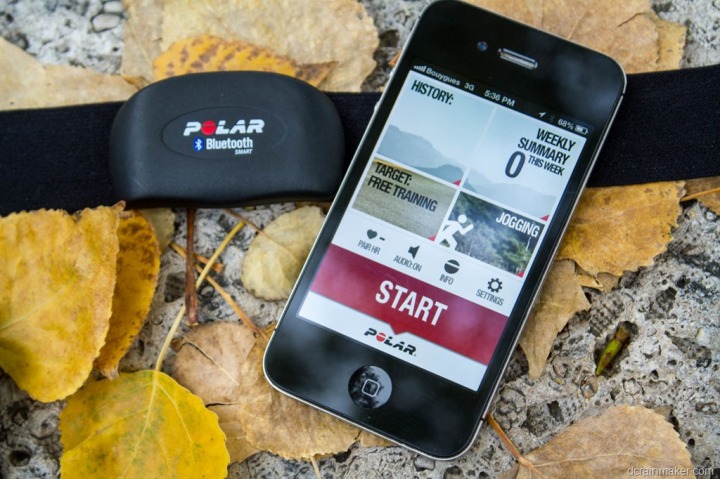 Late last week, Polar released their first iPhone App – Polar Beat.  The app aims to bridge the gap between their dedicated devices and the phone market.  Most importantly however, it's actually the first Bluetooth Smart compatible offering from them.  This is somewhat ironic in that it's now the only offering that can take advantage of their own Polar H7 Bluetooth Smart heart rate strap via Bluetooth 4.0.  Nonetheless, it's a pretty cool first step.
I rarely 'review' phone apps.  And this is for two specific reasons.  First, the apps change near weekly.  I'm sure within a few days or weeks  Polar will have updated the app to do more things, thus, this post would become less relevant in than last nights dinner in my fridge.  Second, there are so many apps out there that app companies get all bent out of shape that I review one app and not another.
In this case though (and in some previous cases like the Garmin FIT app) – I'm specifically looking how the app fits into their overall product offerings.  And more specifically, does this app serve as a replacement for their multi-hundred dollar watches.
Installation/Pricing:
The Polar Beat app is free, no cost at all.  Well, mostly.  The base app itself is free, as you can see below: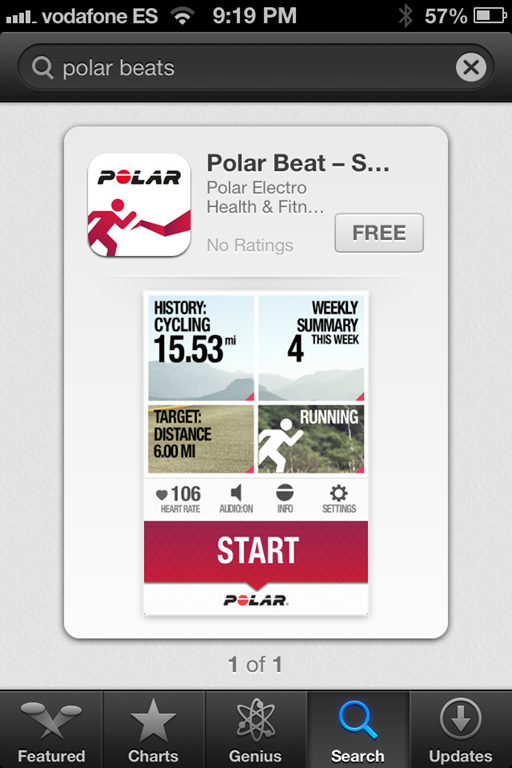 However, they offer the ability to buy two additional 'Smart Coaching' packs, for a total of $3.99US.  These packs mimic their Smart Coaching features found on their wrist watches and other cycling units – which is one of the main differentiators that Polar focuses on in their lineup when comparing their units to competitive offerings.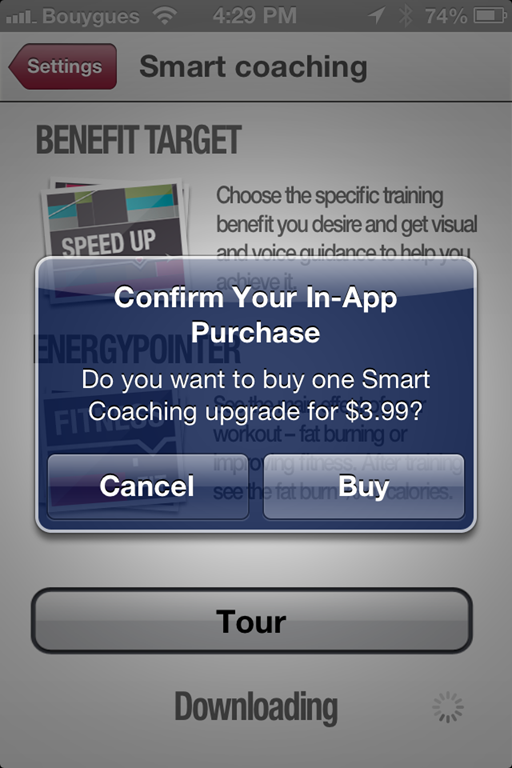 Both of these do require utilizing a Bluetooth Smart heart rate strap like the H7 though – since both of them focus on heart rate metrics.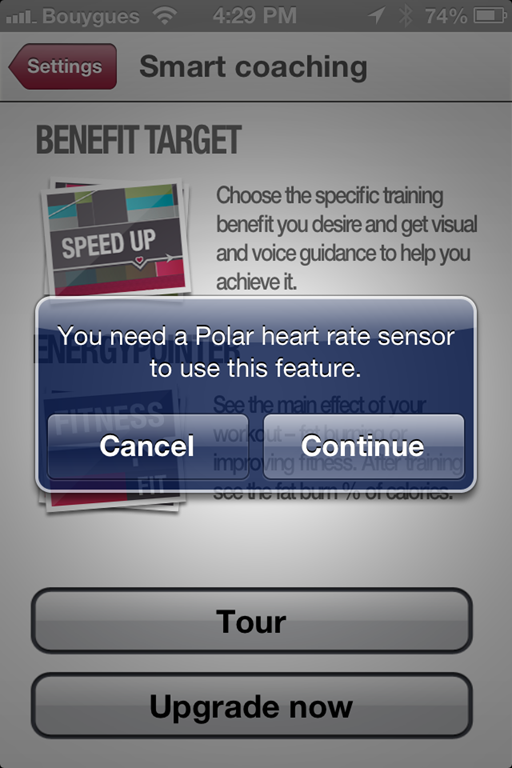 Once you've completed the update, you'll then see the offerings sprinkled throughout the app in either the in-activity screens or the summary screens.
Before we begin the app will ask for your location information.  This is required to get speed/distance information via the GPS.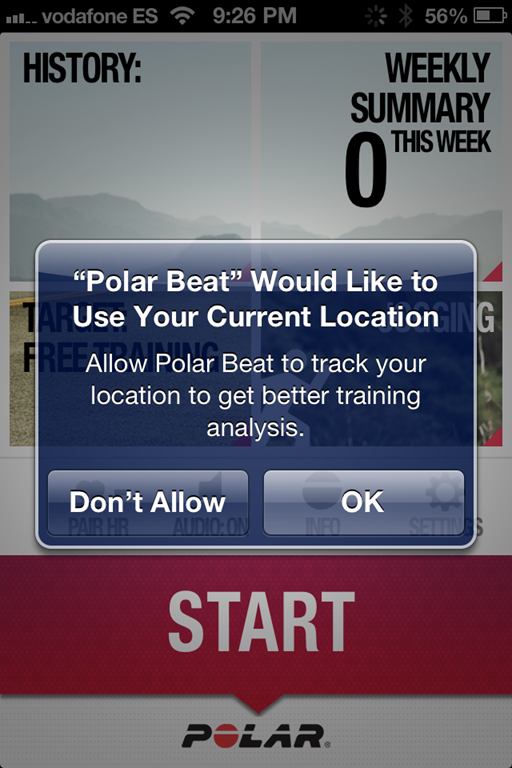 Next up is your settings.  First, you can connect to your existing PolarPersonalTrainer.com account.  This is like Garmin Connect (for Garmin device users).  Same concept – a web based training log that their devices upload to.  The app will also automatically upload your workouts to it upon completion.
You'll also be able to set whether you see units in miles or kilometers.  Additionally, you can connect to both Facebook and Twitter and authorize the app to post summary information (more on that later).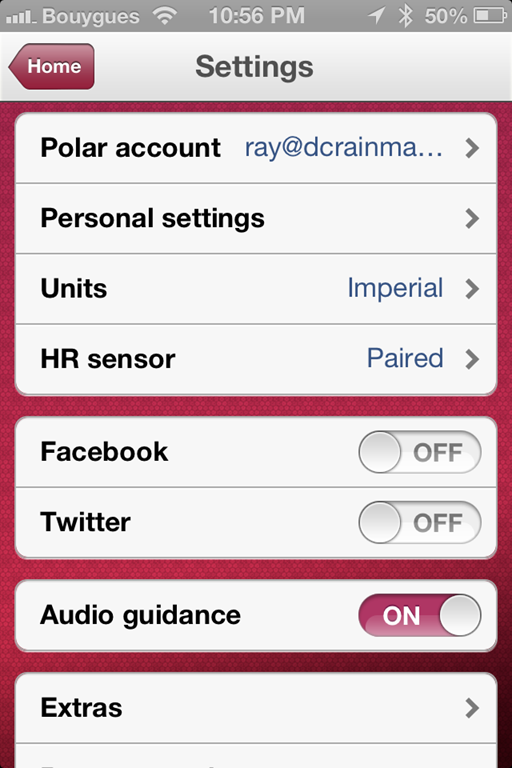 And finally, you can specify your personal settings which is fed into calorie calculation information.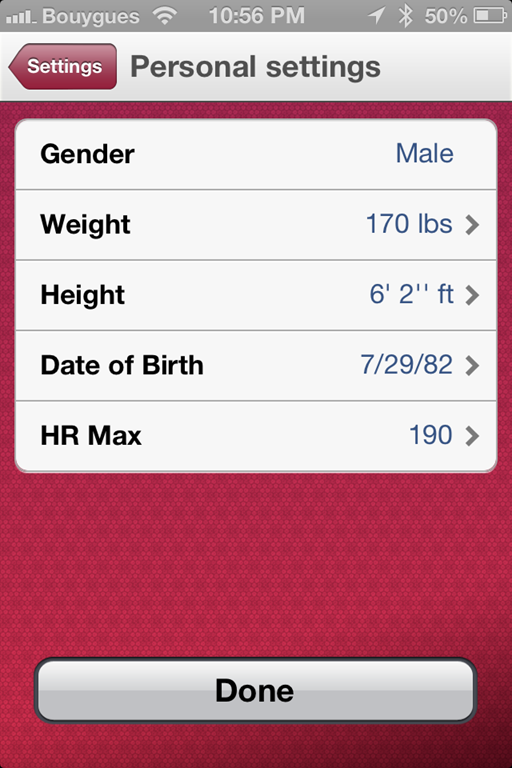 With that, let's get onto the pairing of the heart rate strap, the last piece in the settings menu.
Bluetooth Smart Heart Rate Strap Compatibility
The Polar Beat app supports their H7 Bluetooth Smart strap.  As I noted above, up until this point there's actually been no Polar device that could support their own Bluetooth Smart heart rate strap (which came out last winter).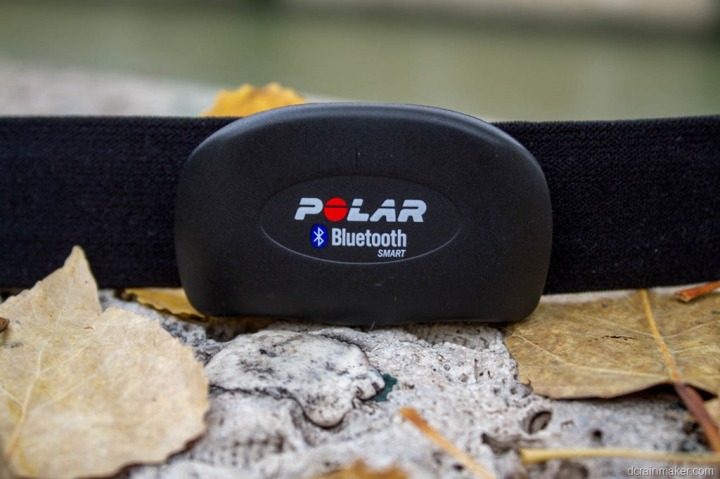 The H7 heart rate strap is different from their non-low energy Bluetooth unit in that it uses Bluetooth 4.0 instead of legacy Bluetooth.  Due to this, the battery life is significantly longer – likely in the range of a year.  However, that also means that it requires a Bluetooth 4.0 compatible device to connect to it.  Today, on the iPhone world that means an iPhone 4s or iPhone 5.  Or, one of the latest generation iPad's.  Bluetooth 4.0 is in virtually every new phone/tablet device on the market since roughly last spring, though as of today Polar has only released an iOS app.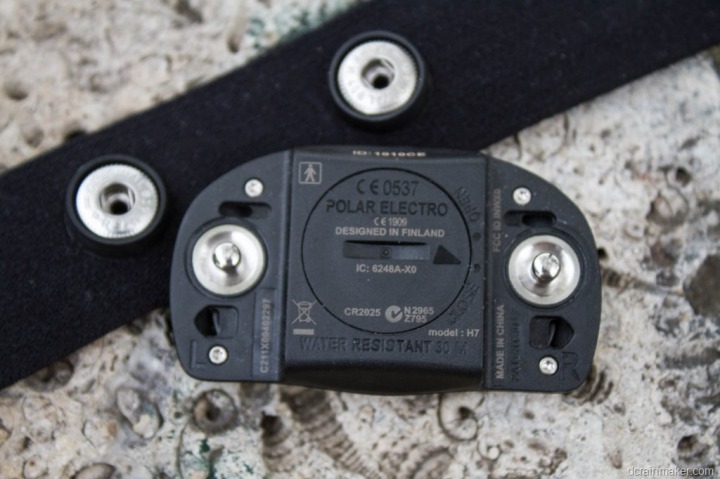 Within the App you'll dive into the settings menu, which allows you to pair a heart rate strap.  Simply put on the HR strap and then select pairing:
You'll then be able to select the Polar strap in question and pair to it.  One interesting thing to remember about Bluetooth Smart is that you can't pair multiple devices to a single sensor.  In other words, you can't have both a Bluetooth Smart watch (like the Metawatch) and a Bluetooth Smart app (like Polar Beat) connect to the same HR sensor at the same time.
Once paired, you'll see the pairing show up and the option to remove the pairing down the line.  Further, you'll see the battery level displayed.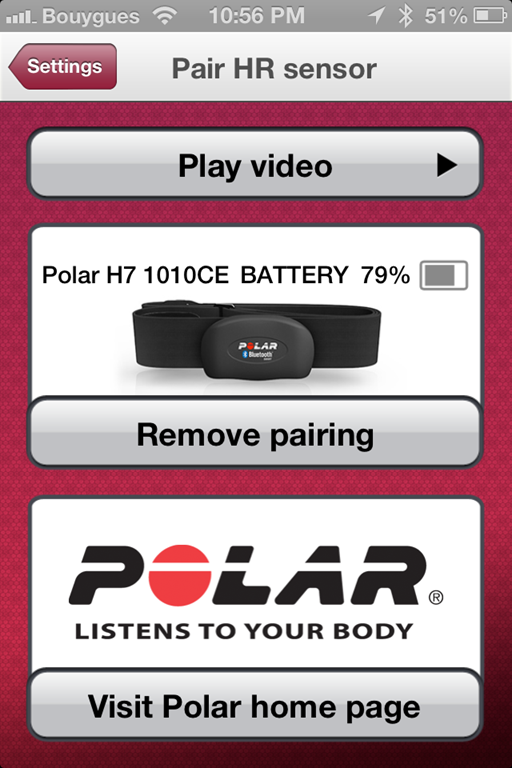 Now, that's really interesting here though is that this is one of the first non-Motoactv times I've had a chance to really check cross-compatibility of the Bluetooth Smart HR straps.  You may remember the Motoactv had (actually, still has on certain firmware versions) issues with different Bluetooth Smart straps.
In theory, if the app and the straps complied to Bluetooth SIG specs, they would both work together – despite me having these straps since last winter with no firmware updates since.   So, I grabbed the only two Bluetooth Smart straps I had: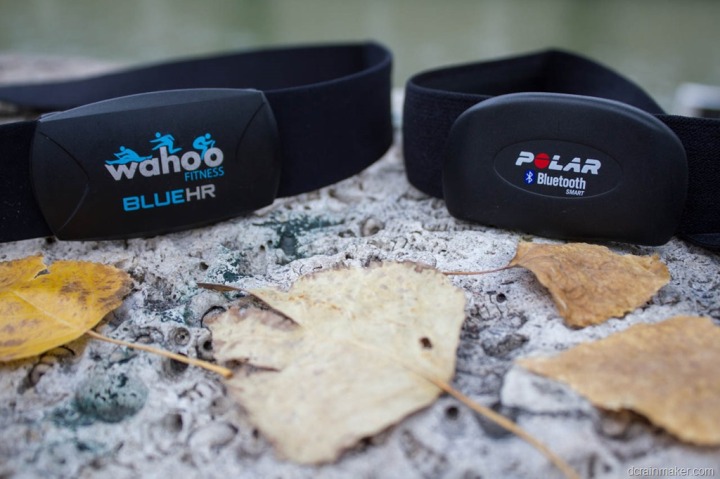 And then I put them both on and went into the pairing menu: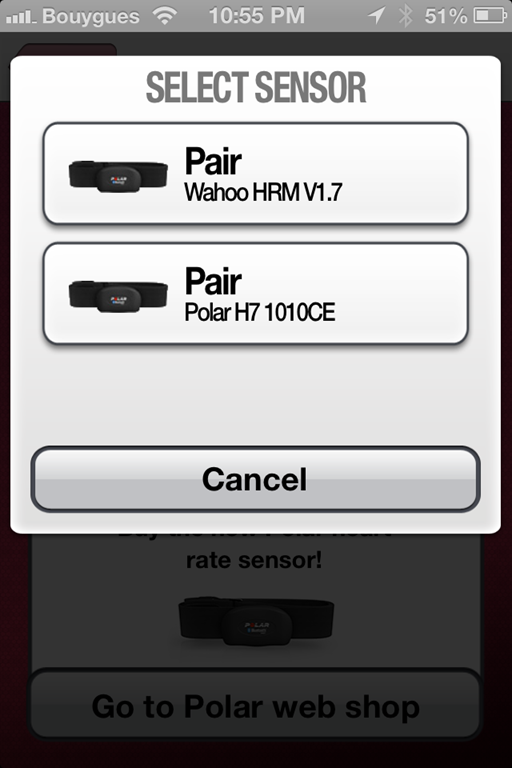 Sweet, it worked!  Both showed up!
And then I was able to pair to the Wahoo Fitness BlueHR strap just as easily: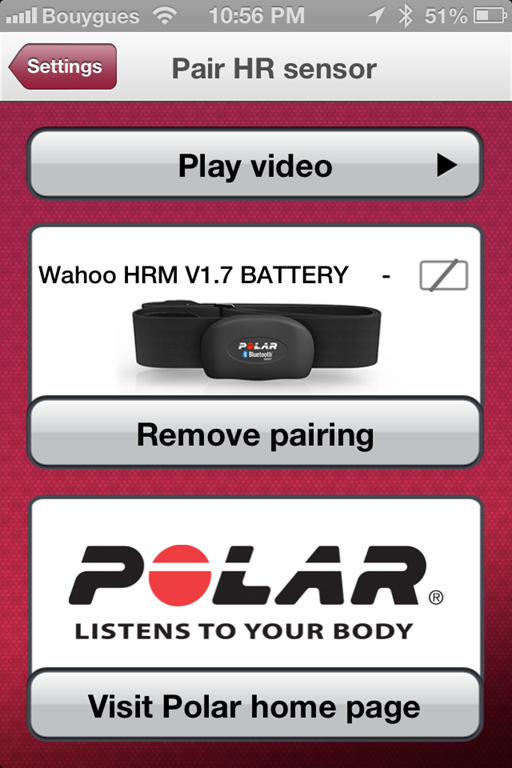 I did notice that the Blue HR strap doesn't transmit battery state information.  Though, quite honestly since the battery lasts a year and only costs a couple dollars, I'm not terribly worried about it.
Both heart rate straps displayed HR data on the app without any apparent issues.  Good deal.  Also, both HR straps are interchangeable between the strap itself and the transmitter pod.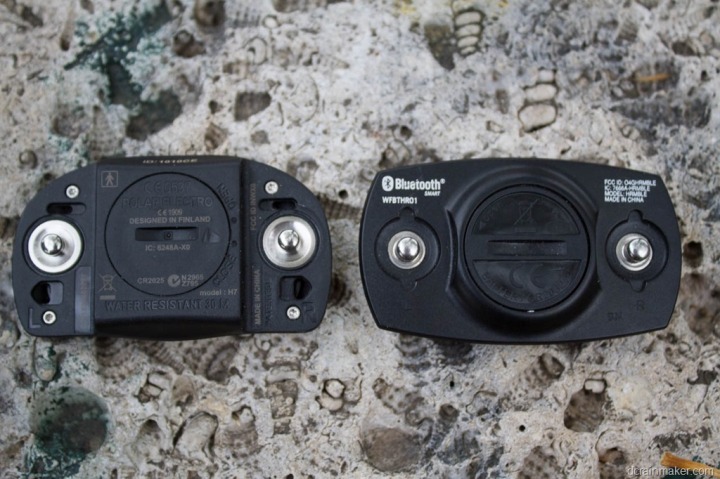 Ok, let's get onto using the app.
Use of the app: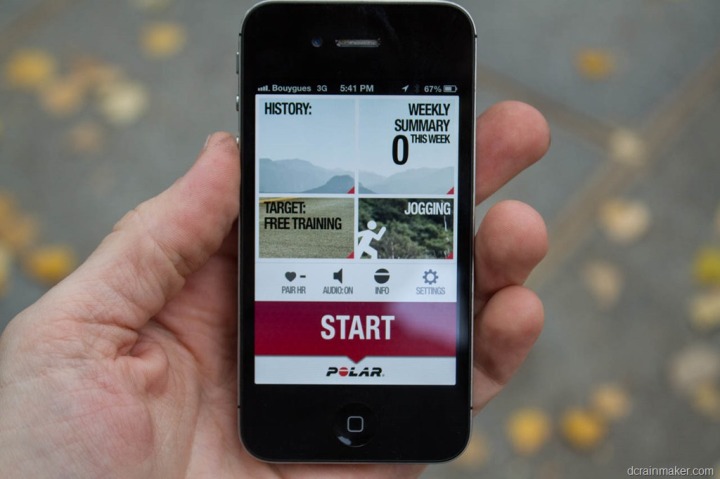 To start using the app, you'll want to first select a sport.  In my case, I went with running.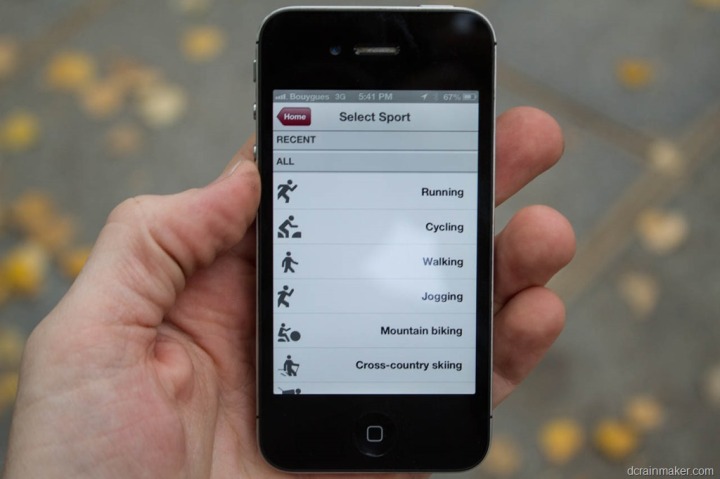 Then you can select a 'target'.  This is where you can select a goal for the given activity.  In my case, I went with a simple distance run of 6.2 miles (10K).  But, you can see the 'Benefit Target' option that was purchased earlier as well.
From there you'll go ahead and hit the big start button to begin the session.  It'll give you a 5-second audible count down, and then begin recording.  As it's recording, it'll display the below screen showing the current activity metrics: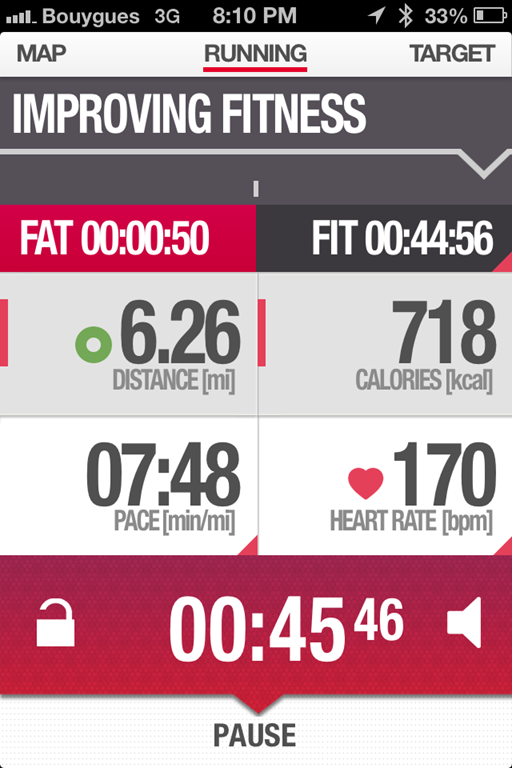 You can tap along the top where you see Map/Running/Target to change the view.  For example, pulling from a cross-town ride I did earlier in the evening with it (doing errands, hence the slow speed), you can see my map: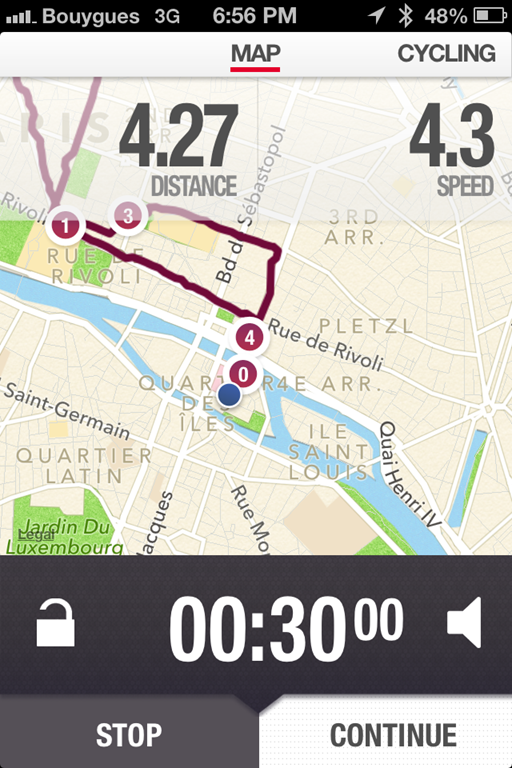 The one challenge with the map is that you can't do a normal pinch, zoom and pan while actually running.  Only afterwards in summary mode.  While in an activity you can zoom by double tapping.  This becomes a bit of a problem as you see above where I ride 'off the map' and I can't pan the map to include that.
Speaking of minor things that were problematic, we've also got the pause/stop combination.  Most times my phone is locked and the display off.  Normal in a  running armband or my pocket.  So, after I swipe to unlock it, the app itself offers another swipe if I press the pause button.  So first I get the screen below to the left, and then I get the screen below to right.
Then, after that's done, I finally get the button to stop.  But sometimes the button doesn't stop.  It just seems finicky.  I understand the concept of the secondary swipe.  But in execution, it's annoying and takes too long.
Since we're on cycling screenshots – I'll point out that the app works just fine cycling as well.  Same concept as running.  It'll record speed/distance/calories and heart rate information.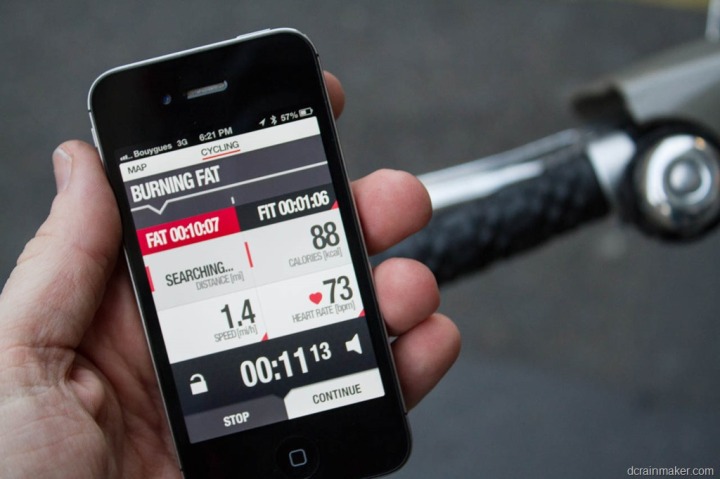 In both cycling and running you have somewhat limited options for changing data fields.  For example, anytime there's a little red corner in the lower right corner of a data field you can change the metric.  See below for two examples in the lower right where I change between heart rate BPM and heart rate % Max.
Once I've finished up a given activity and pressed stop, the app will give me a slew of data summary pages:
I like that on the map page I can slide that little white box with my finger and highlight a different section of the heart rate profile on the course.  Kinda cool nice little touch.
Once I'm done with my analysis and want to share, I simply click the 'Share' button to go ahead and post it to Twitter or Facebook.  If you previously forgot to set up those integration aspects, it'll walk you through it.
In the case of the above, you can see the default tweet it wants to put out for this particular workout, complete with the hash tag.  And below, you can see the default Facebook post.
On my timelines they look like the below (I changed the Twitter text before posting, which you can do for both):
| | |
| --- | --- |
| Twitter: | Facebook: |
GPS Accuracy:
Last but not least, a quick look at accuracy.  Accuracy of the app is based on two factors – first, the GPS sensor within the phone. And secondly (more importantly actually), how much work the development team did around GPS noise in the app.
I went out for a run with both a Polar RC3 and the app side by side (even on the same arm), and here were the results.  You can see the RC3 came in at 6.26 miles, whereas the app came in at 6.34 miles.  That puts them with a difference of 1.2% – which is actually pretty solid (even solid for typical GPS unit differences).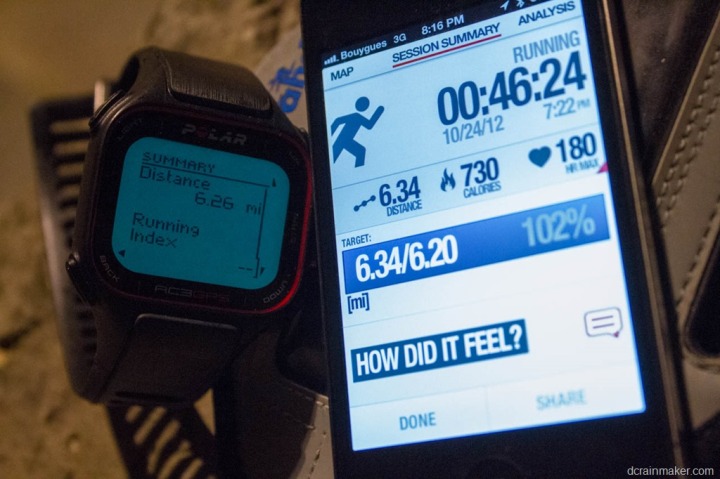 In my test I didn't modify any WiFi or GPS settings (such as turning off WiFi) as I'm not a fan of doing that.  In my view either the app deals with the GPS-A noise, or it doesn't.
My route was actually pretty difficult for a GPS unit to follow, with numerous underpasses, bridges, overpasses, and right up against some rather big concrete buildings.  So I'm fairly happy with the fact that either were close to each other.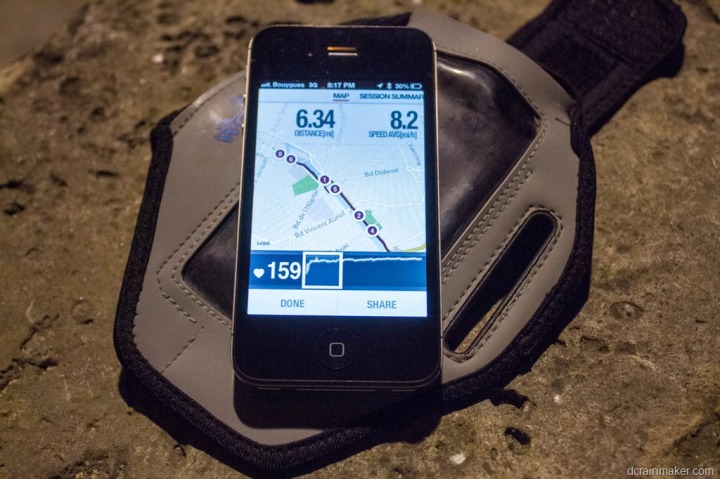 Integration with Polar Personal Trainer:
Last but not least, the app integrates with the online PolarPersonalTrainer.com site.  The app automatically will upload your workout to the site upon completion, such that it's there waiting for you.

Interestingly, it doesn't actually see the Polar Beat app as a 'product' or device in use on the left side, it just sees the other products I have.
In the middle though, you can see my uploaded workout in the activity feed: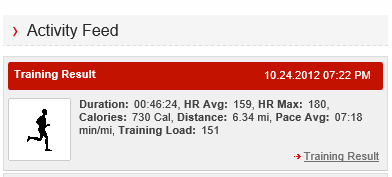 I can go ahead and click on 'Training Result' to crack open the full activity: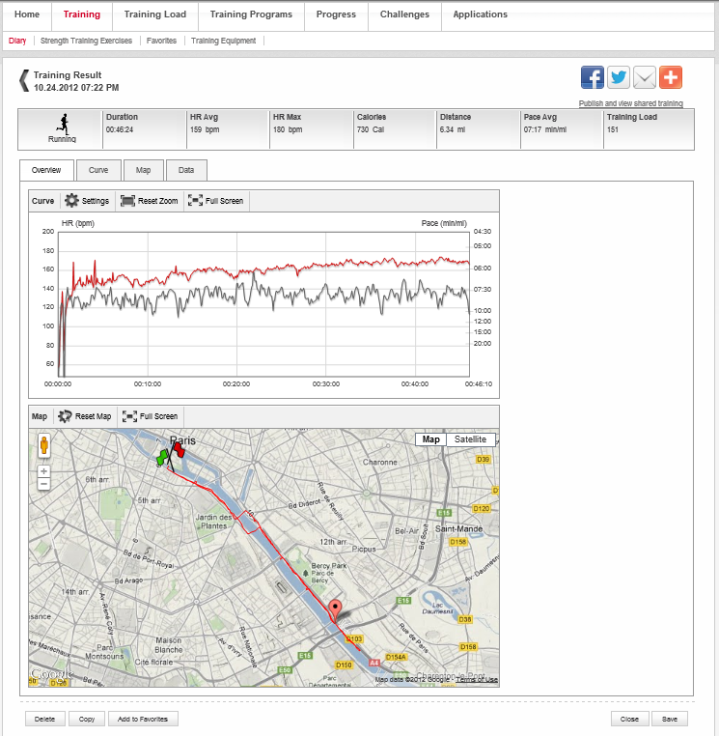 In doing so you can look at the map data, the heart rate data (in curve), as well as the summary data along the top.
If you dive into some of the tabs like 'data', you can get a bit more information, though not a ton.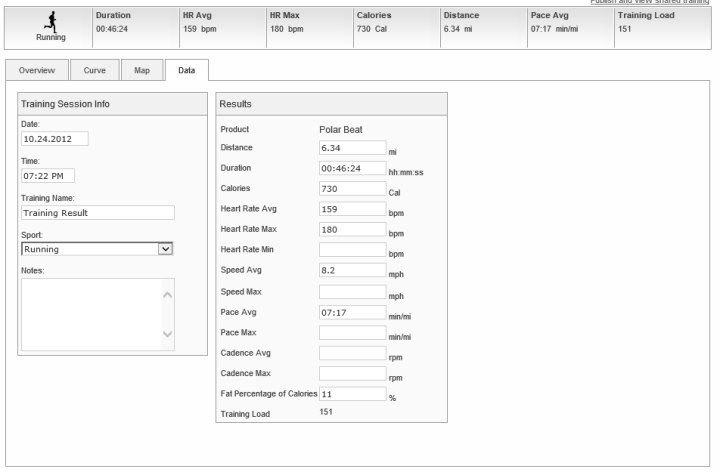 This is the point where the Polar Beat app becomes hamstrung by the likes of PolarPersonalTrainer.com being so far behind the technology and user interface design curve compared to virtually every other fitness tracking website.  Though, that complaint of mine is nothing new.
Regrettably, there's also no method to get the data out to any other site – like TrainingPeaks or similar.
Summary:
For a first attempt, the Polar Beat app is fairly solid.  It's got a well designed UI that looks pretty, and the functions work easily.  On the free fitness app side, it's essentially another fish in the side of hundreds of other apps.  The key differentiator at this point is the Bluetooth Smart support (there are other apps that have that too though).  Additionally, for the paid $4 portion, the additional Polar Smart Coaching metrics are there.  For those that use the Smart Coaching metrics with their other Polar devices, this does help to give you another option to get data into your Polar web account when you don't have a device handy.
There are areas I'd like to see improved. First, Polar routinely notes that they're 'all in' when it comes to Bluetooth Smart.  Thus, I'd like to see it support the Bluetooth Smart speed and cadence sensors (which are available today from Wahoo Fitness) as well as the power meter (specification essentially finalized, units trickling out now).  Since it's a phone app, there's little risk if the specification changes, as it's easy to update.
I recognize that Polar doesn't yet make sensors in either of those two categories…but that's kinda the point of 'an open ecosystem' and not just another propriety W.I.N.D. sensor.  Plus, that would significantly differentiate it from the hundreds of apps out there (especially those with better web platforms).
Additionally, I'd like to see them introduce live tracking like we see on the Garmin Fit app.  I continue to see significant interest in live tracking, and would love to see an app deliver that with Bluetooth Smart sensors like the Polar Beat.
Finally, for those that ask how I carry my phone, I just use a simple Wahoo Fitness iPhone case.  I'm sure there are better ones out there (probably more durable and easier to use), but it's just one that I picked up a couple years ago and it keeps on ticking.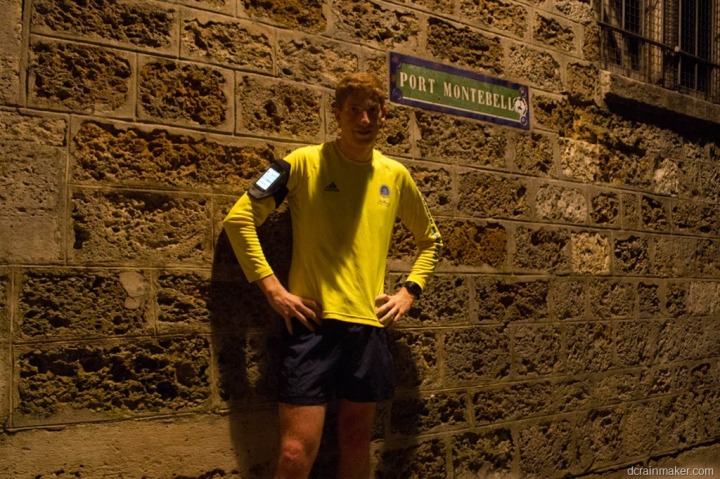 Bluetooth Smart Strap Sidebar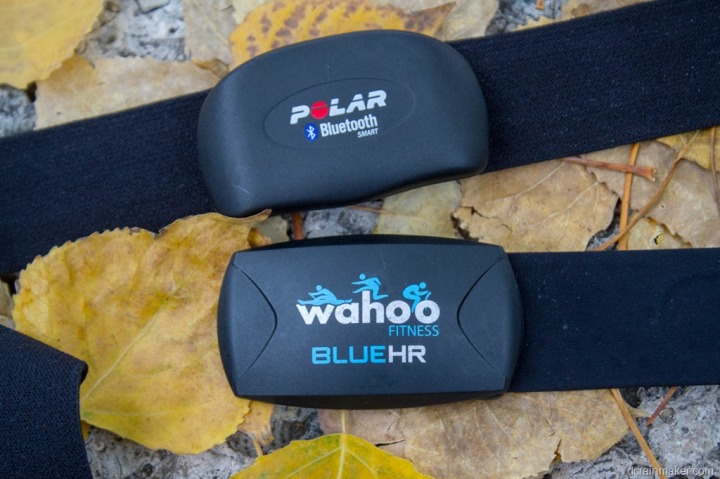 As a brief side note, both Bluetooth Smart Straps (aka Bluetooth Low Energy aka BTLE aka BLE aka part of Bluetooth 4.0) that are out on the market today (the Polar H7 and the Wahoo Blue HR) are priced the same at $79.
A number of you have asked which one is better.  And honestly, after using both of them on and off since last spring – I'm putting them both in the category of being essentially 'the same'.
They may have tiny little pros and cons over each other.  For example, you can see above earlier that the Polar H7 strap is reporting battery levels to the app.  Whereas the Wahoo one isn't.  That's not to say that it's a Wahoo issue or a Polar issue, could be either.
Meanwhile, I know that the Wahoo folks spent considerable time removing any chance of false spikes or dropouts on their strap, which I saw in my review of it last year.  And that's awesome.  But, I haven't seen any issues in the Polar strap either.
The only catch I know of is that on the latest Motoactv firmware, the Polar H7 strap will crash the unit, whereas the Wahoo Fitness one doesn't.  Of course, that's likely a Motoactv spec-following issue more than a Polar one.
Now, one additional benefit of the Polar strap is that it will work with older exercise equipment in gyms via 5kHz.  And, some (but not all) Polar units.  This is important because many of the newer Polar units – like the Polar RC3 seen above – do not receive 5kHz signals.  Personally, I would have preferred the H7 strap be dual WIND/BLE than dual with 5Khz/BLE.  Especially given that if you're using a Bluetooth Smart strap, you're at this point using it with a smart phone.  And most folks take their smart phones to the gym.
So, essentially, I'm seeing them as the same.  There just isn't enough difference at this point to recommend one over the other (unless you want display of HR data on your treadmill/gym equipment, if supported, in which case go Polar).  Otherwise, pick whichever one you think looks prettier.
You can pickup both the Polar H7 and Wahoo Fitness Blue HR via Clever Training and get the usual 10% off your entire order using those links with coupon code DCR10BTF, and in doing so you'll support the site.
As always – thanks for reading, and feel free to drop any questions below in the comments.
Found this review useful?  Here's how you can help support future reviews with just a single click!  Read on…
Hopefully you found this review useful.  At the end of the day, I'm an athlete just like you looking for the most detail possible on a new purchase – so my review is written from the standpoint of how I used the device.  The reviews generally take a lot of hours to put together, so it's a fair bit of work (and labor of love).  As you probably noticed by looking below, I also take time to answer all the questions posted in the comments – and there's quite a bit of detail in there as well.
I've partnered with Clever Training to offer all DC Rainmaker readers an exclusive 10% discount across the board on all products (except clearance items).  You can pickup the Polar H7 below. Then receive 10% off of everything in your cart by adding code DCR10BTF at checkout.  By doing so, you not only support the site (and all the work I do here) – but you also get a sweet discount.  And if you happen to spend more than $75, you get free US shipping as well.
Polar H7 Bluetooth Smart & Legacy Transmission Strap
Polar H6 Bluetooth Smart Only Strap
Additionally, you can also use Amazon to purchase the unit (though, no discount).  Or, anything else you pickup on Amazon helps support the site as well (socks, laundry detergent, cowbells).  If you're outside the US, I've got links to all of the major individual country Amazon stores on the sidebar towards the top.  Though, Clever Training also ships there too and you get the 10% discount.
Thanks for reading!  And as always, feel free to post comments or questions in the comments section below, I'll be happy to try and answer them as quickly as possible.  And lastly, if you felt this review was useful – I always appreciate feedback in the comments below.  Thanks!
Finally, I've written up a ton of helpful guides around using most of the major fitness devices, which you may find useful in getting started with the devices.  These guides are all listed on this page here.