(Update – July 2013: I've taken the rather unusual step of actually prefacing the review with some really clear guidance: Don't buy this.  In short: It ONLY works with the Garmin Fit app, which won't upload/download from your existing Garmin devices.  It won't work with any other apps.  For the same price, you can get the Wahoo Fitness iPhone adapter, which works with 150+ apps and can actually upload your Garmin device files.  Full details in my review here.)
Garmin today announced a new iPhone ANT+ Adapter as well as a pair of fitness apps for both the iPhone and Android phone.  The adapter provides ANT+ enablement of your iPhone, similar to how the Wahoo Fitness iPhone ANT+ adapter works today.  This in turn allows you to use the Garmin Fit iPhone application, which can track your fitness activities with ANT+ data like heart rate or speed/cadence.  The Garmin Fit App doesn't require you to have the ANT+ adapter however, and will work just fine recording your activities without it.  If you're Android phone has ANT+ built into it, like the Sony Ericsson Xperia Active – then you're good to go without an adapter.
But first, let's walk through the iPhone ANT+ adapter unboxing.
The Garmin ANT+ iPhone Adapter: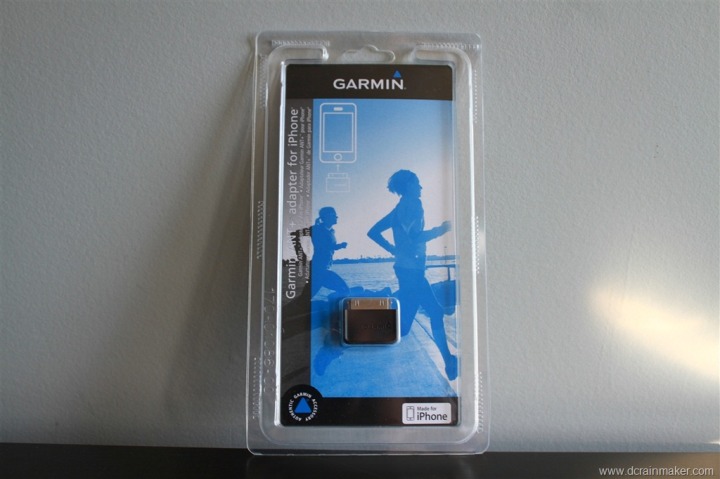 The Garmin ANT+ iPhone accessory costs $49 has precisely one piece.  Well, the packaging actually also has a piece of paper, but essentially just one physical component.
The dongle itself is a touch bit bigger than a quarter, and is slightly larger than the standard iPhone/iPod connector: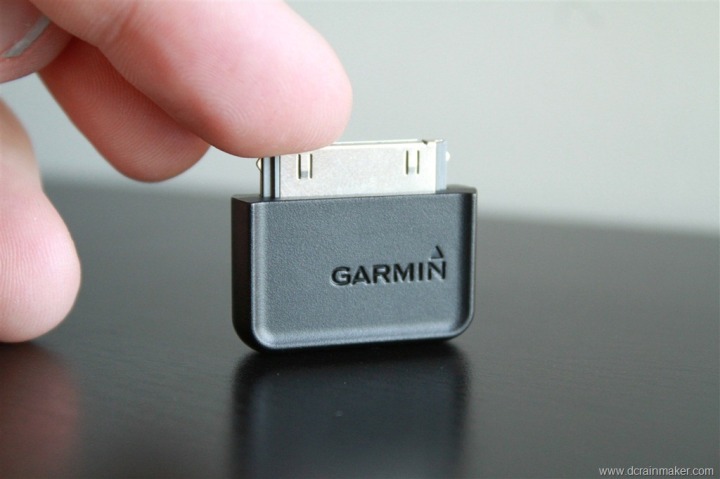 Installed, the dongle would add a bit of height to your iPhone – but as myself and many other iPhone accessory users would tell you, it's not too bad.  I routinely use the Wahoo Fitness iPhone dongle on my iPhone all the time without issue: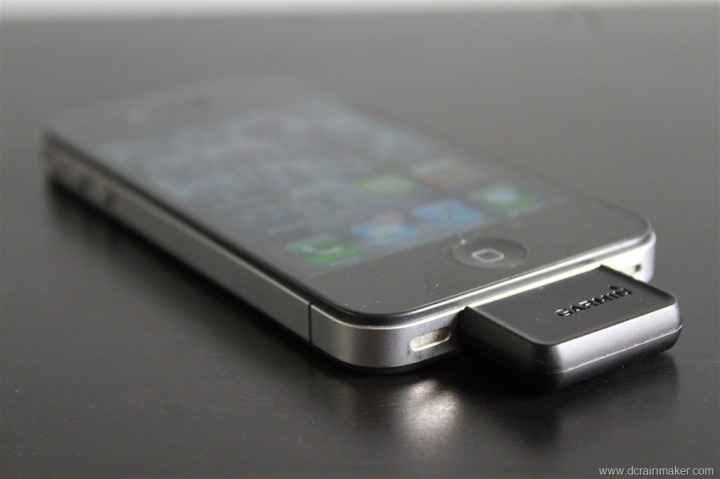 When you plug the accessory in for the very first time it'll automatically notify you that an app is available to download, which will take you to the Garmin Fit application page.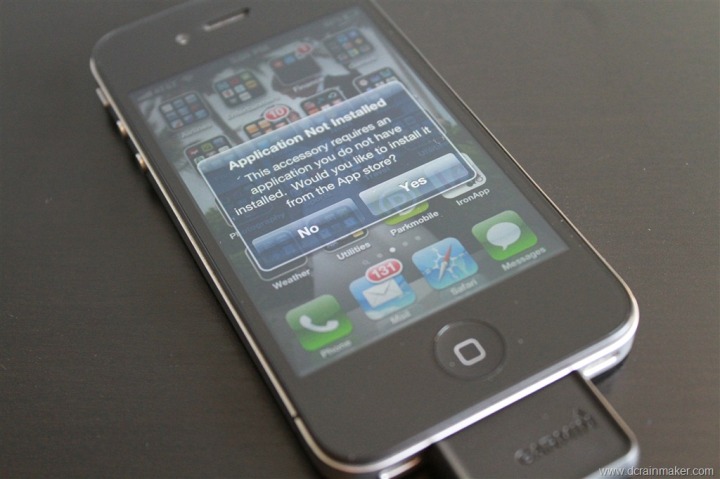 In addition, if you're a feisty one and want to download the app using a QR code scanner, you can do that as well from the back of the packaging.  This would allow you to check out the app packaging in a retail store and then download the app first.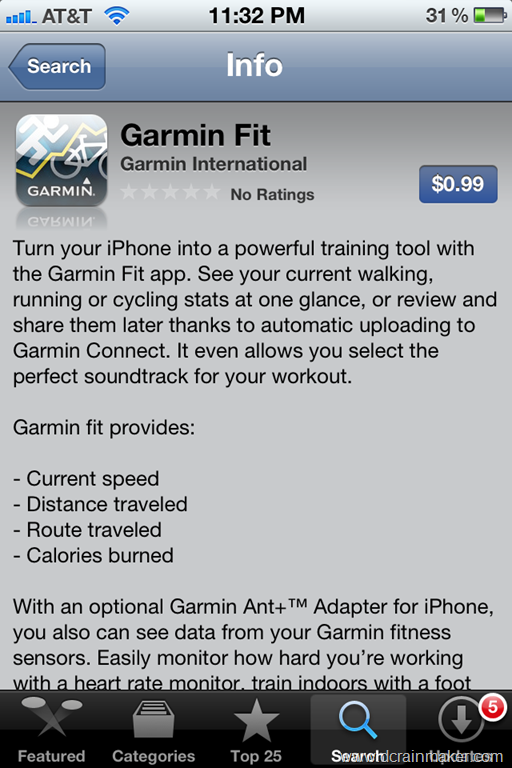 Now that you've got it all set and installed, it's time to get on with using it.
Quickly though, for those familiar with the Wahoo Fitness dongle, you'll find this nearly identical. Below, on the left is the Garmin ANT+ dongle, and on the right is the Wahoo Fitness dongle.
The Garmin Fit App:
When you first open up the app (which, btw, costs $.99), you'll find the same series of questions around user profile that you would if you bought a Garmin Forerunner or Edge device: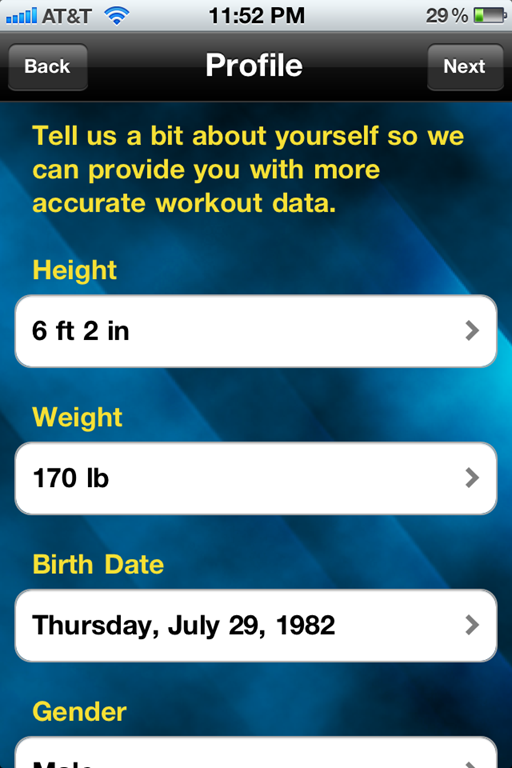 From there you can go ahead and either create a Garmin Connect account, or sign in to an existing one.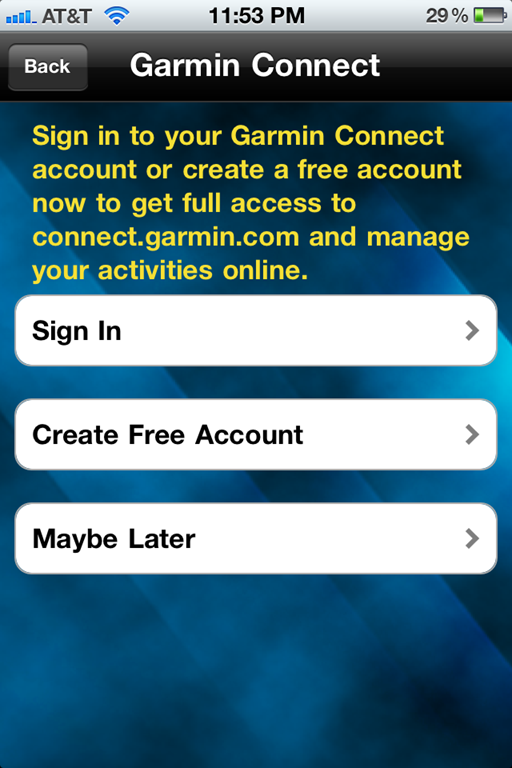 Once signed in you'll be brought to a welcome screen, where you can start a new activity.
You'll also see all of your Garmin Connect activities along the top – which includes ones that you did on other devices.  For example, my swim for this evening with a FR910XT: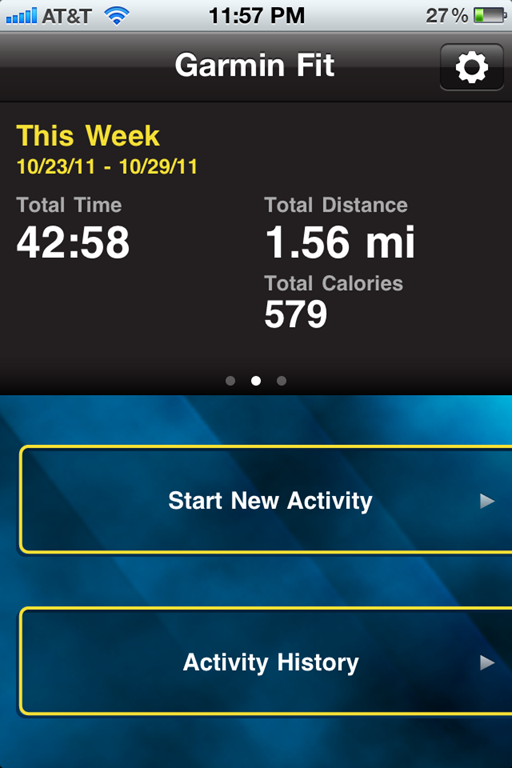 You've also got a settings icon where you can configure some basics such as units (miles/kilometers) and whether or not Auto Lap is configured.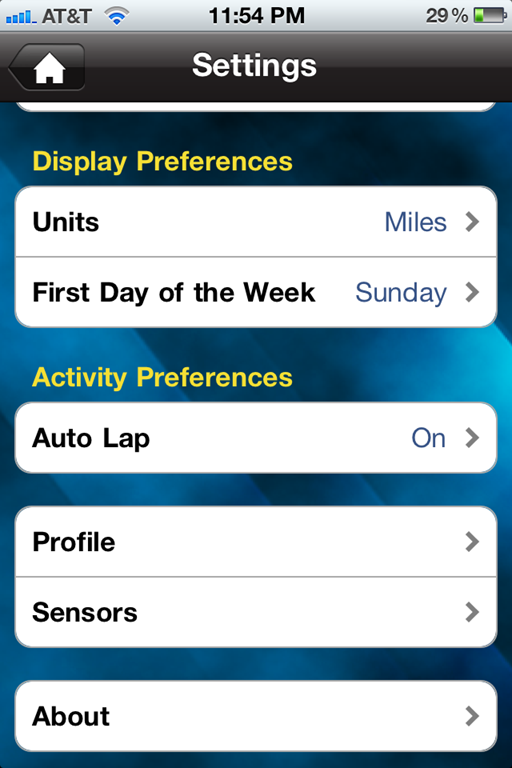 Additionally, in here you can configure ANT+ sensors – including a heart rate sensor, bike sensor (Speed/Cadence) and running footpod.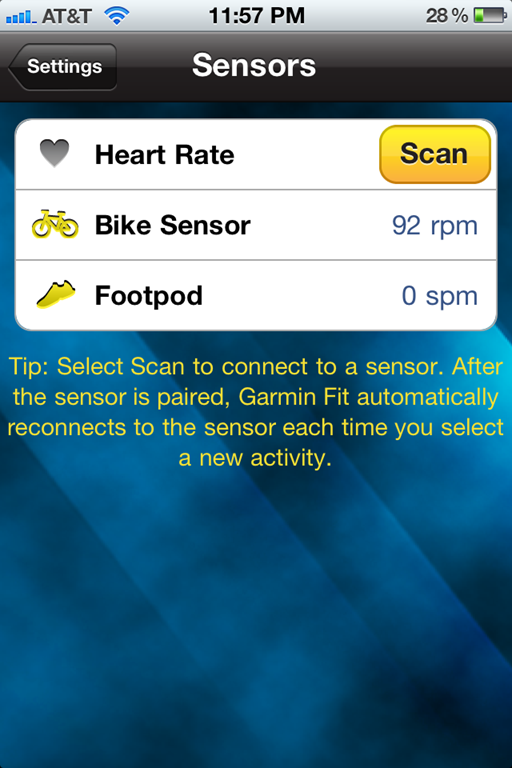 Back onto the main page you have a history button, which enables you to look at any activity uploaded to Garmin Connect: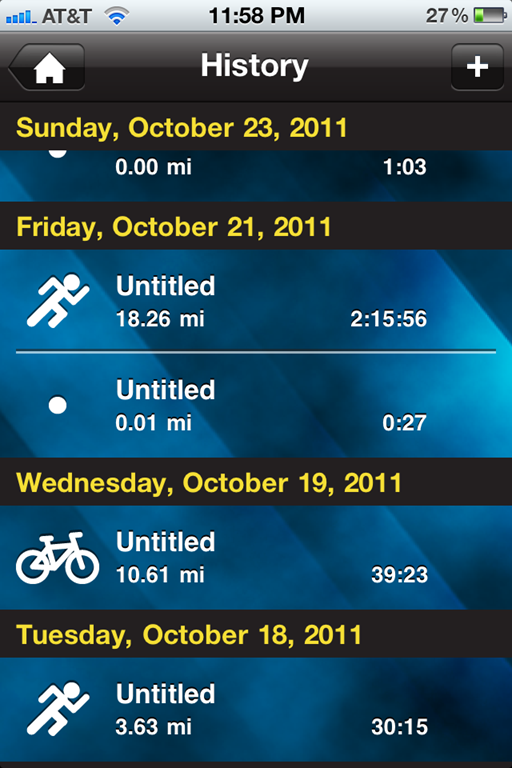 You can then drill down into a given activity to see maps, charts and laps:
It's this ability to quickly browse the Garmin Connect site that you get your 99 cents worth out of the app.  The app is very quick to respond, and the charts and detail come up seamlessly.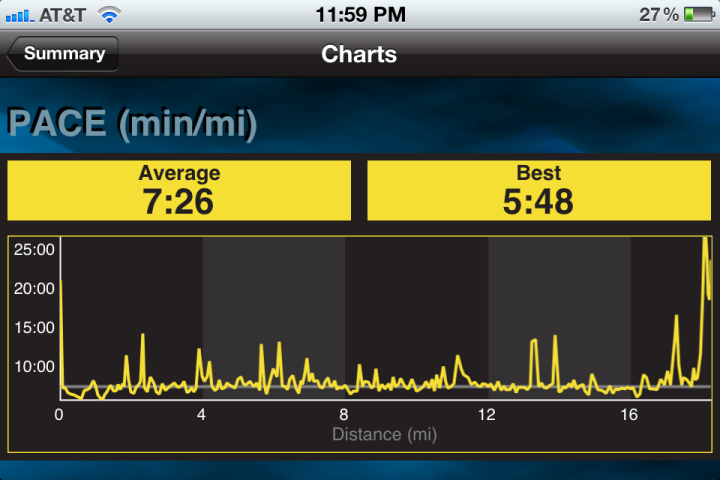 And from here you can also create new manual training log additions on the fly: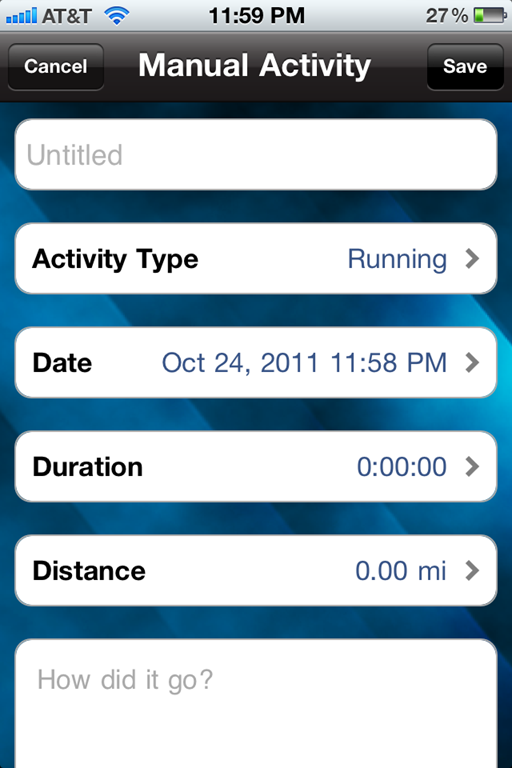 Finally, you can go out and record activity and have the ANT+ sensor gather the data along with GPS from the iPhone.  The app supports running/walking, cycling and 'other'.  With 'other' essentially being anything you can think of.
When recording an activity, you can choose Indoor or Outdoors.  When Outdoors, you'll use GPS for speed/distance.  While indoors you'll use the ANT+ sensors (footpod or speed/cadence sensors):
Additionally, you can configure a playlist with the option to shuffle.  Once you've started your activity it gives you four screens of information.  First is the map screen, which shows you present location and total distance/time: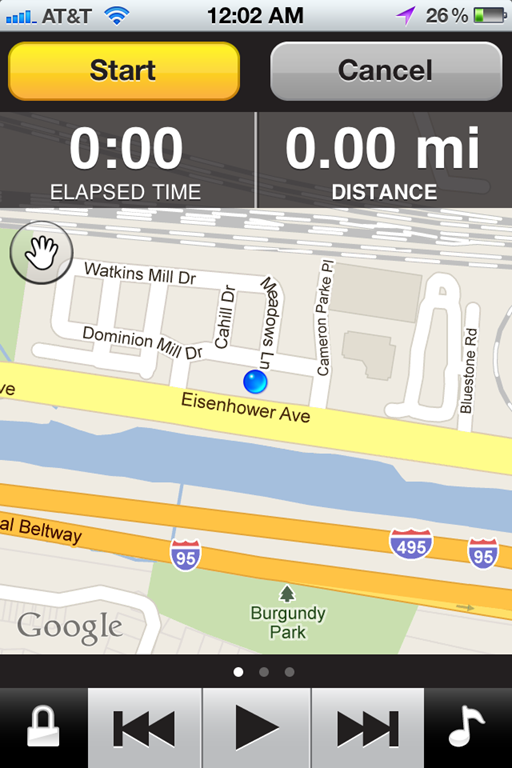 Next is a bit of a summary screen which shows time, distance, pace and calories: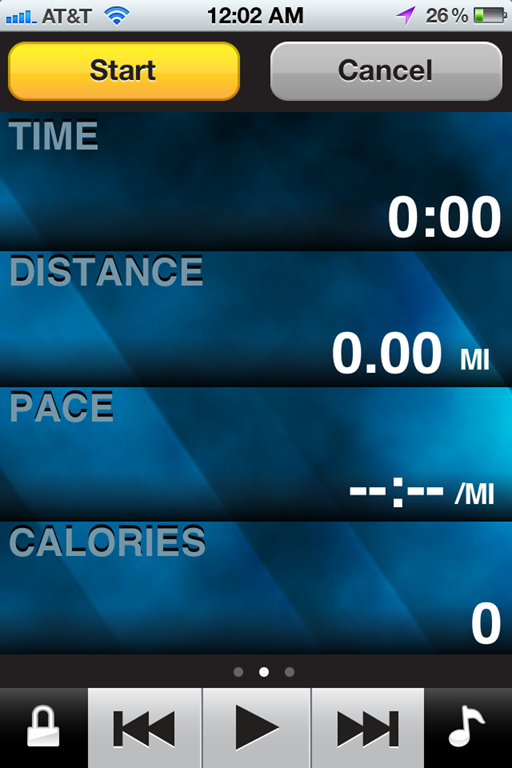 Then we've got another screen showing heart rate, avg HR, cadence, and strides: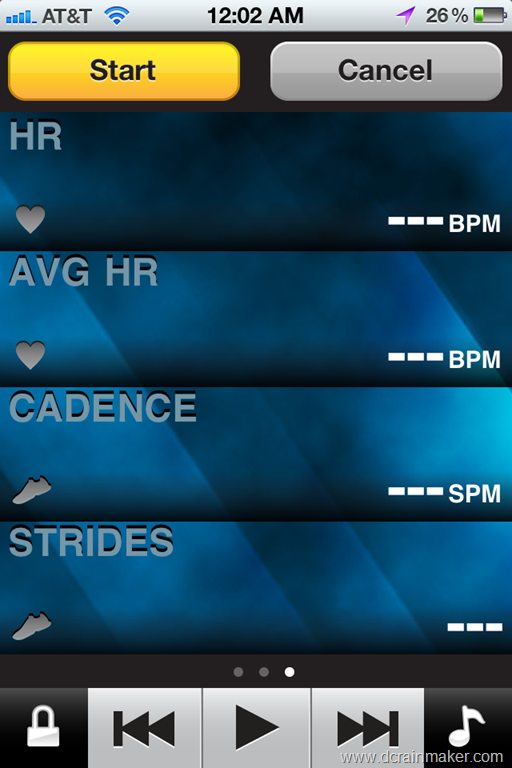 And finally, we have the lap screen, which shows information about the current lap: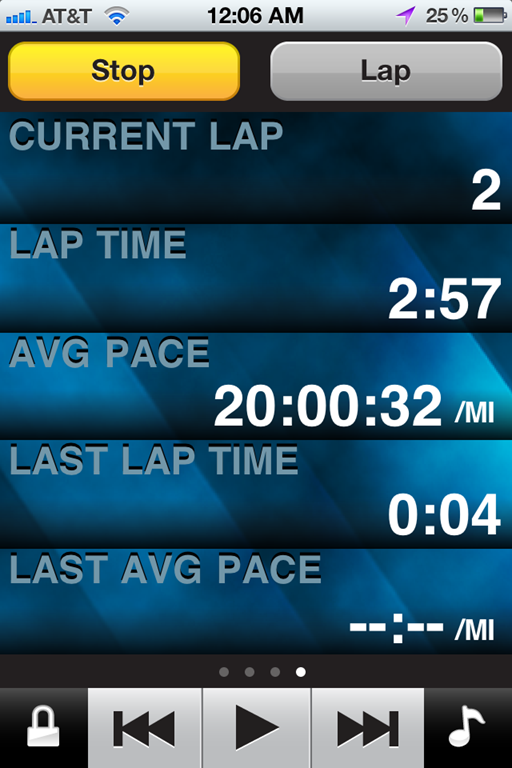 Once you're done you can select to end the activity and it'll be automatically uploaded to Garmin Connect for you.  Additionally it'll show up in the main screen of the Garmin Fit application.
General Thoughts:
At this point, I haven't been able to get full use of the app yet due to it only being populated tonight in the iTunes store.  However, based on what I'm seeing thus far – it offers far less functionality than many other iPhone apps out there – including free ones.  It does however offer a really good way of viewing activities stored in Garmin Connect.
While I fully understand that this is indeed an initial release of the application, I had hoped to see some more bridging of the ecosystem between Garmin's fitness devices and this app, aside from just looking at Garmin Connect uploaded data.  Of course, being a first release – the pickings usually tend to be slim.  After all, most iPhone apps that are now powerhouses in that arena started out with few data fields.  There's no reason to think that eventually with more development this app wouldn't end up the same way.
It should be noted that the Garmin iPhone ANT+ adapter is not compatible with the Wahoo Fitness dongle, and more importantly – not compatible with any of the 100+ applications out there today that support the Wahoo Fitness dongle.  In my opinion, I think the ANT+ ecosystem would have benefited from Garmin simply re-branding the Wahoo Fitness dongle (like other companies have done) – rather than creating yet another ANT+ dongle (there are many past entrants here, most eventually ending up dead).
With the app priced at $.99 it's already priced higher than incredibly popular and free MapMyRun/MapMyRide and RunKeeper apps. And there are of course literally hundreds of other fitness tracking apps out there.  Thus at this time, I'd be leery of the value it delivers compared to other apps out there in the market that are free or of similar price.
I do think that ultimately the accessory will sell well – merely because of the Garmin brand and name recognition.  Ultimately there are tons of creative things that Garmin could do or develop to make this accessory unique.  For example – adding ANT+ Forerunner download support like Wahoo has done.  Or an assortment of other ANT+ enabled functions like Geocaching with the ANT+ enabled Chirp.  But we didn't seem to see those being delivered in the first generation, which ultimately would have significantly differentiated this app from the already crowded field.
Thanks for reading!  If you have any questions, feel free to post below.  Additionally, with the app just launching in the Android store today as well – I'll look to update this review in the near future for that also.
Found this review useful?  Here's how you can help support future reviews with just a single click!  Read on…
Hopefully you found this review useful.  At the end of the day, I'm an athlete just like you looking for the most detail possible on a new purchase – so my review is written from the standpoint of how I used the device.  The reviews generally take a lot of hours to put together, so it's a fair bit of work (and labor of love).  As you probably noticed by looking below, I also take time to answer all the questions posted in the comments – and there's quite a bit of detail in there as well.
I've partnered with Clever Training to offer all DC Rainmaker readers an exclusive 10% discount across the board on all products (except clearance items).  In the event you for some reason decide to, you can pickup the Garmin FIT ANT+ Adapter below (honestly, again, buy the Wahoo one instead).  Then receive 10% off of everything in your cart by adding code DCR10BTF at checkout.  By doing so, you not only support the site (and all the work I do here) – but you also get a sweet discount.  And if you happen to spend more than $75, you get free US shipping as well.
Additionally, you can also use Amazon to purchase the unit (though, no discount).  Or, anything else you pickup on Amazon helps support the site as well (socks, laundry detergent, cowbells).  If you're outside the US, I've got links to all of the major individual country Amazon stores on the sidebar towards the top.  Though, Clever Training also ships there too and you get the 10% discount.
Thanks for reading!  And as always, feel free to post comments or questions in the comments section below, I'll be happy to try and answer them as quickly as possible.  And lastly, if you felt this review was useful – I always appreciate feedback in the comments below.  Thanks!
Finally, I've written up a ton of helpful guides around using most of the major fitness devices, which you may find useful in getting started with the devices.  These guides are all listed on this page here.